Meet the winners of a dream vacation aboard Star Wars: Galactic Starcruiser inspired by Han Solo and Leia Organa's honeymoon in The Princess and the Scoundrel.
StarWars.com is shining a light on those who truly give the saga its power: the fans. In the StarWars.com Fan Spotlight, we're honored to tell their stories.
Exploring the thriving spaceport of Black Spire Outpost recently with her girlfriend Abi Lindstedt, Julie Berger had a feeling something was up.
"'Abi's acting a little weird,'" Julie recalls noticing at the time. She figured it was just due to the heat. "Then I turn around and she just pulls this ring out."
As they posed for pictures in front of a blue-and-gray Resistance X-wing, Abi popped the question. "We were engaged on Batuu! It's truly one of the happiest moments," Julie says. "I was overjoyed."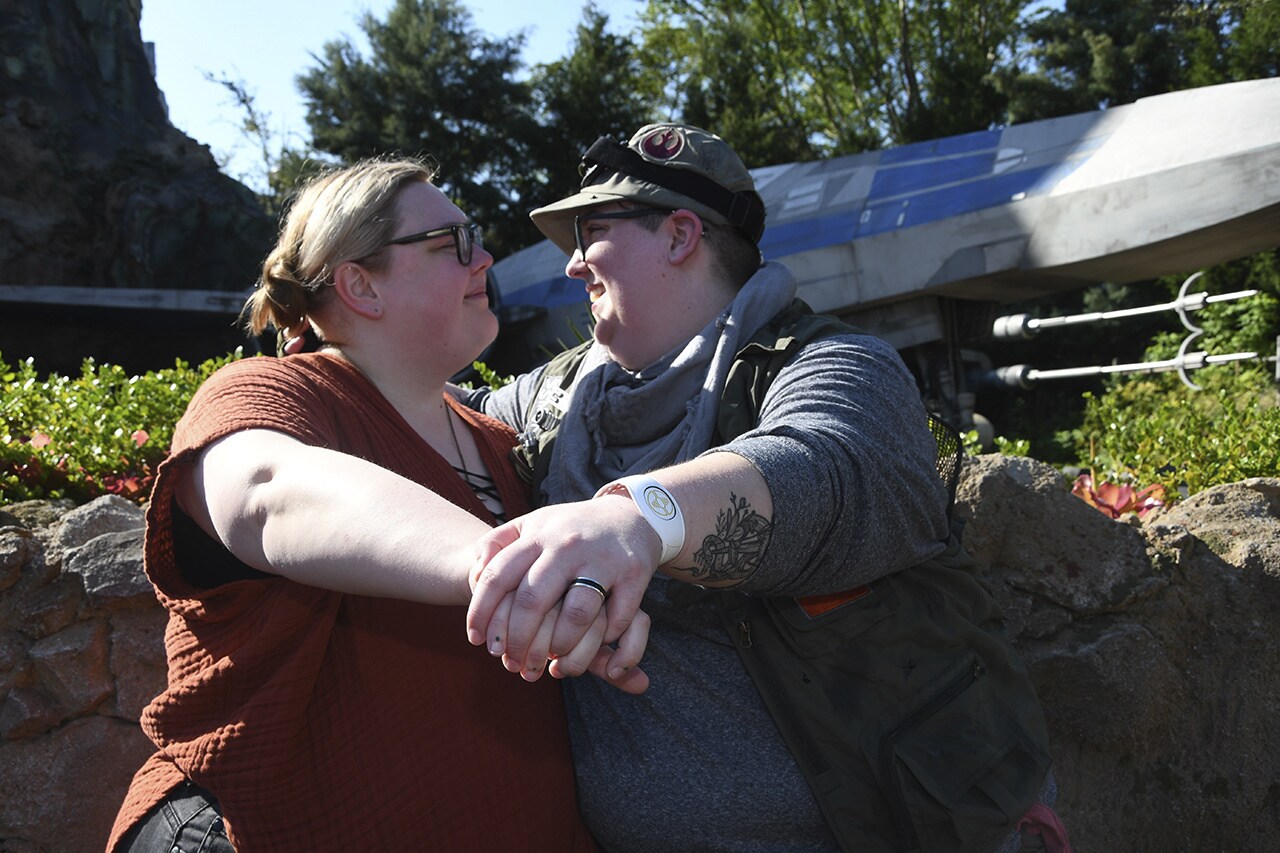 Abi and Julie's engagement came amid a magical trip aboard Star Wars: Galactic Starcruiser — a journey the pair won as part of a contest celebrating the release of the Del Rey novel The Princess and the Scoundrel by Beth Revis. The Chandrila Star Line flagship Halcyon starcruiser, of course, is where Han and Leia spend their honeymoon in the book after getting married on Endor. "Nothing compares to the moment you step into the atrium, and you're just immediately immersed," Julie says.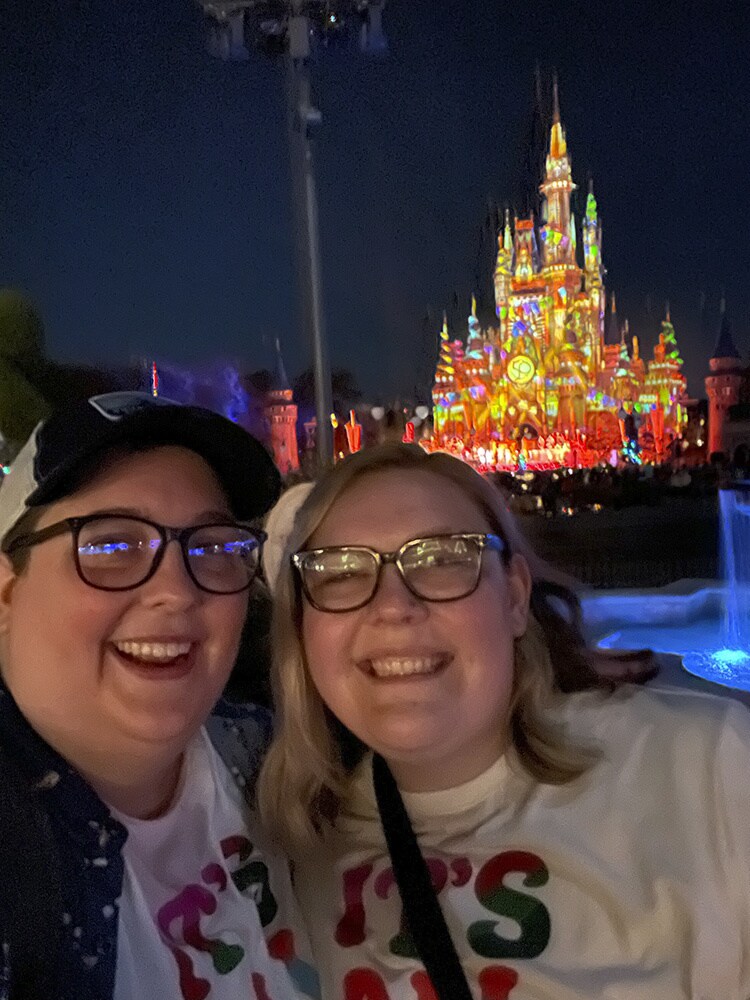 First love
Long before Abi and Julie found each other, their first love was Star Wars. "My history with Star Wars starts with me and my dad going to see the prequels in theaters," Abi remembers.
For Julie, it was repeat viewings of the original films on VHS videotape. "My sister and I would sit in the basement and eat raw cookie dough and watch the original trilogy the first three days of summer break every single year," she says.
It's fitting that one of Julie and Abi's first dates was to the movies to see Star Wars: The Rise of Skywalker in the theater. Their bond grew stronger during the pandemic, isolating together and binge-watching Star Wars on Disney+.
"Star Wars was just comfort," says Abi. "Being able to just go back and watch the movies time and again."
When they found out they'd won the trip aboard the Halcyon starcruiser, Abi and Julie leaped into action, crafting elaborate backstories for space-cruising alter egos and using their sewing skills to assemble several costumes each. "We had patches made with Aurebesh writing," says Abi, to complete the effect that they were stepping into the galaxy far, far away.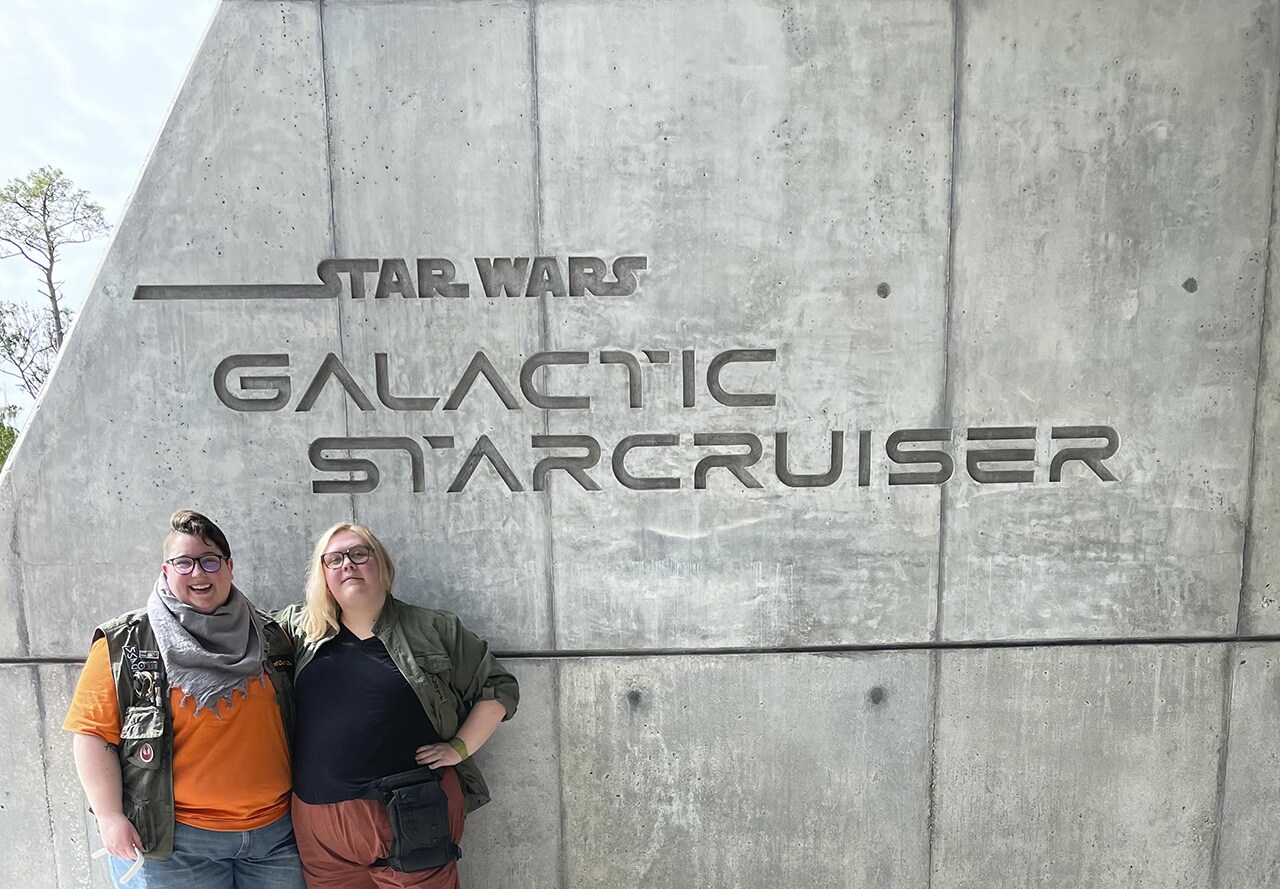 Journey among the stars

When it was time to board, Abi and Julie quickly became part of the story. To cover more ground, they decided Abi's art smuggler and Julie's Rebel mechanic would make their own unique decisions during the immersive experience. "We purposely went in and said, 'Let's have our own Star Wars journeys separately so we can tell each other about it at the end of the day,'" Julie says. "And I think it worked out great."
One thing that was never in question was their allegiance. "I wore the Resistance literally on my sleeve. I've been a Rebel my entire life," laughs Julie.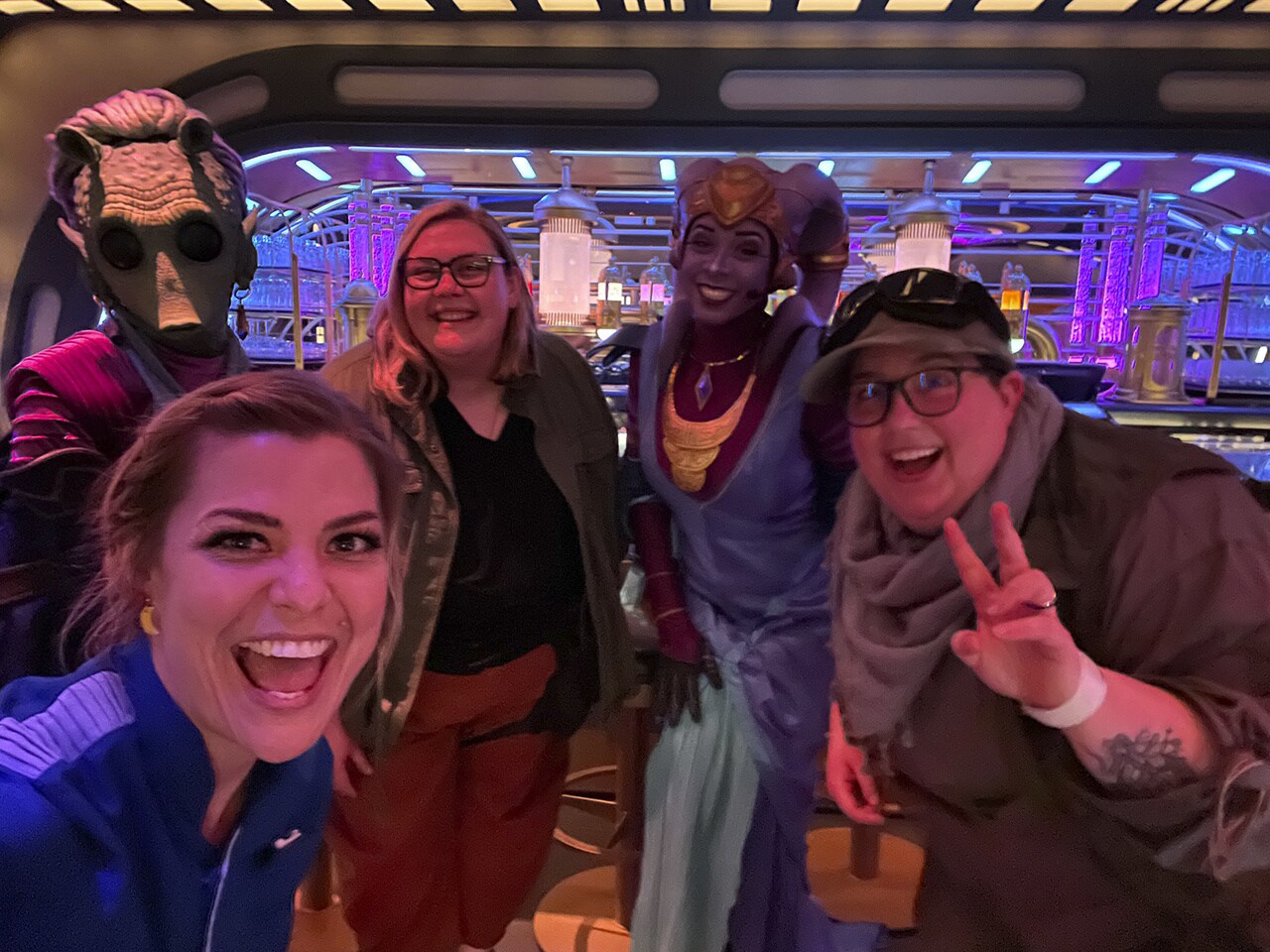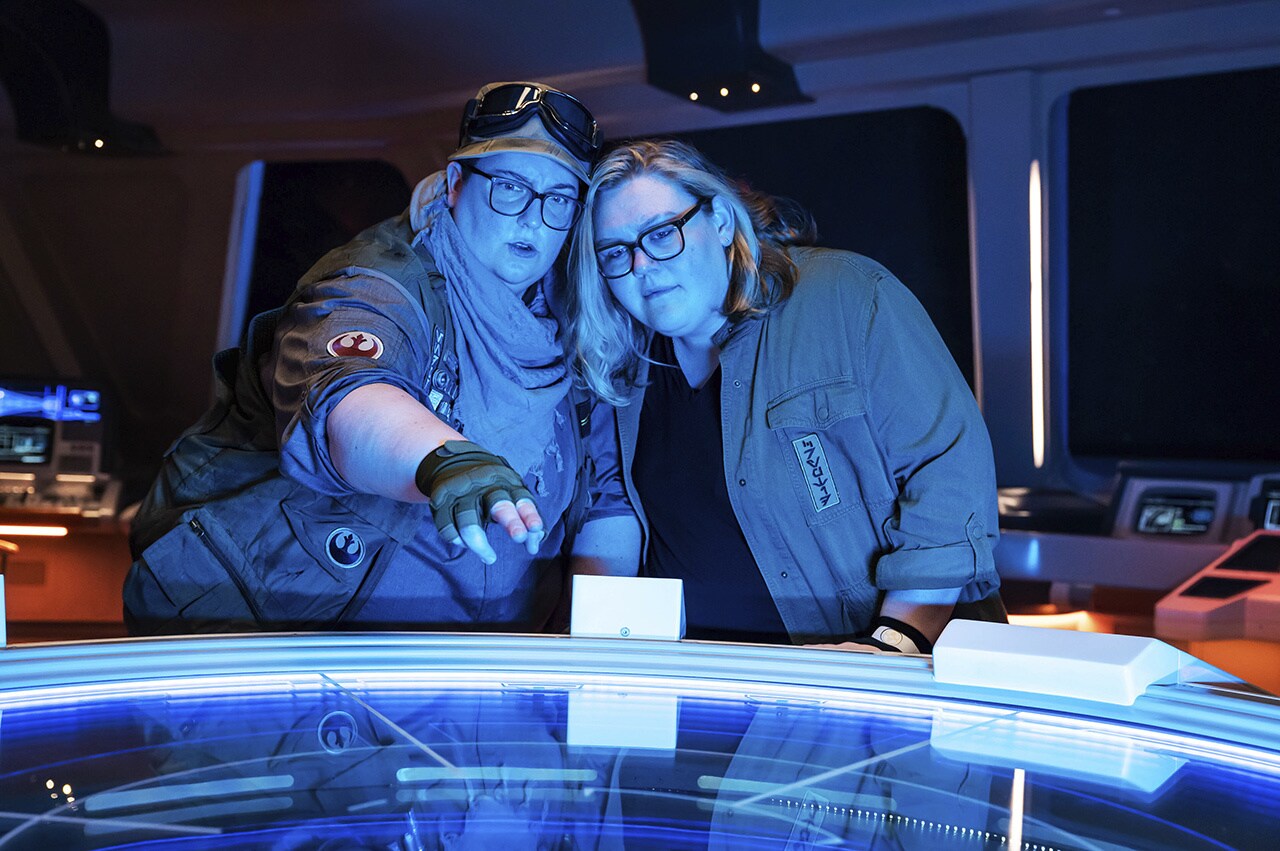 Julie and Abi both praise the cast and crew of Star Wars: Galactic Starcruiser for helping them live out their Star Wars stories.

"It's indescribable," Julie says. At one point during her voyage, "The door slid open and it was Rey, holding out her hand and saying 'Follow me!' It's small moments like those that truly make the Starcruiser one of the most special memories."
And the seasoned space explorers have plenty of advice for anyone thinking about coming aboard. "Put yourself out there," Abi suggests. "It's incredible. You're in a really safe bubble with people that are like-minded. Everyone is just excited to be there."
Julie agrees, adding one more practical tip. "Allow yourself to get lost in the moment," she says. "And wear phenomenal shoes that you can walk in!"
The StarWars.com Fan Spotlight Q&A – Starcruiser Edition
What's your favorite memory aboard the Halcyon starcruiser?
Julie: The cast and the crew. You ask for one moment, but it was really like two days in our own Star Wars movie.
Abi: In the engineering room, there's graffiti where Han Solo and Princess Leia carved their initials. I spent a good twenty minutes to find it.
If you could have any permanent role aboard the Halcyon starcruiser, what would it be?

Abi: To be the Sabacc administrator in the Sublight Lounge.
Julie: I might try to dedicate myself to the ways of the Saja [lightsaber trainers], so I could teach it to those coming onto the ship.
If the Halcyon starcruiser could take you to any planet in the Star Wars galaxy, which one would you choose?
Julie: Mustafar to try and get some volcano views.
Abi: Maybe Bespin. Cloud City seems like a really cool experience.
Beyond the ones you meet on the ship, what Star Wars character would you most like to hang out with?
Julie: General Leia Organa, hands down. I've always been a fan.
Abi: Obi-Wan. He's a pillar of Star Wars.
What's your favorite Star Wars story?
Julie: We really bonded over this. Our favorite movie is Rogue One.
Abi: There is just something really human about Rogue One.
Star Wars: Galactic Starcruiser, the 2-night immersive adventure at Walt Disney World® Resort in Florida is now open.