The rebel's hideout is filled with callbacks connecting Ahsoka to Star Wars Rebels.
Once a rebel, always a rebel.
Sabine Wren first burst into our lives nearly a decade ago in Star Wars Rebels as an energetic Mandalorian teen with a penchant for art and anarchy. With her live-action debut in the new Disney+ series Ahsoka earlier this year, filmmakers made her colorful personality a reality. Showrunner Dave Filoni and production designers curated nods to her Rebels start throughout her makeshift bedroom in the tower on Lothal. Although Sabine left Ezra's home world in the dust when she set off for adventure with her former Master Ahsoka Tano, StarWars.com has taken a peek inside to check up on her Loth-cat and confirm these 12 Easter eggs fans can find when rewatching the series.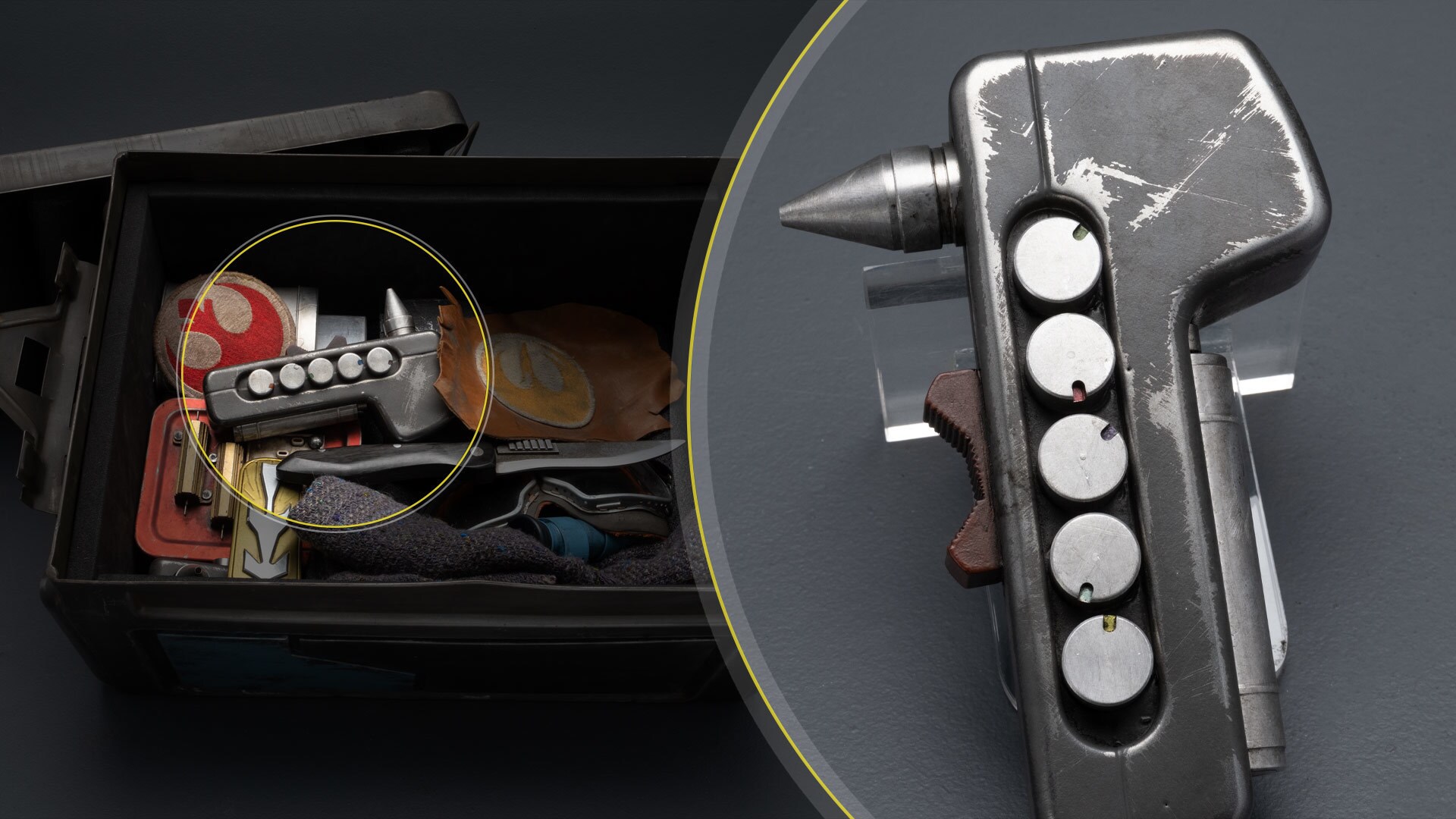 1. Sabine's paint sprayers
When we first met Sabine in Star Wars Rebels, she made the world her canvas with a pair of paint sprayers used to graffiti everything from her beskar armor to the walls of the Ghost. Although we don't see her use them on Ahsoka, they remain close at hand and her artwork abounds throughout the room.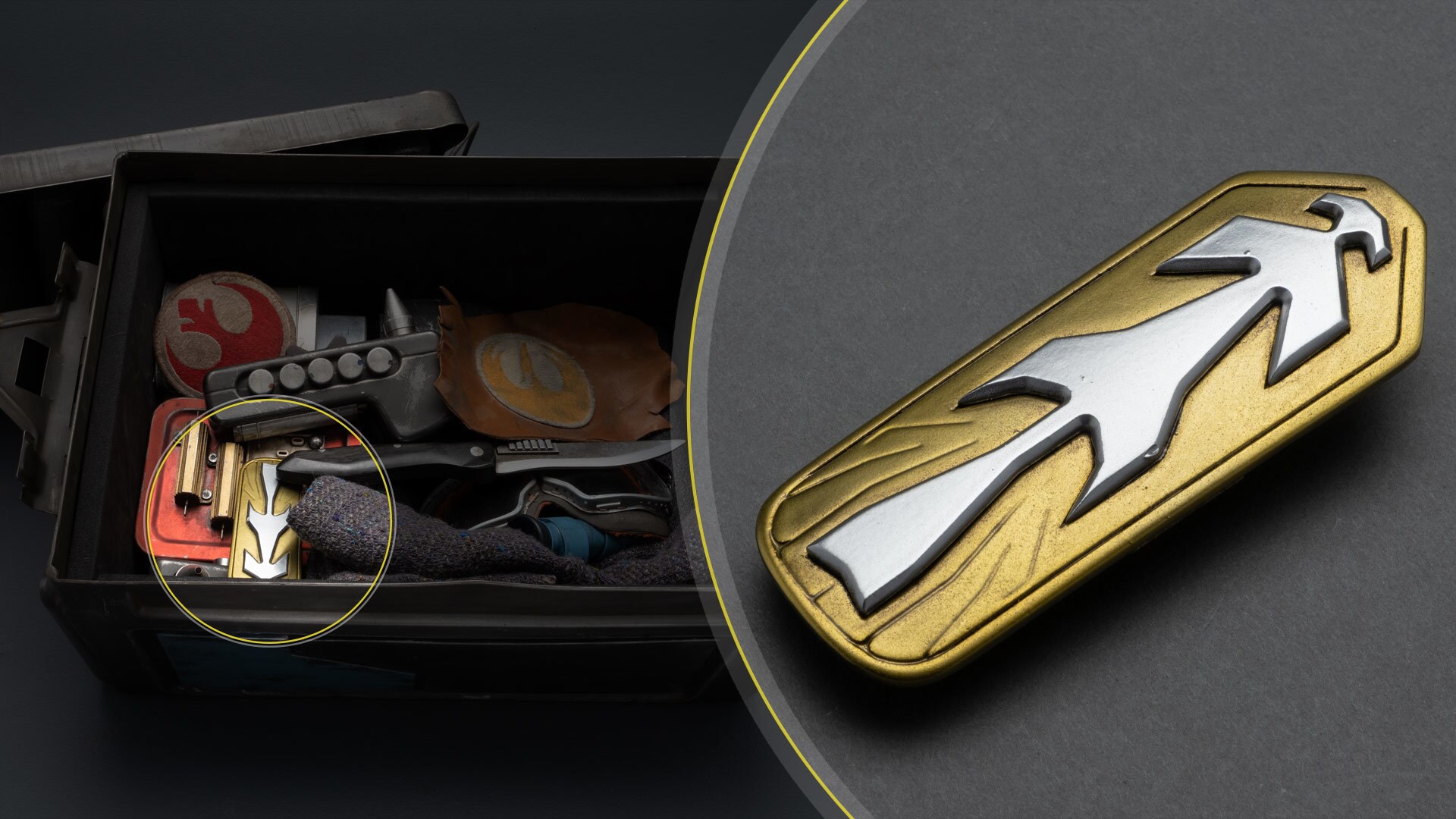 2. Ursa Wren's hair clip
As the leader of Clan Wren, Ursa Wren raised her daughter to be a warrior. This hair clip once owned by her mother bears the same design that was also on Ursa's armor in the third season of Rebels.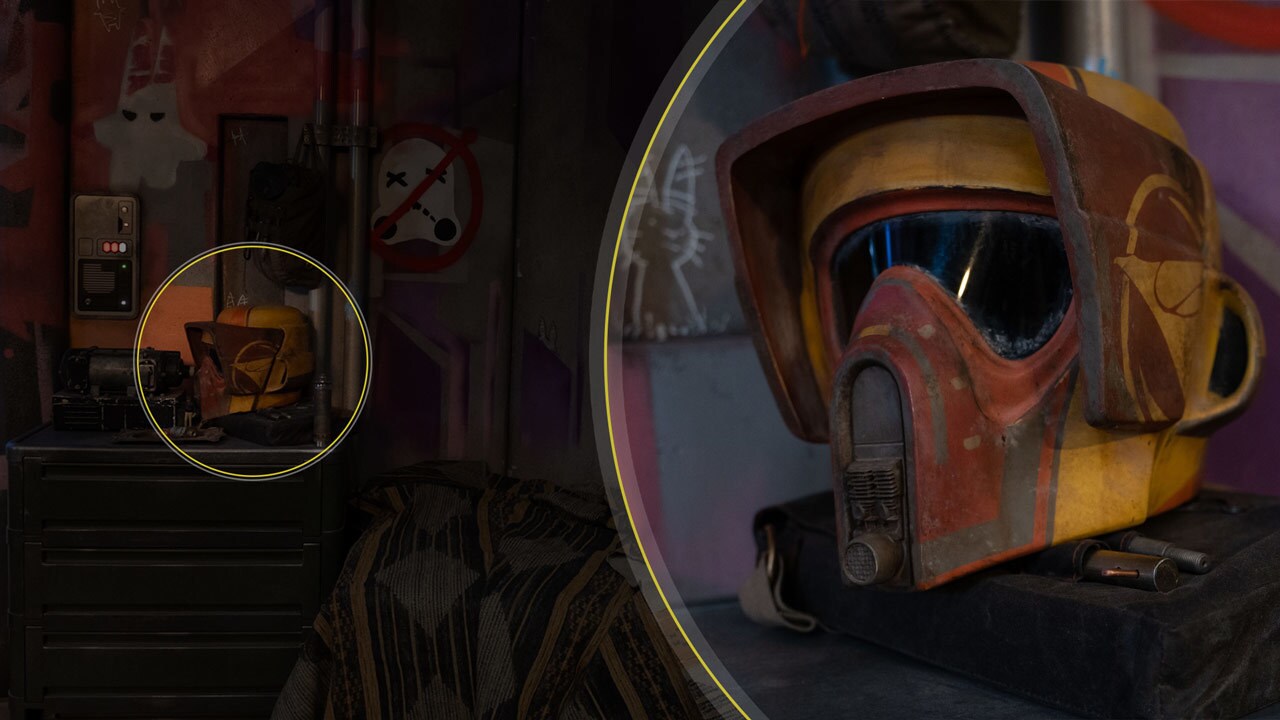 3. Ezra Bridger's scout trooper helmet
Also in Season 3, Sabine customized a scout trooper helmet for her friend, Ezra. At the start of Ahsoka, Ezra is missing, but his helmet remains at the foot of Wren's bed.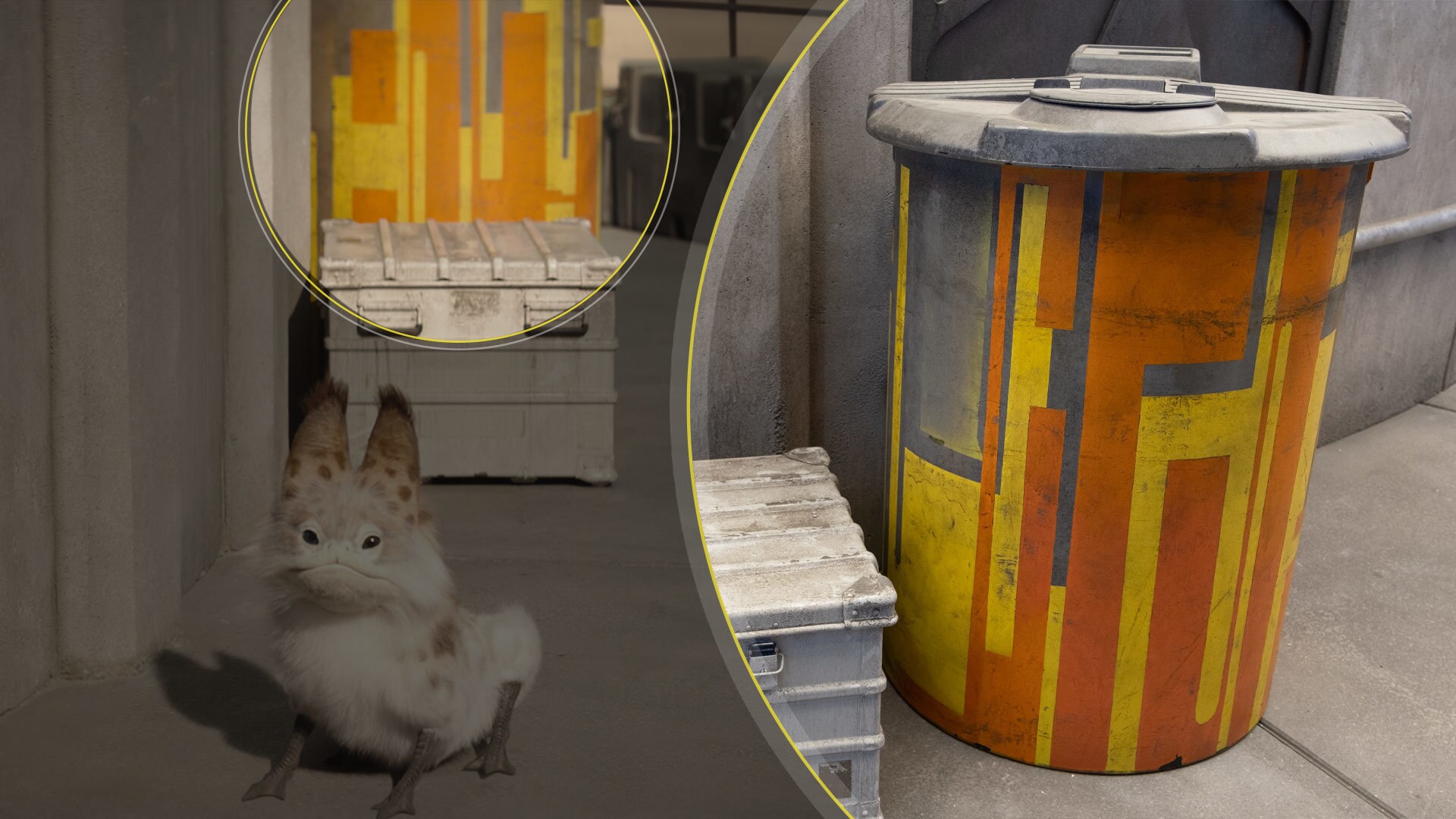 4. A brightly-painted barrel
On the exterior catwalk around Sabine's Lothal base, in the same tower where Ezra once called home, a barrel has been painted in the same motif as the stolen TIE fighter Sabine customized in Season 1 of Rebels. The yellow and orange abstract pattern match the paint on the TIE's wing.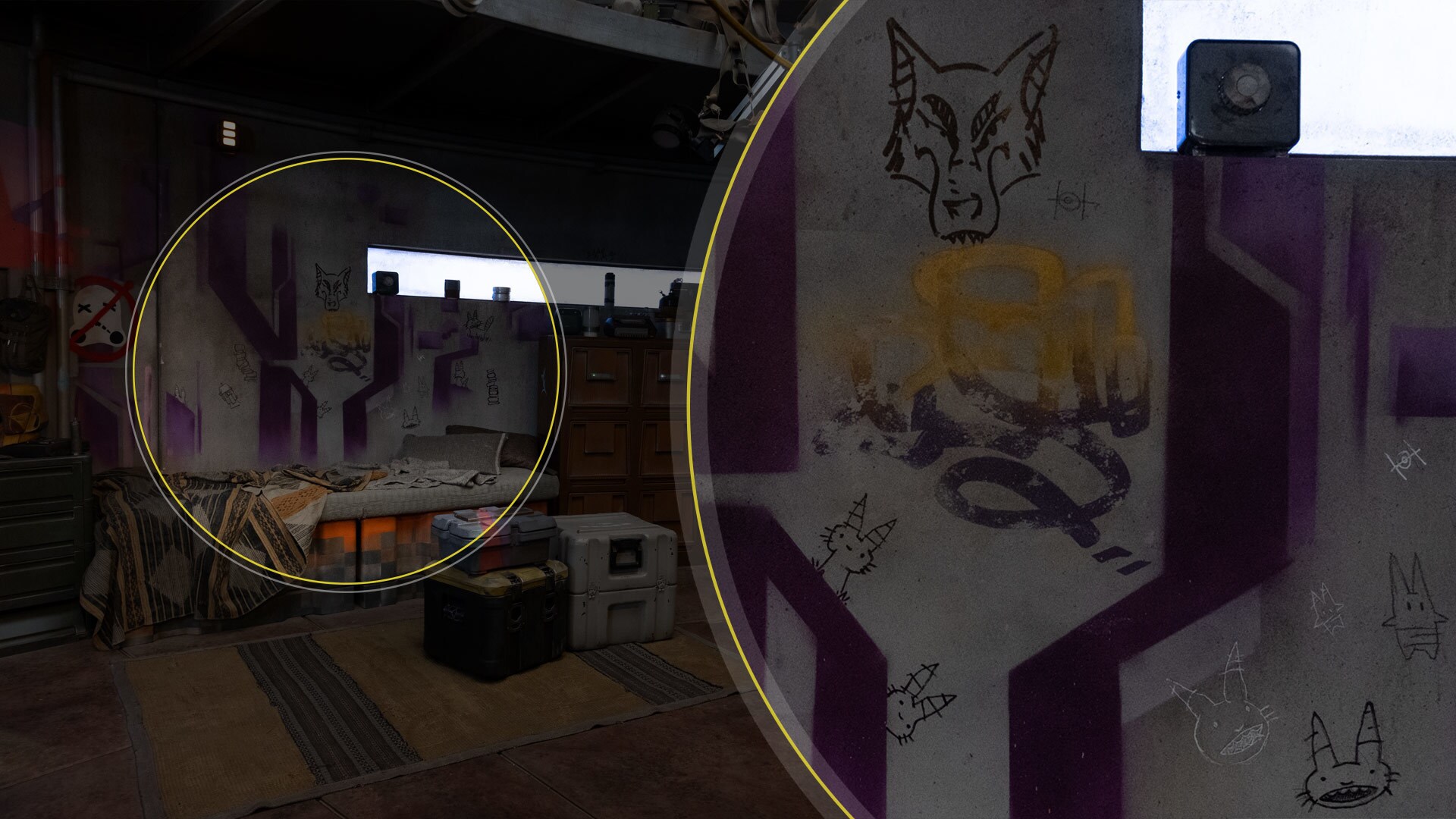 To the left of a window just above Sabine's bed, the face of a Loth-wolf peers back, hand drawn onto the wall. The wolves first appeared in the fourth season of Rebels, noble creatures that could travel to the World Between Worlds. One beast even appeared to speak to Ezra, repeating the true Jedi name of his fallen Master Kanan Jarrus — once known as Caleb Dume. At least seven other Loth-cat sketches can be found along the same wall, similar in design to the cats drawn onto Sabine's helmet when she first rides into Ahsoka on the back of her speeder, and all paying homage to the friendly native felines on the planet.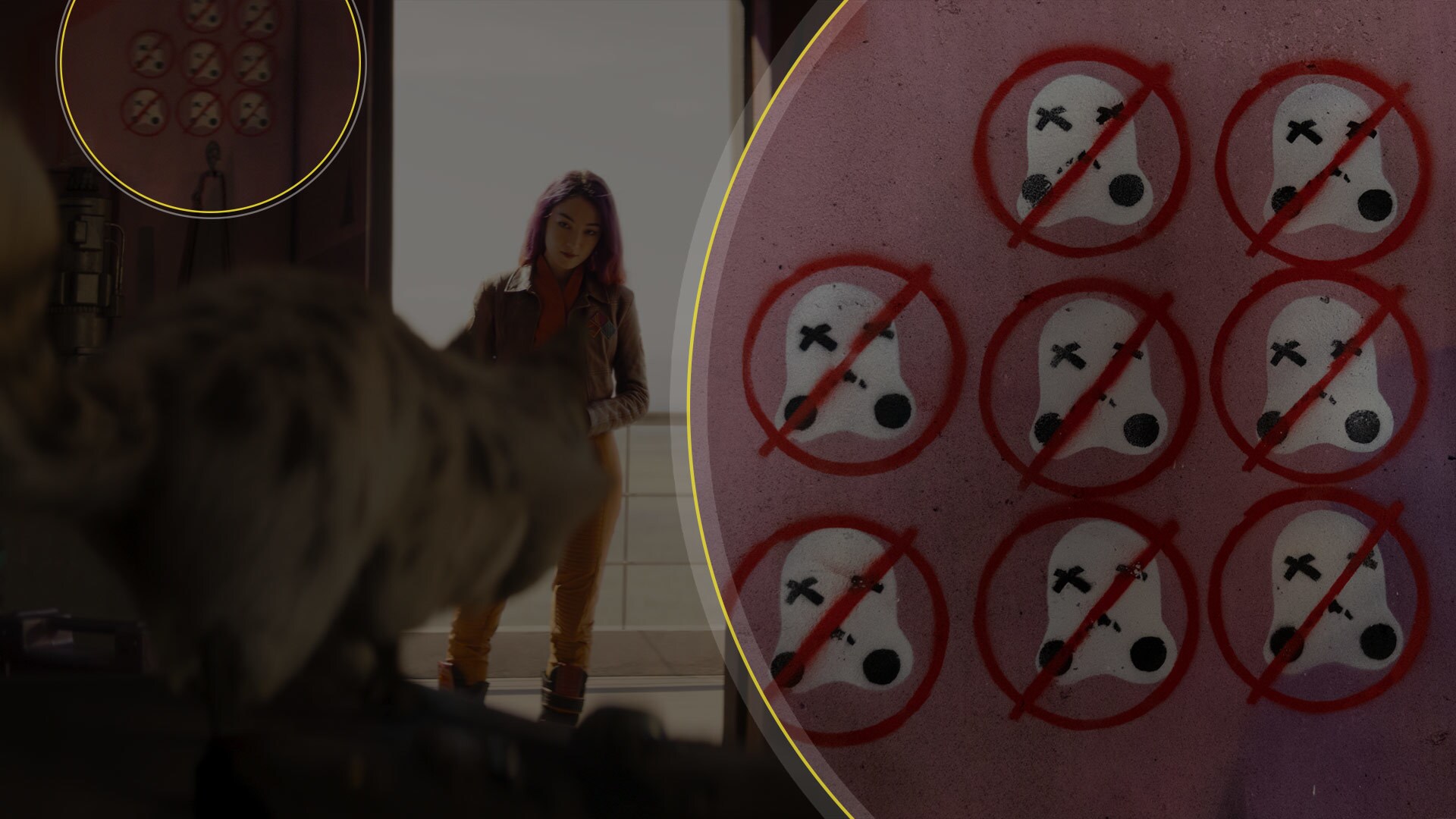 6. Rebel wins
A classic Rebels graffiti design, inside Sabine's room you can find at least 10 stormtrooper helmets painted on the walls symbolizing the individual Imperials defeated in the fight against the Empire. With "X"s for eyes and a red circle with a slash through it running across each bucket, these look to be older graffiti from a kill count likely before the New Republic took hold.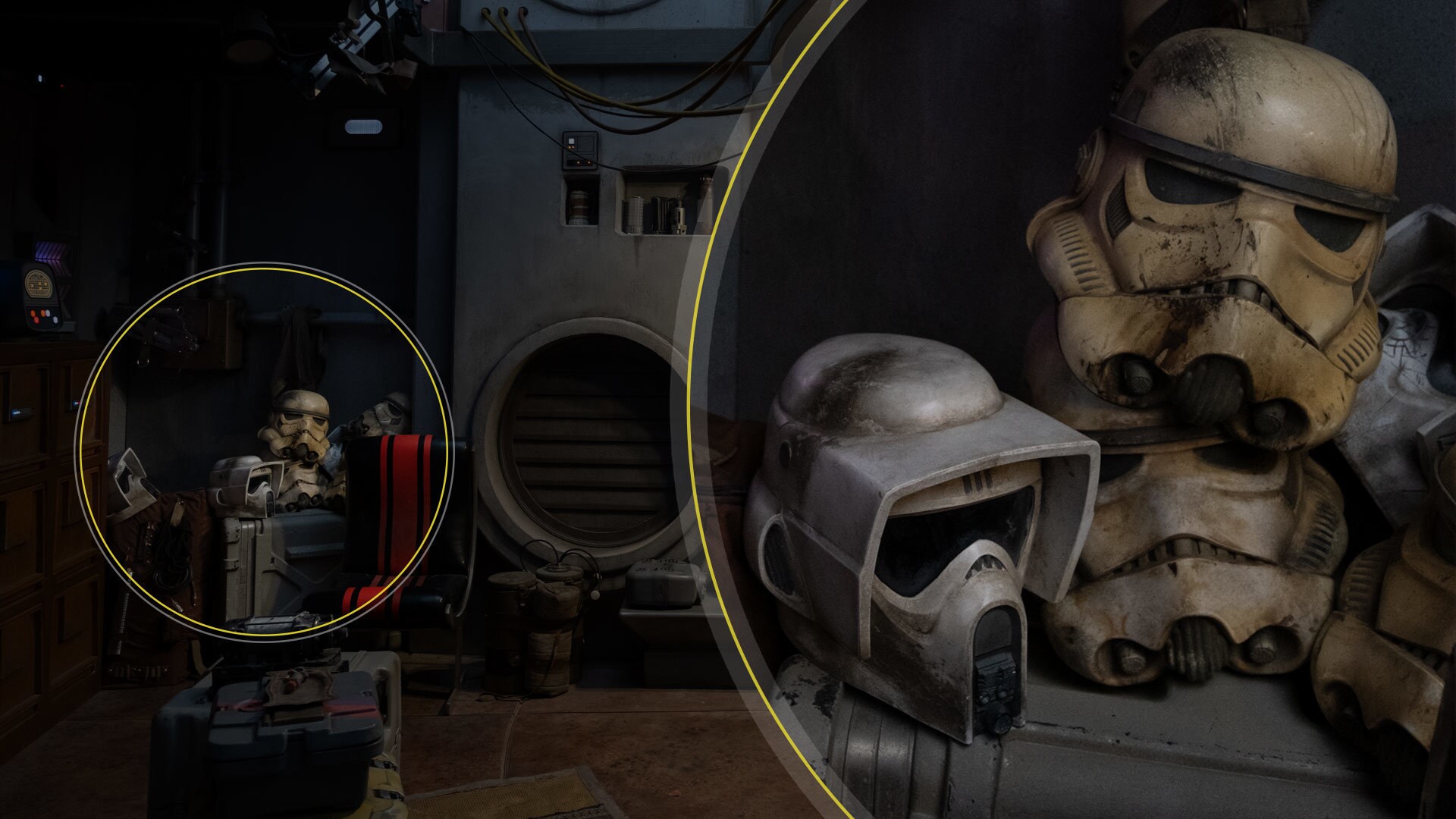 7. Trooper helmets
Near the painted versions, real stormtrooper helmets and a clean scout trooper bucket can be seen piled on a crate near the head of Sabine's bed.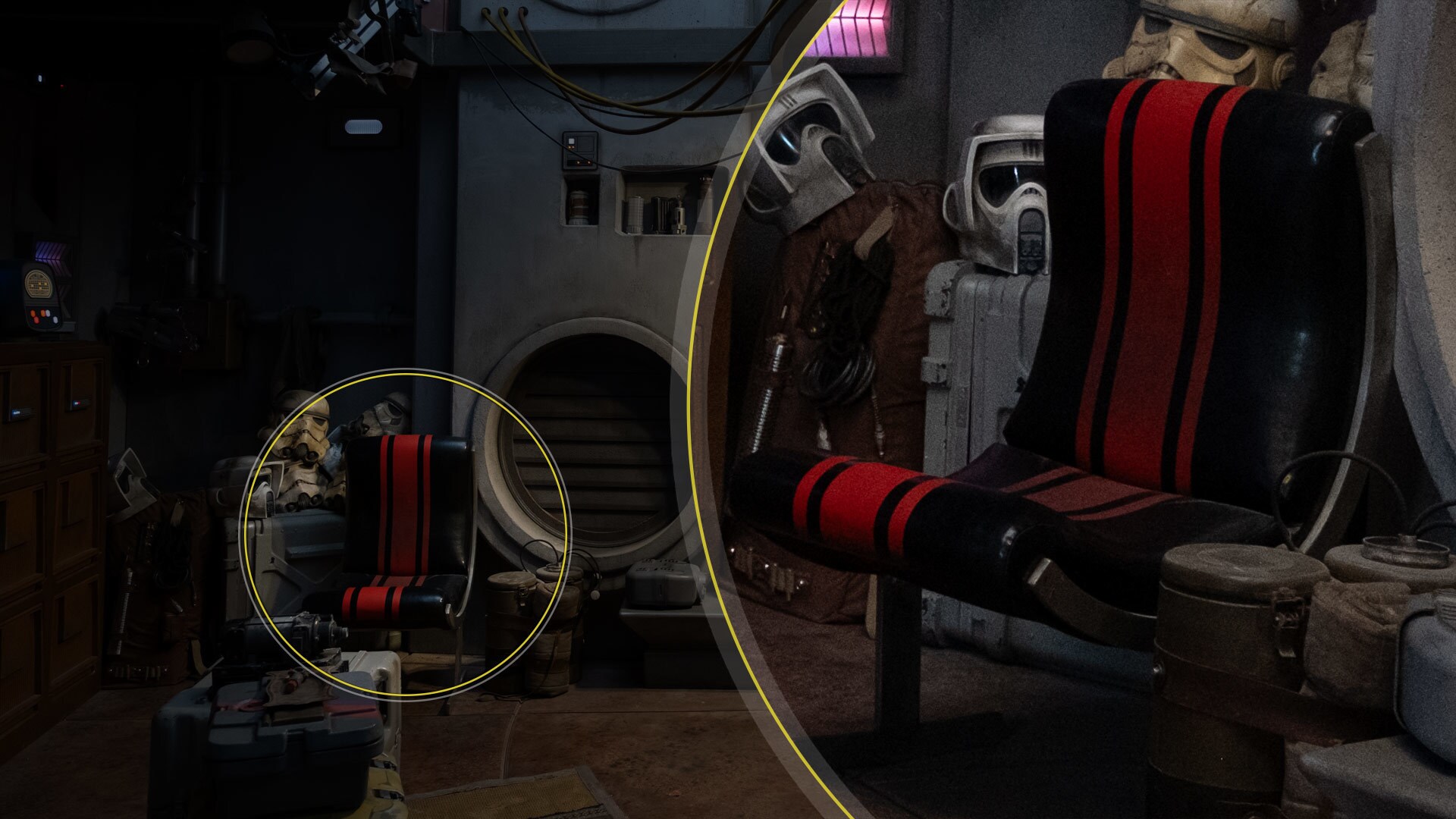 8. Ghost seat
Sabine's preferred seat aboard the Ghost was black with three red stripes on it. Now she keeps a chair next to her trooper helmet collection painted in a similar motif.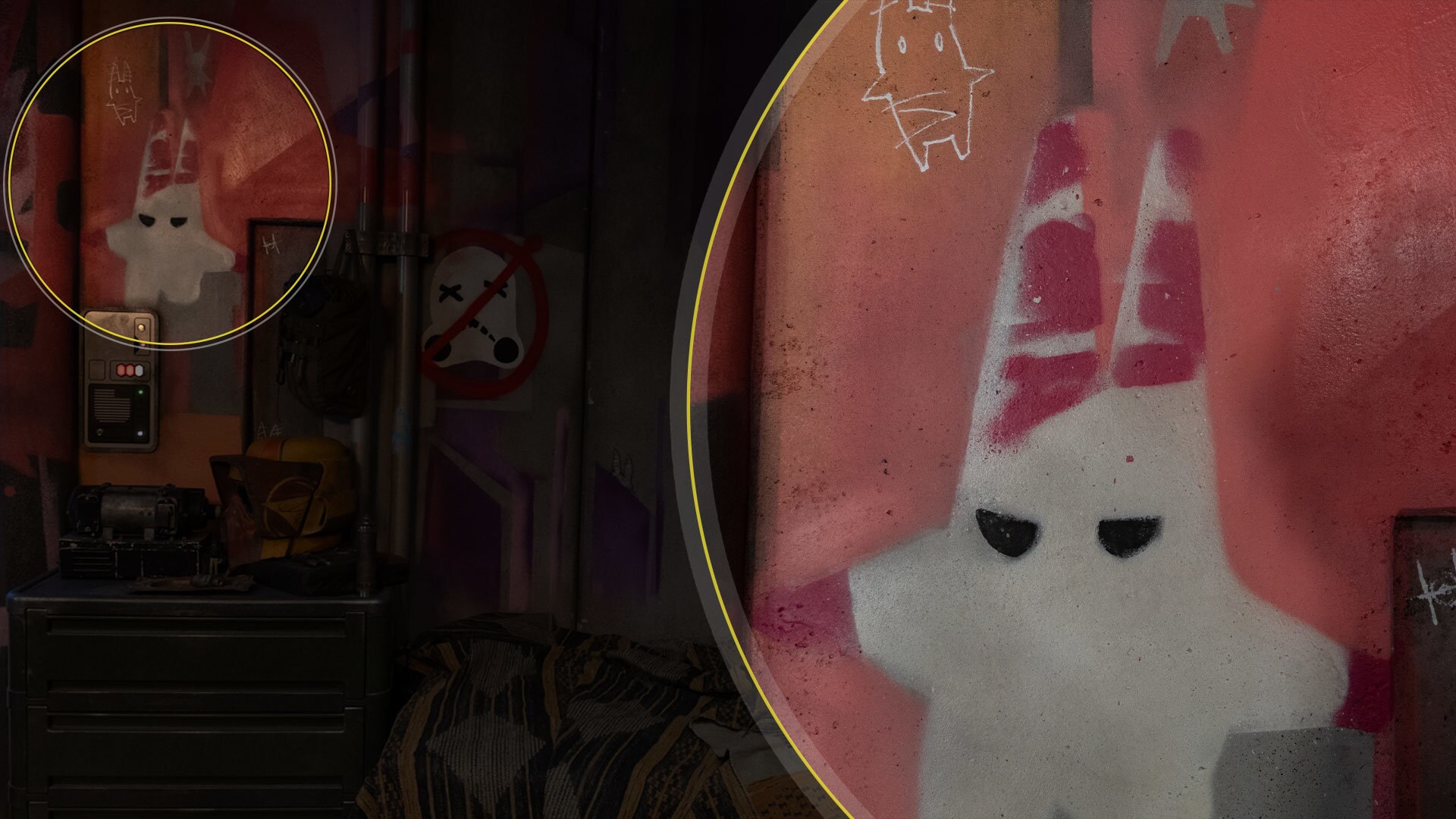 9. Tookas
A trio of crudely-drawn tookas — star-shaped creatures that the feline tooka species is named for — have taken up residence next to the door. The tooka is a popular plaything, previously seen in Star Wars: The Clone Wars and Star Wars: The Bad Batch, most notably in the hands of Wrecker and later Omega, who shared a tooka doll called Lula.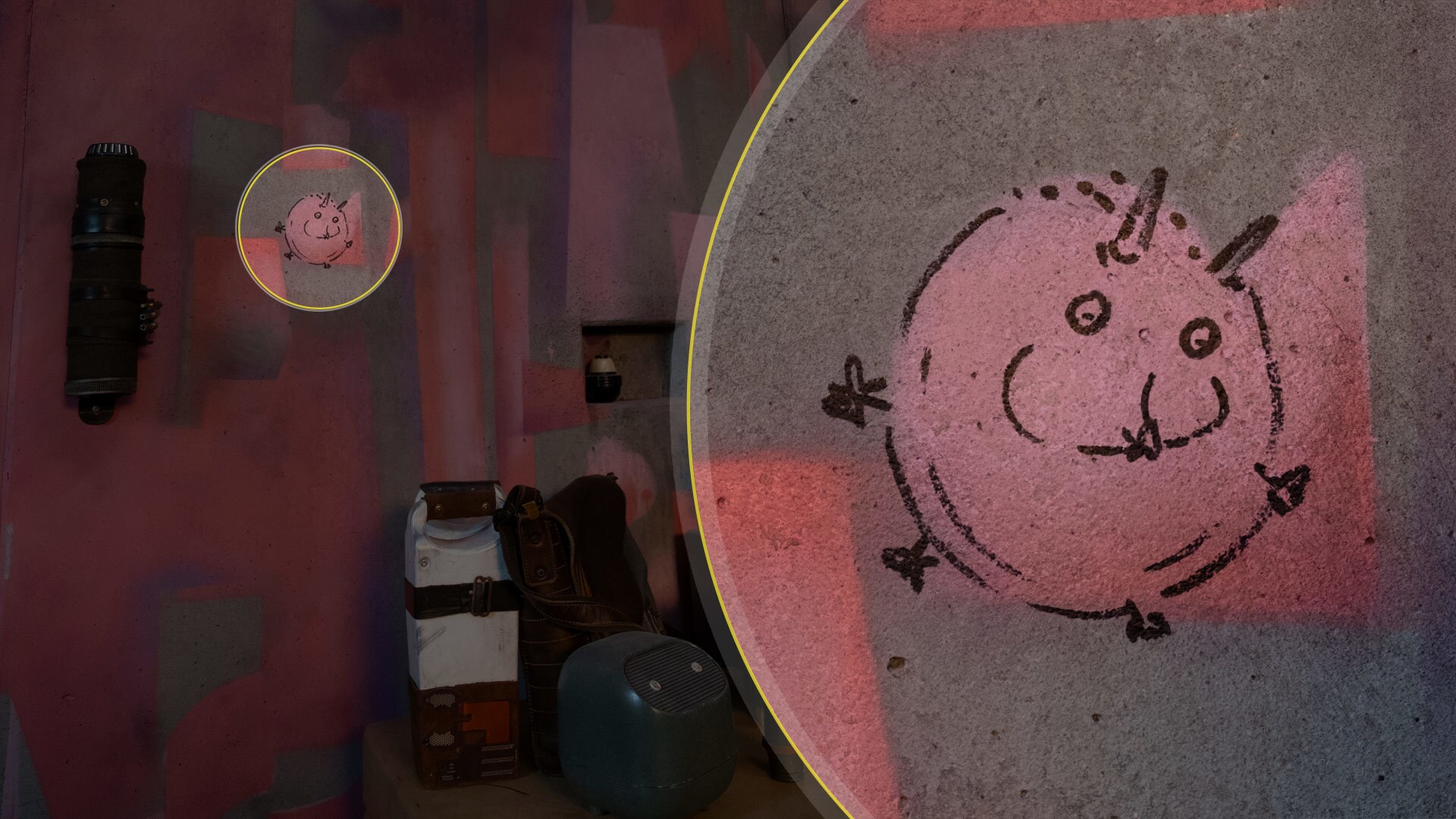 10. Puffer pig doodle
Back in Season 1 of Rebels, Lando Calrissian hired the Ghost crew to transport puffer pigs, the easily startled animals that dramatically inflate when scared, disguised as mining equipment. On one wall, Sabine has sketched a doodle of a puffer pig fully inflated.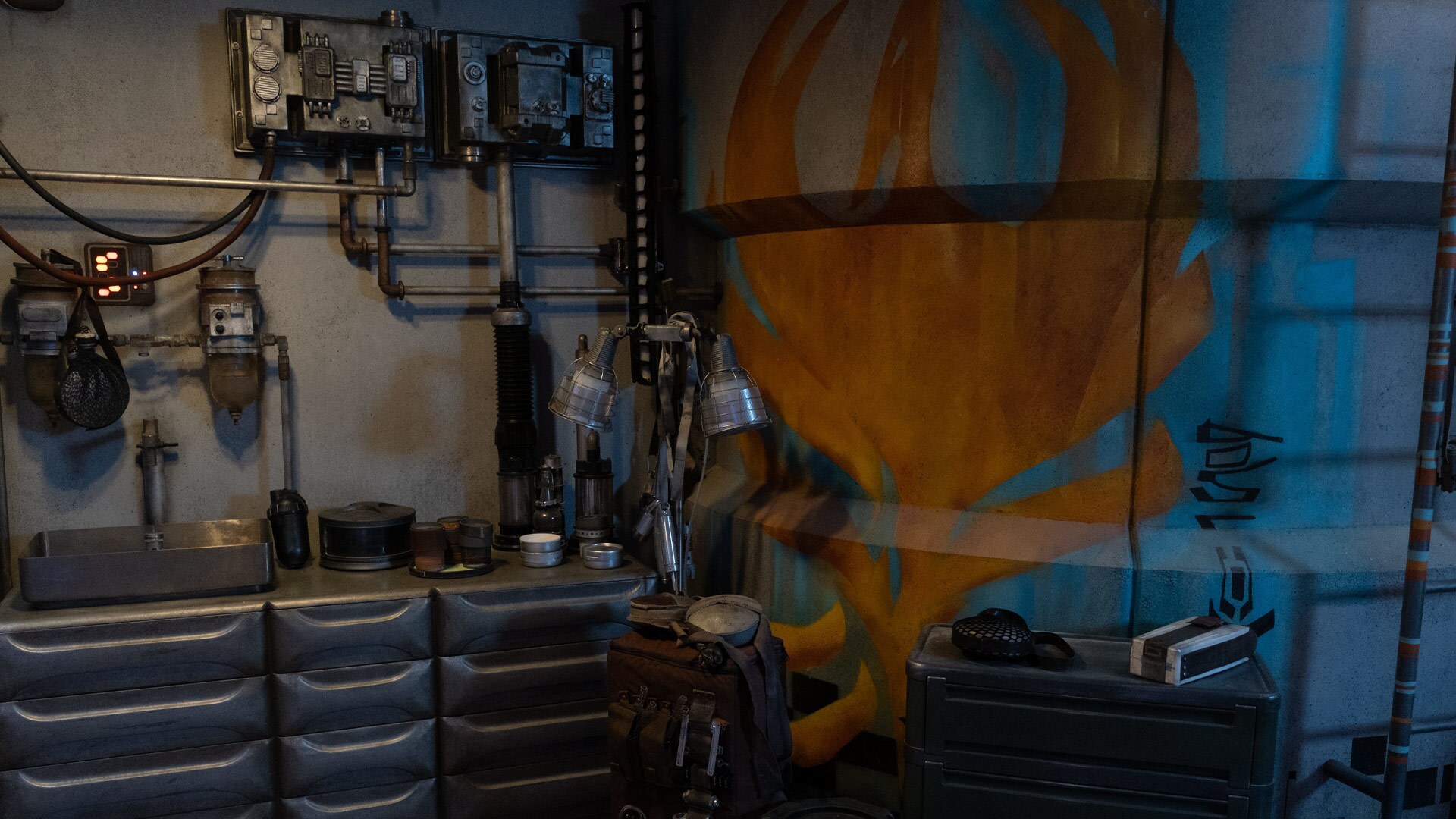 11. Phoenix art
Sabine's signature starbird has made several appearances in Rebels animation, a stylized, circular mark that was often left as a calling card after the Ghost crew, and later the Phoenix squadron, would strike enemy targets. In her room on Lothal, a massive orange phoenix rises on a splash of blue, dominating the wall she faces as she meditates on her helmet and cuts her long hair at the end of episode 2 of Ahsoka.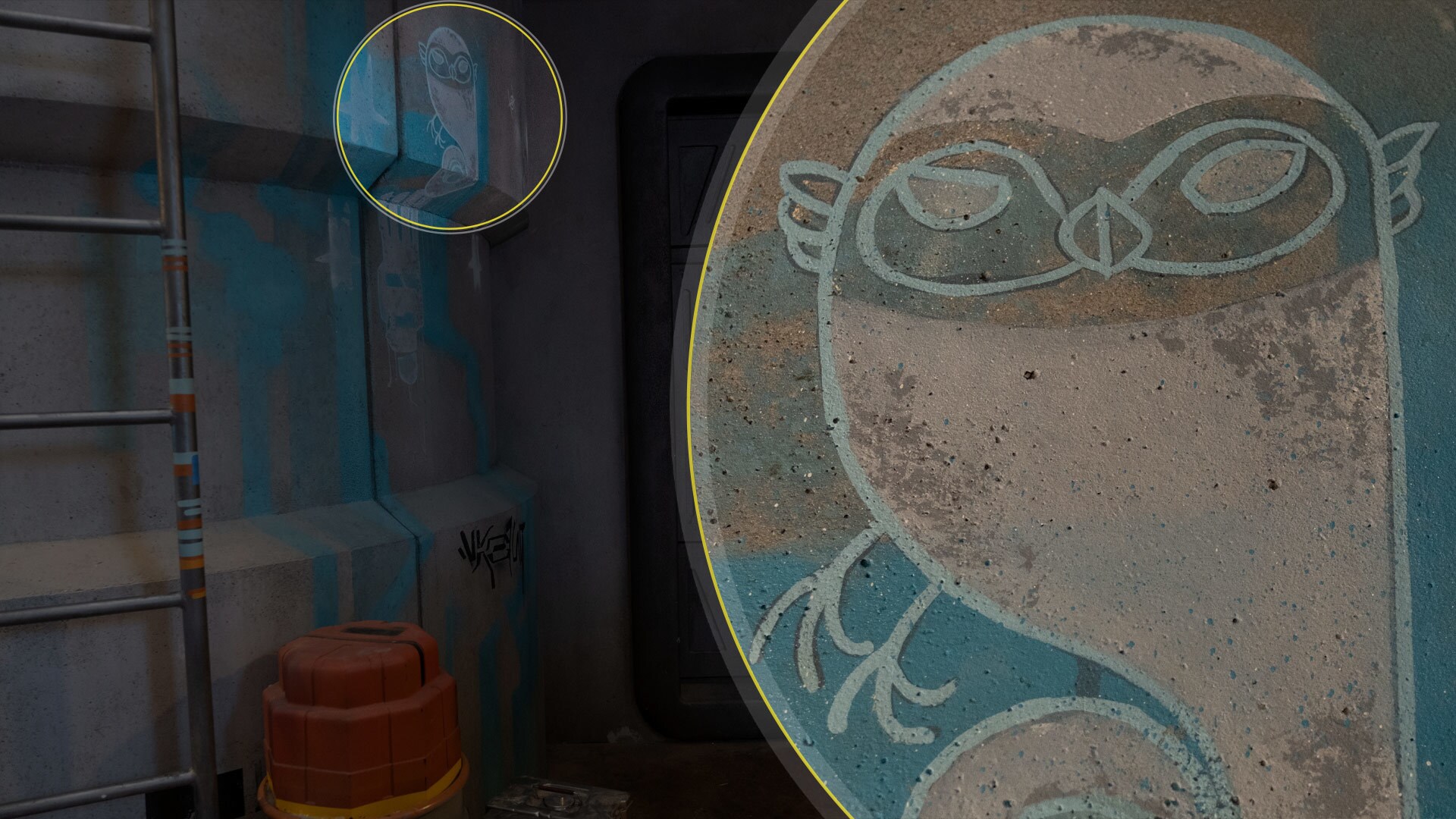 12. A hidden convor
A lone convor — like Morai, the flying creature often associated with Ahsoka Tano and connected to the ancient world of Mortis — is never seen on camera, but can be found in this behind-the-scenes image of Sabine's room. In Season 4 of Rebels, Morai encouraged Ezra Bridger to save Ahsoka in the World Between Worlds.
Special thanks to Dave Filoni, Pablo Hidalgo, and the Ahsoka production team.