In a wide-ranging conversation with StarWars.com, the Andor creator reflects on bringing the series to life.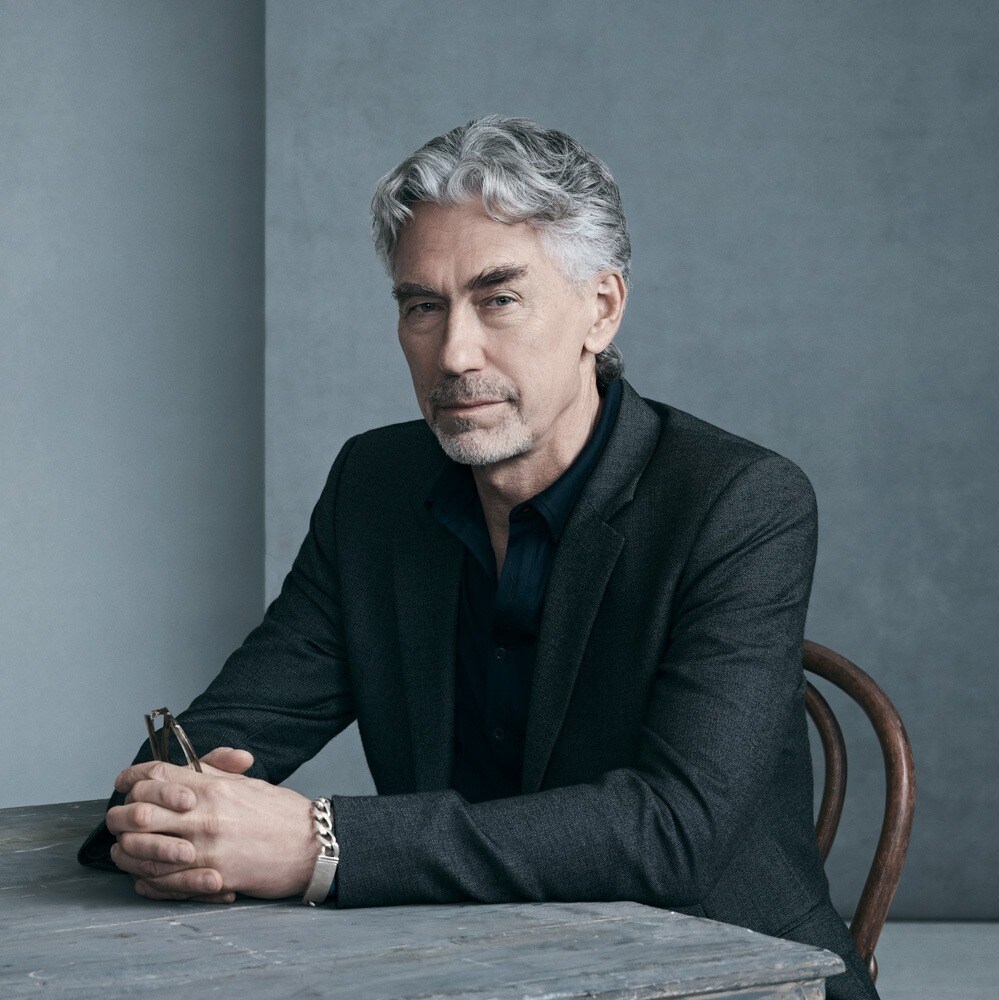 Spoiler warning: This article contains story details and plot points from the entirety of Andor Season 1.
Andor isn't like the Star Wars we've known. It announces this to us in its opening sequence, which finds Diego Luna's Cassian Andor skulking forward in the rain, heading into a brothel, and minutes later, accidentally killing a local officer before deliberately dispatching a second. As far as inciting incidents go, this is a far cry from bickering droids escaping Darth Vader and his forces.
Which is all to say that Andor was a gamble. The Disney+ Original series doubled down on the grounded tone of Rogue One: A Star Wars Story, taking the galaxy far, far away to a far more real-world, messier place than it's ever been. But for Tony Gilroy, Rogue One co-writer and creator of the series, deviating from what Star Wars typically is never gave him a second thought.
"I don't worry about that at all," he tells StarWars.com. "I worry about the storytelling. I worry about the logic of it. I worry about the plotting. I worry about the characters. I worry about the story making sense and things tying together."
It seems to have worked out for Gilroy, as Andor proved to resonate with both critics and fans. The series just wrapped up its memorable first season, of which Gilroy spoke with StarWars.com at length. The 12-episode season follows Cassian Andor five years before the events of Rogue One, as circumstances take him from drifting loner to Imperial prisoner to, finally, a believer in the burgeoning rebellion against the Empire. Throughout, there's nary a mention of Jedi; thankfully, Lucasfilm and Disney were okay with that.
"I think everybody was kind of aware on their side that there was not only an opportunity, but a need for a new lane," Gilroy says. "If there's a billion beings in that galaxy, surely there's a billion stories there, and they don't all have to do with lightsabers and Jedi and Luke and Darth Vader. I mean, other people are living their lives, and there are incredible events that are happening."

Regular, real people

After Gilroy developed the basic concept for Andor, Diego Luna met him in New York City, where the two discussed what the series would be. Luna, for his part, was eager to get going.
"He's just an absolutely perfect collaborator. He's rational, he's imaginative, he's energized, he's passionate," Gilroy says. "He was really excited, almost from the very beginning, about everything that we were doing."
A large part of what Gilroy was doing was defining what rebellion looks like, and the cost involved. For the three principal heroes of the series -- Cassian, Luthen Rael (Stellan Skarsgård), and Mon Mothma (Genevieve O'Reilly) -- it's a great one. Andor suffers in numerous ways; Luthen sacrifices some of his morality; and Mon makes an impossible choice involving her daughter.
"These are all these regular, real people. And this cascade of events beyond their control is coming after them. If the title hadn't been used before, you could almost call the show The Winds of War. It's coming, everything's coming, and these events are just rolling over everybody," he says. "How people make decisions and watching them make decisions that matter is drama."
And in typical Andor fashion, even the starring droid feels real.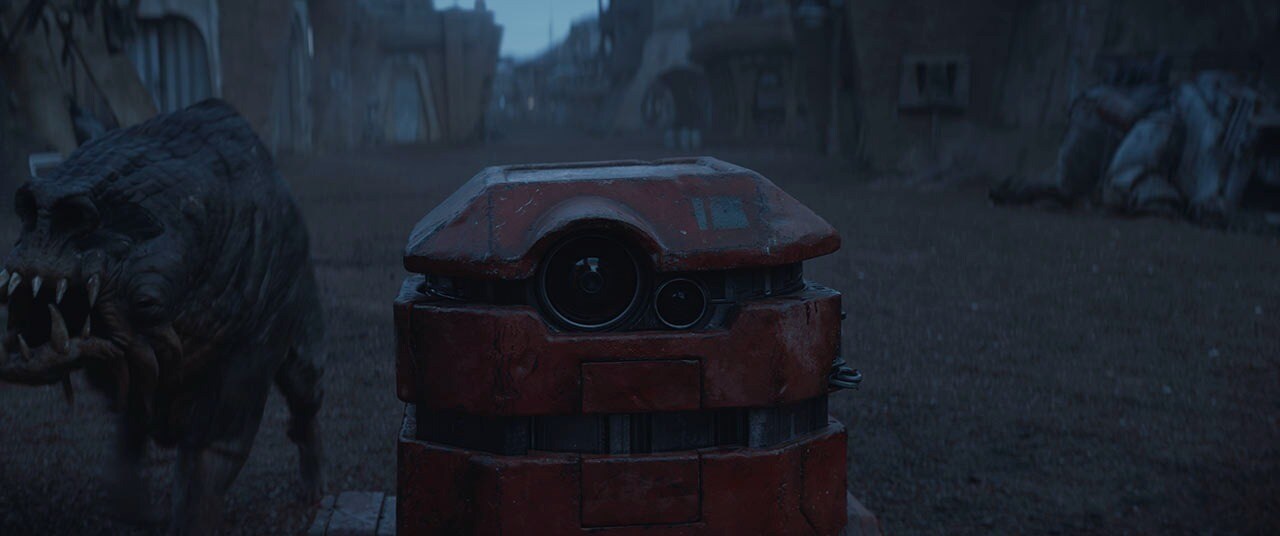 Droid story
B2EMO, the box-shaped Andor family droid, is charmingly fussy and insecure, but he's getting up there in years. As such, B2 needs to charge in order to lie and speaks with a stutter. Fans loved him.
"The idea was that it was a dog," Gilroy says. "An older dog." He credits creature effects supervisor Neal Scanlan and the creature department with developing a design quickly, noting that they only looked at a few drawings before picking what would become B2. When Gilroy and his collaborators saw the protype at Pinewood Studios, it was love at first sight. "We were all smiling," he says.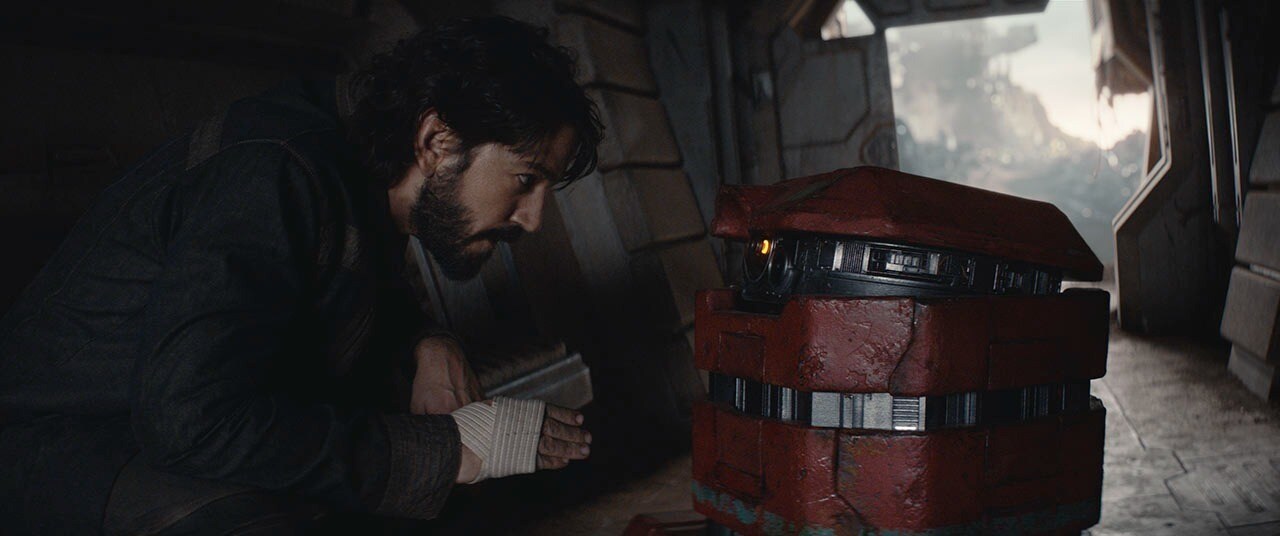 On-set, veteran Star Wars puppeteer Dave Chapman operated B2 and performed the voice. The plan always was to cast an actor and rerecord the droid's dialogue, but things changed.
"I remember having a list of audition pieces and watching a bunch of them. My brother John was over there one day, and he goes, 'I'm not hearing anything here I like as much as [Dave].' He goes, 'This guy's really good.' And we went back and were like, 'Man, let's just keep him.' So that's his voice, and that was a great phone call to make -- to call him up and go, 'It's yours. You're gonna be the voice of this thing.'"
According to Gilroy, Chapman -- accustomed to having his voice removed from movies and shows -- was "overwhelmed."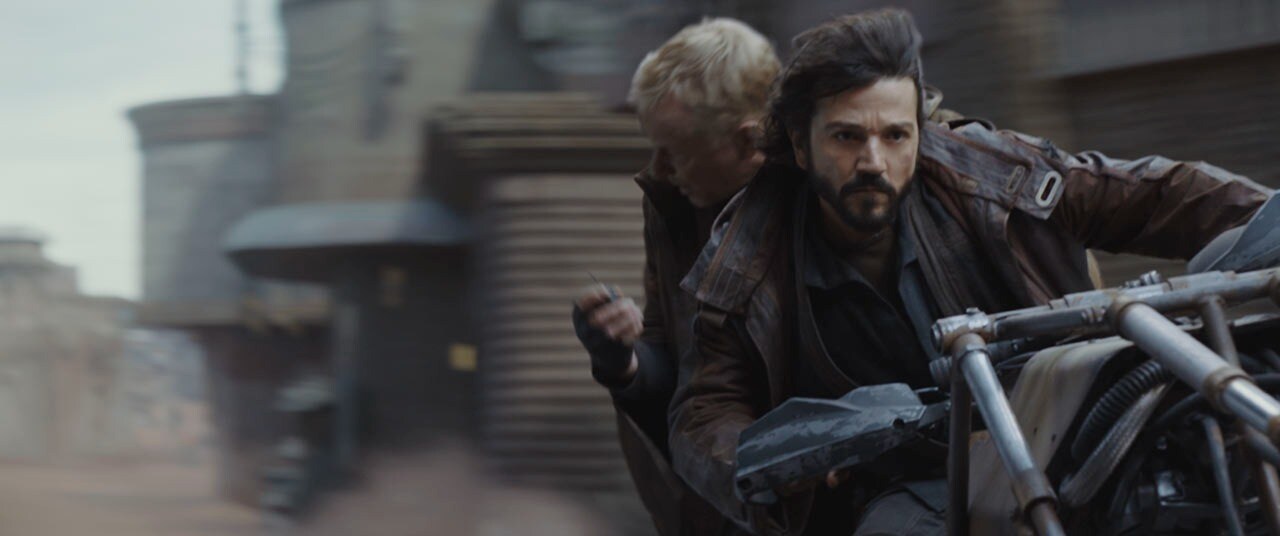 Inside the action
One of the hallmarks of Andor's gritty approach to Star Wars, and a sense of realism, is a certain messiness. Not in the storytelling, but in the action. In one of the series' early set pieces, Cassian and Luthen, who barely know each other, engage in a shootout with Pre-Mor agents in some kind of warehouse. But it's not the blaster fire they have to look out for; it's the series of chains and pulleys littering the floor that are snatching and slamming anyone who gets too close, and the machinery they're hooked up to, lifting into the air and then crashing down.
"I've done action now for a long, long time, and the key to it -- there are several keys to it -- is to have a very specific place and a very specific set of limitations to work against," Gilroy, one of the creators behind the Bourne series, says. "The best action scenes are the ones that have the most character conflict in them….The overarching other part of it is error."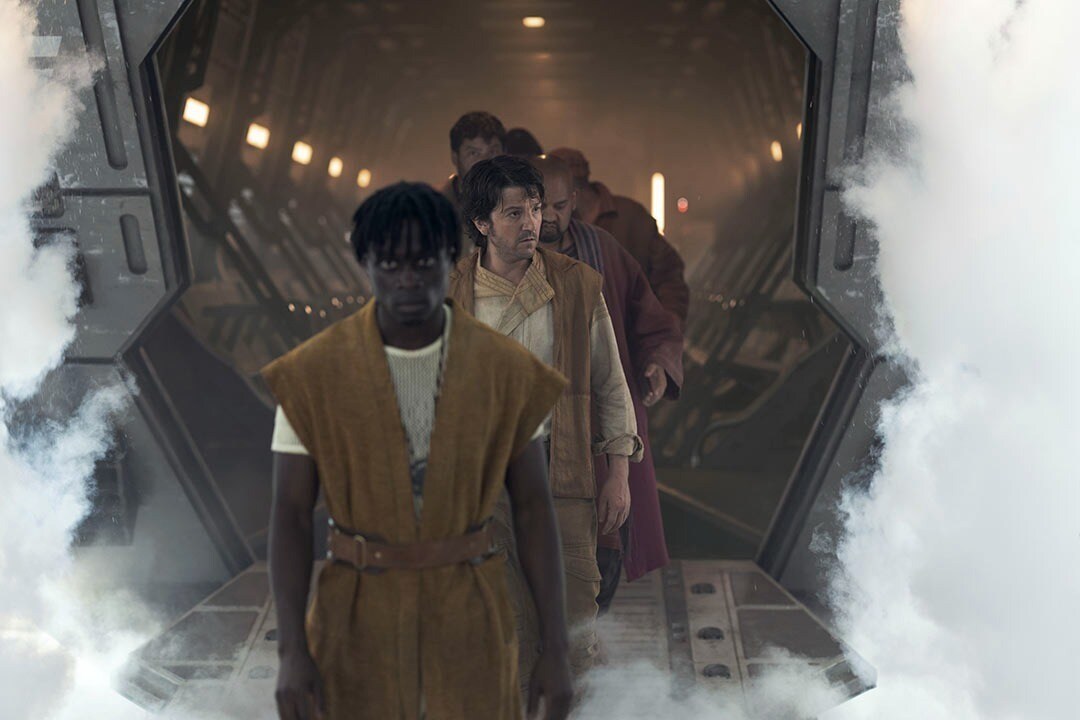 Gilroy is quick to point to another major sequence that illustrates this concept. Mid-season, Cassian is locked away in an Imperial prison, and finally leads a revolt after it's clear the inmates will never be released. The prisoners have to climb up and out of the room, and it's not so easy for all involved.
"In the prison, for me, the key to that sequence is when the kid jumps up onto the railing and it breaks from his weight," he says. "That little bit of reality, that mess up, that error, is the hook for me to get involved."
And each action scene over the course of the season was designed to be distinct. 
"You always have to have a hook. There has to be something different about it. Aldhani has a hook and the funeral has a hook," Gilroy says. "Every action sequence that we're doing has a hook to it. It has something special about it."
That "something special" ethos would apply to the series' concepts in general. And for Cassian, that wasn't always a good thing.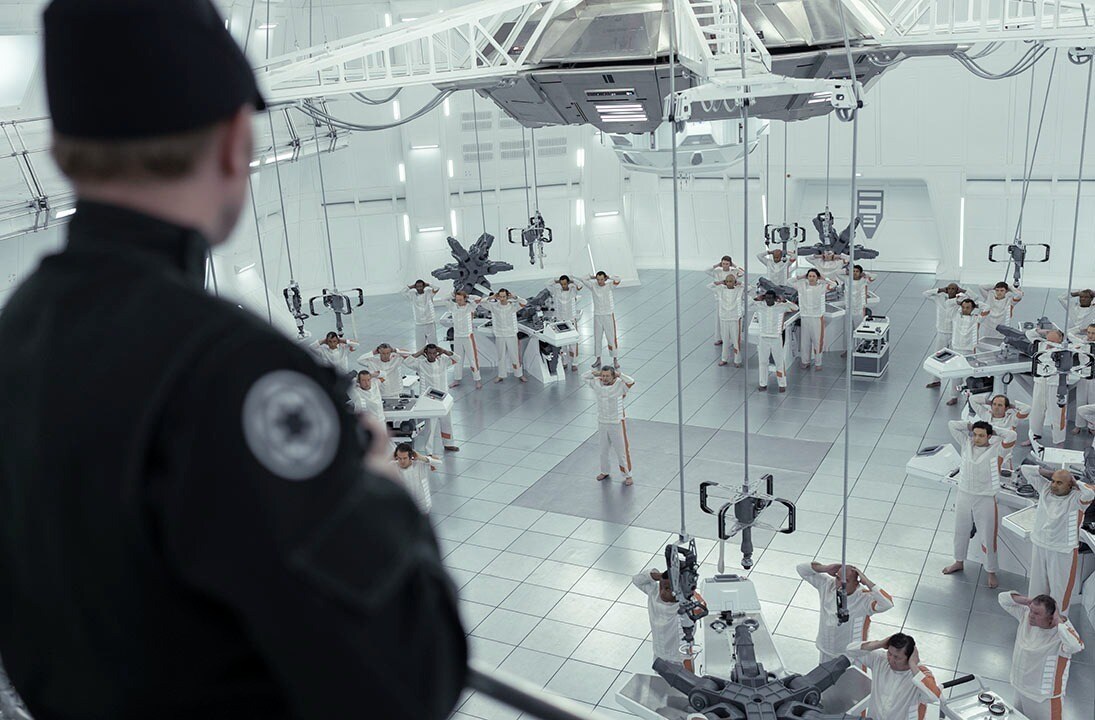 The prison
Like all things Empire, the Imperial prison holding Cassian has an especially nasty twist: inmates walk barefoot, and the floors can be electrified at a moment's notice. It's an unsettling detail that you can appreciate on a storytelling level, but it also illustrates the Empire's menacing use of fear. Behind the scenes, Gilroy and his collaborators worked hard to come up with a unique concept.
"That came out of the first writers room [session] with Danny [Gilroy] and Beau [Willimon] and I. And it came out of those conversations, because we knew we were doing the prison, and [were trying to figure out] 'What's a different prison?' We spent a couple of days on that prison."
Once the concept emerged, the team became energized.
"The moment that idea hit the air, everybody was all over it. So then it was, 'Oh, my God, so if the floor's like that, what does that do? Well, the guards would have to have boots. They would have these rubber boots.' And then at one point, in an early iteration, boots became the whole thing. Getting the boots to get out."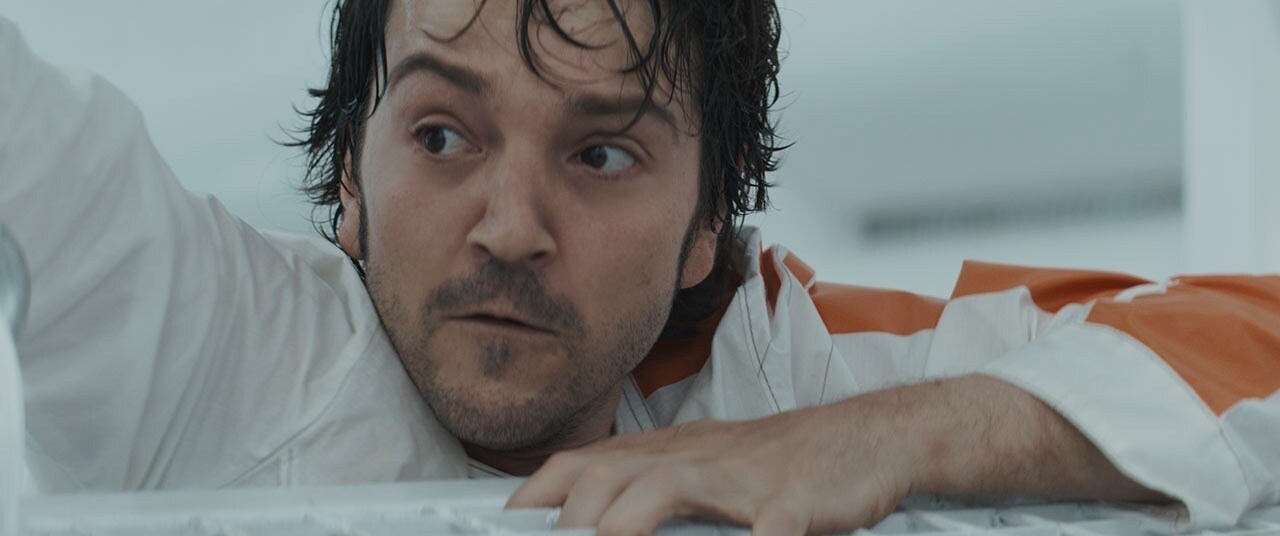 In the end, and in maybe the season's most thrilling sequence, Cassian devises a plan to flood the floor, thus shorting it out. The prisoners overtake the guards, climb up to the roof, and leap into the waters below in order to swim for their freedom. StarWars.com asks if Kino Loy (Andy Serkis), the grumpy floor manager who becomes a leader in the escape, made the jump. We never see him do it on-screen.
"I love him so much," Gilroy says. "I don't know the answer."
Will we ever find out?
"Maybe we will."
Though the sequence is successful, there's one aspect of this electrified prison that Gilroy isn't sure was a good idea.
"It's terrifying to think that someone may build a prison like that based on what we designed," he says jokingly. "That's what we were worried about."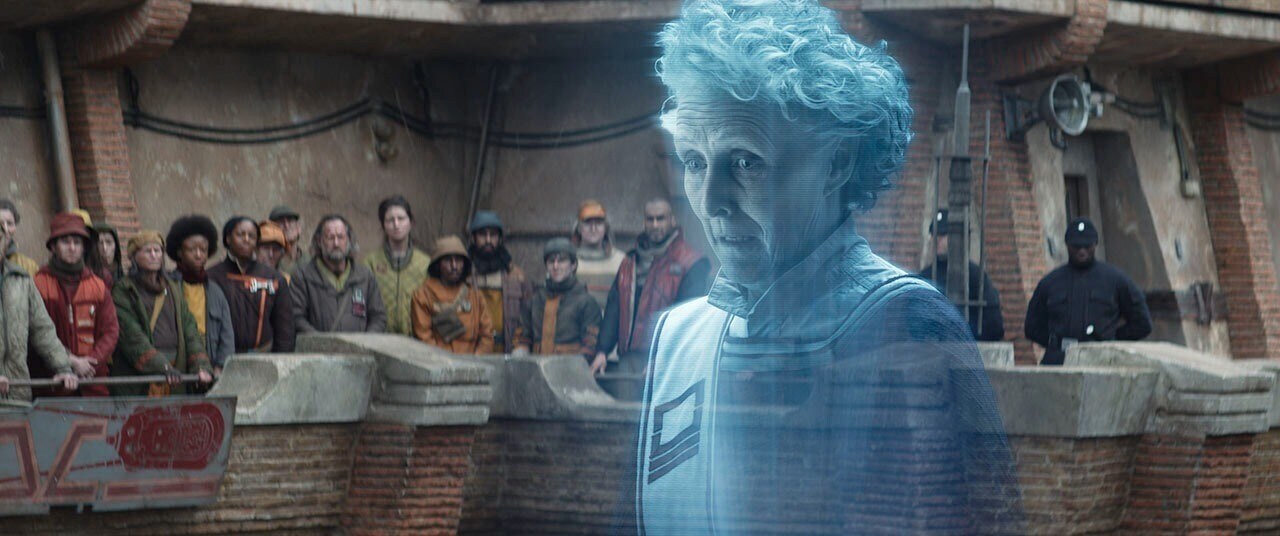 The Ferrix funeral and rebellion
The season ends on a doubly powerful note: a funeral procession on Ferrix for Maarva, Cassian's adoptive mother, followed by a full-scale revolt against the Imperial occupation. The clash is prompted by a stirring holographic speech from Maarva, who shouts "Fight the Empire!" before a brick, made from her ashes, is used as a weapon. Though it closes the season, the sequence was actually the first element of the series Gilroy worked on, particularly the music.
For the procession, Gilroy was adamant that the on-screen actors -- not professional musicians -- play the music on real instruments, and that it all be recorded on-set. Knowing how important the sequence would be, he collaborated with composer Nicholas Britell on the funeral music two years before the series started even shooting, eventually creating a seven-minute piece together.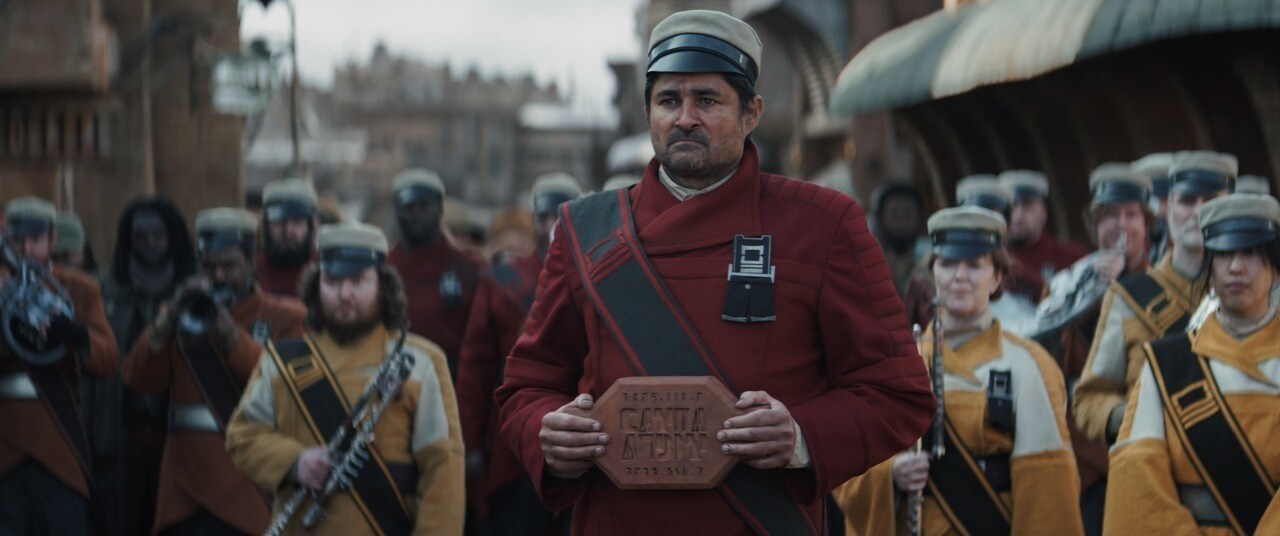 "This is a piece of their ancient traditions," Britell tells StarWars.com. "This is a piece that's not just about Maarva or Cassian, it's about this people, and this is a tradition that all of them would know and that all of them would naturally connect with. So the sound had to be something that hopefully felt like it was almost part of their folk tradition. It meant something to them, and that is the precursor to them all coming together."
"The funeral came alive to me through that civic procession," Gilroy says. "And it really helped me advance the personality of Ferrix and the depth of it, the fact that these people really cared for each other." The music, in turn, inspired Maarva's monologue, which became a call to arms. "That just enriched everything."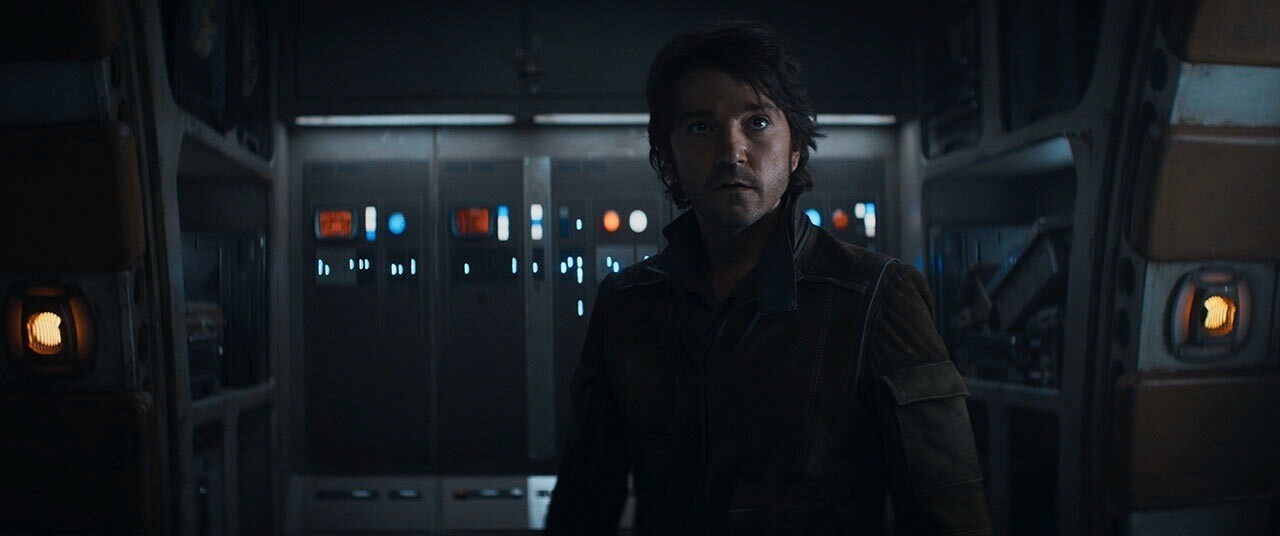 When the season comes to a close, Cassian has left with Luthen, ready to commit himself to the rebellion. But with Mon working, essentially, on her own, and the Saw Gerreras of the galaxy doing things their own way, the rebellion is still splintered. That landscape sets the stage for what's to come.
"One of our happiest, proudest things in the show is when Diego is listening back to [Nemik's] manifesto. He opens Nemik's manifesto that night before the funeral. And Nemik is, in the manifesto, saying, 'We're going to win because oppression is unnatural, and freedom is a natural [thing].' And he has a whole big speech about how acts of rebellion are springing up all across the galaxy," he says. "All the people that are out there trying to make a rebellion, and they're all atomized and spread apart. And so the show is really about watching this thing coalesce, and in the end we will coalesce into Yavin. The consequences of that are good and bad for the people who've contributed the most to making it happen."
Gilroy leaves us with one question as he looks ahead to the second season of Andor, which just started production.
"[That's] really one of the things we're most interested in. What happens to the 'original gangsters' who are no longer so presentable to the community?"