Nearly two decades after first inhabiting the role, the actor looks back at the character's debut while exploring new depth on screen.
Genevieve O'Reilly has played Mon Mothma, the galactic senator from Chandrila, on and off for nearly 20 years. But in that latest resurgence,  on the new Star Wars Original series Andor now streaming on Disney+, it's clear her story is only just beginning.
When O'Reilly first stepped into the role in 2005 for an ultimately deleted scene in Star Wars: Revenge of the Sith, she rewatched the character's debut in Star Wars: Return of the Jedi. Originated by Caroline Blakiston, the first appearance of Mon was just before the Battle of Endor, delivering somber news on the Bothans who had sacrificed everything to deliver top-secret Imperial intel to the Rebel Alliance. "I remember studying the scene, really trying to work on capturing her voice, her syntax, so that fans could see a connectedness between me playing her and Caroline playing her," O'Reilly tells StarWars.com.
"I always go back to that scene. I think that was as ambitious then -- perhaps even more ambitious -- than it is now," O'Reilly adds, referencing creator George Lucas' bold decision to show a woman as the leader of the Rebel Alliance in 1983. "And she's a character that I love."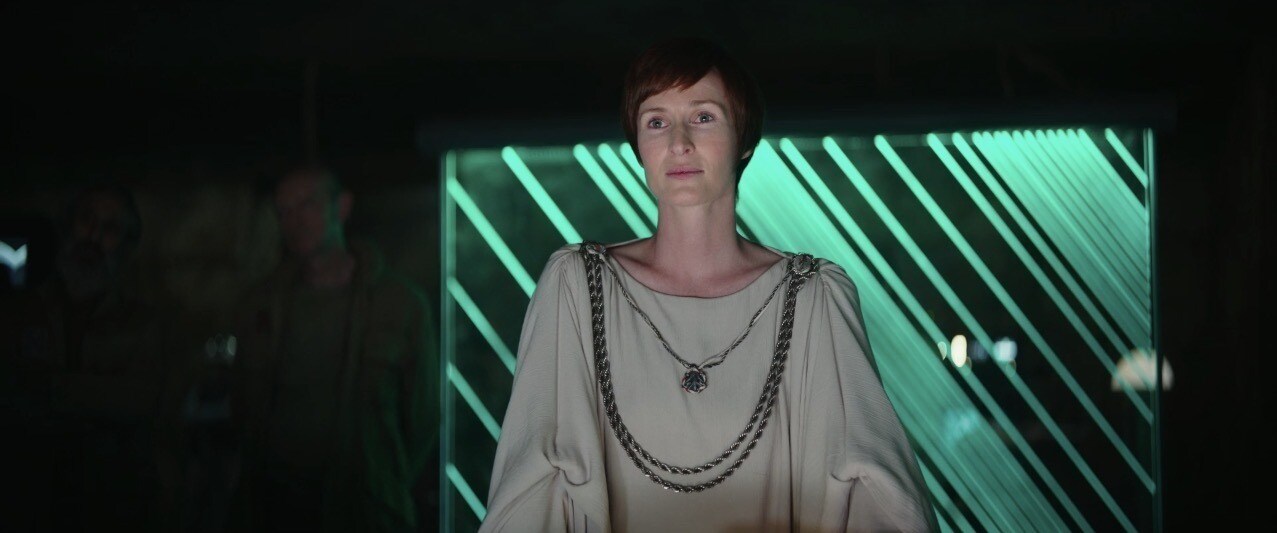 O'Reilly first made a triumphant return to Mothma in 2016's Rogue One: A Star Wars Story and a TV mini-series promoting the standalone film. The following year, she reprised the role again in animation with appearances on Star Wars Rebels. In each version, O'Reilly found Mothma surrounded by like-minded freedom fighters, the proud and assertive leader of the cause. "The iterations that we found her in, both in Rebels and in Rogue One, were similar: a leader of a rebellion with a tough decision. It requires a dignity and a strength, which is at the heart, I think, of Mon Mothma."
In Andor, neither the audience nor the storytellers have found Mon where we left her. "What is different this time is that we meet Mon Mothma in a very different stage of her life, like we meet me at a different stage in my life," O'Reilly says. "Usually, we see her surrounded by a band of rebels. She has company. In Andor, it's quite lonely. I think that's new. There is a cost to her voice, and it's interesting to see her having to make choices, to step outside of that loneliness to get to Yavin."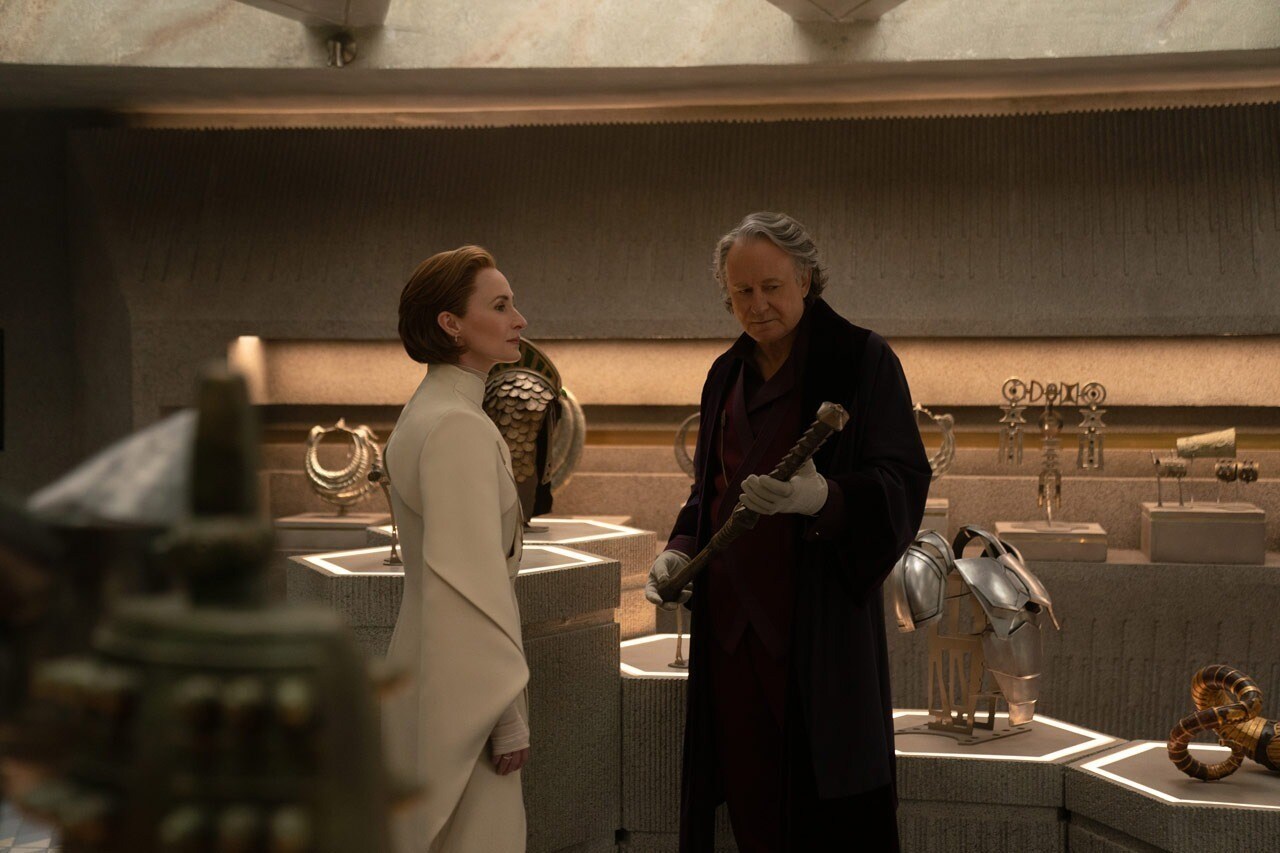 Beyond her family and their staff, Mon has precious few allies in the series so far, but chief among them is the mysterious Luthen Rael, played by Stellan Skarsgård. Sharing scenes with the accomplished actor has been a joy for O'Reilly, as the two found themselves in the wonderland of Luthen's gallery, surrounded by artifacts and props plucked from Star Wars history. "It's a great honor for me to be able to inhabit a space with such a fine, fine actor," O'Reilly says. "But, also, he's just so much fun! He's really playful and we had the best time together in those scenes. The pair of us were like kids in a playground. 'Look at this! Have you touched this? Have you seen this? Oh my gosh, shall we put it on? Should we wear it?' We had such a great time together. And he's such an accomplished actor that we had a great interplay. It's like sword play: it's deft and it's dangerous, but there is a sophistication to it."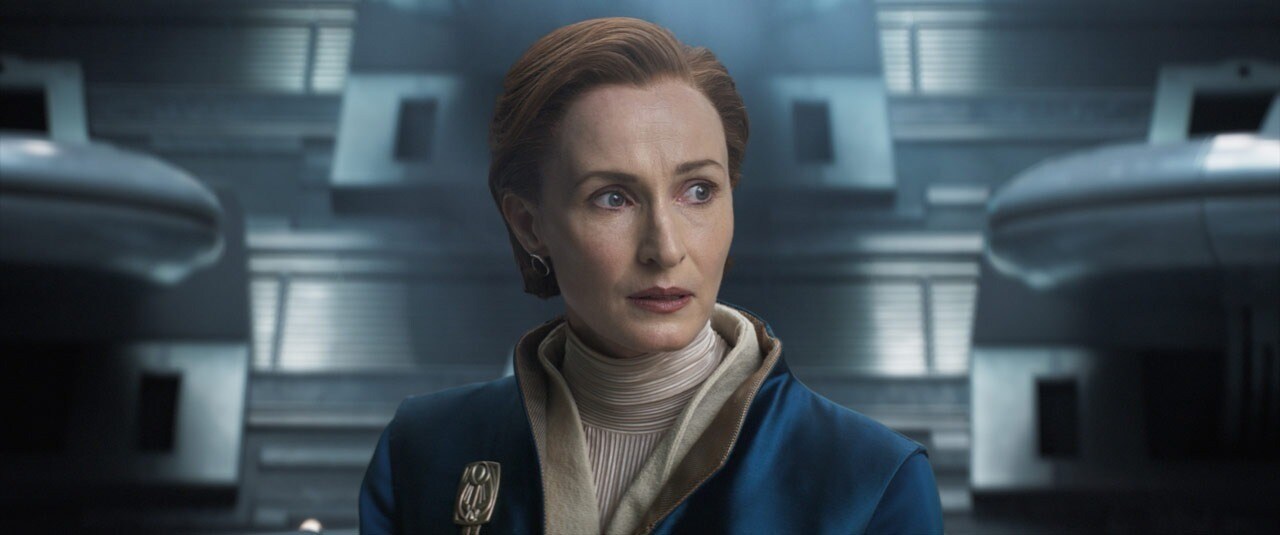 As the season progresses, O'Reilly hints that we'll learn more about the toll forming the Rebel Alliance will take on her character. "We can all be different versions of ourselves and I was grateful to Disney and to [Andor creator] Tony Gilroy to invest narrative space in this woman, to get to explore her, to get to see what it costs to be her, to get to see how dangerous it is to have her voice. I hope fans are as interested in that as I am, because I want to know what it is to be that woman."
We all know where Mon Mothma ends up, tasking dedicated rebels with sacrificing their lives for the greater good. "So I want to know, how did she get there?" O'Reilly adds. "What pain does she carry that drives her to be that woman? To ask that of someone? I always found when I went back to Caroline's scene Return of the Jedi that at its heart, you can see that she carries a pain, and I always wondered what that was. And I hope, during Andor, we get to see what it costs to be this woman." 
Hear more from Genevieve O'Reilly in a special interview in the latest episode of This Week! In Star Wars below.