With the arrival of the three-episode series premiere, now streaming on Disney+, the creator/executive producer and cast discuss their revolutionary look at the Rebellion.
When Rogue One: A Star Wars Story debuted in theaters in 2016, it was lauded as a gritty new installment in the galaxy far, far away, a previously unexplored chapter that took viewers to the brink of the Galactic Civil War raging throughout the original trilogy. With Andor, the new Star Wars series streaming exclusively on Disney+ beginning today, creator and executive producer Tony Gilroy has returned to tell not only the origin story of unlikely hero Cassian Andor (played once again by Diego Luna), but -- perhaps more importantly -- take fans deep into the sometimes-ugly heart of the brewing rebellion. This previously unexplored perspective on the history of the Rebel Alliance finds Andor in a raw and unflinching portrayal of the personal sacrifices made in the course of challenging the Empire's rule and the people at work in the trenches on both sides.
The show's existence owes a debt to the enduring popularity of the Star Wars zeitgeist, Gilroy noted in a recent press conference. "There's this huge, dedicated Star Wars community that shows up. That's what gave us the money and the momentum and the ability to make a show that's this insanely big, this abundant, and this difficult to make." But he hopes the story of Cassian's journey from petty criminal to Rebel Intelligence officer daring to steal the Death Star plans will offer a fresh take on the space fantasy as enticing for existing fans as it is for new ones. "There's nothing cynical about our show. The word we use more every day…is real. We want to make this real. This place is real to us. Our show is designed that this could be your entry point to Star Wars. We're doing a show that does not require any prior knowledge whatsoever to get involved."
Gilroy recognizes that it's a risk to pen a Star Wars story with no lightsaber-swinging Jedi Knights -- one that feels more akin to the spy thrillers and sweeping dramas on his screenwriting résumé. "Can we bring something that's so intense emotionally and seems so true and has the smallest domestic dramas and the smallest interpersonal relationships that are dropped down in the midst of the epic tectonic revolutionary historical moments where people have to make huge decisions? Can we attract another audience that's interested in that as well? Can we marry those two things together?" Gilroy asks. "That's the gamble. That's what we're trying to do."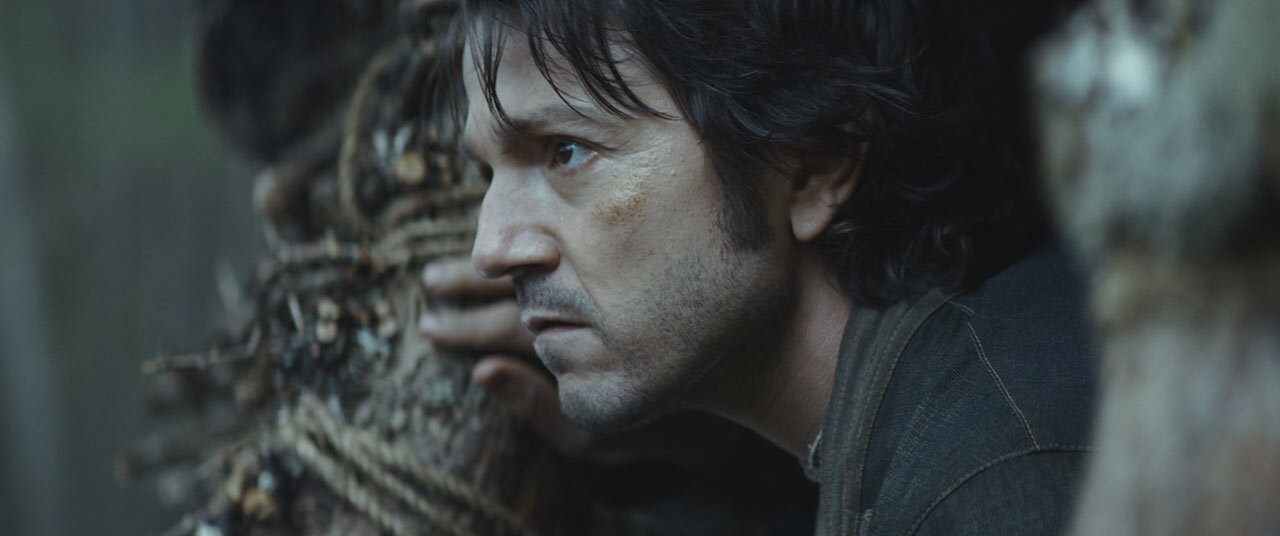 With two seasons spanning 24 episodes, Andor will cover the five years leading up to Rogue One, exploring not only Andor's personal journey, but the fate of the galaxy itself, as told through the relationships of existing characters like Mon Mothma (Genevieve O'Reilly) and Saw Gerrera (Forest Whitaker), as well as newcomers including Luthen Rael (Stellan Skarsgard), Maarva Andor (Fiona Shaw), Bix Caleen (Adria Arjona), and the Empire's Imperial Security Bureau Supervisor Dedra Meero (Denise Gough) and Pre-Mor Inspector Syril Karn (Kyle Soller).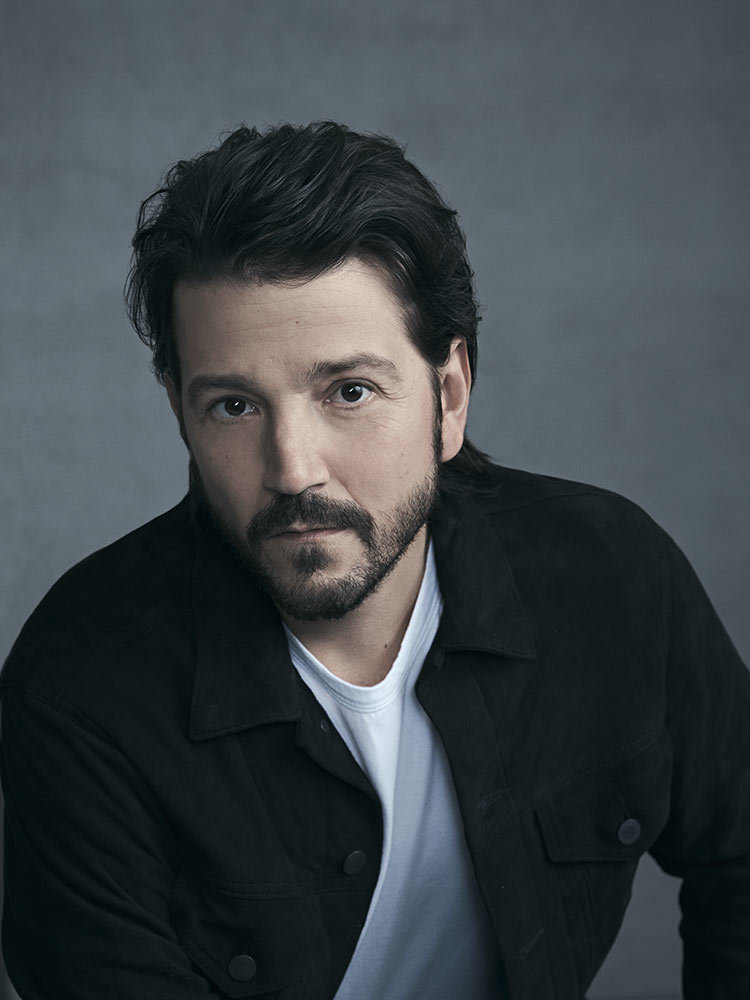 "The reality I live in"
Beyond the hyperrealism of a galaxy on the edge of conflict, the show's casting of Luna as the lead and Arjona as his loyal friend reflects the world we live in.
"We're supposed to be a mirror for audiences to be able to see themselves," Luna says. "I think it makes sense if we're talking about a galaxy where there's so many planets that people come from different places, you know? And if we're talking about refugees, they come from different places and they gather in one place and they sound different, they look different. And that diversity, I mean, it's what makes this -- the reality I live in -- very rich, you know? I celebrate that the stories we see reflect on that."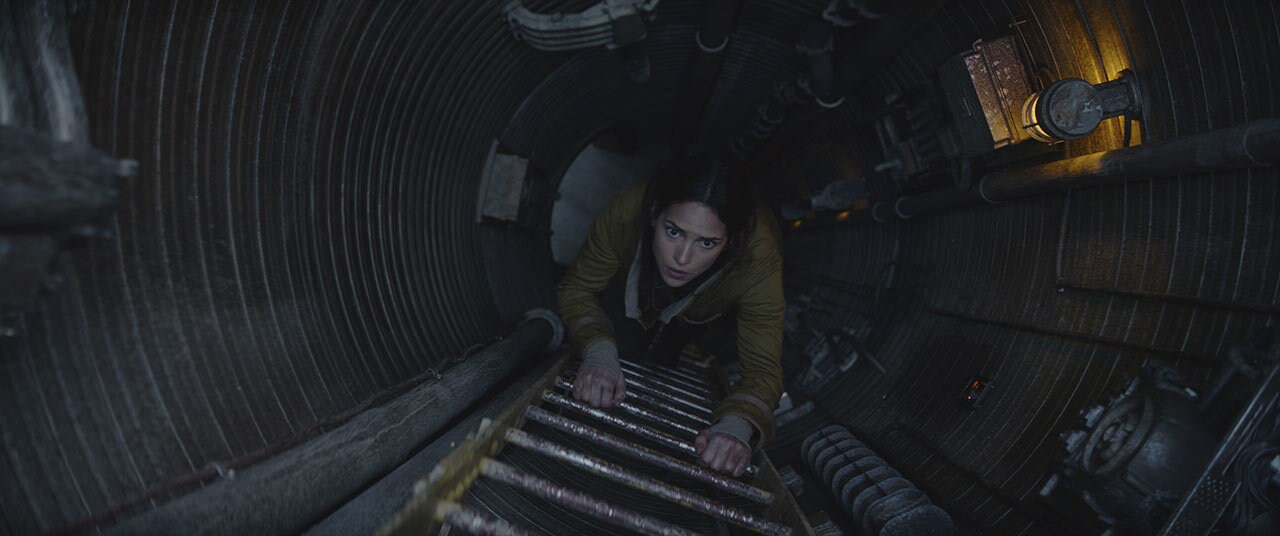 Adria Arjona agrees. "It gives me hope that a little girl is going to watch it and be like, 'Oh my god, that girl kind of looks like me,'" she says. At the same time, it's equally important to her that her ethnicity wasn't an active part of her casting. "It wasn't part of the conversation, which was, I think, the most beautiful thing about it. It wasn't like, 'Oh, you're Hispanic, so you need to be in this.' Tony was like, 'Oh, you're Bix.'"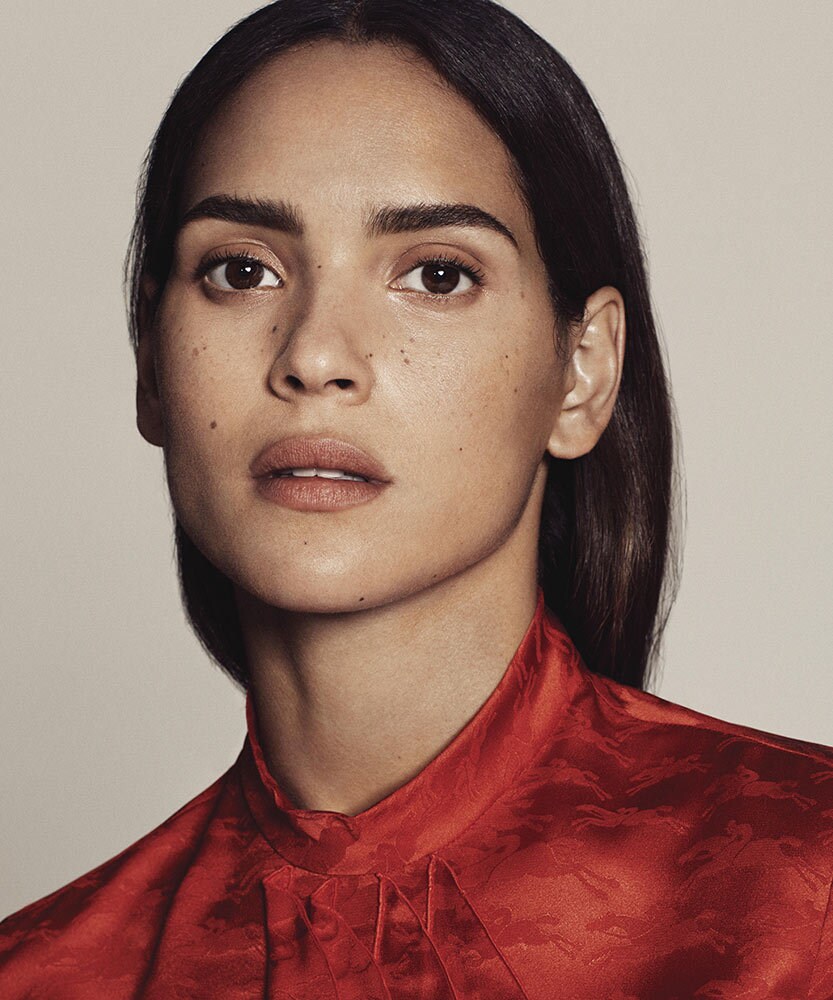 Complex characters
Andor's vivid storytelling is made possible by sweeping visuals, from traditional sets at Pinewood Studios to location shoots, brilliant costume design, a stirring score, and other elements. But the cast says the realistic nature of the story really comes down to one thing: the writing of the characters.
For Arjona, she immediately gravitated toward Bix's tough exterior, protecting a vulnerable core. "I liked a lot of things about Bix. She's fearless and she's bold, yet deep inside, she's incredibly loyal and compassionate and cares a little too much for the people around her, sometimes [to] her own detriment."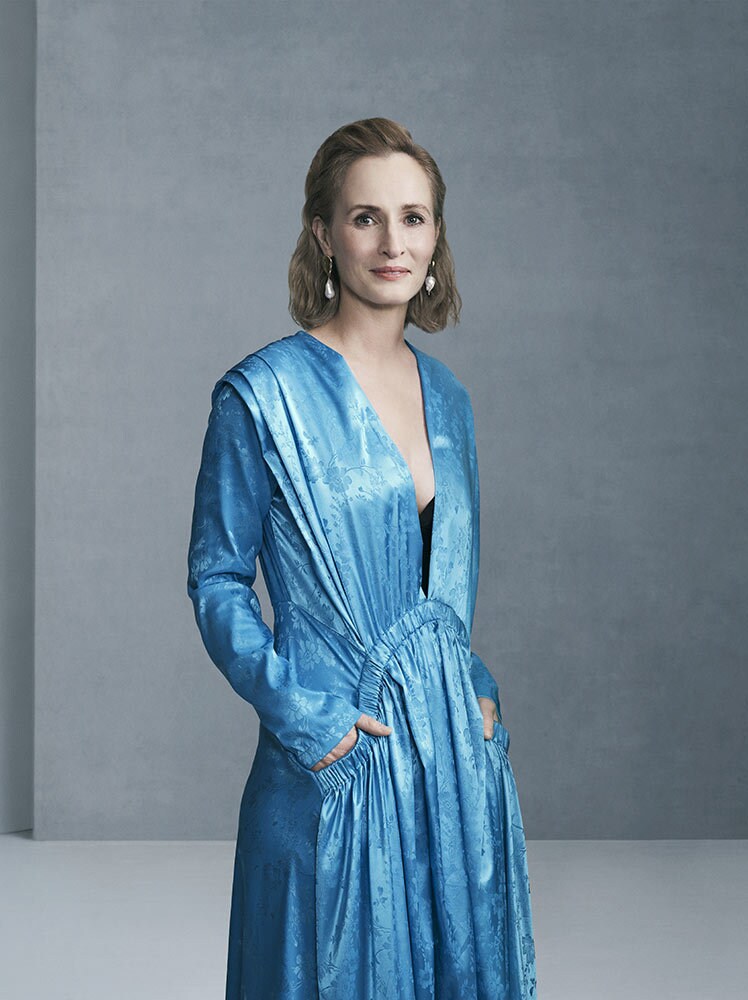 "We've met Mon Mothma before in different iterations, in different versions of the Star Wars storytelling, and each time we've [seen] this kind of composed, regal, dignified woman," adds Genvieve O'Reilly, who has portrayed the senator from Chandrila off and on for nearly 20 years since first being cast in the role -- for an ultimately deleted scene in Star Wars: Revenge of the Sith. "I think what's extraordinary about how Tony has written Andor and where he has chosen to begin this story is so very different to where we find Mon Mothma in Rogue One. She is still that very dignified senator, but for the first time, we get to see the woman behind the role. We get to see the private face of Mon Mothma. We get to flesh out not just the senator, not just the would-be leader of a Rebel Alliance, but also…We see a woman who has had to navigate her ideals and her beliefs within systems of oppression. We find her in a bit of a gilded cage. What I'm excited for is for us to travel that story with her, to journey with her as a woman finding her voice, and reaching for voices that are fighting for similar things, finding community, finding collaborators to be able to eventually be the leader that she becomes in Rogue One."
That interest in the humanity of the characters is also what attracted Denise Gough to by-the-book ISB officer Meero. Her character is obsessed with the rules, yet she knows how to bend them to get the results she wants. "What I love about playing her is that, you know, she's in this very male-dominated world…and she's clawing her way up the ladder," Gough says. "I love portraying the effect that power just has on a person, the danger of that pursuit of power and control, regardless of gender….You know, so she's proud of being part of this. And she wants to really make her mark in this industry of the Empire."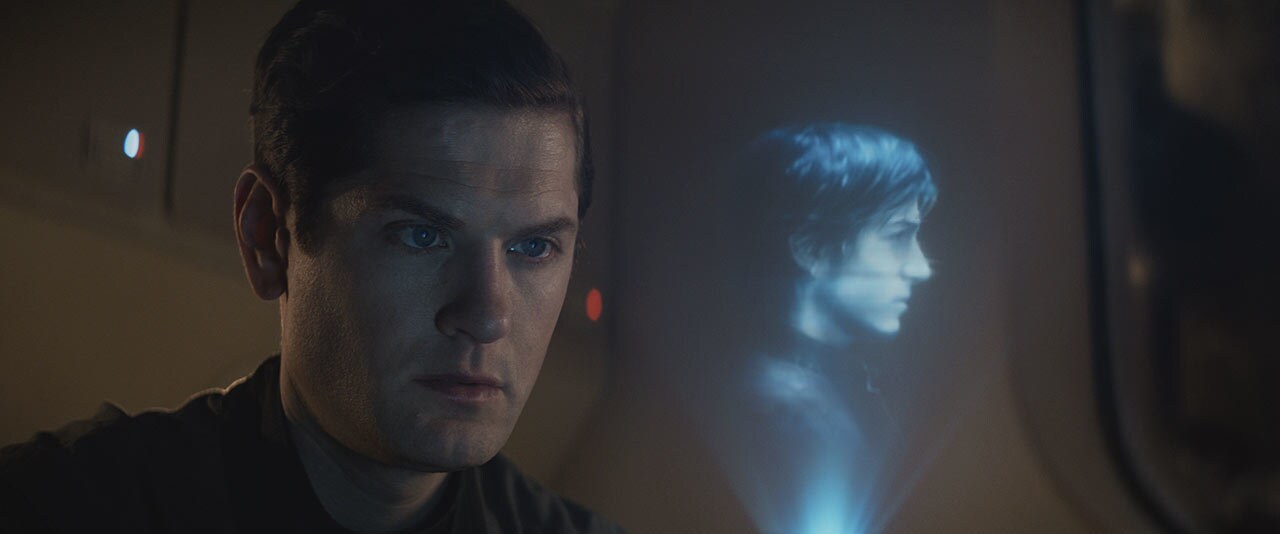 Gilroy's treatment of Imperial flunky Syril Karn gave the character an unexpected depth, adds Kyle Soller. "What attracted me to the role was Tony's writing," he says. "He had created a character that was really three-dimensional and had a big question mark over him. He could kind of go either way. He could go into the Empire. He could go into the Rebel Alliance. He's got a lot of gray area. And he came from a place of such lack and such pain in his home life, that he's trying to fill this void within himself through the fascist, corporate, bureaucratic structure, where he finds order. He finds a place to be seen if he can supersede his station and climb those ranks."
"A potent moment in history"
Of course, all storylines tie back to the central character to ask the question: Who is Cassian Andor?
"We know where he ends up and we know how accomplished and complicated he is," Gilroy says. The creator and writer behind the series was drawn in by "the idea that we can do a story that takes him literally from his childhood origins and walk him through a five-year history of an odyssey that takes him to that place, during a revolution, during a moment in history in a place where huge events are happening and real people are being crushed by it. The fact that we could follow somebody as an example of a revolution all the way through to the end."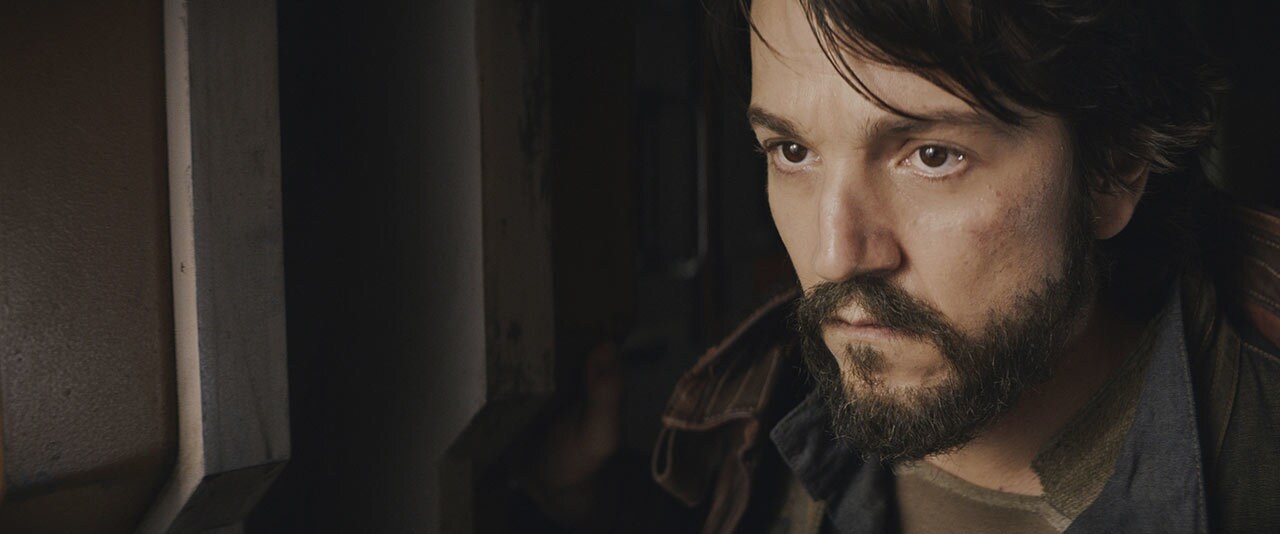 With Rogue One as the endpoint, Andor unspools a new prequel populated by average denizens of the galaxy. "There are a lot of characters in our show…everyone is going to be circulating and spinning and intersecting around the Cassian Andor story as we move towards Rogue One," Gilroy adds. "It's a potent moment in history and a lot of people are facing a lot of really difficult times and difficult decisions along the way."
And despite being set in a fantasy world in another galaxy entirely, Luna says the story has an air of veracity to it. "For me, it's quite relevant today to tell the story of what needs to happen for a revolutionary to emerge, to exist, to come to life," Luna says. "What gives meaning in the life of someone to be willing to sacrifice everything for a cause? What needs to happen? That journey matters to me…. I think that story matters. That story is interesting. And there is a lot of material there for us to play, so I was really excited to be able to go into that journey and give those answers."