A family of Mandalorian Mercs has been celebrating Sabine Wren in cosplay since 2014.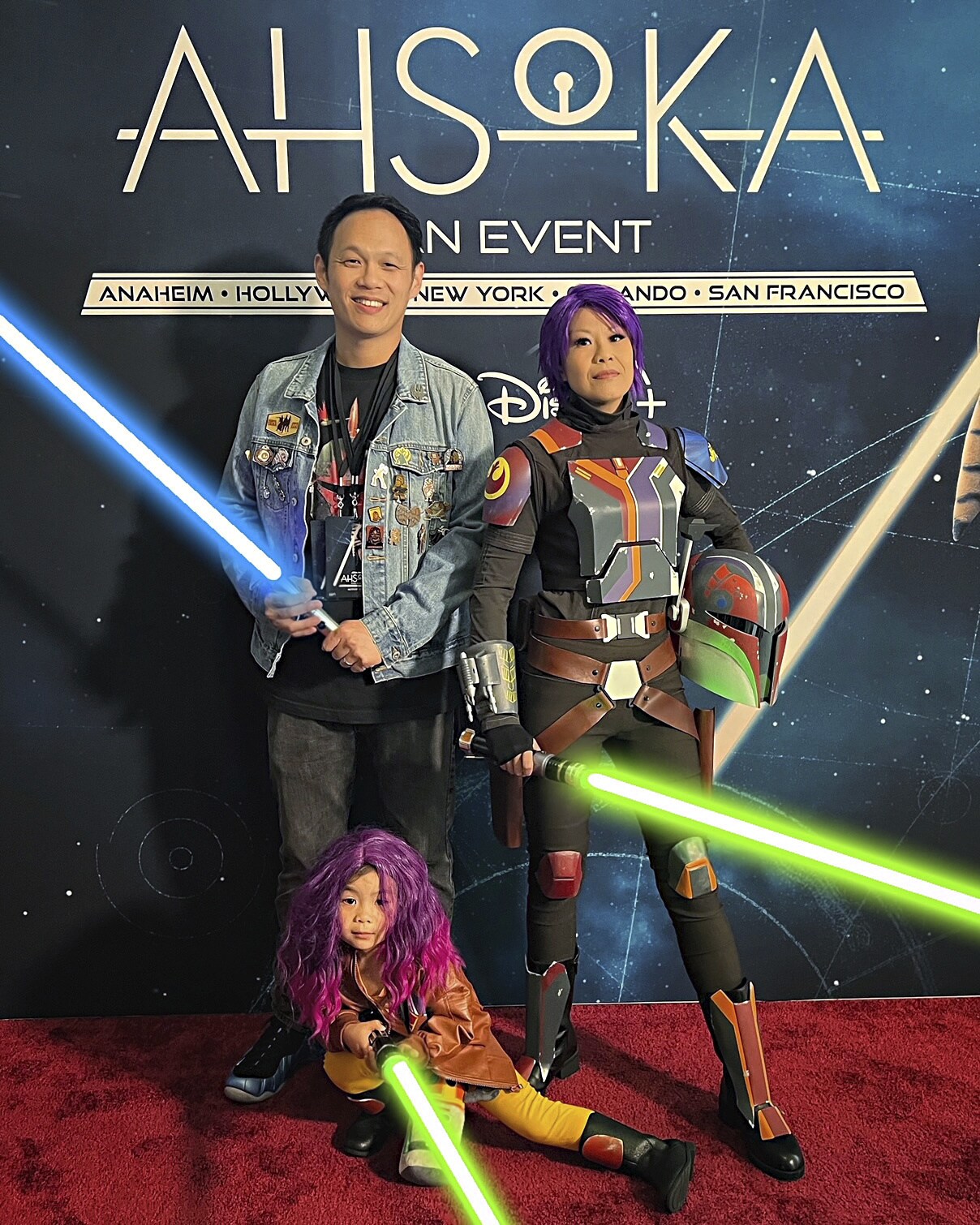 StarWars.com is shining a light on those who truly give the saga its power: the fans. In the StarWars.com Fan Spotlight, we're honored to tell their stories. 
For months, Sabine Wren's helmet stared back at Elizabeth Lau.
The cosplayer had painted the bucket to match the Mandalorian's armor in the epilogue for Star Wars Rebels after glimpsing the live-action interpretation in the Ahsoka teaser trailer. However, after seeing more close-ups of the real helmet, Lau could only focus on the details that she needed to fix to make it screen accurate.
So, a week before she and her family traveled to the Lucasfilm headquarters in San Francisco, California, for a fan event celebrating the launch of the new Disney+ series, Lau took sandpaper to her creation, stripping Sabine's helmet down to the base. She was still working on it in the hours before she and her family — her husband, Steve, and their 4-year-old daughter, Lily, who also loves to cosplay as Spectre 5 — were among the first to see the two-episode premiere, including Sabine's long-awaited live-action debut.

Both Lau and her daughter were introduced to Star Wars young. For Lily, it was Din Djarin's foundling that first captured the then-toddler's imagination as she watched The Mandalorian with her parents. Her mother had a similar experience with the Ewoks when Lily's grandfather introduced Elizabeth to the original trilogy and the first spinoff films. "I was watching Caravan of Courage and The Battle for Endor on repeat all the time," Elizabeth tells StarWars.com. "Those little fuzzy guys brought me in and I love that, for her generation, it was Grogu that got her hooked."
The Laus have been a cosplaying couple for the last decade, including involvement in the Mandalorian Mercs; Elizabeth joined the fan group in 2015, and her husband followed soon after in 2017. As a result, their daughter has grown up treating their fellow cosplayers as extended family, her father says. "To her, it's Uncle Boba Fett. And, you know, she's not afraid of Vader."

"Because they're friends," Elizabeth adds.
The release of the sequel trilogy helped ignite Steve's fandom, but it's the Mandalorian Mercs that has made him an even more passionate fan. "When we started learning about the lore, yes, they do have a tumultuous history with that culture," he says. "But, at the end of the day, it's about family, right?"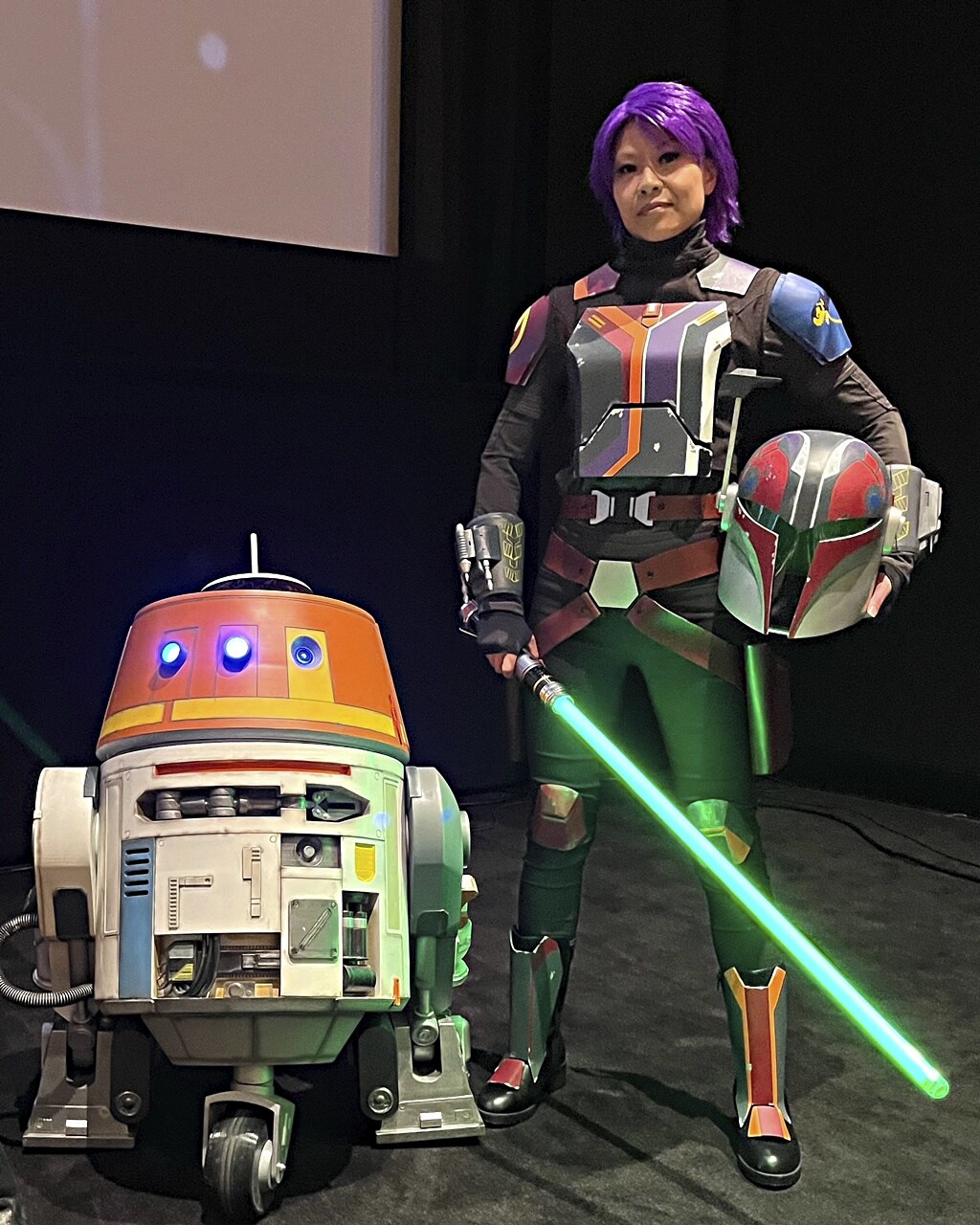 Sabine from the start
It was the found family among the Ghost crew that helped inspire Elizabeth to create her first Star Wars cosplay. She first spotted a clip from Star Wars Rebels online in 2014 before the series' debut. At the time, Lau had pink hair, and she immediately felt a kinship with the mysterious young rebel. "I knew nothing about the show, but I felt so connected to this character. I said, 'I don't know who this is, but I'm making this costume.'" A full-sized statue of the Mandalorian warrior on display at San Diego Comic-Con that summer helped Elizabeth finesse more of the details ahead of the show's premiere. "No one knew what Rebels was yet, so I was the only person there with my camera [examining] the armor from every little angle," she says. "I was there for a half an hour just taking photos, but it helped me tremendously to create this costume."
When the series premiered that fall, Elizabeth learned that she and Sabine also shared a love of art. "It's just like a calling," Steve says.
After their daughter was born, Grogu was the first character Lily cosplayed, joining her parents' hobby and even meeting Ming-Na Wen, who plays Fennec Shand on The Mandalorian and The Book of Boba Fett. "I've always been a big fan of Ming-Na and we're huge fans of Agents of Shield," Elizabeth says. "Just seeing any type of Asian representation in Star Wars was amazing."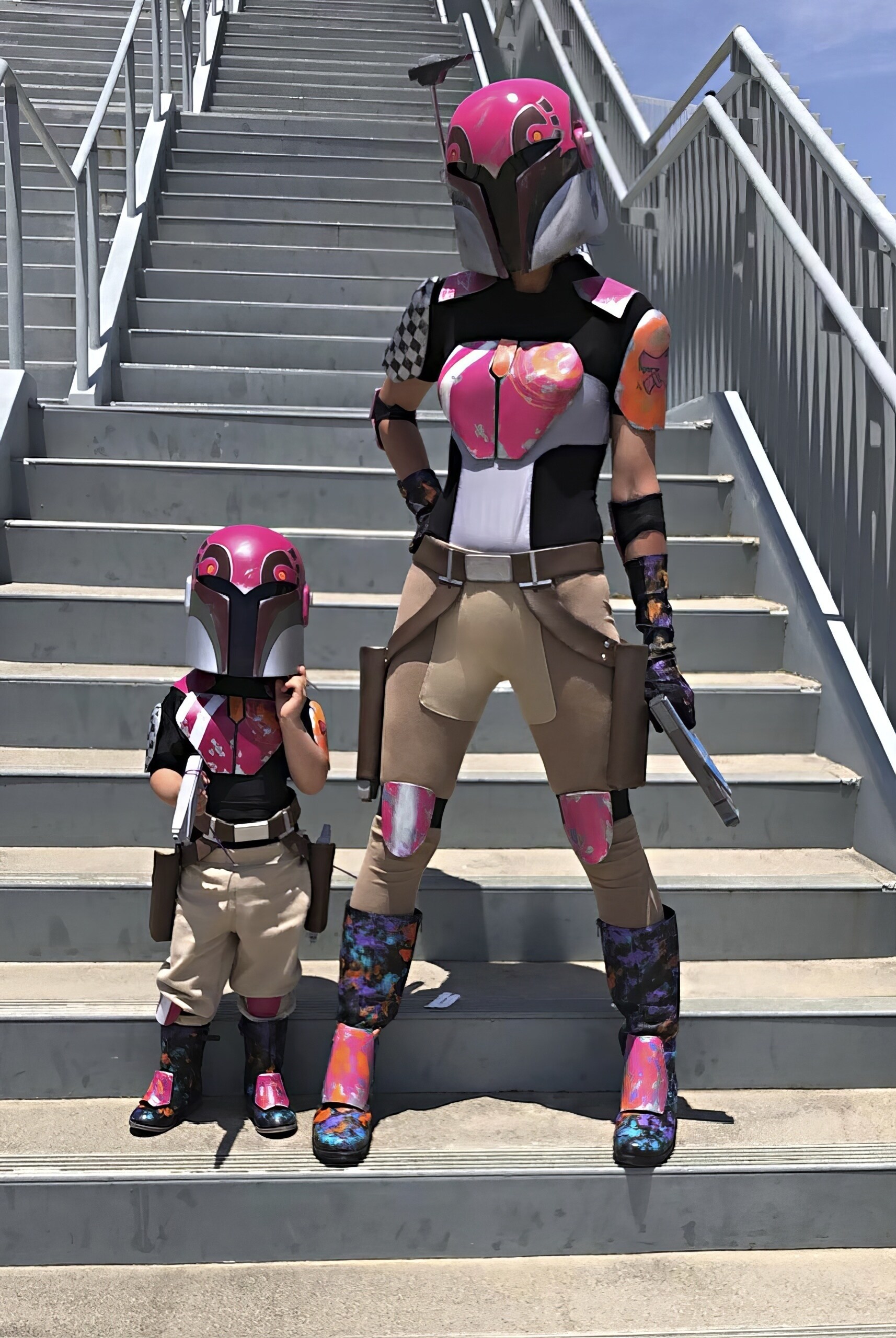 But it wasn't long before the little girl was asking for her own Mandalorian armor, with Sabine as her top choice. "She's good at fighting!" Lily says excitedly. "I want to be Sabine like mama," she told her parents.

"So, I ended up making her two sets of armors for Star Wars Celebration [Anaheim in 2022]," Elizabeth says. That included Mandalorian armor inspired by her father's Death Watch cosplay, with blue armor that was turned into a mash-up of Disney's Lilo and Stitch to match her mother's Lilo Fett.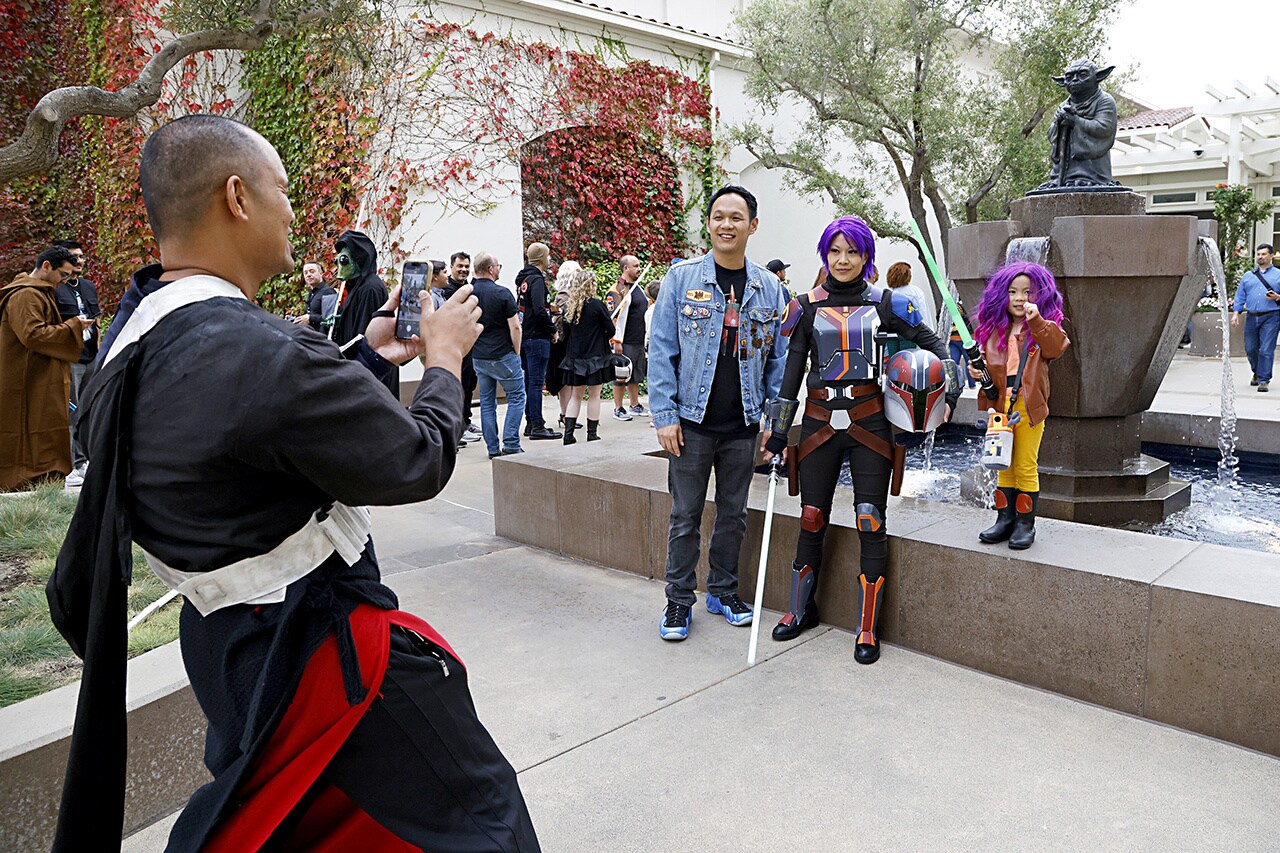 Down to the wire

By the time the family was getting ready for Ahsoka, Elizabeth already had a blank Sabine helmet on reserve for the live-action debut. Using the Rebels epilogue as reference, she crafted her best guess at Sabine's latest paint job. Friends sent Elizabeth a flurry of photos from San Diego Comic-Con 2023 when the screen-used helmet was on display on the floor. That's when Elizabeth realized her version was quite a bit different from the production costume. For a few weeks she went back and forth on whether or not to tackle an update. "Am I going to take sandpaper to this helmet and redo it?" she thought. "And then a week before the event, I'm like, 'I have to do it.'"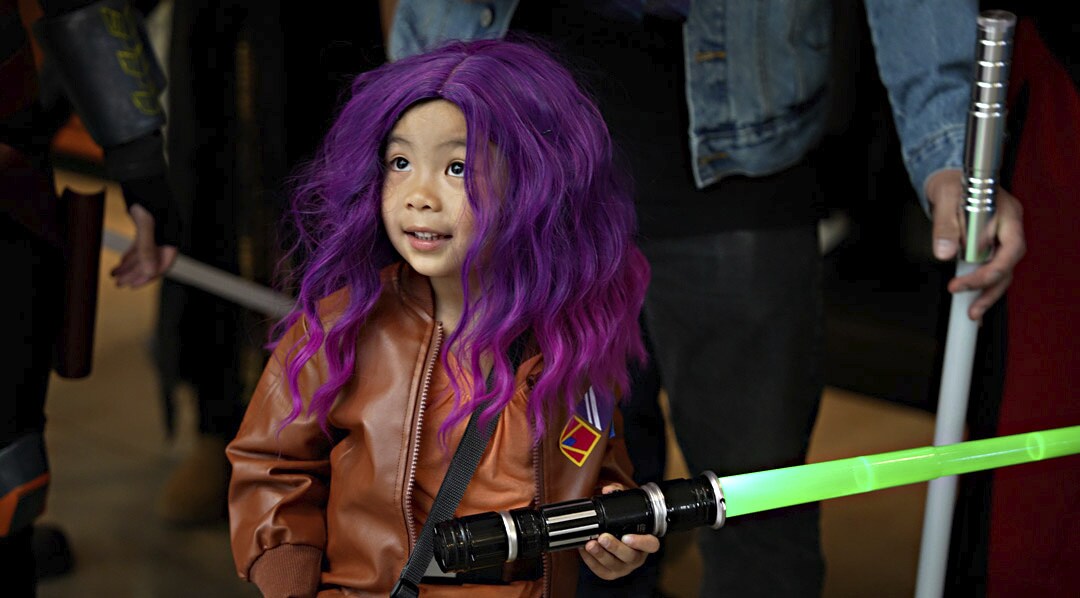 Fortunately, Lily's ensemble was already set, a cosplay created in homage to Sabine's first look in the series with a bomber jacket and long purple locks that had been crafted just after the first teaser trailer arrived. Next on her list: Bo-Katan Kryze.
But for now, the family is enjoying watching the next chapter in Sabine's story unfold in Ahsoka. The twin Wrens were a favorite among the crowd at Lucasfilm headquarters during the multi-city launch event last month. "But we got there a little bit late because I was still working on the armor in the parking lot," Elizabeth says. An artist's work is never done.
The StarWars.com Fan Spotlight Q&A
What's your favorite Star Wars movie or series, and why?
Elizabeth: The original trilogy and the Ewok Adventure movies have a special place in my heart, because those are what I grew up with, but my favorite is Rogue One. It gets the audience to deeply connect with so many new characters emotionally, which is really difficult to do in a standalone movie, as well as capturing the nostalgia we love of the original trilogies.
Steve: Rogue One is masterful and gets to the heart of what Star Wars means to people, and how fans relate to the characters and feel connected to their emotions. Being a fan of Donnie Yen and seeing a character that I could relate to was special.
Lily: Young Jedi Adventures, but I also like The Clone Wars, Rebels, Ahsoka and the old movies. Actually, I like all the Star Wars!
Would you join the Rebel Alliance or the Empire?
Elizabeth: Definitely Rebel!
Steve: Rebellion all the way. As a Merc, we would say who ever pays the most. But in reality, the essence is good vs evil, doing what is right beyond just power. Standing up for what you believe in and protecting those you care about. That is Star Wars.
Lily: Rebel!
You can have the Darksaber, Marrok's red lightsaber, or Sabine Wren's lightsaber. Which do you choose and why?
Elizabeth: Can we please take back the destruction of the Darksaber!? I love the Darksaber, not only for its distinctive look, but for its rich history. However, I do secretly admire all of the spinning double-bladed Inquisitor lightsabers!
Steve: Of course, the Darksaber, as whoever wields the Darksaber controls Mandalore. The Mandalorians are important to us as they're about family, unity, and strength, all traits that I hold dear to my heart.
Lily: Sabine's, because I like the color green. I can't have the Darksaber, because I don't have a Bo-Katan costume.
If you could have any job in the Star Wars galaxy, what would it be?
Elizabeth: Maybe work with Peli Motto. Not that I'd be any good at repairing ships, but since she is such a character, she'd be so much fun to work with and I bet would have so many crazy stories to keep me entertained on the job!
Steve: Radar technician? Haha. I know I wouldn't want to be a safety inspector on the Death Star, or a TIE pilot, or a biker scout — pretty much any role with the Empire or dark side because your employment will be short term.
Lily: I want to fight! I want to fight all the bad guys, like Moff Gideon and Darth Vader, to help the people.
Which Star Wars character would you want as a road trip buddy?
Elizabeth: This is a tough one! I'd go with the R2-D2 / C-3PO set. If this is an across-galaxy road trip, C-3PO would be perfect for language translations and Artoo for navigation, as well as other useful skills. But Sabine would also be a fun person to take a trip with. Since we are both artists and have similar personalities, we would have a lot to talk about… until our stubbornness came out. That would probably end the trip!
Steve: The all-time best copilot, Chewie. If you're in danger, he will protect you. If you're cold, he can keep you warm with his embrace. However, the conversations would be a little stale, but I think we can play some fun road trip games or sing some fun tunes. Also, he's got the fastest ride, so that's a plus.
Lily: Let's pretend I have a big ship with a lot of seats. I would bring Nubs and his friends, Master Yoda, Grogu, Princess Leia, and two Loth-cats.