StarWars.com catches up with Hasbro designer Chris Reiff about bringing the iconic starship to toy collectors.
The Ghost was first introduced in the animated Star Wars Rebels as the ship and home base for the new heroes of the Spectre crew. Piloted by Hera Syndulla, the Ghost went on missions across the galaxy, helping to build a burgeoning Rebellion in the early days of its fight against the Empire. The Ghost quickly became a fan favorite and a character itself, much like the Millennium Falcon before it.

Since then, it's been glimpsed briefly in live-action, both at the Yavin IV base during Rogue One: A Star Wars Story and at the Battle of Exegol in Star Wars: The Rise of Skywalker. But it has not appeared in its full glory in live-action until now, with the Ahsoka series on Disney+. And the Ghost is coming to life in another major way.
For years, fans have been clamoring to bring the Ghost into their toy collection, but the sheer enormous scope of the ship has always been a question mark. Not anymore. Available only through Hasbro Pulse's HasLab program, it's the largest vehicle that the toy maker has produced since its release of the Khetanna, with the Ghost measuring in at 28 by 34 inches, and space for at least 15 figures.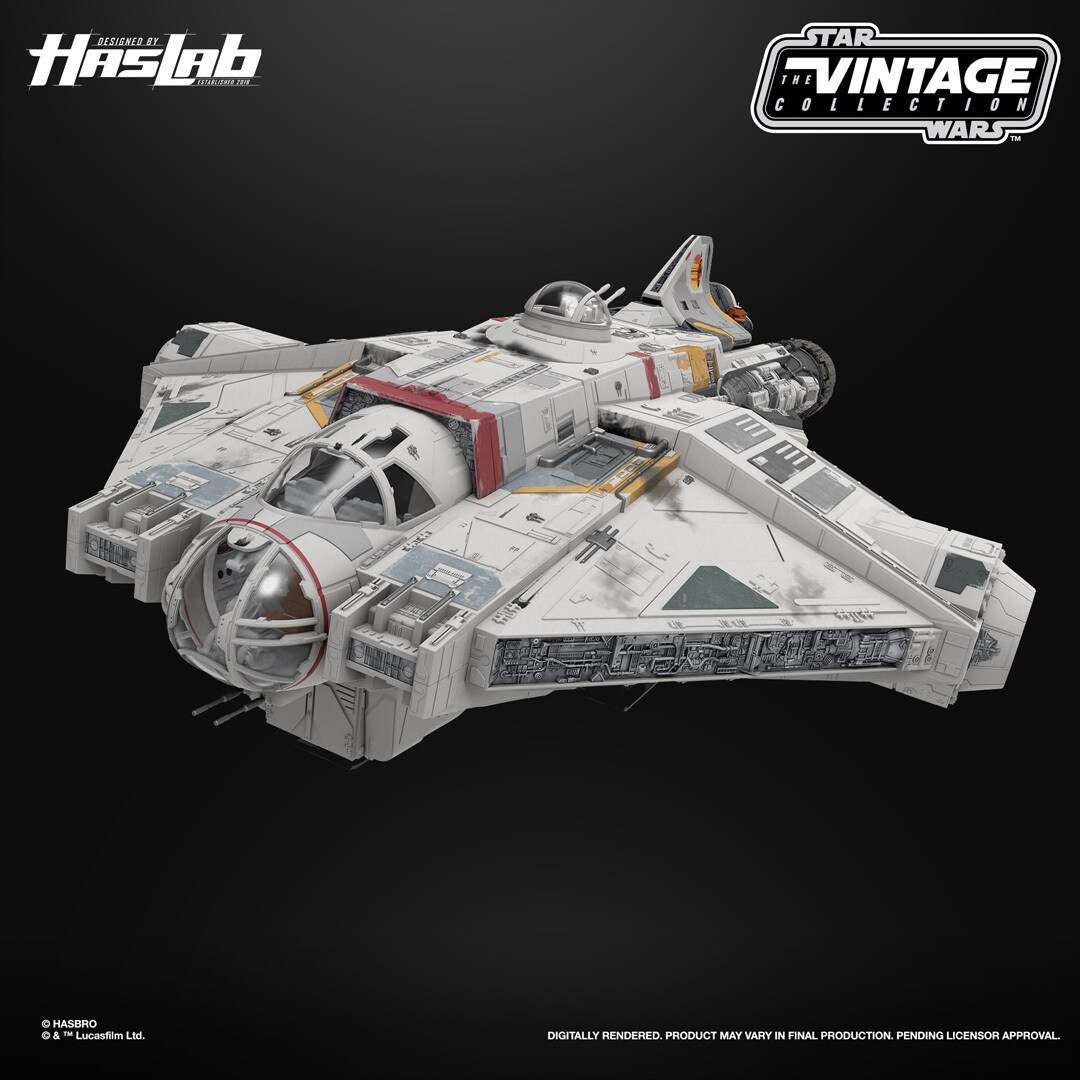 The HasLab program is a crowd-backed approach by Hasbro to create new, exclusive product for its most passionate fans. While the base offering and initial tier (which includes an Ezra Bridger figure) of the Ghost project is already funded, and is now guaranteed to go into production, it's in its last week of accepting more backers who want to bring the ship into their collection. The time is now to get the Ghost… and potentially unlock new reward tiers (featuring iconic members of its crew).
To find out more about this enormous undertaking, StarWars.com chatted with Chris Reiff, Hasbro's product design manager on the Star Wars line, about the process of finally bringing the Ghost to the Vintage Collection, and why the ship has become an enduring part of the Star Wars legacy.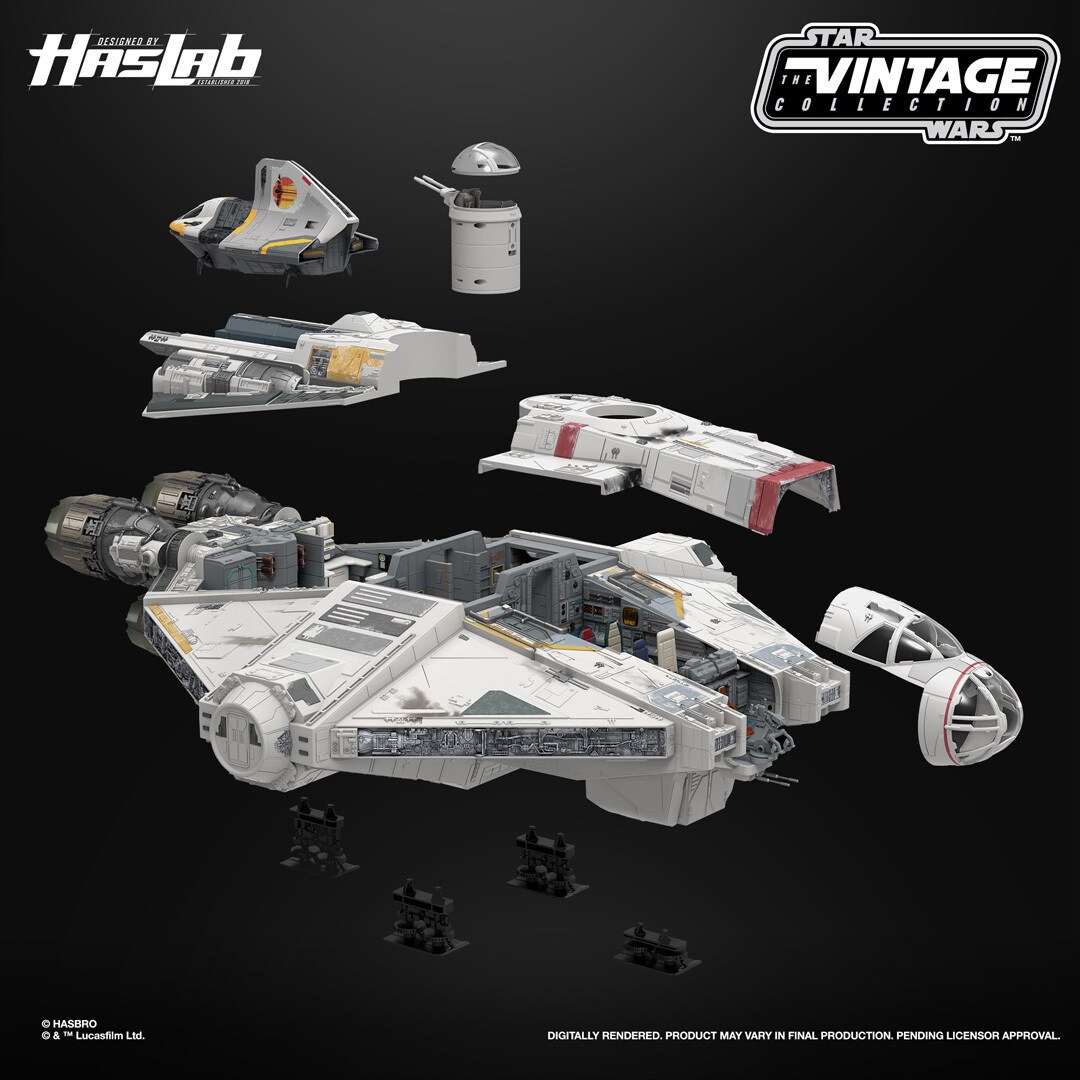 StarWars.com: What led the Hasbro team to decide on the Ghost for this next HasLab project, going alongside other fan favorite vehicles like the Razor Crest and Jabba's Sail Barge?
Chris Reiff: Our HasLab projects tend to be big dream projects that we as a team are excited to actualize. The Ghost is really now as much a part of Star Wars as the Millennium Falcon. With that in mind, it has been on our list for a while… but then knowing it was coming in Ahsoka made it a priority for us.
StarWars.com: The sculpt really is incredible. What references did the team have to bring it to "toyetic" life?
Chris Reiff: For me, at least, the animated Ghost in Star Wars Rebels is a stylized version of the ship, the same way Chopper is a stylized version of himself in the show. With The Vintage Collection, we can add in more and more details, making it as real as we possibly can.
We worked closely with [Lucasfilm VP and executive creator director] Doug Chiang, the new show's design team, and Industrial Light & Magic [ILM] to talk through all the details. They were developing their ship while we were developing ours, so it really was a great parallel relationship.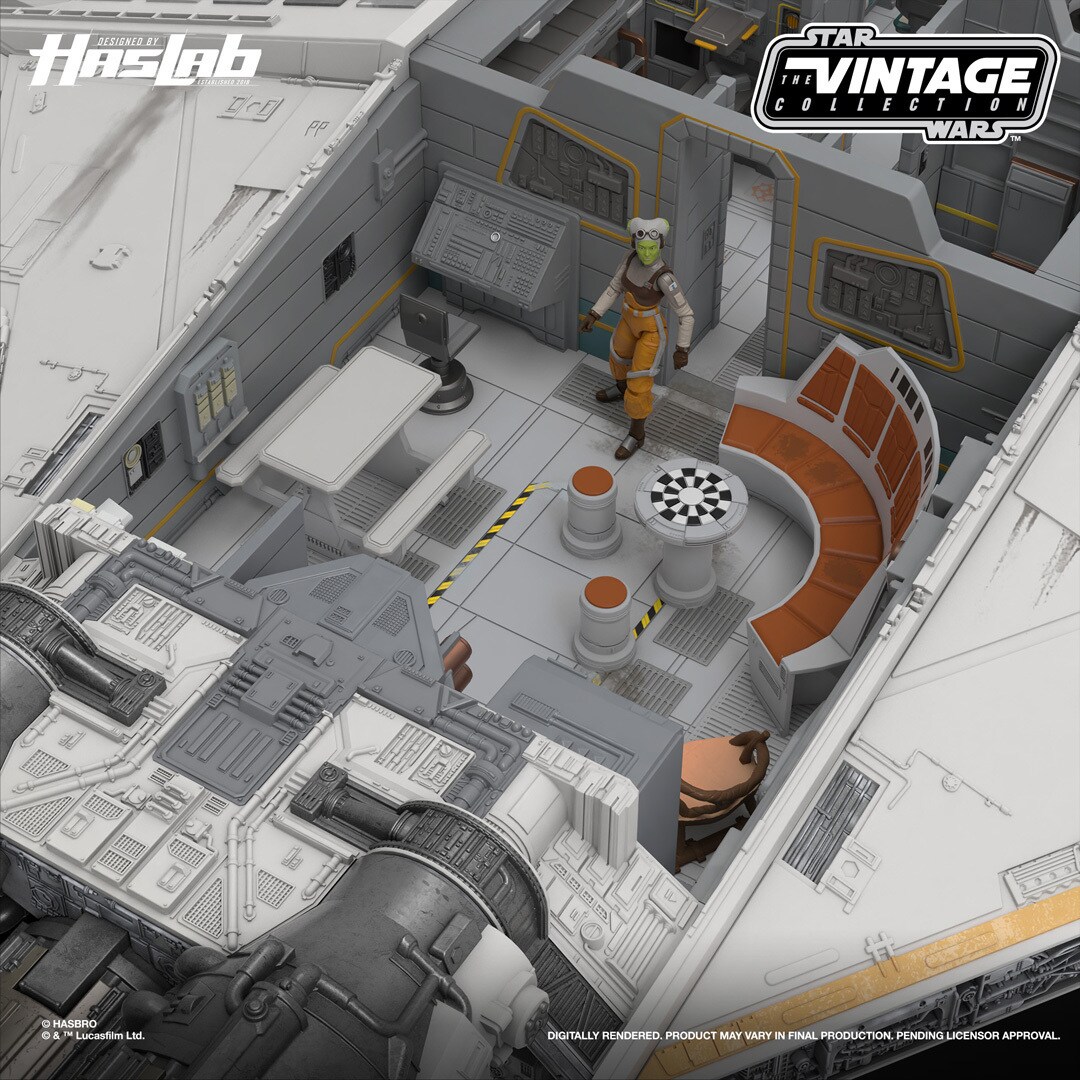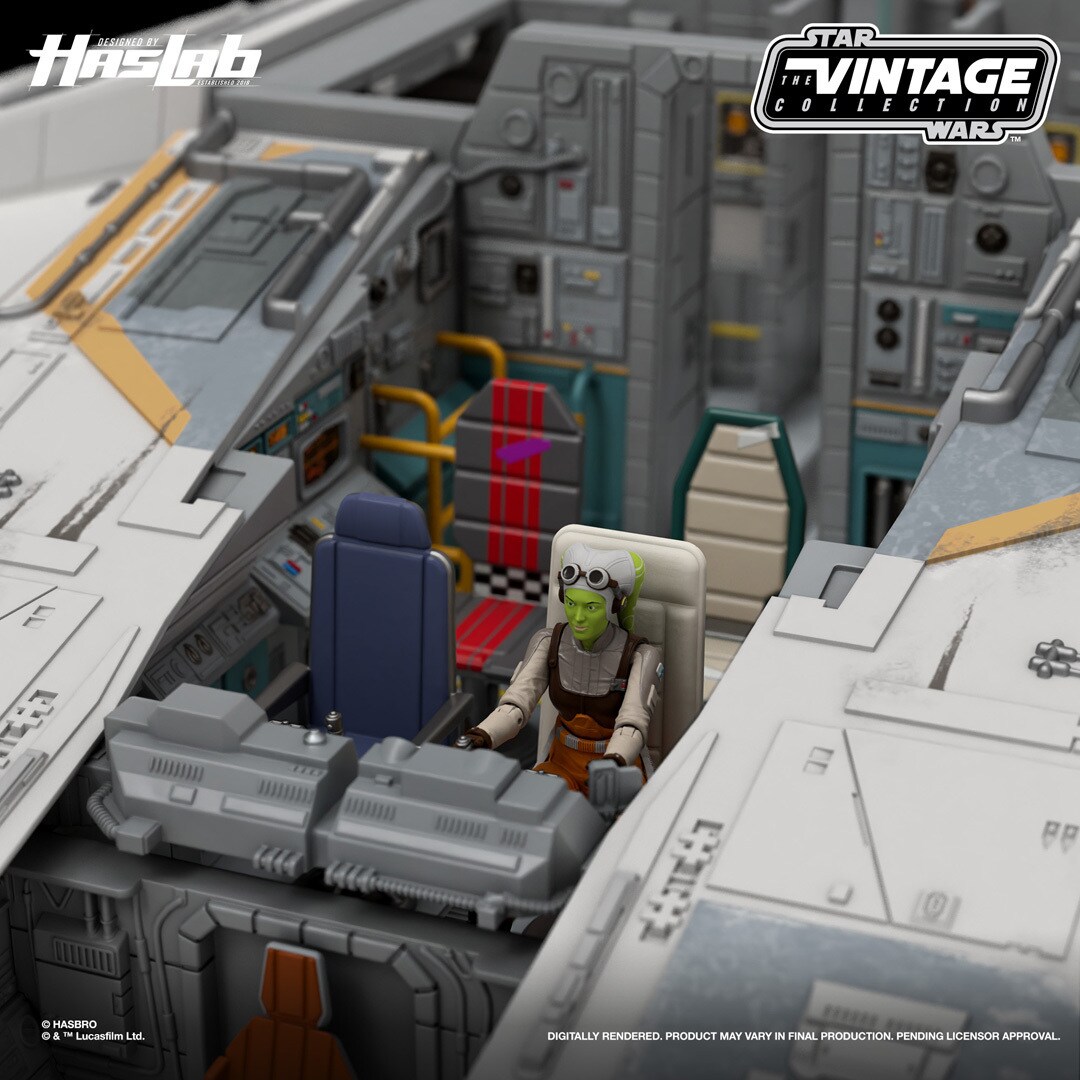 The primary reference is the vehicle as it appears in Ahsoka. Because of our partnership, we were able to get the files they used for the show, with all the great 3D data and "greeblies." The interior cockpits and sets were all built for the show, so we were able to pull some really incredible detail. But then there's also some areas of the ship that you won't necessarily get to see in Ahsoka, and so we were able to bridge that gap and continue the history of the Ghost with some stuff we really wanted to have in there.
There are some fun areas and surprises that we were able to riff on a little bit. They were small things that we might have seen in animation, like the styling customizations that characters had in their quarters. But it is all stuff we worked hand-in-hand with the ILM team on, who helped us visualize these spaces with their concept work.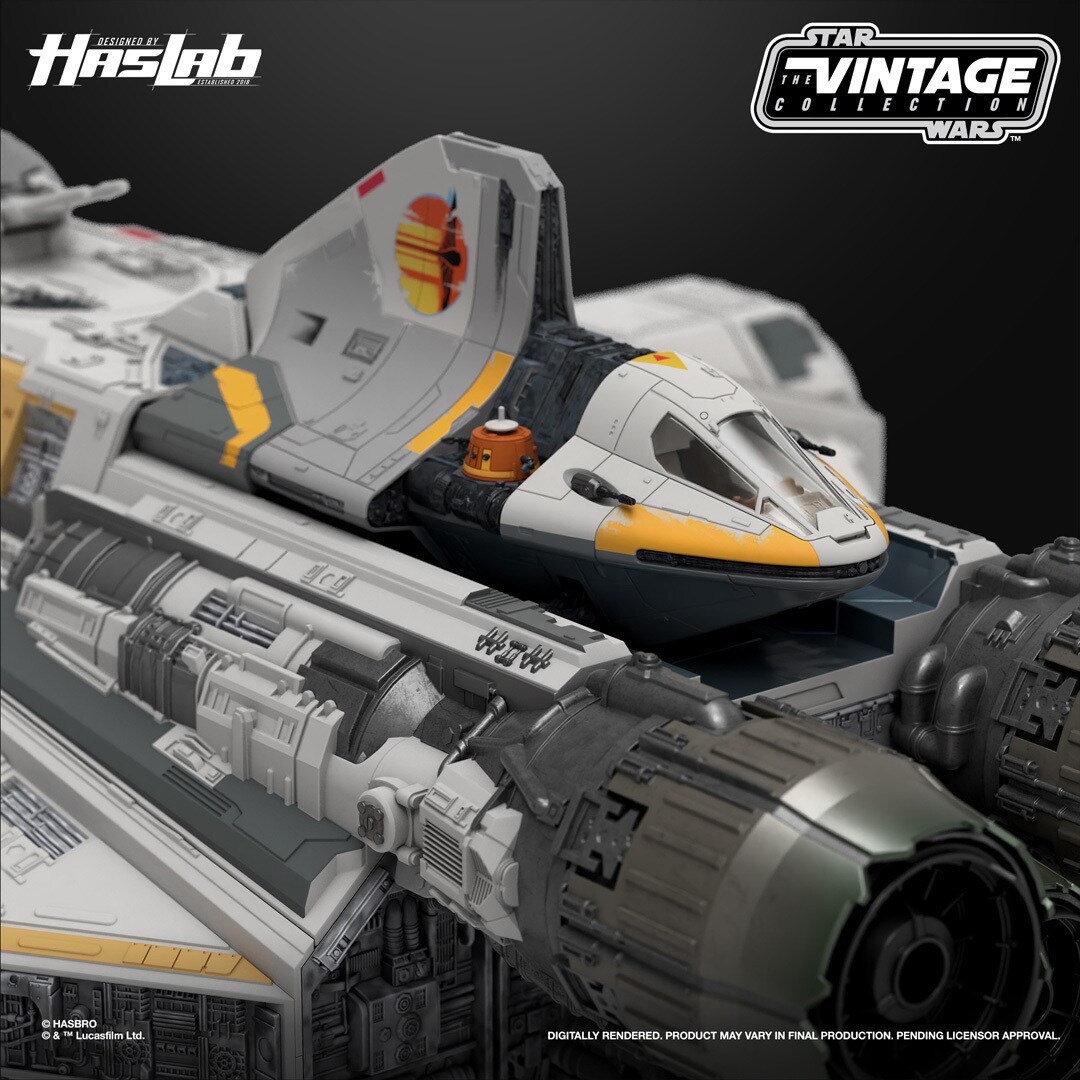 StarWars.com: Are there any specific details that you and the team are particularly fond of?
Chris Reiff: There's an area where you pull off the panel that the Phantom II shuttle sits on, exposing a little bit of the back of the ship and some small engine detail. Our designers got to play around with that and come up with something. We then had the chance to run it by the team at ILM and make sure it made sense. It's all just so much fun to do.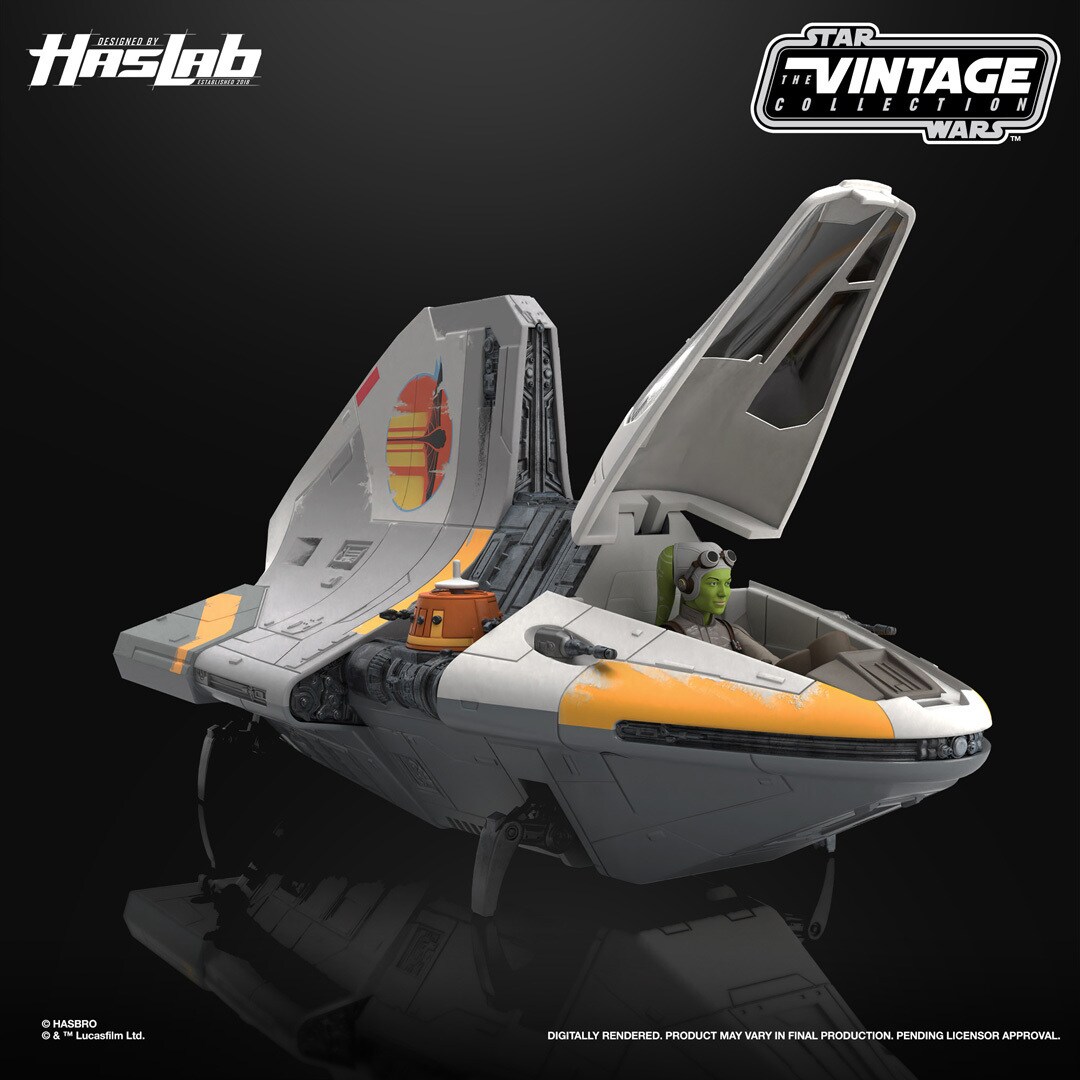 The key thing is that we're not building a studio scale model that will be filmed for a show. We're building something for people to interact with, to play with. We have to define the important story moments for people to find in the toy. That's why we picked areas out of the gate that were important to us while making this toy: the cockpit, the lounge area, the crew quarters. You want people to be able to interact and re-connect with the spaces that they're familiar with from watching Star Wars.
It's all to maintain a connection to that story for fans. It's really making sure that the toy does a toy's job.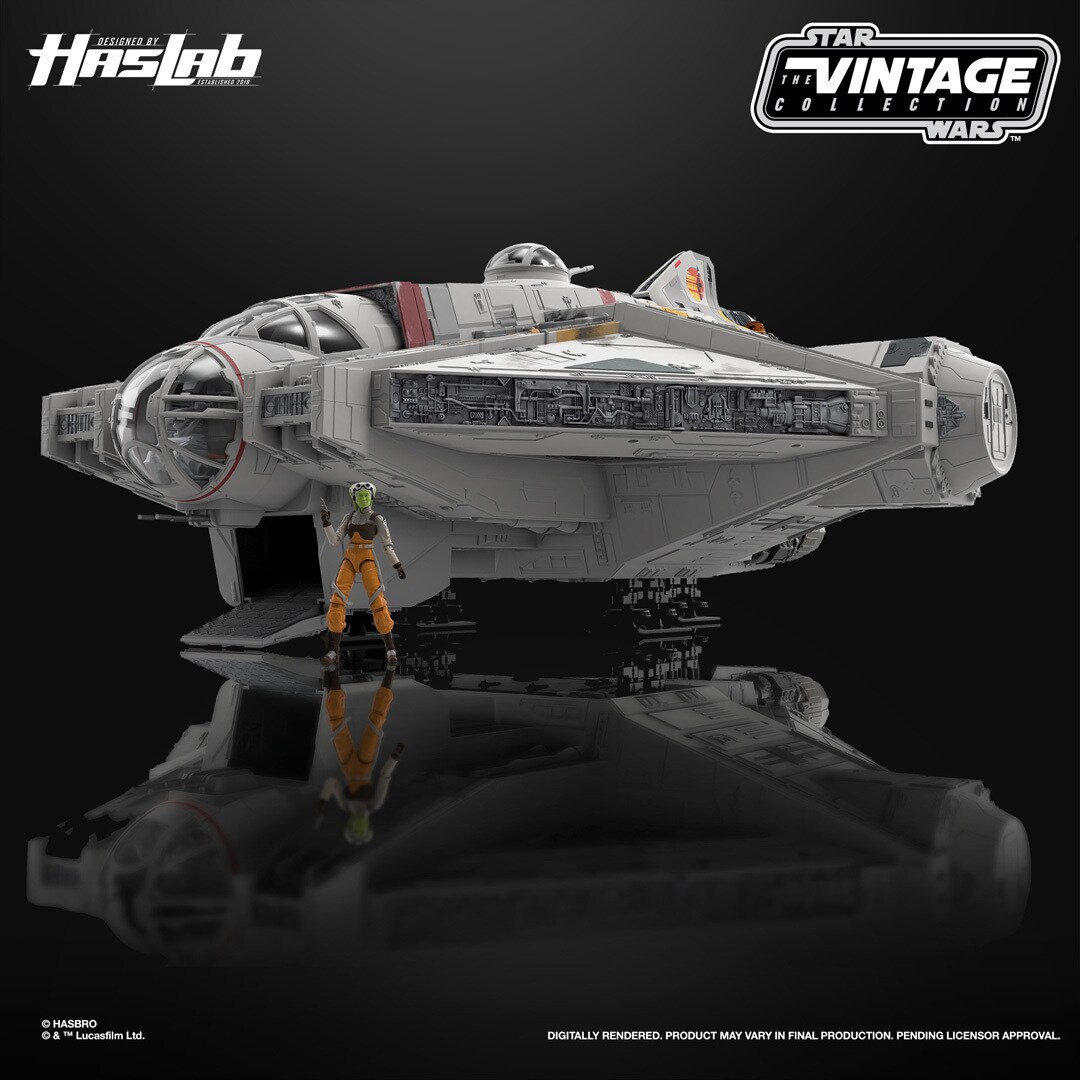 StarWars.com: At the time of our interview, the HasLab project has already hit its main goal for the ship as well as its first stretch goal for an exclusive Ezra Bridger figure. There is still time for fans to unlock Kanan and Zeb figures, as well. What makes these unlockable crew members exciting for you?
Chris Reiff: Our HasLab tiers allow us to do different things for different projects. For this specific project, it lets us build toward a full crew in a nice way, especially with the mural being our bridge. It is all a very natural thing.
For other HasLabs, we have revealed the tiers at different times, but it was nice to reveal these all at once. The crew is so important to the Ghost and fans have been asking for Rebels characters in The Vintage Collection for so long. It was a fun way to drive excitement for the project out of the gate on day one. Everyone knew what they would get if the project was fully backed, and we really got to tell the story of the mural and why these specific versions of the characters felt important to us. We've now seen the mural in the first episodes of the Ahsoka series, and it really is such a great bridge piece between the two shows. The outfits for the characters, as depicted on the mural, are so fun and colorful, as well. It really all came together so well.
StarWars.com: What has the fan feedback been so far?
Chris Reiff: The reaction has really been amazing. By being able to physically reveal it at San Diego Comic-Con, and interact with it in person, it became a super powerful moment for fans. We're not going to be able to do something like that every time we do a HasLab, but the stars aligned this time. It makes it more real.
It's such a big ship that people come up to me saying, "I didn't think I was going to back it, but seeing it in person, and how over the top it is, I have to get it." That same model that we displayed at San Diego is the model that you see on the site, as well, and we're now tearing it apart and rebuilding it with new walls and new interior stuff and new details. It's a constantly ongoing and evolving process.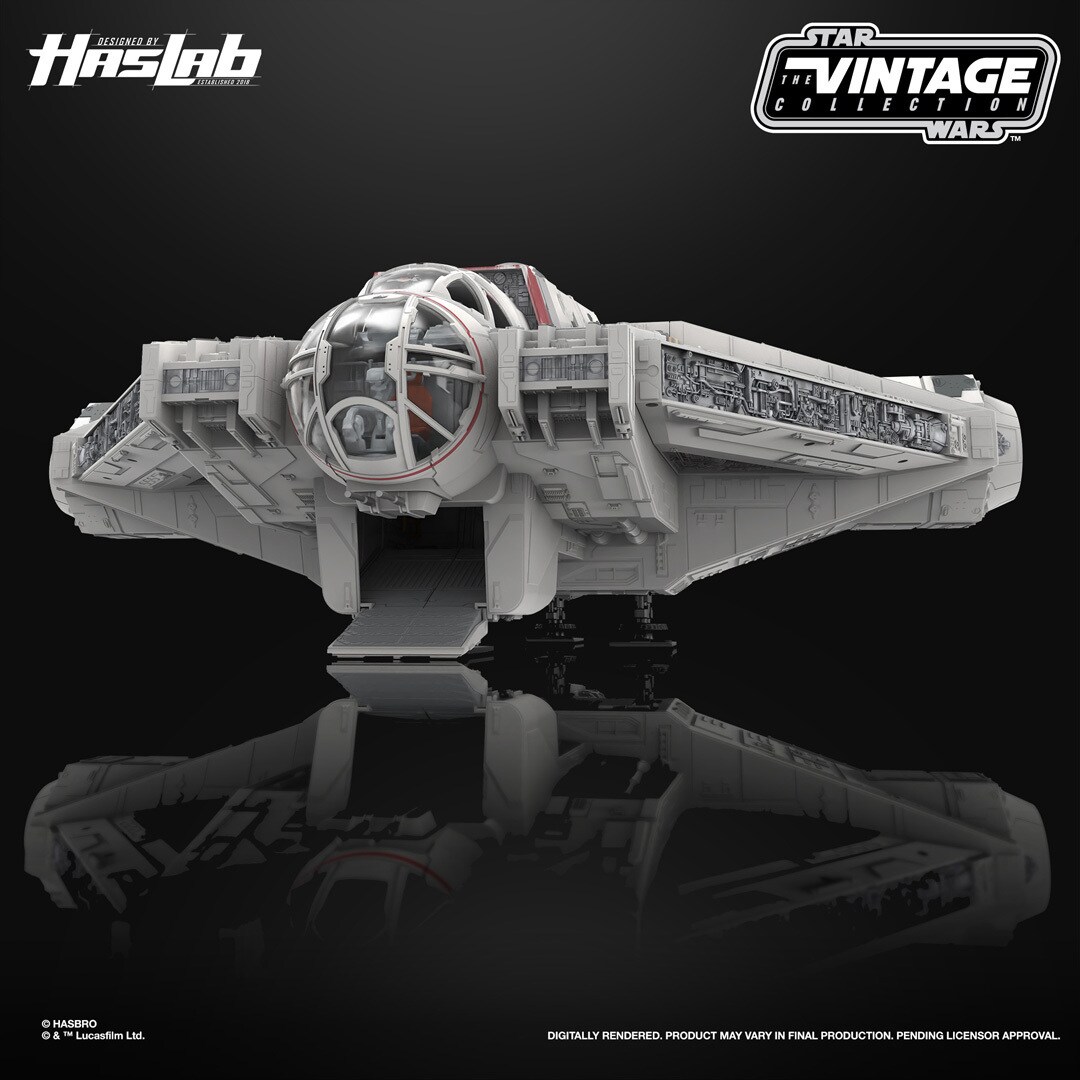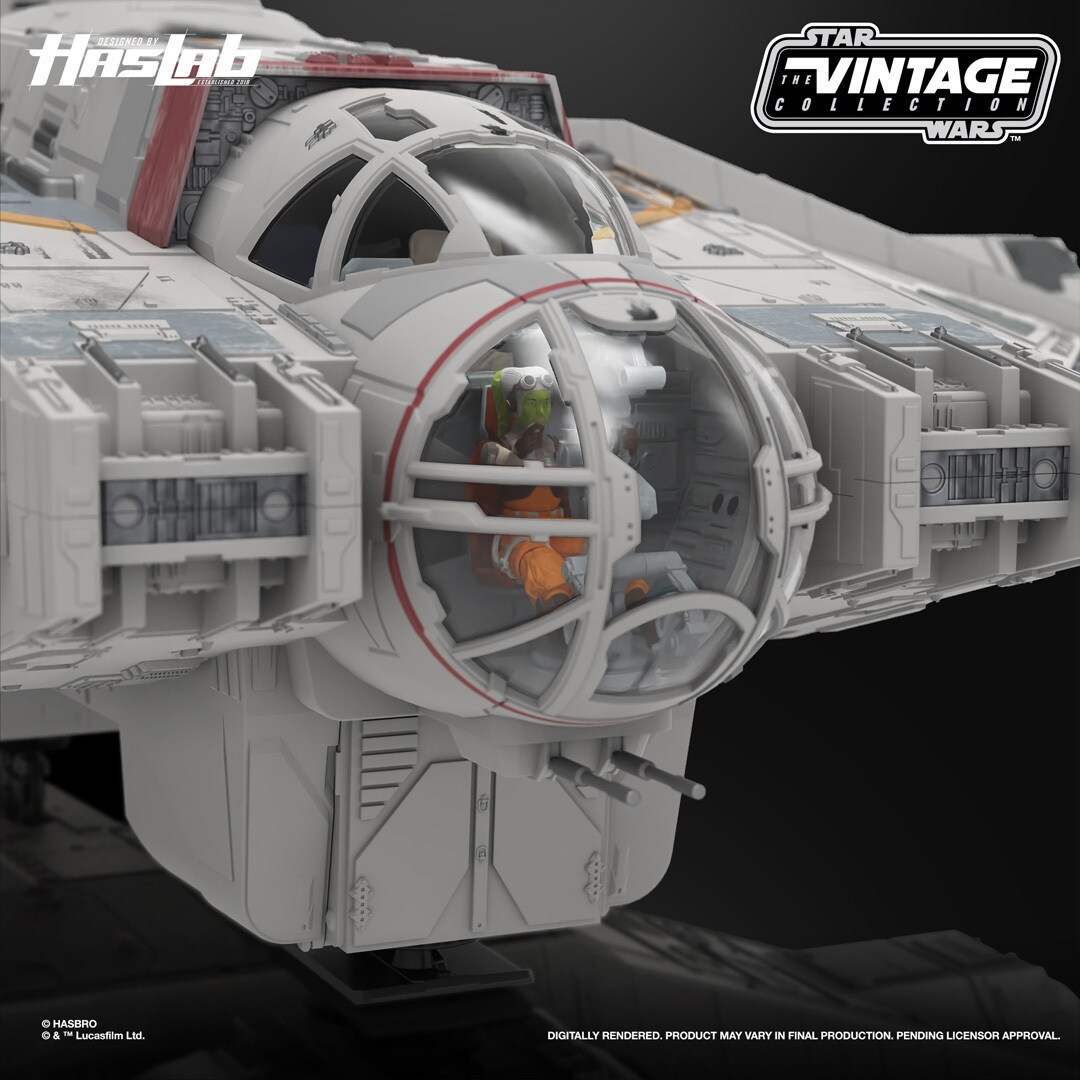 StarWars.com: The ship has long been a fan-favorite, and now we're really seeing it in full live-action glory (after glimpsing it in Rogue One: A Star Wars Story and Star Wars: The Rise of Skywalker). What do you think makes this ship so iconic and important to fans?
Chris Reiff: The ship has such a presence to it. There are just basic design elements of it that make it look and feel like an intrinsically Star Wars ship.
It has a lived-in feel, with odd panels and blast marks and things that don't match on the outside. It looks like the ship itself has a story. It's a huge testament to how much love went into that thing, both as an animated version and now as a live-action vehicle. [Ahsoka creator] Dave Filoni's guidance, alongside all the initial Rebels designers, made the ship truly its own character. And now it has been translated rather perfectly into live-action.
It's really just a beautiful work of art, and I am so excited for fans to be able to bring it home.
You can back the Star Wars: The Vintage Collection The Ghost until 11:59 p.m. EDT on September 6.