One wayward writer's adventures to Black Spire Outpost inside Star Wars: Galaxy's Edge, opening at Disneyland Resort today.
Wandering the stalls of the sprawling marketplace at Black Spire Outpost is an altogether otherworldly experience. The indistinct chatter of haggling shoppers and shopkeepers, mixed with the locals living above, is interrupted by the unmistakable cackle of a Kowakian monkey-lizard. As the ambient noise fades into the background, you can smell the aroma of charred meats wafting from the Ronto Roasters stand, where a droid who has been made to suffer always turning a spit of meat in front of a searing podracing engine, reminds you that you haven't eaten since you landed. But there's so much to see, it's easy to get sidetracked.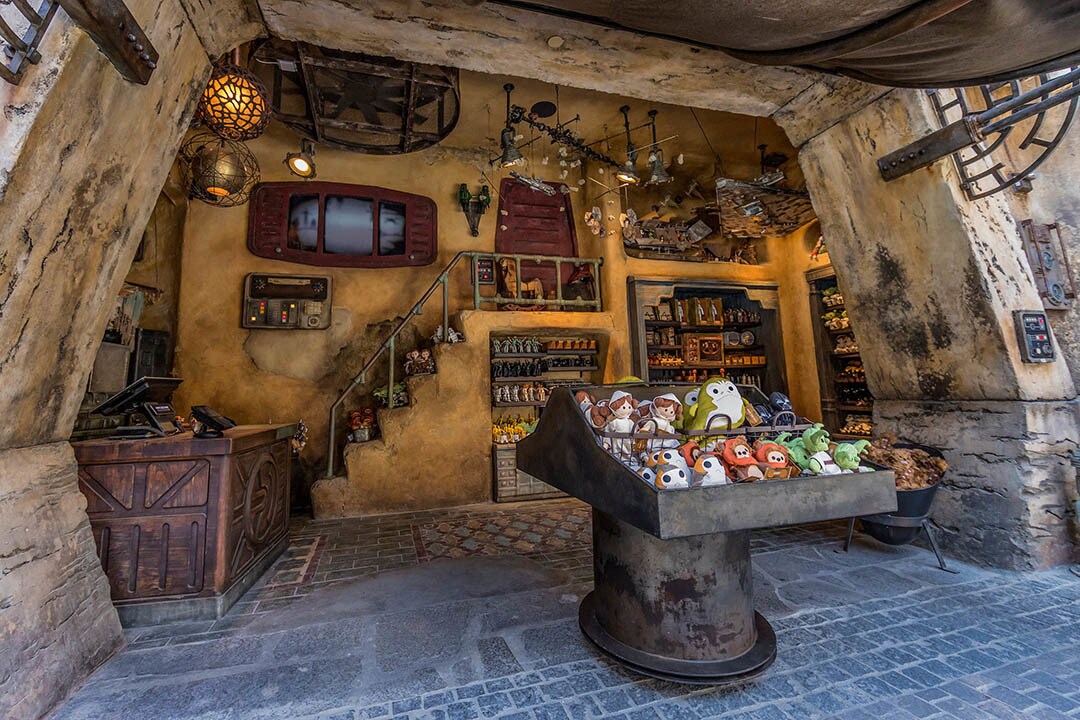 Inside the small shops, creatures from across the Star Wars saga peer out from a stall where a sleeping Loth-cat naps lazily near its beloved and raggedy porg plaything. Nearby, the Toydarian toymaker, who has undoubtedly been influenced by the legends of Luke Skywalker and Darth Vader, has fashioned an array of soft, knitted plushies and carefully carved wooden toys to sell. But look up and you'll see one-of-a-kind marionettes frozen in the storied last duel between Vader and Obi-Wan Kenobi, a hulking metal Star Destroyer and several tin TIEs chasing down a model of the Millennium Falcon, and even Jabba's sail barge perched on a corner shelf.
After so many years spent enjoying the stories in a galaxy far, far away, stepping onto Batuu, the planet inside the all-new Star Wars: Galaxy's Edge, now open at Disneyland Resort, feels like being welcomed home. But you've never experienced Star Wars quite like this before.
It's at once new and familiar, or as Luke might say, "like something out of a dream." The sounds and smells of Frontierland immediately melt away as you're immersed in a charming hideaway among towering, petrified trees, and plenty of friendly inhabitants. Legendary composer John Williams created a new musical theme, but you won't find the thunderous symphony blaring as you walk through the land, accompanying you like a film soundtrack. Instead, the soundscape is more subtle and realistic. "What we wanted to try to do was create this universe of Batuu, this Black Spire Outpost, and create something that felt real," says Matt Walker, an executive in the music studio for Walt Disney Imagineering. "And when we're in a real place we don't have our background music playing, as much as we would like."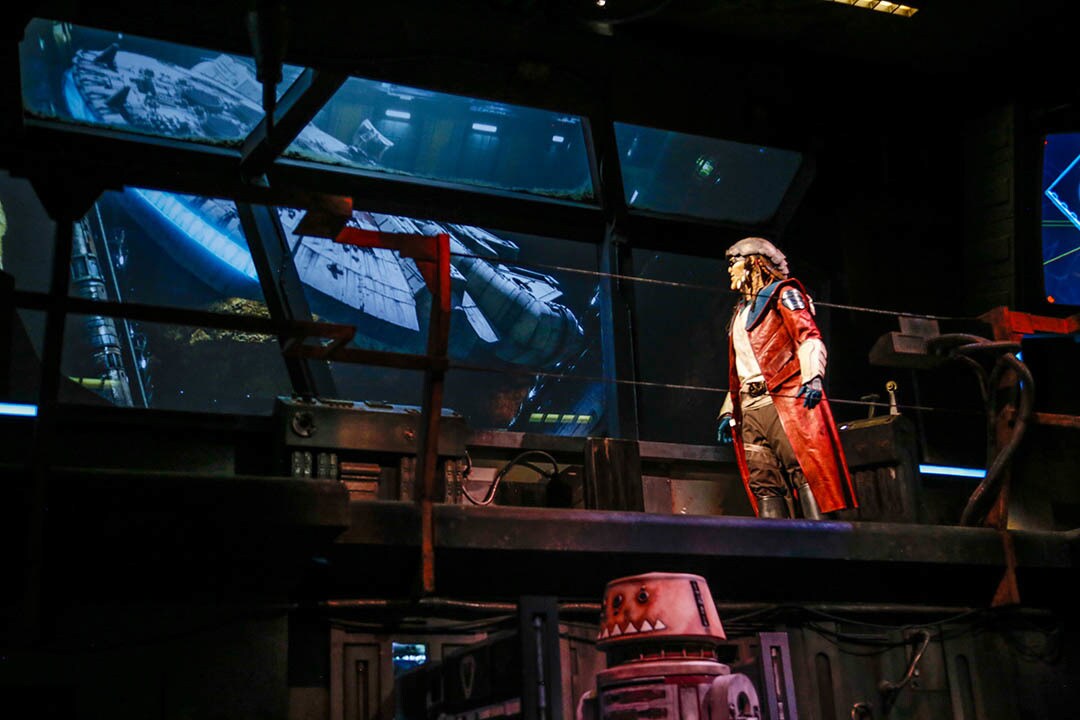 'Play a role'
The locals are so welcoming, in fact, they're ready to hire new arrivals over at Ohnaka Transport Solutions, as pilot, gunner, or flight engineer of the fastest hunk of junk in the galaxy, the fabled Millennium Falcon. Set amid the rise of the Resistance and the First Order's rule, the Play Disney Parks App also gives you chances to take on other jobs, hack droids, and translate Aurebesh around the land, as well as competing with other visitors to take control of the outpost through a game that involves Resistance spies and First Order sympathizers trying to control various door panels. You alone must decide if you will take a side or forge your own life as a smuggler. "We welcome and we want people to kind of lean into the story, play a role, immerse themselves," says Chris Beatty, executive creative director of Walt Disney Imagineering.
The thriving marketplace feels like a hub of local trade and crafters, inspired by the bustling market on Jedha. Brad Schoeneberg, the director of merchandise strategy, visited the Rogue One set to see what prop makers had done to populate their version of a Star Wars market and to talk to child actors who had been given toys to play with during the shoot. He knew then that he had to translate that movie magic into something real. "I want everyone to have this experience that I'm having of being able to look inside the stall and see what food they're making and the products they're selling," he recalls thinking.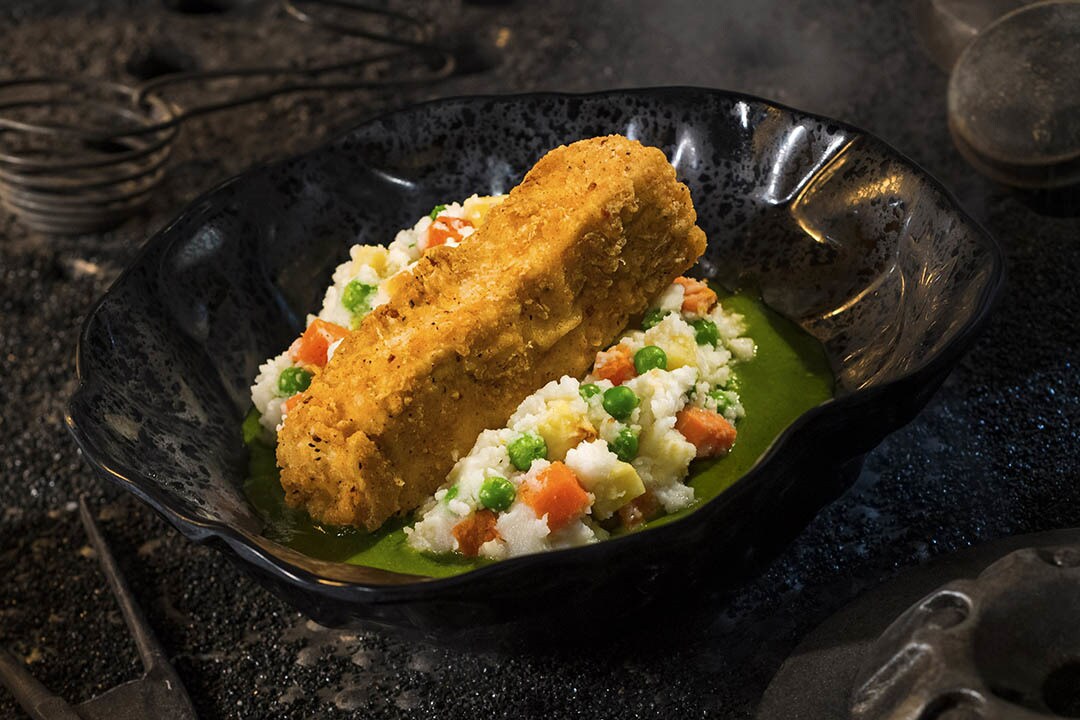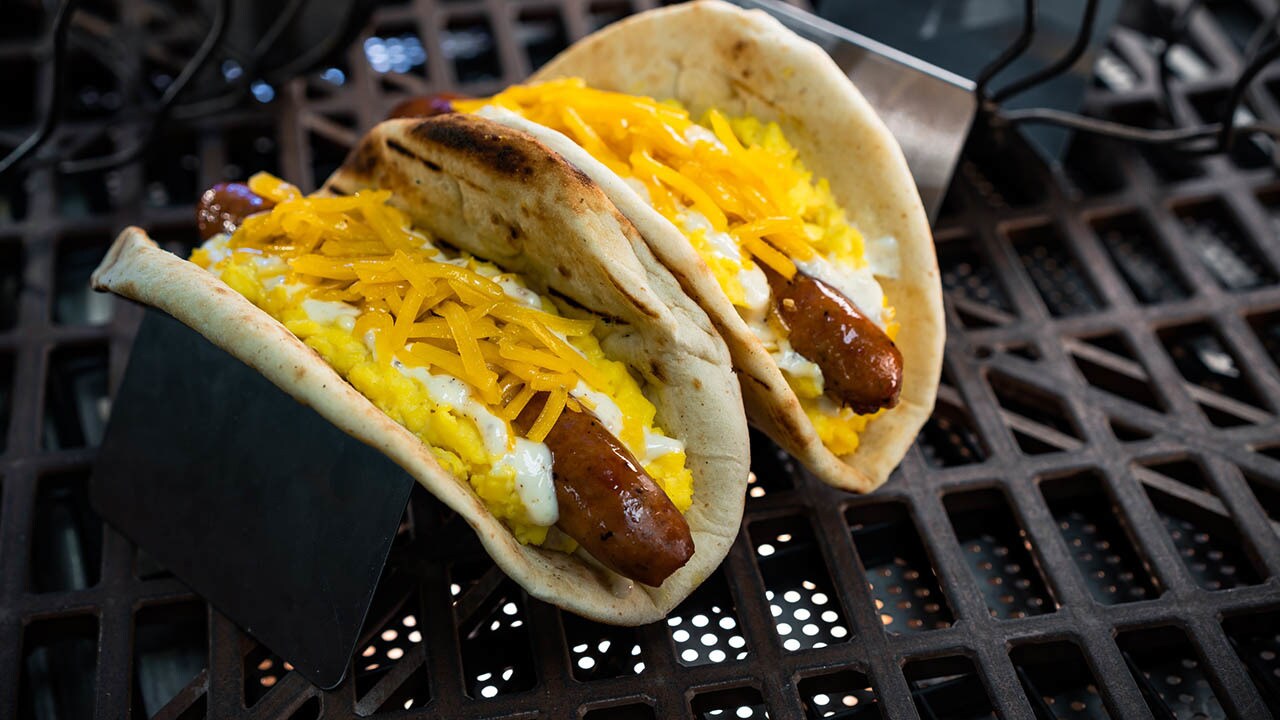 For the first time, you'll get the chance to sample Star Wars cuisine, too, from non-dairy blue and green milk drinks to square hunks of cooked meats, concocted through trial and error to create new flavors, emulating some food and drinks we've seen before plus a whole new menu to try.
"Consider all of the senses," says Carrie Beck, vice president of animation and live-action series development for Lucasfilm. "Adding that other dimension to the story experience is really exciting because we don't usually get to work in those worlds. You design a space waffle, you imagine it tastes like a space waffle." Although there are currently no waffles on the menu, now you get to discover the taste of Star Wars for yourself.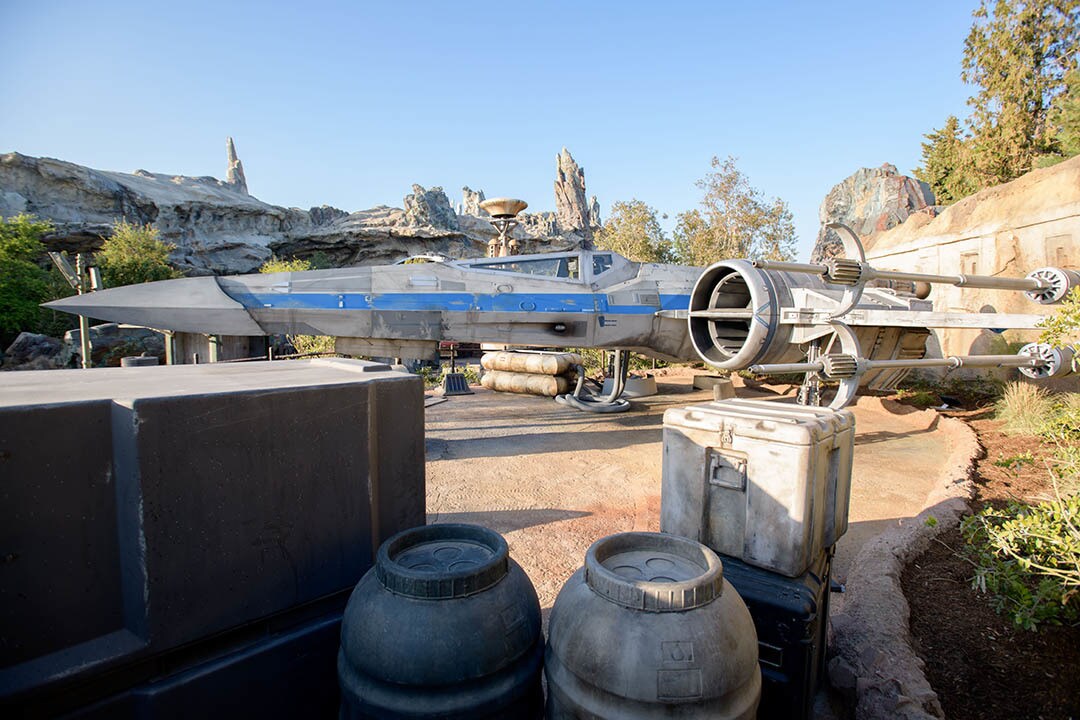 A massive feat of engineering and Imagineering, the 14-acre outpost is truly a feast for the senses. For the deeply devoted fan, there are countless details and artifacts that call back to the original films, the prequels, Star Wars: The Clone Wars, Star Wars Rebels, and even The Mandalorian, in the land set in the time of the sequel trilogy in the Skywalker saga. Even for more casual observers, it's still an enjoyable exotic affair filled with wonders like you've never seen before and a wholly immersive way to spend a few hours feeling like you've gone much farther than Anaheim, California.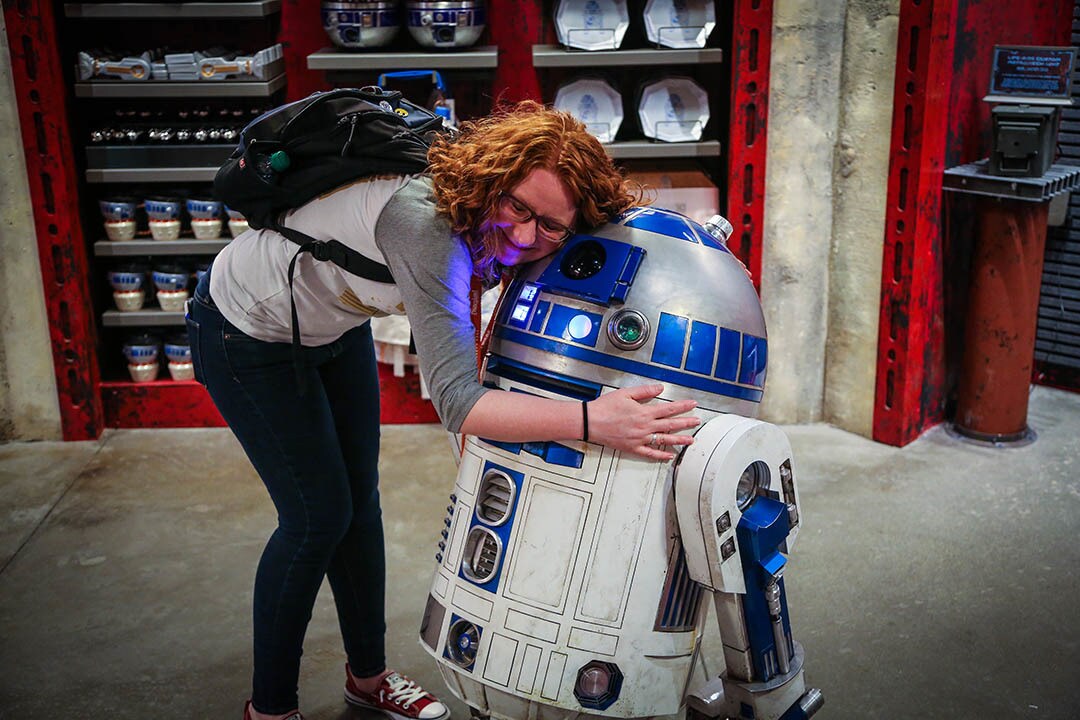 Droids and DJs
After all, you're on Batuu now. On this far-flung planet on the Outer Rim, the Droid Depot is the place to go when you need a helping hand on the moisture farm (or just want to give R2-D2 a hug). As you follow tracks along the road to walk in the treads of an unknown astromech, you'll come to the shop, where salvaged droid parts are shuttled around the ceiling on a carousel. Down below, another conveyor delivers smaller, more manageable pieces perfect for constructing your own. Keep an eye out for the deactivated heads of a droid that looks an awful lot like Professor Huyang and another plucked from a towering K2 unit. And you may spy a few salvaged battle droids in your travels outside, where some other droids are enjoying a nice oil bath.
The refreshers, or restrooms, have a delightfully aged patina from the well-worn floors to the grime-covered mirrors, an effect that helps the pristine facility perfectly blend into the gritty galaxy.
A small family-owned milk stand is stocked with globes of green and blue milk, served frozen daily to fight the parched planet's midday heat responsible for the locals' cheerful greeting, "Bright Suns!"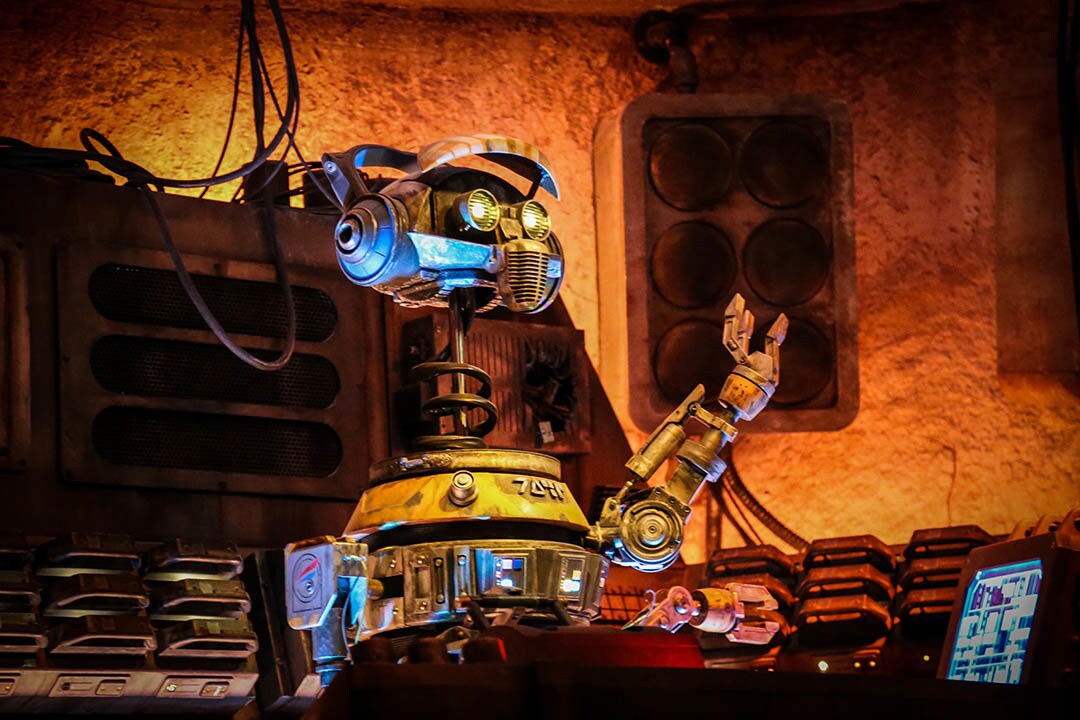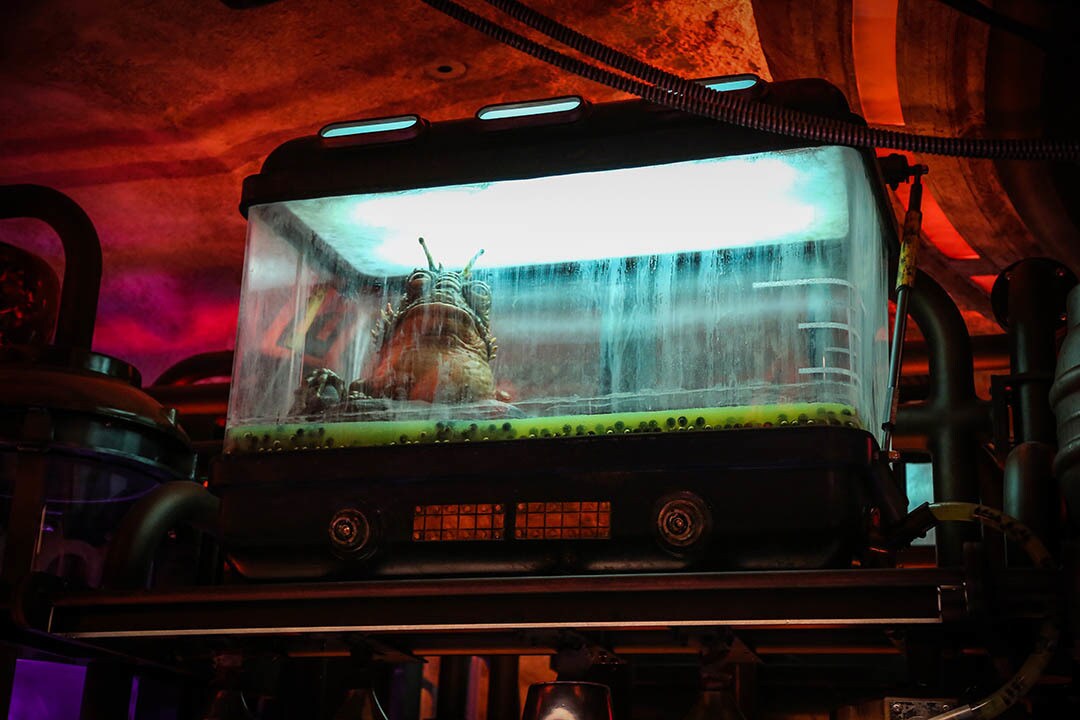 But for some shade and the eclectic stylings of DJ R-3X, former pilot of the oft-diverted Star Tours shuttle, Oga's Cantina is the wretched hive of scum and villainy for you. You may find yourself sipping on a Jabba Juice before you realize it's garnished by the eggs of a creature hunkered down in a tank nearby. If the hyperdrive powering the various drink dispensers breaks down again, don't worry. The barkeepers are adept at banging away at the troublesome engine to get things back up and running. And there's at least one classic hit on heavy rotation, a remix of that old ditty from Figrin D'an and the Modal Nodes that was playing in the Tatooine cantina the day Han Solo met Luke Skywalker.
If rare artifacts are what you're after, Dok-Ondar is the Ithorian you'll want to meet. In his Den of Antiquities, browse through holocrons and rare kyber crystals, ancient weapons and statues of Jedi and Sith legends from the past. Among his eclectic finds are a deactivated IG unit, an Imperial helmet said to be owned by Ezra Bridger, a beloved Kalikori said to represent the family of Hera Syndulla, a hulking taxidermied Wampa, and a golden Gungan. A striking Mandalorian helmet hangs just over Dok's office, where he labors over the books and occasionally rises to his feet to survey his abacus.
Choose a side...
The Resistance and First Order each have their own presence here, and the unrest can be felt among the inhabitants. Occasionally a skirmish breaks out, or you may glimpse noted Resistance spy Vi Moradi lurking around the outpost.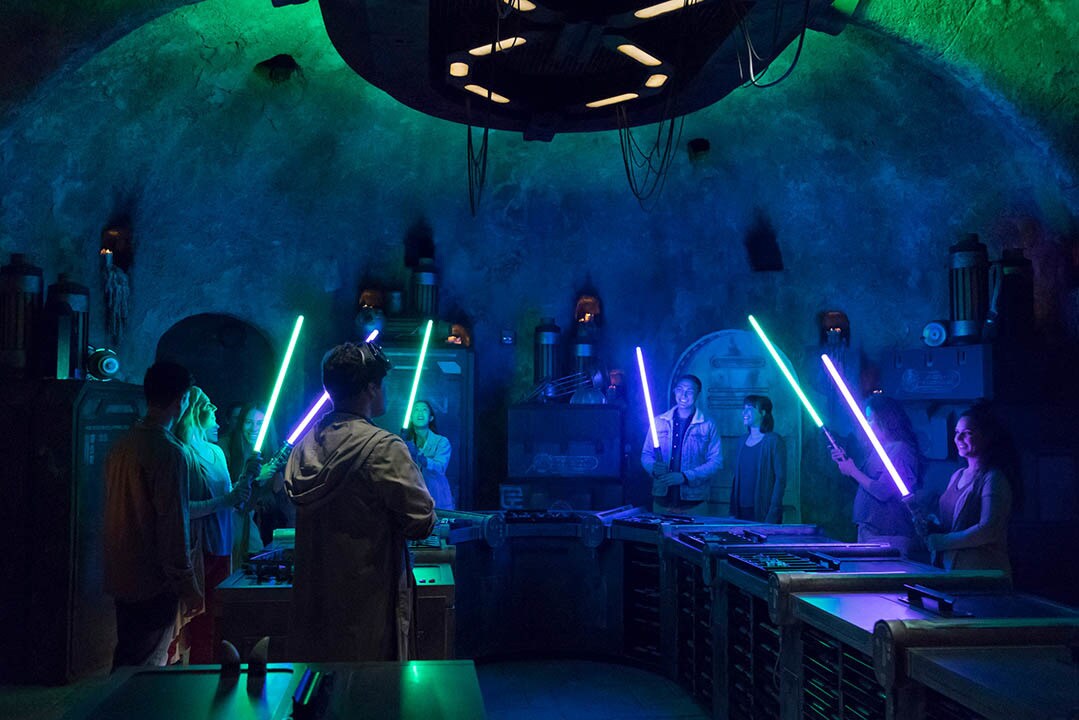 One corner that at first appears to be the trappings of another scavenger scrap depot is in reality the cover for a secret lightsaber workshop, where Savi allows those who enter to construct their own lightsaber by hand. Inside, the gatherers help usher a new generation of lightsaber wielders on their journey to create a design that fits their personality. You may even get some helpful advice from a Jedi Master.
There are many fine details to catch the eye -- the pock marks of old blaster fire peppering the side of a building, a GNK droid's shuffling footprints, a small garage bay where an old landspeeder appears to be getting tuned up. In fact, listen closely and you may catch the familiar strains of a local radio station with a DJ who sounds just like Lucasfilm's Pablo Hidalgo.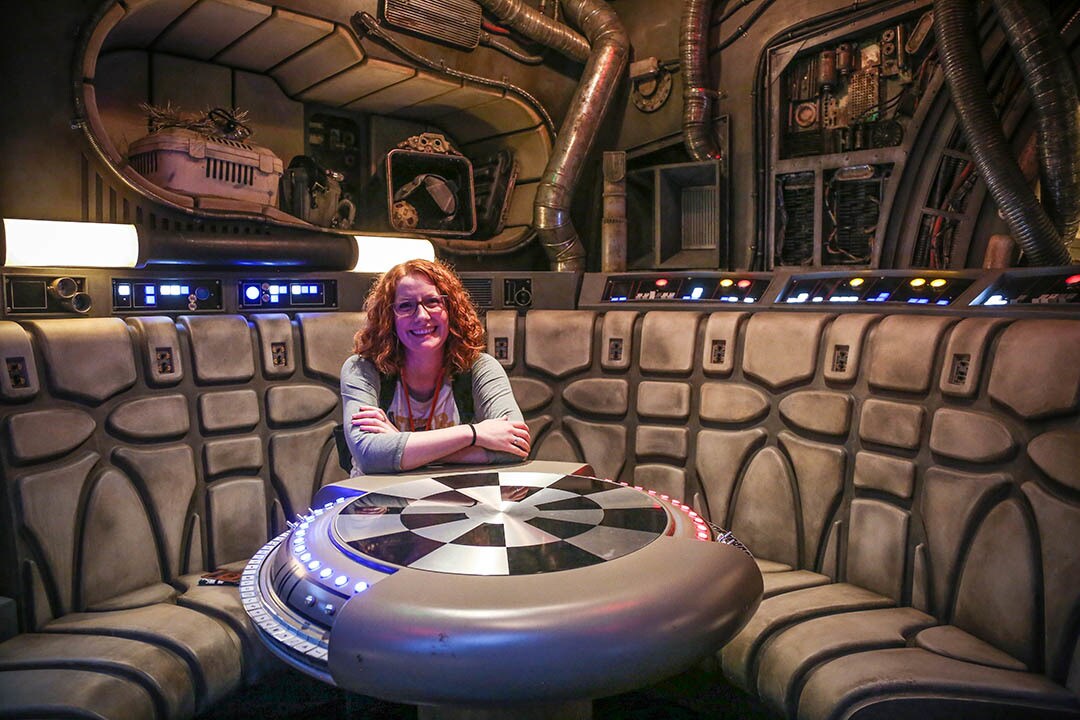 Or become a smuggler
But the centerpiece of the whole experience is the Millennium Falcon, docked at Ohnaka Transport Solutions in one of its usual states of disrepair. The maze of corridors leading to the famed ship that made the Kessel Run are lined with other engines in need of work, and evidence that suggests a minor infestation of porgs. However, even hooked into diagnostic equipment and parked just outside, it's easy to see why this ship is so revered among pilots and smugglers. On Wednesday night, Harrison Ford -- Han Solo himself -- stopped by to give his old ship a few loving thumps of his fist to get the old girl up and running again during an opening ceremony that also included Star Wars creator George Lucas, Luke Skywalker actor Mark Hamill, Disney CEO Bob Iger, and Billy Dee Williams, who will reprise the role of Lando Calrissian later this year in Star Wars: The Rise of Skywalker.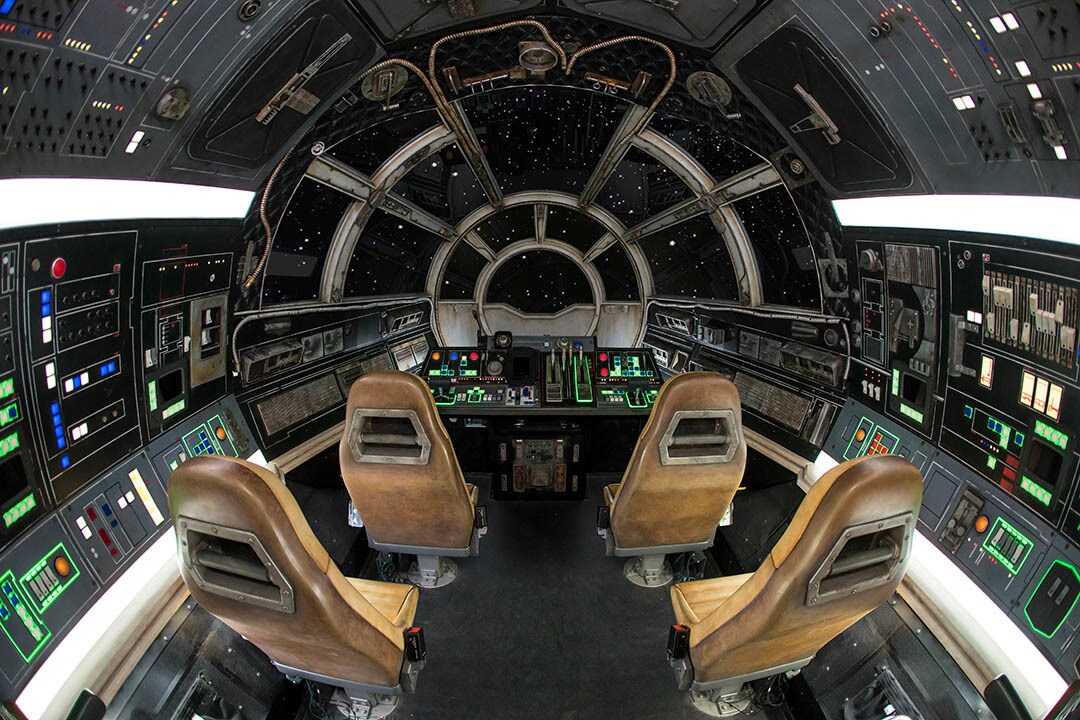 Once you climb onboard the bucket of bolts, you may find yourself running your fingers along the walls you've seen on screen so many times, lounging at the dejarik table, or taking a moment in a hidden hallway where Han and Leia had their first kiss. But first, the queue takes you by the maintenance pad where the Falcon is parked out front. "She's broken," as usual, says Asa Kalama, executive creative director for Walt Disney Imagineering. The waiting area winds into the maintenance hangar where there's an engine that's come off a ship in Hondo's fleet, also broken down "and riddled with blaster marks," Kalama says. In the command center stands Hondo Ohnaka, brought to life from small-screen animation to provide the necessary instructions and comic relief, at one point cutting off a pesky transmission because, as he puts it, "Boring conversation anyway."
Ultimately, you board the Millennium Falcon and wend your way to the cockpit and take a seat at the controls. While the co-pilots work together for optimal maneuverability and engaging the hyperdrive when it's time to jet off on Hondo's mission to retrieve a shipment of coaxium, the gunners must be alert for any enemies flying nearby, and the flight engineers try to make repairs on the fly to keep the only-just-repaired ship intact. It's easy to get so immersed in the spectacle outside your window that you forget you have a job to do (which will quickly send your crew spiraling into other ships and even Batuu's spires if you're not careful on takeoff). But even if you spend more time crashing than cruising, or wind up jumping out of hypserspace and into an asteroid field, just mashing down every button and switch in the cockpit gives one the really satisfied feeling of having just escaped from another tight spot while just hoping the Falcon would hold together.
And once safely back on Batuu, the adventure continues.
"Even though the stories of Star Wars are set against this epic backdrop of action," says Scott Trowbridge, the Walt Disney Imagineering creative executive on the project, "the stories are very personal and universal and archetypal."
"This is a place that you come with your family and your friends," adds Beck. "Star Wars is all about that connection, all about those choices, all about your family. It shares all of that."
In Star Wars,there are always more corners of the galaxy to explore and new stories to tell, and this time that legend includes you.
UPDATE: Star Wars: Galaxy's Edge is now open at Disneyland Resort, and will open at Walt Disney World Resort on August 29. Subject to capacity. Access to the park, land and experiences may be restricted or unavailable.
If you're curious about what you'll find at Star Wars: Galaxy's Edge, or want to learn how the land came to life, check out StarWars.com's in-depth coverage:

Additional photos by Kyle Kao.
Associate Editor Kristin Baver is a writer and all-around sci-fi nerd who always has just one more question in an inexhaustible list of curiosities. Sometimes she blurts out "It's a trap!" even when it's not. Want to talk more about The Clone Wars? Hop on Twitter and tell @KristinBaver what you thought about today's episode.
Site tags: #StarWarsBlog