Get first details on the who you'll meet and where you'll go in Disney Parks' upcoming Star Wars-themed land.
[ Editor's note: Following the publication of this article, it was announced that Star Wars: Galaxy's Edge will open ahead of schedule on May 31 at Disneyland Resort in Southern California and August 29 at Disney's Hollywood Studios in Florida. ]
Black Spire Outpost, the bustling hub of Star Wars: Galaxy's Edge, will be filled with a galaxy of strange beings and places to visit -- as revealed to StarWars.com and select media in a special preview with its creators, and a site tour last week at California's Disneyland Resort.
Among the characters coming to the Star Wars-themed land is a certain Weequay, making the jump from animation to the real world.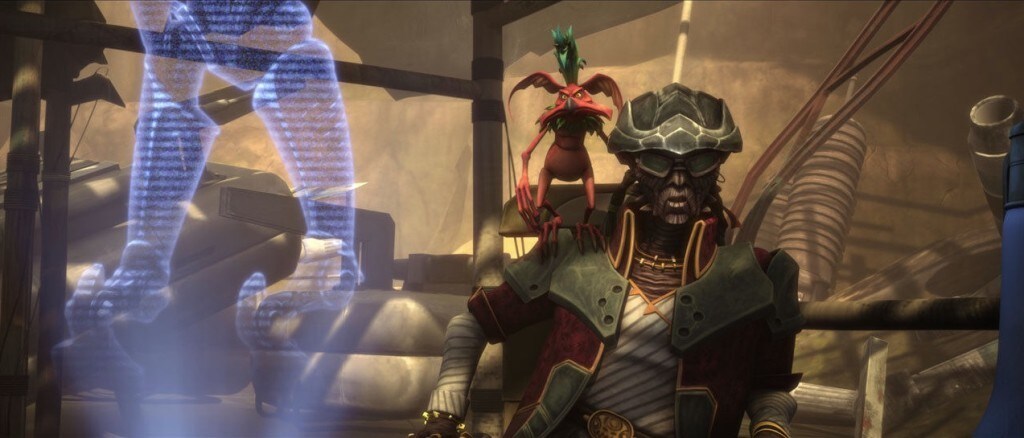 Hondo Ohnaka, the shady, fan-favorite pirate from the animated series Star Wars: The Clone Wars and Star Wars Rebels, has been brought to life as one of Disney Parks' most complex Audio-Animatronics figures ever created. You'll find him waiting in the control tower of a Black Spire Outpost spaceport in the attraction Millennium Falcon: Smugglers Run; he's teamed up with Chewbacca and needs you to transport some cargo on the iconic bucket of bolts.
Seeing Hondo in person -- with his red leather jacket, scaly Weequay skin, and over-exaggerated gestures -- is almost surreal. Jim Cummings has returned to voice the smuggler, and his dialogue is everything it should be: funny and demonstrative, gregarious yet selfish. "Remember," he tells guests in the queue. "The more you work together, the more you earn. Your lives -- and my profit -- depend on it!"
For a generation that grew up with the character, having him physically exist in our galaxy should be quite special. "One of the things that we aimed for is finding the opportunities to honor all levels of fandom, whatever part of the galaxy they've participated in, and he became a great choice as someone to meet here on Black Spire," said Carrie Beck, vice president, animation and live action series at Lucasfilm. Dave Filoni, supervising director of The Clone Wars, advised on the inclusion of Hondo and what his story might be at Galaxy's Edge. "Additionally, I think the opportunity to bring a character from animation into real life was something that we've never done before, and I think it was really exciting to all of us to think about the opportunity that exists."
Previsualization -- building characters or scenes with 3D graphics -- was employed to model Hondo and other characters' animations, which allowed for fast improvements, and motion capture was used to create more organic movements. This was all enabled, however, because of a major shift in how Imagineers are approaching their Audio-Animatronics technology. "We are able to do more previsualization in this project because we've shifted towards electric figures," said Victoria Thomas, associate show mechanical engineer at Walt Disney Imagineering. Traditional animatronics are hydraulics-based, she explained, starting with the 1964 World's Fair Abraham Lincoln, Imagineering's first Audio-Animatronics human figure, all the way to today. "This project team came together and said, 'Okay, how do we create the latest and greatest kit figure?'" They went back and forth, landing on electric; this guaranteed a higher-quality performance, longer-lasting life, and the use of digital techniques, like previsualization. Hondo, however, is just one of the many faces, both familiar and new, at Galaxy's Edge.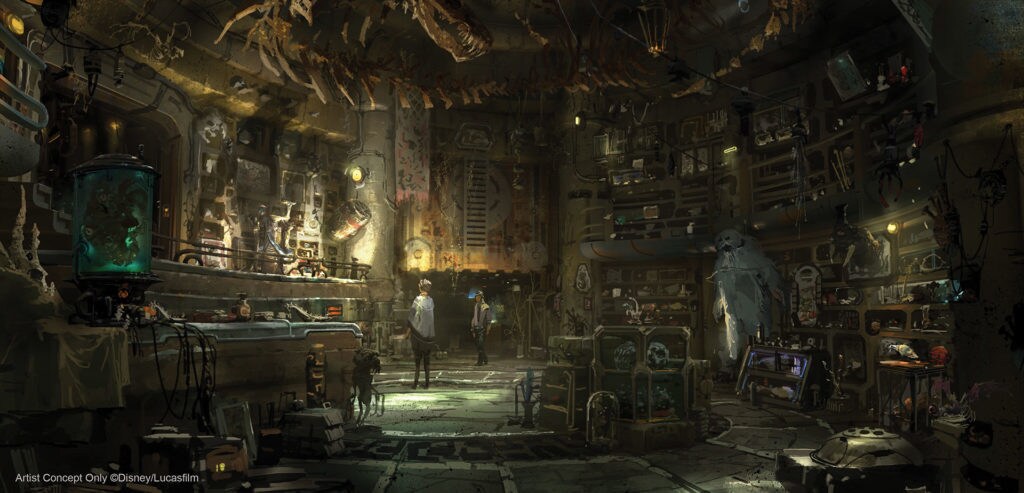 You'll also meet Dok-Ondar, an animatronic Ithorian who runs the black market on Batuu -- though he's already popped up in other Star Wars stories, including a mention in Solo: A Star Wars Story. In Black Spire Outpost, you'll find his shop, Dok-Ondar's Den of Antiquities, which promises to be filled with treasures ranging from holocrons to ancient Jedi stone carvings. If you're shrewd, he may even barter with you. "We just fell in love with him from the beginning," Margaret Kerrison, managing story editor at Walt Disney Imagineering said, but noted that he's still a scoundrel. "He's very well-connected, and he's a very dangerous guy."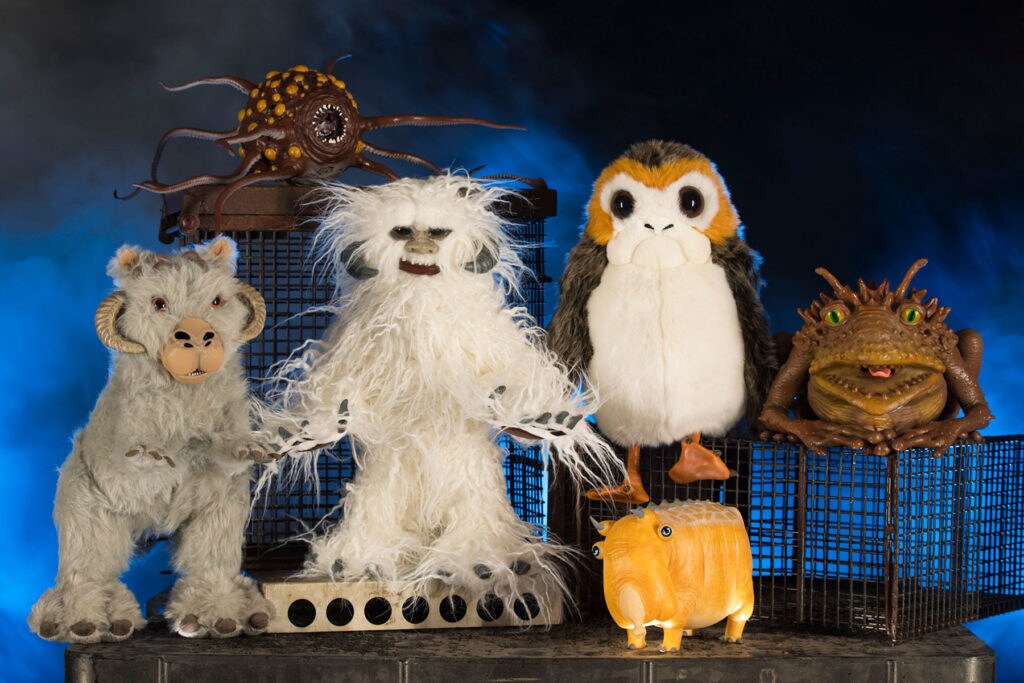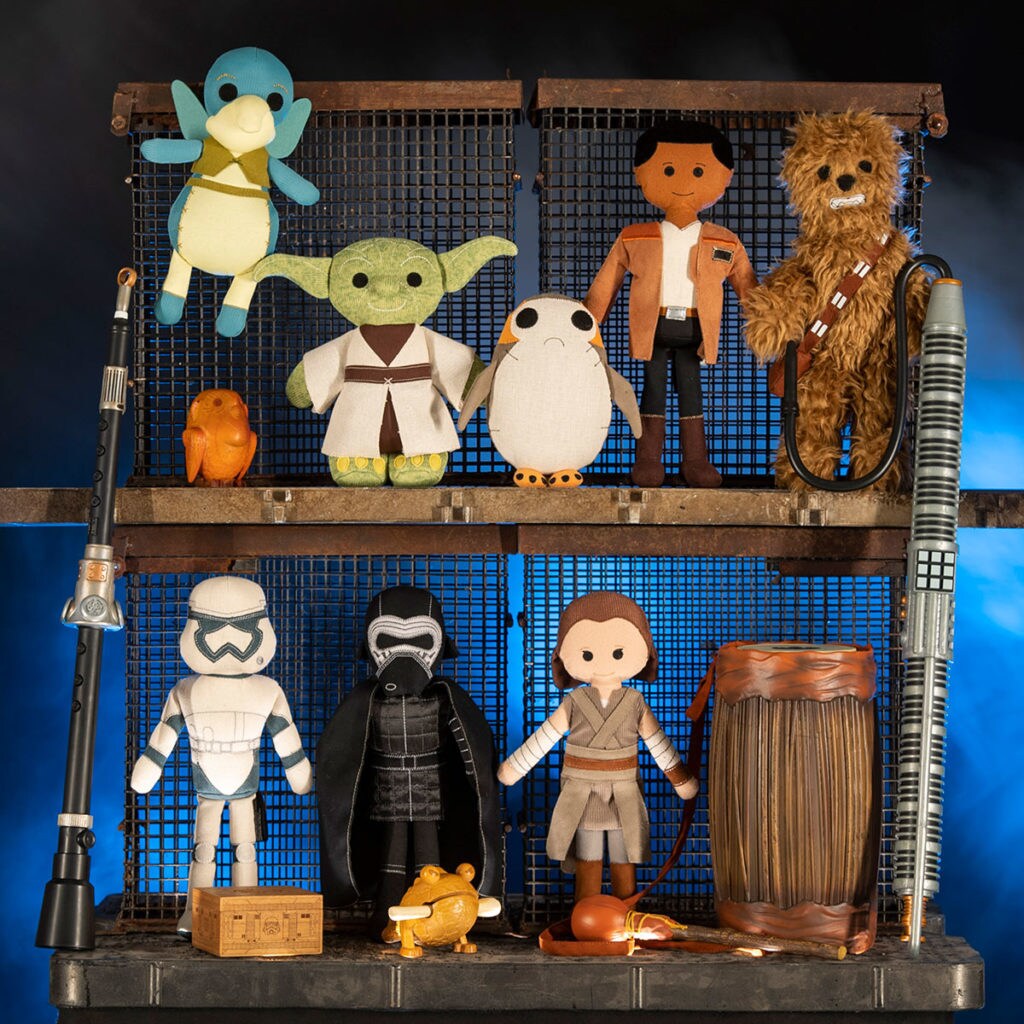 Zabaka, a female Toydarian, runs a shop featuring artisan-style items: There are wooden Convor whistles, musical instruments (that are playable and come pre-loaded with tunes), and plushies of aliens and galactic heroes. The Creature Stall, owned by Bina, will offer oinking puffer pigs, writhing rathtars, and chirping porgs. Black Spire Outfitters will provide all your galactic apparel needs, from First Order uniforms to Jedi attire.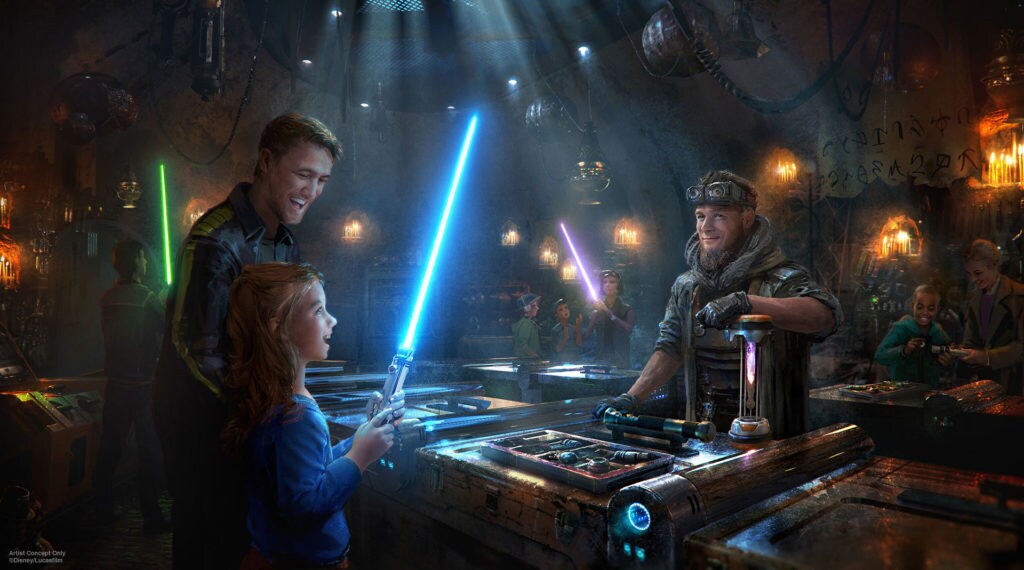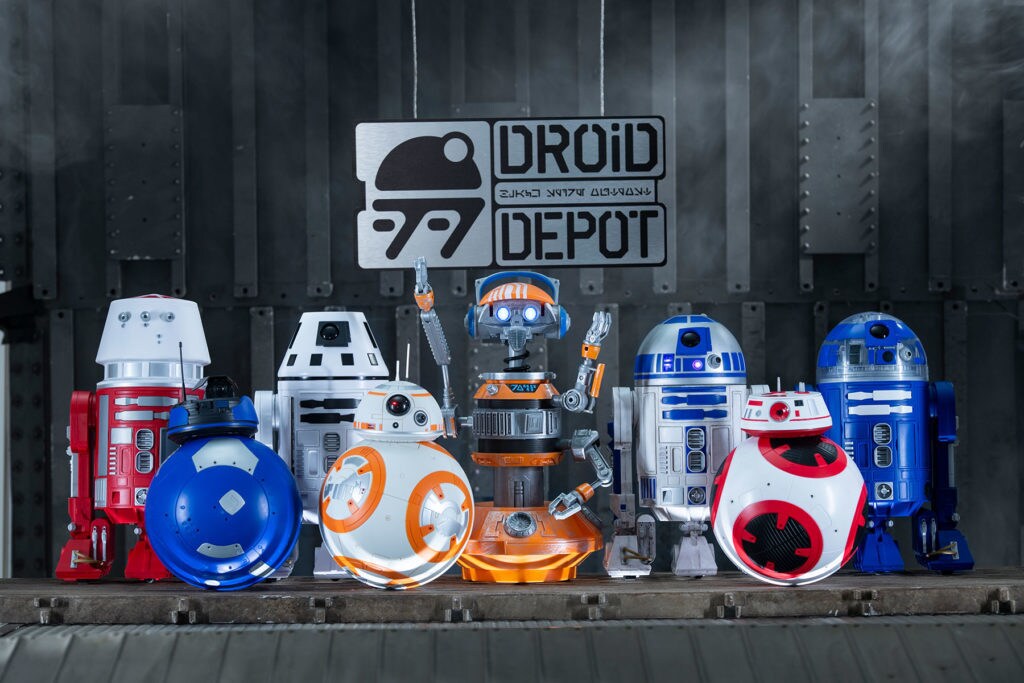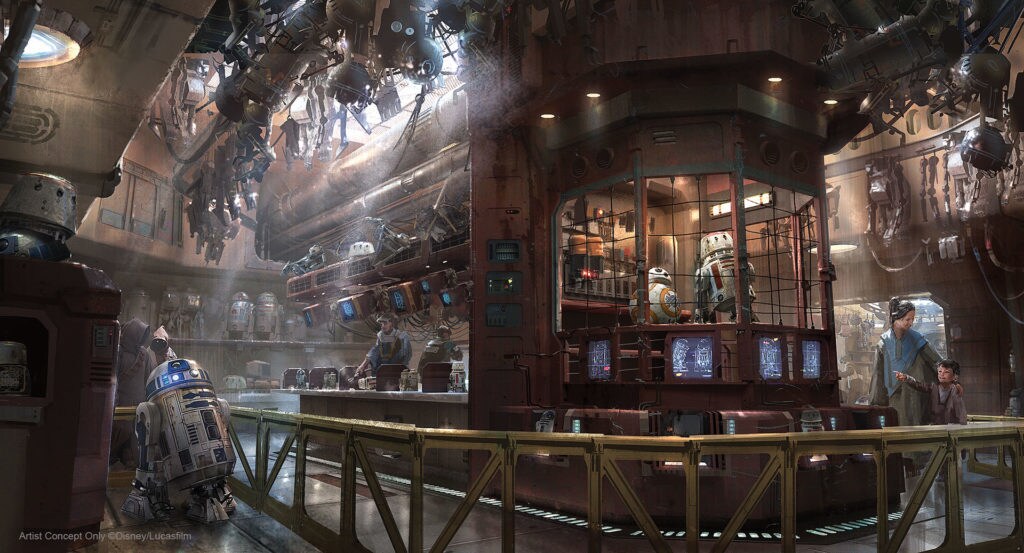 You'll even be able to build your own lightsabers and droids at Savi's Workshop and the Droid Depot, respectively. "Everything was created through the lens of Star Wars: Galaxy's Edge," said Brad Schoeneberg, director, merchandise strategy and new park experience development at Walt Disney World Resort. "The product that you leave with is the one that you've designed based on the choices that you've made, and reflects the one that really is inherent to your Star Wars adventure." In a clever in-universe detail, packaging will either fit with the story of the store, or be non-existent. After all, Luke Skywalker built his lightsaber -- it didn't come in a box. And the story continues: your lightsaber will contain a kyber crystal that contains a message that can only be unlocked when paired with a holocron; your droid will know a lot about Black Spire Outpost, and can react to your experiences.
If you've ever been on the original Star Tours, you're in for a reunion of sorts. R-3X, or Rex, the first Star Tours captain, has a new gig in Black Spire Outpost: he's the DJ in Oga's Cantina, the locale's watering hole. In our sneak peek at Rex, he bopped his head charmingly to the music, which sounded like what could only be called Jawa hip hop.
Lucasfilm's Matt Martin, a longtime Disney Parks fan, especially enjoyed contributing to Rex's story. "Being able to dig into what his story is, and thinking about how he traveled from Star Tours and ended up on Batuu, has really been one of the joys of working on this project," he said. Martin already had a backstory written for Rex, and passed it along as soon as he learned that the hapless droid was back. Paul Reubens provided the original voice of Rex, and while his return was not confirmed, it's safe to say that upon hearing the droid's new chatter, the Rex faithful will be pleased.
And specially-dressed employees, also known as Disney Cast Members, will roam Black Spire Outpost. You'll be able to speak with, and learn from these villagers, all with different stories to tell. Some might be Resistance sympathizers; some might be First Order loyalists. So choose your words wisely depending on your allegiance.
These characters and locales will become part of your own Star Wars story when Galaxy's Edge opens this summer at Disneyland Resort and in the fall at Walt Disney World Resort. Better practice your galactic good manners.
Star Wars: Galaxy's Edge opens in California's Disneyland Resort in summer 2019, and in Florida's Walt Disney World Resort in fall 2019.
See more of Star Wars: Galaxy's Edge in StarWars.com's complete photo and image gallery.
Dan Brooks is Lucasfilm's senior content strategist of online, the editor of StarWars.com, and a writer. He loves Star Wars, ELO, and the New York Rangers, Jets, and Yankees. Follow him on Twitter @dan_brooks where he rants about all these things.