Learn more about the new themed land with exclusive interviews with the design team discussing the project from concept art to creation.
Lucasfilm creative executive Pablo Hidalgo got his first glimpse of Batuu, the planet inside Star Wars: Galaxy's Edge, now open at Disneyland® Resort and opening August 29 at Walt Disney World® Resort, through a concept art painting by longtime ILM artist Erik Tiemens. "I remember when it became real," he says.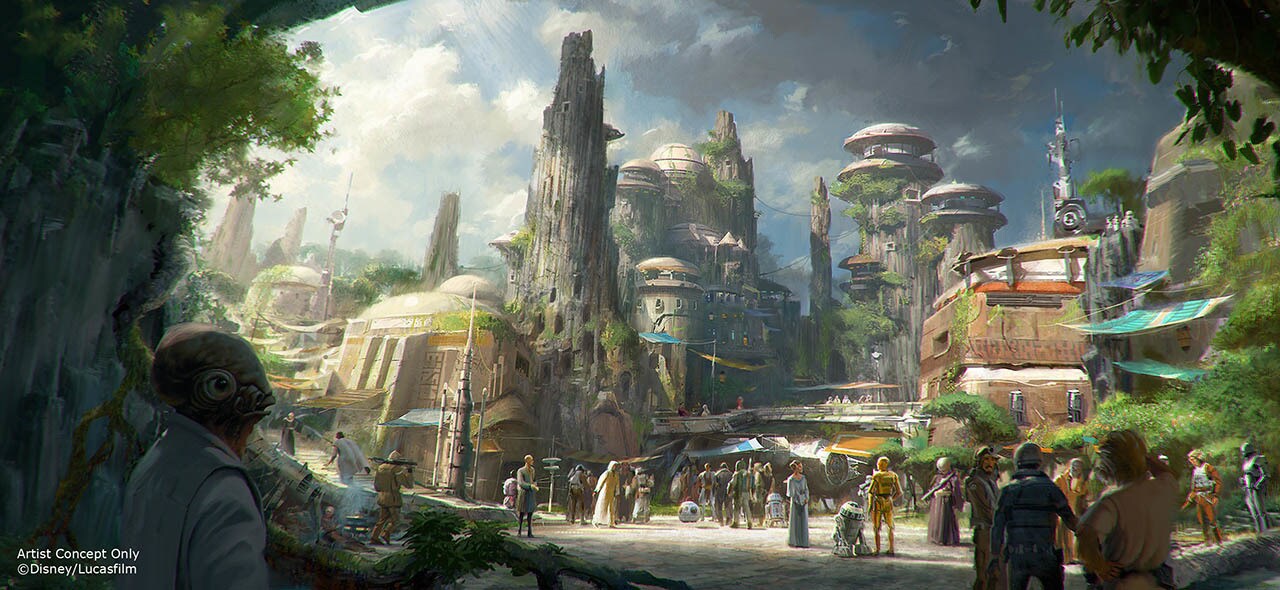 Tiemens had captured the delicate spires of Batuu along with recognizable faces of Star Wars aliens, like a Mon Calamari, and even some droids that hinted at Ralph McQuarrie's original production paintings. The galaxy had long ago leaped from the page to the screen and now it was being transformed from imagination into something more tangible. Something real.
Star Wars: Galaxy's Edge is an immersive new experience where fans can live out their own Star Wars story with a visit to the planet of Batuu on the Outer Rim. Through modern technology, characters only previously known through animation have been brought to life, and a regular mobile smartphone can transform into an in-universe datapad that can be used to hack some droids or consort with known rebel scum. "At the core of what we're trying to accomplish is this theme that I think permeates all of Star Wars, which is that anyone can rise up and become the hero of the galaxy," says Scott Trowbridge, portfolio creative executive from Walt Disney Imagineering. "Whether you're a poor moisture farmer on some remote planet or you're some scavenger girl living in obscurity…you can rise up to become a hero."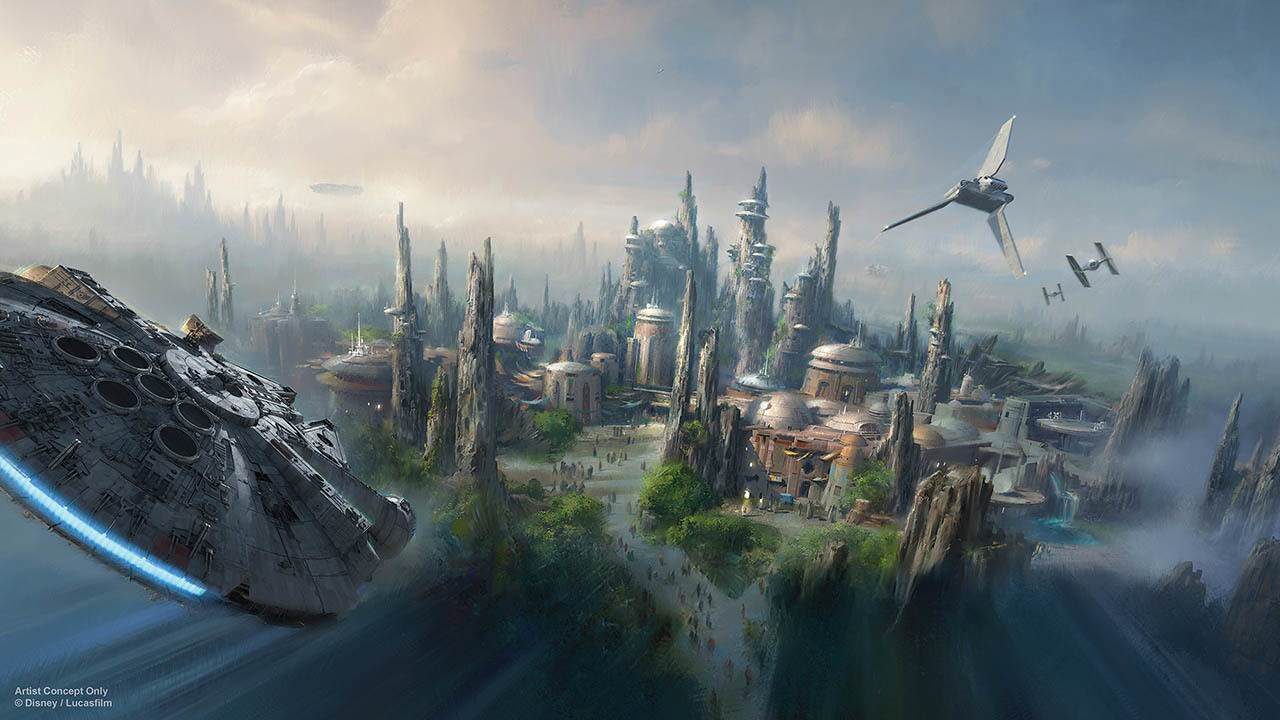 'Ground it in reality'
Building Star Wars: Galaxy's Edge was a feat of conceptual continuity and real-world engineering and artistry, a labor of love involving a team that expanded to about 4,000 artisans, engineers, designers, architects, and more working together to bring the land to life. But it all started with an artistic vision grounded in the world we know and Star Wars lore.
Greg Ashton, a concept architect with Walt Disney Imagineering, joined the project in 2014. "The Force Awakens hadn't come out yet so we had a lot of questions about where the new trilogy was going to be headed and what our take on the Star Wars galaxy was going to be," he says. "So it was very much a blank sheet of paper….We wanted to come up with something that we hadn't seen before. We wanted something that was a new location that really told a different story."
"It was really critical that we ground it in reality," says Doug Chiang, Lucasfilm's creative director. "So we did a lot of research….what is it that really informs the viewer that there's layers and layers of history?"
Changing the scale of petrified Earth forests gave the towering spires a distinctly Star Wars feel without being unbelievably alien. Ironically, landing the life-sized Millennium Falcon -- "In all its cinematic glory but in real life," as Chiang puts it -- as the land's centerpiece was also an important step in ensuring Batuu felt like it existed in the galaxy far, far away. Seeing the ship that made the Kessel Run in less than 12 parsecs, a deeply important character throughout Star Wars, was a bit of childhood fulfilment for Chiang himself. "I could even smell it and it smelled great. Like oil and metal."
More than just looking the part, designers were adamant that the land had to be a new Star Wars story that would star each visitor at the center of their own journey. "We all know Luke's story and we know that we're not in it," says Trowbridge. "So we wanted to create a set of stories that allow you to become a character in it, not just a passive spectator."
"It not only had to be a new world but it had to be a world where interesting things happened," adds Hidalgo. "It couldn't be so interesting that a visit would be fraught with danger and insurrection and rebellion and battles and all that kind of stuff. It had to be interesting in a sense of visiting an exotic world where you know enough about it, but you don't know necessarily what's around the corner."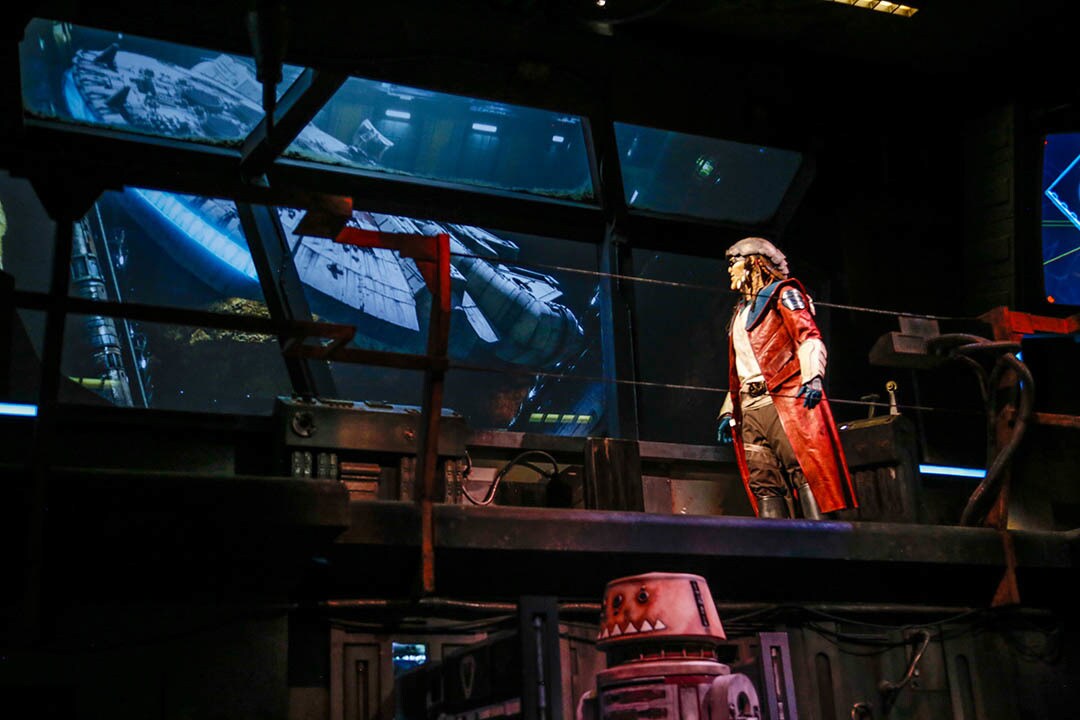 Designers took characters and creatures that had only been conceived in animation, like Hondo Ohnaka, and turned them into something more. "We've made real someone that's only existed as artwork," Hidalgo says, using cutting-edge Audio-Animatronics figure technology to replicate the smooth, life-like movements of the leathery Weequay pirate. "For those of us that live and breathe Star Wars, I think it's really rewarding that we took that extra step to make Hondo [appear to be] a real person….I never would have expected seeing a living, breathing, furry pettable Loth-cat. And there it is. We have one."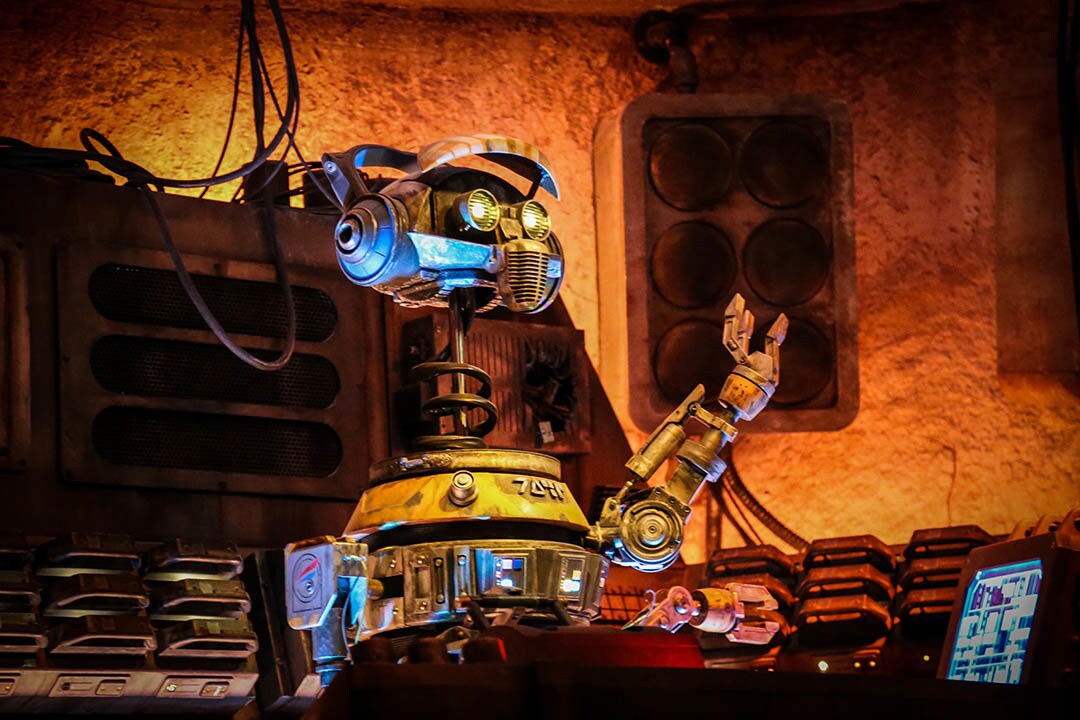 It was also important to fold in nods to earlier Disney/Star Wars collaborations, like the first Star Tours piloted by an unlucky droid. Now R-3X is back with a second career as a DJ in Oga's Cantina. "He was never destined to become the galaxy's best pilot. He might not ever be destined to be the galaxy's best anything, but he does his best," Hidalgo says.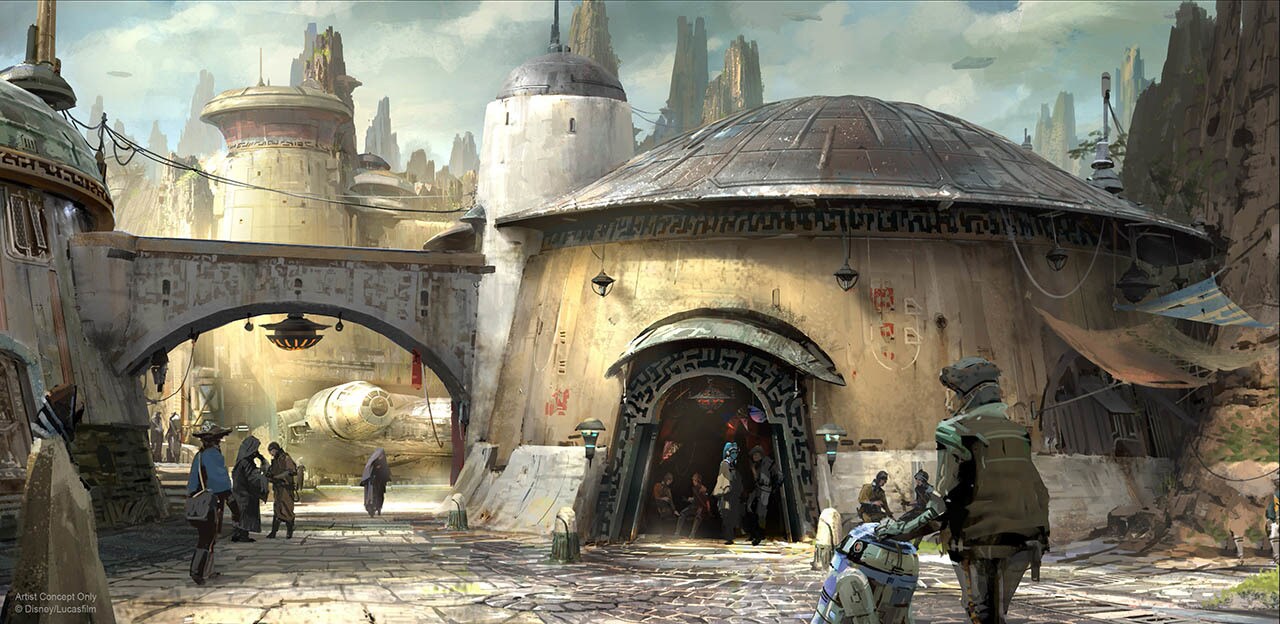 Art imitates life
A team of artists hand-carved the namesake spires of Black Spire Outpost, evoking a sense of an ancient and enormous petrified forest to truly transport those stepping inside the themed-land, applying layers of paint to complete the aging and forced perspective effects. "We really dig into the subject matter and look for references whether it's based on a story, a movie, you know, or a real place on Earth," says Zsolt Hormay, creative executive of rockwork and themed finishes for Walt Disney Imagineering. "We really do a very thorough job to make sure that what we deliver to the guests are as believable and as correct as possible….Our job is to make sure that our guests really feel where they're supposed to be." And even once a design is set and construction begins, the process of sculpting the final layer and applying washes of paint is a proving ground for experimentation and study to achieve the right finish. "We're trying to push the materials to the limit," Hormay says. "We never really stop searching for new inspiration."
To create the right surface and texture for an aged patina, painters layered sometimes a dozen different colors to give walls and other surfaces an authentically aged effect. "Instead of painting it one or two colors, sometimes we have 10 or 12 different layers on top of each other just to really feel that aged look, that weathered look," he says.
"They think so deeply about how those rocks translate not only up close but as they start to recede," Art Director Kirstin Makela adds. And the land has its own faux flora -- a special kind of fake lichen that you can spot in corners and even some recipes. "The citizens of Batuu harvest it to use for dyes," she says, so the color appears in fabric dyes and some local cuisine. To create the effect, creators researched Earth lichen, "so it feels like it's aging and it feels like it's natural but it doesn't feel necessarily like something you would just see growing in your backyard."
Exotic Earth
To build a new themed land that captured the feeling of a long-settled planet, the creative team studied real-life cities in Turkey and Morocco to draw inspiration and help them understand how the formerly walled cities would have grown, changed, and aged over the years. "Things in Star Wars tend to be a synthesis," says Hidalgo. "There's a lot of real-world inspiration when you look at the Star Wars saga." But designers also visited the streets of Jedha, taking a trip to Pinewood Studios outside London to get a closer look at the set of Rogue One, an equally important source of inspiration.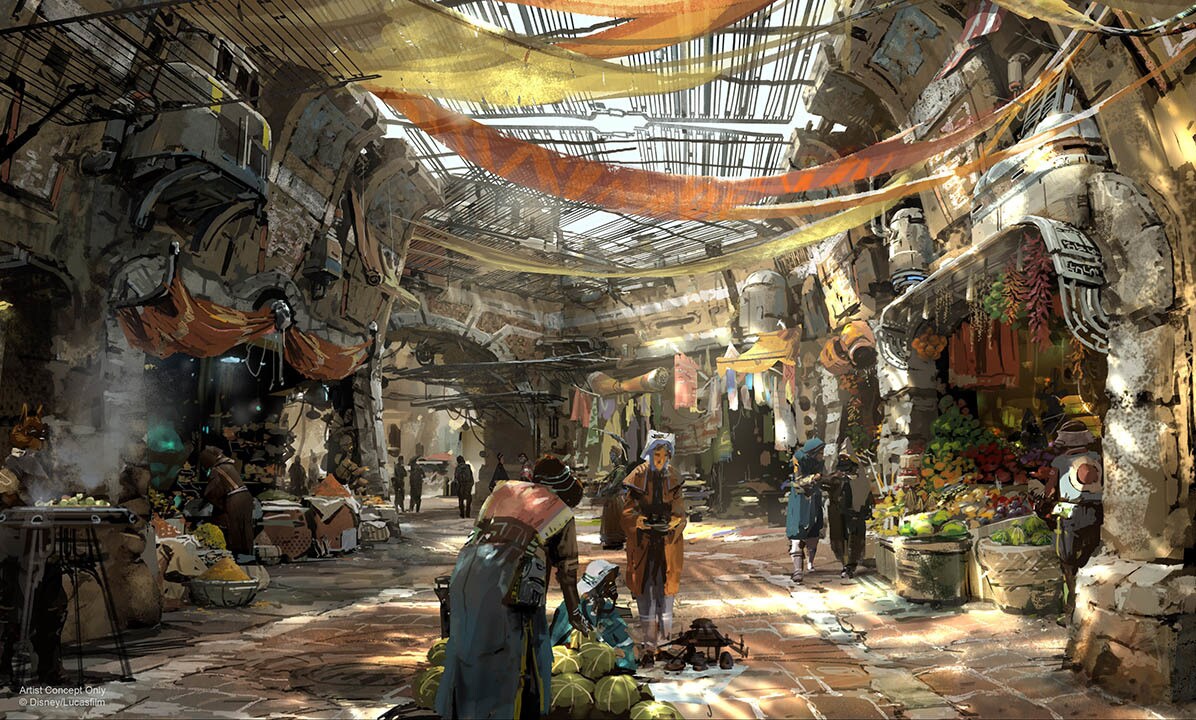 Modern-day locals in real-life markets helped to influence the look of the Black Spire marketplace, while closer looks at the details of erosion on buildings made of stone and mud brick gave the art department a deeper understanding of the ways they might show similar wear and tear, plus burn marks from blaster fire, on Batuu.
"We knew that the architecture of Black Spire and the landscape of Batuu were completely intertwined," says Ashton. "They developed in parallel and you see that. If you look at some of those old cities, those ancient cities like Istanbul and Marrakesh, they've developed over time. They've got these amazing markets and districts, but they have a unique sense of where they sit in geography." A small garden cemetery beneath a gated archway in the middle of the city of Istanbul inspired the look of the outdoor seating area by Docking Bay 7 Food and Cargo. They also found inspiration for the restaurant, the cantina, and other shops and experiences from an oil bath station to Dok-Ondar's Den of Antiquities from location scouts and existing Star Wars designs and shape language. "They all had to fit into districts that were distinct."
The team was essentially reverse-engineering the galactic past, inventing an entire planet and ecosystem that could be made from Earth materials but feel authentically like fans had just walked not onto a movie set but into the Star Wars films themselves. "It was organic," says Ashton. "As an environment designer, our job is to create an environment that tells a story. And all of the details you see need to make sense and tell that story."
After all, on a film set, it's all about the visual illusion, but it only has to stand up to suspension of disbelief and the magic of moviemaking, not to a tactile experience and millions of guests. "[On film] we can cheat things by making things out of plywood and foam," Chiang says. "For a theme park, we can't. It has to be absolutely real because the guest – when they walk through it they'll be touching it, they'll be smelling it, maybe they'll be tasting food. And so everything about that experience can't break that illusion. Designing for a theme park requires a higher level of fidelity than anything else I've ever experienced."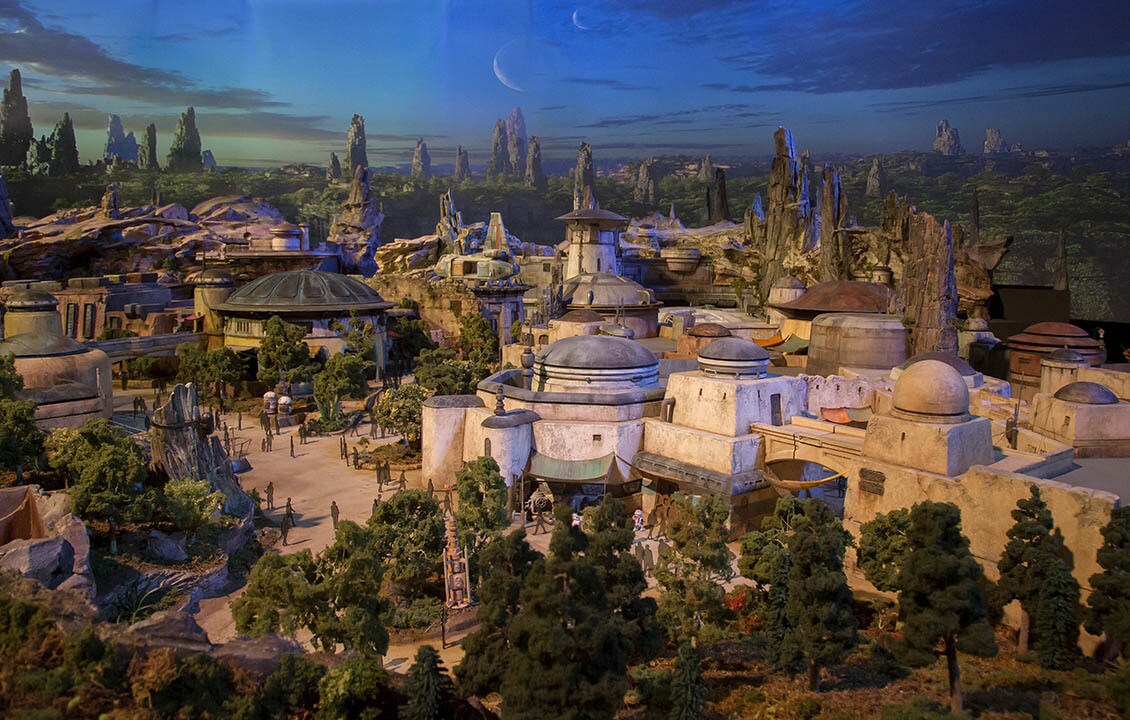 Ancient history
The goal was to make sure newcomers felt the weight of Batuu's history without being told. "The land does tell a story but it isn't a spoken story," Ashton says. "It needs to make sense if you've been a fan since 1977 or you've never experienced Star Wars at all."
The scope of the project was ambitious. Conceptually, designers were adding a whole new planet to the Star Wars galaxy, from scratch. In reality, construction experts were toiling to erect the paired outposts on two separate plots of 14 acres each. "It's kind of like building two small cities simultaneously," Ashton says. "On both coasts."
"We're engaging all your senses at once," Hidalgo says. The soundscape and hints of music had to work together with the special effects and landscape. For the first time ever, fans would be able to smell a Star Wars planet and taste its local cuisine, and every detail large and small -- from the seating and interior design of the eateries to the food itself – had to feel authentic.
"Everything in Galaxy's Edge is meant to be lingered upon," Hidalgo says, so each detail "has that sense of history and backstory to it."
Now that guests are taking their first steps into this larger Star Wars world. "I want them to be inspired to really just live their own adventures not only in our land but also in their real lives," Makela says.
"Some of my favorite things are just the surprises, the little details," adds Hidalgo. "I'm just a big fan of detail." Hidalgo fell in love with the Star Wars saga as a kid hitting pause on his Betamax cassette and scouring every scene for hidden details. "We were able to pause, rewind, pause, rewind and soak in every detail on a given frame.
"Now, you are your own pause and rewind. Wherever you turn your head…you can really stop and pick apart every element and detail."
Whether you've already visited or are planning your own adventure in the future, you can learn more about how Walt Disney Imagineering and Lucasfilm brought Star Wars: Galaxy's Edge to life this week on The Star Wars Show, which you can watch below!

Additional images by Kyle Kao. Featured concept art by Nick Gindraux, Greg Pro and Erik Tiemens.
Get details to plan your visit and more with StarWars.com's full coverage here.
Star Wars: Galaxy's Edge at Disneyland® Resort is now open. Reservations and valid theme park admission required to visit the land between May 31 and June 23, 2019. Beginning June 24, No Reservations required. Subject to Capacity.
Guests staying at a Disneyland Resort hotel between May 31 and June 23, 2019 will receive a designated reservation to access Star Wars: Galaxy's Edge during their stay. One reservation per registered Guest. Each Guest is required to have valid theme park admission. If the hotel reservation is cancelled, the Star Wars: Galaxy's Edge reservation will be cancelled. Additional restrictions apply.
Star Wars: Galaxy's Edge will open at Disney's Hollywood Studios in Florida on August 29.
Capacity for Disney's Hollywood Studios, Star Wars: Galaxy's Edge and its experiences is limited. 
Associate Editor Kristin Baver is a writer and all-around sci-fi nerd who always has just one more question in an inexhaustible list of curiosities. Sometimes she blurts out "It's a trap!" even when it's not. Want to talk more about The Clone Wars? Hop on Twitter and tell @KristinBaver what you thought about today's episode.
Site tags: #StarWarsBlog