Discover what galactic delicacies await you in Disney Parks' upcoming Star Wars-themed land.
[Editor's note: Star Wars: Galaxy's Edge is now open at Disneyland Resort in Southern California, and will open on August 29 at Disney's Hollywood Studios in Florida.]
If you're like Chewbacca and always thinkin' with your stomach, you'll enjoy Star Wars: Galaxy's Edge.
The Star Wars-themed land is set to host enough tasty delights to please anyone, including our favorite Wookiee. Food and drink at Black Spire Outpost will be purely in-universe, and served at a few eateries and watering holes, including the newly-revealed Ronto Roasters, Docking Bay 7 Food and Cargo, and Oga's Cantina. Last week, StarWars.com was invited to taste many of the galactic dishes, snacks, and beverages coming to Galaxy's Edge, and got an early look at these vendors in a tour of the Disneyland Resort site in Anaheim.
The dishes and drinks of Galaxy's Edge are wholly new creations -- after all, no one has really made or tasted Star Wars food before. The team had to "sit back and think about, 'How do we approach this?'" said Brian Piasecki, culinary director of concept development at Walt Disney World Resort. "What is our creative direction of the food, because we don't know. What does it taste like? What does it smell like? What does it look like? So we had that opportunity to really bring all of those touch points to every single guest that's going to visit Galaxy's Edge, and we're super excited about that." Indeed, one goal was surprise. "If it looks like one thing and maybe it tastes like something else, that could be really cool."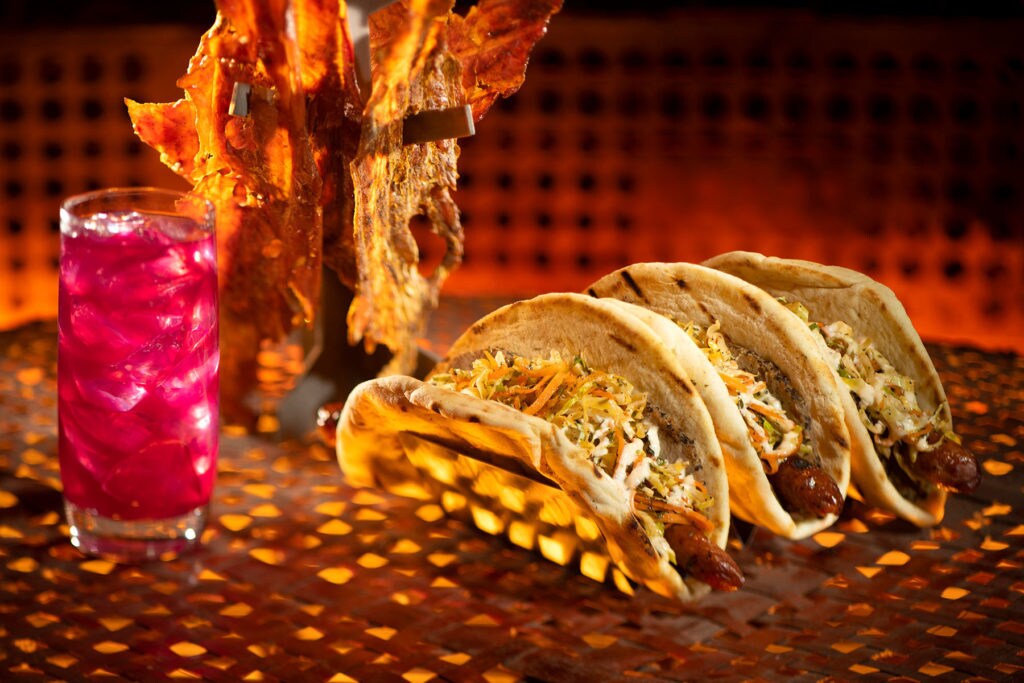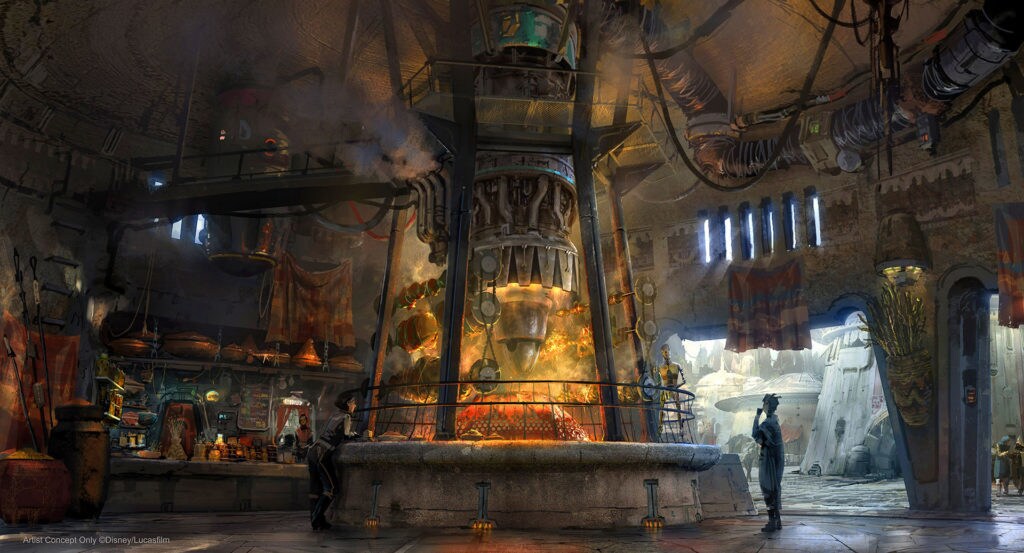 Ronto Roasters, while still incomplete during our walkthrough, is open and airy with big entrances -- maybe to get all those giant rontos inside. Concept art of the eatery has revealed an ingenious detail: a giant podracer engine serves as the establishment's cooker. "This location is super fun because it's all about meat, and it's all about heat," said Piasecki. That means drier options, including turkey jerky, and the signature Ronto Wrap, a handheld sandwich, filled with Portuguese sausage, roasted pork, and a cabbage slaw on top, all in a grilled pita. It's finished with a spicy "clutch sauce," named for Darth Vader's Force grip, which activates on the sides of your throat. It's weird, fun, and I can confirm that ronto meat is pretty delicious.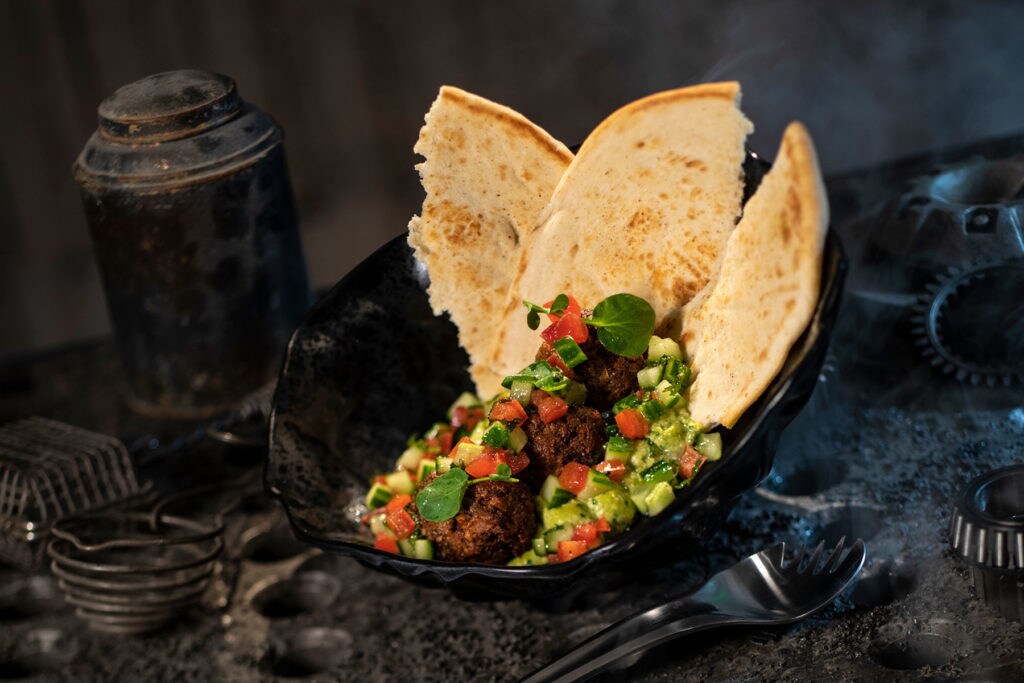 Docking Bay 7 Food and Cargo seems to be a larger space, with cargo crates doubling as stalls at which to eat -- and one crate being lowered through a giant hatch in the ceiling. (It's touches like that that made Galaxy's Edge, even in its incomplete state, feel authentically Star Wars.) Among the offerings are Fried Endorian Tip-Yip (rectangle shaped fried chicken) and Kaadu Ribs (smoked country sticky pork ribs with blueberry corn muffin and cabbage slaw); my favorite, Felucian Garden Spread (a plant-based kefta "meatball" dish, which I could not tell was not made of beef, with herb hummus and tomato-cucumber relish with pita bread), takes inspiration from its namesake, Felucia, a planet covered in plants and foliage. "The flavors in Galaxy's Edge and Docking Bay 7 are going to be very bold. A lot of spice-forward," said Piasecki. And some surprises are still being cooked up. When asked if the raspberry puff dessert shell was inspired by Rey's instant bread, Piasecki kept some intel top-secret. "We have some other plans for that inspiration that will come out at a later time," he told me.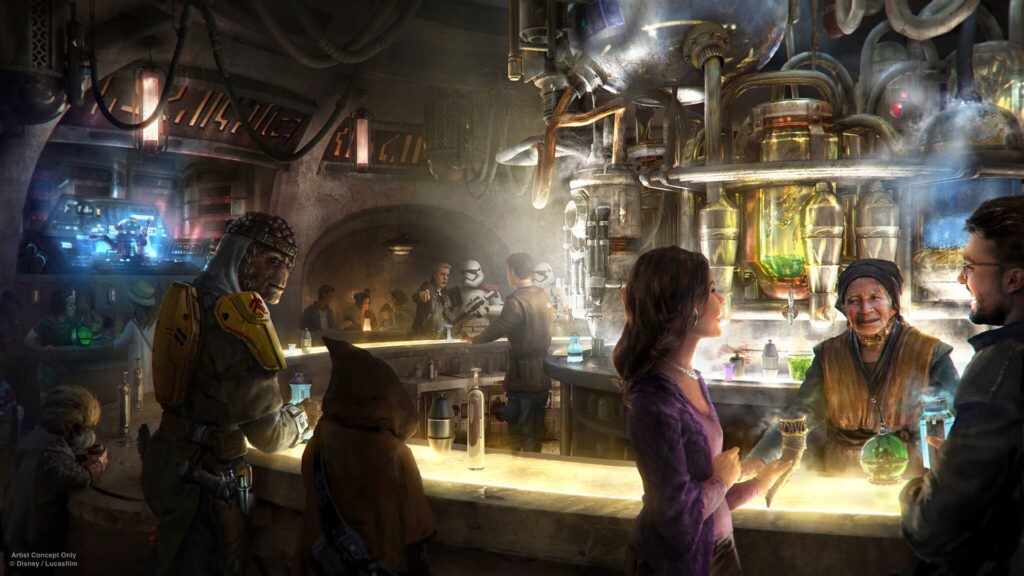 Oga's Cantina, the watering hole of Black Spire Outpost, is a blend of the old and new. It's like stepping into the Mos Eisley cantina sequence from A New Hope, but not quite; there's the U-shaped bar, with piping in the middle, and tables in private nooks. When you visit, you can walk right up to the bar and order, just like Luke. It's familiar, yet different enough that you won't feel like Greedo could be just around the corner.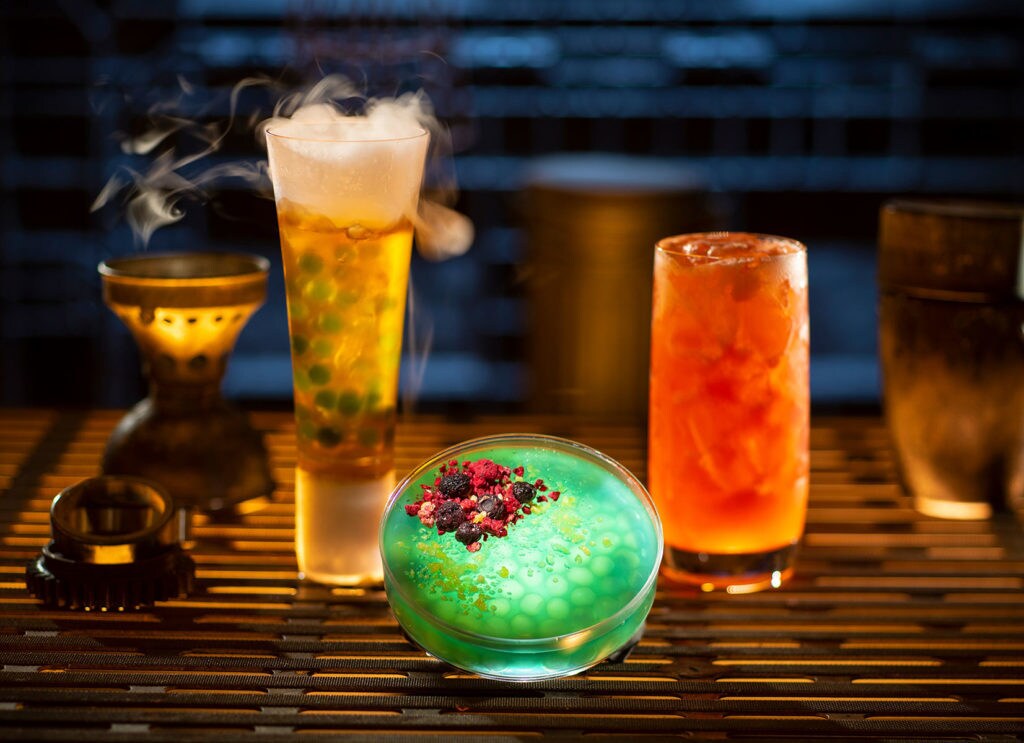 Beverages will be available at Oga's Cantina, Docking Bay 7 Food and Cargo, and select stands. They're colorful, with hues ranging from pink to orange to yellow and beyond: the non-alcoholic Tatooine Sunset, a reddish pink, is tea-based and smooth. Moof Juice, a pinkish fruit juice, is cool and refreshing. Oga's Obsession falls somewhere between beverage and snack, and tastes the most other-worldly; contained in what looks like a petri dish, you scoop your serving, and the garnish pops in your mouth.
The alcoholic selections are sometimes frothy, sometimes steamy, and sometimes delightfully bubbly, like The Fuzzy Tauntaun, The Bespin Fizz, and The Outer Rim. The Bloody Rancor, of course, comes with an edible bone. A selection of beers are on the way; one of the options we sampled was very hoppy, with hints of citrus and a little bitter.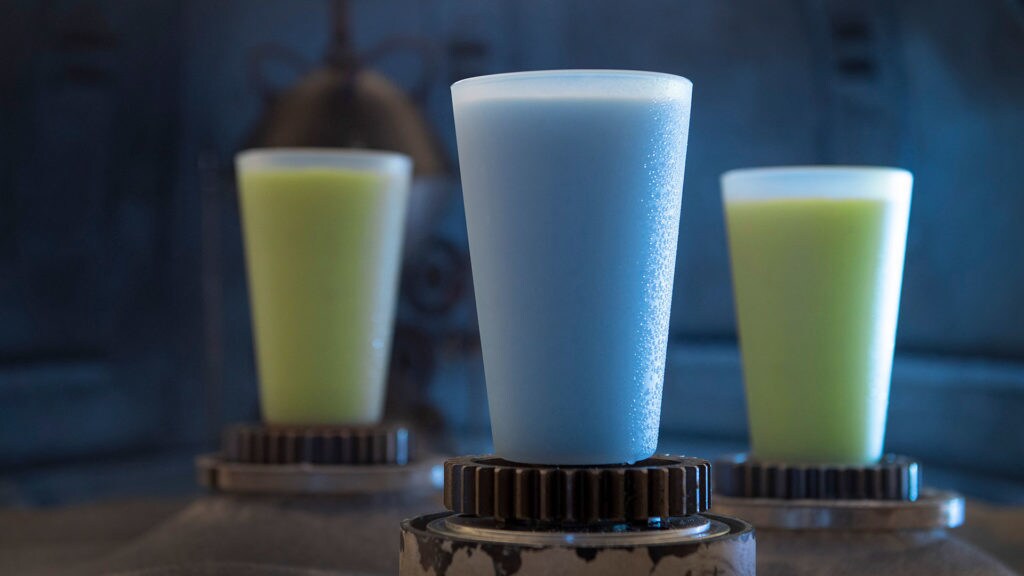 Finally, some of Star Wars' most iconic drinks are coming to Galaxy's Edge. Blue and Green Milk (for those who prefer the thala-siren variety) will be available, both made with plant-based dairy. You can pick up frozen iterations at the Milk Stand, and a regular version of Blue Milk at Oga's Cantina. "They're very flavorful, they're kid-friendly. Guests of all ages can enjoy these," said Brian Koziol, food and beverage concept development director at Walt Disney World Resort. While we didn't get to sample these drinks, Koziol described Blue Milk as having "berry combinations that can come through" with hints of melon, while Green Milk is more tropical.
Star Wars Rebels fans will be happy to learn that Meiloorun Juice, a non-alcoholic drink based on a fruit introduced in the animated series, can be purchased at Ronto Roasters. And if you want something more of our own galaxy, fear not. "The cargo ships are coming back and forth all the time, so there's lots coming in and out from galactic space," teased Michele Gendreau, food and beverage director at Disneyland Resort.
There's a big galaxy of food and drink waiting at Galaxy's Edge. Feel free to indulge your inner Chewie and enjoy -- without fear of Ewok traps.
Check out more food and beverages coming to Star Wars: Galaxy's Edge below!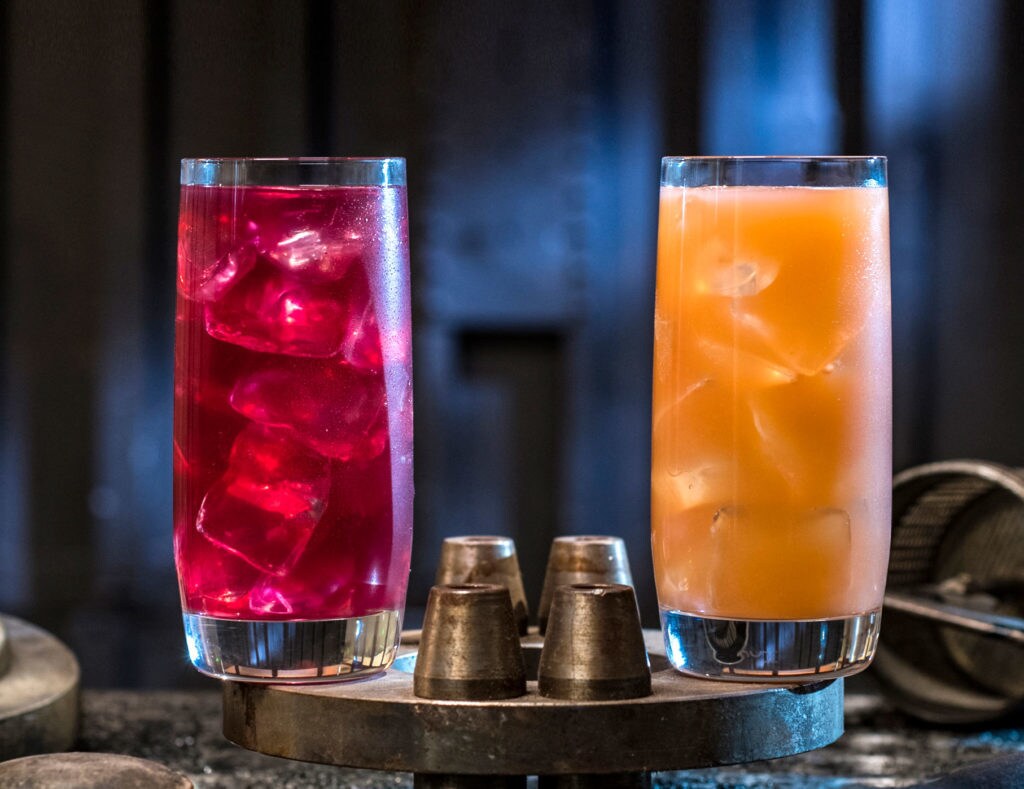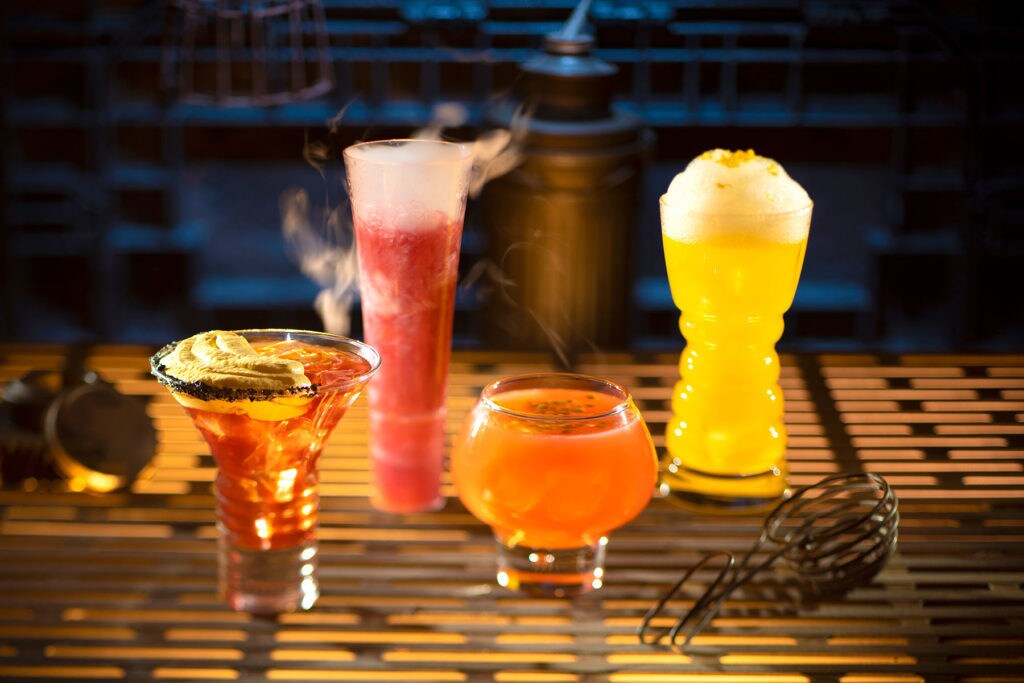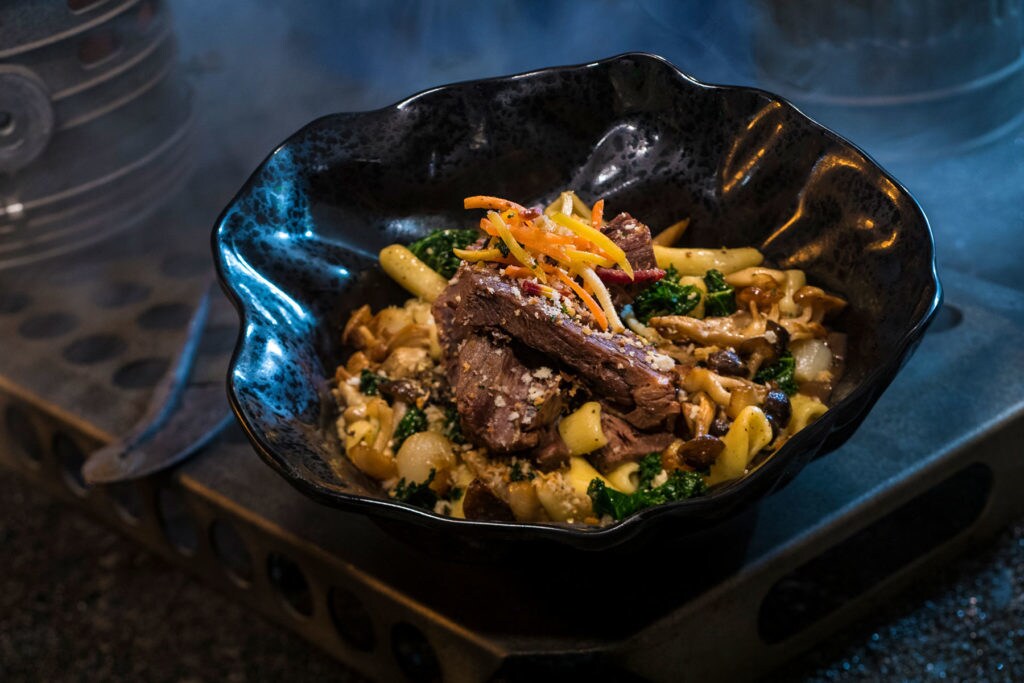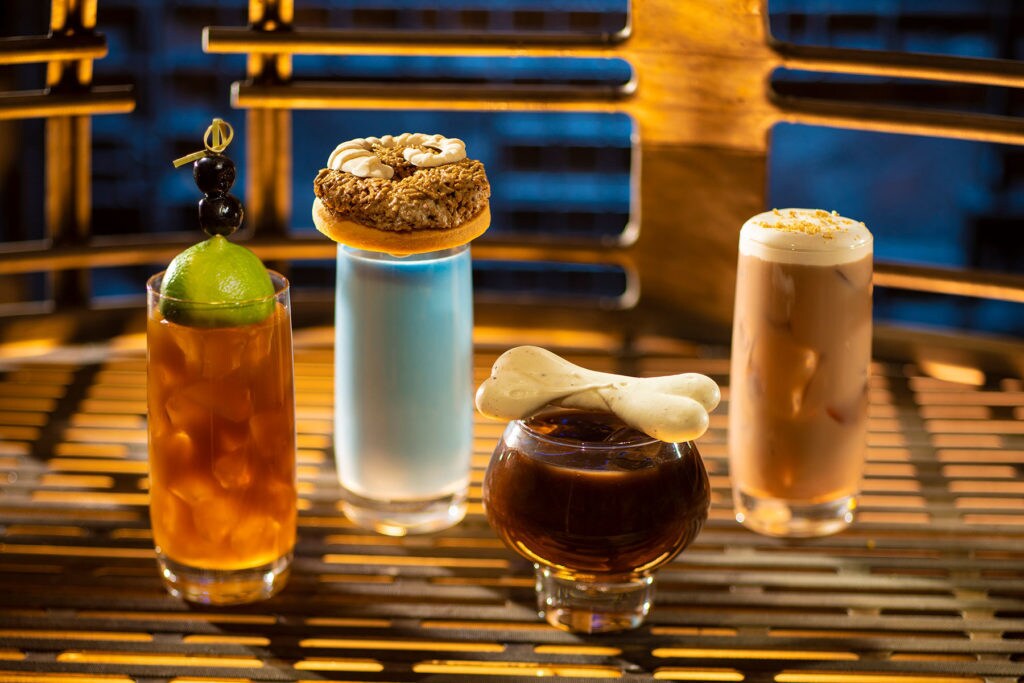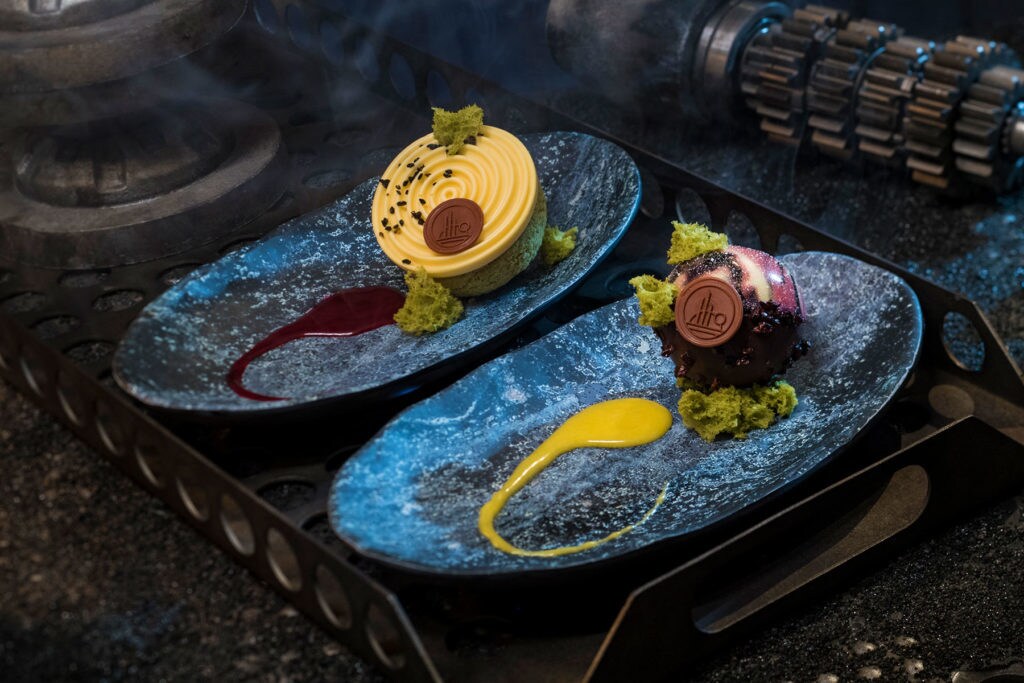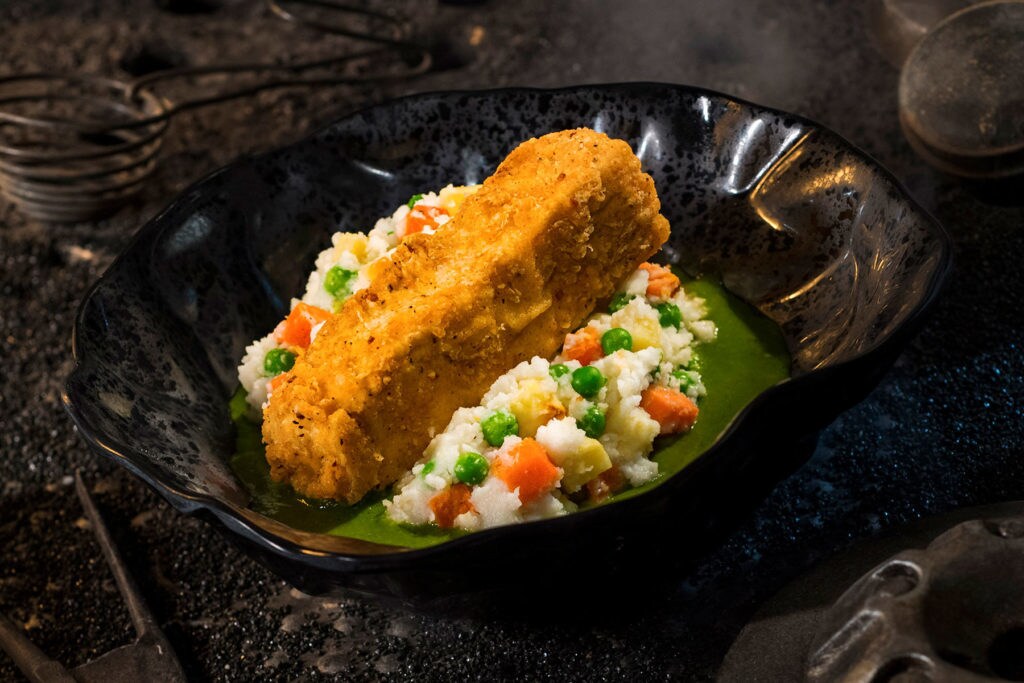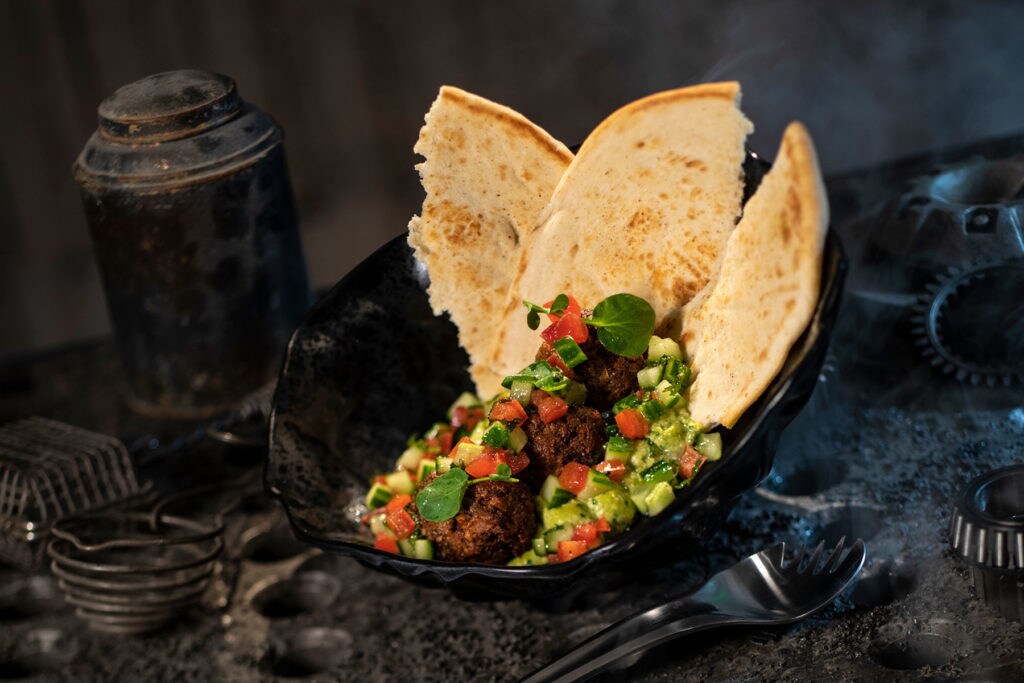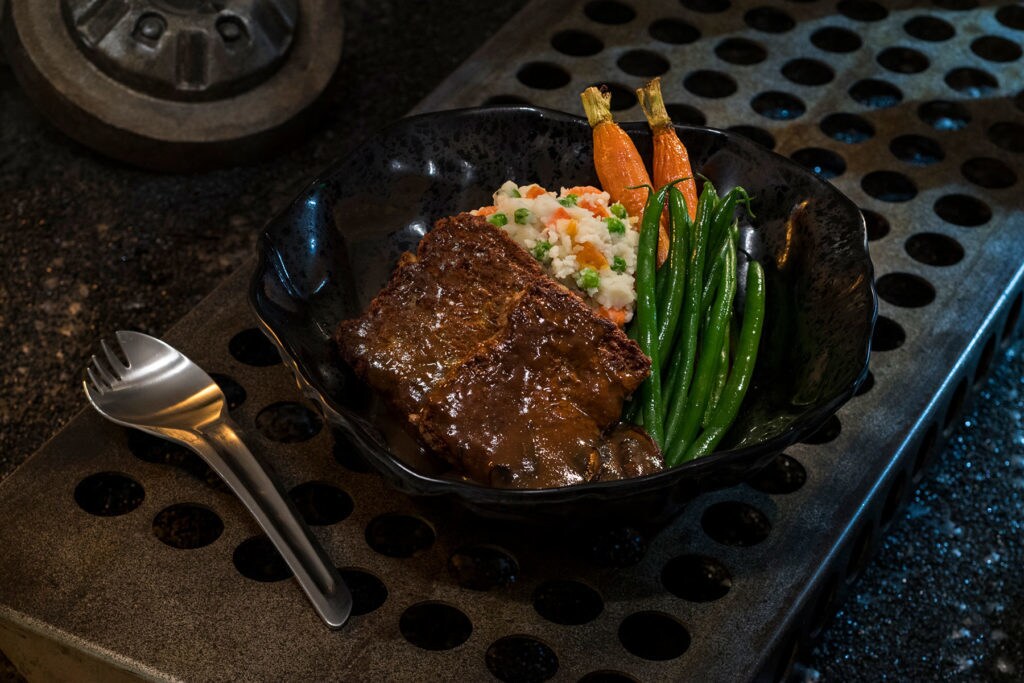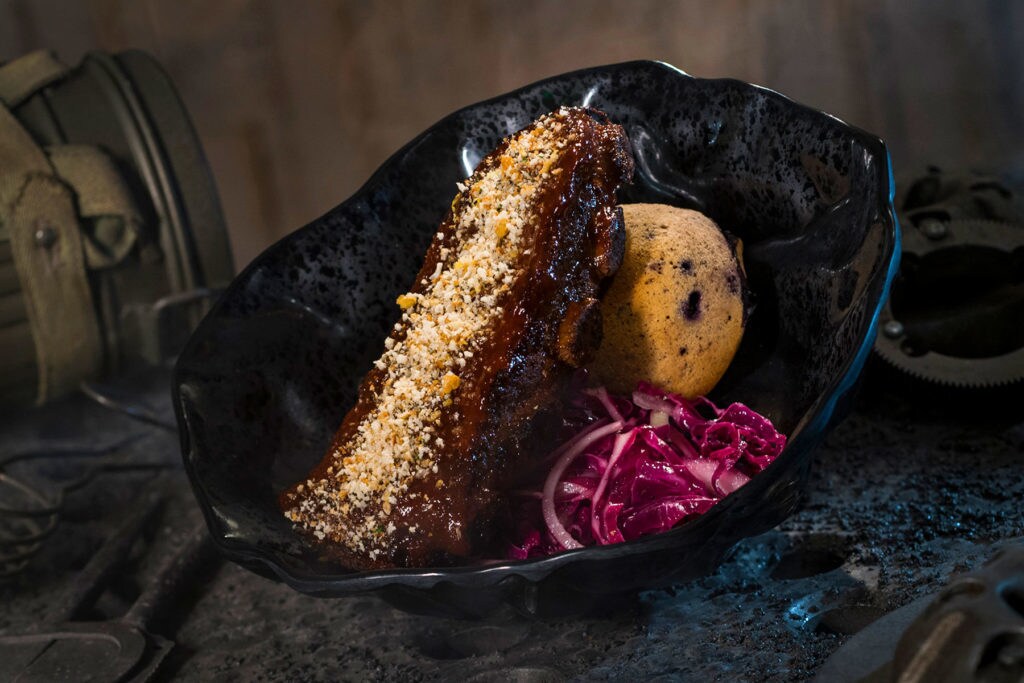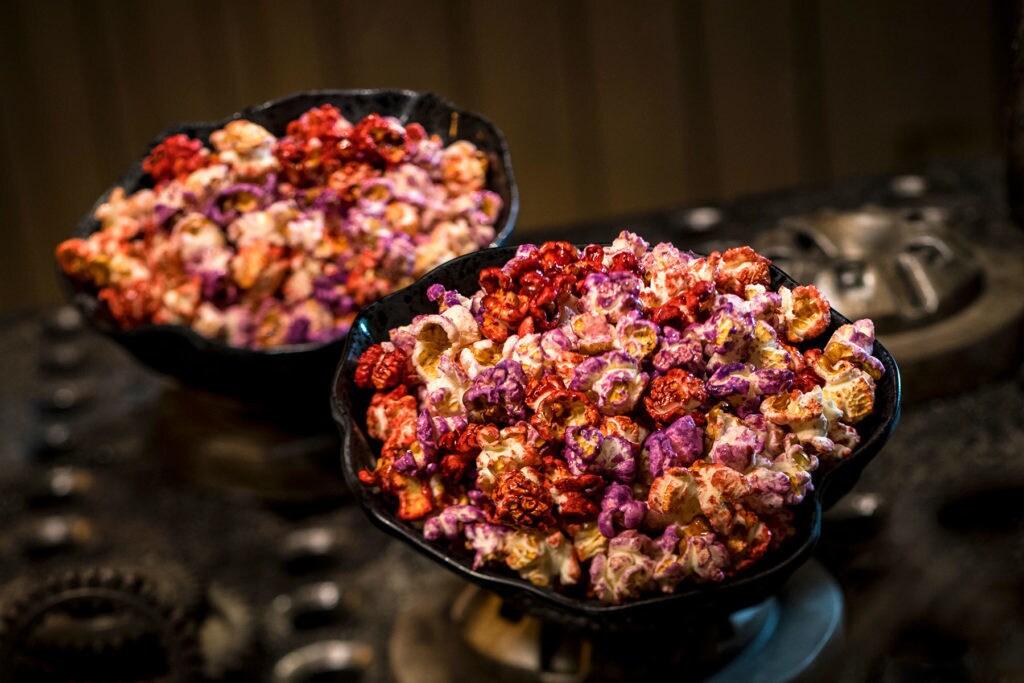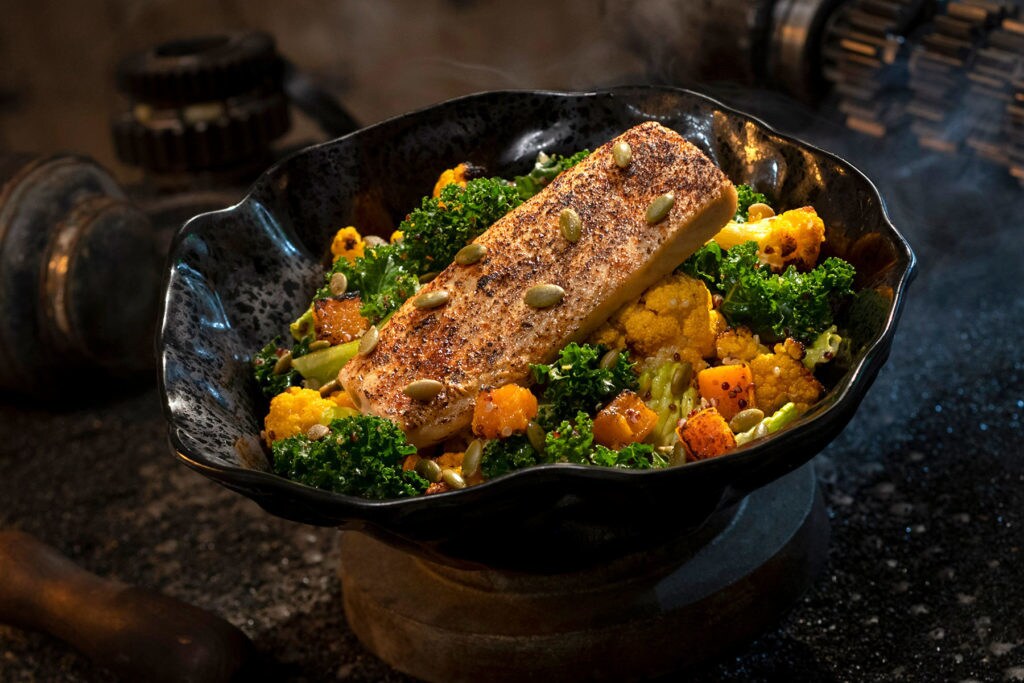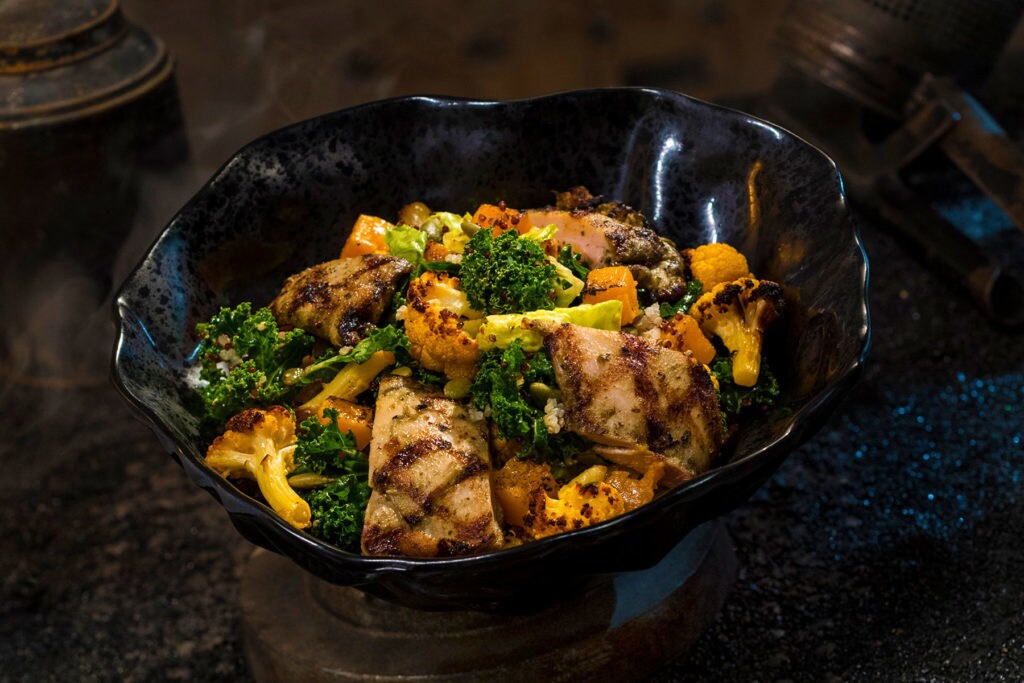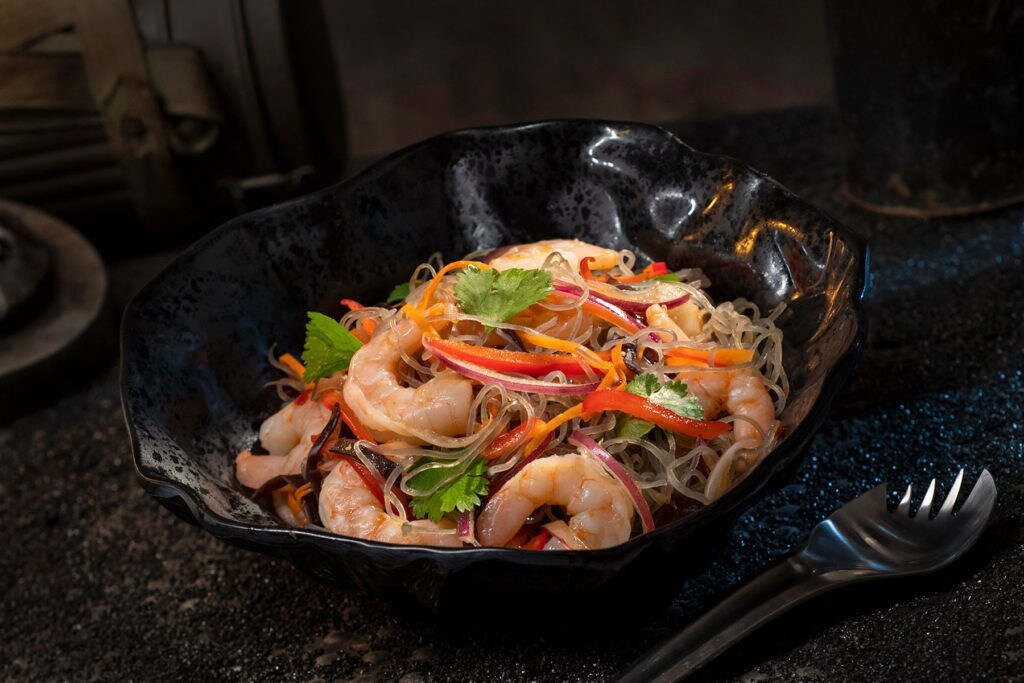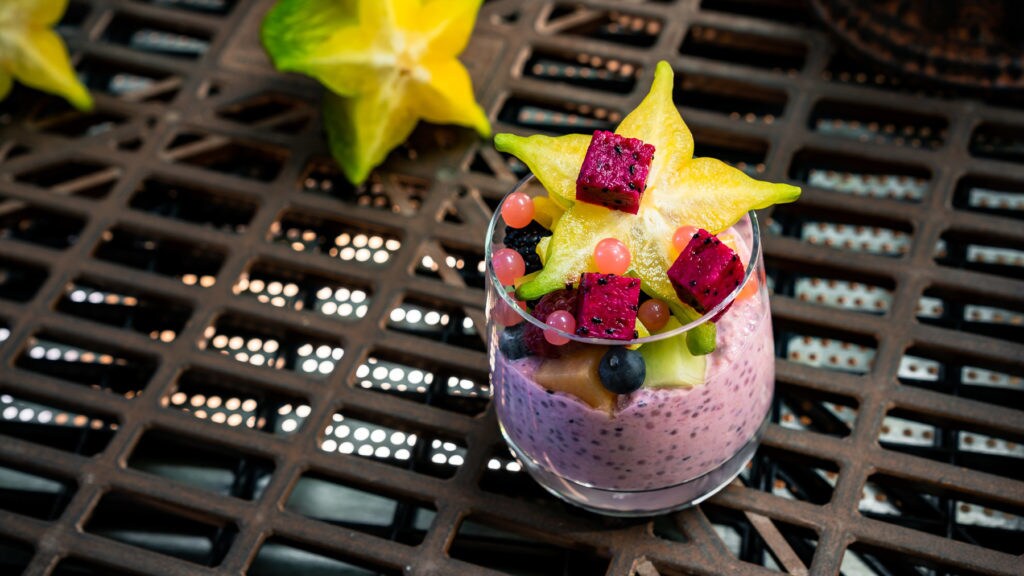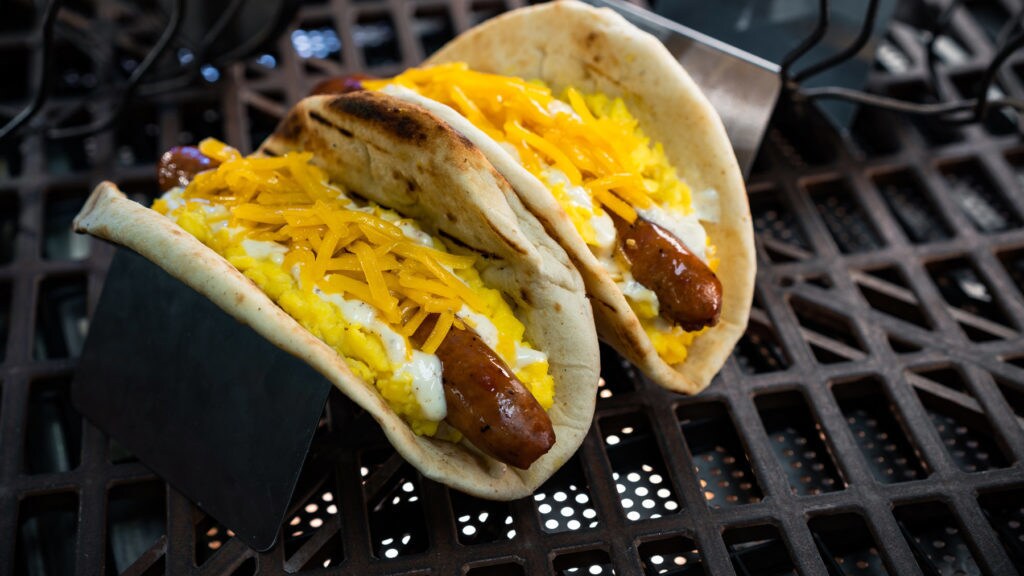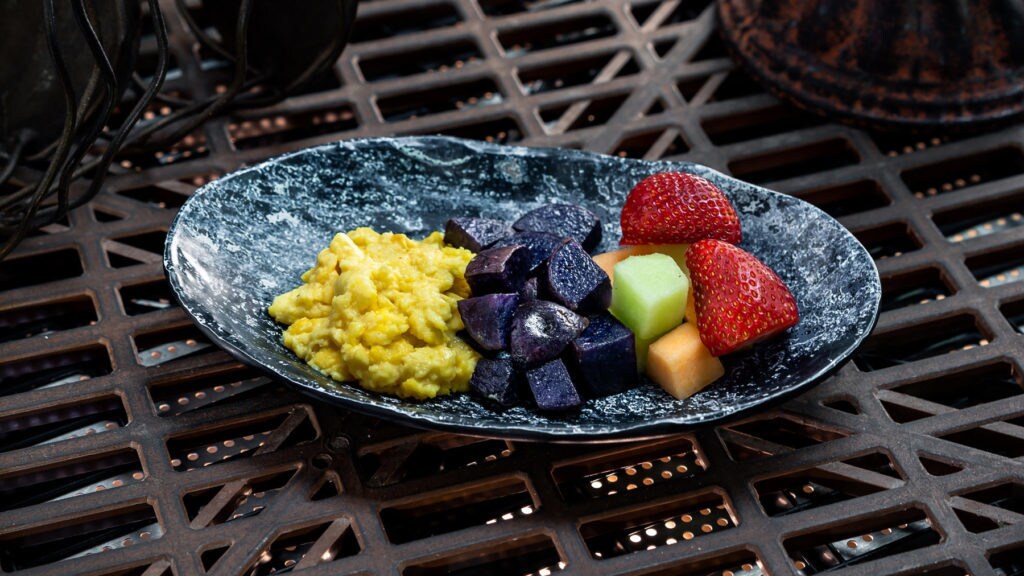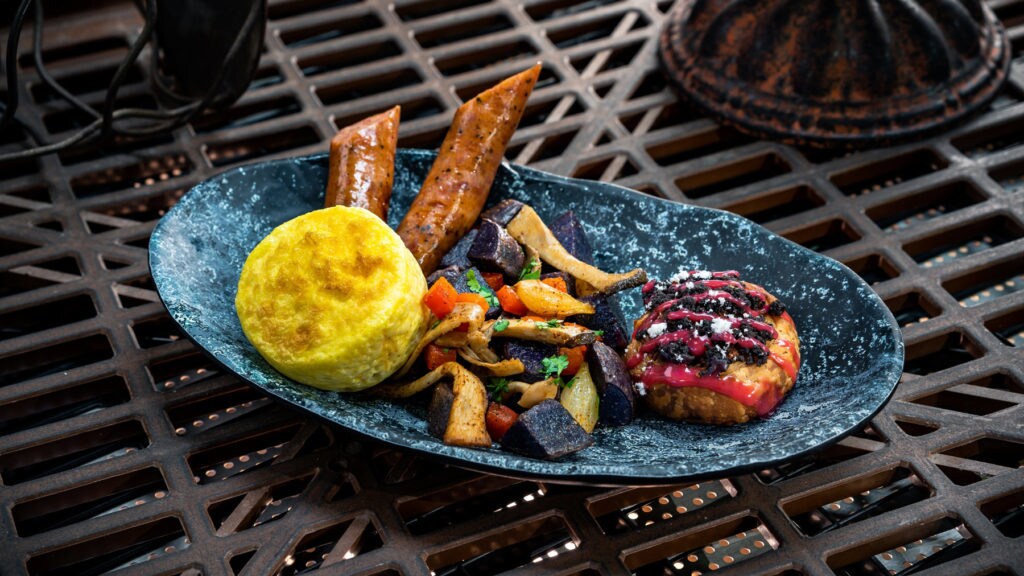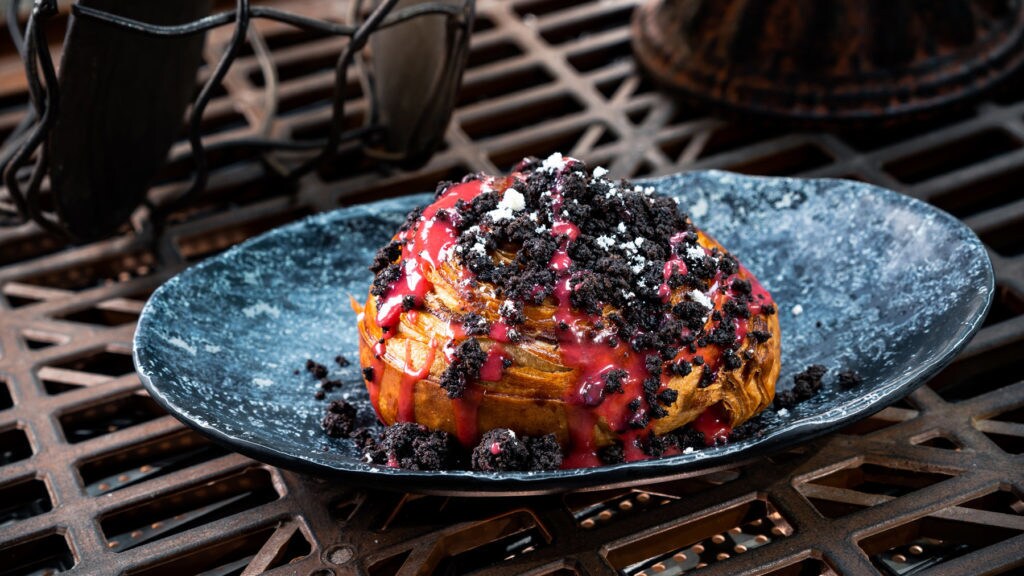 UPDATE: If you're curious about what you'll find at Star Wars: Galaxy's Edge, or want to learn how the land came to life, check out StarWars.com's in-depth coverage:

Star Wars: Galaxy's Edge
 is now open at Disneyland Resort in Southern California, and will open on August 29 at Disney's Hollywood Studios in Florida.
Dan Brooks is Lucasfilm's senior content strategist of online, the editor of StarWars.com, and a writer. He loves Star Wars, ELO, and the New York Rangers, Jets, and Yankees. Follow him on Twitter @dan_brooks where he rants about all these things.