Last week, Disney Parks pulled back the curtain on Star Wars: Galaxy's Edge, from attractions to food to building your own lightsaber, and StarWars.com was there.
[Editor's note: Following the publication of this article, it was announced that Star Wars: Galaxy's Edge will open ahead of schedule on May 31 at Disneyland Resort in Southern California and August 29 at Disney's Hollywood Studios in Florida.]
StarWars.com was invited to a special preview of Star Wars: Galaxy's Edge, the upcoming Star Wars-themed land opening at California's Disneyland Resort in summer 2019 and Florida's Walt Disney World Resort in fall 2019. There were tons of reveals from the creative minds bringing Galaxy's Edge to life, and in our tour of the Disneyland site; below, we've encapsulated all the main details and insights to get you ready for your trip to a galaxy no longer so far away. Punch it!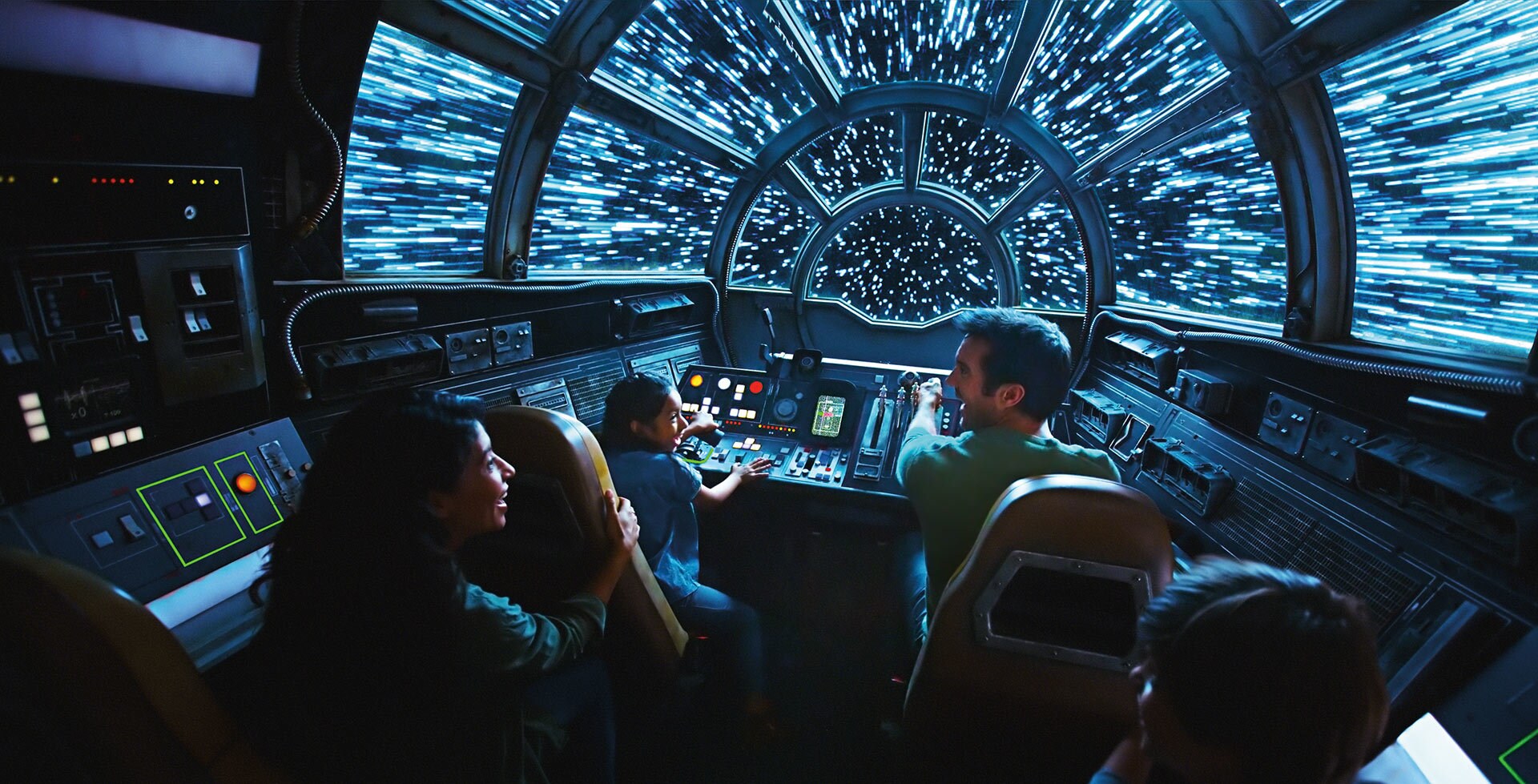 1. You will fly the fastest hunk of junk in the galaxy. Millennium Falcon: Smugglers Run is one of Galaxy's Edge's two anchor attractions, and will see a group of up to six in the cockpit of the Falcon. You will fly it, fire its cannons, and manage its controls. "They really are in control of the ship. It's a completely interactive experience," said Scott Trowbridge, Star Wars portfolio creative executive / studio leader at Walt Disney Imagineering said. "So if you don't fire and hit that TIE fighter that's coming after you, it may get some shots and create some damage on the ship that then you have to fix. If you don't fly right to avoid that oncoming whatever, you smash into a wall, your ship is going to fly right and smash into that wall. You're truly in control of what happens on your mission."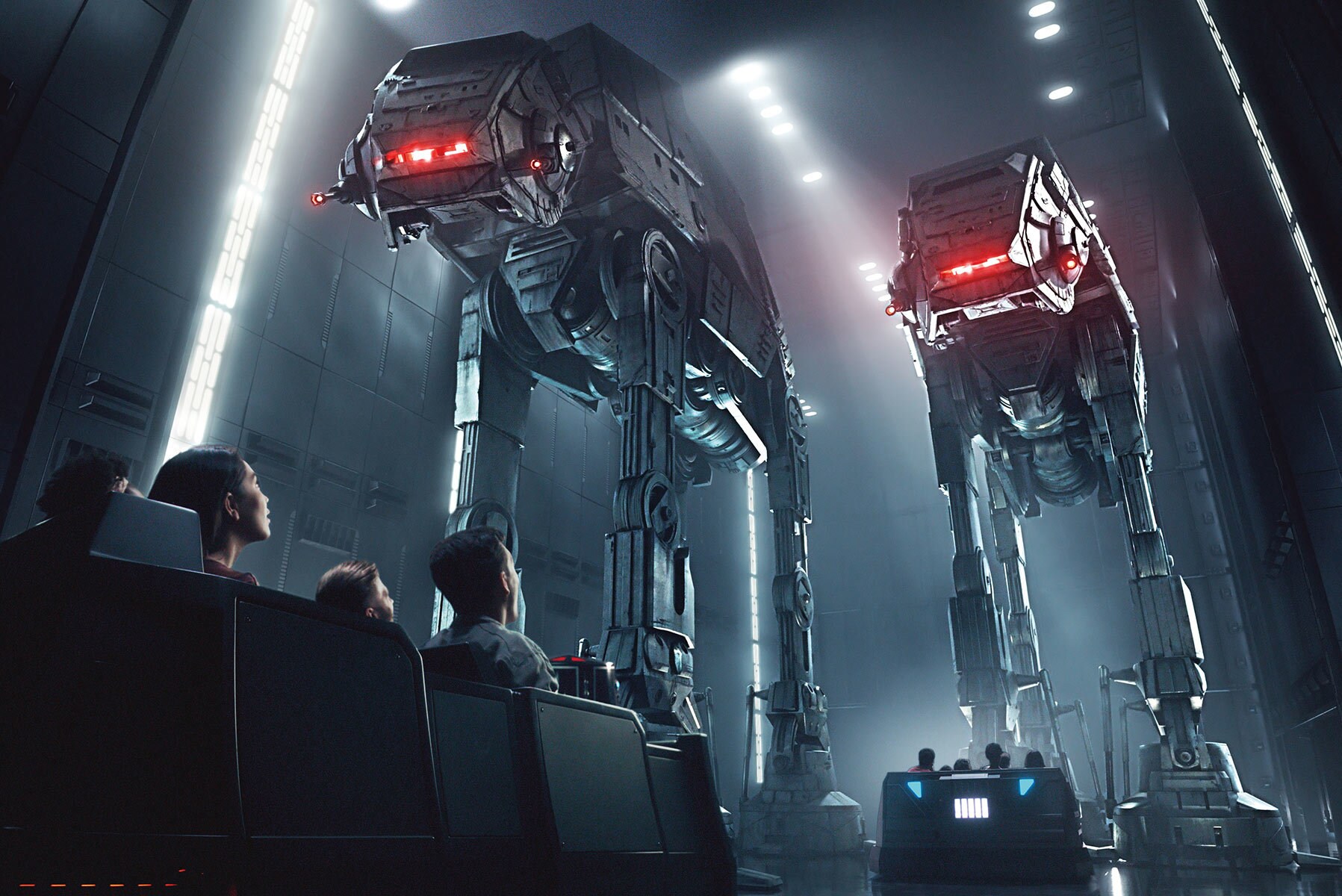 2. In Star Wars: Rise of the Resistance, you'll be captured by the First Order -- and come face to face with Kylo Ren. Outside of the Black Spire marketplace is a forest area, which is where the Resistance is encamped. "This is a time when the Resistance is back on their heels, they're a ragtag group, and they're looking to rebuild," said Trowbridge. "This is our opportunity to join the Resistance." The attraction will throw you right into the middle of a battle between the First Order and the Resistance and, eventually, inside a Star Destroyer. There, you'll encounter the First Order's dark enforcer; if you survive and make it back home, you just might become a Resistance hero.
3. You'll encounter BB-8, Finn, Poe, and Rey on Rise of the Resistance. John Boyega, Oscar Isaac, and Daisy Ridley have all reprised their roles, respectively, for the attraction; in what form they'll appear is yet to be confirmed. BB-8 will be live and in-person!
4. The story of Galaxy's Edge takes place during the sequel trilogy. While a set place in the timeline is yet to be revealed, it was confirmed by Pablo Hidalgo of the Lucasfilm Story Group that the land's story is centered around the Resistance/First Order conflict.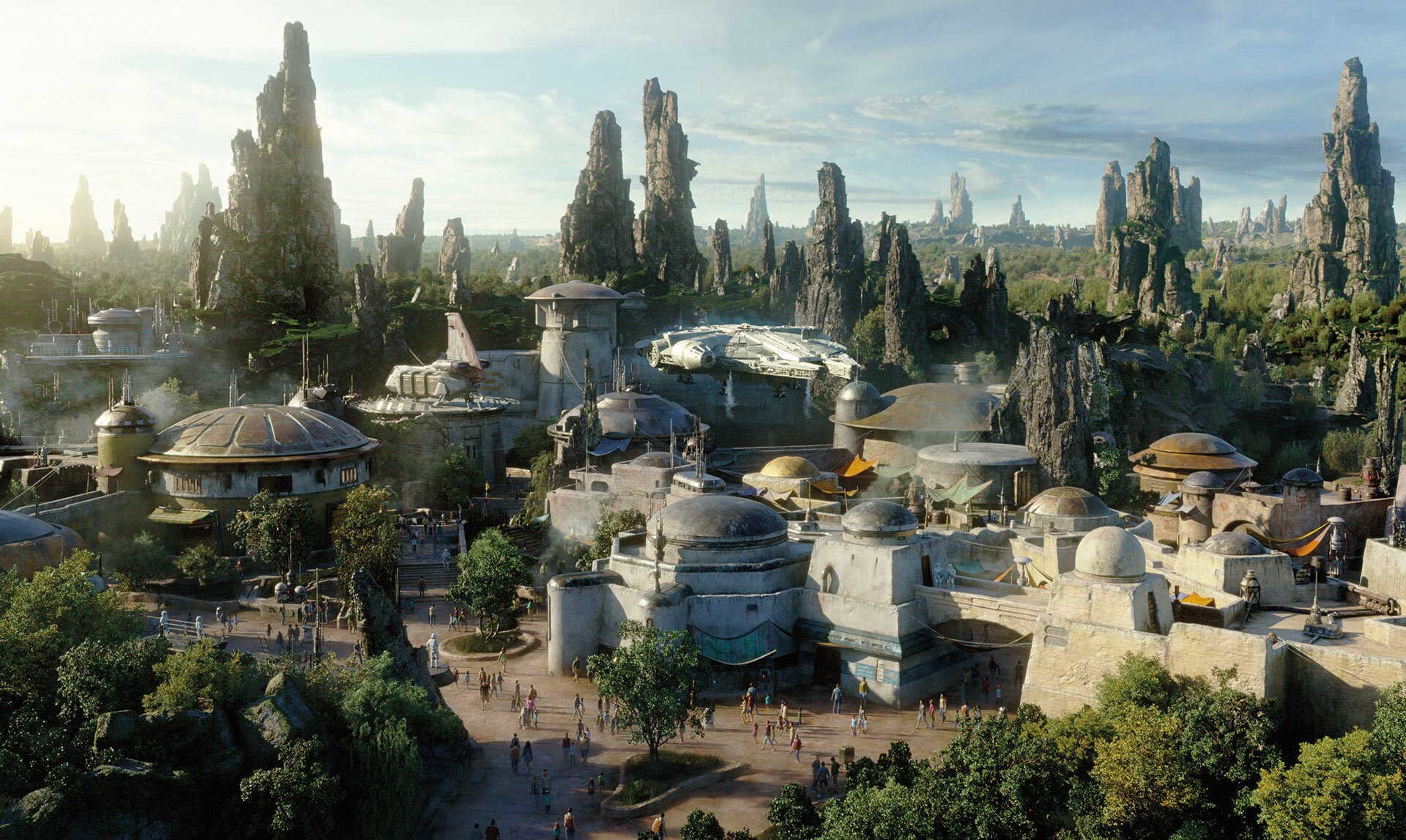 5. There are new ships at Black Spire Outpost. Walking through Galaxy's Edge, you'll spot a kind of TIE fighter never previously seen -- the TIE echelon -- and a newly-created shuttle, the I-TS (or Intersystem Transport Ship), which will start your mission for Rise of the Resistance.
6. Galaxy's Edge was designed to be somewhat future-proof. Thanks to the efforts to define a history for Batuu, the land can go, in terms of story, anywhere Star Wars takes it. "The place and the attractions have been built," Carrie Beck, vice president, animation and live action series at Lucasfilm said, "but everything that you can populate it with can be refreshed, can be updated, can be changed, can be integrated."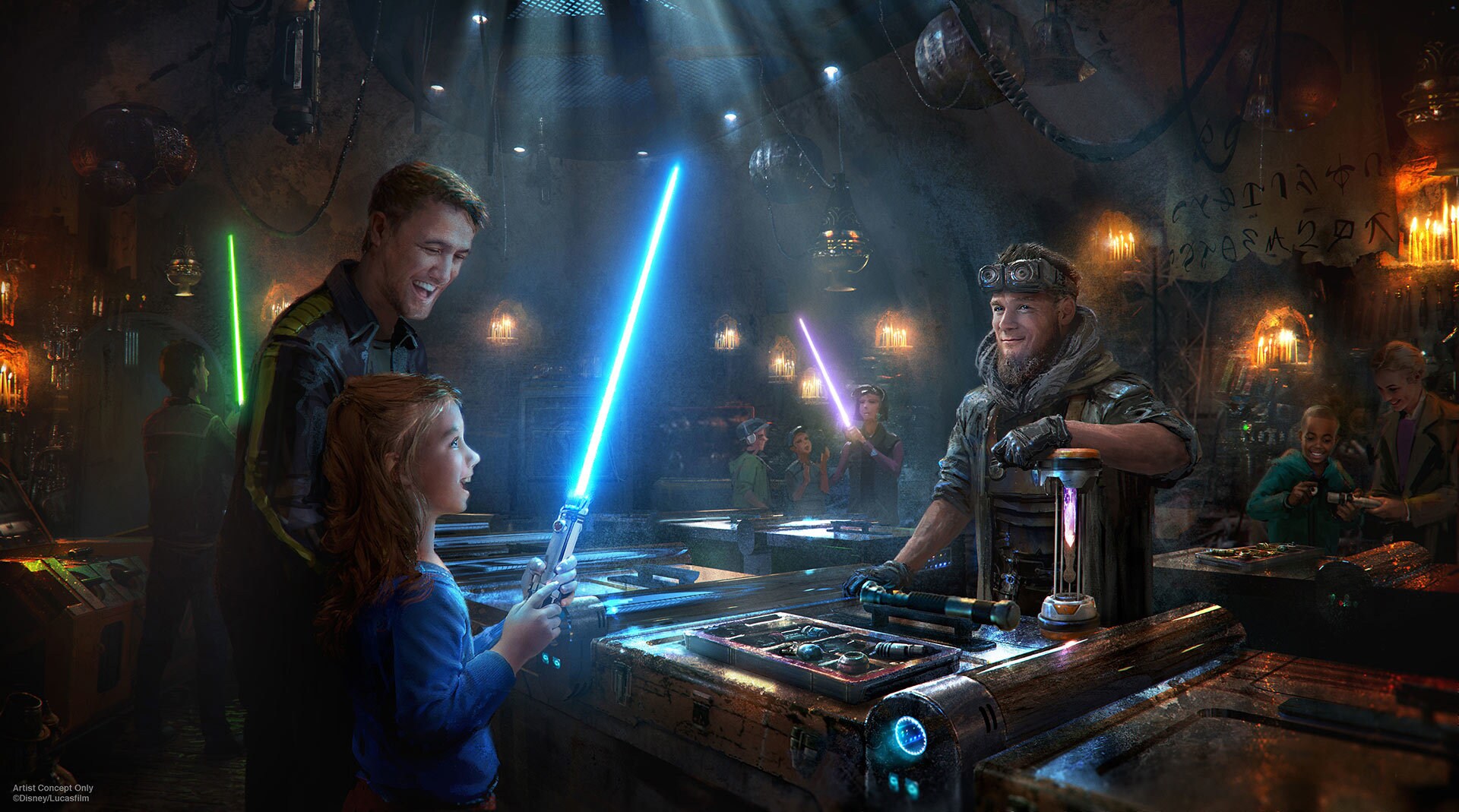 7. You can build your own, one-of-a-kind lightsaber. Head to Savi's Workshop, where you can make a custom Jedi (or Sith) weapon, complete with a kyber crystal at its core.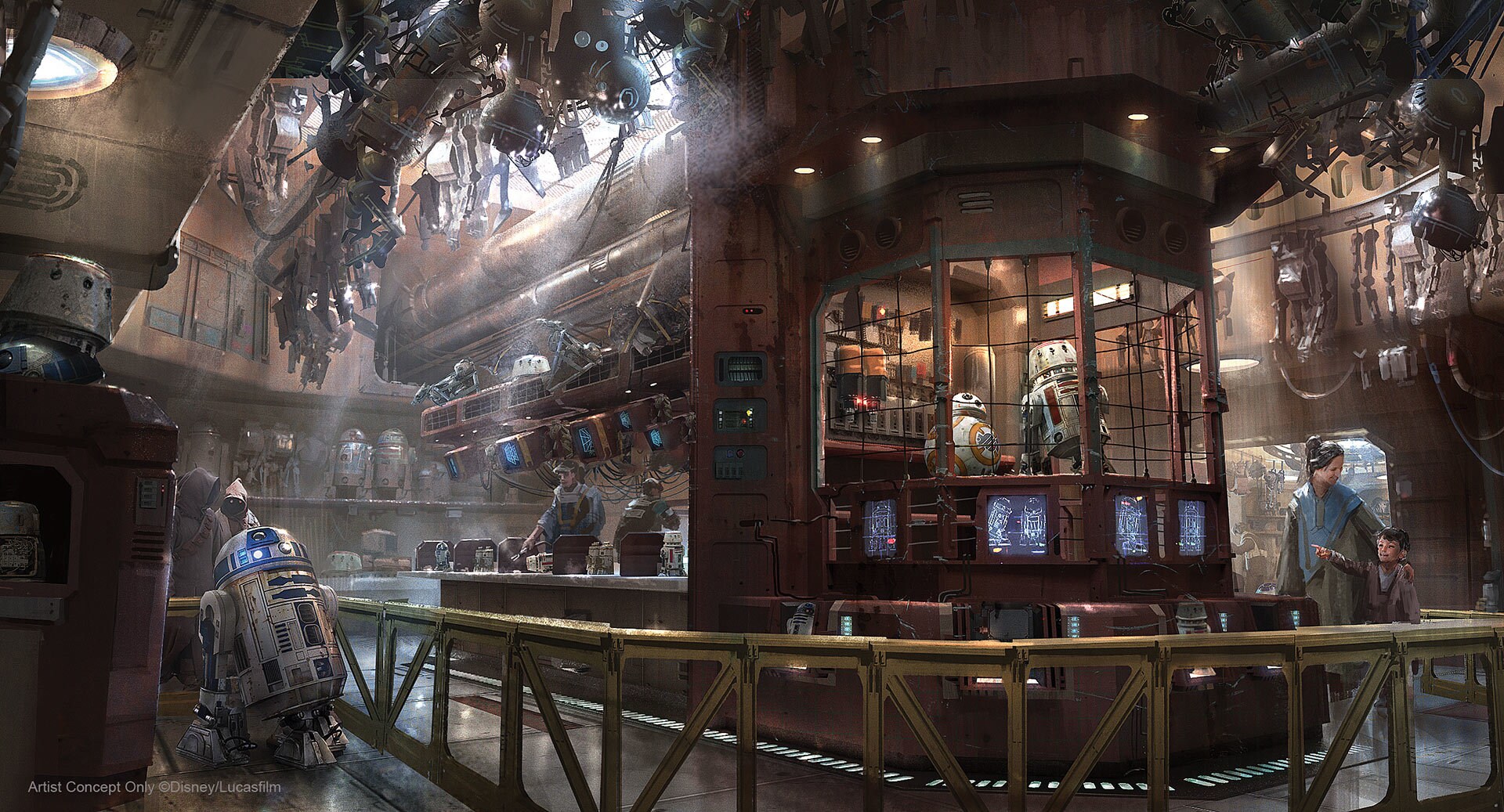 8. Need a droid? Go to the Droid Depot. If you ever wanted your own BB or R2 unit, you're in luck. You can build your own droid pal, mixing and matching parts, at this shop.
9. If you're looking for a pet, go to Bina's Creature Stall. "[She] loves to travel around the galaxy and collect different creatures, and she brings them back here to Batuu," said Brian Loo, creative producer at Walt Disney Imagineering. Creatures for sale include tauntauns, rathtars, and more.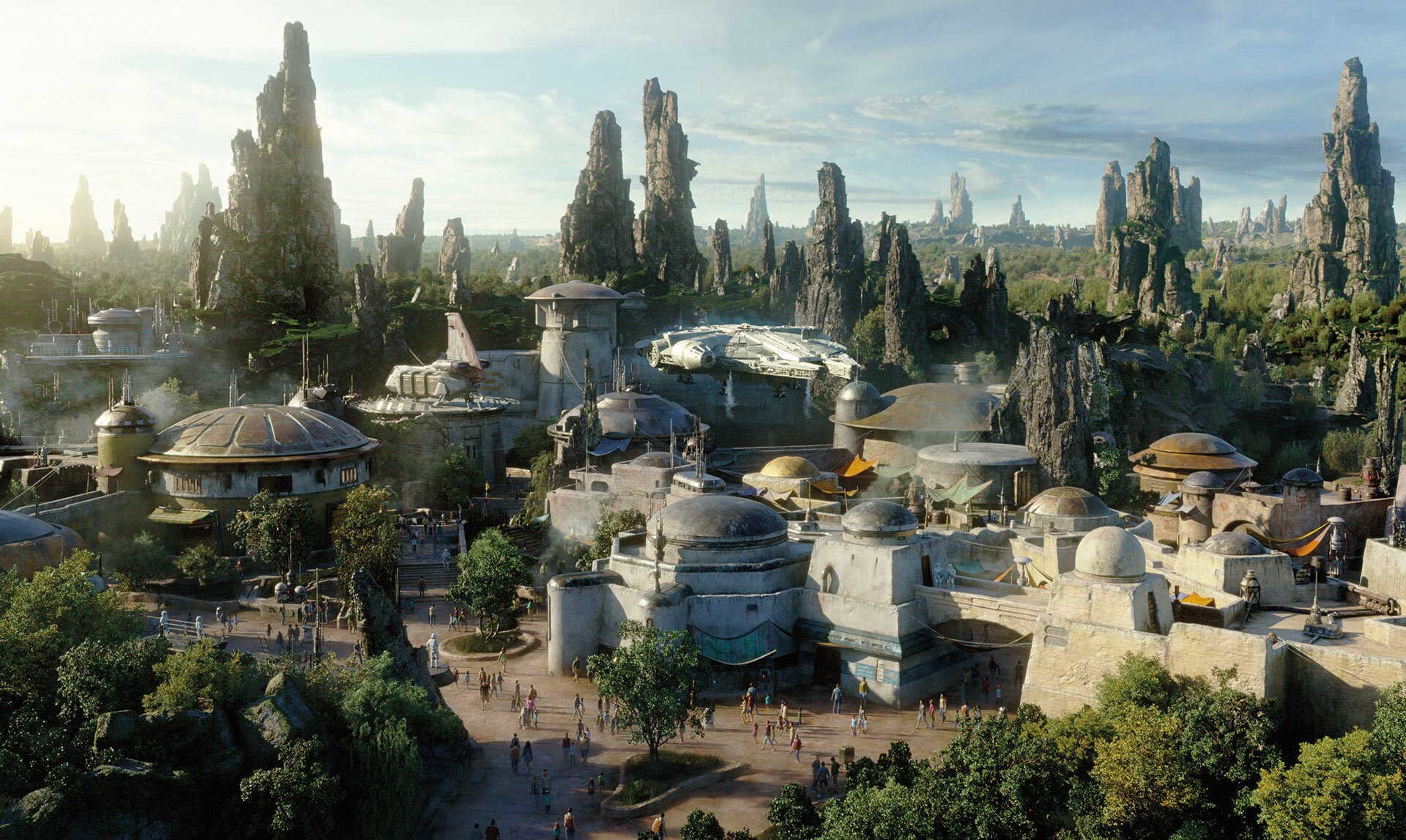 10. Star Wars: Galaxy's Edge is the largest themed-land expansion in Disney Parks history. "This location is over 14 acres. It is basically a small city in our Parks," said Trowbridge.
11. The goal is to "give our guests the opportunity to live their own Star Wars story." Galaxy's Edge is going to truly bring fans into Star Wars. "The land itself is a massive e-ticket experience," said Trowbridge, "filled with story and characters and ways to explore and experience this galaxy far, far away like never before."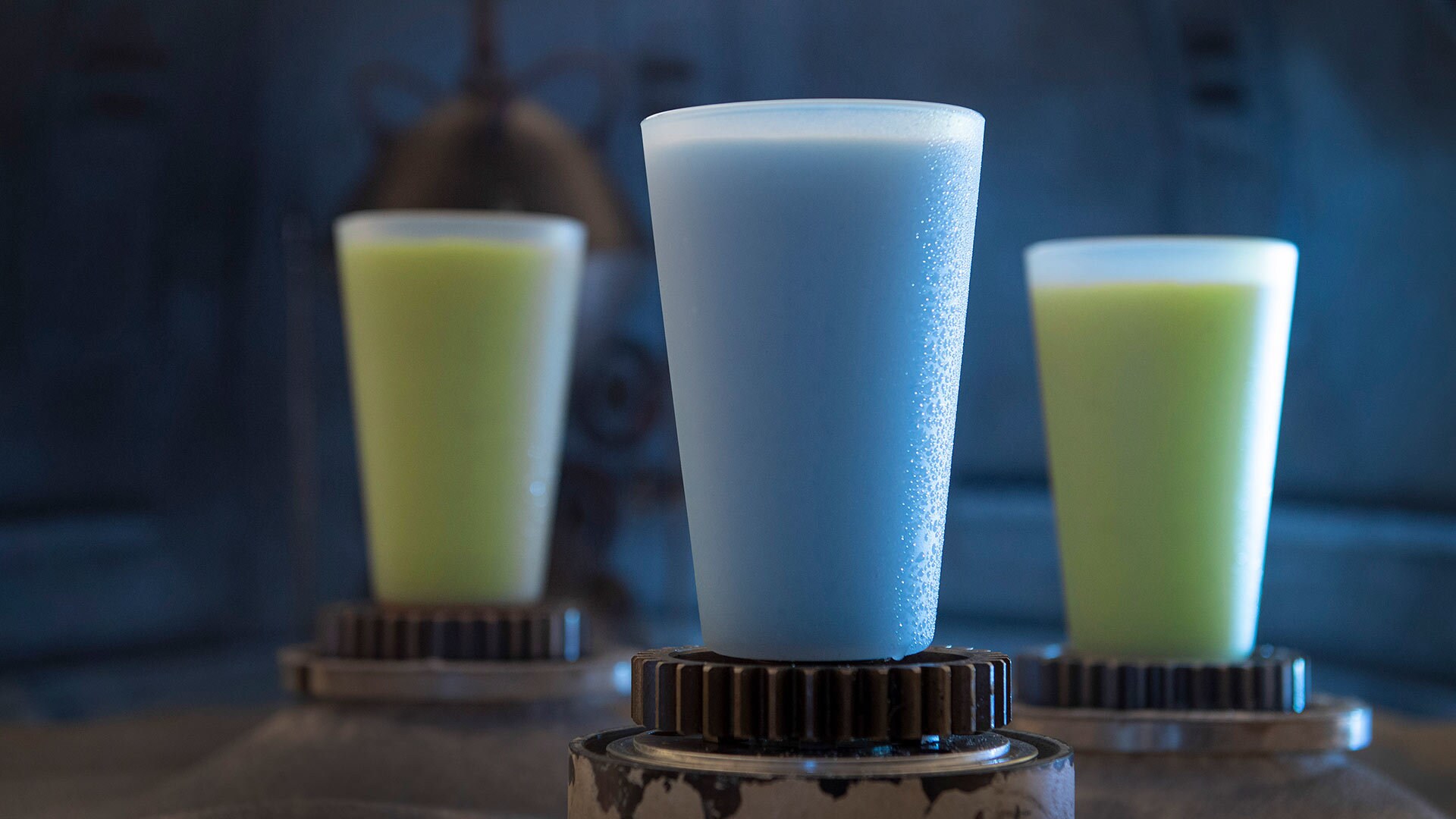 12. Blue Milk, the iconic drink first served by Aunt Beru in Star Wars: A New Hope, will be among the beverages available -- but it's not actually milk. "If you're walking around Florida, the last thing you want is a glass of milk," Trowbridge joked. Instead, it's made from plant-based dairy. But he promised it will be cool, refreshing, and gloriously blue. (The green variety will also be available for those who prefer their milk to come from thala-sirens.)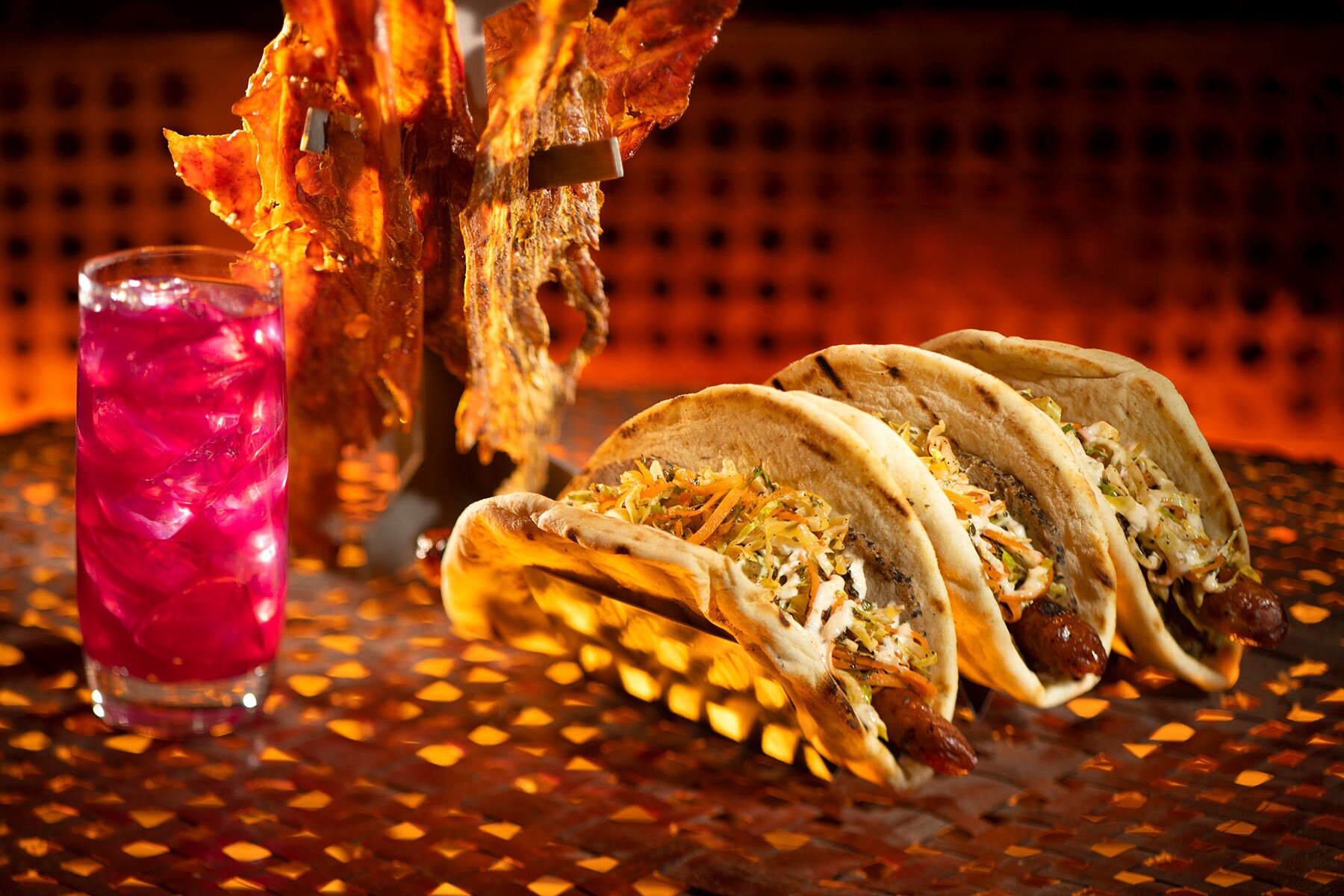 13. Ronto Roasters and Docking Bay 7 Food and Cargo are your destinations for galactic delicacies. The eateries will feature in-universe food and drinks, including Docking Bay 7 Food and Cargo's Fried Endorian Tip-Yip (fried chicken with roasted vegetable mash and herb gravy), Ronto Roasters' Ronto Wrap (filled with spiced grilled sausage and roasted pork), and (wait for it, Star Wars Rebels fans) Meiloorun Juice.
14. There are Loth-cats! Trowbridge showed a video of an animatronic, sleeping Loth-cat (first seen in the animated series Star Wars Rebels), and it was pretty much the greatest thing ever. "This is a place where all of Star Wars can come to life," he said. "We're creating creatures … some of whom have never been seen in the real world before."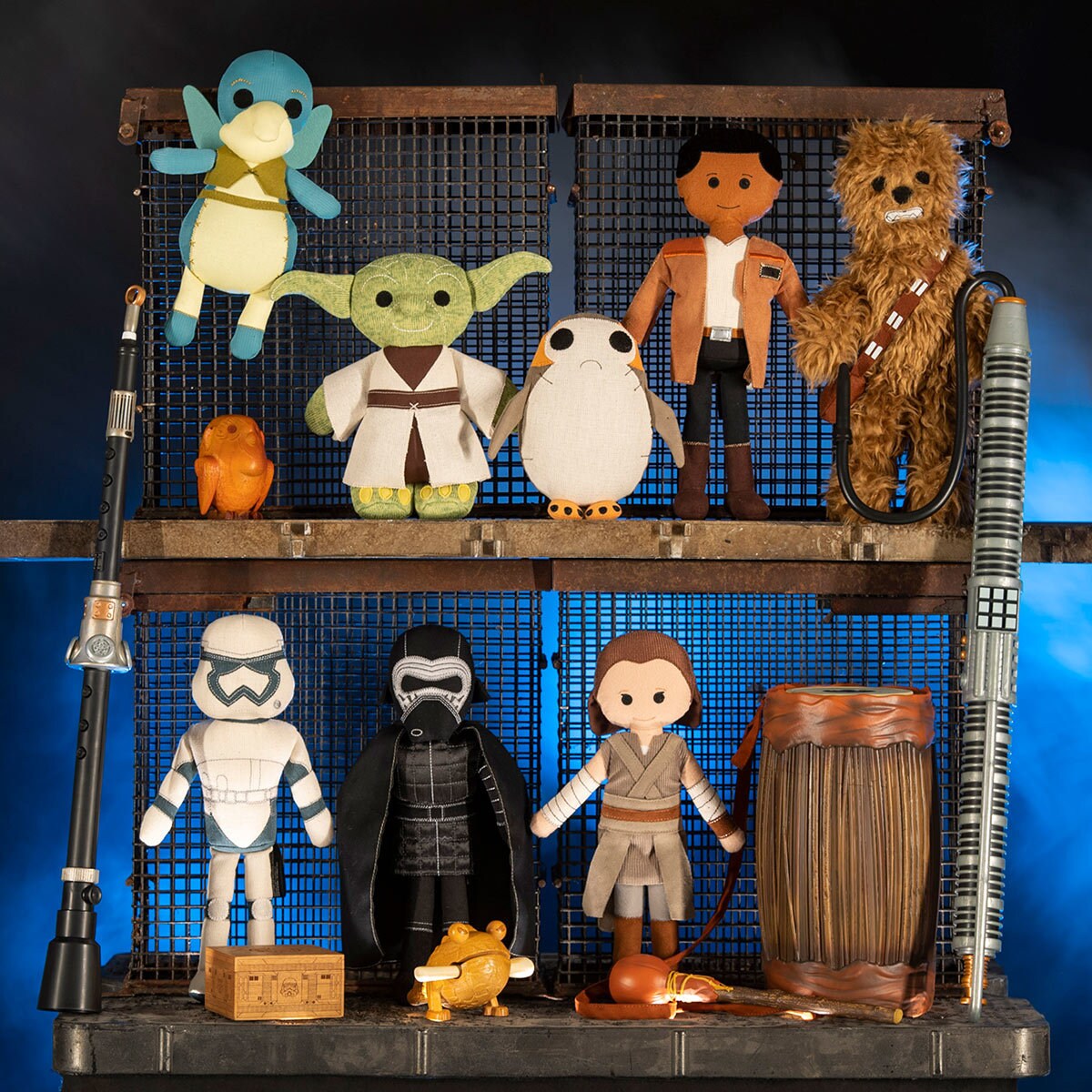 15. There's a toy shop, run by female Toydarian Zabaka, and its items look and feel like they were made in a galaxy far, far away. "One of our mantras is, if doesn't feel like it would be home in a movie, it shouldn't feel at home in the land," Trowbridge said. Items include plushies of Star Wars heroes, musical instruments that can be played and come pre-loaded with in-universe music, and trinkets like a wood-carved convor. None come in packaging because on Batuu, toys are handmade.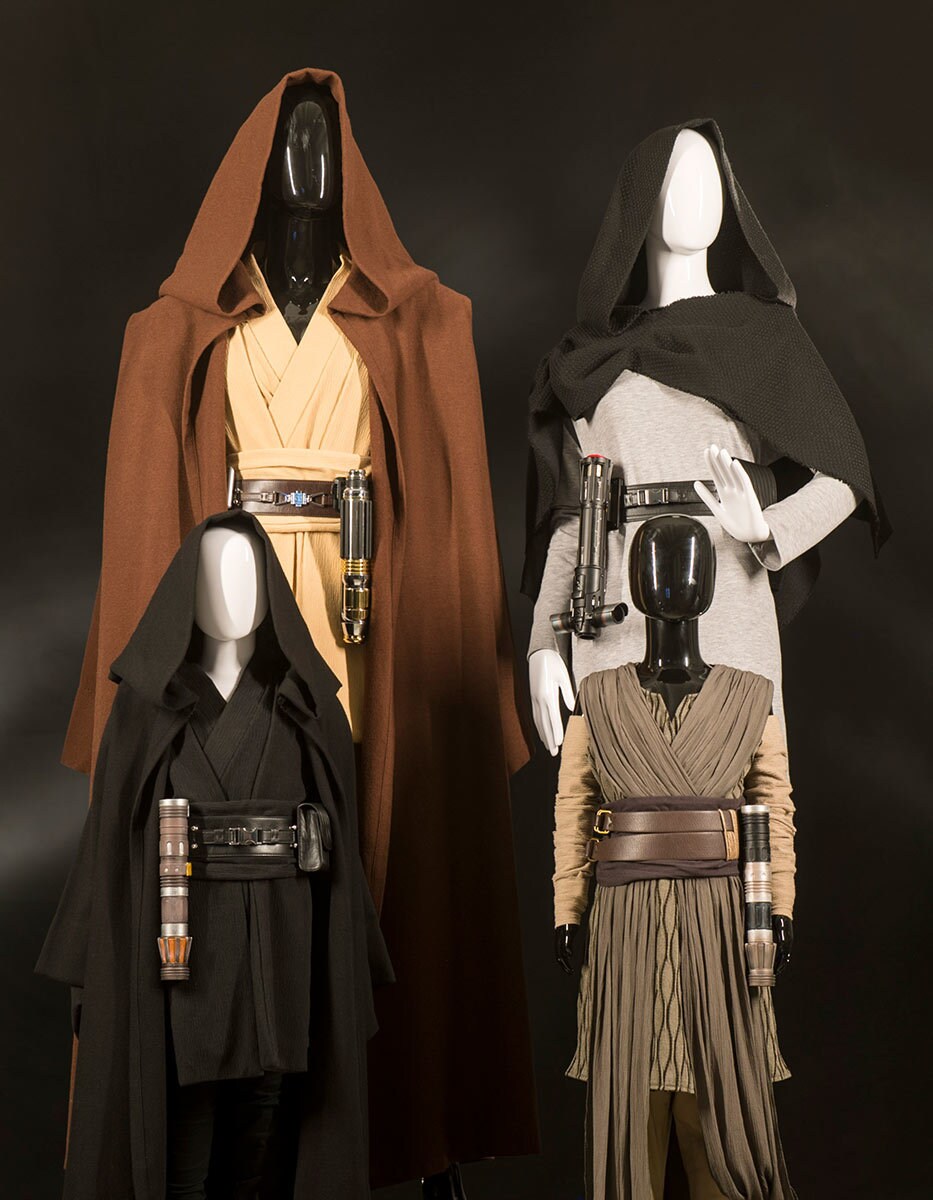 16. If you ever wanted to be a Jedi, you can now dress the part. Black Spire Outfitters, a clothing boutique, will offer Jedi attire that you can mix and match, and much more.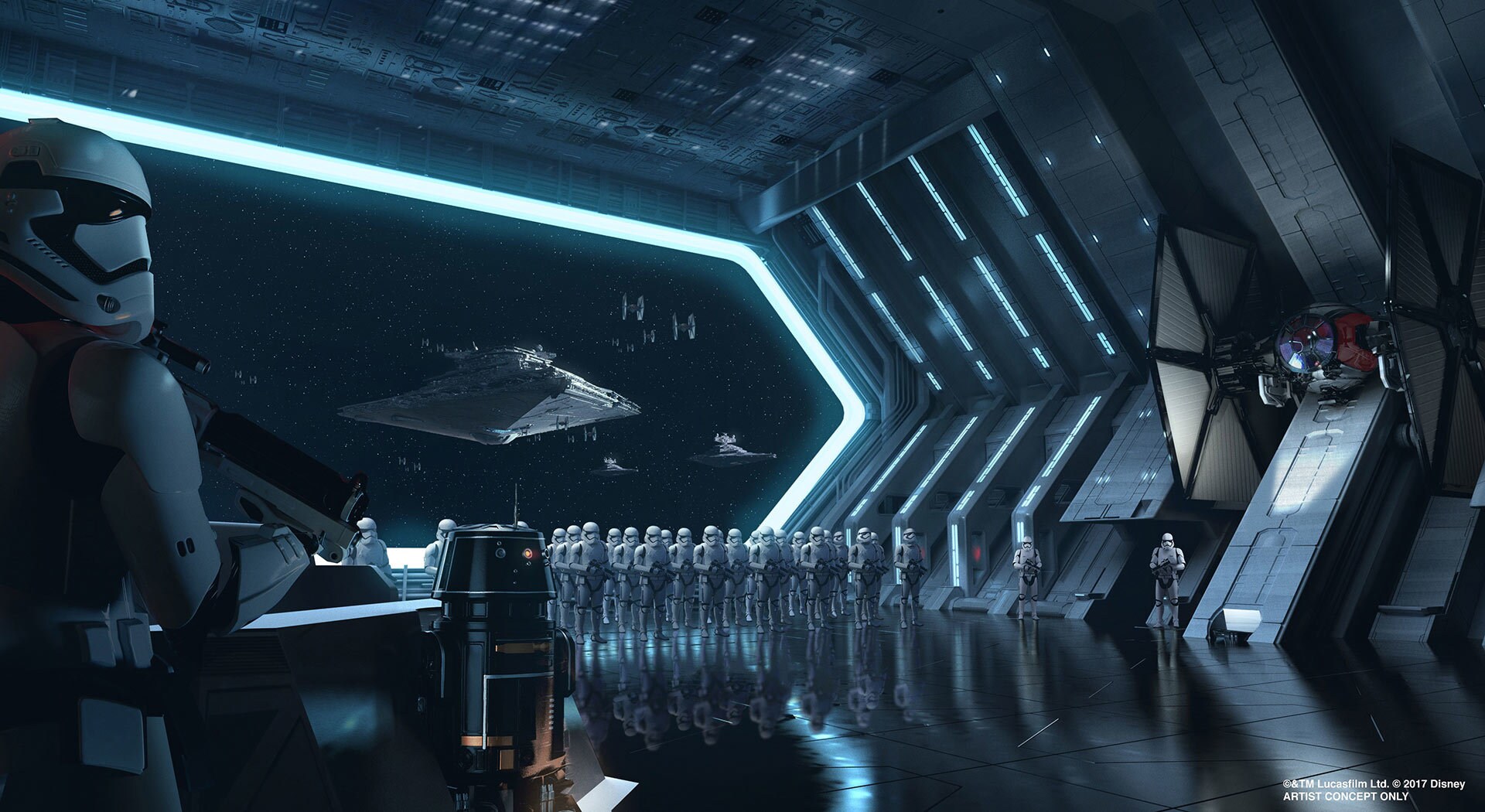 17. Rise of the Resistance is gloriously long. "This is one of the most epic attraction experiences we have ever built," Trowbridge said.
18. Upon entering Galaxy's Edge, your phone will transform into your very own in-universe datapad. The Play Disney Parks App switches automatically to Star Wars mode, and "It will unlock a whole bunch of new missions, stories, and ways to interact with the land," Trowbridge said, "that for the very first time, is built into the land from the very beginning." You'll be able to translate languages and signs, hack droids, message with characters like Hondo Ohnaka, and much more.
19. John Williams' original music for Galaxy's Edge will be used where appropriate -- namely, on Smugglers Run and Rise of the Resistance. "There are moments where we want to feel like we're in a movie," Trowbridge said. "And it's in those moments where we have a more cinematic approach to the story we're in and the experience we're in, where those scores will emerge."
20. What's in a name? A lot! Hundreds of names were discussed and it took over a year to settle on "Black Spire Outpost." "We wanted a name that, when you hear it, you say, 'Oh, I want to go there,'" Beck said.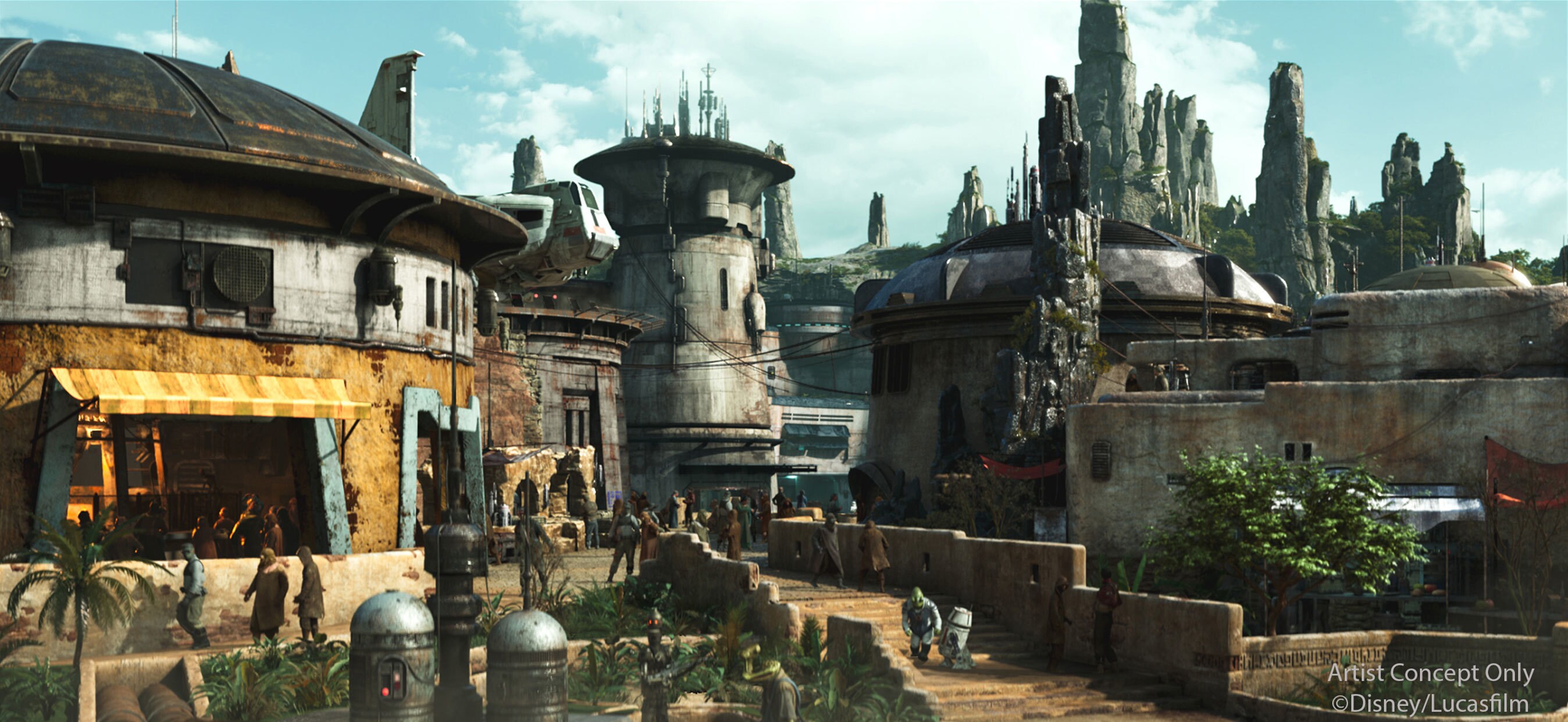 21. There's more to the spires than meets the eye. Concept art and designs coming in from the legendary Doug Chiang and the art team fueled the story elements of Galaxy's Edge. "They fed us with so much inspiration," said Margaret Kerrison, managing story editor at Walt Disney Imagineering. "We're looking at this and we're like, What are these things that are protruding out from the ground? Can they be more than just rock formations? Could they have been these tall, towering trees from hundreds of thousands of years ago, and could they have eroded and petrified into rock? Wouldn't that be really interesting? What if one of these spires was really special -- that it was in the middle of the outpost, and that's how Black Spire Outpost got its name?" Is there a reason the black spire is special? Thus far, no one is saying, but you might hear chatter about it from villagers in Galaxy's Edge.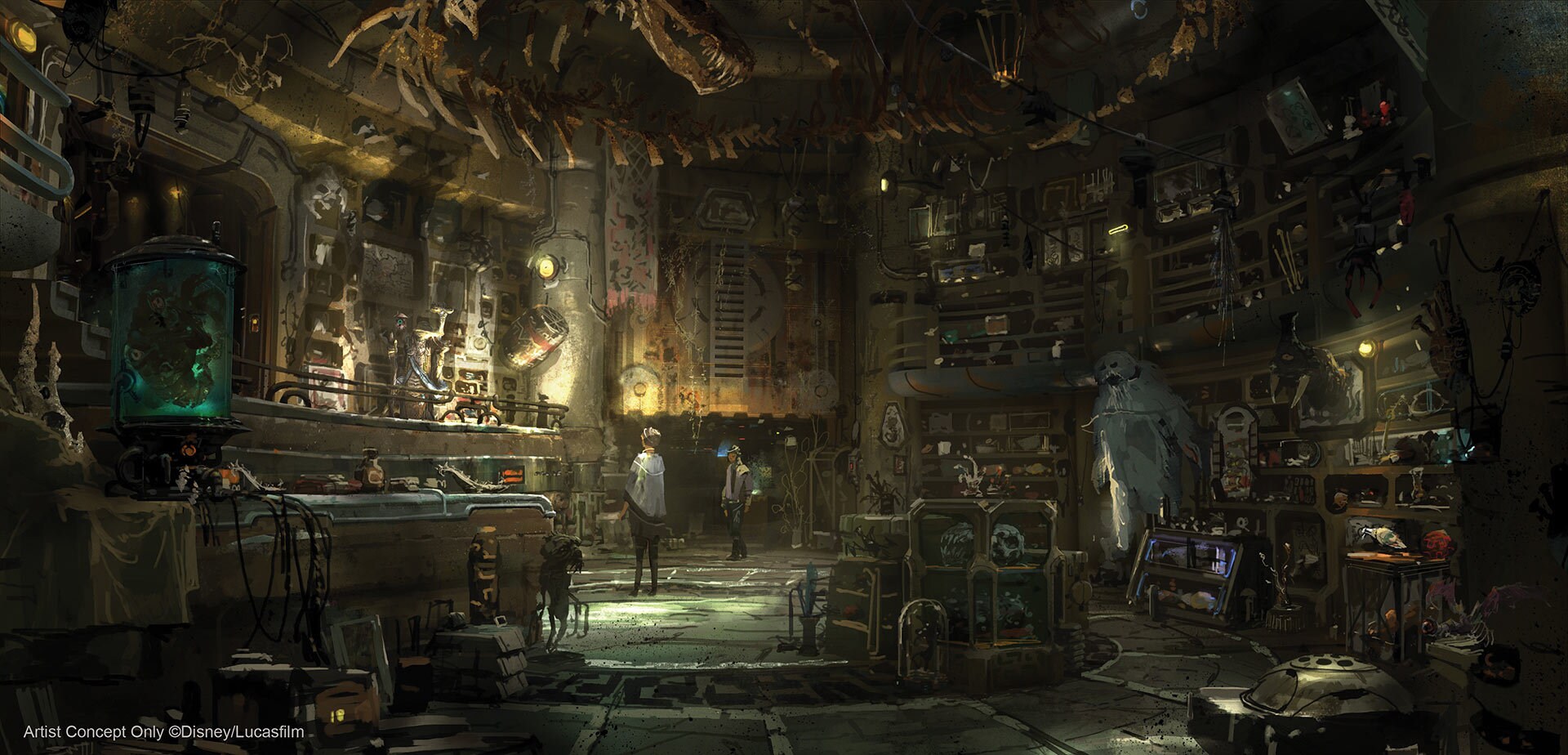 22. Be sure to visit to Dok-Ondar's Den of Antiquities. Mentioned in Solo: A Star Wars Story, Dok-Ondar is the Ithorian gatekeeper of the black market on Batuu. His shop promises to be filled with treasures from across the galaxy, including holocrons, stone carvings of Jedi warriors, and more rare artifacts.
23. Hondo Ohnaka comes to life. The shady Weequay pirate and fan favorite from Star Wars: The Clone Wars and Star Wars Rebels is now one of Disney Parks' most complex Audio-Animatronics figures; at Black Spire Outpost, he's teamed up with Chewbacca, and needs you to transport some cargo on the Falcon. "One of the things that we aimed for is finding the opportunities to honor all levels of fandom, whatever part of the galaxy they've participated in, and he became a great choice as someone to meet here on Black Spire," said Beck.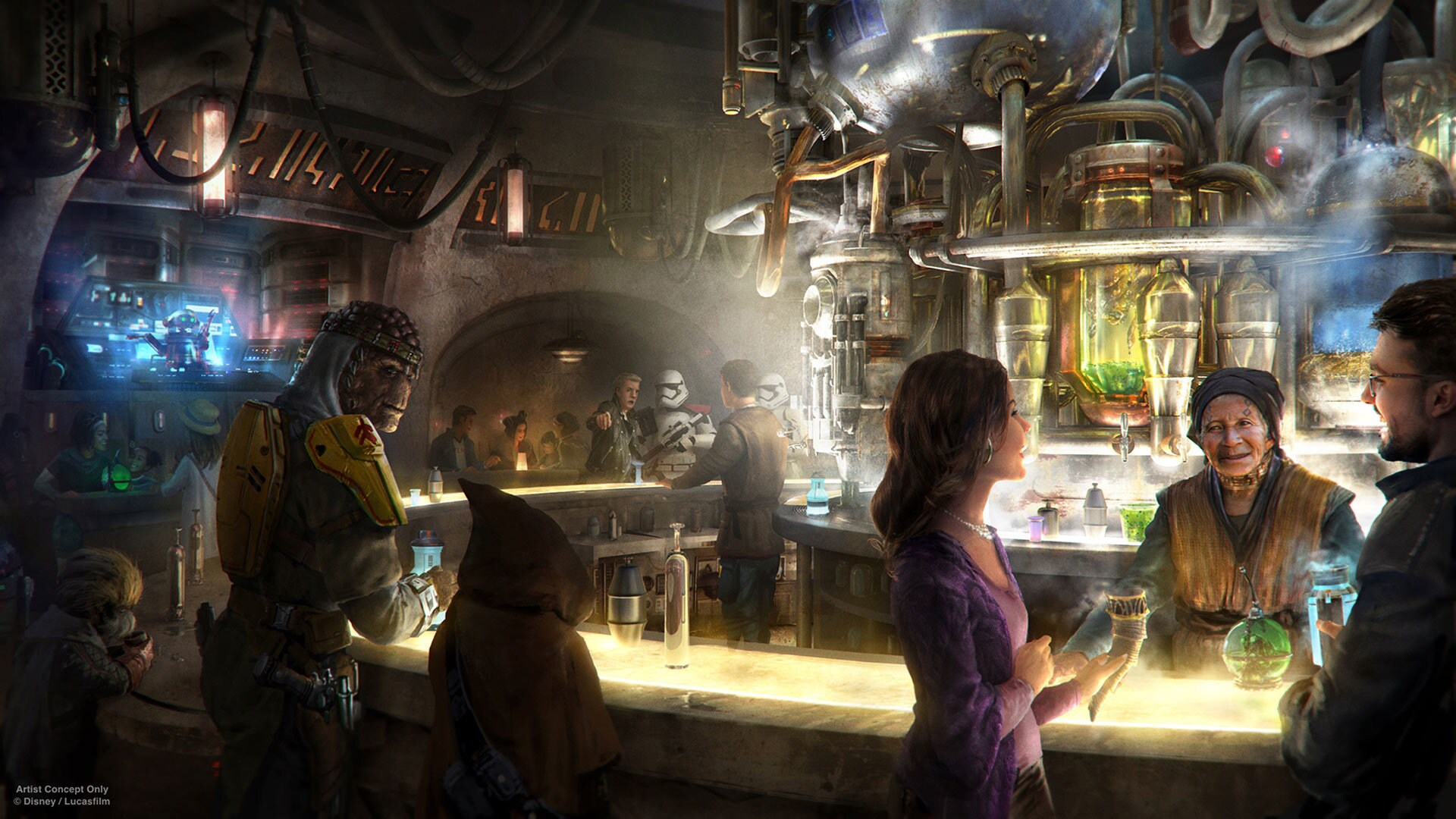 24. Rex from Star Tours has a new gig. No longer piloting Star Tours (which is probably for the best, considering his flying skills), R-3X is now a DJ at Oga's Cantina, where you can order galactic drinks like Fuzzy Tauntaun.
25. It is filled with Easter eggs. "There are way too many to mention," Kerrison said, but she confirms one favorite: Pablo Hidalgo has voiced one character that you might meet.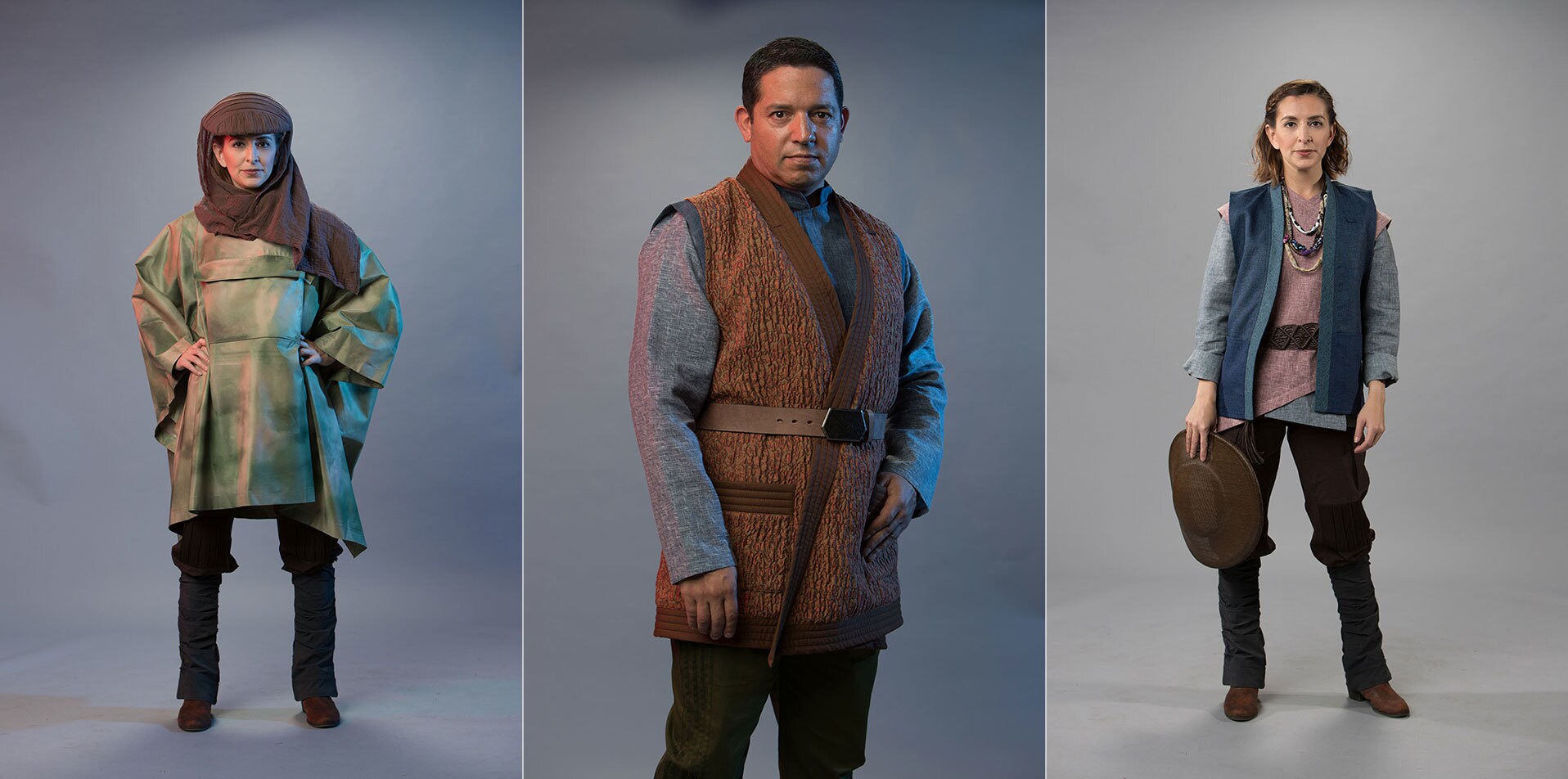 26. Disney Cast Members will walk among you as native Batuuans. You'll be able to speak with, and learn from, villagers at Black Spire Outpost, all with different stories to tell. Some might be Resistance sympathizers; some might be First Order loyalists.
27. Batuu's spires were key to making Galaxy's Edge a unique design. "I feel really happy," said Doug Chiang, concept artist and vice president and creative director of Lucasfilm, "that we landed on something that's very iconic."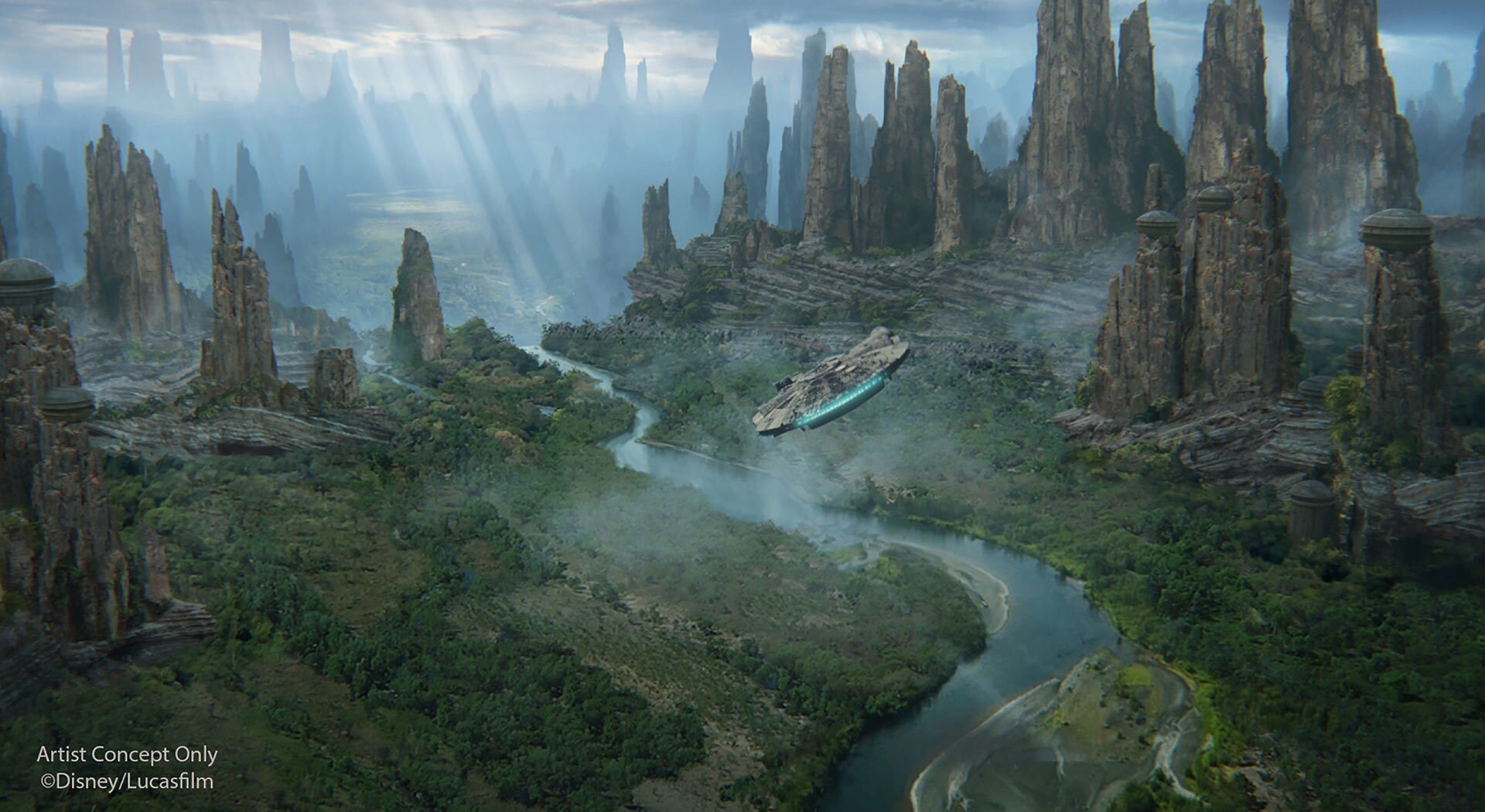 Star Wars: Galaxy's Edge opens in California's Disneyland Resort in summer 2019, and in Florida's Walt Disney World Resort in fall 2019.
See more of Star Wars: Galaxy's Edge in StarWars.com's complete photo and image gallery.
Dan Brooks is Lucasfilm's senior content strategist of online, the editor of StarWars.com, and a writer. He loves Star Wars, ELO, and the New York Rangers, Jets, and Yankees. Follow him on Twitter @dan_brooks where he rants about all these things.