We visited the upcoming Star Wars-themed land, heard from its creators, and took our first steps inside the galaxy's most famous bucket of bolts.
[ Editor's note: Following the publication of this article, it was announced that Star Wars: Galaxy's Edge will open ahead of schedule on May 31 at Disneyland Resort in Southern California and August 29 at Disney's Hollywood Studios in Florida. ]
Nothing can really prepare you for looking up and seeing the Millennium Falcon, right in front of you, in real life.
Walking through the streets of Black Spire Outpost, I suddenly come upon the most famous ship in movie history. It's beat up. It's big. And it's beautiful. I'm standing in a locale that oozes history, with stunning yet threatening rock formations piercing the sky. Rickety scaffolding keeps worn sheets hoisted high above, offering shelter from the sun. This place feels lived-in.
I stand there for a moment, trying to hold back tears. The Millennium Falcon is real. Star Wars is real.
Star Wars: Galaxy's Edge, the new Star Wars-themed land, is just months away from opening at California's Disneyland Resort in summer 2019 and Florida's Walt Disney World Resort in fall 2019. Last week, StarWars.com was one of a select few media outlets invited for a three-day behind-the-scenes blowout and walking tour of the site in Anaheim. We attended panel discussions with and talked to Imagineers creating all aspects of the land, got a first look at the creatures and characters you'll encounter there, and even spent time aboard the fastest hunk of junk in the galaxy. Stories are everywhere in the land, and it's truly a wonder what has been achieved with plaster and paint. You will be amazed at what the writers, artists, painters, designers, architects, engineers, construction workers, other wizards creating Galaxy's Edge have dreamed up.
The story of Galaxy's Edge
The in-universe world of Galaxy's Edge -- newly created and developed by Lucasfilm and Walt Disney Imagineering -- is Batuu, a remote frontier planet, somewhere on the edge of Wild Space. Home to Black Spire Outpost, a formerly must-visit destination for refueling, food, and provisions, this world has been somewhat forgotten in the advent of hyperspace travel. "This is a place that got bypassed, its prominence faded," explained Scott Trowbridge, portfolio creative executive / studio leader at Walt Disney Imagineering. "And it became much more of a home for smugglers and bounty hunters, and people that didn't want to be in the mainstream -- maybe even some folks that are trying to avoid the ever-expanding watch of the First Order." Sounds like a wretched hive of the uniquely Star Wars sort. "I like to think of them as all the interesting people," Trowbridge said, "and a great place for us to start our Star Wars story."
And for this story, the decision was made to develop an entirely new planet, and not recreate a known locale like Tatooine, Hoth, or Takodana -- for a very specific reason. "We know those places and we know the stories that happen there, and we know that we're not in them," Trowbridge said. "This place, Black Spire Outpost, is designed from the get-go as a place that invites exploration and discovery, a place that invites us to become a character in Star Wars." By making Galaxy's Edge set on a planet that's new to us, it also opens the door to fans of all types.
"I want to walk into this land and be at the same level as everyone else, from the really hardcore Star Wars fan to someone who knows nothing about Star Wars," Margaret Kerrison, managing story editor at Walt Disney Imagineering, said of her initial ideas in planning the experience. "I want to have that urgency to explore and to discover and to run around every corner, and to meet every droid and alien in this land."
The Lucasfilm Story Group collaborated closely with Walt Disney Imagineering throughout development; Pablo Hidalgo, senior creative executive on the Story Group, and Matt Martin, creative executive, acted as advisors on whether something felt like Star Wars -- and where there was room to create. Their function was "to give that assurance," said Hidalgo, "that boost of confidence to Margaret and her team to say, 'Yeah, you can invent that. That's okay. We've not seen everything in our 40 years of Star Wars. Let's put some new stuff in here, as well."
Finding Galaxy Edge's place in the larger Star Wars tapestry
Galaxy's Edge is set ­­­during the conflict between the Resistance and the First Order -- i.e., in the middle of the current sequel trilogy. Special attention was paid to making sure the events here, and the relevance of Batuu, make sense within larger Star Wars storytelling. "We find this sweet spot [on the galactic map] where like, 'Batuu can be here,'" said Hidalgo. "And if it's here, this is what it means in terms of, where is it on the First Order's path to what it is they're doing? Where is it on the Resistance's path to what it is they're doing?" This concentration on history even extends to the set dressing of Batuu and Black Spire Outpost.
"Every little thing seems to have a backstory here," added Martin. "When we're making the films we kind of retroactively make up what the stories could be. But here, we were thinking of the stories as we went."
And those stories involve ships and faces both familiar and strange.
The main attractions
Galaxy's Edge is anchored by two main attractions: Millennium Falcon: Smugglers Run and Star Wars: Rise of the Resistance, which promise to deliver on some major Star Wars fantasy fulfillment. In Smugglers Run, you'll find yourself in the cockpit of Han Solo's iconic ship with a crew of up to five friends -- two pilots, two gunners, and two engineers. You will fly it, fire its cannons, and manage its controls. "It's a completely interactive experience," Trowbridge said. "So if you don't fire and hit that TIE fighter that's coming after you, it may get some shots and create some damage on the ship that then you have to fix. If you don't fly right, you smash into a wall. You're truly in control of what happens on your mission."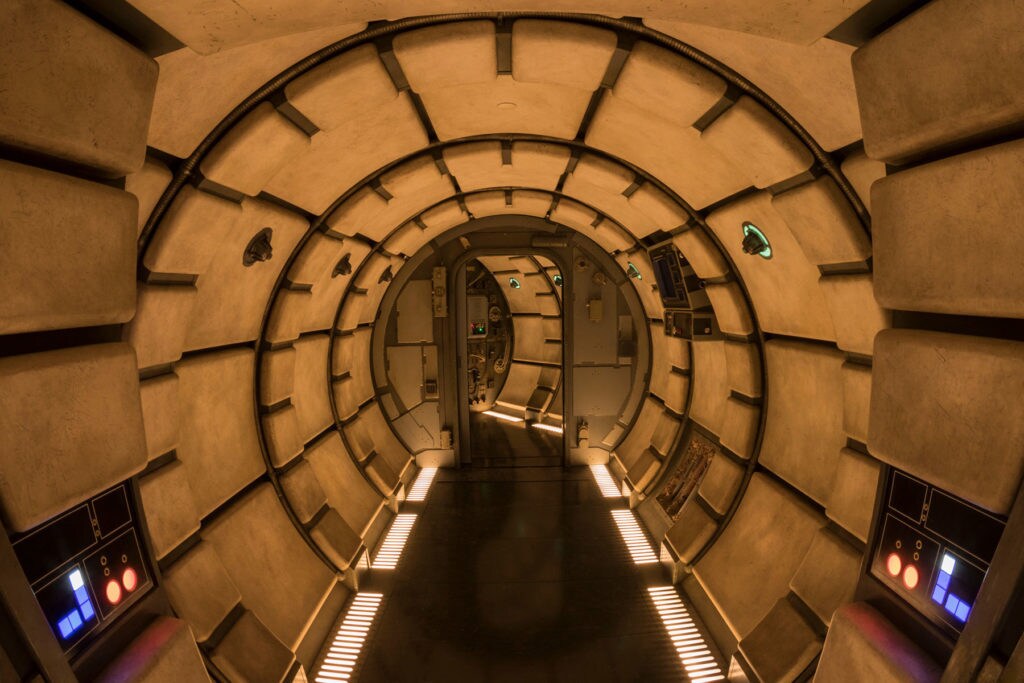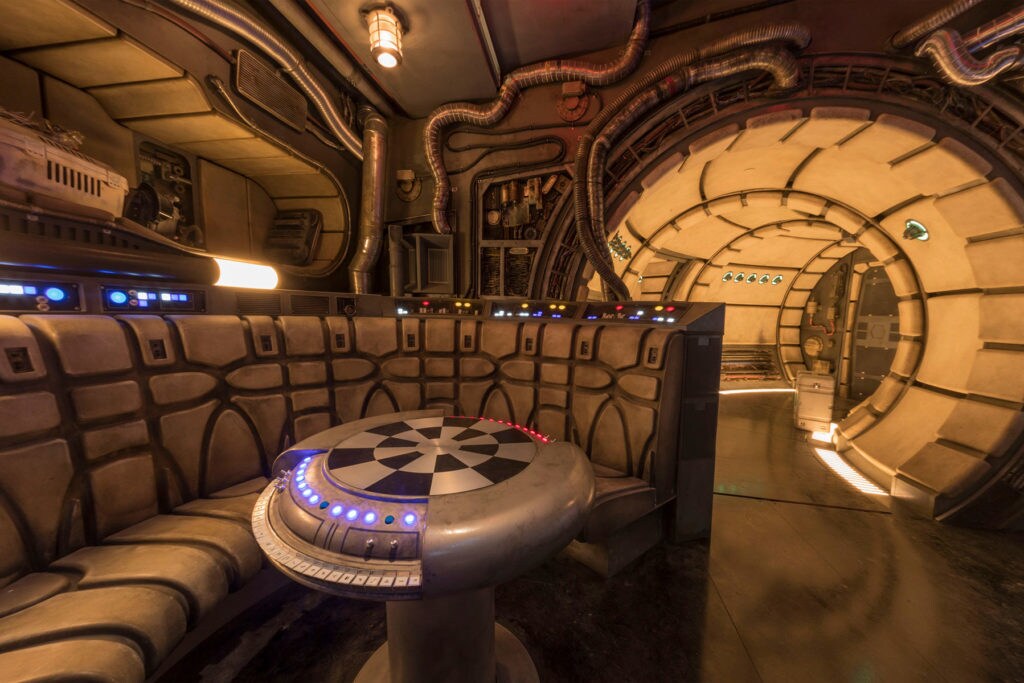 Seeing the Falcon in person is an experience in itself, an impressive sight to behold, and a testament to hard work, creativity, and legacy. Behind the Falcon is a spaceport, run by a shifty pirate familiar to Star Wars animation fans: Hondo Ohnaka. But inside, the ship is exactly as you remember it from the films, down to details like the dejarik table, the exposed cables, and the random gear. The cockpit is a gorgeous array of lights and buttons and switches, all interactive, with screens that gunners will use to take down TIEs.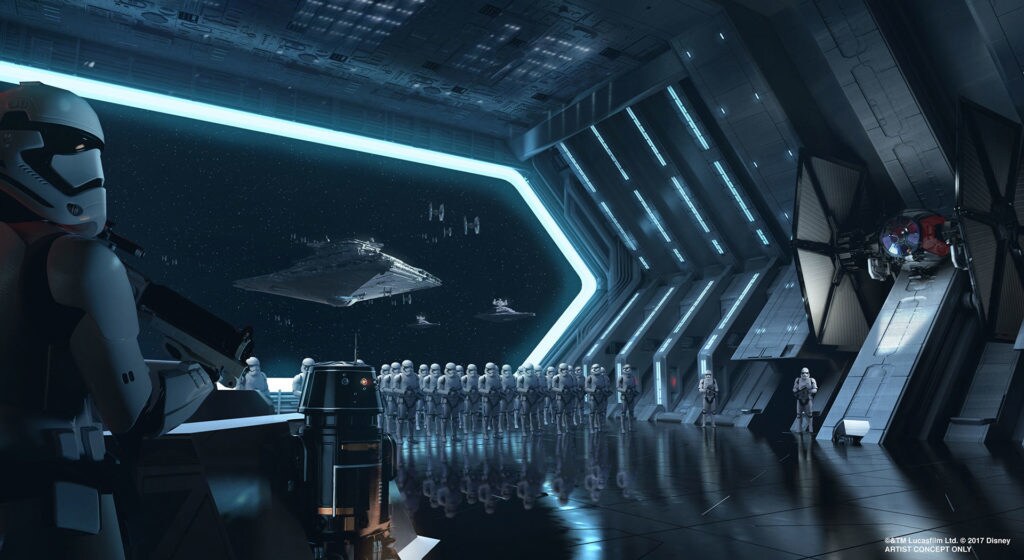 Rise of the Resistance offers a different kind of Star Wars playtime fantasy turned reality: captured and brought behind enemy lines. As new Resistance recruits, you head out on a mission, only to have your shuttle caught in a tractor beam. Soon, you find yourself inside a First Order Star Destroyer. Without giving too much away, I'll say that the journey from the entrance to the ride location is seamless, and the hangar of the Star Destroyer is downright huge. BB-8 is featured in the attraction, and Rey, Finn, and Poe all make appearances, with Daisy Ridley, John Boyega, and Oscar Isaac reprising their roles, respectively. You'll also come face to face with Kylo Ren. Even outside Rise of the Resistance, there are surprises, including life-size recreations of Poe Dameron's X-wing and an A-wing. Throughout the creation of Galaxy's Edge, cutting-edge technology was key to making this far-off galaxy a reality, and that's especially true regarding the land's main attractions.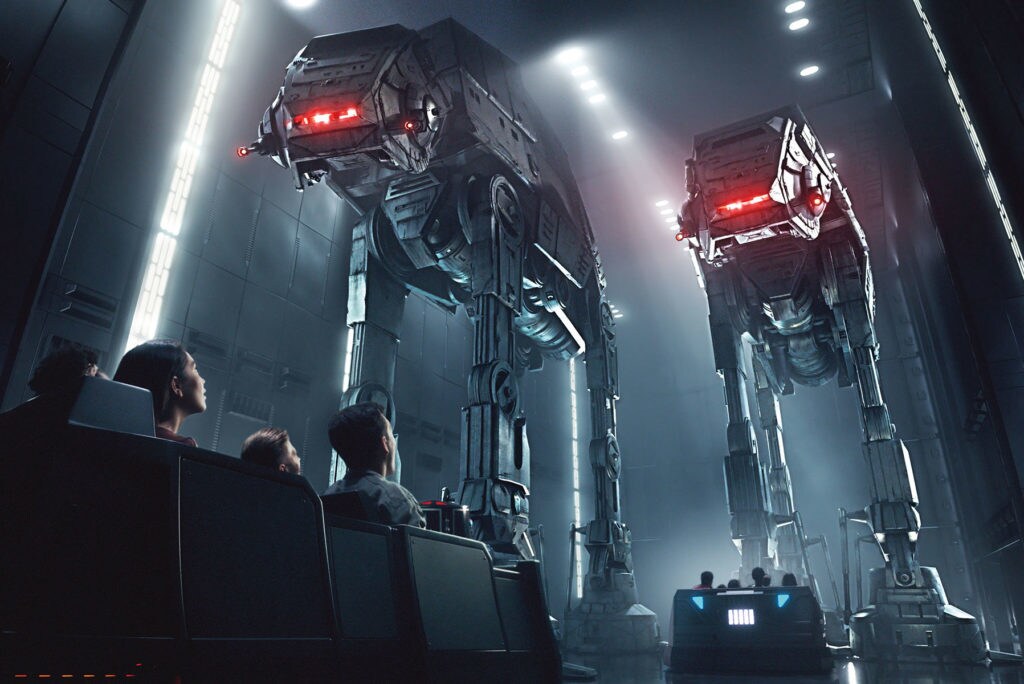 Part of Rise of the Resistance involves a ride on a trackless vehicle. To fine tune the experience, Imagineers would drive the vehicle in a test space while wearing a VR headset loaded with the attraction's imagery, such as menacing AT-ATs. "As soon as we had this tool, everything changed," said John Larena, executive creative director at Walt Disney Imagineering, and a lead creative on Rise of the Resistance. The set was designed in 3D models, and could be easily changed or tweaked based on feedback from these VR sessions. "That liberation, again and again, allowed us to hone and perfect the way that we told our story." The days of testing experiences with cardboard-box obstacles is over.
Smugglers Run is also pushing the envelope. A motion-simulator attraction, it's controlled completely by guests; and its effects are rendered in real-time, on Unreal Engine, commonly used in video games and mixed-reality experiences. "The multi-projection system, and the actual amount of screen space that we had to fill, and the quality that we had to fill, is what sets it apart from what you'd be doing [in video games]," said Jacqueline King, producer of Walt Disney Imagineering.
All of this, however, wouldn't be possible without the design of Batuu and Black Spire Outpost.
World building
In successful landscape design, the outside world -- cars, buses, noise -- disappears, often without you noticing. It's designed that way, through inclines, tree placement, and horizon lines. The same holds true in Galaxy's Edge. As you enter, the streets envelope you, the spires, buildings, and ships that you see in the distance erase all trace of any other reality. It's completely immersive -- even more so because it really looks and feels like Star Wars.
From a design perspective, the goal of the collaboration between Lucasfilm and Walt Disney Imagineering was to create a locale that fits all avenues of Star Wars storytelling. "The beauty of what I love about working on Batuu and coming up with what that is," said Doug Chiang, legendary concept artist and now vice president and creative director at Lucasfilm, "is that we're really keen on creating a design that will anchor everything -- all the films, all the stories in video games, all the stories in novels."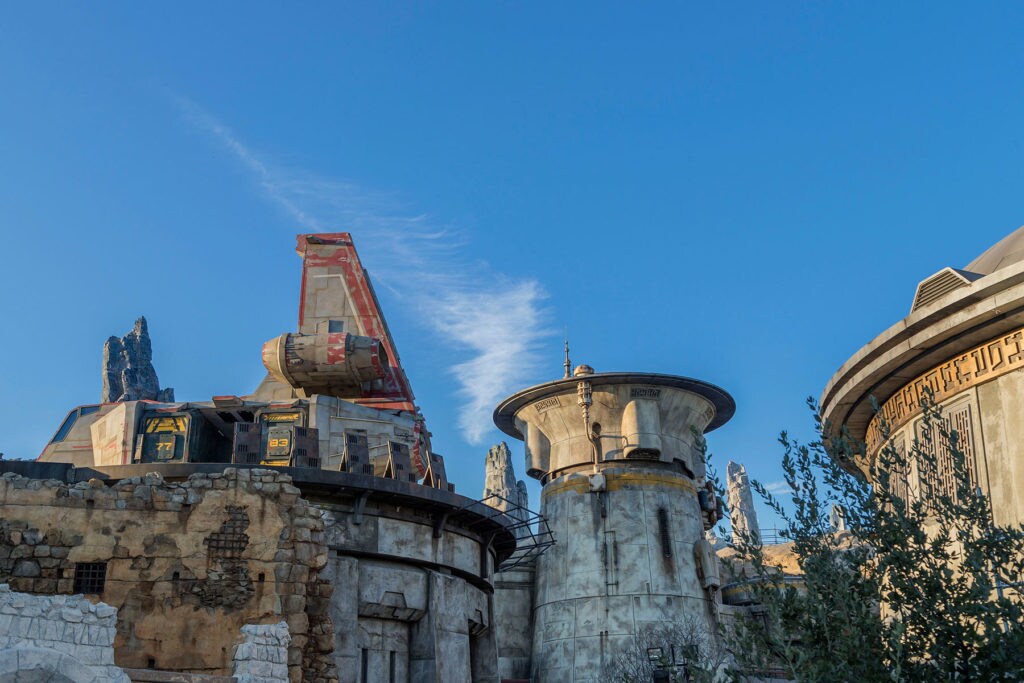 "We start with, 'What do we want the guest to experience?'" added Chris Beatty, executive creative director at Walt Disney Imagineering. "What do we want them to hear, smell, touch, taste when they come into the land? That's kind of the beauty of getting to build this world in three dimensions."
As Batuu would be a new planet, it had to be distinct, yet still feel like Star Wars. The design team looked to forms of terrain not normally seen in Star Wars, and ultimately, the petrified forests of New Mexico became a major inspiration, particularly for the world's protruding spires. "Knowing that that was going to be our foundation," said Chiang, "and then taking that, and exaggerating the scale, turning it on its head, turning it into a planet-wide ecosystem, was really what made it really special. When you do that, what happens is that you're creating something that's very fresh, and that's really identifiable as Star Wars, and it also makes it very real." All the spires are different. They have different colors, shapes, and sizes; in our tour of the land, one huge, crystalized spire seemed to protrude from a rocky wall.
Visits to Morocco and Istanbul were crucial for inspiration and research, and figuring out how to give Batuu a sense of history. On the trips, designers looked for objects and details that convey history -- how paint might fade on a building, jumbled wiring, corroded electrical boxes, or how a façade might stain -- and delivered their reference back to Galaxy's Edge's artists and painters. "This is their guidebook," said Beatty. "These are the details that if they were missing, it would take away from the authenticity we're trying to capture."
Another key visit that helped inform the look of Galaxy's Edge was one directly related to Star Wars: the sets of the latest crop of Star Wars films. The design team began work all the way back in 2014, and visited the Star Wars: The Force Awakens set. "Going to set was actually wildly important," said Wendy Anderson, executive creative director of Walt Disney Imagineering. "We had such an amazing relationship with the filmmakers and the Lucasfilm team, that got us all the assets and resources we could need to build those places so that they look like the thing that you know, so you feel like, 'I know this from somewhere. I've walked this before, or I've always wanted to go to this place before. And now I get to.'"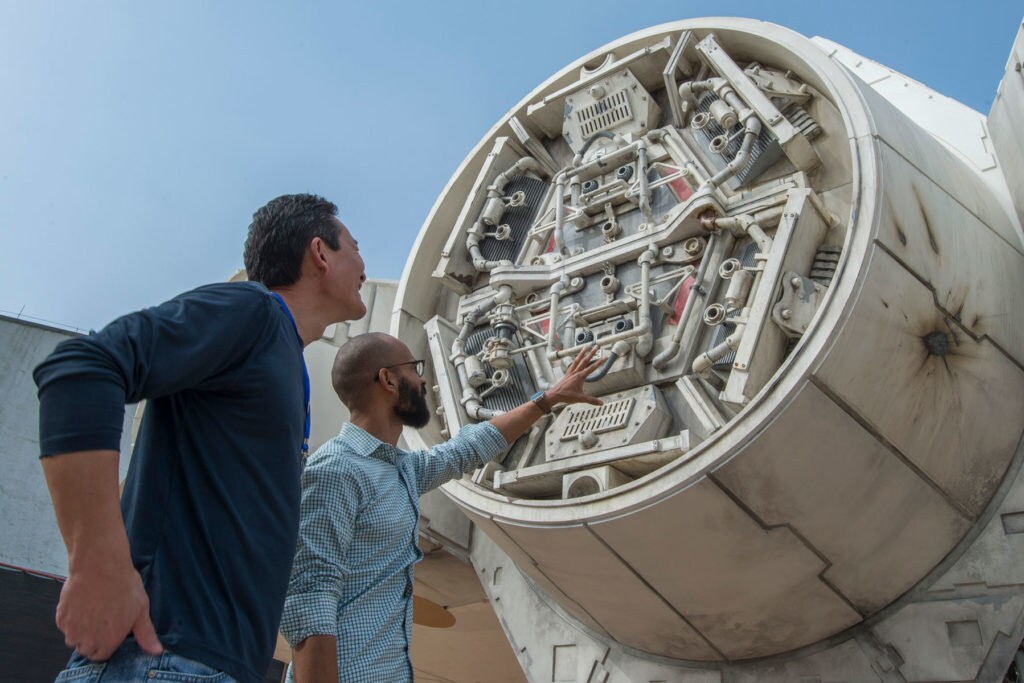 Ultimately, Galaxy's Edge has a cinematic feel, and was designed to have an emotional impact, with a flow and powerful reveals. "It's very cinematic," Chiang said. "You're getting these wide, establishing shots, but then you see some detail that draws your attention and pulls you towards it. There's so many levels of that, and it's really charming. In some ways, it really is like translating the world of cinema, the drama of cinema, the storytelling of cinema into a real-world location."
Star Wars becomes real
Two years ago, the first piece of steel was erected in Galaxy's Edge at Disneyland Resort. It spans 14 acres, making it the biggest themed-land expansion in Parks history. At its peak of construction, there were over 1,000 workers at each location, in California and Florida, and 6,000 throughout the duration of the build to complete the ambitious project. More than 7,000 props have been built and shipped to Anaheim alone. In other words, making Galaxy's Edge wasn't easy.
"Hopefully, when you walk through the land, you'll feel like you're in a place that is cohesive and just really expresses a really natural story," said Kirstin Makela, art director at Walt Disney Imagineering. It's safe to say you will. In the queue for Rise of the Resistance, for example, the underground Resistance bunker features jagged half-walls. The idea is that the Resistance had to laser-cut the rock in order to make their base. In addition, the walls of the base are filled with mysterious details: an ancient-looking artifact here, a gear box there. It makes you wonder, what went on here before the Resistance showed up?
"The stories are literally written on the walls around you," said Robin Reardon, portfolio executive producer of Walt Disney Imagineering. And you can uncover many of those stories.
Technology is being used to great effect at making Galaxy's Edge even more immersive, and to encourage exploration. The Play Disney Parks App has been integrated, from the ground-up, into the land. "We're moving outside of the attraction queues," said Kelsey McCullough, manager of digital at Disney Parks, "and we're bringing guests not just into the stories of the attractions, but the stories of the entire land." The app becomes your Star Wars datapad upon entering Galaxy's Edge, with several features that will help you explore, learn, and have your own adventure. These include the Translate function, which can translate the languages of those around you or written text that you might find on a wall; Hack, which will allow you to access a droid's memory; and Scan, which is a decryption key. You can even send galactic texts to a character, like Hondo Ohnaka, who might have a job for you. Even better, one device can be shared among friends and family, and all can have unique experiences with it. "The land was designed to be interactive from the outset, "said McCullough. In that interaction, authenticity was essential, and the teams worked hard to imbue that authenticity into all aspects of Galaxy's Edge.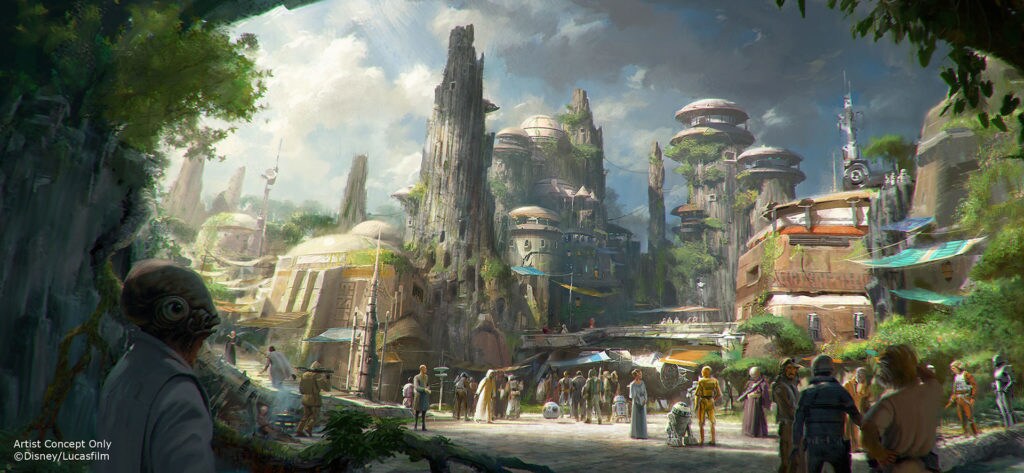 Eric Baker, creative director at Walt Disney Imagineering, got on a plane on his first day on the job and went to England to meet the Force Awakens crew. There, he learned how they approach Star Wars set decoration and prop building, including the guiding principle of using nothing made after 1980. "What we get to do is take this amazing village that these guys have built, these incredible buildings that have been designed, and bring life to them through the story of the people that live there. And our props and set dressing tell those stories." For the land's protocol droids, the team used molds borrowed straight from Lucasfilm; other needs took them elsewhere, including scavenging parts from a 747 with set dressers from the Star Wars films. For a 12' taxidermy wampa, they visited Skywalker Ranch to match the fur to the original creature, exactly.
While Black Spire Outpost is new, making a Star Wars-themed land requires a mix of recognizable elements. Paul Bailey, show systems engineer at Walt Disney Imagineering, has a favorite. "The laser bolt traveling through mid-air, that's a uniquely Star Wars thing," he said. "We had to bring that to the real world." Bailey would not reveal their techniques, but based on a video shown, it looks like they did it. That's right: pew-pew is now real.
Visuals only do so much in making Black Spire Outpost real, however. There's also the issue of sound.
John Williams, who composed the saga's unforgettable scores, has written new compositions for the land, which will play during cinematic moments in Smugglers Run and Rise of the Resistance. And the land promises to be filled with alien languages, sound effects, and the pop music of Batuu. "We're creating a soundscape," said John Dennis, executive creative director of music production at Walt Disney Imagineering. We heard a sample of this with a track played by the DJ (Rex, formerly of Star Tours) of Oga's Cantina. It sounded like, for lack of better term, Jawa hip hop -- featuring an infectious dance beat, strange sound effects, and "Utinni!" punctuating the rhythm throughout. It was fantastic.
A galaxy far, far away no more
Even in its incomplete state, Galaxy's Edge is more immersive and more impressive than I could have imagined. Most impressive, one might say.
It delivers on something never really thought possible, which is to make Star Wars something that you can experience in the real world. That you can actually be a part of. That you can reach out and touch. "When you're here, it doesn't take a lot of effort to just completely lose yourself in Star Wars," Pablo Hidalgo said.
Sounds like a dream come true.
Star Wars: Galaxy's Edge opens in California's Disneyland Resort in summer 2019, and in Florida's Walt Disney World Resort in fall 2019.
See more of Star Wars: Galaxy's Edge in StarWars.com's complete photo and image gallery.
Dan Brooks is Lucasfilm's senior content strategist of online, the editor of StarWars.com, and a writer. He loves Star Wars, ELO, and the New York Rangers, Jets, and Yankees. Follow him on Twitter @dan_brooks where he rants about all these things.