Obi-Wan's lightsaber and more are on the way to Disney Parks and shopDisney.
Around your wallets, a perimeter create. At the Disney Parks/shopDisney merchandise panel, hosted by Amy Ratcliffe, Brad Schoeneberg (VP, brand merchandising), Cody Hampton (senior manager, brand merchandising), Amanda Luna (brand merchandising manager), Elisa Melchiori (brand merchandising manager), and John Henselmeier (associate product design manager) announced some exciting new and upcoming Star Wars goodies for both Disney Parks and shopDisney's online store. Here are five of our favorites.
1. "Your focus determines your reality." Qui-Gon Jinn's lightsaber will finally be coming to Disney Parks, featuring a rechargeable battery and available soon at Dok-Ondar's Den of Antiquities. "We were really excited to work with the team to make sure those details were as accurate as possible," said Cody Hampton.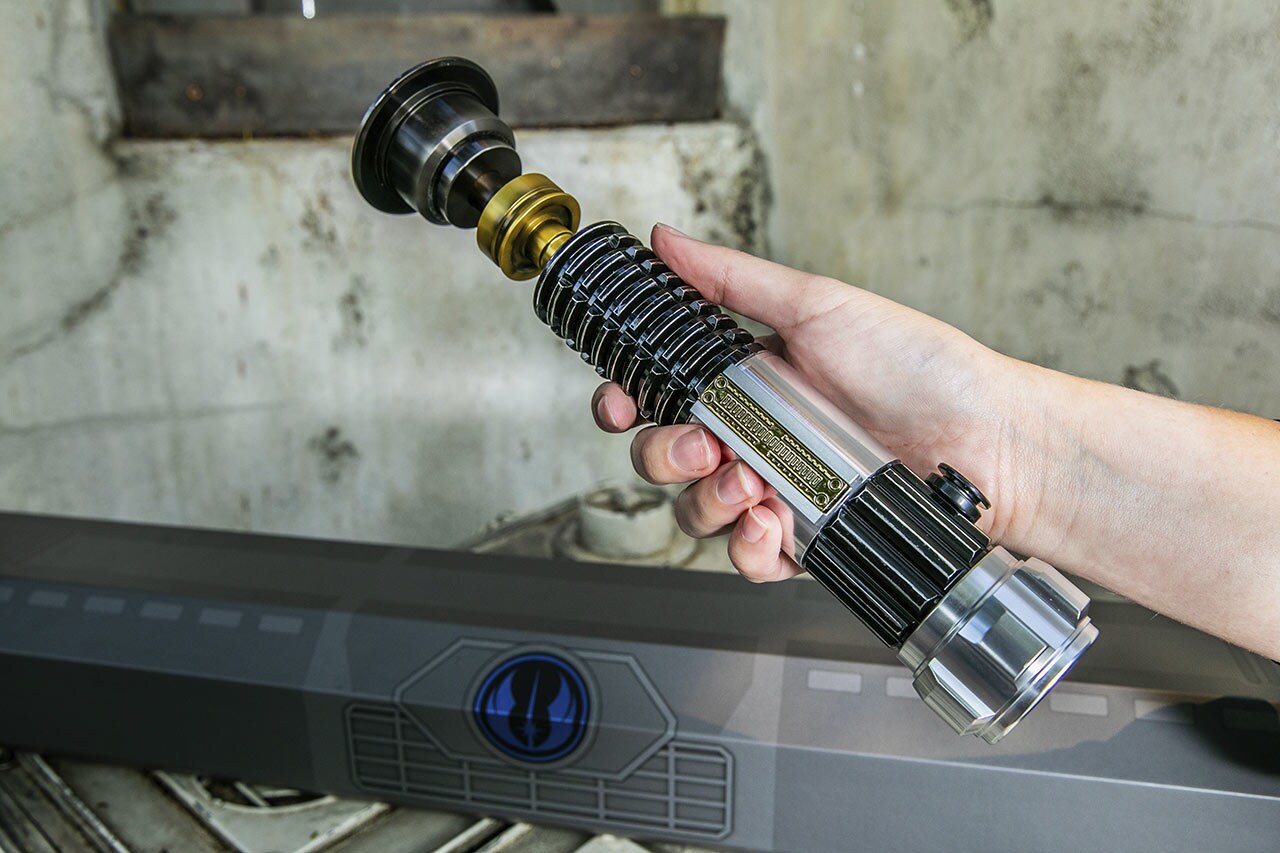 Not to be upstaged by the reveal of the beloved Jedi Master's lightsaber, Obi-Wan Kenobi's lightsaber from the Disney+ limited series Obi-Wan Kenobi will also be available at shopDisney at a later date. Other legacy lightsabers making their way to Disney Parks will be Plo Koon's and Darth Sidious' lightsaber.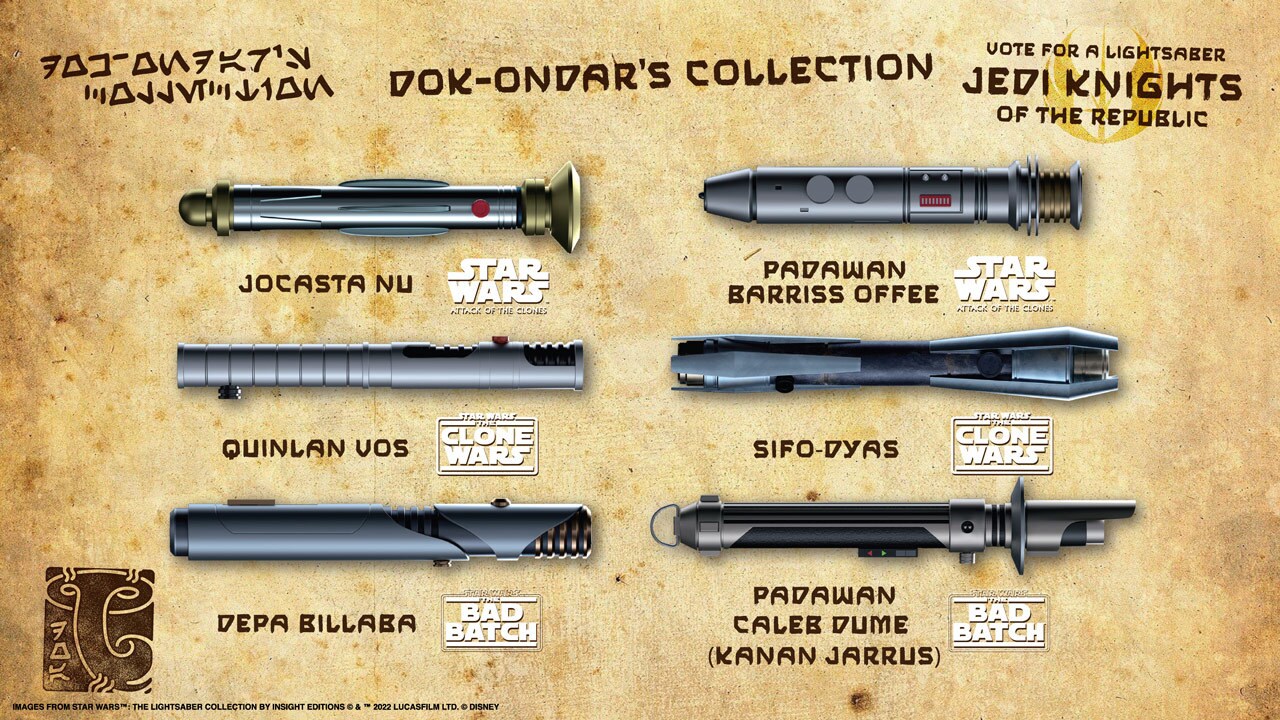 You can vote for the next legacy lightsaber to be featured at Dok-Ondar's Den of Antiquities, including those of our favorite Jedi Librarian Jocasta Nu, Quinlan Vos, Sifo-Dyas, and more.
2. Star Tours fans and collectors, there's some very good news. To celebrate the 35th anniversary of Star Tours, Disney Parks will have apparel, collector pins, and a limited-edition RX-24 "Captain REX" figure available for purchase at both parks. Lifelong fan of Star Tours and Lucasfilm associate product design manager John Henselmeier designed the logo for the 35th anniversary of Star Tours featuring the number "35" integrated within the iconic triangle shaping the traditional Star Tours branding. "It's a celebration of both the old and the new Star Tours," said John Henselmeier. "It definitely draws inspiration from the Cast Member costumes from the original attraction on both coasts, but it also ties back to The Adventures Continues as well."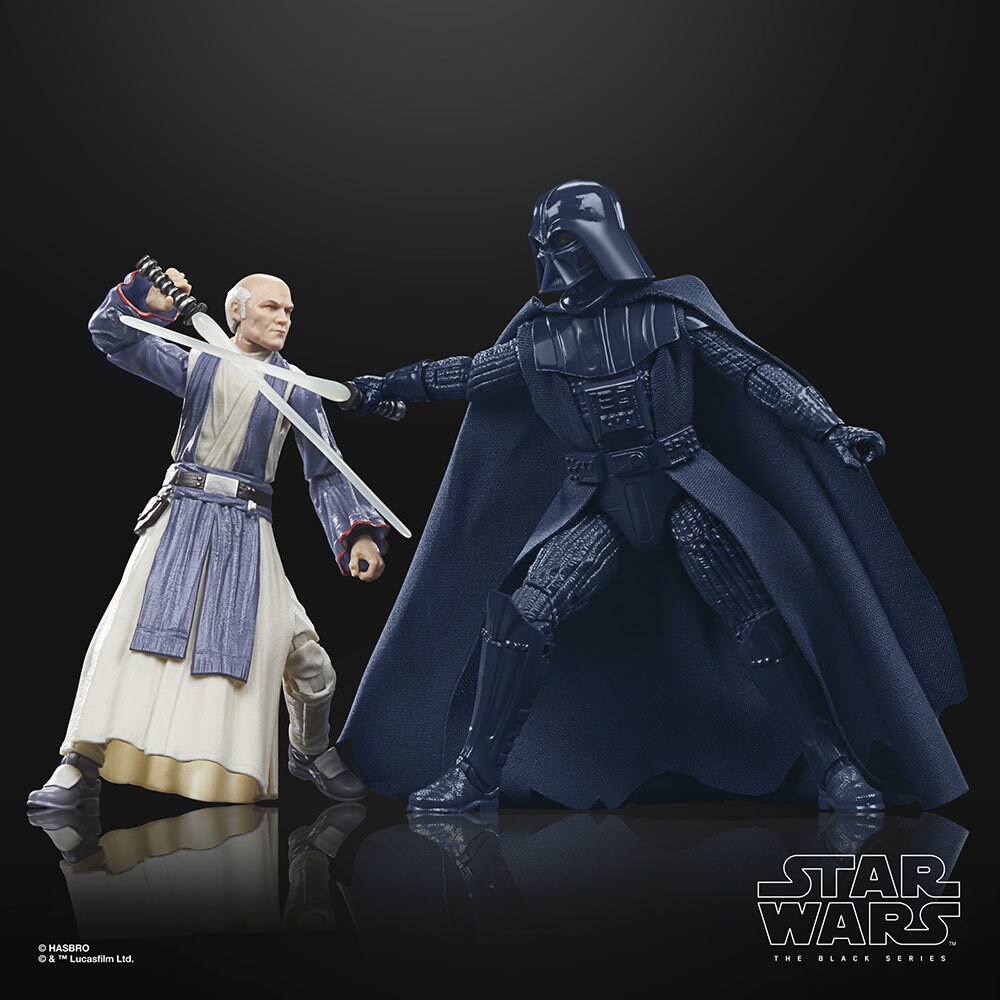 3. Disney Parks will celebrate Star Wars history. In honor of the 45th anniversary of Star Wars: A New Hope, Disney Parks will be releasing merchandise inspired by storyboard art and Ralph McQuarrie's concept art. "This is really tying in the concept and storyboard art from [A New Hope]," said Elisa Melchiori. The collection will include, for the first time ever, a Hasbro two-pack Black Series Obi-wan Kenobi and Darth Vader concept series action figure set. This will be available soon on shopDisney and Disney Parks.
4. Star Wars: Galaxy's Edge is getting a dose of cuteness. The Toydarian Toymaker and the Creature Stall will soon be home to new plushies. Star Wars Resistance fans will be able to grab their own cute little gorg, which can open its mouth to reveal adorable yet deadly sharp teeth. "We also wanted to make sure we had something for everyone," laughed Amanda Luna. "Whether you like cute and cuddly creatures or something with a little bit more teeth." Each creature available at the Creature Stall also has hang tags that show how to take care of them and where they're from! The very snuggable therii from Amy Ratcliffe's children's book, Elee and Me, will also be available at Disney Parks on a later date!
5. "If there's a bright center to the universe, you're on the planet that it's farthest from." Travel to the luscious sands of Tatooine this fall with the Star Wars Planet Series! This line will feature merchandise from different planets; Tatooine is the first destination in the Planet Series and will include plush, apparel, pins, and a map of the desert world with spots to put those pins. "The collection will be celebrating several of the planets around the galaxy," said Luna. "The program is really anchored around apparel and accessories as well as plush and prints."
Check out the gallery below for even more new products coming to Disney Parks and shopDisney.