Check out some of the best in-jokes, references, and secret stuff hidden within the new Disney+ Original special.
Beaches and LEGO bricks -- what could be better for a summertime adventure? LEGO Star Wars Summer Vacation has arrived on Disney+, telling an all-new tale in which Finn and friends take a trip on the luxurious Halcyon starcruiser for a long-overdue break. As the journey begins, Finn becomes separated from the group and encounters the Force ghosts of three legends of the galaxy far, far away: Obi-Wan Kenobi, Anakin Skywalker, and Leia Organa. Their stories of summer teach Finn a valuable lesson, but these yarns also feature something else: enough Easter eggs to fill a spacecruiser! As such, StarWars.com scoured LEGO Star Wars Summer Vacation -- and even consulted with Lucasfilm's Leland Chee, one of the creatives behind the original special, as well as writer/executive producer David Shayne -- to uncover as many in-jokes, story connections, and blink-and-you'll-miss-it references as possible. Here are 20 of our favorites.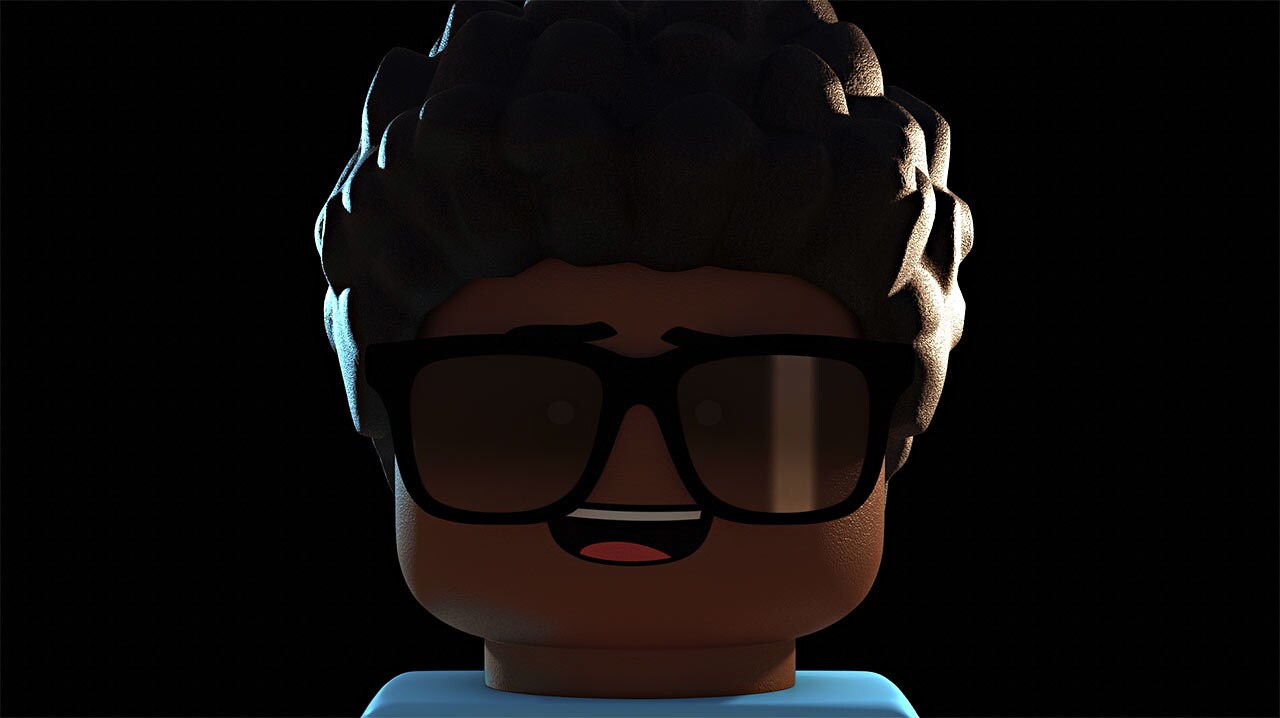 1. That Finn-tastic Disney+ intro.
Easy there on that "skip intro" button, partner! You'll miss Finn in LEGO Star Wars form, cleverly closing out the usual intro that plays before all Star Wars programming on Disney+.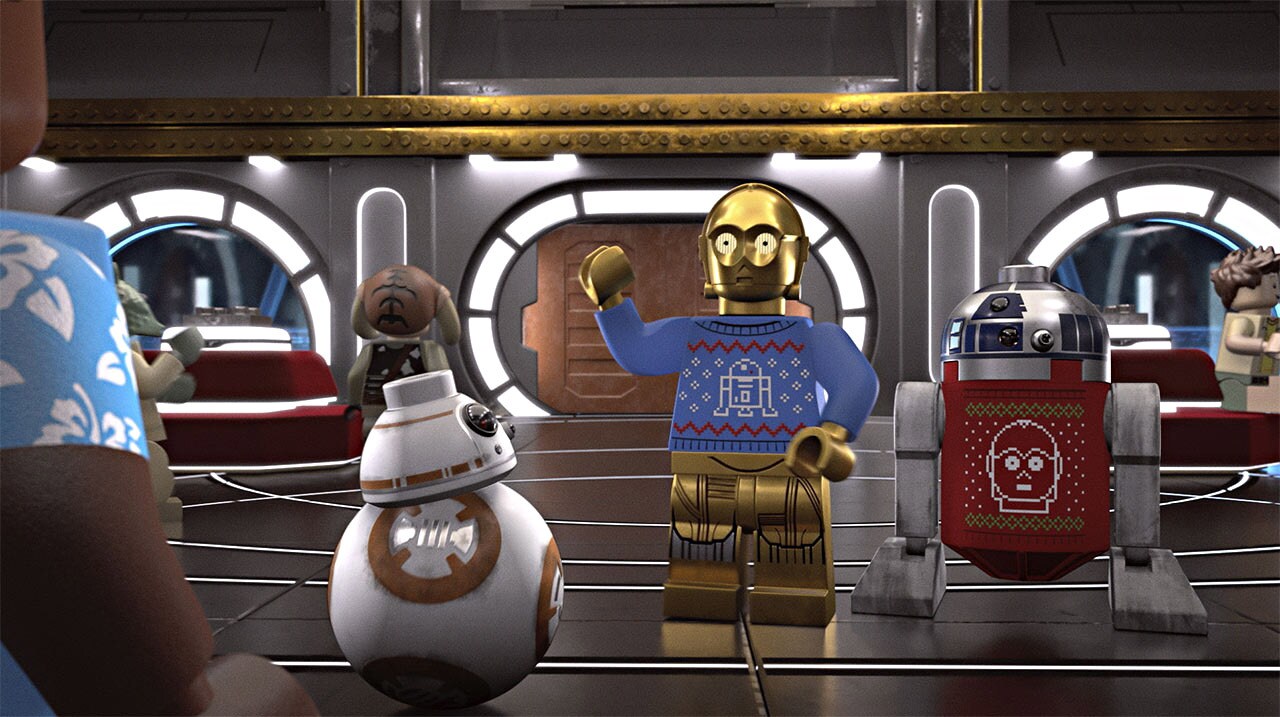 2. Ugly sweaters strike back.
Consider this one a sneak peek: Artoo and Threepio's wintery attire will match their minifigure appearance in this year's LEGO Star Wars Advent Calendar.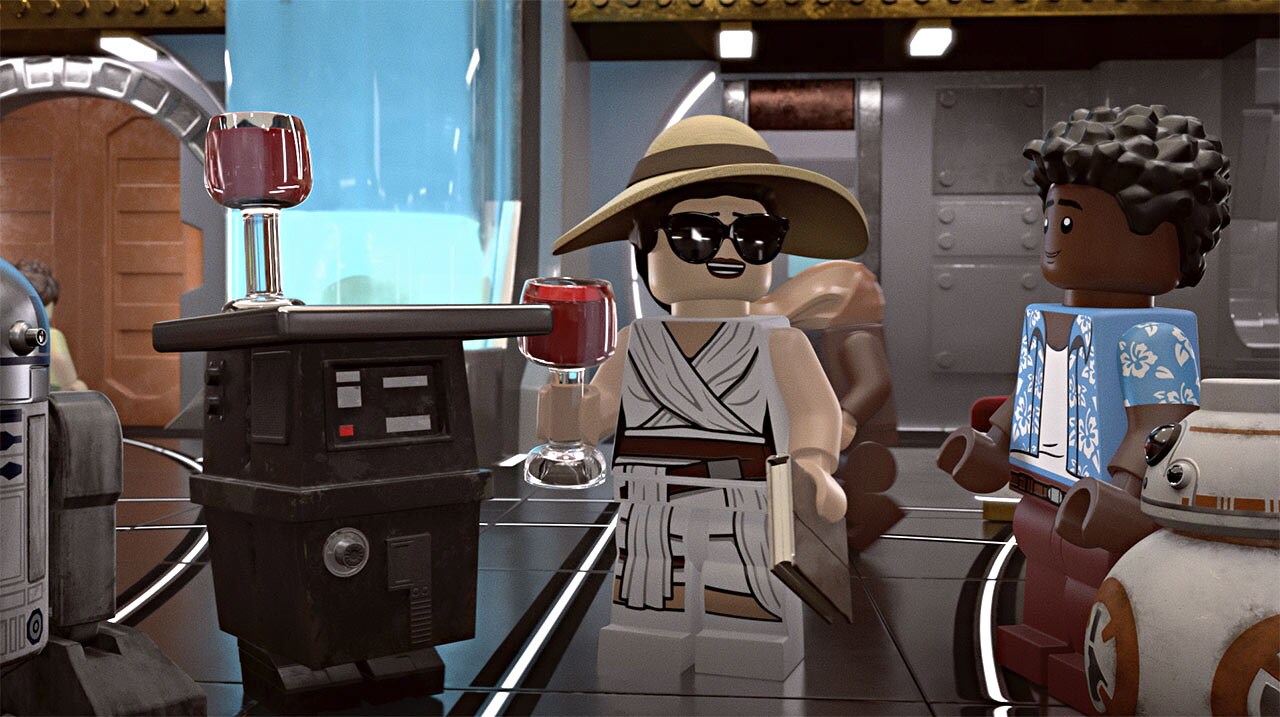 3. Gonk waiters everywhere.
In something of a running gag, gonk droids can be seen carrying food and drinks throughout the special. Of course, as gonk droids have no arms, they're basically balancing trays atop their "heads." Not easy!
Bonus fun fact: Gonks are a personal favorite of director Ken Cunningham, which perhaps explains this Easter egg.
4. Obi-Wan knows all the good spots. 
Finn's encounter with Kenobi is a callback to the Jedi Master's visit to the Mos Eisley cantina in Star Wars: A New Hope.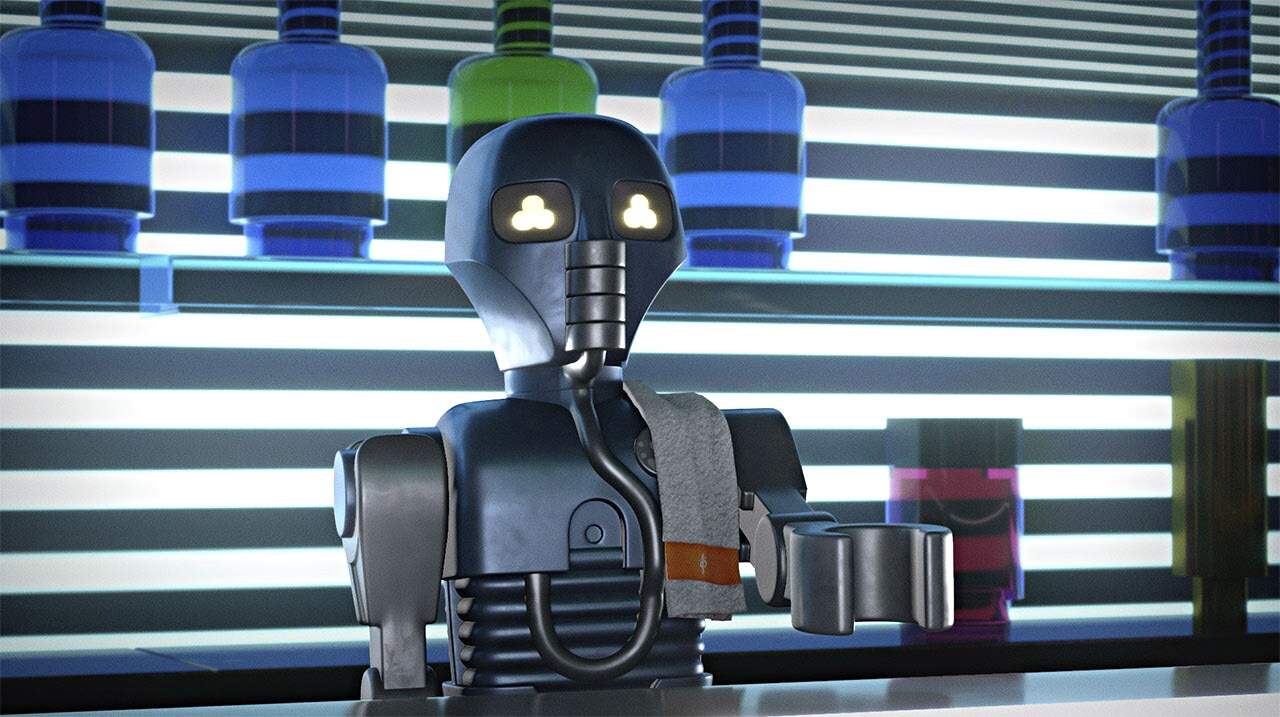 5. Meet the "galactic libations" droid.
A play on C-3PO's "human-cyborg relations" programming, the galactic libations droid's moniker takes the joke one step further: its name is BV-RJ, or "beverage."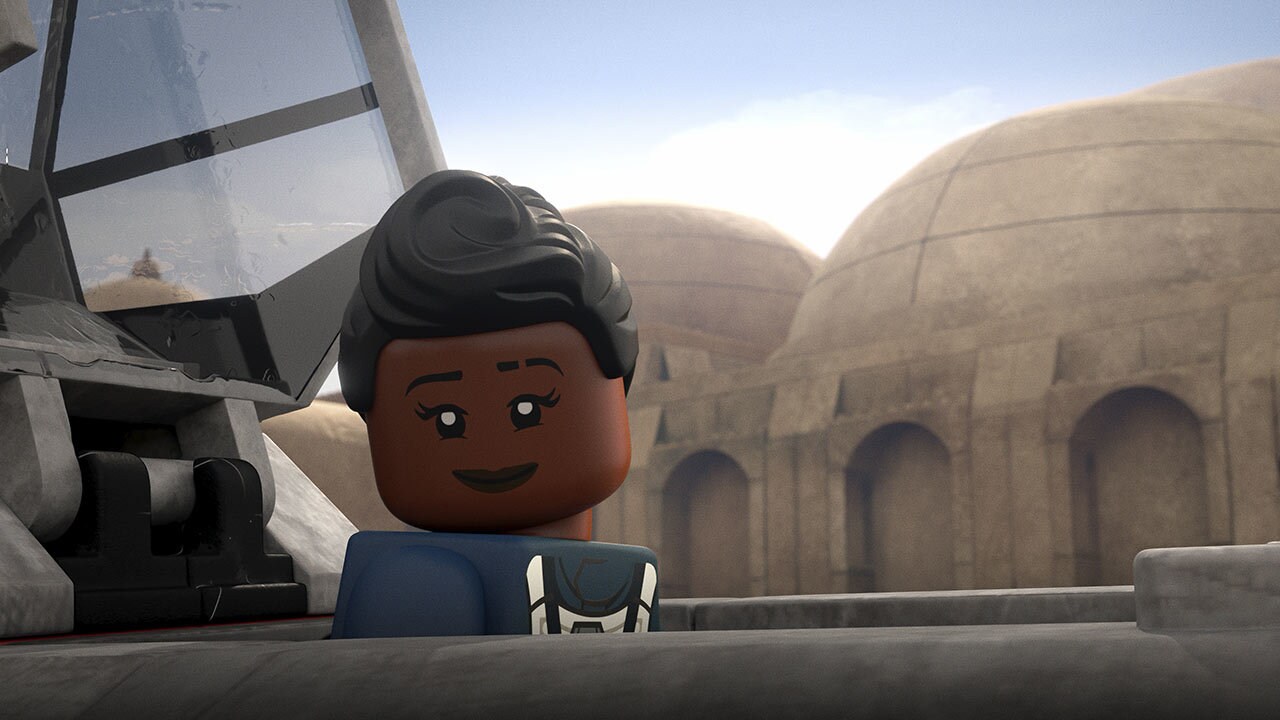 6. What's in a name?
LEGO Star Wars: The Freemaker Adventures fans will recognize Lt. Valeria, who teams up with Obi-Wan in a tale from his time on Tatooine. But revealed here is her first name -- Colvett -- which comes from a mashup of voice actor Yvette Nicole Brown's first and middle names.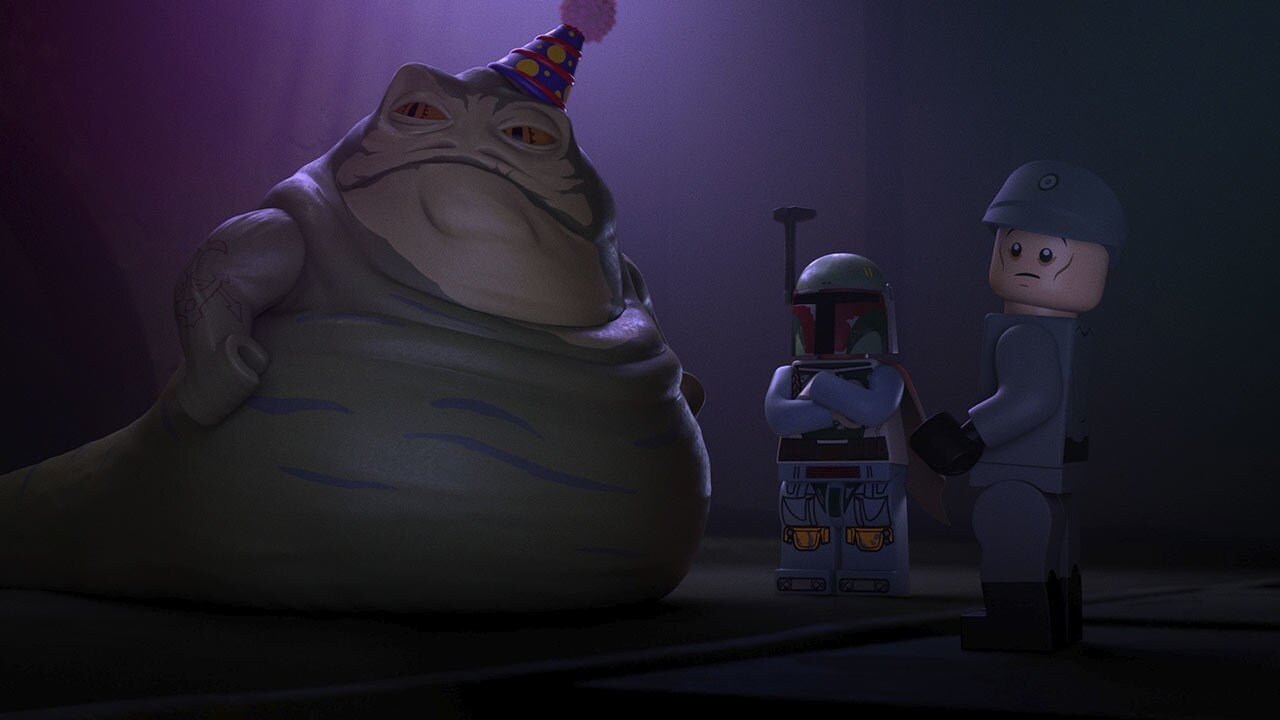 7. A dessert for a Hutt.
Jabba's birthday cake is decorated with the Hutt's favorite treat: Klatooinian paddy frogs. Hey, it's his party.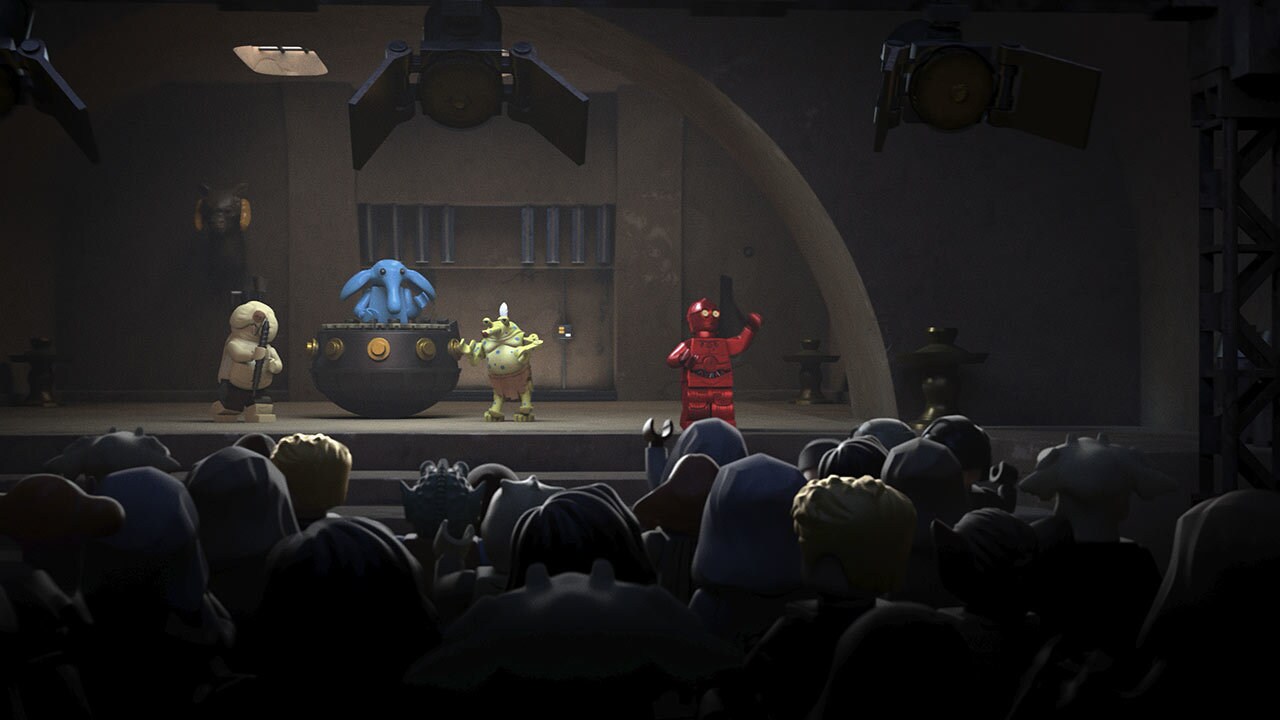 8. Some droids are programmed to rock.
Keep your eyes peeled on the crowd in Jabba's palace and you'll spot a crowd-surfing protocol droid.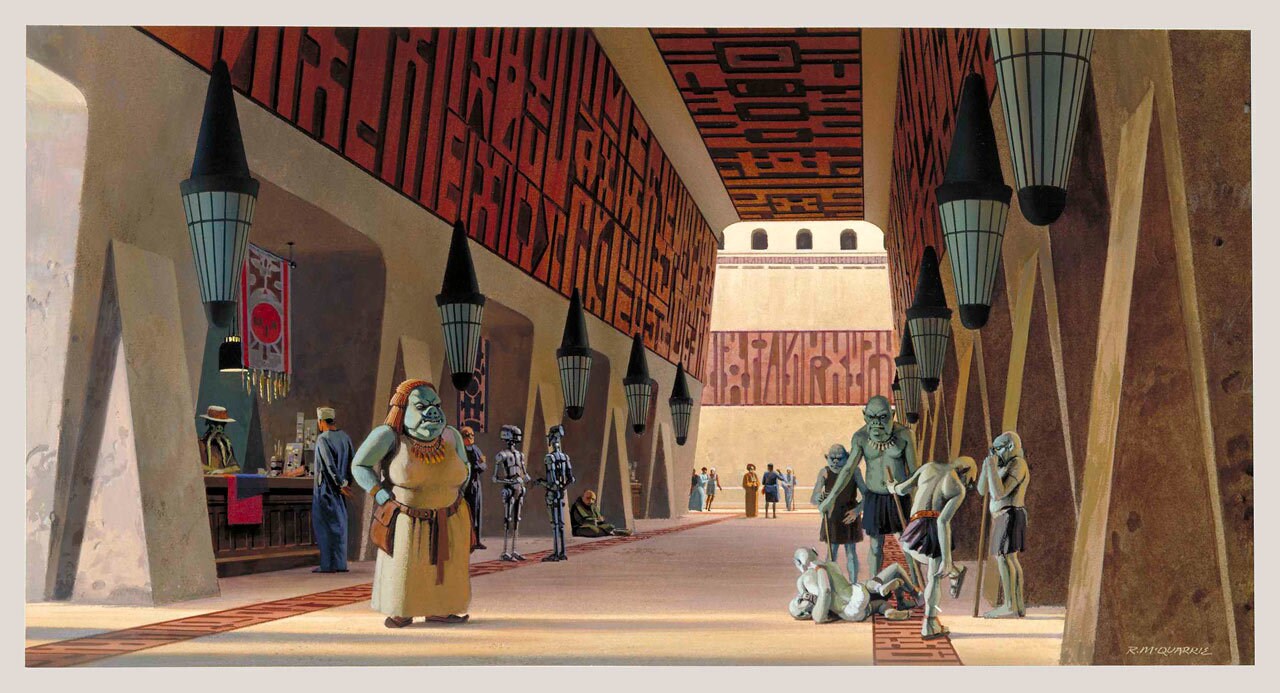 9. The design origins of Gamorrean girls.
"Gamorrean Girls" turns out to be a catchy summer tune, and the actual design of the Gamorrean girl at Jabba's party comes from an authentic source: art by legendary Star Wars concept artist Ralph McQuarrie.
Bonus Easter egg: When Valeria requests that Sy Snootles play "'Gamorrean Girls' in the key of D," she's being musically accurate -- that's the song's actual key.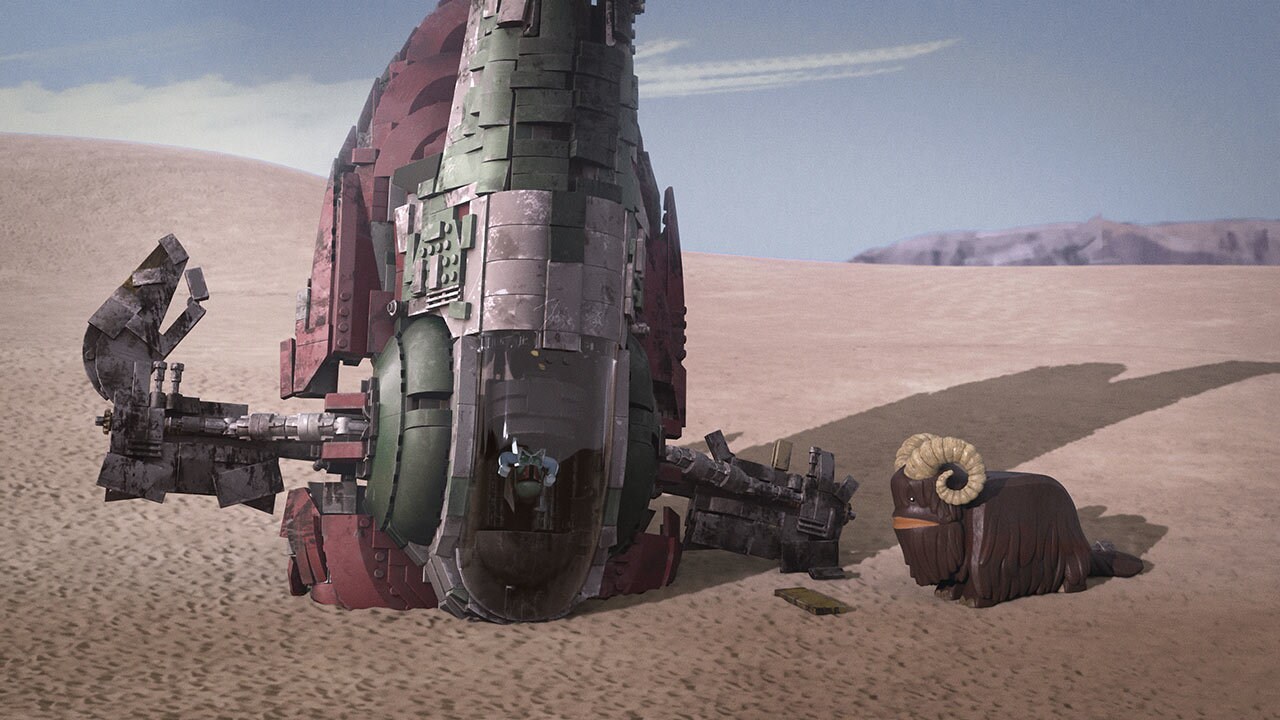 10. Boba has a theme and he'll use it.
Hear that music cue when Boba swoops in to target Obi-Wan and Colvett? That's his new theme from the season finale of The Book of Boba Fett, making its first appearance outside that series.