StarWars.com goes inside the making of the sizzling animated special, now streaming on Disney+.
The creative team behind the LEGO Star Wars Holiday Special and LEGO Star Wars Terrifying Tales had always hoped to make a trilogy of animated specials. And Director Ken Cunningham really hoped the third installment could fulfill his dreams of helming a rollicking musical.
With the release of LEGO Star Wars Summer Vacation today on Disney+, the third special in the trifecta arrives complete with two musical numbers, including a new song sung by "Weird Al" Yankovic. Set in the time after Star Wars: The Rise of Skywalker, the story follows Finn and his friends on a luxury vacation aboard the Halcyon starcruiser. But instead of relaxing with a good book or enjoying the pool, Finn spends his time fretting about the future, which spurs visits from three Force ghosts who impart crucial lessons upon the young Force-sensitive hero.
Like its predecessors, collaborators at the LEGO Group, Lucasfilm, and Atomic Cartoons looked to favorite films and pop culture touch points to inspire the brick-based storytelling. "We were wrapping up Terrifying Tales and started talking about summer vacations and road trips," recalls David Shayne, the writer behind all three specials.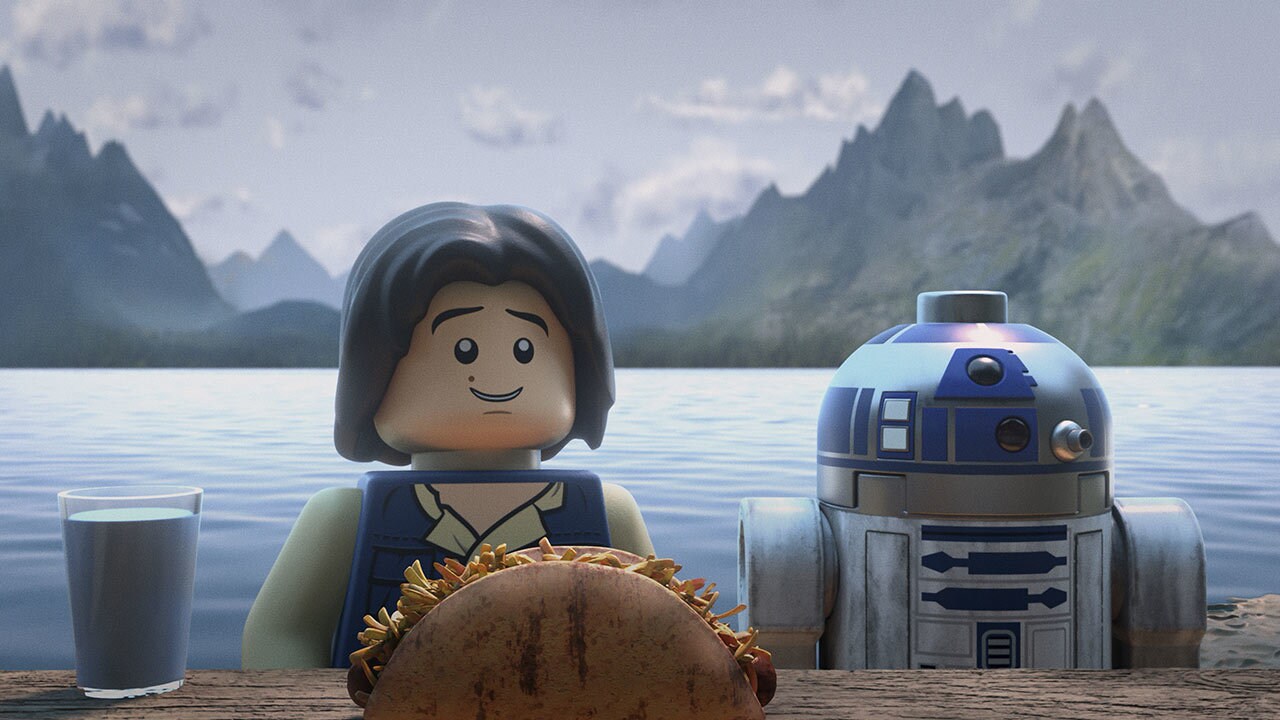 "What are the iconic beach movies and summer movies?" producer Josh Rimes of Lucasfilm remembers asking the team. The first one that came to mind was the classic comedy National Lampoon's Vacation. To translate the Griswold family road trip into the Star Wars galaxy, creators reimagined a very Solo family vacation. "It's remembering our vacations and our road trips and what we went on and going, 'What would that look like on the Millennium Falcon?'" says Shayne.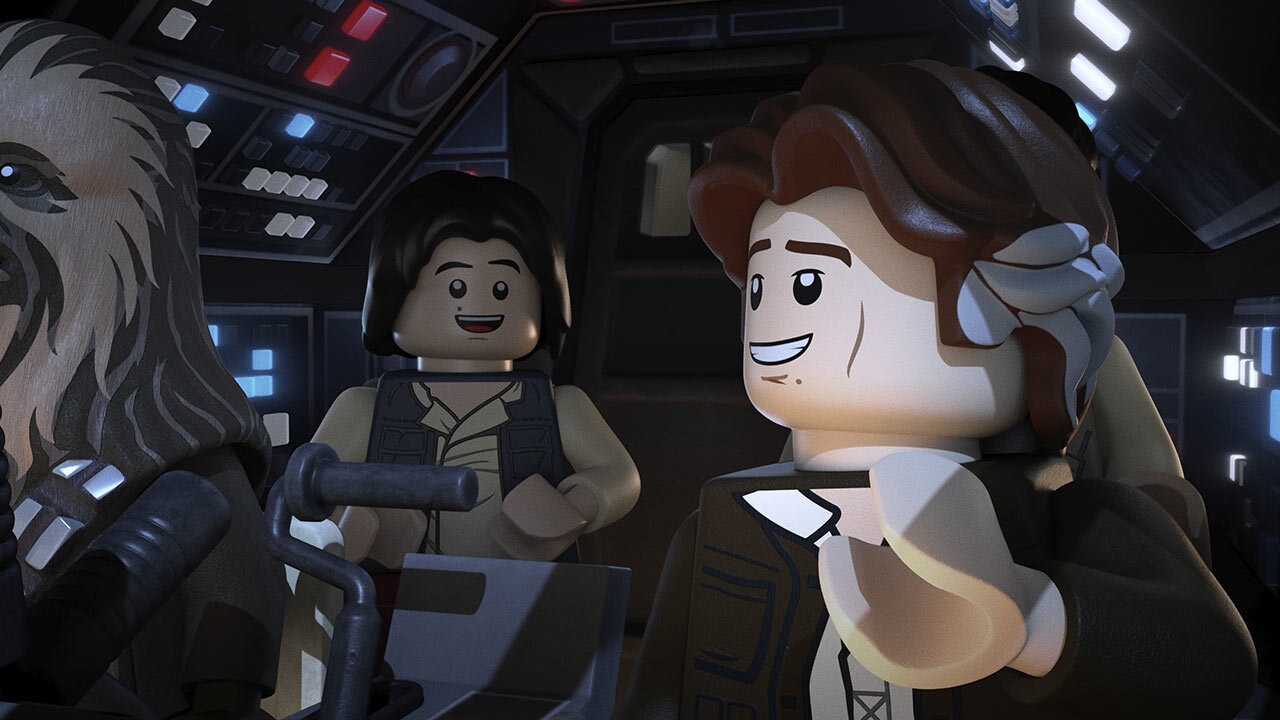 "We knew we wanted to have a young family road trip story," adds Lucasfilm creative executive Leland Chee. "So that one kind of had to be about Ben Solo and his parents."
"Han is our Chevy Chase [who played Clark Griswold] and Leia is our Beverly D'Angelo [who played his wife, Ellen]," says Rimes. "And Ben is our Rusty."
Beach Blanket bricks
In development, creators also imparted a dash of musical comedy a la Annette Funicello's Beach Blanket Bingo with a little Saturday Night Live thrown into the mix, courtesy of Carrie Fisher's 1978 appearance on the variety show that included a skit featuring Princess Leia arriving on earth to join Funicello's soiree. Cunningham has been pushing to do a musical since the start. "I've always wanted to do a full-on musical," he admits. "Prior to being in animation, I was a professional dancer, so it's kind of been a fantasy of mine to do a musical. And I got the opportunity here, which was great."
For the main song, co-written by Shayne and composer Michael Kramer, the team got their first choice in casting "Weird Al" Yankovic, singing "Scarif Beach Party" and voicing the aptly-named character Vic Vankoh. It was a homecoming of sorts for Yankovic, who helped introduce a generation to the Kinks' "Lola" with his Star Wars parody, "Yoda," among other hits.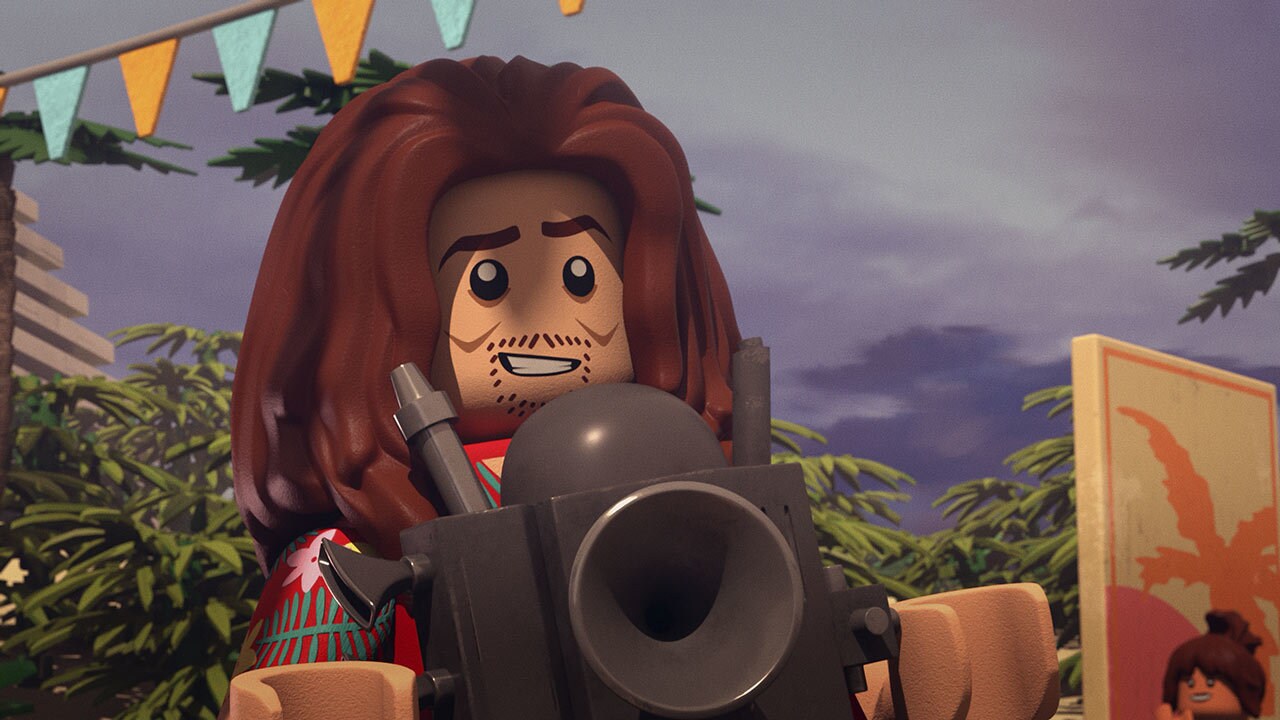 The seed was planted when Chee remembered seeing "Weird Al" perform live at a 501st Legion party at Star Wars Celebration Orlando in 2017. "We know the connection between 'Weird Al' and Star Wars still runs deep. It was a great opportunity. To have the chance to get 'Weird Al' Yankovic in Star Wars? We've got to take that."
The recording session was a memorable one. "When he sang it, it just took it to a whole other level," Chee says. "It was like, 'Oh my God, this guy, he really is an artist.' You know him for the parodies, but musically he's a genius."
"If LEGO Star Wars is an entry point into Star Wars for kids, 'Weird Al' is a lot of kids' entry into pop music," adds Shayne. "They really are one in the same. I mean, it's that same sort of 'Here let's have some fun and not take it too seriously."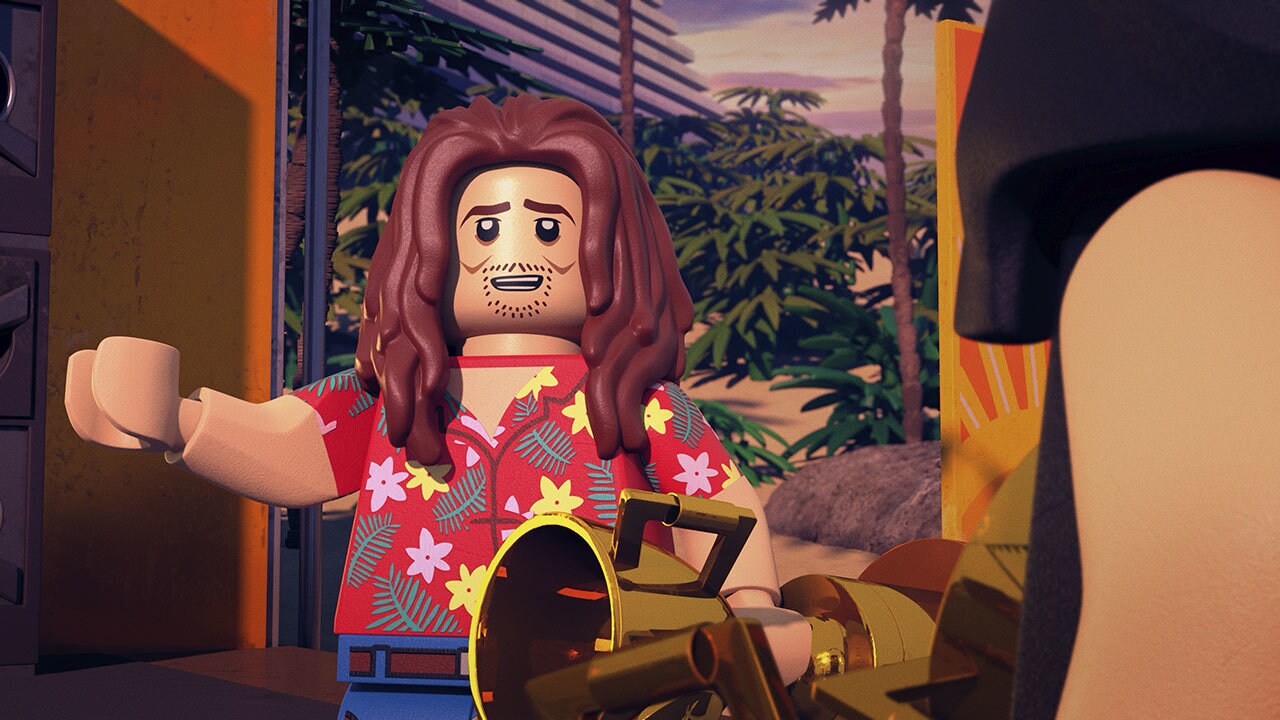 Shayne and Kramer were prepared to take notes from the multiple Grammy Award-winning artist. Much to their surprise and delight, Yankovic listened to the scratch track and told them he wouldn't change a thing. "And don't think I won't dine out on that for the rest of my career," Shayne says with a laugh. "He was so game and belted out a bunch of different versions and harmonies, throwing out ideas and going high. The recording sessions are always fun, but that one will always stand-out as a forever memory. He was very generous, very kind and he killed it in the studio. It's not something I'm ever going to forget."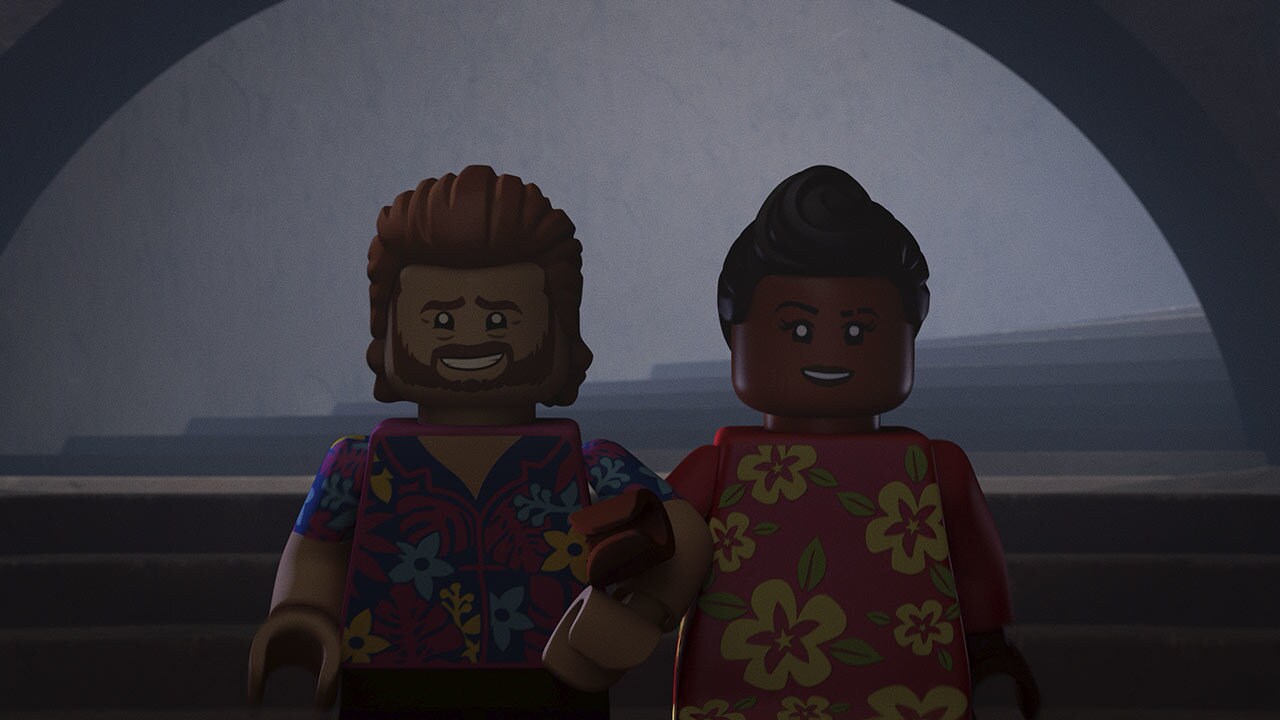 "Gamorrean Girls"
The special's other musical number, called "Gamorrean Girls," sees the return of a LEGO Star Wars Freemaker Adventures favorite character, Lt. Valeria, voiced by Yvette Nicole Brown, and James Arnold Taylor reprising the role of Obi-Wan Kenobi. "We were just putting James Arnold Taylor through the wringer," Shayne recalls, calling on the veteran voice actor to improvise Kenobi's audience banter. "And it was so fun. We were just throwing out lines. That was a blast."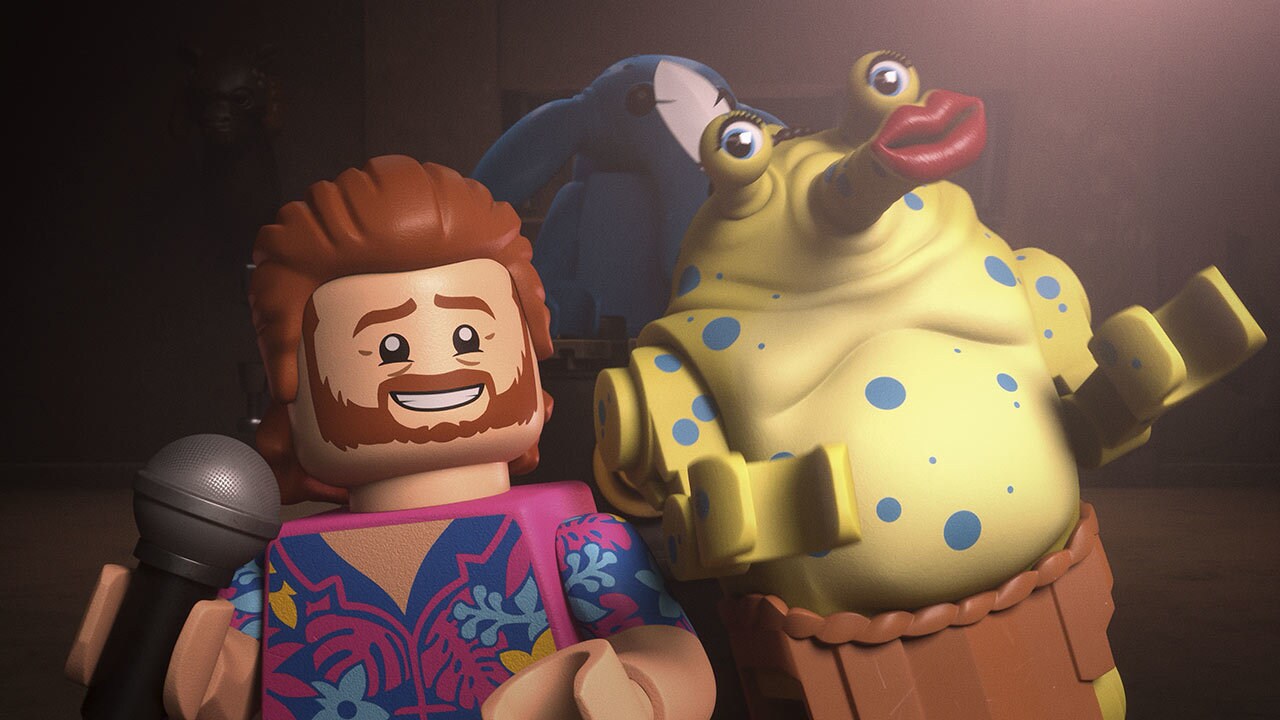 Cunningham rewatched Moulin Rouge and other Baz Luhrmann films to prep for the segment. Set inside Jabba's Palace during a daring coaxium heist, the sequence also calls for some Mission: Impossible-style spy antics. "The crux of it, which was really difficult, was getting the back and forth between Valeria and Ben," Cunningham says. "Just getting those looks and his response to read, that was the lynchpin for the whole thing."
"That's the really unique thing about that sequence: it's not just a dance number. It's actually a heist sequence," adds Rimes. "We worked on that for a long time just to get the rhythm right. We talked a lot about heist and spy movies and, you know, to then marry that with the comedy of a dance number at Jabba's Palace, I think it paid off."
Humor, heart, and hugs
Like the other LEGO specials, this one includes plenty of humor and heart. "We all remember getting out of school, experiencing summer with your family or at camp with friends, really formative moments," Rimes says. "And sometimes, when you go back to school in the fall, you know, people have changed. You find new friends. There's a bittersweet sort of core to real-life summer vacations that we were able to bring into the heart of this special….We are always asking ourselves, 'How do we top ourselves? How do we not just retell the story of Rey from the Holiday Special or Poe from Terrifying Tales? How do we give this a unique spin for Finn, but also wrap it up and ask some real kind of probing thematic questions about having fun in the moment and enjoying your time with your family and friends, in a really sweet, approachable way?"
Cunningham's favorite moment is a quiet scene between Han and Ben Solo toward the end of the Solo-Organa family vacation tale. Han gets to tell his son "I love you," and Ben fittingly replies, "I know." Then the two embrace in a hug. In a story that puts Ben Solo at the helm of his family's beloved hunk of junk the Millennium Falcon, it's a powerful piece of wish fulfillment for fans of the young Jedi. "I've looked at it so many times and it still gets me," Cunningham says. "It really resonates for me and I'm super proud of that moment."
The team behind LEGO Star Wars Summer Vacation clearly embraces some of the themes imbued in the final installment of their trilogy.
"It is about the journey, not necessarily the destination," Shayne says, a sentiment echoed in Finn's story told throughout the special, under the tutelage of the spirits of Obi-Wan Kenobi, Anakin Skywalker -- who is quite displeased to be delivering his wisdom on a sandy beach -- and Leia Organa. The stories touch upon Kenobi's stay on Tatooine protecting Luke Skywalker, an era most-recently explored in the Obi-Wan Kenobi limited series, Anakin recalling a Scarif beach day Darth Vader experienced with Emperor Palpatine, and the Solo family vacation, with Omar Miller as Finn listening raptly as each tale unfolds. "We challenged Omar to deliver heart and emotion, and he totally got there," says Shayne. "I mean, to get LEGO pieces genuinely choking you up is a kudos to the performances.
"You've created all these incredible memories that you will share for the rest of your life. From a personal aspect, honestly, that's how I felt getting to work with this gang. For this whole crew, it's a very intimate, incredibly special, really fun team. We've been doing this for several years, so Finn, in some ways, was speaking for us, I think."
The LEGO Star Wars Summer Vacation special is now streaming exclusively on Disney+.