We look back at a historic year for a galaxy far, far away.
If you had to sum up Star Wars in 2014 with one word, it would be "new." New era, new movie footage, new animated series, new books, new heroes, new villains, new everything. Star Wars feels new -- alive and important and, quite simply, fun, in a completely fresh way. It's a truly exciting time to be a fan.
So, to paraphrase a certain dark-side devotee, this will be a year long remembered. Let's look at the reasons why.
Star Wars: The Force Awakens Teaser Hits Online
"There's been an awakening. Have you felt it?" Yes, we have, mystery voice -- and lots of chills, too. The teaser for Star Wars: The Force Awakens was released in theaters and online on Friday, November 28, giving the world its first look at the film's new characters (Finn! Rey! Kylo Ren with meme-inspiring lightsaber!), droids (the cute-meets-cool BB-8!), and designs (stormtroopers 2.0!). Oh, and if that wasn't enough, a bunch of X-wings and TIE fighters and the Millennium Falcon. To date, the teaser has amassed over 100 million views and become one of the most-watched previews ever. For our credits, there was no better way to spend 88 seconds (over and over and over again) this year.
Honorable Mention:

Star Wars Rebels Begins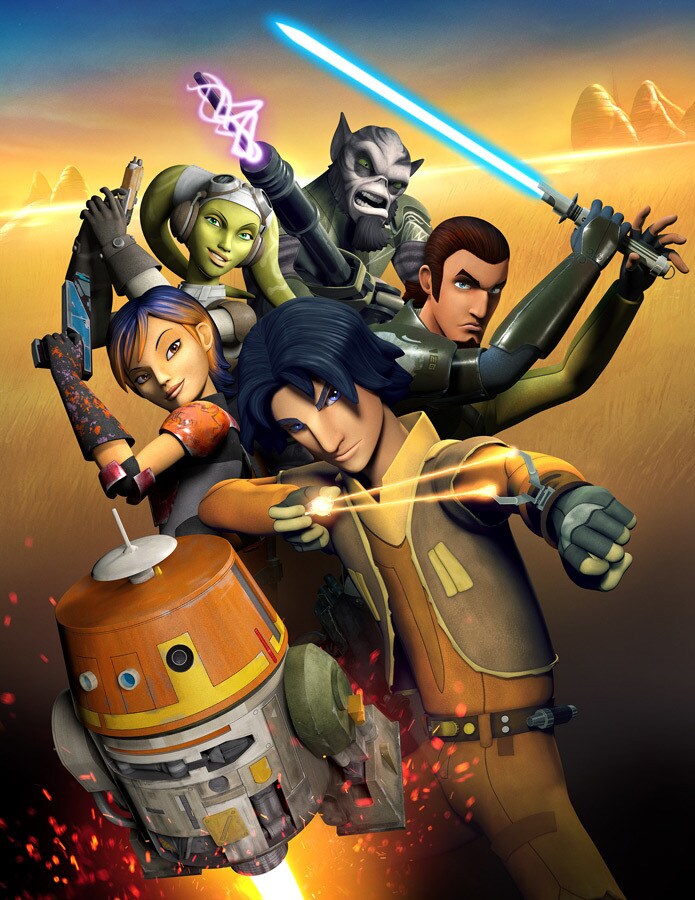 The Ghost crew. The Empire. JAMES EARL JONES AS DARTH VADER. Lucasfilm launched its new animated series, Star Wars Rebels, on Friday, October 3, with the one-hour TV movie "Spark of Rebellion," ushering in a brand new era of Star Wars -- and a return, of sorts. The show, set between the prequel and original trilogies, focuses on a small band of rebels beginning the fight against the Empire. It feels like classic Star Wars -- there's real danger (the Inquisitor looks like he stepped right out of a youngling's nightmare), but also, great banter, heart, and a sense of wonder. Co-created by Dave Filoni, Simon Kinberg, and Carrie Beck, Star Wars Rebels captures what we love about Star Wars and then takes it someplace new. Essential viewing -- and after Ezra's dark side dabbling, we can't wait to see where it goes next. (For more on Star Wars Rebels, be sure to check out StarWars.com's weekly wrap-up series, Rebels Recon, and our lengthy interview with Kinberg.)
Honorable Mention:

Marvel Announces New Star Wars Comics Line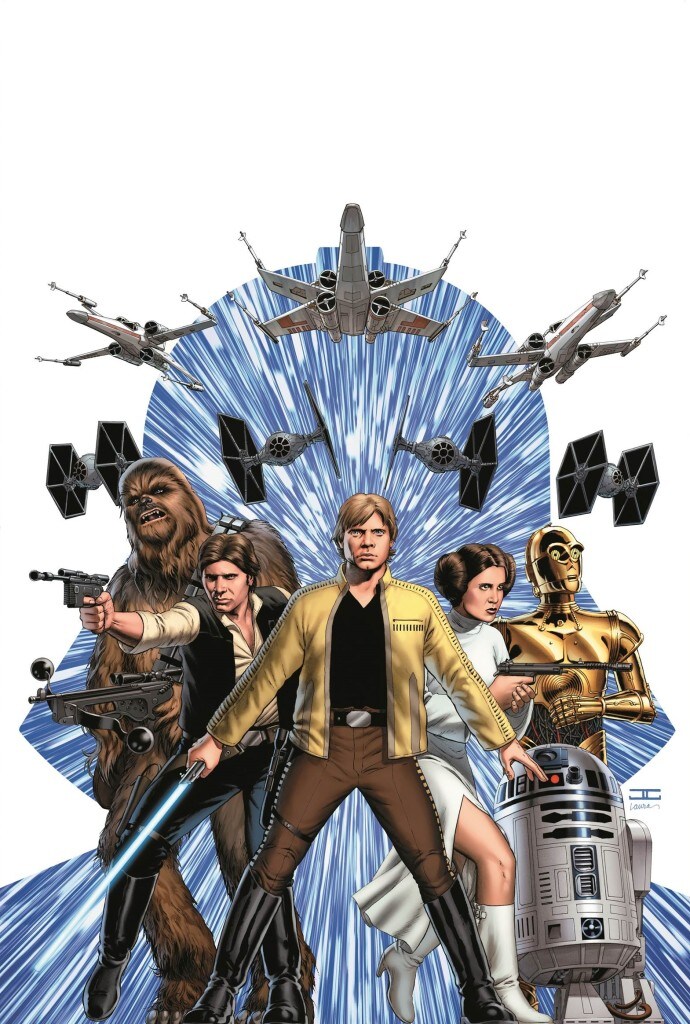 On Friday, January 3, Lucasfilm, Disney, and Marvel announced that Star Wars comics would be returning to Marvel. Big news, but that was just the firing of the proton torpedo. The actual mega, Death Star-sized explosion came at San Diego Comic-Con on July 26, where Marvel revealed their titles and creative teams: Star Wars, an ongoing series by Jason Aaron and John Cassaday (coming January 2015); Star Wars: Darth Vader, an ongoing series by Kieron Gillen and Salvador Larroca (coming February 2015); and Star Wars: Princess Leia, a five-issue miniseries by Mark Waid and Terry Dodson (coming March 2015). All titles will be canonical within the Star Wars universe, and are set directly after the events of Star Wars: A New Hope. Plus, as if you needed another reason to be excited, Star Wars #1 has a variant Jaxxon cover. 'Nuff said. (If you missed it, StarWars.com's Dan Brooks spoke with the writers of all three books to get an idea of what readers can expect, and we have an exclusive preview of Star Wars #1 interiors.)
Honorable Mention:

Lucasfilm's New Continuity Alignment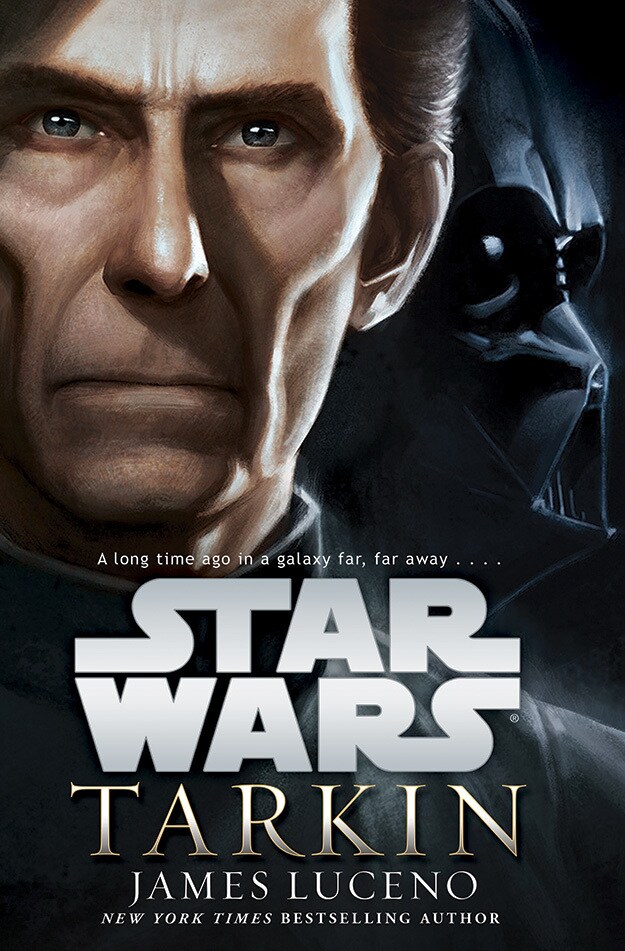 With an eye toward the future, Lucasfilm announced on Friday, April 25, that going forward, all books, comics, games, and more would be in-continuity with each other, the Star Wars films, and Star Wars TV animated series. Thanks to the formation of Lucasfilm's Story Group, this alignment became a reality, and is already paying dividends: novels like A New Dawn and Tarkin have further developed major characters, Marvel's comics are set to bridge A New Hope and The Empire Strikes Back, and unfinished episodes of Star Wars: The Clone Wars made their way to StarWars.com. There's lots more to come -- we shall watch the future of Star Wars storytelling with great interest.
Honorable Mention:

Star Wars: Force for Change Launches
Kicked off on Wednesday, May 25, with a fun on-set video by J.J. Abrams -- featuring an up-close look at a new alien creature -- Star Wars: Force for Change was a real success, bringing Star Wars fans together for a great cause (and the chance to win a set visit to Star Wars: The Force Awakens and the opportunity to be filmed in a scene). A joint-charitable initiative by Disney and Lucasfilm in collaboration with Bad Robot, Star Wars: Force for Change is dedicated to finding creative solutions to some of the world's biggest problems, raising funds and awareness for UNICEF's Innovation Labs and its innovative projects benefiting children in need. Ultimately, it's a project that captures the true spirit and themes of Star Wars, from the joy of innovation to selflessness, and applies them in a real-world way.
Honorable Mention:

The New StarWars.com
Look, if Luke and Han can get medals for blowing up the Death Star, we can include ourselves on this list. An all-new StarWars.com launched on Tuesday, July 1, featuring a streamlined navigation, expanded encyclopedia entries, and lots more. Original video content produced by the StarWars.com team, including Rebels Recon, The Clone Wars: Legacy mini-documentary, and a special look at the making of Hasbro's Speeder Bike, have become regular complements to our daily news, blogs, and interviews. But it's the StarWars.com 10 feature, in which we debate and rank different topics, that has been the most rewarding for all the discussion it brings forth with our readers. (And we maintain that we are 100 percent right with our pick for #1 in the above video.)
Honorable Mention:

Star Wars: The Clone Wars - The Lost Missions Arrives on Netflix
Two words: Evil. Yoda. The final episodes of the beloved Star Wars: The Clone Wars animated series, dubbed the Lost Missions, were finally released Friday, March 7, on Netflix, and they stand as some of the show's strongest. From tying up some important loose ends (Sifo-Dyas! Order 66!) to delving into the mysteries of the Force (Immortality! Darth Bane!), these installments truly strengthened and deepened the saga. While The Clone Wars is now over, there is a carbonite lining: Star Wars: Dark Disciple, a novel based on unproduced episodes of the series, is coming soon. Force immortality achieved.
Honorable Mention:

Star Wars Battlefront at E3
It's as if millions of voices suddenly cried out...in joy! At E3 on Monday, June 9, EA and DICE showed a short featurette on the highly-anticipated Star Wars Battlefront. It. Was. Awesome. While only a little bit of gameplay footage is featured in the video, it's clear that real respect and care is going into this game. The models look incredible, and the end -- which finds a Rebel zooming into the Endor forest on a speeder bike -- is a reminder of why we love video games and Star Wars. Impressive. Most impressive.
Honorable Mention:

See? This was an amazing year for
Star Wars 
-- and there's even more we didn't include! Let us know what your favorite
Star Wars
moments were this past year in the comments below; we'd love to hear them. (And if you thought 2014 was great, just wait until 2015 is fully armed and operational...)