Announcing a massive new collection coming January 2015!
"The circle is now complete."
StarWars.com is excited to reveal Star Wars: The Original Marvel Years: a massive new omnibus set for release in January 2015 -- the opening volume in a series reprinting the first Star Wars comics ever published. Read the official release below and get a sneak peek at the cover art of this historic collection!
---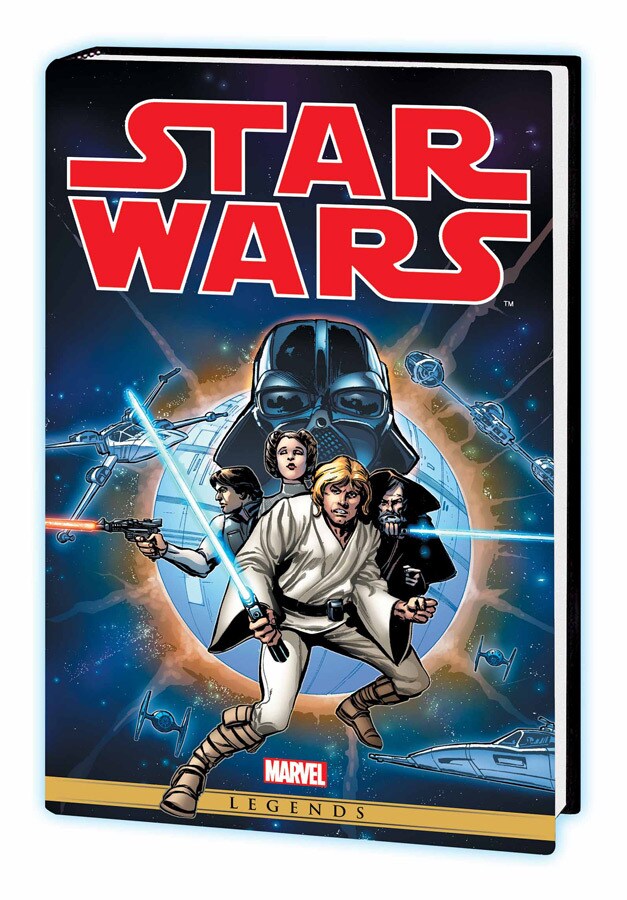 In 1977 a phenomenon dawned. Marvel Comics published the very first Star Wars comic-book series. Now, the House of Ideas is re-presenting those original adventures in its over-sized Omnibus format -- Star Wars: The Original Marvel Years collecting Star Wars (1977) #1-44 and Annual #1.
It's the return of the Jedi to Marvel in an opening volume that begins with Star Wars: Episode IV A New Hope and ends with Star Wars: Episode V The Empire Strikes Back. In between, the Rebels face a wealth of new perils -- from space pirate Crimson Jack to the bounty hunter Beilert Valance, as well as a surprisingly svelte Jabba the Hut (one "t"). Luke goes back to Tatooine, Leia battles alone, Han and Chewie play the deadly Big Game, and Darth Vader hunts for answers! Revisit all your old favorites and discover some new ones!
There's no doubt, the Force is strong with this collection!
"With Star Wars poised to return to its comic book home, what better time to revisit the first adventures of Luke, Leia, Han, Chewbacca, C-3PO, R2-D2, and, of course, Darth Vader?" says Marvel editor in chief, Axel Alonso. "I am extremely proud to present these original Star Wars stories, told as only Marvel can, in the first in a massive and glorious Omnibus series."
Star Wars: The Original Marvel Years comes out of lightspeed in January 2015 and is written by Roy Thomas, Howard Chaykin, Archie Goodwin, Jo Duffy, and Chris Claremont, with pencils by Howard Chaykin, Carmine Infantino, Walter Simonson, Herb Trimpe, Michael Golden, Al Williamson, and Mike Vosburg. Each copy of Star Wars: The Original Marvel Years will also be wrapped in a glorious covers by Howard Chaykin and Greg Hilderbrandt.
STAR WARS OMNIBUS VOL. 1 HC CHAYKIN COVER
WRITTEN BY ROY THOMAS, HOWARD CHAYKIN, ARCHIE GOODWIN, JO DUFFY & CHRIS CLAREMONT
PENCILED BY HOWARD CHAYKIN, CARMINE INFANTINO, WALTER SIMONSON, HERB TRIMPE,
MICHAEL GOLDEN, AL WILLIAMSON & MIKE VOSBURG
COVERS BY HOWARD CHAYKIN & GREG HILDEBRANDT
880 PGS./Rated T …$125.00
ISBN: 978-0-7851-9106-3
STAR WARS OMNIBUS VOL. 1 HC HILDEBRANDT COVER (DM ONLY)
880 PGS./Rated T …$125
ISBN: 978-0-7851-9318-0
StarWars.com. All Star Wars, all the time.