LEGO Star Wars designer Hans Burkhard Schlömer takes StarWars.com inside the massive building set.
Thanks to the LEGO Group, the Separatists don't stand a chance.
The Venator-Class Republic Attack Cruiser — one of the biggest ships of the Clone Wars era — is getting the LEGO Star Wars Ultimate Collector Series treatment, bringing the vessel to life as a large-scale model. Coming October 1 exclusively at LEGO.com and at LEGO Stores, it's a massive release in the UCS tradition, consisting of 5,374 pieces and measuring over 12.5 in. (32 cm) high, 43 in. (109 cm) long, and 21 in. (54 cm) wide. The building set also comes packed with Captain Rex and Admiral Yularen LEGO minifigures — essential leaders in any galactic LEGO brick battle. So make some room in your fleet, or on your display shelf.

First introduced in the opening sequence of Star Wars: Revenge of the Sith in the Battle of Coruscant, the Republic Attack Cruiser would go on to be featured throughout the Star Wars: The Clone Wars animated series and other tales across mediums. A proto-Star Destroyer, it also represented the Republic's transformation into the Galactic Empire.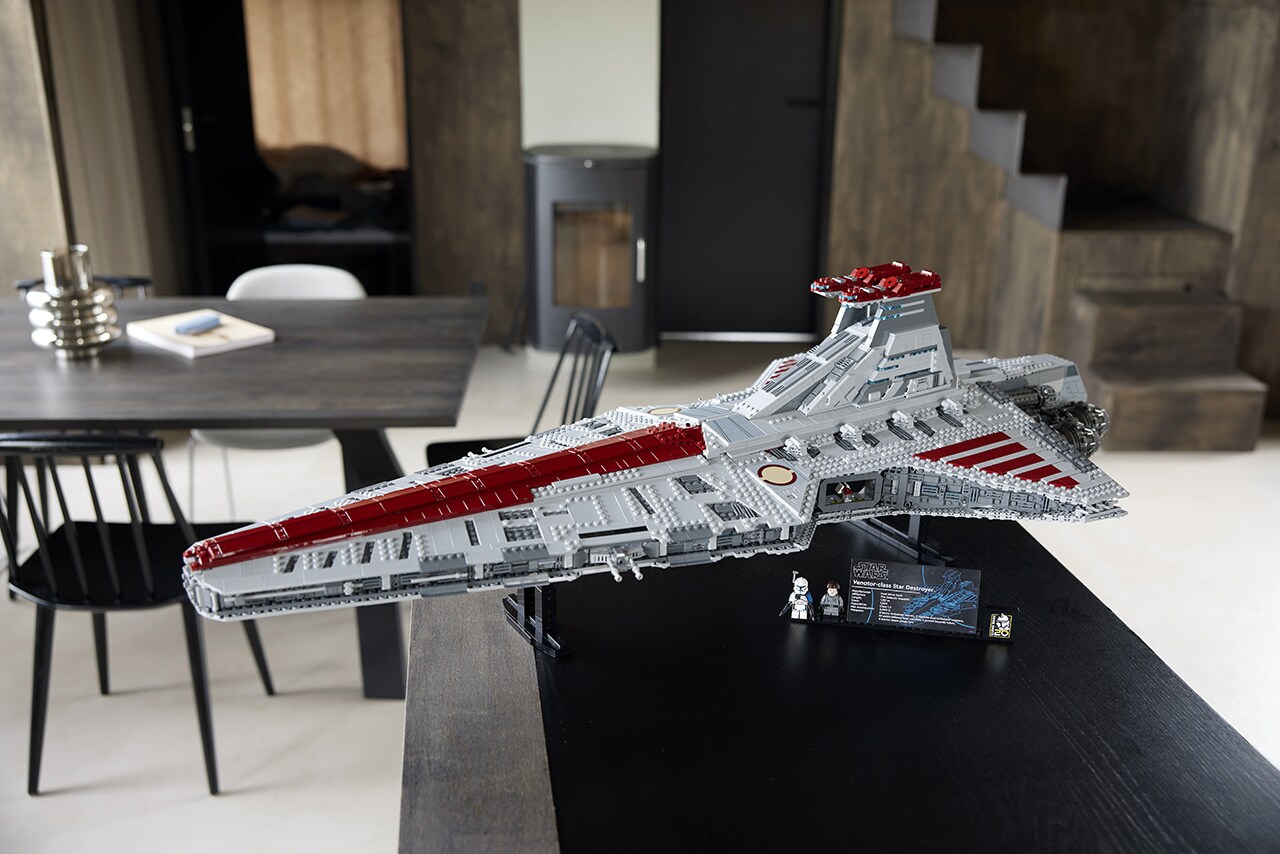 The LEGO Star Wars UCS Republic Attack Cruiser (no. 75367) arrives in celebration of 20 years of Clone Wars stories, with an eye toward detail and complexity. StarWars.com is excited to reveal it here, and caught up with the building set's designer, Hans Burkhard Schlömer, to discuss where he started with the Republic Attack Cruiser's design, a personal Easter egg included in the build, and why the Clone Wars still fascinate after all this time.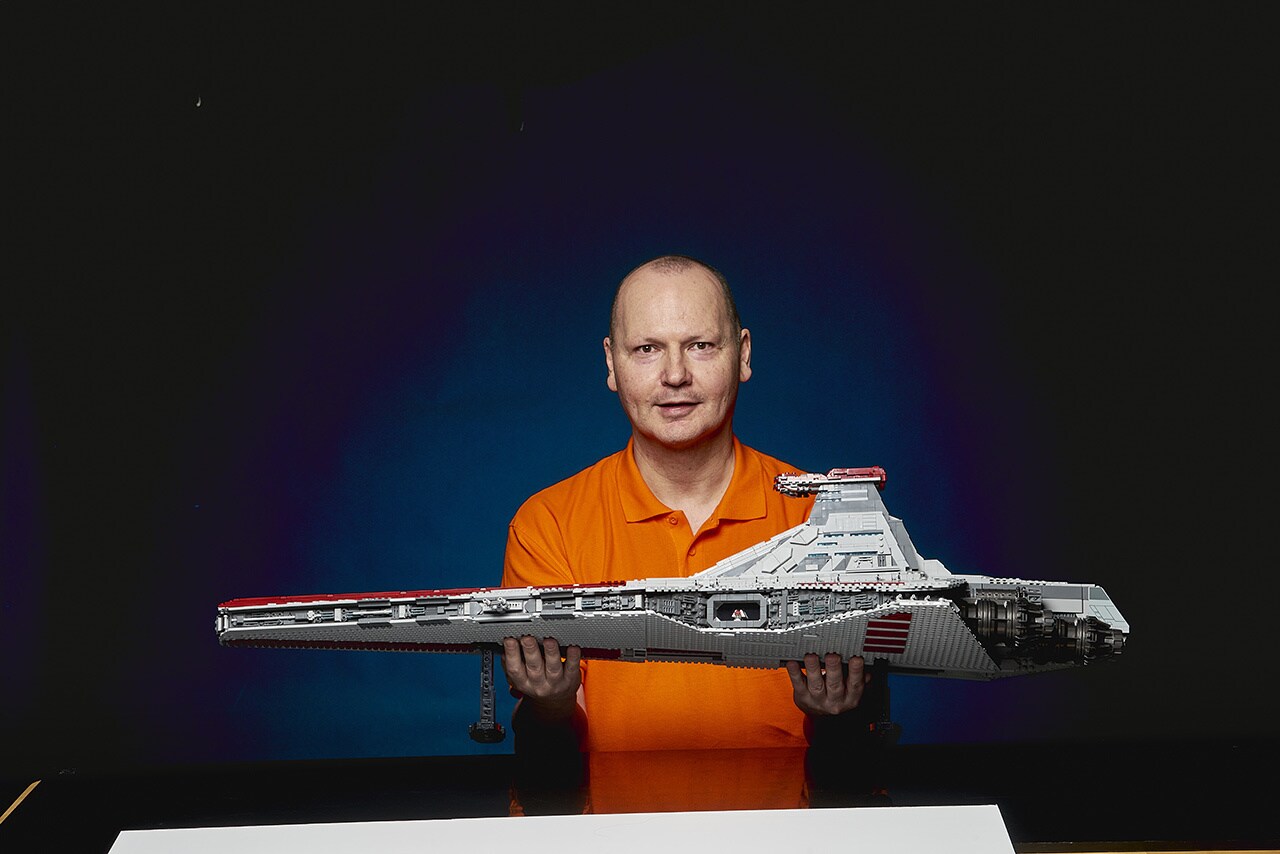 StarWars.com: Like all UCS releases, the scale of the Republic Attack Cruiser is enormous. As a designer, what opportunities does that increase in size allow you?

Hans Burkhard Schlömer: Most details of this new set would probably fit on a smaller model as well, but when it comes to capital spaceships, I believe that size does matter!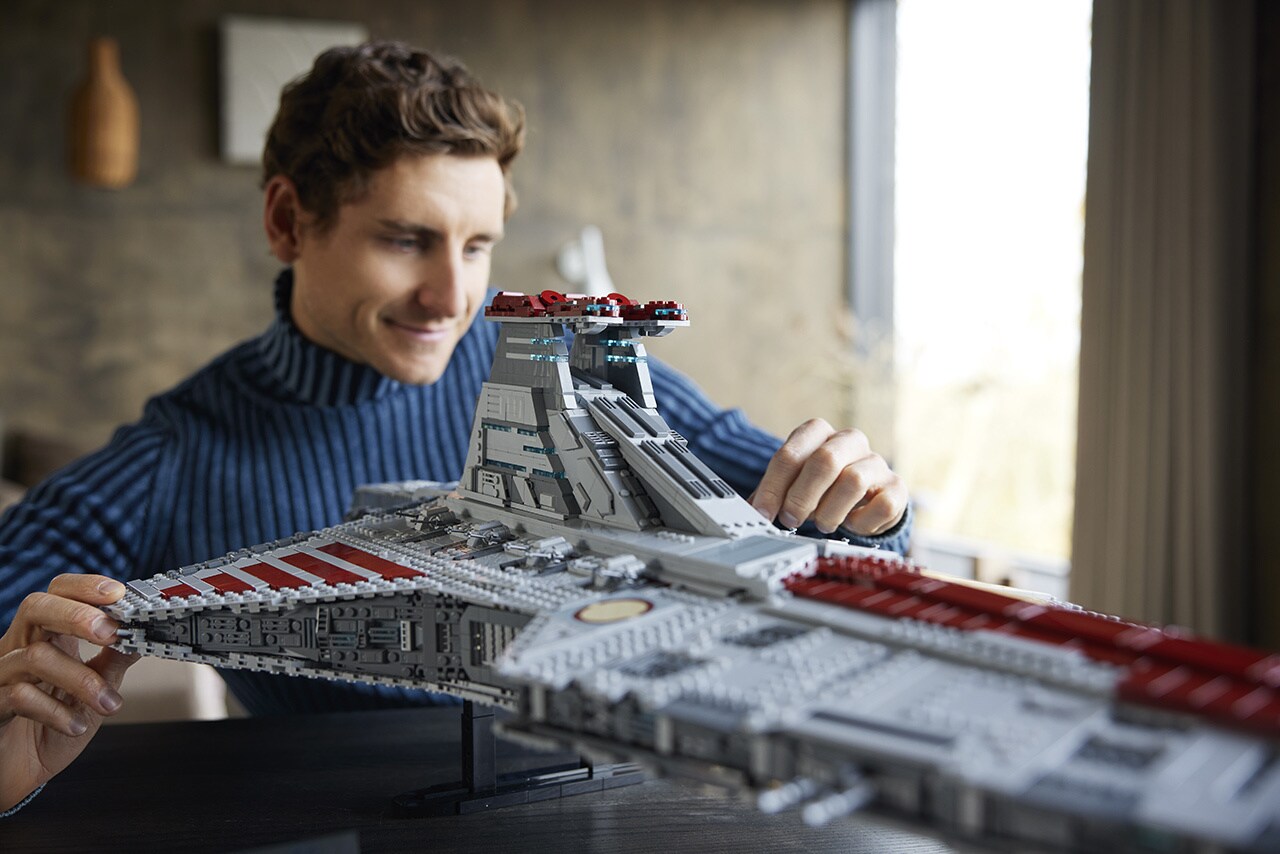 Only a truly massive model will project the might and presence of a Star Destroyer. It also allows more intricate and detailed turbo lasers, turrets, and hull details. However, there are also challenges. The tail end of the LEGO Republic Attack Cruiser is an unsupported overhang, clocking in at about 1 kilogram! So it is not just about more details — building at this scale means dealing with model weight challenges, too.

StarWars.com: What goes into the LEGO design process? How do you start and what are the main milestones in the process?
Hans Burkhard Schlömer: Every LEGO set starts with a design brief — in this case, the directions were simple: make it as long as the Imperial Star Destroyer from set 75252, and base it on the Star Wars: The Clone Wars show.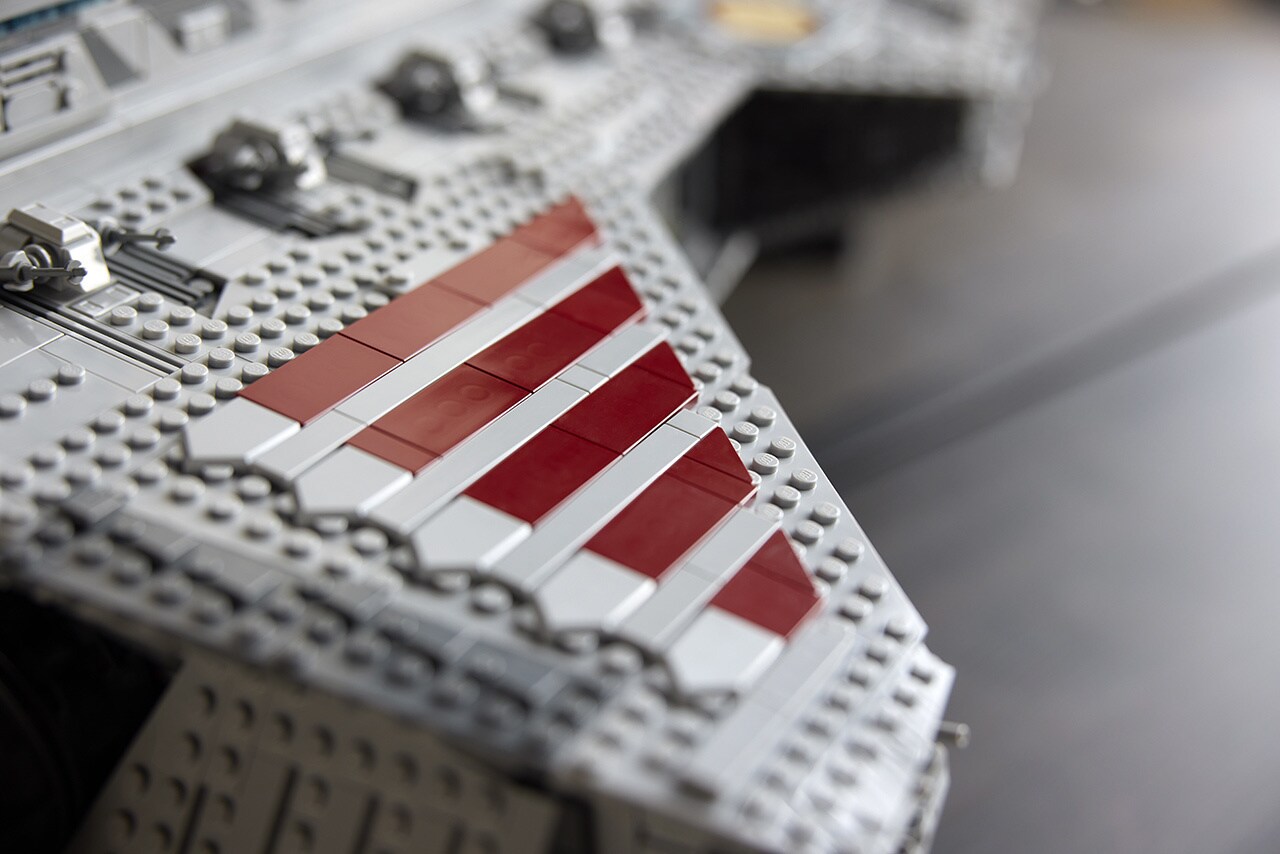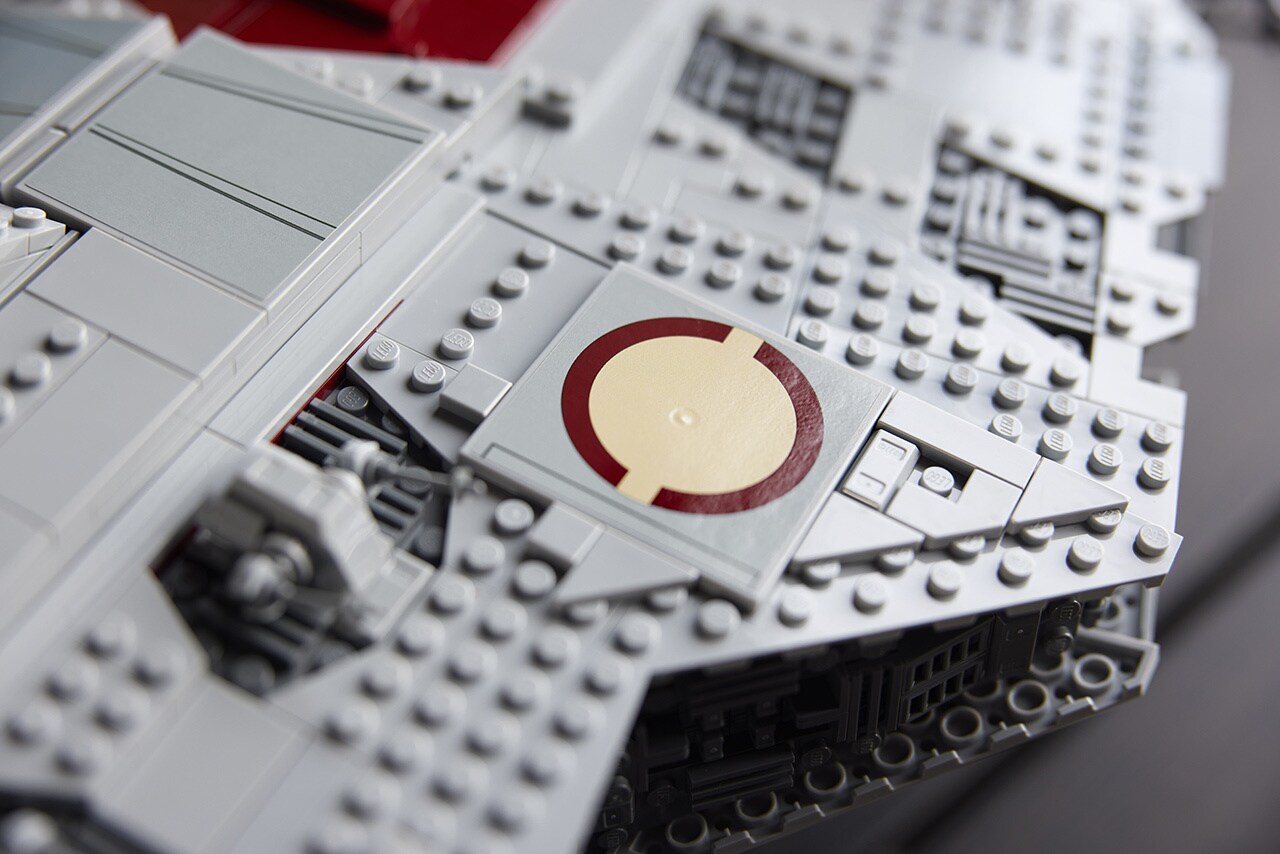 My first step was to create the top hull panels, and then figure out how to connect them to an internal frame. This was made more challenging by the fact that the panel had to be split into two sections with different orientations in order to allow me to add all the details, and still get a smooth outer edge line.

StarWars.com: The LEGO Group released a smaller Republic Attack Cruiser in 2009. Did you look at that version in preparation for working on the UCS edition? If so, how did it inform the new design?
Hans Burkhard Schlömer: Set 8039 is a great study of what it sometimes takes to turn something into a play set. Often there are compromises needed in order to create internal play space or add functions. I'm (lovingly) thinking of that set as "the shoe," because the designer had to take some liberties with the Republic Attack Cruiser's shape, making it bulkier to create headspace for minifigures. However, a LEGO UCS set is all about accuracy and how it displays, so I didn't have to worry about functions like turning laser cannons or linking them together. And, although I'm maybe biased as its designer, I believe the LEGO UCS Republic Attack Cruiser displays extremely well.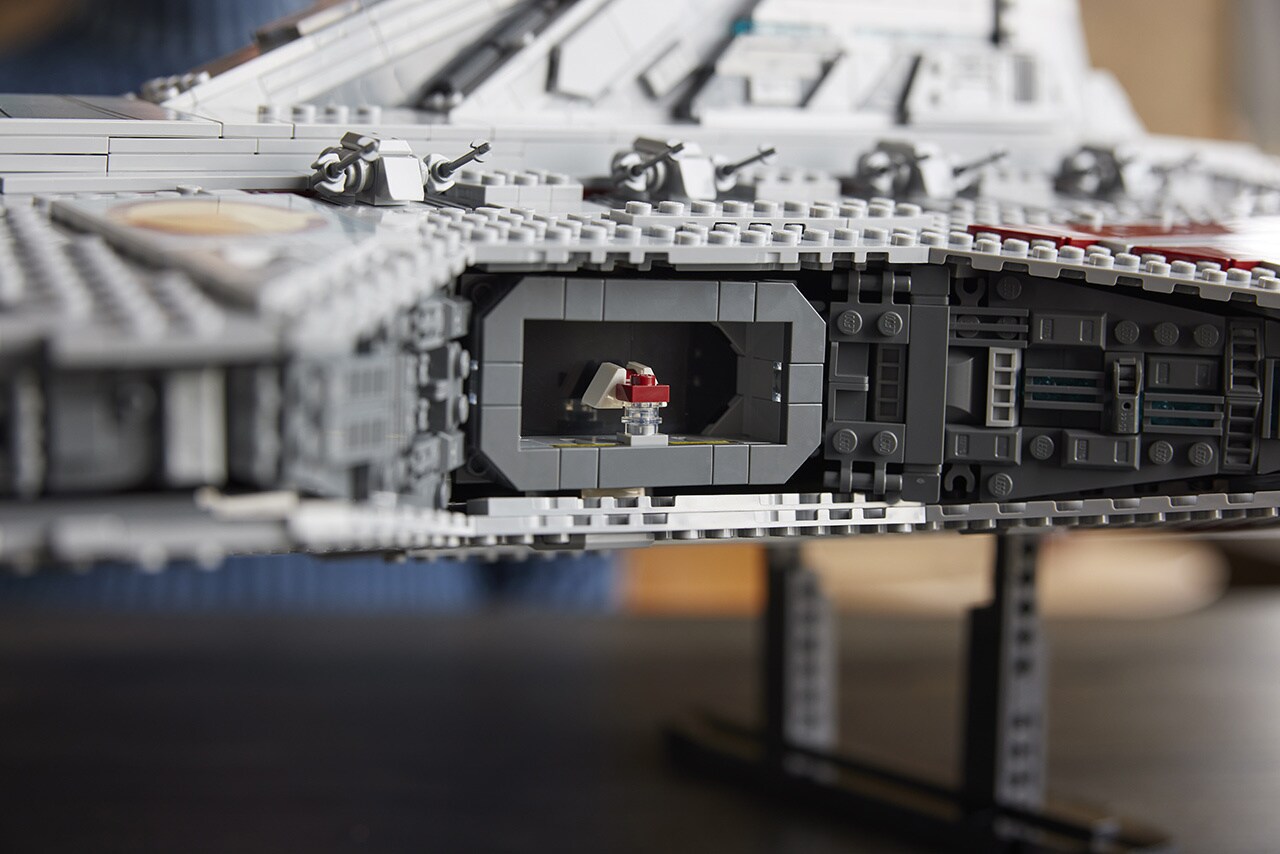 StarWars.com: What features or details are you most excited about on the UCS edition?

Hans Burkhard Schlömer: Adding a sub-micro scale Republic Gunship flying out of a side hangar bay is clearly a nod to my previous UCS set, 75309. Consider this a not-too-well-hidden Easter egg!
We also have dark metal-colored engines. Since I used both shades of LEGO gray on the hulls already, I needed a different color for the still darker engines — but not black! Using mostly wheel pieces to create the engines was an early design decision to reduce weight and complexity. Another focus was the big dark red stripe at the front of the Republic Attack Cruiser. I felt it important not to have any steps or breaks in the lines, just because it would be easier to design that way. There is only one step on the outline now, and that is true to reference for this particular ship.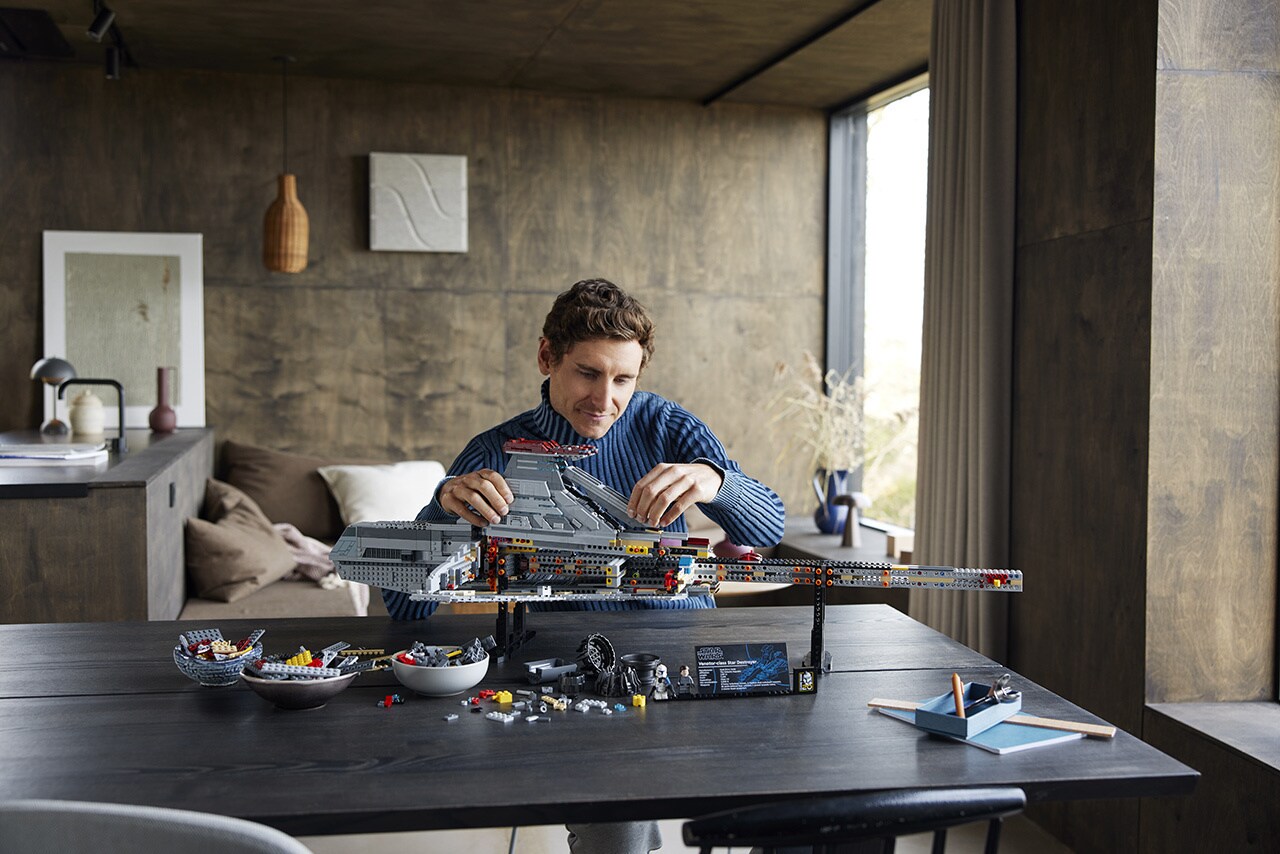 StarWars.com: This release celebrates 20 years of Clone Wars stories, and LEGO Star Wars has been part of that legacy with releases throughout that time period. Why do you think Clone Wars iconography and LEGO continue to work well together and resonate?

Hans Burkhard Schlömer: The Clone Wars brought back what made this era of Star Wars fascinating. And more of it! Clone troopers, Jedi, spaceships, old and new villains and heroes. This era is clearly extremely popular with LEGO Star Wars fans, so I hope to see more of this in the future.
For more on LEGO
Star Wars
, check out StarWars.com's list of 10 great building sets for adult fans.