Three upcoming releases for adult fans celebrate some of the saga's most memorable sequences.
Over the years, the LEGO Group has released hundreds of LEGO Star Wars sets. But there was always one that the toy maker couldn't quite crack.
"For years we've been scratching our heads about how to capture the Death Star trash compactor, an extremely iconic scene, in LEGO bricks," Michael Lee Stockwell, LEGO Star Wars design manager, tells StarWars.com. "But what good is a trash compactor that doesn't 'compact'? We needed the function!"
Well, Stockwell's trash compactor dreams have finally come true. He and the LEGO Star Wars team finally figured out how to bring the memorable sequence to brick form, turning toward an unexpected source for a creative spark. 
"Replicating a static mess is one thing, but building a function that works repeatedly without jamming, required coming up with a solution that would somehow control the mess. Inspiration for the final solution was taken from live theater -- imagine recreating the movement of ocean waves with the use of stage props."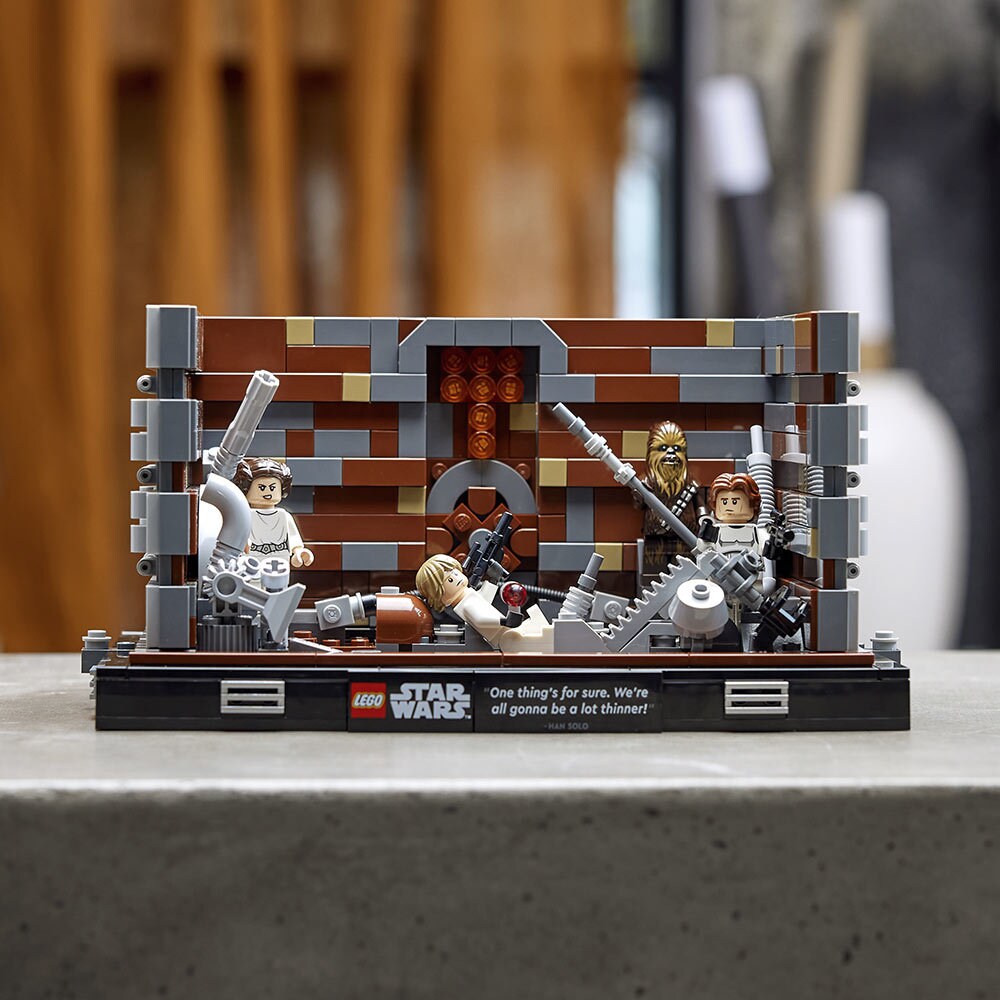 Fans will soon get to try it out themselves (and make their minifigs "a whole lot thinner," as Han Solo famously said). StarWars.com is pleased to reveal the new LEGO Star Wars Diorama series, with a first wave of releases including, finally, a fully-operational trash compactor, as well as sets celebrating the Death Star trench run and Luke's Jedi training with Yoda on Dagobah. Available for pre-order today and arriving April 26, the sets have been designed for Star Wars fans, recreating specific moments and meant for display.
"The Diorama series is really something special, and something we are very excited about," says Jens Kronvold Frederiksen, LEGO Star Wars design director. "The models are built on a frame. On the frame there is a small, printed plaque with a famous phrase from that particular movie scene. The frame is always the same depth -- 20 LEGO modules, which is a perfect size, as it makes it fit on a regular bookshelf. So they're perfect for display." 
As a new LEGO Star Wars series, Diorama sets offer the fans and builders working behind the bricks a chance to experiment, upping certain details yet scaling down at the same time. The fighters in the Death Star trench are adorably simplified, while the trench itself does a brilliant job replicating the kit-bashed look of Industrial Light & Magic's original models. And the Dagobah set brings together Luke's various training exercises, a sunken X-wing, and Yoda's hut in one compact design.
"It's great getting the opportunity to pack in a lot of detail into a build in this form of presentation," says Jason Zapantis, LEGO Star Wars designer. "It's fun to present a highly-detailed scene akin to an iconic snapshot from the film with more intricate construction techniques."
"It's such a different experience from building minifig scale play models," adds Jme Wheeler, LEGO Star Wars designer. "I enjoy being able to look at the element library in a completely different way. Hopefully fans will enjoy the greebling, and maybe even get inspired for some of their own builds."
The LEGO Star Wars Diorama series is just the latest in a growing range of creative releases for adults. And it sounds like there'll be more on the way.
"As these models are intended for adults, we can use relatively complicated building techniques, and by that take the detail level a bit higher than on our regular play-theme models," says Frederiksen, who has worked on LEGO Star Wars since the very first sets in 1999. "These are our first dioramas, and we have already created a lot of prototypes for more potential dioramas to come in the future."
The LEGO Star Wars Death Star Trash Compactor, the LEGO Star Wars Death Star Trench Run Diorama, and the LEGO Star Wars Dagobah Jedi Training Diorama are available for pre-order now and arrive April 26. Note: The LEGO Star Wars Death Star Trash Compactor Diorama building set will be exclusively sold at Walmart stores, in addition to LEGO.com and LEGO stores.