The heavy-hitting prequel-era craft will join the vaunted LEGO Ultimate Collector Series with a massive, stunning new set. Designers Jens Kronvold Frederiksen and Hans Burkhard Schlömer of the LEGO Group tell StarWars.com how they reinvented a classic.
Battle droids surround vastly outnumbered Jedi in the Geonosis arena. The secret Sith Lord Count Dooku watches from above, demanding surrender. There is little hope for the guardians of peace and justice.
Until a swarm of Republic gunships show up, that is, filled with clone troopers, laying waste to countless battle droids, and even giving Yoda a ride. 
The Republic gunship became an instant fan favorite upon its surprise debut during the climax of Star Wars: Attack of the Clones and subsequent appearances in Star Wars: The Clone Wars, and now, fans have brought it back. The iconic clone-piloted craft has won a recent fan poll on the LEGO Ideas site -- besting two ships by winning 58% of the vote and pulling in over 30,000 votes -- and will be made into a new Ultimate Collector Series (UCS) set for the first time ever.
Revealed exclusively on StarWars.com, the LEGO Star Wars Republic Gunship clocks in at a massive 3,292 pieces, measures 13 inches high, 29 inches wide, and 27 inches long, and comes complete with features and details faithful to its onscreen inspiration. There are the classic bubble cockpits and gunner stations, swing-out spherical gun turrets, and plenty of space for troops and Jedi. The free-swinging doors can open and close, and utilize some of the largest moving parts ever created for a LEGO Star Wars build; it also includes Mace Windu and Clone Trooper Commander minifigures, ready to take down some clankers. Whether you're a longtime LEGO Star Wars AFOL (Adult Fan of LEGO) or looking to take your first steps into this bricktastic world, the LEGO Star Wars Republic Gunship promises to be a worthy addition to any fleet when it arrives August 1. StarWars.com caught up with Jens Kronvold Frederiksen, creative lead of LEGO Star Wars at the LEGO Group, and Hans Burkhard Schlömer, designer of the LEGO Star Wars Republic Gunship, to talk about the vehicle's most interesting feature, figuring out how to adapt the ship's front cannons to LEGO form, and how fans are helping to guide LEGO Star Wars. 
StarWars.com: The LEGO Star Wars Republic Gunship was made as a result of a fan vote on LEGO Ideas. Does the fact that you know this is something fans especially want add to the sense of responsibility you have in bringing it to life?
Jens Kronvold Frederiksen: When designing the LEGO Star Wars models, we are always doing our absolute best to deliver the best possible building and play experiences, or the most awesome looking display model. It is the same for anything we do, from the smallest Microfighter to the biggest UCS model. However, the fact that this model was the fans' choice, of course put a bit of extra pressure on us. We know that a lot of people have been looking forward to seeing this model, so we are, of course, extra excited to see if the live up to the expectations!
StarWars.com: It's such a unique ship in Star Wars, with multiple bubble-like gunner seats, a troop hold, wings, cannons, and more. As a designer, what do you most appreciate about it?
Hans Burkhard Schlömer: Many ships from Star Wars have a compact form. While the gunship also looks very sleek and detailed, it has a particularly interesting feature: most of it is wide open! The passenger/troop compartment is huge -- it a big open space right where the support structure for the engines and the wing connections should be. Most of the weight of the model is hanging over empty air! Quite a challenge for a designer to turn this original design into a sturdy and buildable LEGO set.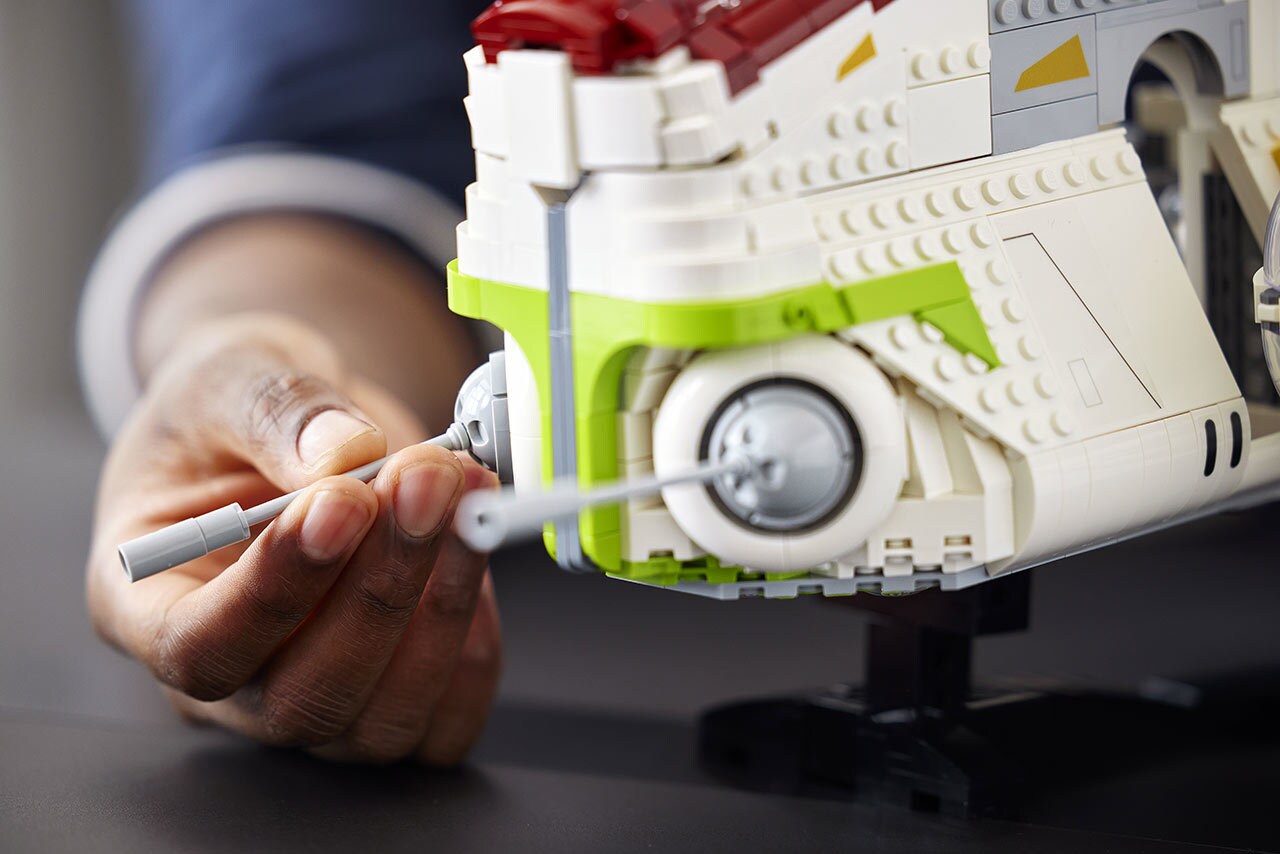 StarWars.com: How challenging was it to adapt to LEGO form?
Hans Burkhard Schlömer: After designing an appropriate support structure, I could turn my attention towards some of the details. Sometimes, even small details can become big challenges! It turned out that the front guns are mounted on ball joints. But we really don't have any such elements nearly big enough for the task. Luckily, we had recently created a new curved type of element for the engines of the X-Wing Starfighter, which allowed me to build rings around the ball joints, making them look bigger. Overall, the shaping of the ship came together quite nicely.  

StarWars.com: We've had Republic Gunships before from the LEGO Group, but never in the UCS scale. What are both the benefits and difficulties in designing it at a larger scale?
Jens Kronvold Frederiksen: First of all, with the UCS models we can create extremely large models. The size and scale mean that we can make complicated shapes, not possible in a smaller scale. And then, of course, we can really dial up on the level of details! That is the fun part, and what make these models looks so authentic.
The biggest challenge is stability. Even it is a large model primarily meant for display, it should be possible to handle and lift. That most often means a relatively complex construction, with a good amount of hidden LEGO Technic elements to support the structure.

StarWars.com: LEGO Star Wars has a rich 20-plus year legacy, and I think releases like this show that there's still so much potential to create really amazing builds. On the creative side, how does designing and releasing something as impressive as the Republic Gunship, and knowing that fans played a part, inspire the team moving forward? 
Jens Kronvold Frederiksen: This whole process with the fans' choice have been super exciting. We were really amazed about the number of people voting! It is probably not the last time we do something like that.
In fact, the interaction with fans means a lot. We are following them, and therefore we have a pretty good idea about which models are high on the wish list, and therefore, models we consider for the future.
And even if we have been in it for more than 20 years, there are still so many things we have not yet made. I am sure we have ideas for models for at least 20 more years!

The LEGO Star Wars Republic Gunship arrives August 1.