The makers of a droidtastic new collector's set speak to StarWars.com.
If you've ever wanted to build your own R2-D2, the LEGO Group is ready to make that dream come true. A new collector's set, coming May 1, brings our favorite overweight glob of grease to life in glorious brick form, all in celebration of Lucasfilm's 50th anniversary.
The kind folks at the LEGO Group sent StarWars.com a finished build to preview, and it's truly a beautiful -- and fun! -- model. First, it's hefty, consisting of 2,314 pieces, giving Artoo a solid feel when manipulating. The size is ideal for display at 12.5 inches high, 7.5 inches wide, and 6 inches deep; clearly bigger than a child's toy or set, but not overwhelming for an office or bookshelf. And then there are all of its features. Artoo's dome rotates, the body has several hidden gadgets and extending arms, and, maybe best of all, it can even store Luke's lightsaber hilt, calling back to one of the saga's most memorable moments in Star Wars: Return of the Jedi. Overall, it's a joy to behold and play with. StarWars.com caught up with some of the talents behind the new LEGO Star Wars R2-D2 construction set and came away with five behind-the-bricks secrets.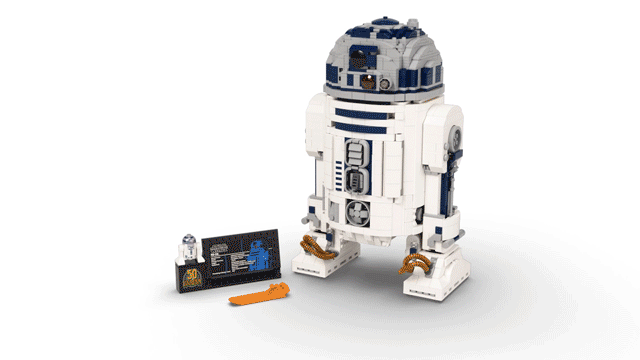 1. The design team wanted to build a better Artoo.
The LEGO Group released an R2-D2 model in 2012, but designers were determined to take advantage of the new tools at their disposal to upgrade the iconic astromech. "We deliberately wanted this model to be different," says Jens Kronvold Frederiksen, creative lead of LEGO Star Wars. "We have a lot of new building elements that allowed us to make a more accurate-looking model than the 2012 version. We also talked about what new features and functions we could create for this release -- like the lightsaber hilt and compartment for it." We're sure Artoo aficionados will be pleased with the results.
2. The biggest design hurdle might surprise you.
R2-D2 has a rotating dome, retractable middle leg, and extendable tools and gadgets. But nothing proved more challenging than the little guy's detail-heavy body when adapting Artoo to LEGO brick form. "The front side of R2-D2 is a design puzzle," says Kurt Kristiansen, LEGO Star Wars design master. "We spent a lot of time making it look as close as possible to the original R2-D2. There are many small but important elements that contribute to the overall look."
3. Artoo needed some extra storage.
Finding space for all of Artoo's compartments and secret gadgetry wasn't easy. "The main challenge was to make sure that we included the most recognizable tools and compartments in the body of the model, but that was really hard because the middle leg function required a lot of space," Kristiansen says. "The same went for the head, which still had to turn around the middle leg frame. So, getting room for the periscope and the small compartment for the lightsaber was difficult."
4. A household item inspired a design improvement.
Kristiansen wasn't pleased with the middle leg's functionality in the 2012 version of Artoo. He took this opportunity to address its shortcomings, and found a solution in a surprising source. "The function in the new version is much simpler to operate," he says. "We looked for inspiration in the ballpoint pen clicker mechanism; the third leg should be easy to manipulate, so we added a switchable locking mechanism. The switch is connected to both side legs, making it easy to handle the model. The basic principle of the mechanism was settled quite early in the development process, but there was a lot of tweaking and testing before ending up with the solution."
5. Why Artoo?
With all of Star Wars' beloved characters to choose from to celebrate Lucasfilm's 50th anniversary, the LEGO Group and Lucasfilm could've gone in any number of directions. So why did they pick this plucky astromech? Turns out, it was something of a no-brainer. "We were looking for a character that not only made a great building experience, but could best represent all aspects of Lucasfilm's incredible history of storytelling -- and really, R2-D2 was the obvious choice," says Chris Gollaher, director of product design at Lucasfilm. "Not only has he appeared in all episodes of the Star Wars saga, but he's been a key character in animation from the early Droids cartoons to The Clone Wars and [Star Wars] Rebels, and most recently has made one of the most amazing cameos ever in Season 2 of The Mandalorian. Add in numerous games, books, comics, and even a key role in Star Tours, and I don't think any character personifies 50 years of great storytelling quite like Artoo."
The LEGO Star Wars R2-D2 construction set arrives May 1.