Lucasfilm Publishing's Michael Siglain, writers Alyssa Wong and Lydia Kang, and concept artist Petur Antonsson introduce us to Jedi who will join the High Republic adventure.
StarWars.com is pulling back the curtain on Star Wars: The High Republic, a publishing epic set centuries before the events of Star Wars: The Phantom Menace, with insights from creators, new details, and never-before-seen concept art. In this installment, StarWars.com reveals new heroes and their designs coming in Phase III of the publishing initiative.
Star Wars: The High Republic has given creators a clean slate. In dialing back the clock to the prime of the Jedi Order, The High Republic tells stories of a very different galaxy than the one we know. We're meeting characters for the first time, going places we've never been, seeing creatures we never knew existed. The entire slate has had a feeling of discovery, and as Phase III of the publishing program kicks off this month, that creative spirit will remain.
"One of the most exciting aspects of this initiative is the newness of it all," Lucasfilm Publishing creative director Michael Siglain tells StarWars.com. "We've been lucky to add new heroes, villains, planets, ships, and more to a galaxy far, far away, and our latest High Republic books and comics continue to do just that."
Today, StarWars.com takes a look at some of the new guardians of peace and justice joining the High Republic saga in Phase III, with insights from writers Alyssa Wong, Lydia Kang, and Michael Siglain, along with concept art by Petur Antonsson, Ario Anindito, and Nicola Righi.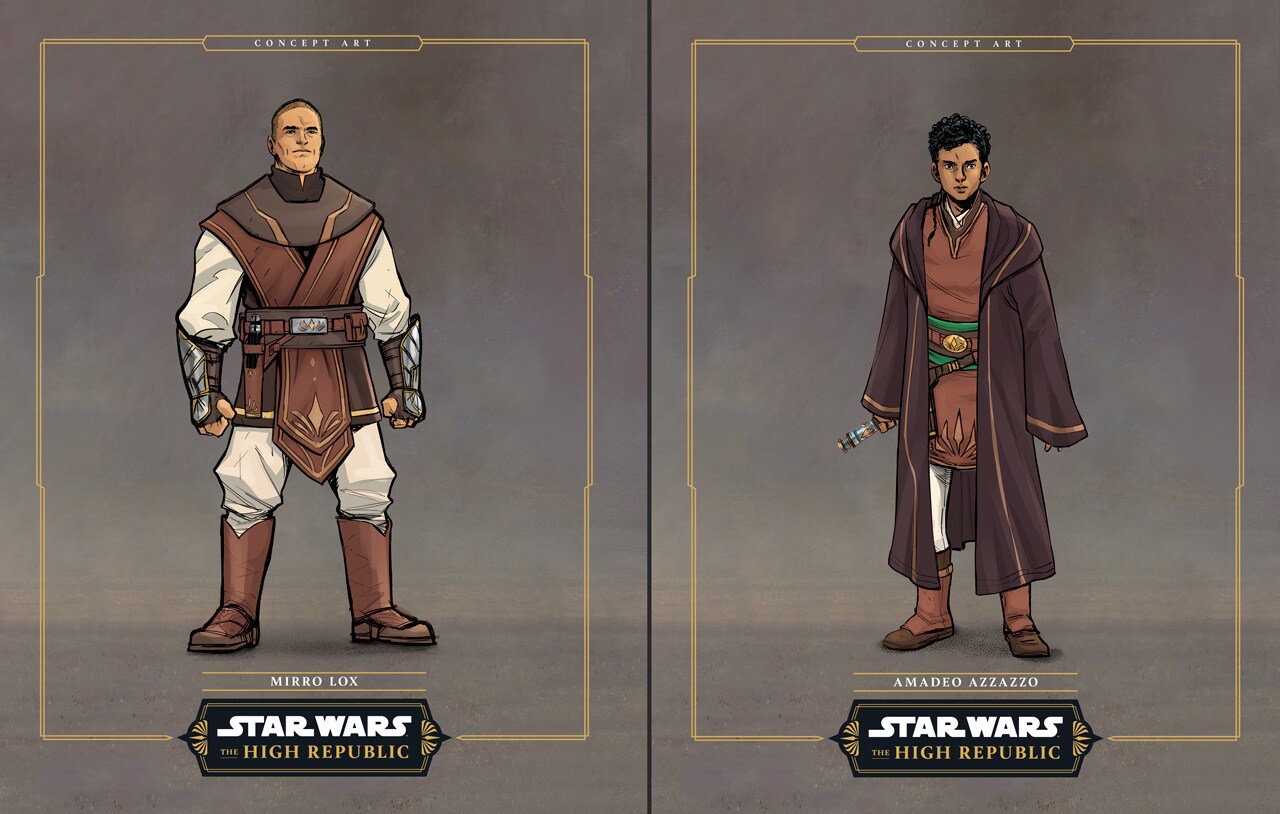 Lydia Kang introduced two new Jedi in "The Call of Coruscant," her short story included in the anthology The High Republic: Tales of Light and Life: Jedi Master Mirro Lox and his Padawan, Amadeo Azzazzo. In the story, the duo is called back to Coruscant following the destruction of Starlight Beacon, and pop up in George Mann's Phase III kickoff novel The Eye of Darkness. "Amadeo Azzazzo, as the Padawan to Jedi Master Mirro Lox, has undergone his own trial during his time on Coruscant at the time of the Jedi callback. He's young and eager to help, but he still has a lot to learn. And when people have a lot to learn, they can sometimes make mistakes," Kang says. "As for Jedi Master Lox, he's lost friends and is ready to fight, knowing that battles can bring casualties of the worst kind. And yet, he's willing to make those sacrifices."
According to Siglain, the characters fill a story need while also moving it forward. "Because we lost so many Jedi to the Nihil, Nameless, and Drengir, we wanted to introduce some new, noble and true Jedi Knights who are not conflicted or tempted by the dark side or dead," he says. "Enter Jedi Master Mirro Lox and Padawan Amadeo Azzazzo."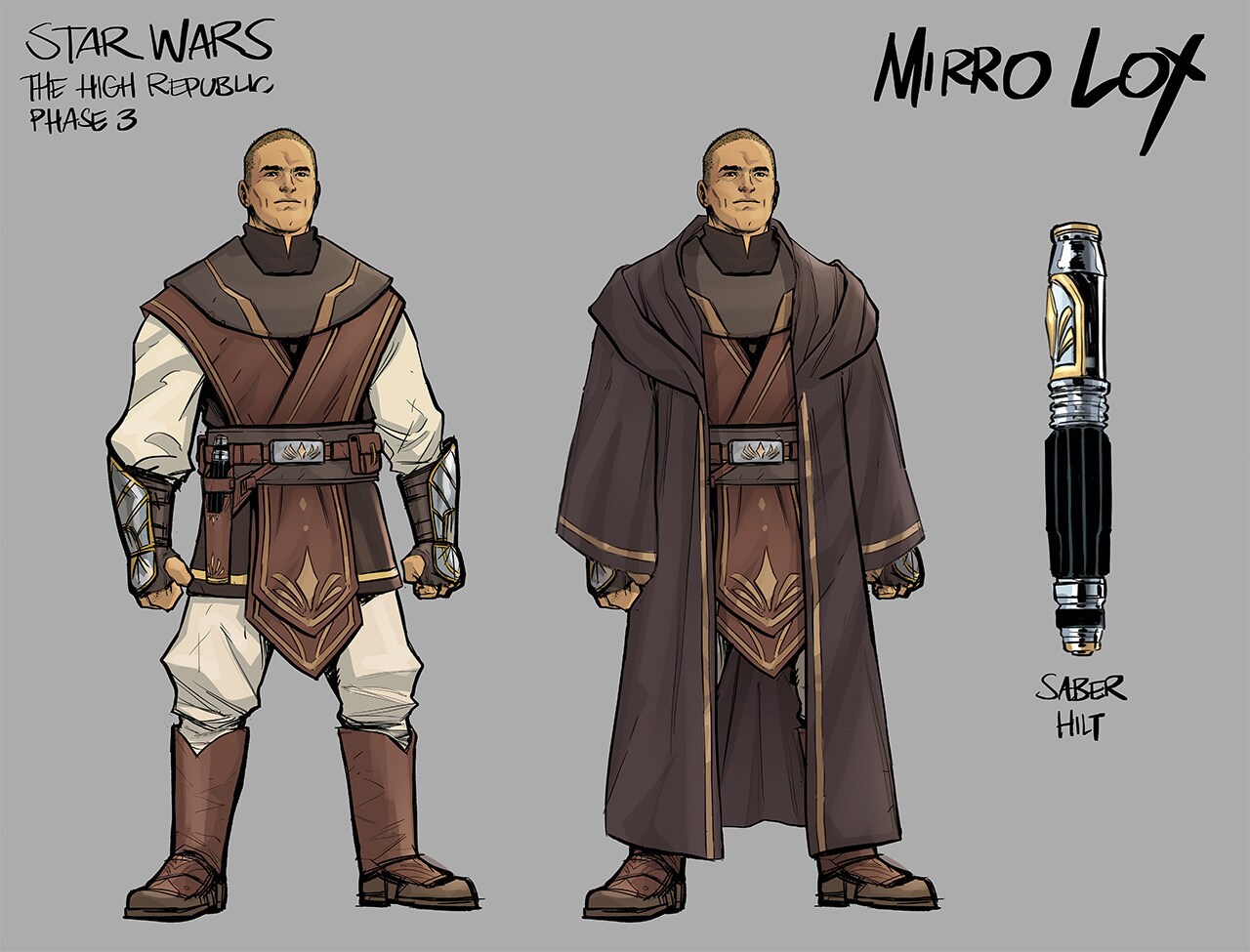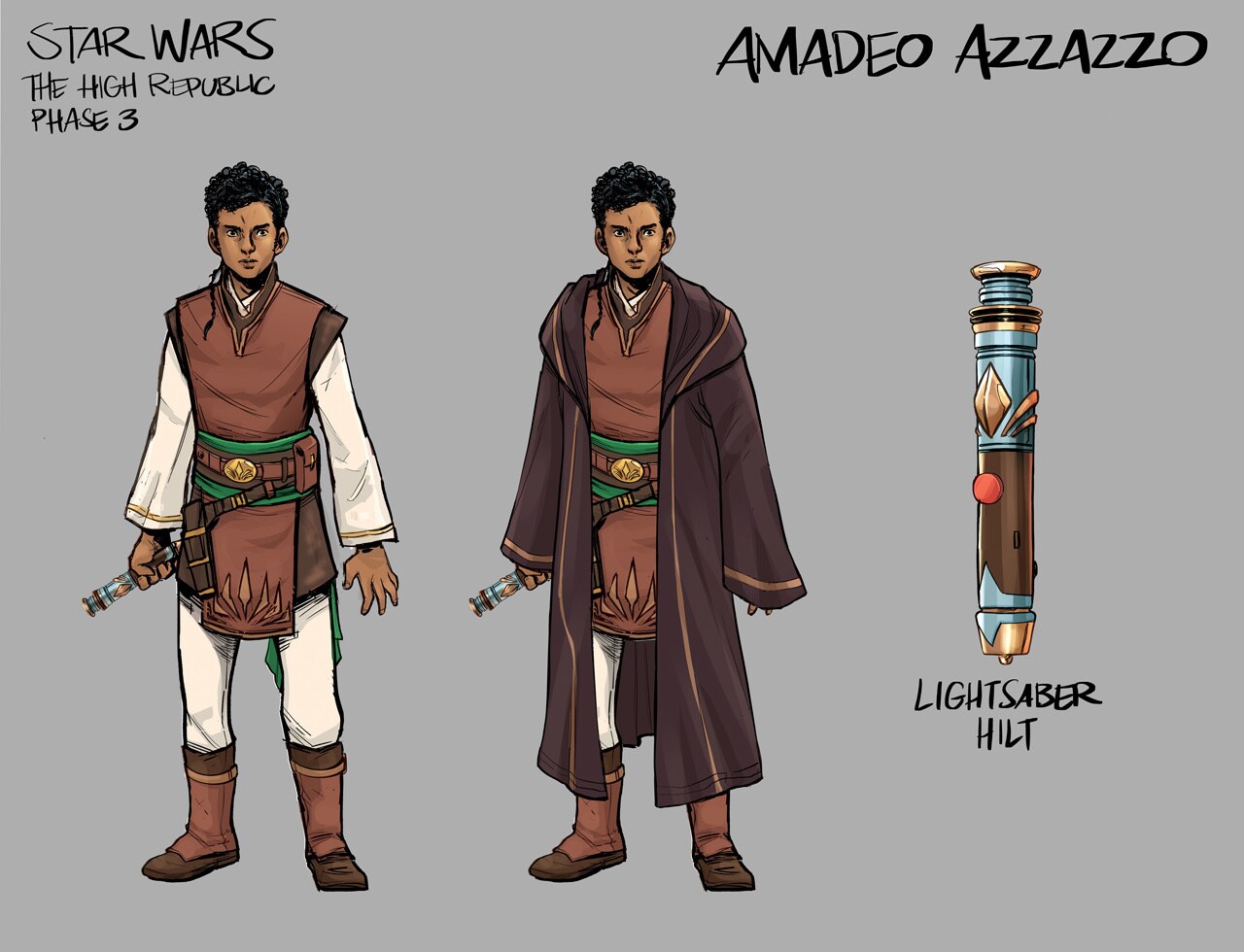 Personality-wise, Mirro and Amadeo will stand out from their Jedi brothers and sisters. But also feel somewhat isolated from them. "These are our Optimistic Jedi — our Jedi Dynamic Duo. Mirro is charming, warm, and strong; always ready to lend a hand or an ear. Amadeo is wide-eyed and eager to learn — a more adventurous version of early Phase I Reath Silas. These Jedi are brave and true, and they're here to help. Mirro came up through the ranks just before Avar, Elzar, and Stellan," Siglain says. "They were acquaintances, but didn't travel in the same circles. Amadeo has been on the other side of the galaxy and doesn't know any of our current Padawans or Knights." Despite this, they're ready to fight.
"During Phase I, Mirro and his Padawan have been off on their own mission, but when the Jedi recall happens, they return to Coruscant, and Mirro volunteers himself and his Padawan to help in the conflict against the Nameless and the Nihil."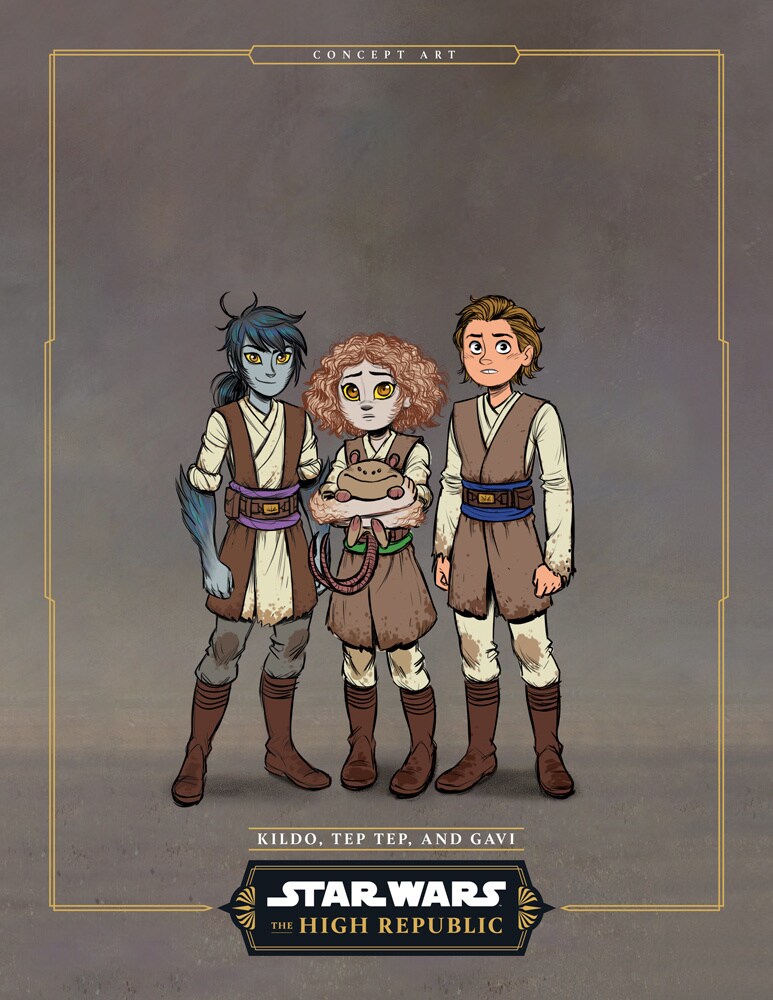 The Phase III middle-grade novel Escape from Valo arrives January 30, 2024, written by Daniel José Older and Alyssa Wong. The tale finds Padawan Ram Jomaram on a journey into the Occlusion Zone — an area of space claimed by the Nihil marauders that's sealed off from the galaxy. The book's summary has alluded to Ram being joined by some Jedi compatriots; they are, in fact, younglings named Gavi, Kildo, and Tep Tep from the planet Valo, and it sounds like they're about to get a crash course in Jedi business.
"It's important for readers to see themselves in the Jedi. This is especially true of our younger readers," says Siglain. "Our Padawans and younglings should be both relatable and apirational, and that's where our Valo younglings come in. Here are three kids who are faced with incredible challenges, and who band together to help each other and those around them."
While Gavi is still just a youngling, his story is a layered one. "Gavi is a human youngling from the Jedi temple on Valo," Alyssa Wong says. "And he has a secret."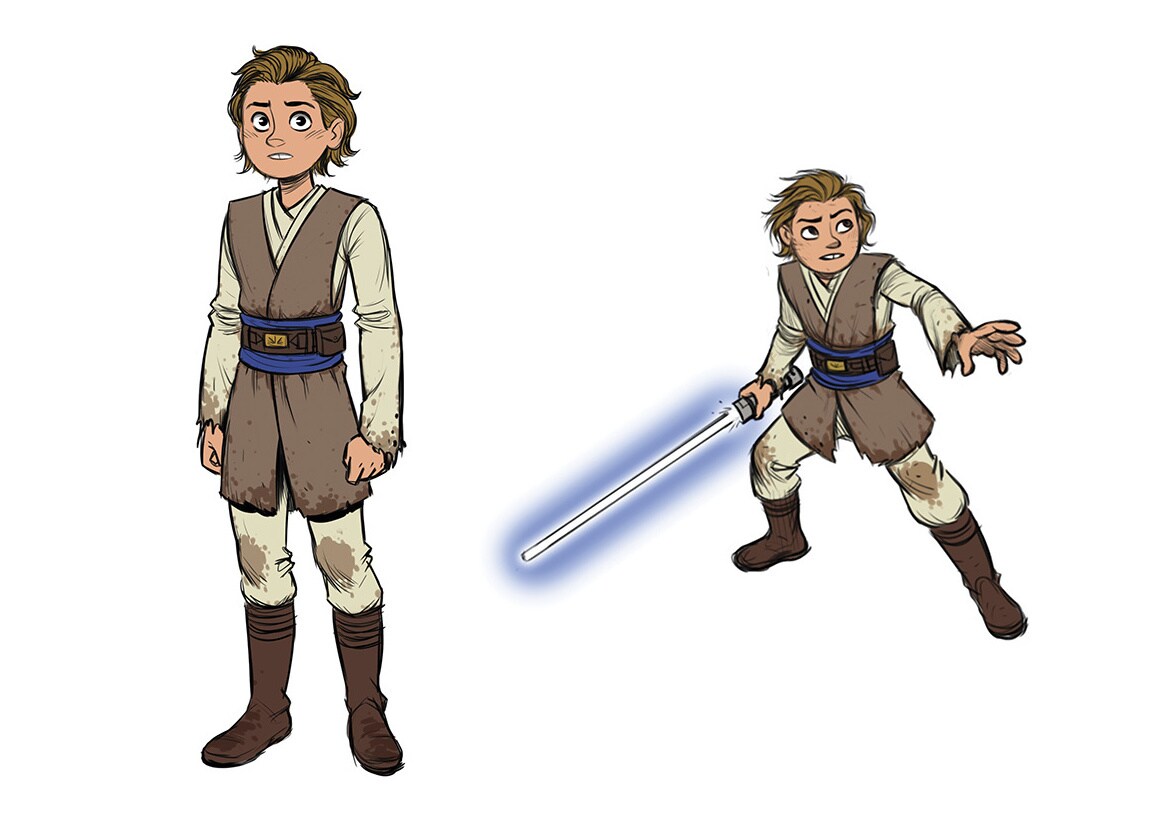 In Escape from Valo, Gavi will go on a personal journey, Wong reveals. "Gavi was once the most promising youngling of his age, but when the Nihil occupied Lonisa City and murdered every Jedi they could hunt down, he saw the Nameless kill one of the masters. Now traumatized, he's lost the ability to use the Force. He's just trying to keep his friends alive... but the Force has always been the most important thing in Gavi's life and he isn't sure who he is without it. And then there are his burgeoning romantic feelings for his friend, another youngling boy named Kildo... and his complicated feelings of guilt surrounding Driggit Parse, the non-Jedi friend he left behind."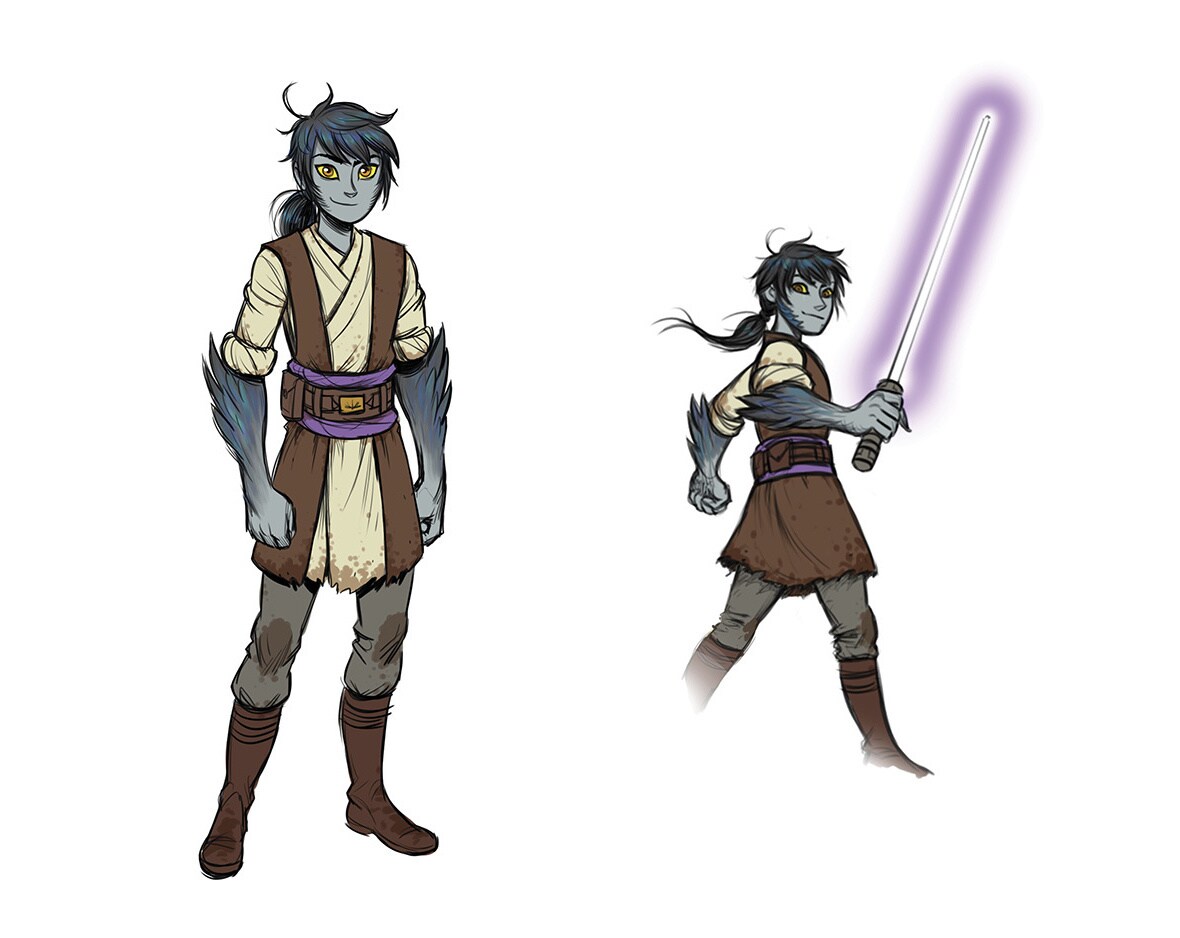 Every class needs a clown, and the same is true of Jedi. That's where Kildo comes in. "Kildo is an Alcedian, an avian species that originated on Valo, and his design is inspired by a magpie: black and blue feathers and an eye for mischief," Wong says. "Sly and irreverent, Kildo never turns down the chance to play pranks. Using the Force comes easily to him, but he struggles with focus and rules. 'Great potential, needs to apply himself,' is his teachers' main complaint. He's a trickster with a heart of gold."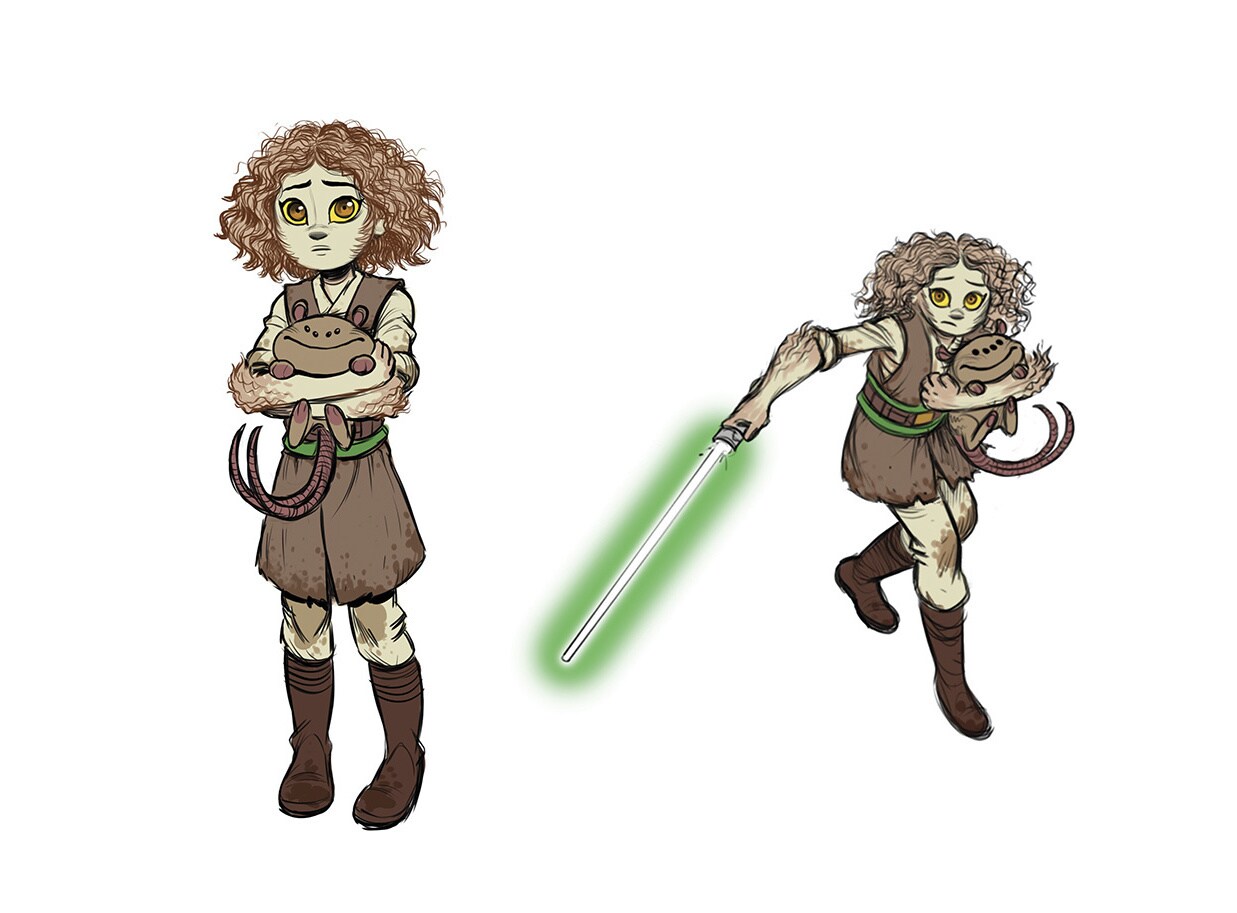 Finally, Tep Tep is the animal whisperer of the group — a youngling who cares deeply about all living things. "Tep Tep's design is based on a frillback pigeon — the fancy kind with curly feathers. She's a shy, soft, fluffy Alcedian girl who loves animals, especially big, carnivorous ones. There's a pack of five acklays who would die for her, and on the cover of Escape From Valo, she's holding a baby nexu," Wong says. "Jedi don't adhere to family structures, but Tep Tep is basically everyone's little sister."
Visit Lucasfilm's official hub for all things Star Wars: The High Republic at StarWars.com/TheHighRepublic.