Get a glimpse at new concept posters featuring some of your favorite characters with insights from the creative team behind the multimedia initiative.
StarWars.com is pulling back the curtain on Star Wars: The High Republic, a publishing epic set centuries before the events of Star Wars: The Phantom Menace, with insights from creators, new details, and never-before-seen concept art. In this installment, StarWars.com reveals new character designs featuring some of the heroes and villains we first met in Phase I and a look at where they are now.
The fall of Starlight Beacon at the end of Phase I of Star Wars: The High Republic changed the galaxy. The Nihil attack established the villains of the era as a formidable foe against not just the Galactic Republic, but even the peacekeeping, Force-wielding Jedi Order. And the destruction of the space station, coupled with the threat of Marchion Ro's Great Leveler, was enough to leave anyone — even a Jedi — consumed by fear.
When The Eye of Darkness arrives later this month, the new novel by George Mann will reunite fans of The High Republic with some of their favorite heroes and villains. "Our story picks up one year after the fall of Starlight Beacon, and the characters — and their appearances — have to reflect that," says Michael Siglain, creative director for Lucasfilm Publishing. "The Chancellor's shining symbol of hope has been destroyed. The Jedi have lost and the Nihil have won. Our heroes are dealing with fear and trauma, and are struggling to find a way to bring back light and hope."
"When we started developing the character concept art for Phase III, I spent a lot of time thinking about the heroes and how the destruction of the Starlight Beacon might affect them," adds Kurt Hartman, design manager. "Tragic events transform people, so how could that be shown in their outward appearance?"
Today, StarWars.com has the answer. With new concept art and insights from Mann, as well as concept artists MinJi Yoon and Ario Anindito, get reacquainted with some of the beloved characters we first met in Phase I…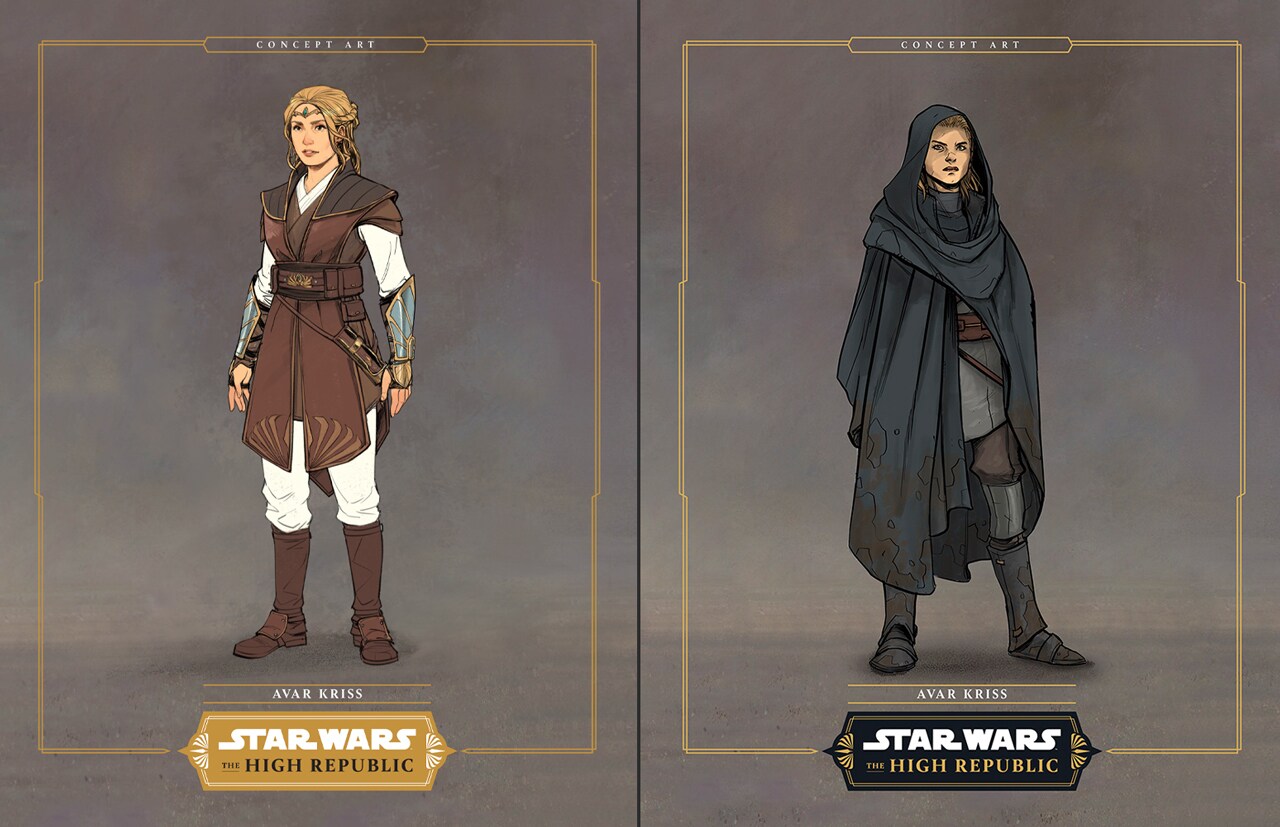 Avar Kiss is one of the galaxy's most respected and recognizable Jedi Masters. The Hero of Hetzal is now trapped behind enemy lines, and her new look helps establish how much things have changed since she took her post as the marshal of Starlight. "When we meet Avar at the beginning of Phase III, she's operating alone and undercover in the Occlusion Zone," says Mann. "She's struggling with guilt over what happened to Starlight Beacon, blaming herself for Stellan's death, and ultimately, trying to make amends."
"Avar still holds her presence, her posture as the Master Jedi that we all know," adds Anindito. "But she's trying her best to hide it." Shedding the robes of the Jedi Order, Kriss' look ensures she won't be easily recognized. "She is in disguise, laying low while fighting back," Anindito says, "trying to hide her identity and her pain."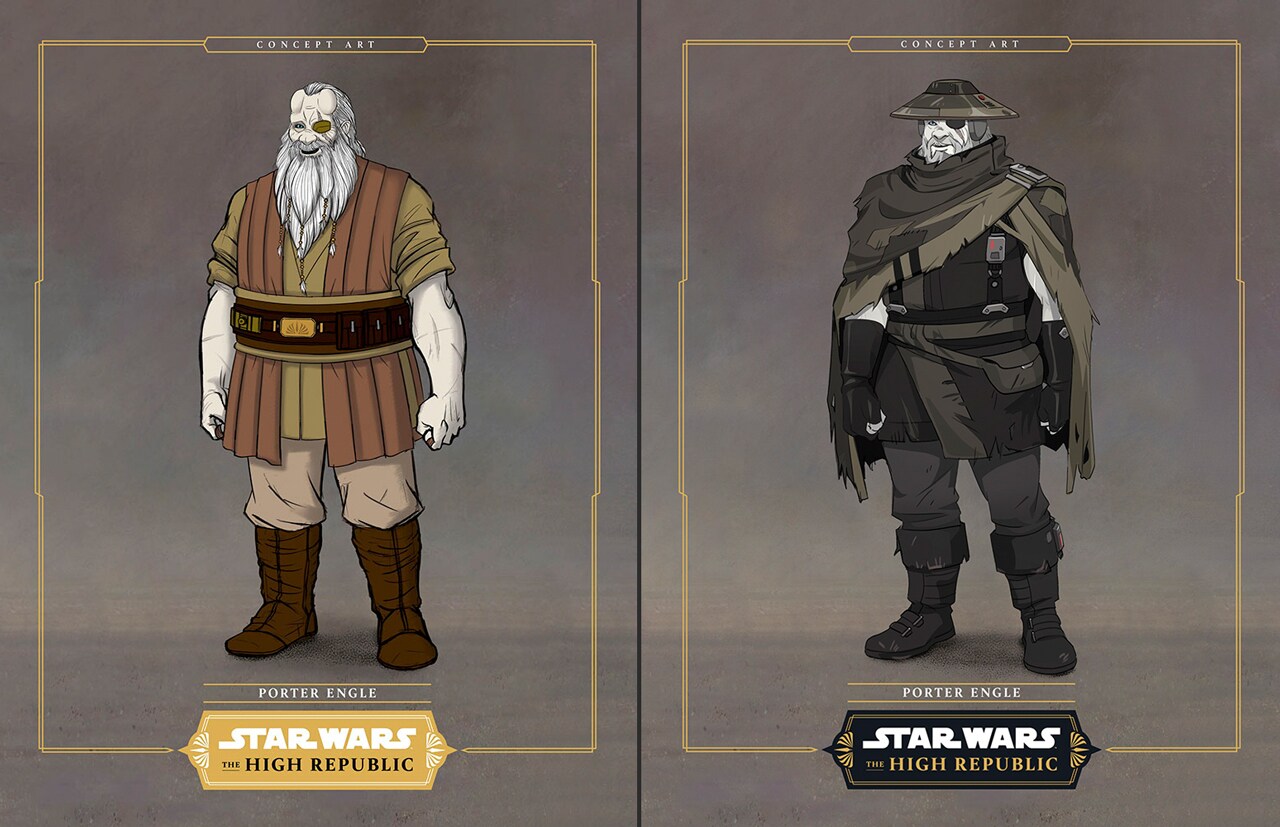 Porter Engle
Another famed Jedi Master, Porter Engle AKA the Blade of Bardotta, is also back. After reading about his younger days in Marvel's The Blade during Phase II, the latest incarnation plays more off the jovial cook we first met in Phase I. "Porter is also stuck inside the Occlusion Zone when Phase III begins, but he's taking a slightly different approach to Avar," Mann says. "He's traveling from place-to-place, seeking bits of old technology that he's figured might be able to help him breach the Stormwall. He's determined, but also hopeful."
Engle's work in the shadows helped determine the colors used on his newest design. "He is wearing civilian clothing and trying to go unnoticed," Yoon says. "The goal was to make him feel less jovial and fun with a darker and more low-key palette."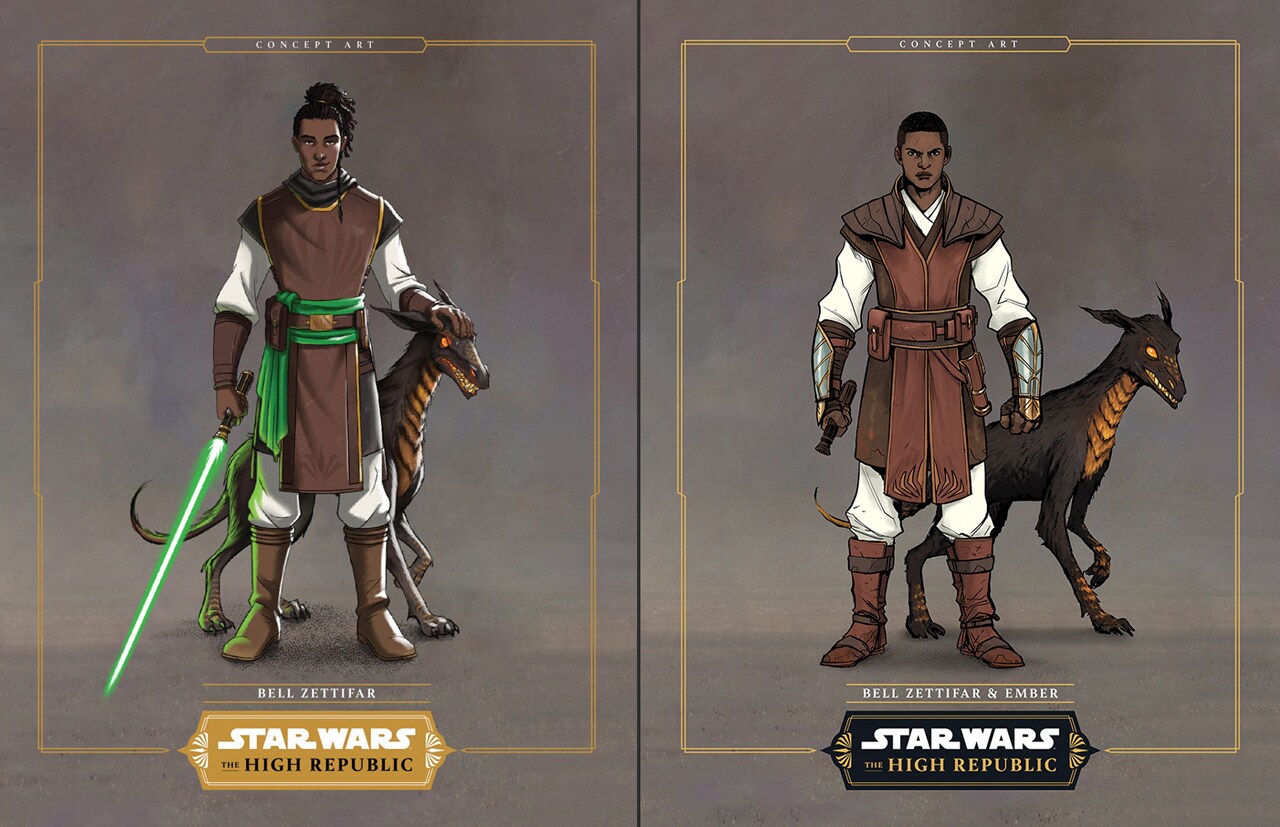 Loden Greatstorm's former apprentice has experienced so much loss and trauma since we met the bright-eyed Padawan in Phase I's Light of the Jedi. But Bell and his charhound, Ember, are focused on the mission, ready to take back the Republic, with additional armor to help him protect himself on the edge of the galaxy.
"Bell is furious with the Nihil, and a little with himself, too," says Mann. "He's counting the Jedi's failures as his own. He's spending more and more time out on the edge of the Occlusion Zone, patrolling for Nihil raiders. And he's set his sights on one Nihil in particular, named Melis Shryke, who typifies everything about the Nihil that he wants to stop."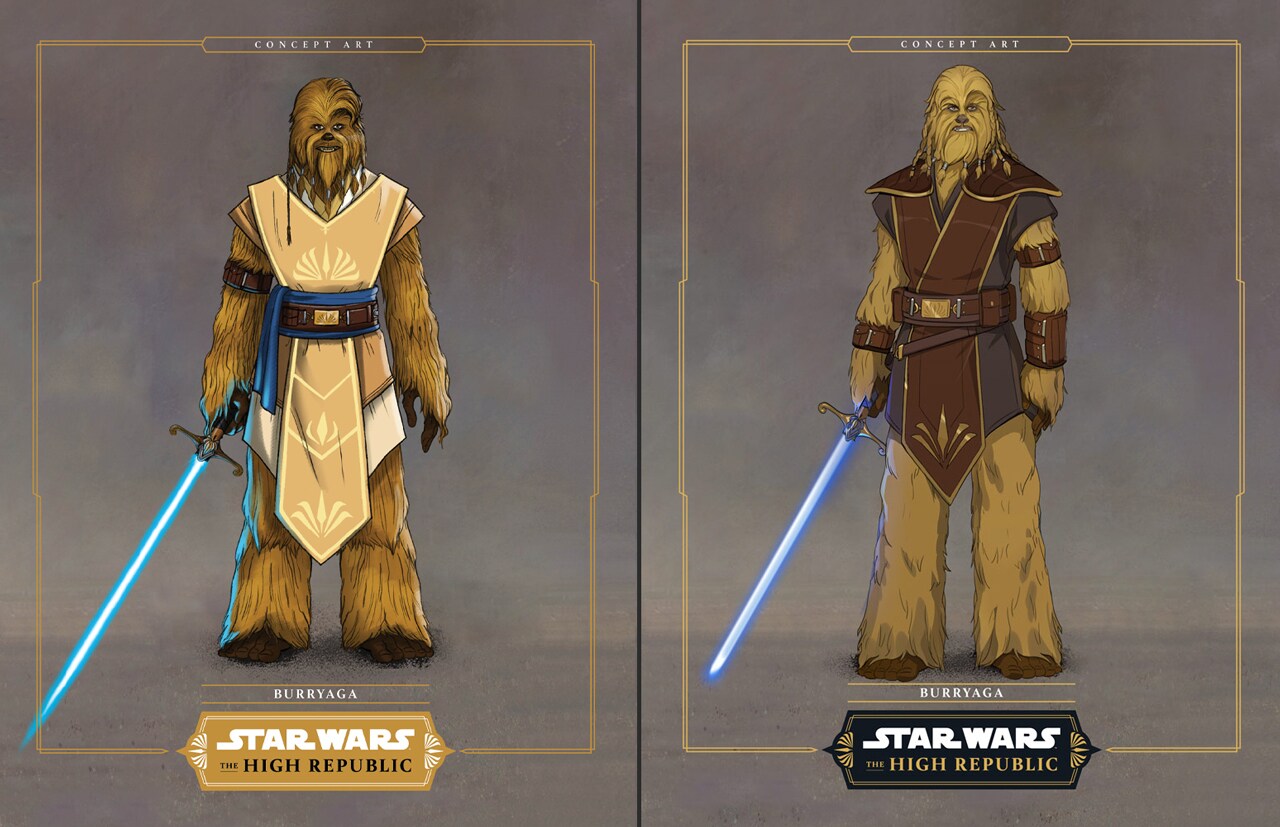 We spent a lot of time worried over the fate of Burryaga, the Wookiee Jedi who went missing at the end of Phase I's The Fallen Star. But now we know Bell Zettifar was able to rescue his friend. "After being trapped beneath Eiram's ocean, Burry is just glad to be alive and able to be amongst his friends, making a difference," Mann says.
Now a Jedi Knight, Yoon worked on evolving Burryaga's design to show how much he's changed as a result of his ordeal and his character growth. "Burry's design has him in the classic High Republic Jedi leathers," Yoon says. "He is older and a little thinner than last time we saw him, and is now fully equipped to be out in the field."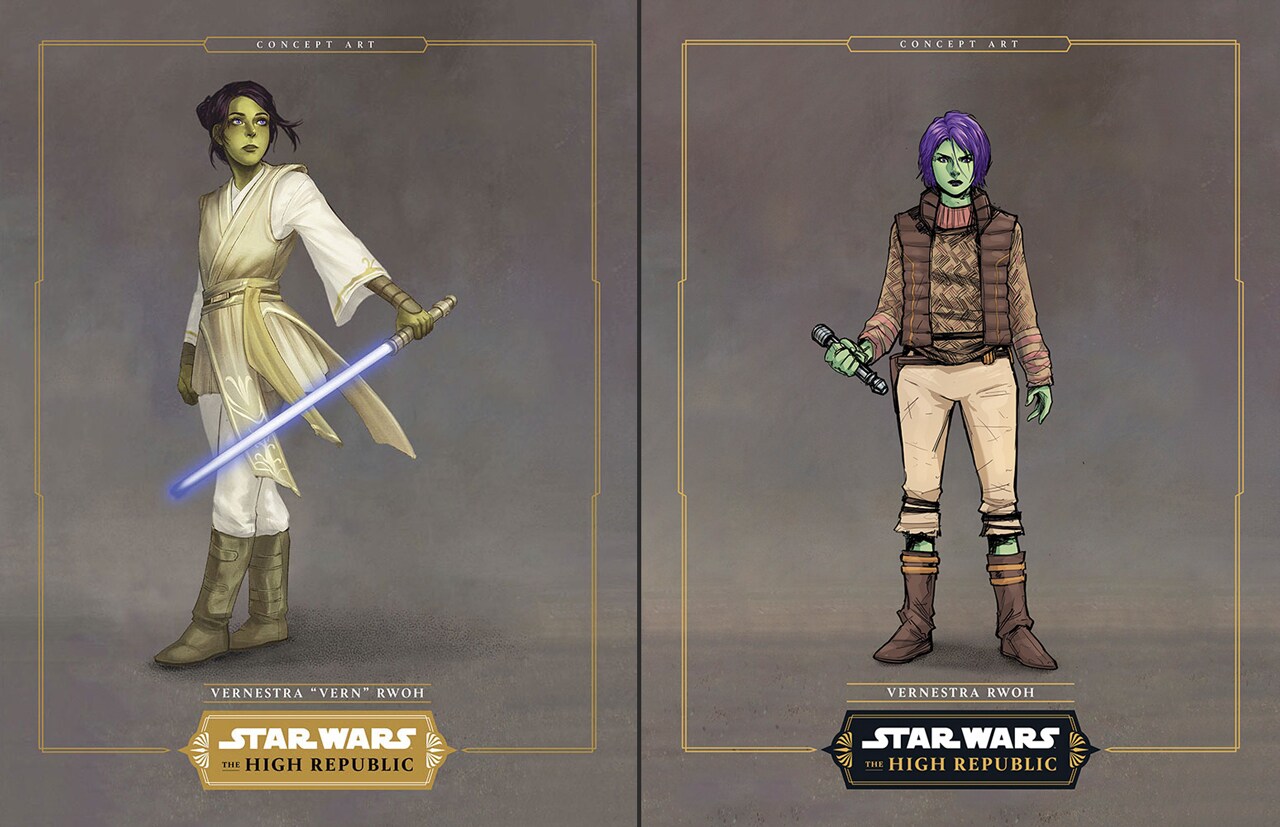 A precocious Jedi who was the youngest in a generation to be knighted, Vernestra is taking her new responsibilities during a difficult time quite seriously. And that determination is reflected in her new look. "Vern is more mature. She's no longer the young Jedi Padawan that we knew," says Anindito. To reflect that evolution, the artist incorporated elements to give her a more rugged look. "When we see her, we know she is now capable of holding her ground on her own. She's basically a badass, now more than she ever was."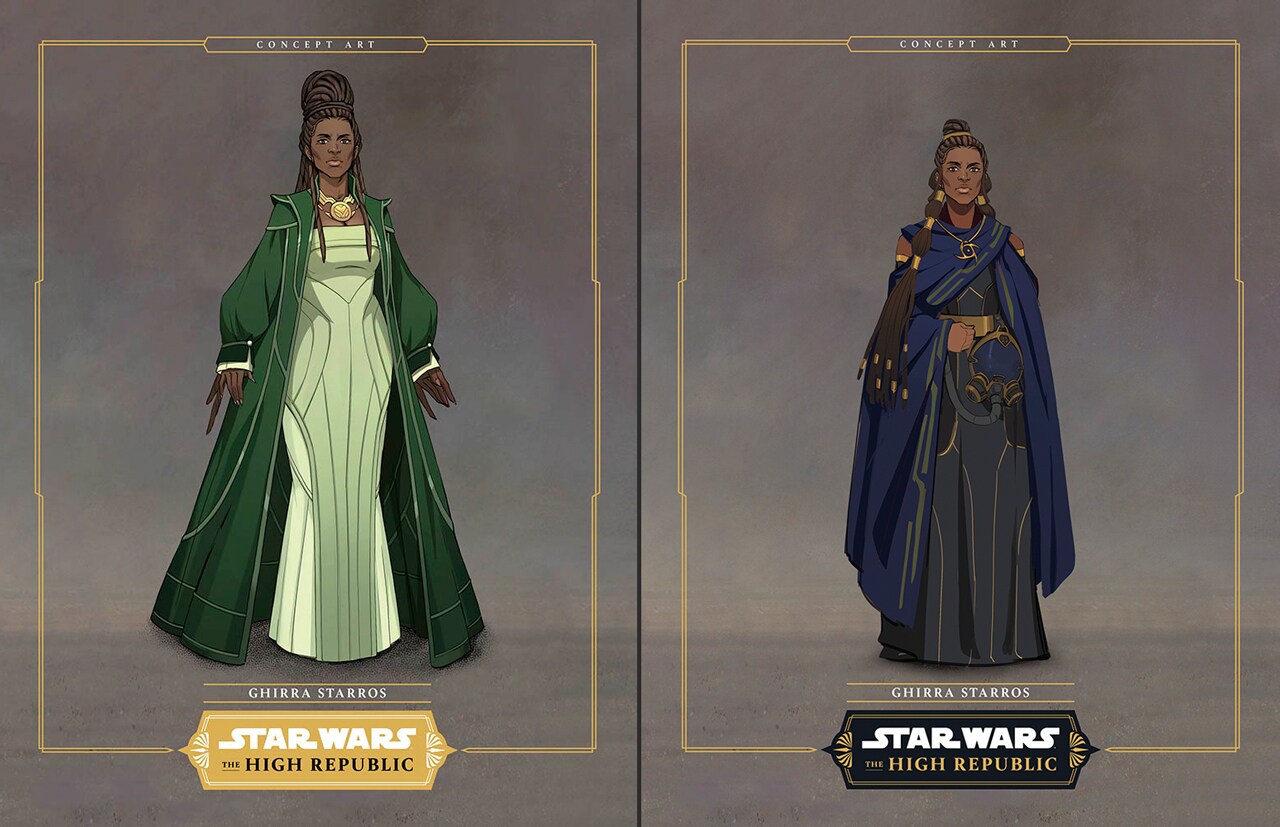 Ghirra Starros
Once a senator for the Galactic Republic, Ghirra Starros is firmly, and publicly, aligned with the Nihil. But her transformation is less-jarring than some who join the Nihil ranks, with the Eye logo crudely scrawled on their armor. "As a representative for the Nihil, Ghirra needed to have the classic gas mask, but I still kept it a little decorative to show her status," Yoon says, along with adding a gleaming pendant showing the Eye. Classic Starros sophistication. But the colors of her apparel have become more muted, as she falls in line.
Despite her allegiance to the anarchists, Ghirra is still looking for some semblance of order. "Ghirra knows that for the Nihil to survive, they have to become something different," Mann says. "They have to stabilize and organize and become more like a government, overseeing the worlds now under their jurisdiction."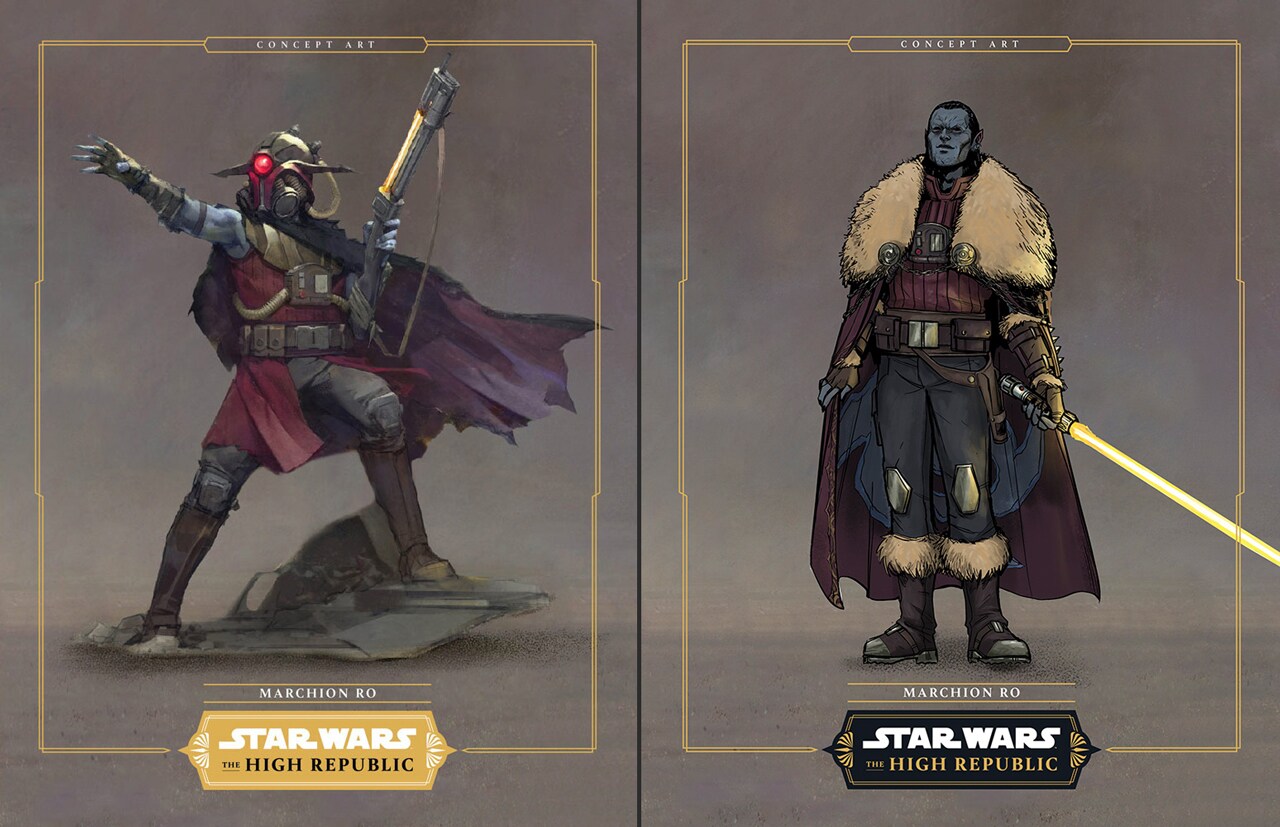 Still leading the Nihil, the Eye of the Storm himself, Marchion Ro, has only grown more arrogant in his victories. "He feels like a king," Anindito says. "He is now at the top, feeling all powerful and untouchable!" Those emotions played into his Phase III design. "I want him to look both victorious and cunning at the same time, elegant yet dangerous."
But just because he's won doesn't mean he's happy about it. "Marchion Ro is in a difficult spot," Mann says. "He's got everything he wanted. And it feels hollow. The crown is resting very uneasily on his head, and that makes him a very dangerous person to be around."
Visit Lucasfilm's official hub for all things Star Wars: The High Republic at StarWars.com/TheHighRepublic.