The writer and artist who created Darth Vader and Son shares insights and pages from his take on Din Djarin and Grogu, arriving on shelves later this year.
Of course, Din Djarin would modify his beskar armor to amuse young Grogu with an on-the-go bubble machine.
At least that's true in the world of Jeffrey Brown, the artist and writer who has brought such farcical tales as Darth Vader and Son and Vader's Little Princess to the page, reimagining a world where Vader got to raise Luke and Leia.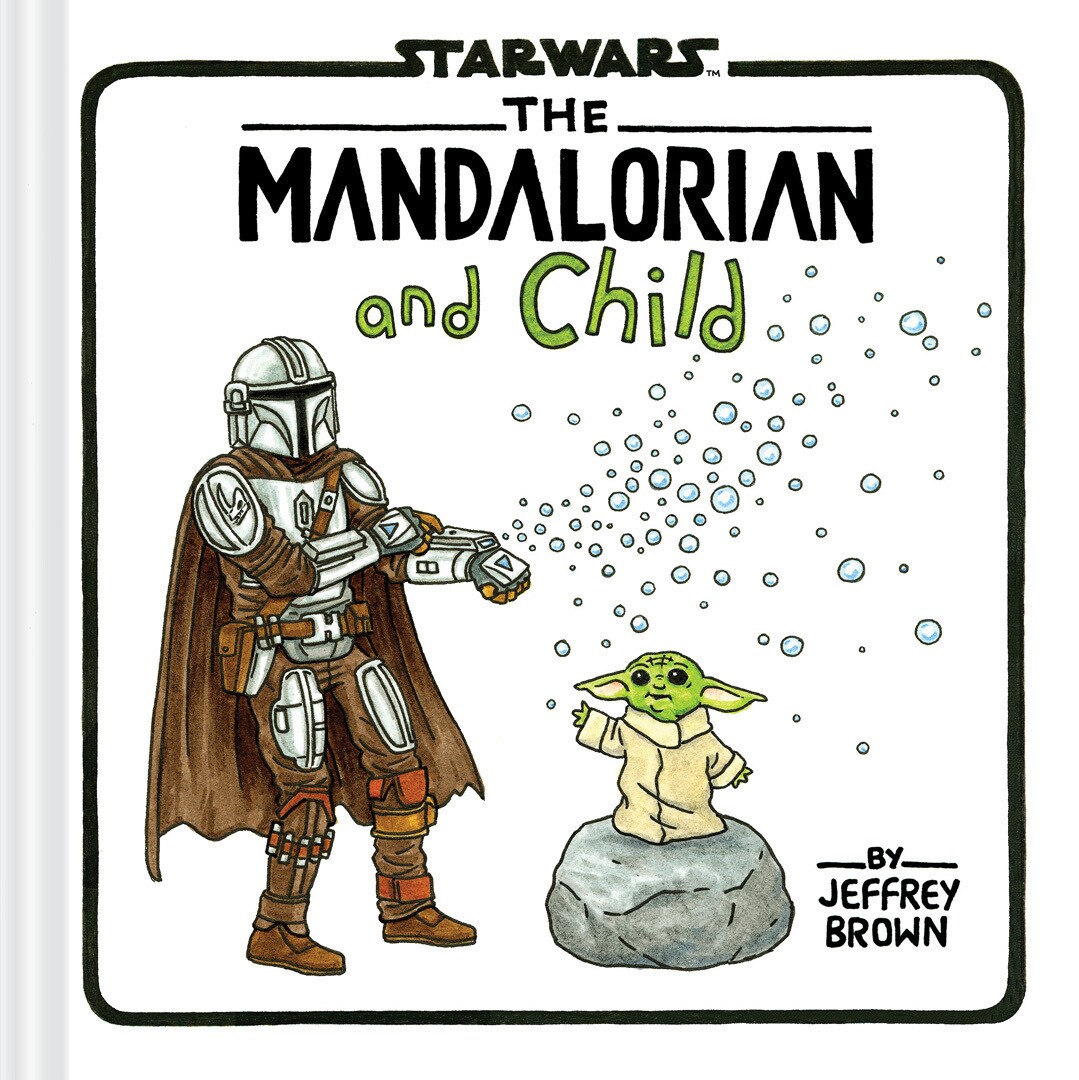 His latest work, The Mandalorian and Child, is closer to the story from The Mandalorian in premise while retaining the trademark wit that makes Brown's work both highly amusing and entirely relatable to parents in this galaxy.
Today, StarWars.com is excited to reveal the cover of The Mandalorian and Child and four interior pages as well as sharing Brown's insights on a few of the illustrations from the book.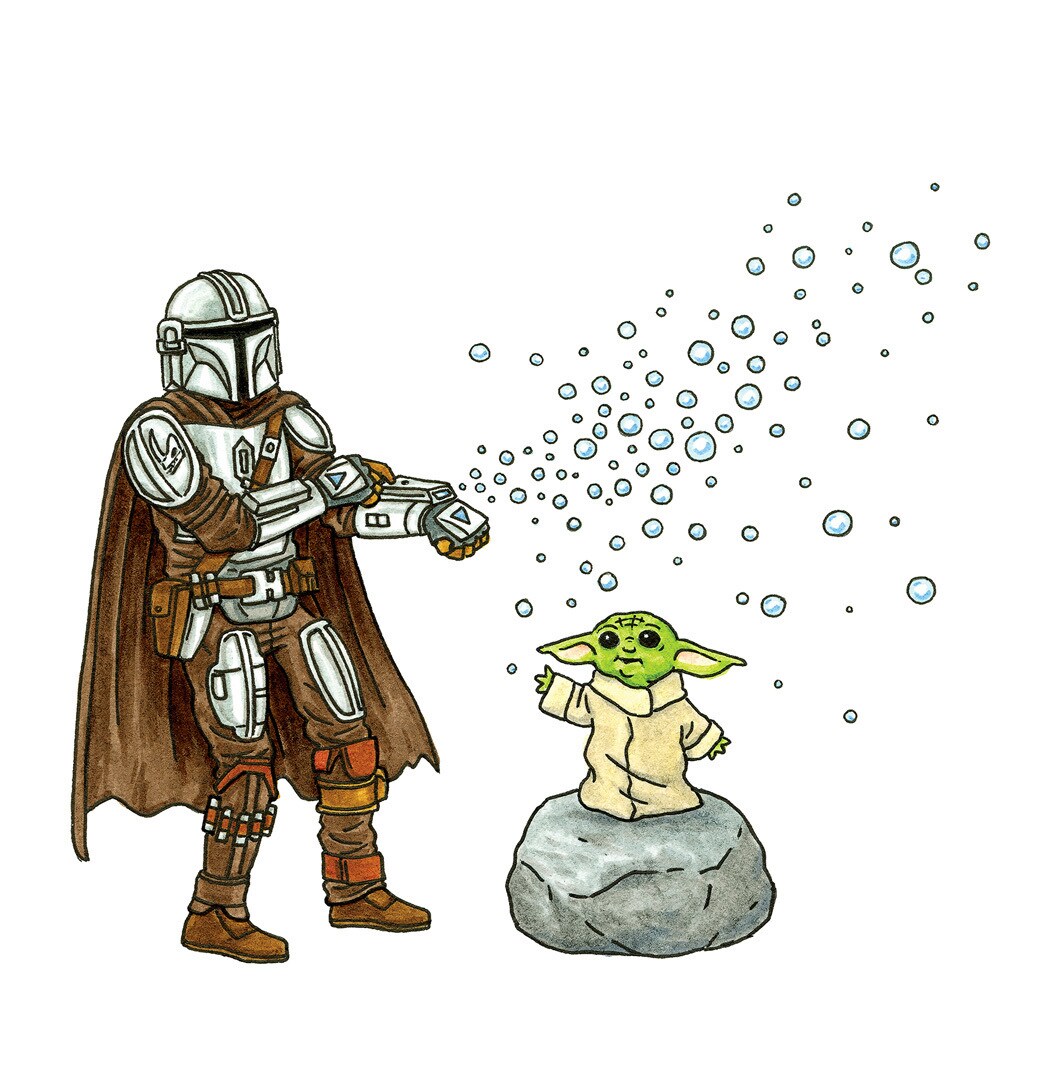 Beskar and bubbles
"One of the things to love about the Mandalorian is how his ultra-tough exterior is tempered by how sweet and tender he can be with Grogu," Brown says of the cover art, capturing a playful moment between the Clan of Two. "Kids love bubbles. Who am I kidding, I love bubbles, too. I feel like beskar would have the right properties to enable making a highly efficient bubble machine that doesn't clog up all the time."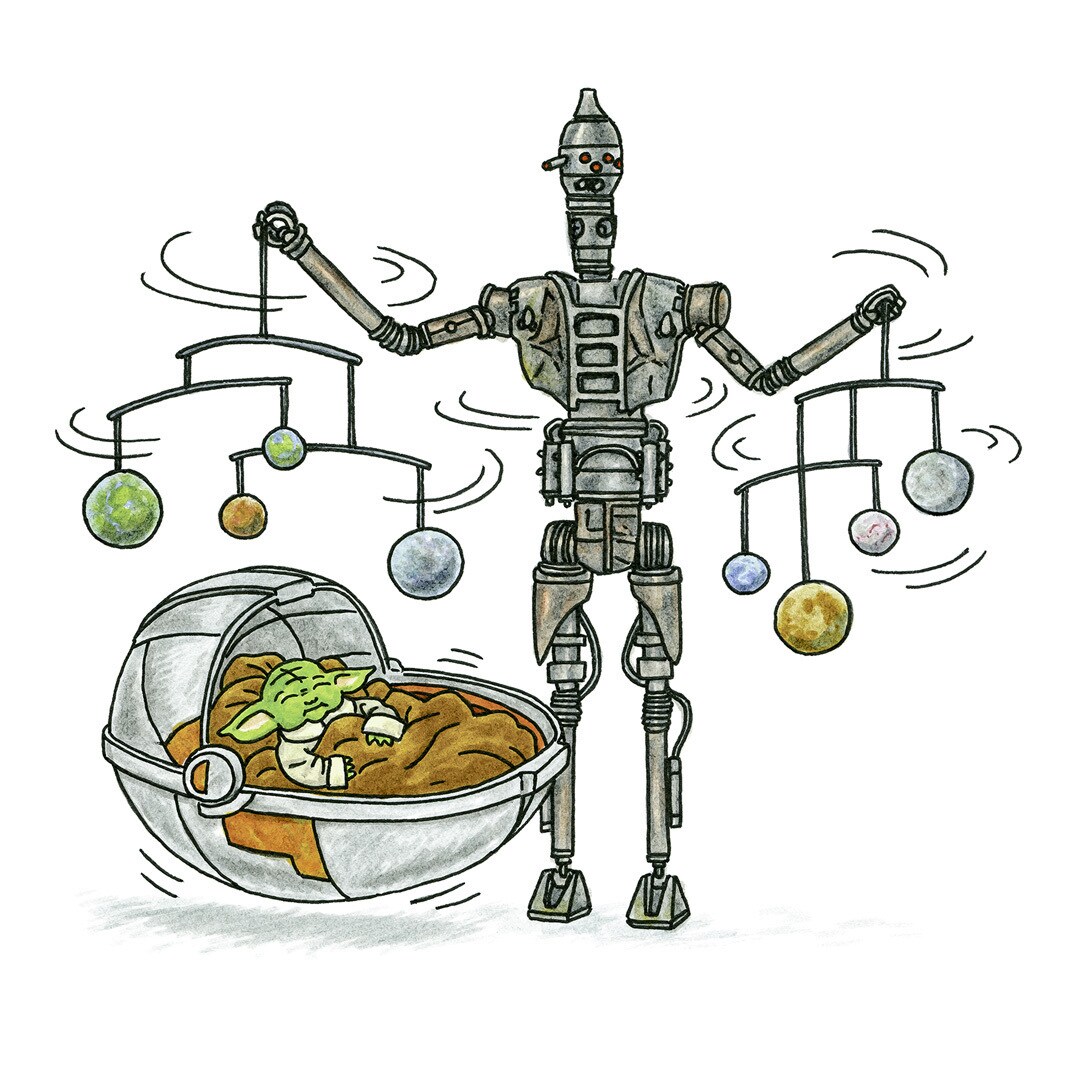 IG-11 in Nanny mode

"I always like to pull from real life even when I'm working with fictional universes," Brown says. "We've had a mobile of the solar system from the planetarium since our first son was born, so I thought Grogu should have a mobile made of planets, too." But look closely and you may see some distant worlds from a galaxy far, far away. "Of course, his mobile isn't our solar system, but features various planets visited by the Mandalorian."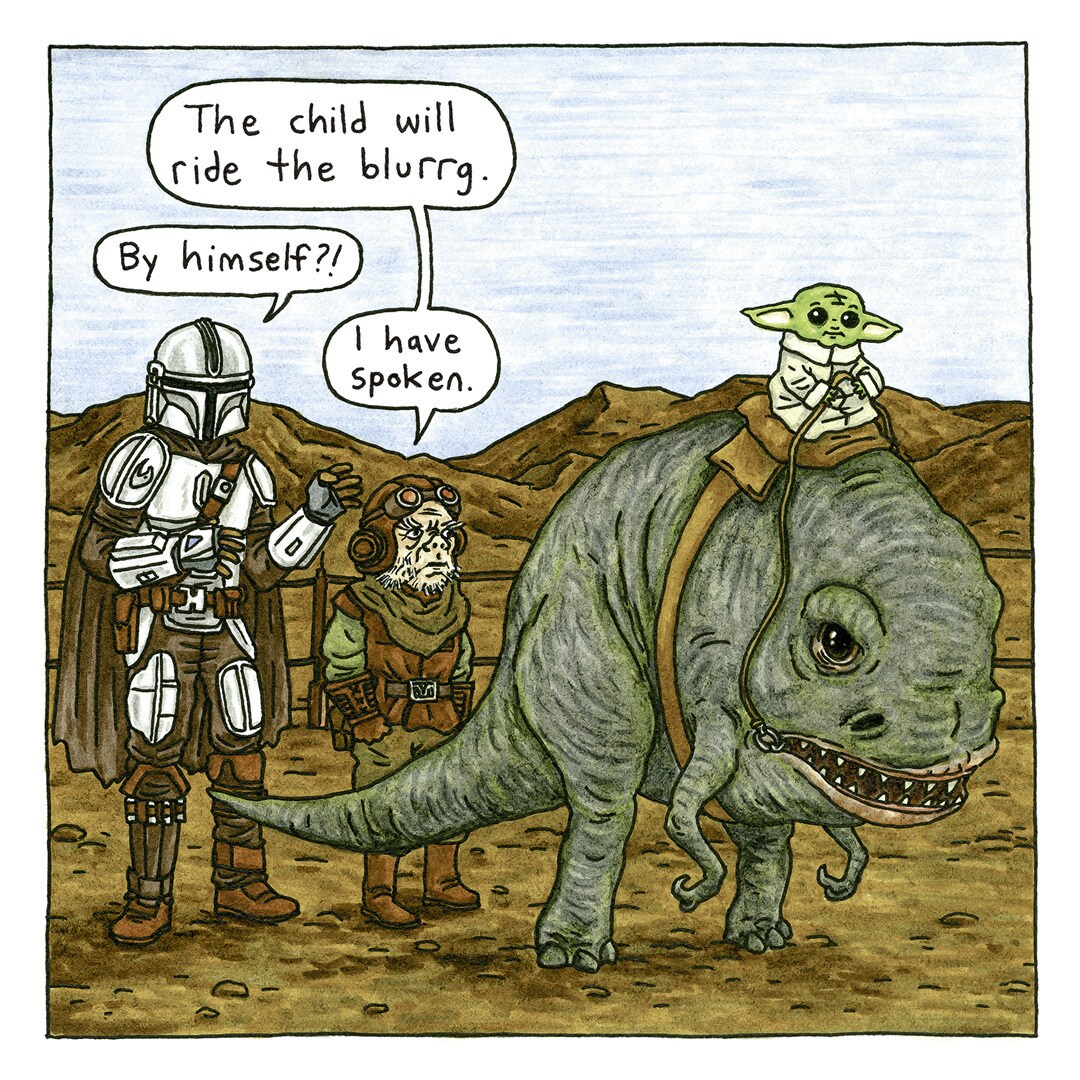 Kuill has spoken
An Ugnaught of few words, Kuill is skilled at many things including helping people overcome obstacles. Or in this case, teaching Grogu to ride a blurrg. "Being a new parent, I was always a little anxious and protective, but you meet other parents and caregivers and they're just tossing their kids on to horseback and sending them galloping off into the mountains," Brown says. "Kuill knows what he's doing, though."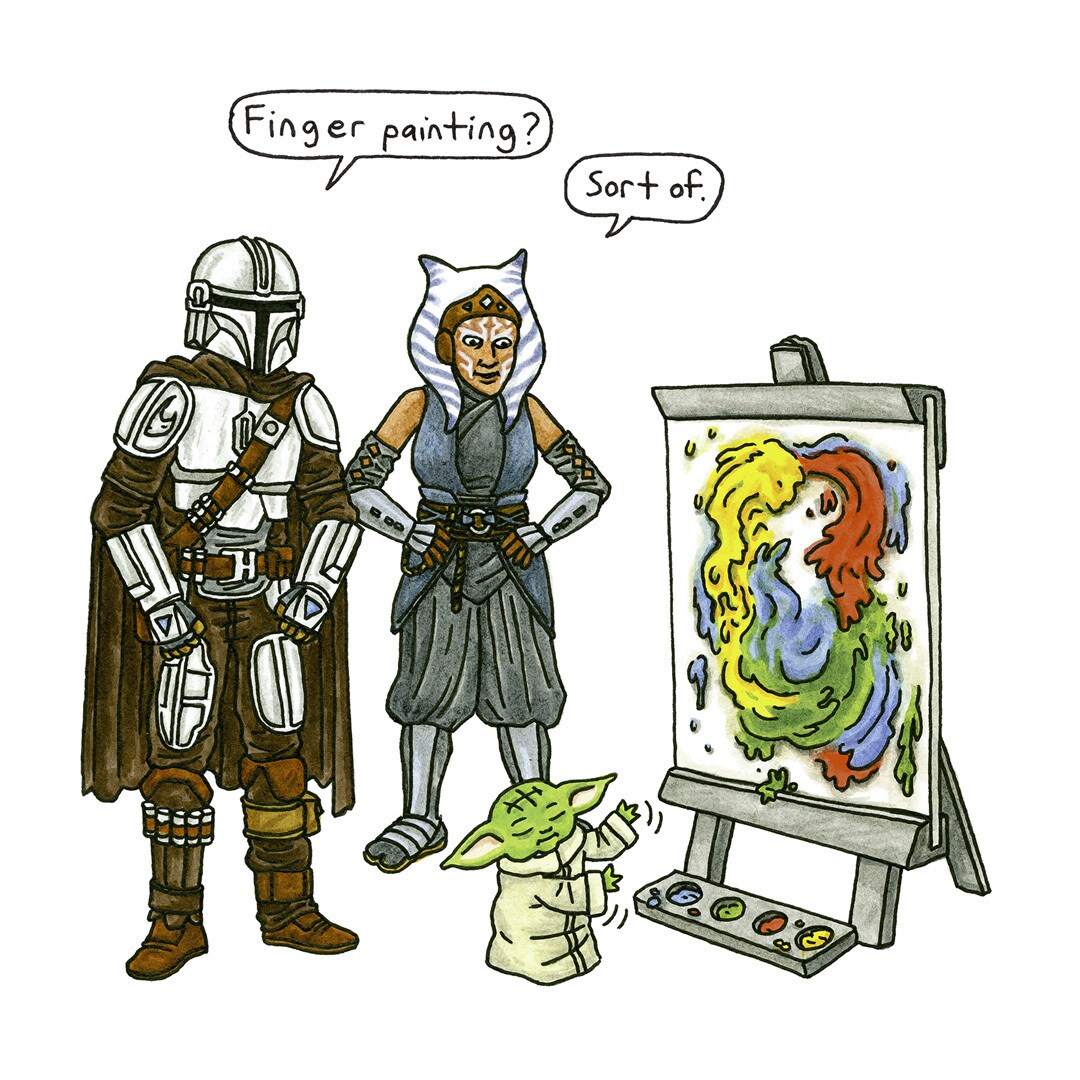 Force painting
Brown's art also explores Grogu's artistic side with a set of fingerpaints. "Grogu has managed to keep his painting area relatively clean," Brown notes, "which may actually be even less realistic than using the Force to paint."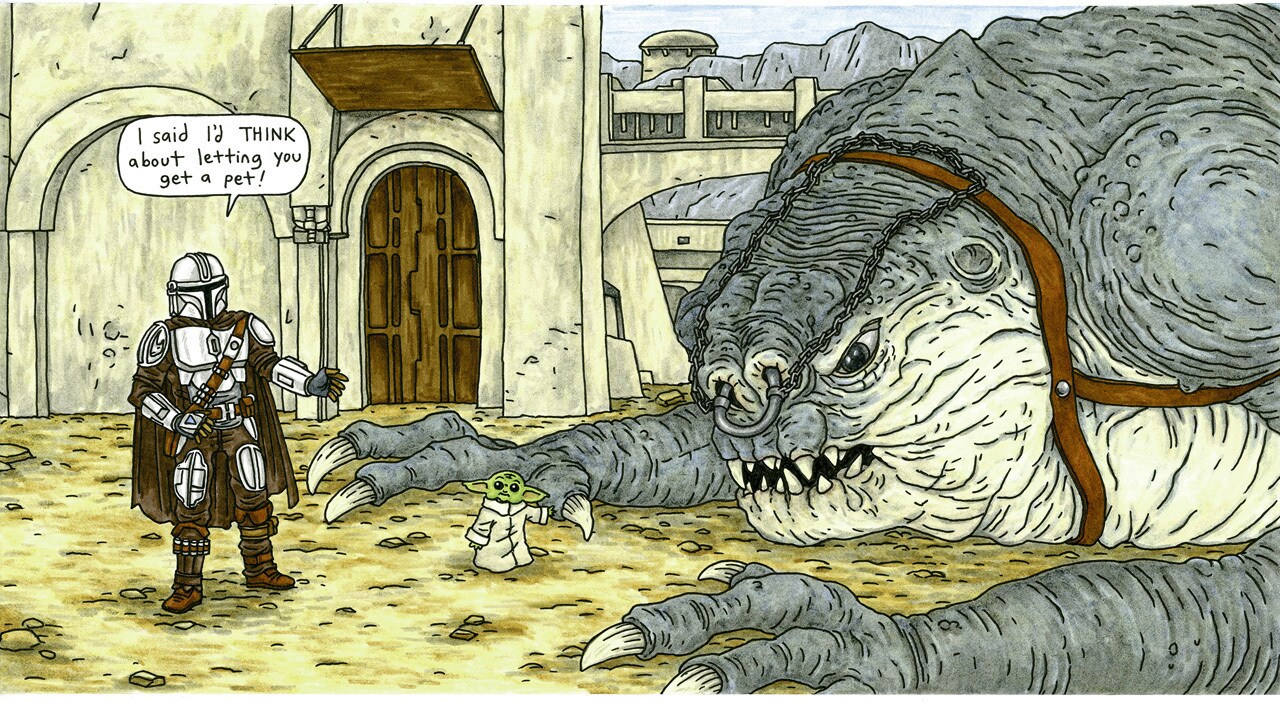 Baby's first rancor
"I think it may be a rule that kids will always want either the pet you'd be least comfortable getting, or that will be the most work to take care of," Brown says of a spread inspired by an appearance in The Book of Boba Fett. "But I think Grogu would be just as excited to ride a rancor as Boba Fett."
Read more of Jeffrey Brown's reimagined adventures for Din and Grogu when The Mandalorian and Child arrives November 7, 2023.