The Māori artist on his one-of-a-kind piece -- and presenting it to Temuera Morrison himself.
StarWars.com is shining a light on those who truly give the saga its power: the fans. In the StarWars.com Fan Spotlight, we're honored to tell their stories.
It almost didn't happen. Graham Hoete, a.k.a. multi-disciplinary Māori artist Mr G, had shifted his schedule to work on a dream commission: a wooden carving of Boba Fett's iconic helmet. He crunched and finished the piece on time, always with the goal of presenting it to Temuera Morrison -- the Māori actor, and one of Hoete's greatest heroes, who plays the beloved bounty hunter in The Book of Boba Fett. But due to COVID-19 and the safety challenges it created, the exchange had been delayed several times. Yet there he was in Rotorua, Morrison's hometown in New Zealand, gifting his art to the man behind the armor.
"It was a beautiful moment," Hoete tells StarWars.com over Zoom. "It was a bit of an epic life moment for myself."
When they met, Morrison offered a traditional Māori greeting called the hongi, in which two people touch, nose-to-nose, for a moment. It was a recognition of their heritage and Hoete's work, which he calls a "huge honor." Given the chance, Hoete made sure to tell Morrison just how important he is to the Māori of their shared home country, New Zealand.
"There was a moment there where I said, 'You know, we're extremely proud of you.' Seeing Temuera on such a global stage, playing the main role as Boba Fett -- for a lot of young Māori, that's a huge inspiration," Hoete says. "I just wanted to acknowledge it face-to-face. And so, I said that to him. 'We're extremely proud of you. It makes me proud to be Māori.' And I could see he got a little bit teary there, because I know it means a lot to him. So, yeah, it was very special."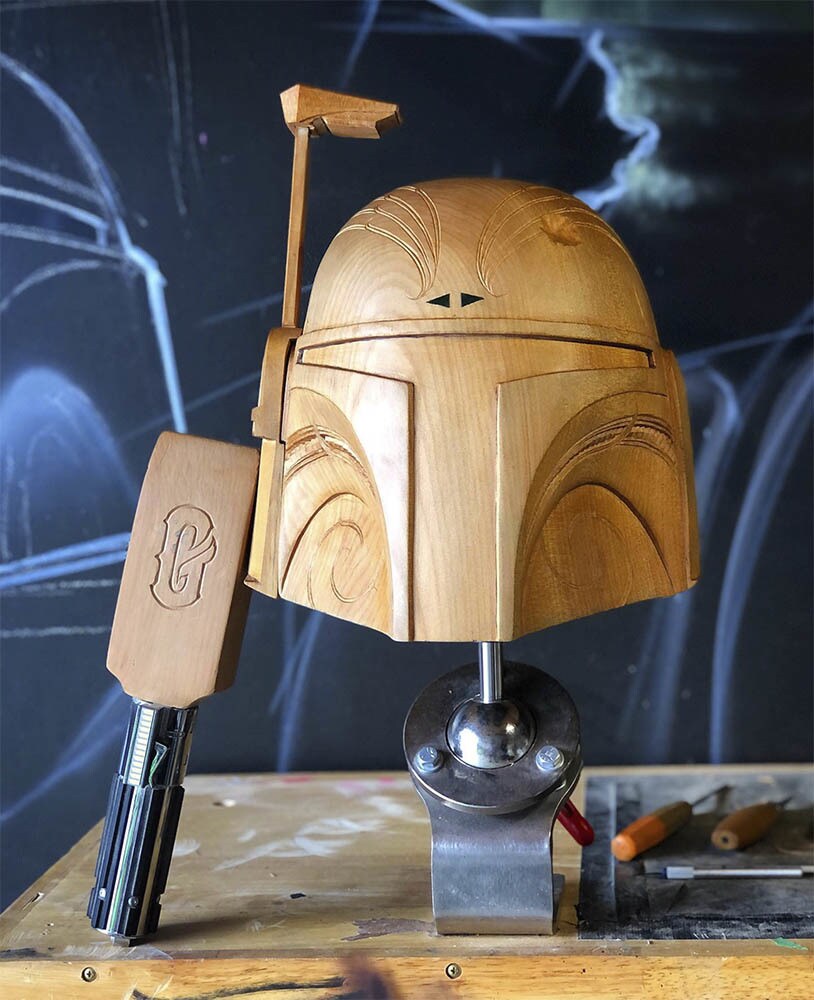 Crafting a helmet fit for a Fett
The opportunity to craft the helmet came from, of all things, a gumboot. Or rather, it came from Hoete's gumboot (a specific type of rubber footwear with long-standing ties to New Zealand) art piece. He created a large-scale work of art that was auctioned off to benefit mental health, garnering national coverage -- and catching the eye of Stacy Flahive, content marketing manager at Disney, who's based in New Zealand.
"She was blown away by it, really, and just thought it was really cool," Hoete says. "And she had sent an email inquiry through my website, and that was essentially how it all started. From there it was actually my wife that told me. She was like, 'Oh hon, you're not gonna believe the inquiry that came through.'"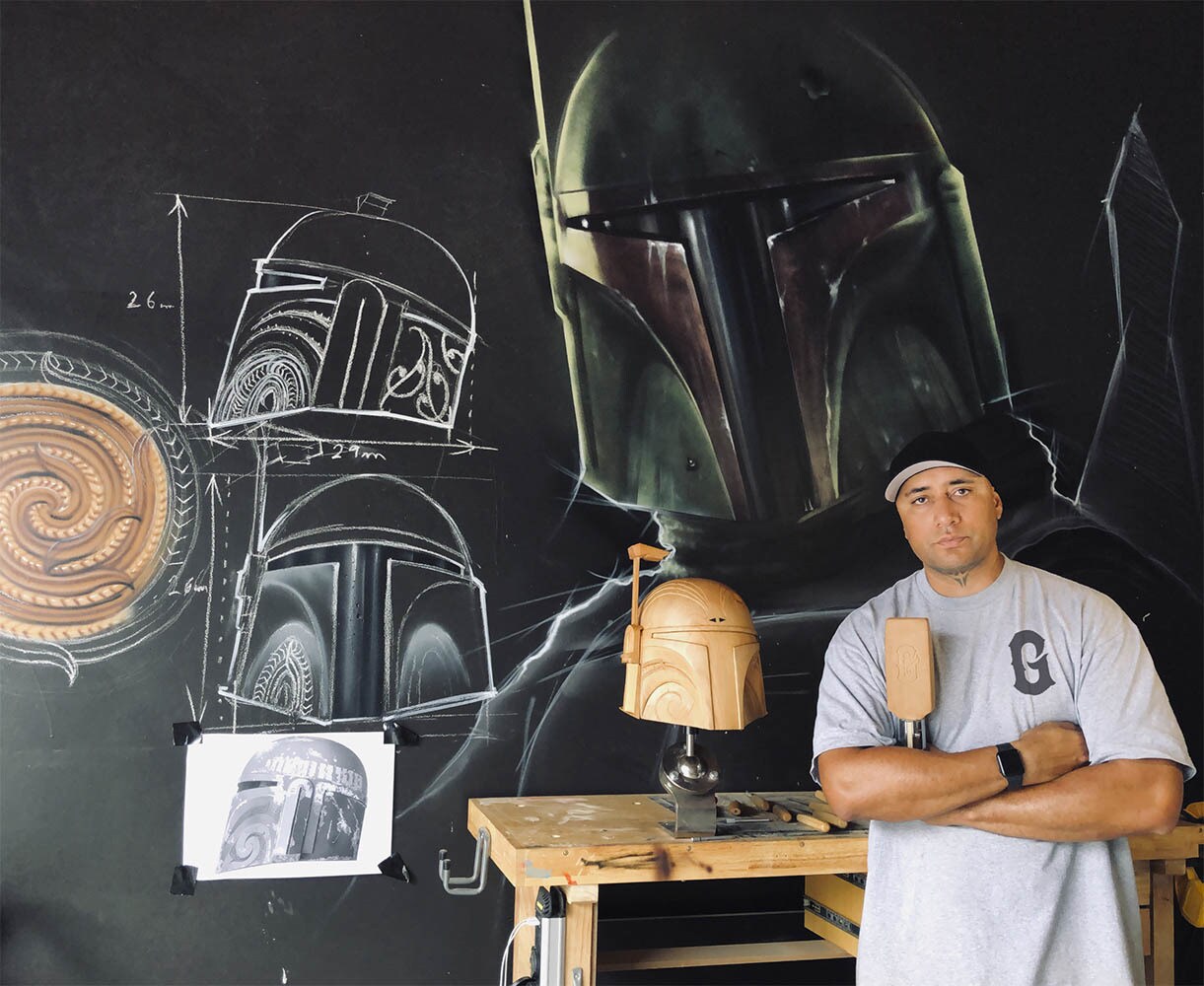 Hoete quickly got to work, sketching out his basic ideas for a carving of Boba Fett's helmet, using his own replica version for reference, and then hand-carving every inch. As he explains, his technique, and carving in general, has deep roots in Māori culture. For Hoete, his work would be a celebration of his people just as much as it would be of Boba Fett. "I really wanted to honor our culture, as well, in this piece," he says. "The wood that I used was what we call kauri, and it's native to Aotearoa, [the Māori name for] New Zealand. In Māori culture, we have a lot of stories of kauri, as well. We call it the whakaruruhau, or the protector. We have these beautiful stories infused into the actual wood itself. And so, you know, we didn't just use any old wood. We had wood that had meaning, that had story, that had a connection to Temuera. It's laying those foundation stones for this piece. All that stuff just adds to the uniqueness of the piece and the finished product."
The completed carving is a stunning work. More than just a wooden version of Fett's helmet, it features beautiful etchings and wave-like swirls that hold important meaning, relating to both Boba Fett and the actor bringing him to life. "We have patterns in Māori culture called the puhoro, which relates to Māori warriors having speed and agility. Also one called the mangōpare, which relates to strength, bravery, tenacity, all those things," he says. "So, it's just understanding those surface patterns, what they mean, and using them within a context that's appropriate for the piece."
It's these elements that elevate Hoete's piece into a deeply personal statement.
"I felt a responsibility as a Māori artist, in terms of the context of who the carving is going to -- to Temuera Morrison, who's also Māori," he says. "I felt a sense of responsibility to do this with cultural integrity, and also weaving Boba Fett's story, Temuera's story, into the piece, as well, to make it a truly unique and authentic piece."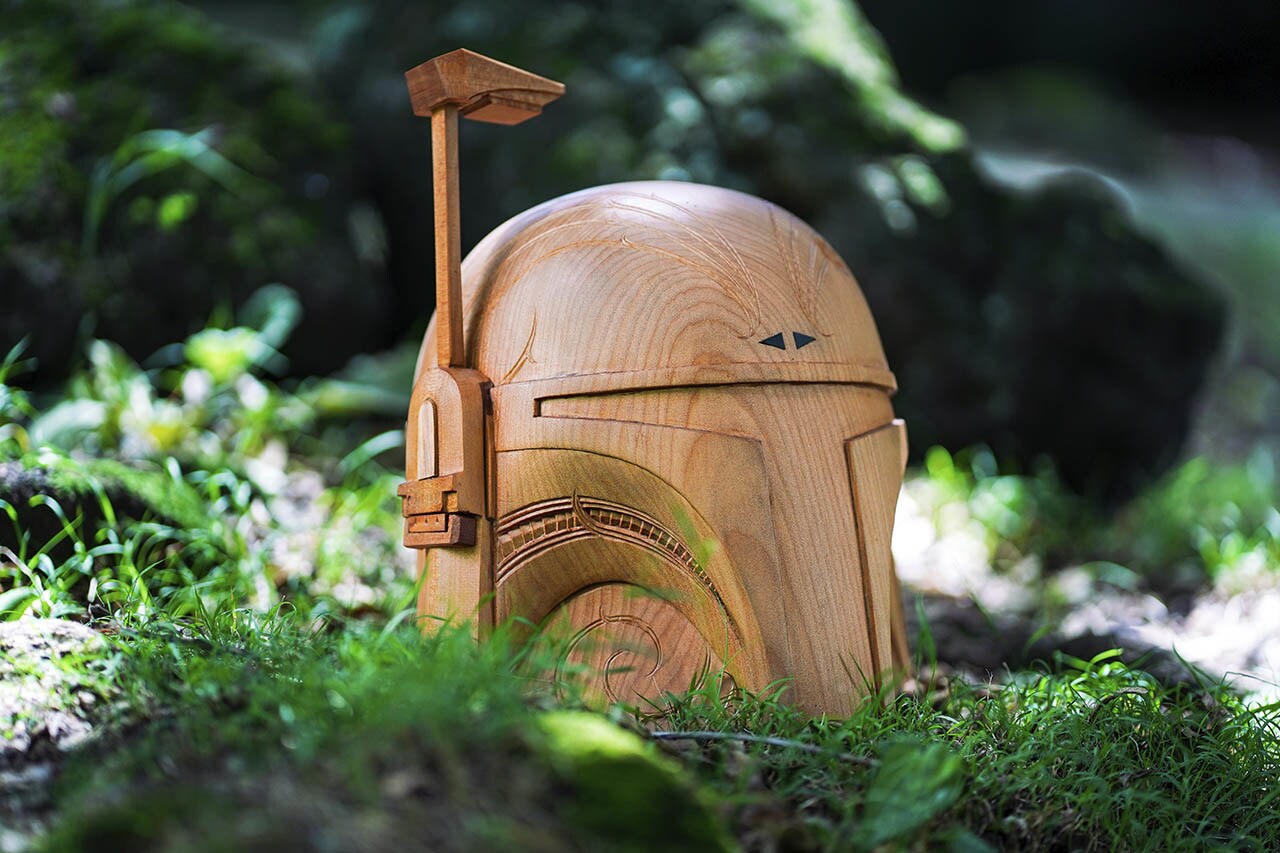 A long time ago in a notebook far, far away
Hoete has been a Star Wars fan for most of his life. Now 43, he remembers drawing Boba Fett's helmet in the margins of his school notebooks. He even fashioned the handle of his carving mallet into a lightsaber hilt. So to craft Boba Fett's Mandalorian helmet for Morrison -- who first came to the Star Wars galaxy as Jango Fett and many, many clones in 2002's Star Wars: Attack of the Clones -- in the Māori tradition, and meet him, is an experience he treasures on many levels.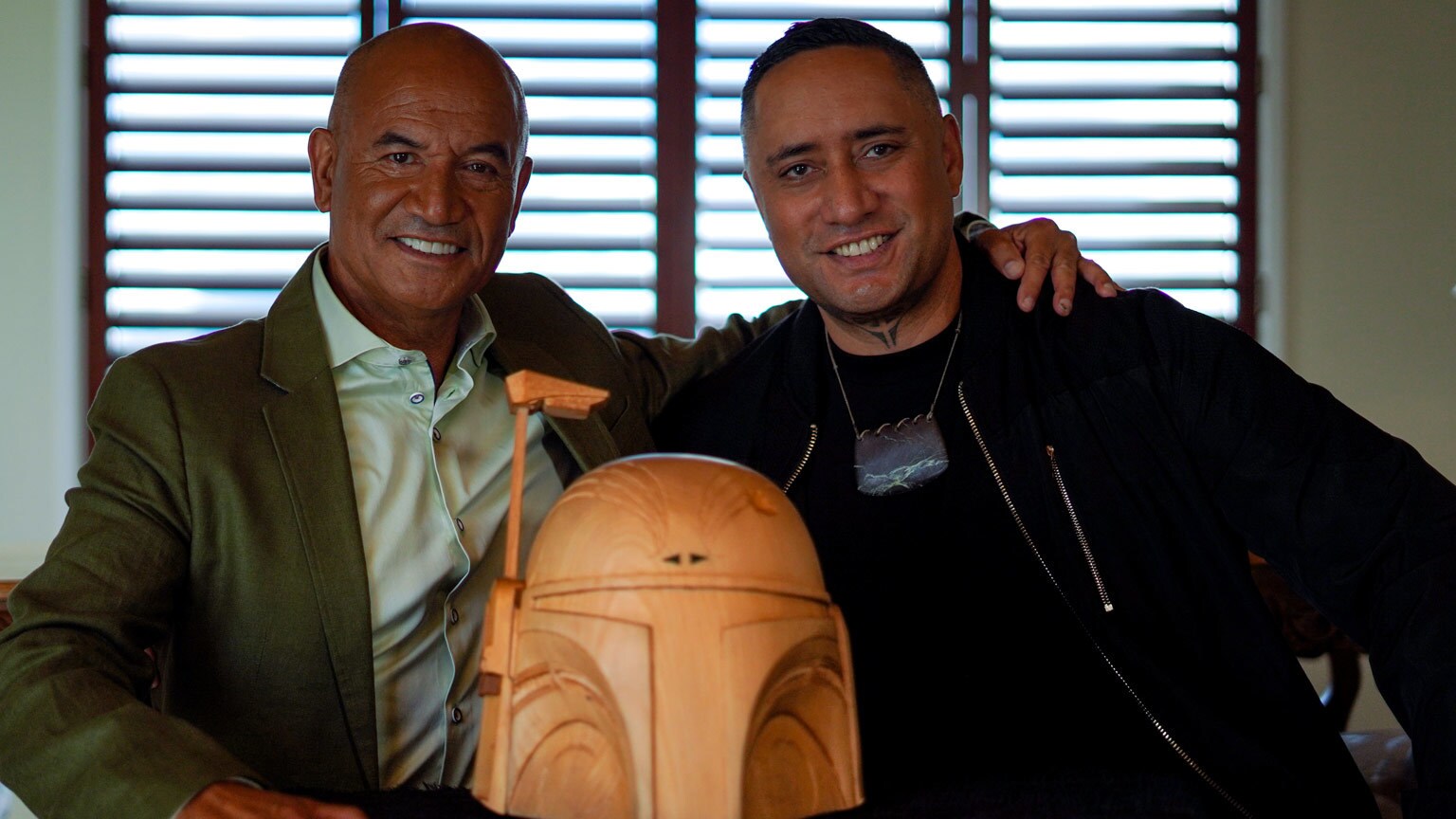 "For me, it was a dream come true. I think of the five-year-old boy that was drawing Boba Fett, in his math book in class," he says. "He never would've dreamed this moment would've come true, you know, or even come to pass. And the thing that made it special was Temuera's humility. He was just so down-to-earth, he was very honoring, and he was very appreciative."
---
The StarWars.com Fan Spotlight Q&A
StarWars.com: What's your favorite Star Wars movie and why?
Graham Hoete: Return of the Jedi. I have so many reasons and fond memories of it as a child. It was such a visual smorgasbord  of inspiration to my young mind back then. It inspired me to dream.
StarWars.com: Would you join the Rebel Alliance or the Empire? 
Graham Hoete: Rebel Alliance.
StarWars.com: You can have Mando's Darksaber, Kylo Ren's unstable red lightsaber, or Luke Skywalker's green lightsaber. Which do you choose and why?
Graham Hoete: Lukes lightsaber. Why? Because it's Luke's lightsaber! Would love Yoda's lightsaber, too!
StarWars.com: Which Star Wars character would you want as a road trip buddy?
Graham Hoete: Without a doubt -- Yoda.
StarWars.com: If you could align yourself with any group in the Star Wars galaxy -- the Jedi, the First Order, the Mandalorian Death Watch, whatever you want -- what would it be?
Graham Hoete: The Jedi. I've always dreamed of being a Jedi since I was a kid. And even though I can't be an actual lightsaber-weilding Jedi, I've always had a childhood dream of one day being a Jedi in the arts. Jedi represent the epitome of mastering one's skillset/ craft, mastering our internal being/emotions, and dedication to discipline, all for a cause greater than ourselves. All of these attributes I've seen in Jedi have always been a continual source of inspiration to me as an artist.