Find out how the creative team added hand-painted décor, delightful details, lights, and sounds to some of the most enduring heroes and villains capping off the Skywalker saga.
Funko Pop! bobbleheads have come a long way from the stoic sculpts and static hero poses of the brand's earliest creations, and the collectible figures from Star Wars: The Rise of Skywalker continue to push the boundaries of innovation with delicate craftsmanship, hand-painted details, and even lights and sounds that help capture an individual character's personality.
But months before these figures hit store shelves, Funko's creative director Reis O'Brien and his team are sculpting the details for the next generation of adorable desktop décor, using reference photos provided by Lucasfilm and word association to try to capture the personalities of characters they have yet to see onscreen.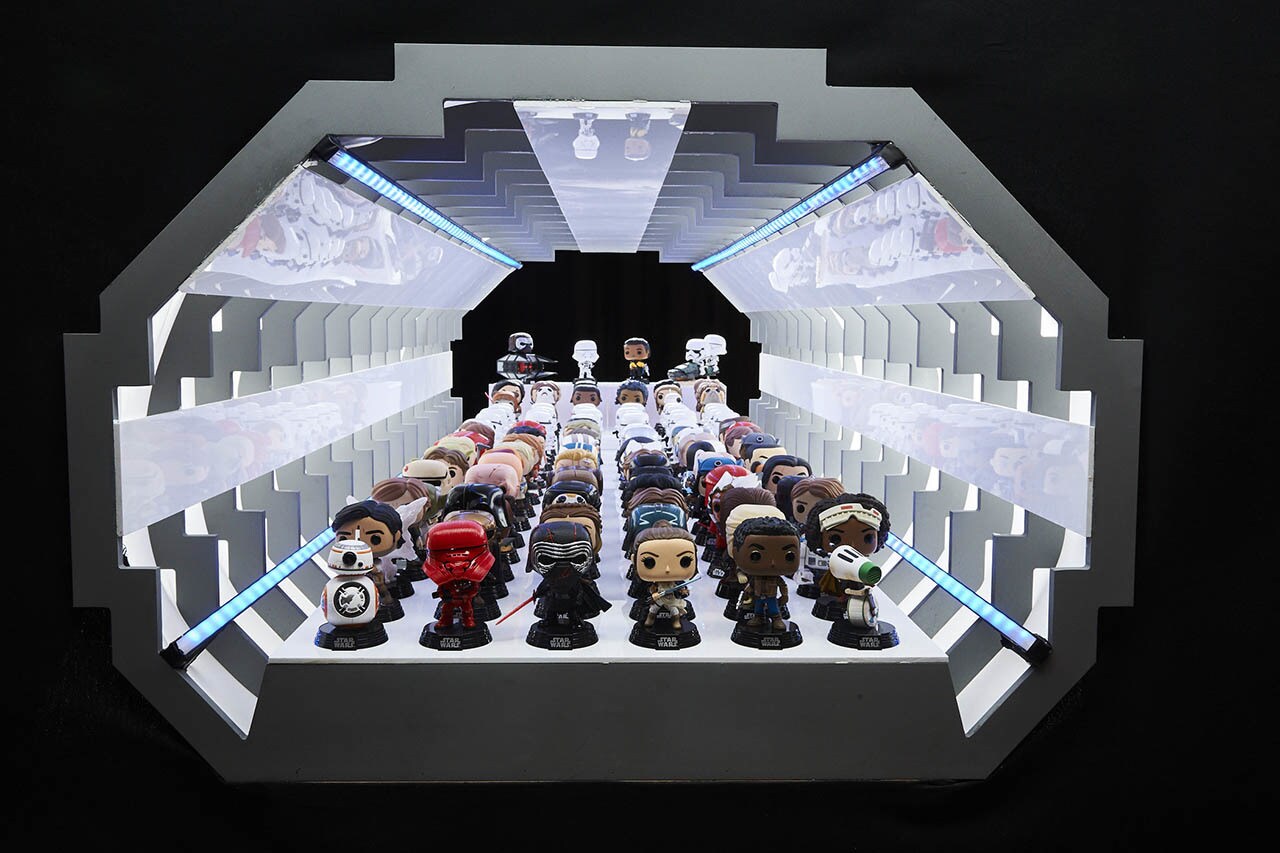 "Even if you don't know the characters, you know the mythos," O'Brien says, with some help from the Lucasfilm team to guide designers on their journey. Recently, StarWars.com sat down with O'Brien to talk about the latest incarnation of Funko Pops! from Star Wars: The Rise of Skywalker, including the deeply creepy Knights of Ren, the delicate details on characters from The Mandalorian, and how the brand keeps pushing the envelope.
The joy of Jannah
Even though some characters from The Rise of Skywalker have already appeared in Pop! form -- Rey, Finn, Poe Dameron, Kylo Ren, Rose Tico, and Lando among them -- there's no recycling old sculpts when it comes to prepping familiar characters for the new line of figures.
Rose, for example, has grown as lot from her screen debut in Star Wars: The Last Jedi, so beyond her new outfit and hairstyle, the Pop! version has to exude a whole new attitude, O'Brien says. Rey, Finn, and Poe also look more determined and ready to lead in their new Funko counterparts. And Lando, ever the debonair caped hero, has been appropriately aged to match the timeline, with bands of gray highlighting his hair.
For new characters, like Jannah and Zorii Bliss, designers relied on detailed reference photos to capture everything from individual ringlets in Jannah's gorgeous curly coif to the stitching on her cape and the specific "warm raspberry jam" hue of Zorii's costume, who stands with blasters drawn "ready to rumble," O'Brien says.
Lead sculptor Amanda Brock did a phenomenal job bringing Jannah to life. "The amount of care that she put into that Pop! was astounding and it shows," O'Brien says. "The detail, the texture in her cape, is unbelievable. Her hair is killer!" he adds, a facet that alone took about two days of work to define and sculpt.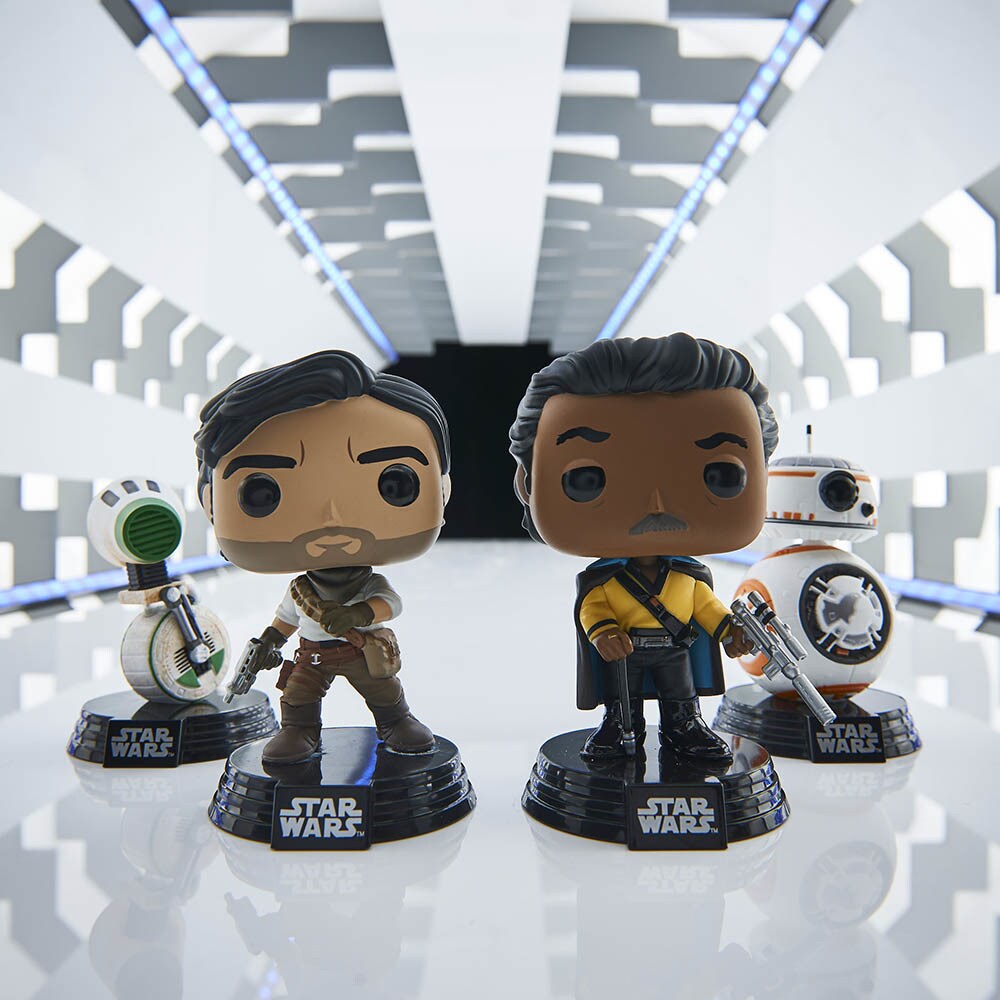 BB-8 got a whole new sculpt, and his brand-new pal D-O is making his Pop! debut. Since Funko Pops! are stylized, designers don't worry too much about sizing to screen accuracy. "D-O in real life, he's tiny. He's like a Pomeranian," O'Brien says. If they had made the figure sized down, it likely would have been the smallest Funko Pop! to date.
But there was a gang of marauders that gave the team some trouble in the design phase: the Knights of Ren. The style of the wide-eyed Funko Pop! form makes almost everything the line touches instantly adorable. Not so with these six. "The Knights of Ren are probably the scariest Pops! we've ever made," O'Brien says. "They're legit frightening….Sometimes just Pop-ifying something, it comes out cute. You can't help it."
Part of what makes the characters so terrifying is that their eyes are hidden behind their masks. "They're just they're very, very frightening characters. You don't see their eyes. In fact, you don't even know what's inside those helmets."
Like Kylo Ren, "it's a deep, black nothingness that you're looking into," O'Brien says.
Lights and sound
Speaking of the Supreme Leader, the brand also recently debuted their new Lights and Sound line with Darth Vader and Kylo Ren.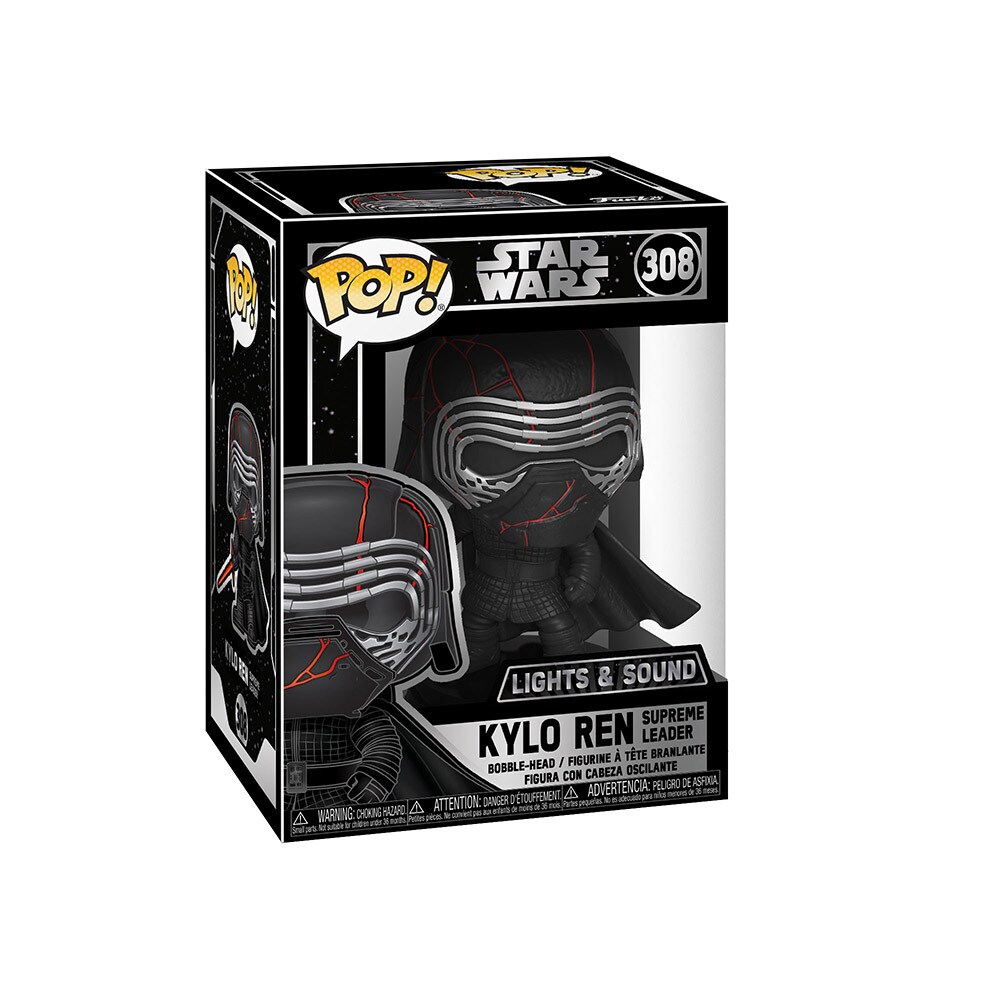 Adding to the expressiveness of the figures, designers incorporated a sensor button in the neck so bobbling the heads on these figures sets off character-specific effects. For Darth Vader, the Pop! seems to breathe and ignite or disengage his red lightsaber.
For Kylo Ren, an LED illuminates his unstable lightsaber with a nefarious red glow. "That's actually kind of innovative," O'Brien says of the new line. "It took trial and error, but we did get it to work."
And the vivid lights and sounds help the creators to express the personalities of key characters in a new way, O'Brien says, who handpicked the unique sounds of Kylo's crackling lightsaber to add to the mix.
The Mandalorian and beyond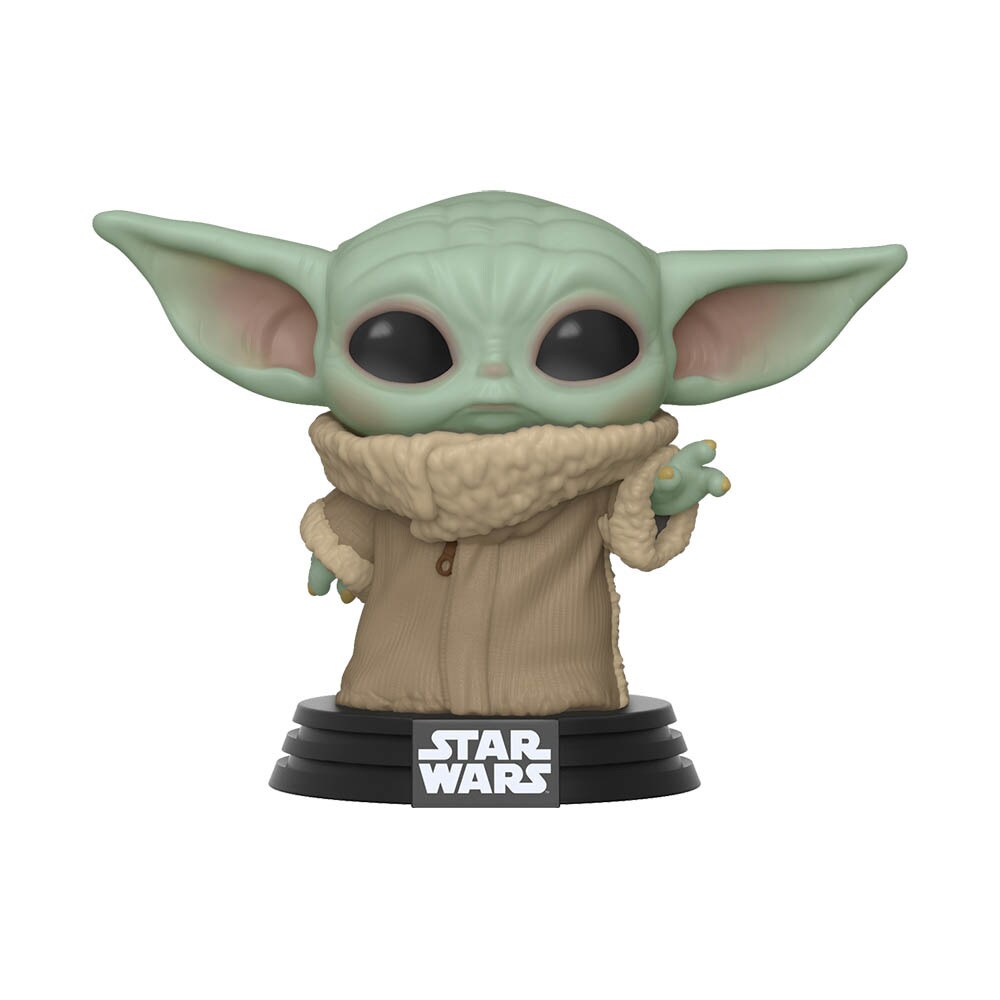 The brand also recently released a small collection of characters from The Mandalorian, and announced plans to bring the Child to the Funko Pop! line next year. "It's grittier, grim. It's desperate. It's a hardscrabble life compared to some of the other movies," O'Brien says of capturing the world of the post-Imperial series.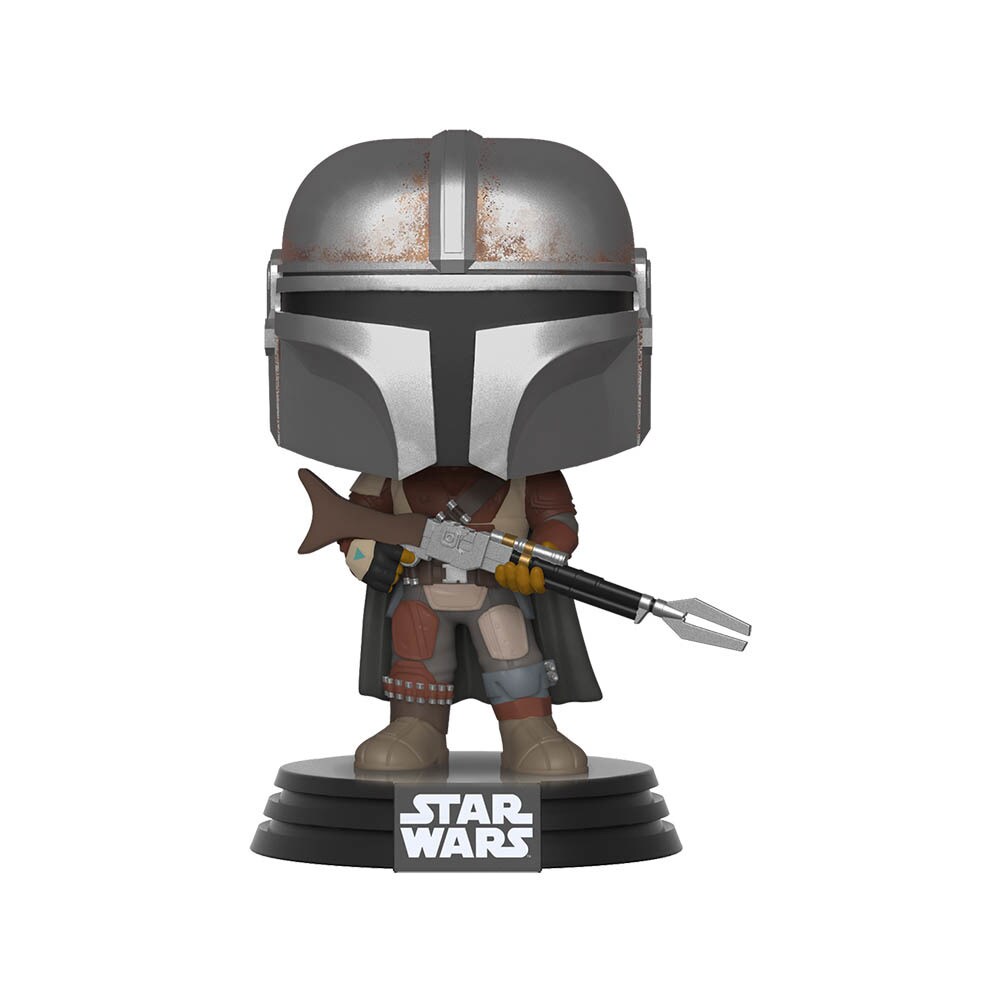 Hand-painted sponging, tapped on with a dry brush, helped capture a hint of something rust-like on the Mandalorian's helmet, while IG-11's distinct paintjob was realized with a rub-in technique.
It's these personal touches and attention to detail, along with the drive to keep innovating, that makes the brand such a fan favorite. "There's been an evolution in the Funko Pop! beyond the detail, the amount of personality in the poses. And that's got to happen at the paint level, too," O'Brien says. "Because we have long-time Star Wars collectors and I want them to go, 'Oh man, I can't believe Funko did this.' I want them to be shocked. I want the people who underestimate a $9.99 collectible to not believe what they're seeing, at least for a second."
And they're not done yet. "We're just scratching the surface," O'Brien teases. "There's a lot of possibilities ahead of us."
Tickets for Star Wars: The Rise of Skywalker are available now.
Star Wars: The Rise of Skywalker arrives December 20, 2019.
Associate Editor Kristin Baver is a writer and all-around sci-fi nerd who always has just one more question in an inexhaustible list of curiosities. Sometimes she blurts out "It's a trap!" even when it's not. Do you know a fan who's most impressive? Hop on Twitter and tell @KristinBaver all about them.
Site tags: #StarWarsBlog, #TheRiseofSkywalker