This Star Wars Reads month, the artwork from a fan-favorite book comes alive in a new line of Hanna Andersson pajamas.
For most of us, Star Wars iconography has become unmistakable, from Jedi Master Yoda's smiling green face to the dreaded Death Star. But crafting just the right illustration to introduce a new generation of fans to these places, vehicles, and characters from a galaxy far, far away? That's a different story.
In celebration of Star Wars Reads, artwork from the fan-favorite Star Wars Block Book has been reimagined in delightful prints on a new line of cozy Hanna Andersson pajamas. StarWars.com recently sat down with David Partington of Peskimo, the husband-and-wife design duo that brought us the charming illustrations from the book, and Hanna Andersson designer Jennifer Clancey, to delve into the evolution of Star Wars imagery from the screen to the page and ultimately onto our new favorite sleepwear.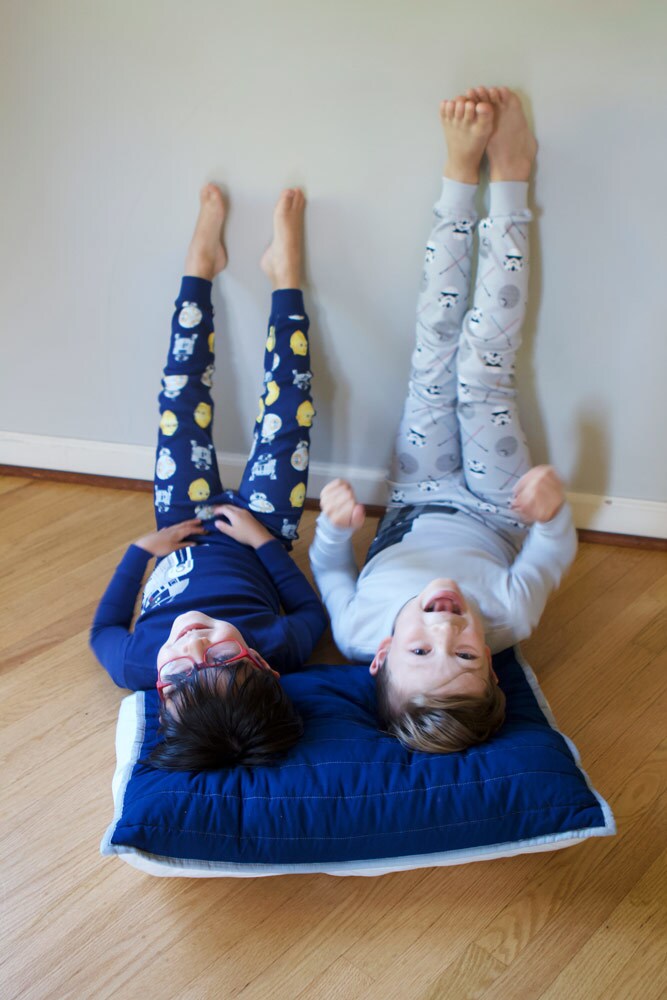 Kids and kids at heart
Clancey's son actually helped the designer pick the Star Wars Block Book from a list of three contenders, having passed down her love of the saga after being introduced by her father. "I liked that this particular book offered a broad range of characters from the entire saga. I also knew the illustrations could be translated easily into apparel," she says. "I showed all three books to my Star Wars-loving seven-year-old son and this was his favorite, too!"
Partington also traces his love of the saga to his childhood and, fittingly, hours spent reading about his favorite characters. "I have a strong memory of an old read-along book and cassette tape that I loved," he says. "You would turn the page when Artoo beeped! I even have proof of some of my first Star Wars experiences from old school writing books when I was just four years old!" By his teens, his love of Star Wars remained but his tastes changed. "I began to really appreciate the production art from the original films, and I cite Ralph McQuarrie as a big influence."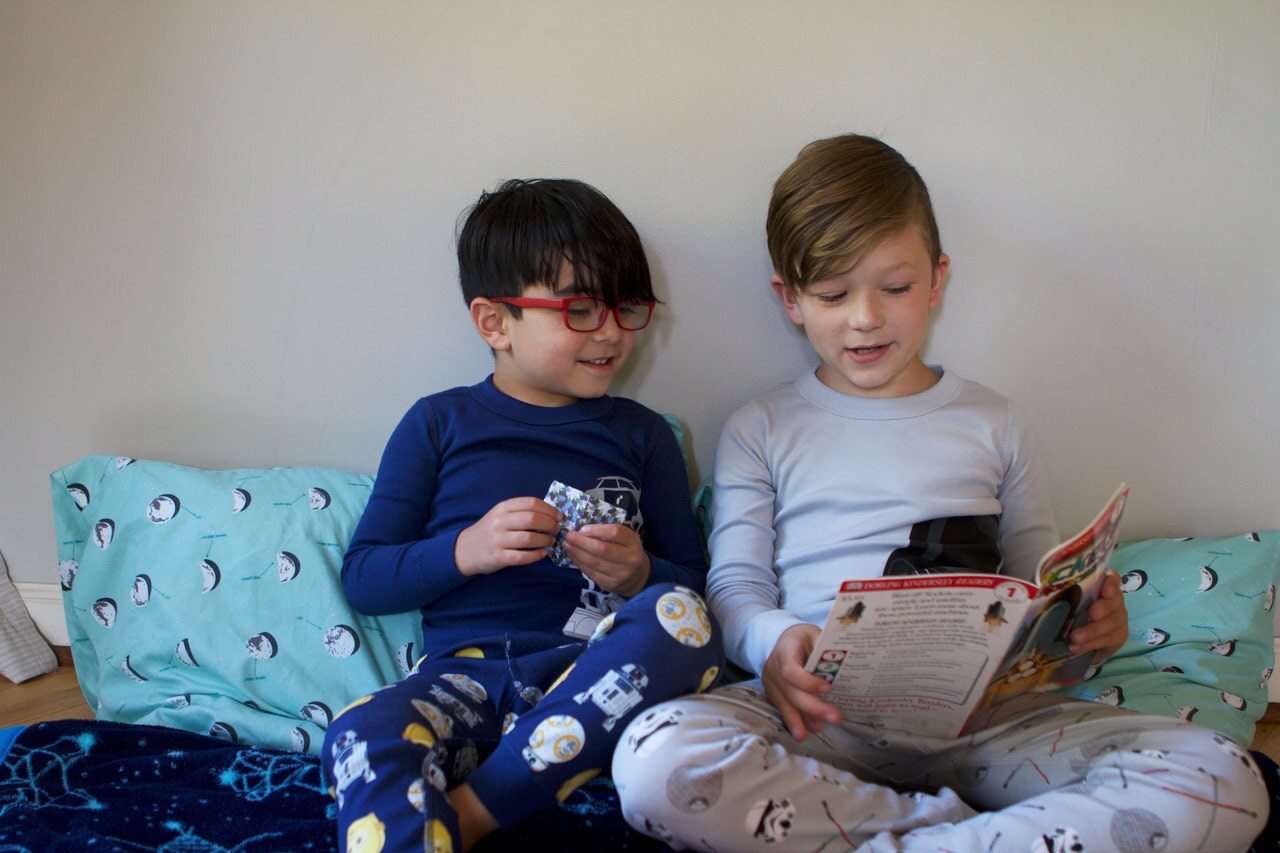 When it came time to illustrate the book, which introduces new fans to 100 essential Star Wars words through characters, locations, and other imagery, Partington combined the two loves. Ultimately, the illustrations were just trying to capture the essence of each character and ship while focusing on the types of Star Wars imagery that typically captures a youngling's imagination. "Research was the key," says Partington, who poured over every Star Wars art book he could find as well as images costumes, props, and sets "so that I could distill each of them down to an illustration." Typically a stickler for small details -- "especially when it comes to something I love as much as Star Wars," he notes -- when illustrating for the pre-school crowd, Partington says the key was to pare down the image. "My process usually involves me adding too much detail and then taking some away to find the right balance. The other way was to focus on the things that three-year-olds love…characters, spaceships, droids, and Ewoks!"
Partington's work always begins with a sketch, but refining and perfecting each page can take a few days. "In the case of the Block Books, the design of which is heavily defined by the die-cut pages, I have to consider how one page will interact with the next as elements show through the die-cut page, and we try to make these as seamless as possible. A busy scene, like the Battle of Hoth, might have taken a couple of days to get all the elements in there."
Striking a balance
For the book, it was crucial to balance enticing readers who may have never even seen one of the films or TV series without spoiling too much of the story. "I love that the book balances that line between introducing the core elements of the films, whilst also highlighting obscure characters and ships that may only appear in one scene," he says. "As Obi-Wan said, those readers have taken their 'first step into a larger world.'" And children and parents were quickly enamored with the book. "We've had lots of photos shared with us via Instagram, a lot of the time from parents happy to be able to share a love of Star Wars with their young kids. It's also been really nice to see older siblings sharing and reading the book with their Padawan brothers and sisters!"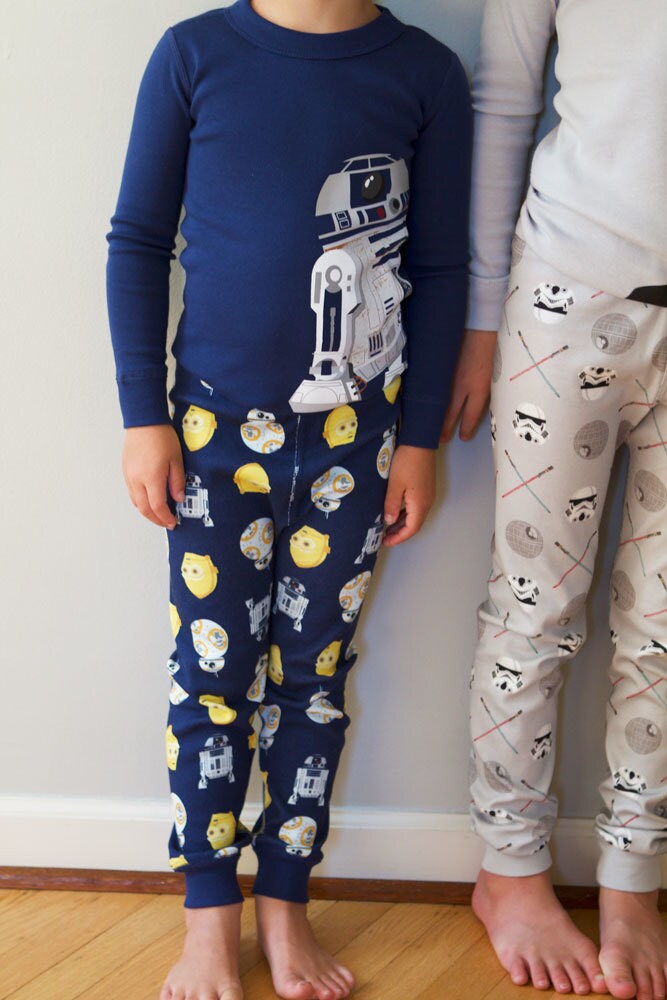 When it came time to translate the beloved artwork into something wearable, Clancey started at the beginning. "The allover print is literally the cover of the book," she says of the motif that merges battle droids and BB-8 alongside lesser known mouse droids and Imperial probe droids, with a healthy mix of helmets, emblems, and vehicles thrown into the mix. "We really wanted our pajamas to match back to the book to encourage kids to read," she says. "We view our pajamas as a continuation of the story for the child's imagination and we work on scale and spacing to ensure that the child will be able to have a sense of discovery when the find their favorite character in the print."
Two other sets highlight Darth Vader and R2-D2 on the pajama tops while a range of fun and topical elements decorate the bottoms in a signature print. "I was so inspired by Peskimo's art that I really wanted to highlight as much of it as I could in the pajamas. It really speaks to one of our Hanna pillars around discovery -- allowing the child to discover new characters," Clancey says. "Darth Vader and R2-D2 are long time Hanna favorites that we use to represent both the dark and light sides."
Pick up your own copy of the Star Wars Block Book and matching Hanna Andersson pajamas to celebrate Star Wars Reads now!
Associate Editor Kristin Baver is a writer, host of This Week! In Star Wars and The Star Wars Show Book Club, and all-around sci-fi nerd who always has just one more question in an inexhaustible list of curiosities. Sometimes she blurts out "It's a trap!" even when it's not. Do you know a fan who's most impressive? Hop on Twitter and tell @KristinBaver all about them.
Site tags: #StarWarsBlog