The creators explain how to hack droids, translate alien languages, and more with your smartphone.
Even visitors to Black Spire Outpost may get hired for a smuggling job or conscripted to aid a Resistance spy from time to time thanks to cutting-edge galactic tech.
Through the Play Disney Parks app, a regular mobile smartphone is transformed into a datapad inside Star Wars: Galaxy's Edge, now open at Disneyland® Resort and coming soon to Walt Disney World® Resort. Equal parts mobile game platform and utility tool, the app allows visitors to further immerse themselves in the galactic adventure inside the land with digital puzzles that can elicit physical reactions in the world around them.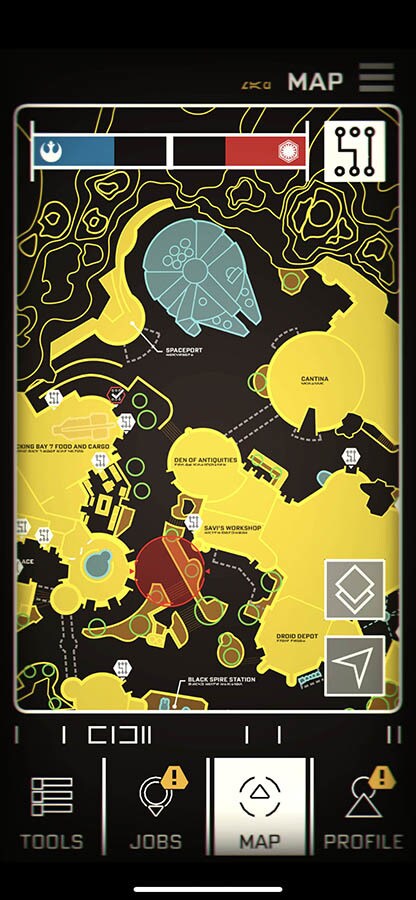 The app can be downloaded ahead of time, then launched inside Star Wars: Galaxy's Edge to customize your experience. "Everyone's experience is going to be a little bit different," says Anisha Deshmane, the assistant producer on the Play Disney Parks app, "depending on the choices that you make about what you interact with, as well as the different factions you decide to ally yourself with. If you decide to do a lot of things for the First Order, you're going to have a different experience than those who decide to help the Resistance."
Although you don't get to choose your allegiance outright, a series of activities will gauge if you bow to the First Order, are secretly with the Resistance, or are only in it for yourself living the life of a rogue smuggler or "independent scoundrel" existing outside the growing conflict. "We know that many of our guests have been pretending to play Star Wars in their own backyards since 1977," Deshmane says, "and we really wanted to give them the ultimate Star Wars playground."
But the app can be just as helpful to die-hard fans as it is to newcomers,. "The fans who are sort of new to Star Wars can really explore the land and learn about Star Wars by going through some of those exploratory experiences," Deshmane says, "like finding a droid and being able to activate it, seeing what its memory bank will show them and being able to access new elements of the Star Wars story that way."