Hunter, Tech, Wrecker, Echo, and Crosshair hit the bricks after Order 66.
Strap in for takeoff.
Star Wars: The Bad Batch has arrived on Disney+, and today the LEGO Group has revealed a new buildable playset inspired by the unique squad's ship. The set includes six minifigures -- Hunter, Tech, Wrecker, Echo, Crosshair, and a Gonk droid -- and at least one spoiler from the super-sized premiere. (Hint: One of these clones is looking a little different than his brothers.)
StarWars.com is excited to exclusively debut the new Star Wars: The Bad Batch Attack Shuttle from the LEGO Group, including insights from the team that helped create it.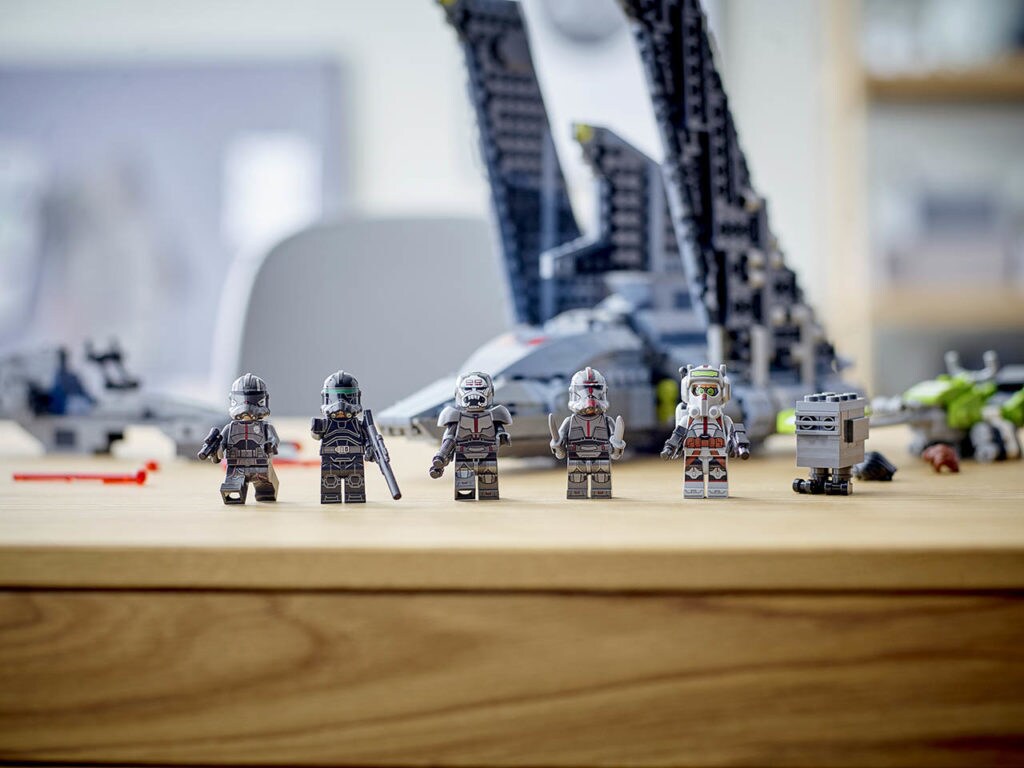 Senior Graphic Designer Madison O'Neil on creating those amazing new minifigures -- including a revealing look at Crosshair.
"Each member of the Bad Batch has a distinct personality and a unique set of armor. Also, despite the fact that they are clones, they each have unique facial features whether that be scars, face paint, goggles, tattoos, and even cybernetic implants. We wanted to make sure to capture all of these fun features in the minifigures, and we created a few new elements to help with that as well. Seeing Crosshair's new set of armor for the first time made me very excited to watch the new Bad Batch series! I can't wait to see how and why he gets it."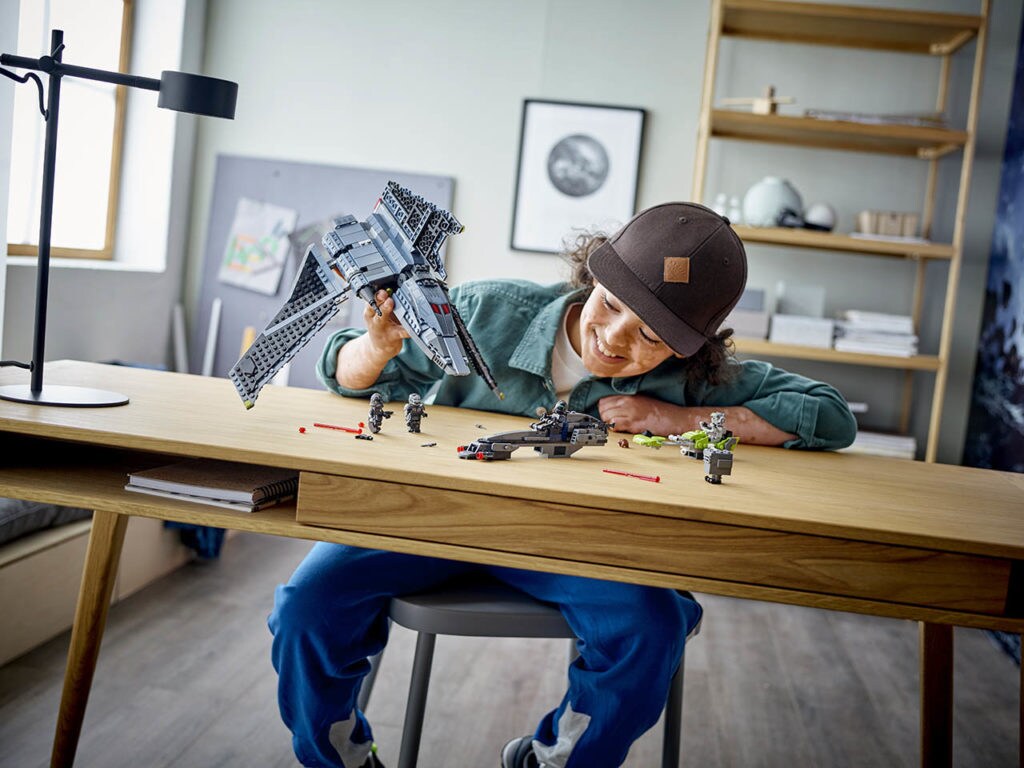 Designer Hans Burkhard Schlömer on making a kid-friendly play set for Star Wars fans 9 and up.
"Our larger (UCS series) sets often require an internal frame constructed with mostly LEGO Technic elements to make them stable and sturdy enough. On play-theme sets, we can usually reduce that amount, due to their smaller size, and lesser weight. On the shuttle you will find that only the joints of the pair of wings are connected using technic beams for stability, keeping the whole building experience very plates-and-bricks. Well, mostly plates! It also was important to me that the shuttle can fully open, to allow easy access to the interior play space."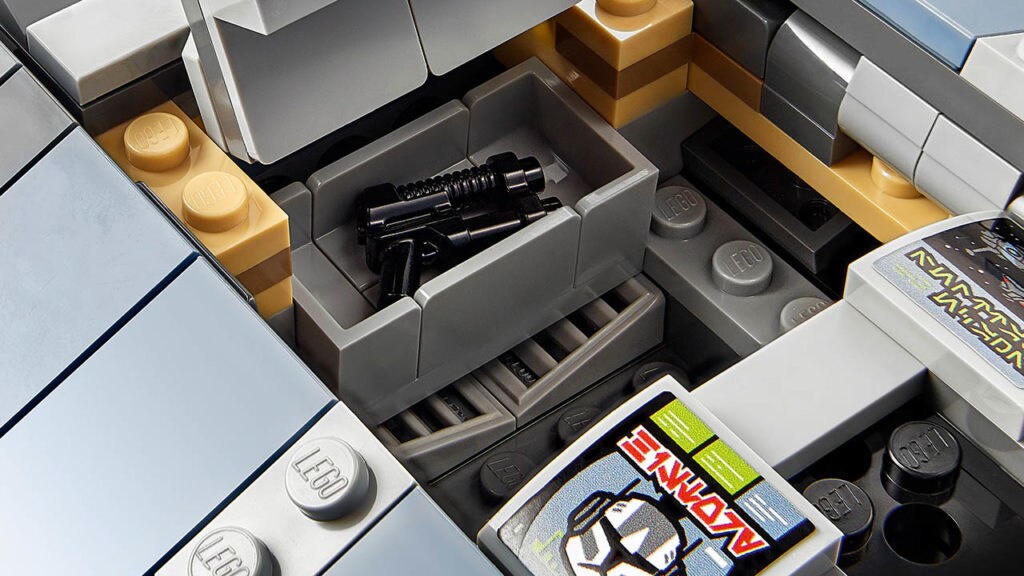 Senior Graphic Designer Madison O'Neil on some Aurebesh elements hidden inside the ship.
"These decorations are actually posters that the Bad Batch have hung on the walls of their ship. The designs are taken directly from the show. I love that the Bad Batch has decided to decorate their ship and make the space their own. It's a fun detail that I think sets them apart from standard clones."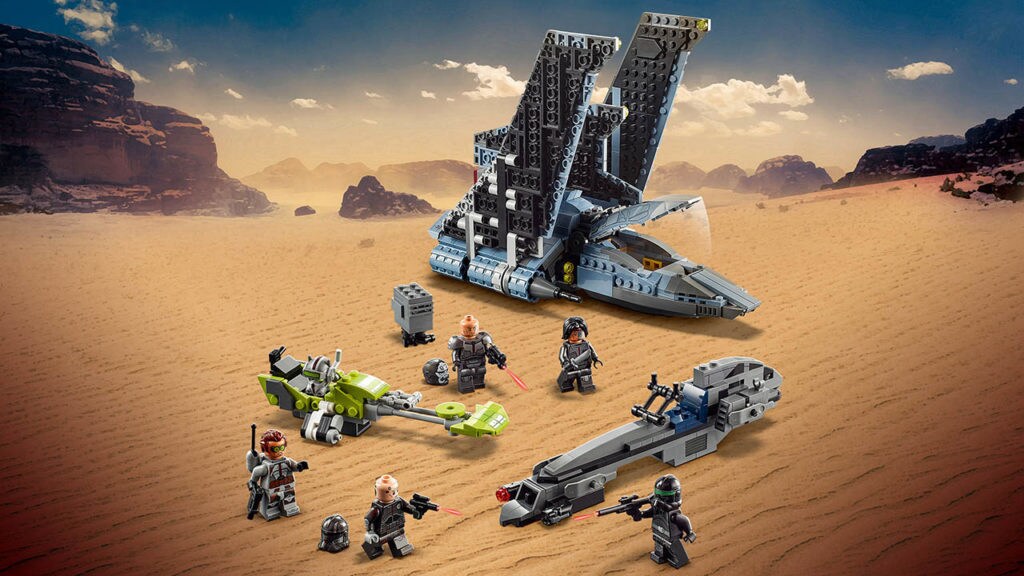 Design Director Jens Kronvold Frederiksen on the included speeder bikes and Gonk droid.
"The two speeders are included because we wanted to add some extra value to the set. We know that the speeders will be seen in the show, however, we do not know exactly in which context they will be seen. I guess we will have to wait and see like everybody else. We also love Gonk droids, so we are excited too, and happy that we were able to include one here."
Take a closer look at the set with additional images below then pre-order your own.