Hasbro's Sam Smith and Mike Ballog talk to StarWars.com about new Black Series figures and much more.
Hasbro design manager Sam Smith first glimpsed Star Wars: The Rise of Skywalker's Sith trooper over a year ago, when reference material for the mysterious new First Order soldier finally arrived. And for the Star Wars action-figure veteran, it was love at first red-armored sight.
"The trooper design, when it came in, was incredible," Smith tells StarWars.com. "There's an immediate association that this is something completely different."
Fans got to see just how different when Lucasfilm unveiled the screen-used Sith trooper armor at San Diego Comic-Con at the same time Hasbro's 6-inch Black Series Sith trooper figure -- a gorgeous take on the latest evolution of the stormtrooper -- also debuted in a special early-release. The figure captures the layered, intricate detail of the armor, noticeable for its fine ribbing and etched lines, as well as a helmet that seems to blend elements from troopers past. "I was thrilled to get to work on that one," Smith says. "It was a great collaboration with ILM. We got to work directly from the original film sculpt files to ensure that everything we were translating digitally [moved] directly over to the figure."
The Sith trooper, however, is just the tip of the massive Hasbro Star Wars iceberg.
Star Wars: The Black Series
On Triple Force Friday, October 4, Hasbro released the next generation of its Star Wars products, including a wide release of the Sith trooper and an onslaught of new Black Series figures based on Star Wars: The Rise of Skywalker, the upcoming live-action series The Mandalorian, and the highly-anticipated game Star Wars Jedi: Fallen Order. From Rey to the titular Mandalorian, the line has truly never been better; Photo Real, Hasbro's innovative face-painting technique, has brought a new level realism to the series; there are more accessories than ever before; a mix of soft goods and plastic are now more regular, fitting the looks of the characters.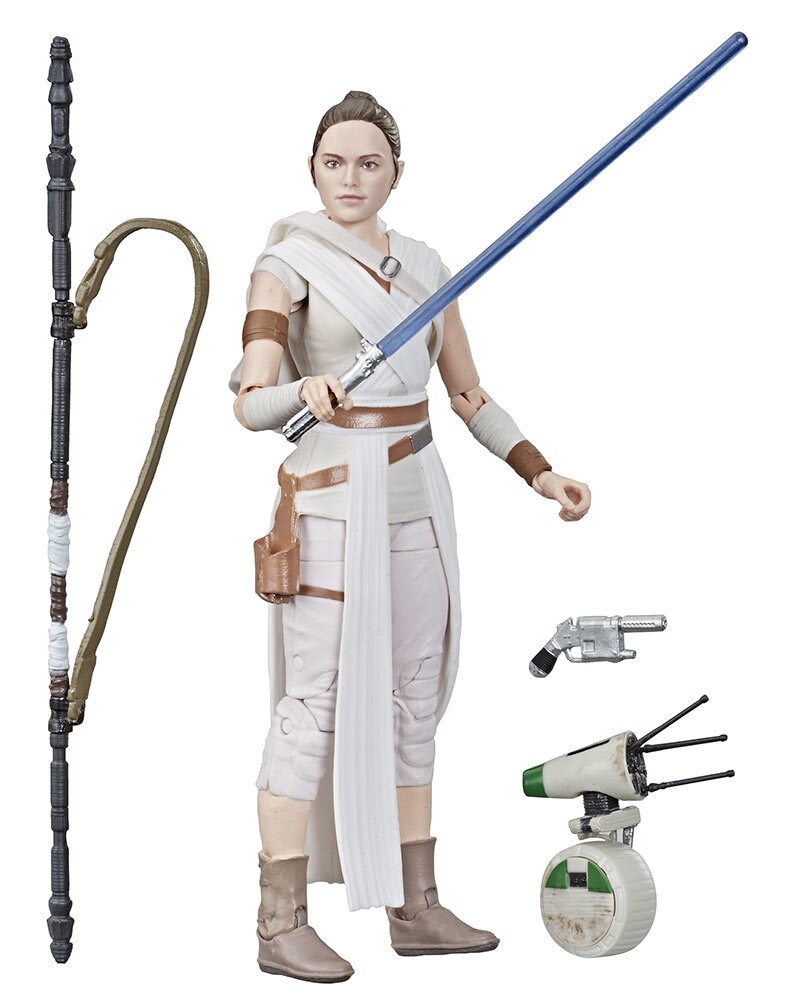 "I credit a lot of that to our design team," Mike Ballog, senior director, global brand marketing of Hasbro says. "To Sam Smith. I think he takes a lot of personal pride in saying, 'What else can we do? What do fans want to see?'" Indeed, Ballog says that Hasbro takes fan opinion seriously, and has "endless discussions" over every element of the final product; to wit, he cites the new Rey figure's inclusion of the cute droid D-O as a direct callback to BB-8 accompanying the original 2015 Rey figure, based on Star Wars: The Force Awakens. "I think the symmetry that the team has built into the line is really fascinating," Ballog says.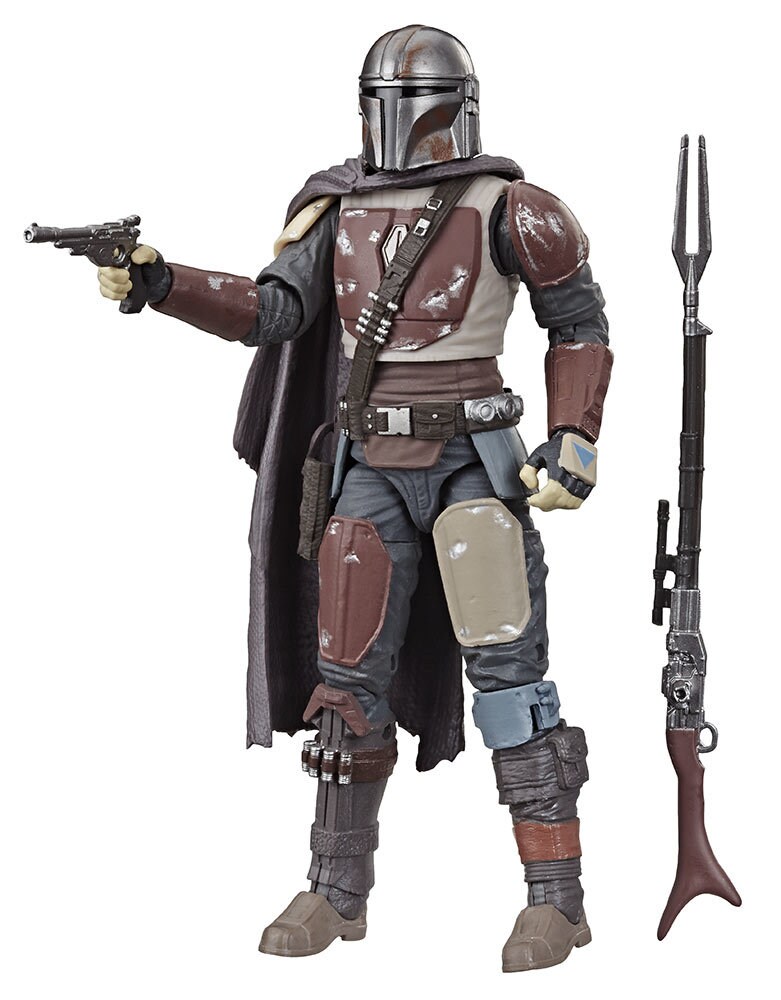 Now with its own powerful legacy, the Black Series has become a point of pride for those behind the scenes. "In a lot of ways, I think our team looks at the Black Series like they're curators of something that has built and improved over the years," Ballog says. "It's pretty awesome to see."
Star Wars Galaxy of Adventures
Among this crop of new releases is a wave of figures in support of Star Wars Galaxy of Adventures, the popular series of animated shorts on YouTube.com/StarWarsKids. Galaxy of Adventures has a colorful and vibrant style, and these are the first figures created in the aesthetic of the series. "We're really starting to align with the animation to bring these characters to life," Smith says. "They're such a great new expression, but everything feels really premium about them. They have awesome color separation, and just become the best representation of the character. It's not [about] having to focus on specific costumes and details and trying to make it film-accurate. It's really taking that animated style and embracing it for each character." The figures all have unique action features (Chewbacca with Wookiee Slam!), and the line also introduces a new scale for Hasbro Star Wars: 5.5-inch. That's not insignificant in the world of Star Wars collecting. "For so long, we were so tethered to the scale of three and three quarter [inches], just because we've been doing it for 40 years," Smith says. "But in terms of what's really engaging, and what's a size that's really playable for kids, and will feel new and fresh, that was really nice for us."
"That line is intended to bring in a kid audience, to appeal to different styling, to have that feature-forward play," Ballog adds. "It's a big step."
The Skywalker Saga and the Scream Saber
Hasbro is also celebrating the culmination of the saga with a special line of figures dubbed "The Skywalker Saga," exclusive to Walmart. First revealed during Lucasfilm's Triple Force Friday livestream event, the range consists of fan-favorites from across Hasbro's 3.75-inch Vintage Collection, painted gold and packed thematically. "How do we pay homage to it, how do we celebrate it, and then do it in a unique expression?" says Ballog of the line's ideation. "We thought gold was a cool way to do that."
In a way, the line was meant to tell stories, both through its figure selection and even the box art. If you line up the packages of every release in the series, the back-of-card artwork forms one big saga-spanning mural. "You have the visual timeline of all nine films," Ballog says.
Another major release is Hasbro's Scream Saber, the company's latest -- and insanely fun -- take on Star Wars's most iconic weapon. It is, more or less, what it sounds like. The Scream Saber allows fans to record their own lightsaber sounds that can replace the classic whoosh and elegant hum, with often hilarious results. In other words, you can record yourself scream, record your cat meowing, or do your best Yoda impression, and the Scream Saber will make that sound with every swipe. (Though purists should rest easy; the Scream Saber also includes classic lightsaber sounds and Star Wars voices and sound FX.) "How do you take the idea of a lightsaber but put the creativity in a kids' hands?" Ballog says of the inspiration behind the Scream Saber. "If you look at how kids are playing, the world has shifted from always acting out a very specific thing to 'I'm taking things that are universally known or understood, and I'm putting my own spin on it.'" Hasbro was eager to figure out a way to meet that evolution in play, and worked with Lucasfilm to expand the possibilities of what a lightsaber could be, while still being respectful of the weapon's legacy. "We ended up with an item we're really excited about," Ballog says.
Triple Force Friday has brought with it a galaxy of new Star Wars products, but to quote Count Dooku, "This is just the beginning."
"There's lots more to come in terms of what we have planned for the future," Smith says. "I think all our fans our going to be super excited."

Dan Brooks is Lucasfilm's senior content strategist of online, the editor of StarWars.com, and a writer. He loves 
Star Wars
, ELO, and the New York Rangers, Jets, and Yankees. Follow him on Twitter @dan_brooks where he rants about all these things.
Site tags: #StarWarsBlog