StarWars.com goes inside Hasbro's plan to make its largest Star Wars product ever -- with help from fans.
For 35 years, fans have been clamoring for their own piece of Star Wars extravagance and sophistication: a Hasbro recreation of Jabba's sail barge, the Khetanna, which the notorious crime lord used to cruise across the Dune Sea. With the launch of HasLab, an innovative new platform bringing big ideas and niche products to life, fans across the United States -- and, StarWars.com can exclusively reveal, in Canada, too! -- may soon be able to sail away with their own massive 4-foot-long, highly detailed recreation from the toy brand's comprehensive 3.75-inch scale Vintage Collection. The never-before-produced vehicle has been on the wish lists of fans and toy designers alike for decades, says Hasbro's director of Global Brand Strategy and Marketing Joe Ninivaggi.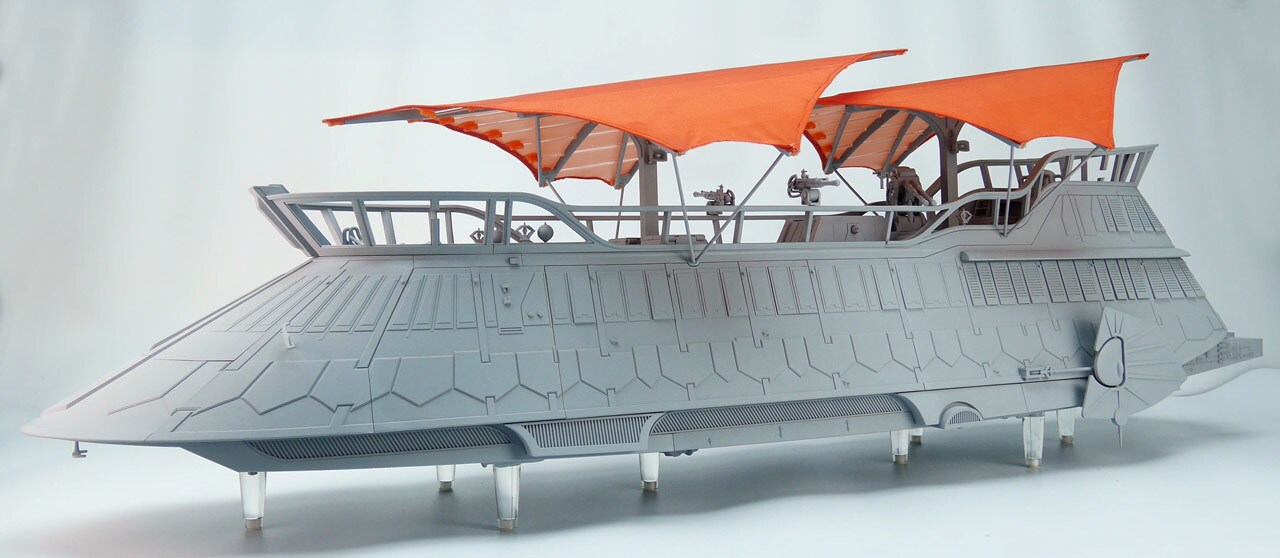 It doesn't take a Jedi mind trick to see how much attention, and elaborate and painstakingly precise sculpting has gone into the prototype, which was first revealed at Toy Fair 2018 last month. Available only to pledged backers, the $499.99 masterpiece will be the largest Hasbro Star Wars product ever created, if (and we hope when) it's put into production once HasLab meets its 5,000 pre-order goal by April 3.
StarWars.com recently sat down with Ninivaggi and Steve Evans, design and development director for Star Wars at Hasbro, to get an early look at some of the most detailed and ingenious features on the model, as well as a peek at the impressive skill and research that went into creating the luxury barge. Fans who back the project will not only receive their own ship when it's available early next year, but they'll have the chance to get an exclusive first look at other reveals and special behind-the-scenes content along the way, as well as receiving a 64-page booklet detailing the design and development through product blueprints, interviews, and more.
Introducing HasLab
It's clear that HasLab is an extension of the longstanding collaboration between fans and the beloved toymaker that has, over the years, helped to introduce new products and figures based on feedback and the results of fan polls.
"We've done a lot of fan votes and they're great," says Ninivaggi, but that approach has its limitations. "You can click on a fan vote as much as you want. We're not 100 percent sure if you're really getting the full grasp of what the fan community wants."
"Something like this really brings the fans together," adds Evans. "To have a single item that everyone can get behind, it's a much more, sort of, unified approach." In the short time since it's introduction, Hasbro's team has already seen a groundswell of support for the HasLab concept and its inaugural product idea. "It's incredible the way the fan sites are building their own rationale behind why you should buy it," Evans says, including some that have introduced their own countdown clocks. "They're brilliant!"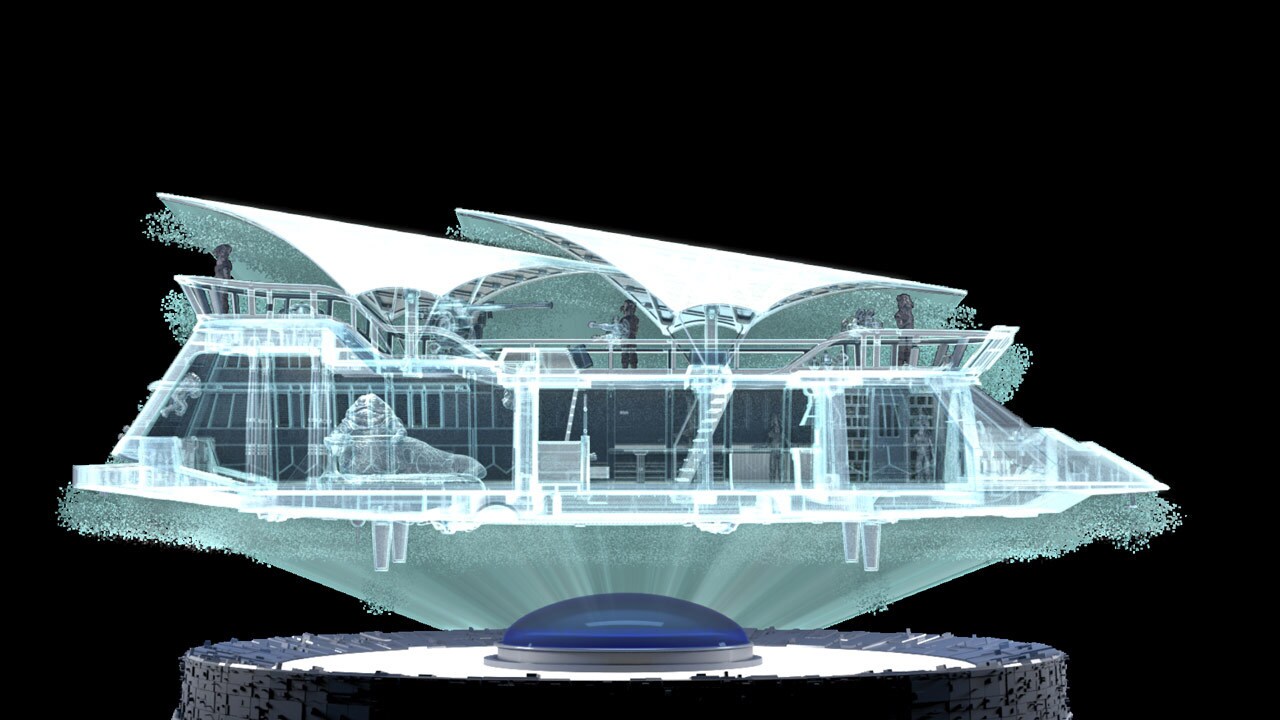 "In the case of Jabba's barge, it's been 35 years people have been asking us to make it," Ninivaggi notes. "We make a lot of awesome products and we're proud of the line we make and it's certainly size able. But there are the ones that got away, the ones that we can't get to."
Producing a toy of this size without a pre-order campaign would be a gamble even Jabba himself couldn't take. The best approach, Hasbro says: a partnership directly with the most fervent fans and collectors that not only creates the never-before-seen toy but invites backers along for the wild ride from concept to creation.
"We wanted to do something that wasn't transactional in nature but gave up the opportunity to really kind of love the process and reveal it and share updates," says Ninivaggi. "This is a year-long process and we created this beautiful book that shows all the behind-the-scenes work. We're celebrating Mark Boudreaux [Hasbro's senior principal designer on Star Wars], who has been part of every major vehicle since 1977, so it's a really beautiful kind of platform that goes well beyond just selling a product."
"Quite simply," says Evans, "the fans deserve it."
Concept to creation
The creation of the barge relied on extensive research into the original Return of the Jedi production and the introduction of never-before-seen details borrowing the same approach used by the original model makers and designers. In keeping with the detailed work that separates The Vintage Collection from its regular 3.75-inch scale sister line, Jabba's sail barge will include removable side panels, fabric sails, and the Hutt gangster himself, with plans to use the new "Photo Real" paint-application technique to bring his visage to life.