Product designer Eric Franer talks to StarWars.com about creating two frighteningly fun new figures.
Star Wars and Halloween go well together. Maybe it's the dark side and black-clad Sith Lords. Maybe it's the creepy creatures, like rancors, ice spiders, or brain worms that can reanimate the dead. Maybe it's the feeling that Star Wars characters are tailor-made for Halloween costumes. Whatever the reason, it's a combination that fans have enjoyed for decades, and toy giant Hasbro took notice.
This fall, Hasbro will celebrate the combined strength of the scary season and the galaxy far, far away with two new Halloween-themed figures: a skeleton-deco clone trooper and, for lack of better term, a Were-Wookiee, both coming to the popular 6-inch Star Wars: The Black Series line.
"There's a lot of fantasy in both Halloween and in Star Wars," Eric Franer, Hasbro's product designer for Star Wars, tells StarWars.com. "A lot of the outfits just lend themselves really well to that kind of aesthetic. There's a lot of scary looking aliens. There's a lot of like, gnarly looking characters."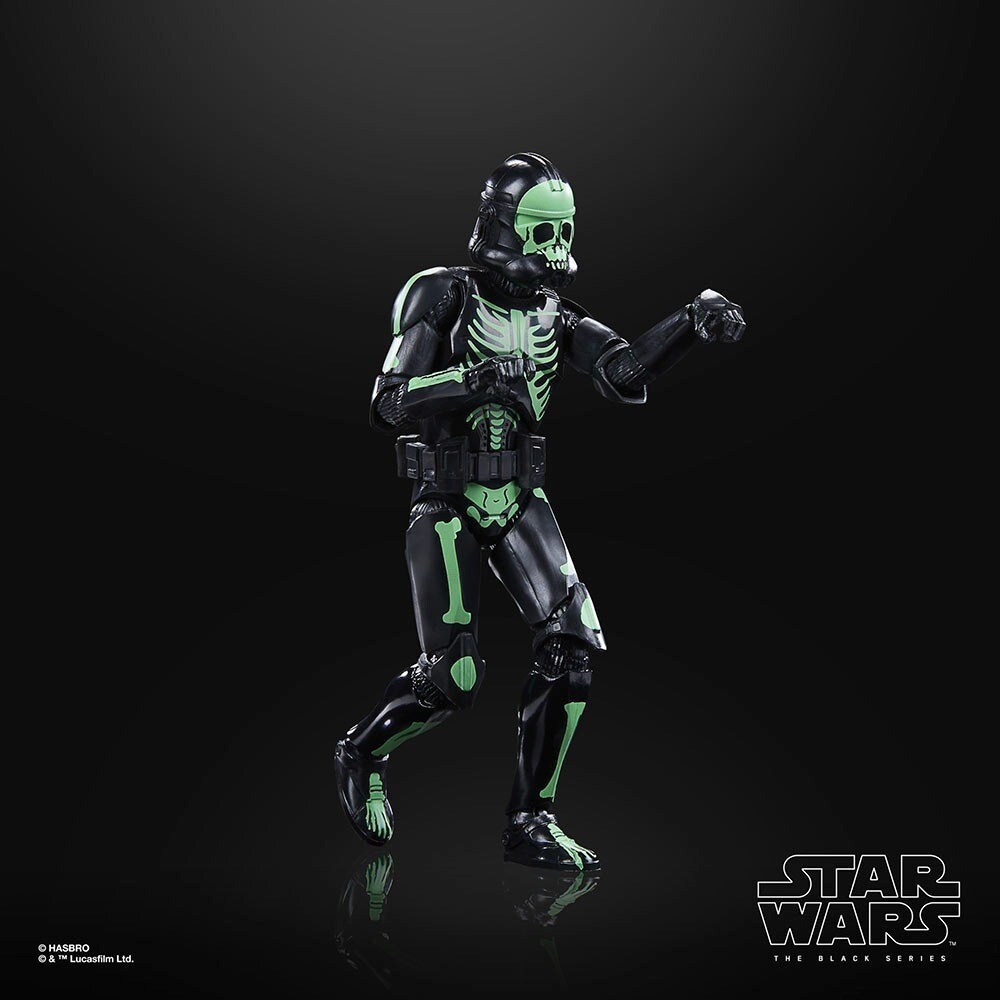 According to Franer, mashing up Star Wars and Halloween was a no-brainer, especially following the company's first foray into holiday-based releases last year.
"We had the original holiday-themed figures -- the winter, Christmas holiday figures. And those were very successful, and we were really happy with how those came out. We knew we wanted to expand into other holidays," Franer says. "Pretty much top of mind was Halloween. It was just the next one that that lent itself really well to Star Wars."
Franer did a lot of design exploration for the project, to the tune of close to 30 different characters. Narrowing the field down to two figures would be difficult, as Hasbro wanted these figures to appeal to both casual fans and the hardcore; they couldn't be too obscure or too obvious. Eventually, the Phase II-based clone trooper and Wookiee stood out from the petrifying pack.
"We were really happy with all of them," Franer says. "Ultimately, what we landed on were two characters that were immediate, easy gets as Star Wars characters, while also being immediate gets as a Halloween figure."
The final figures are completely charming, featuring clever details and an eye toward originality that fans of Star Wars and Halloween will no doubt love. The skull on the trooper's helmet? It comes straight from some very famous clone armor.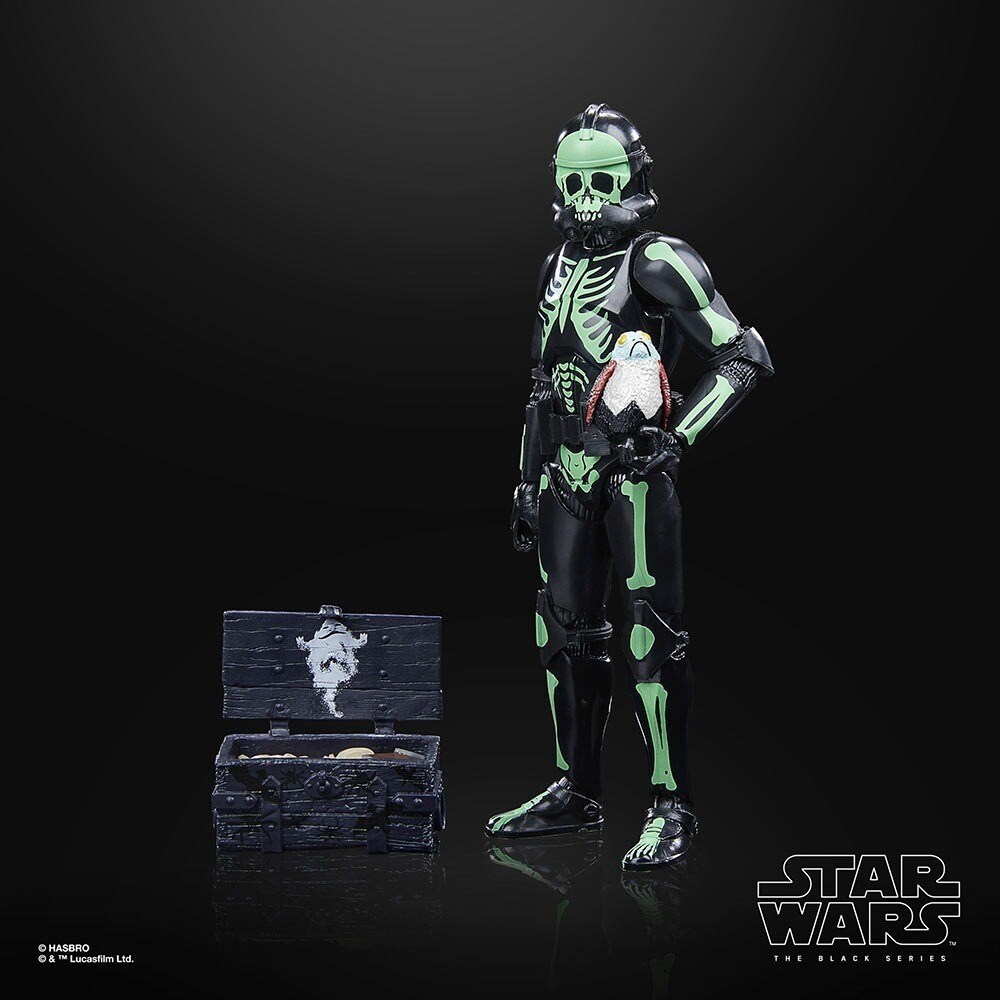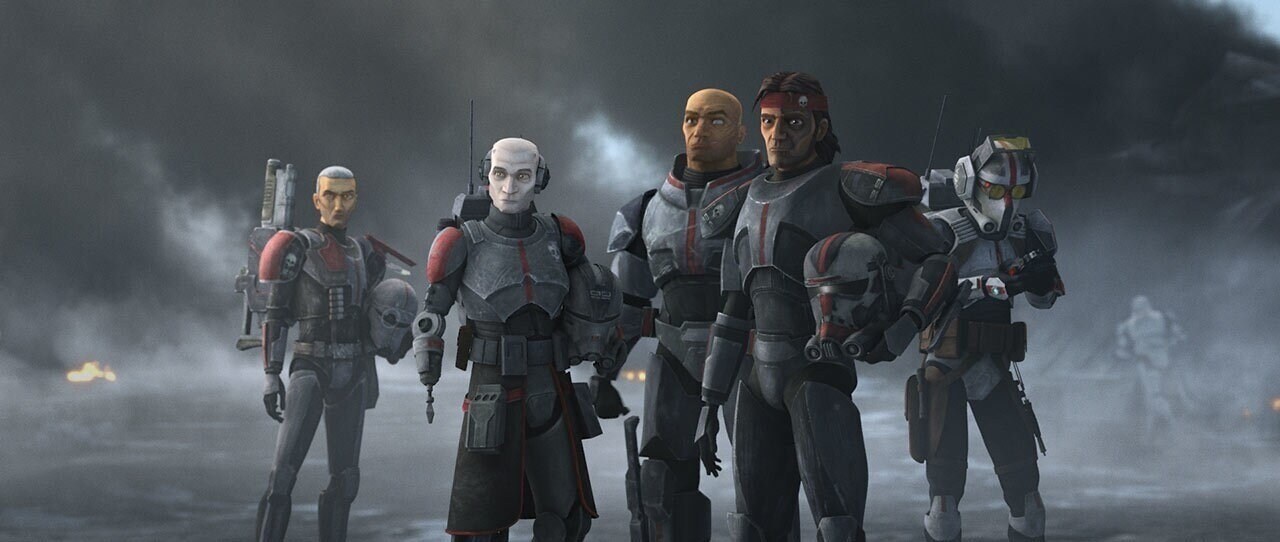 "It's actually the skull from the Bad Batch. I pulled it directly from that artwork. And we didn't really wanna make any modifications to it, because we wanted it to look like the Bad Batch skull that they have on all their armor," Franer says. "We tried to align it in a way that fit the sculptural structure of the helmet, while still making sure that it read as a Bad Batch skull." Indeed, this clone trooper could be going on a mission to fight battle droids, or trick-or-treating.
For the Wookiee, certain elements proved essential in making the figure a success.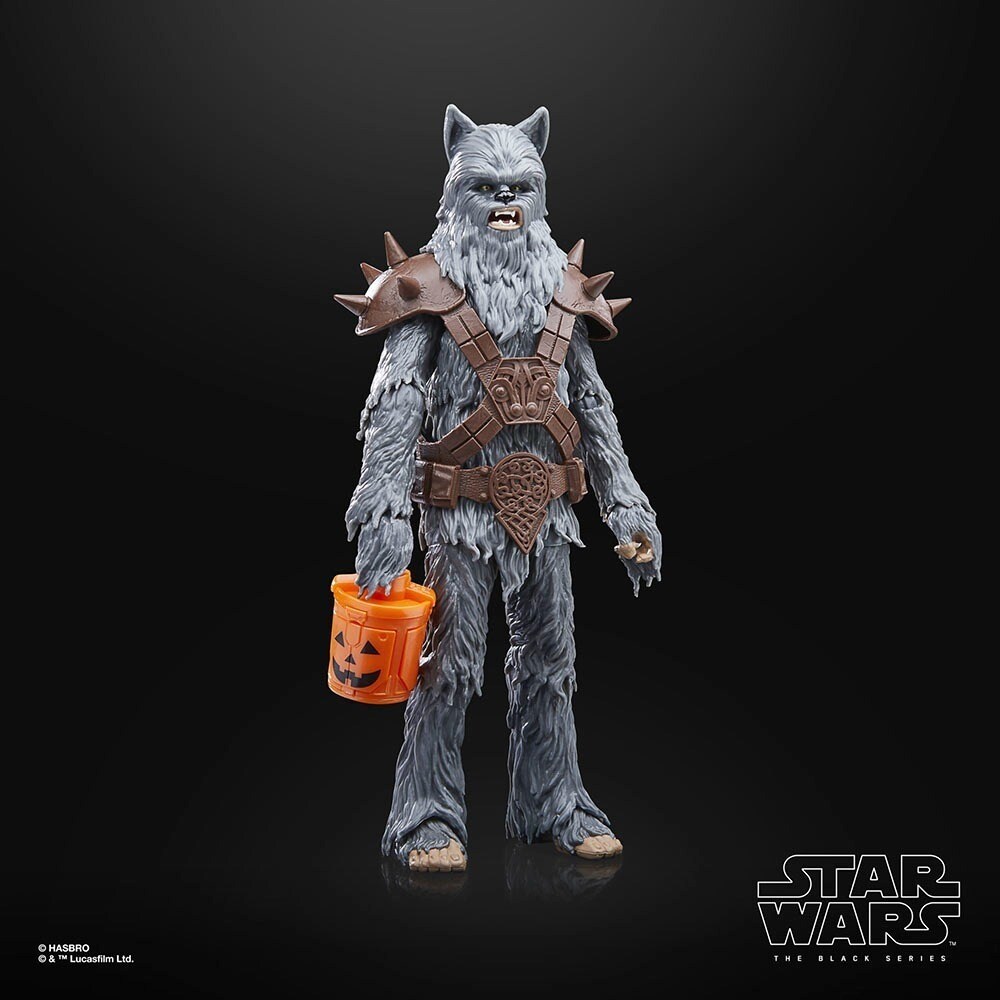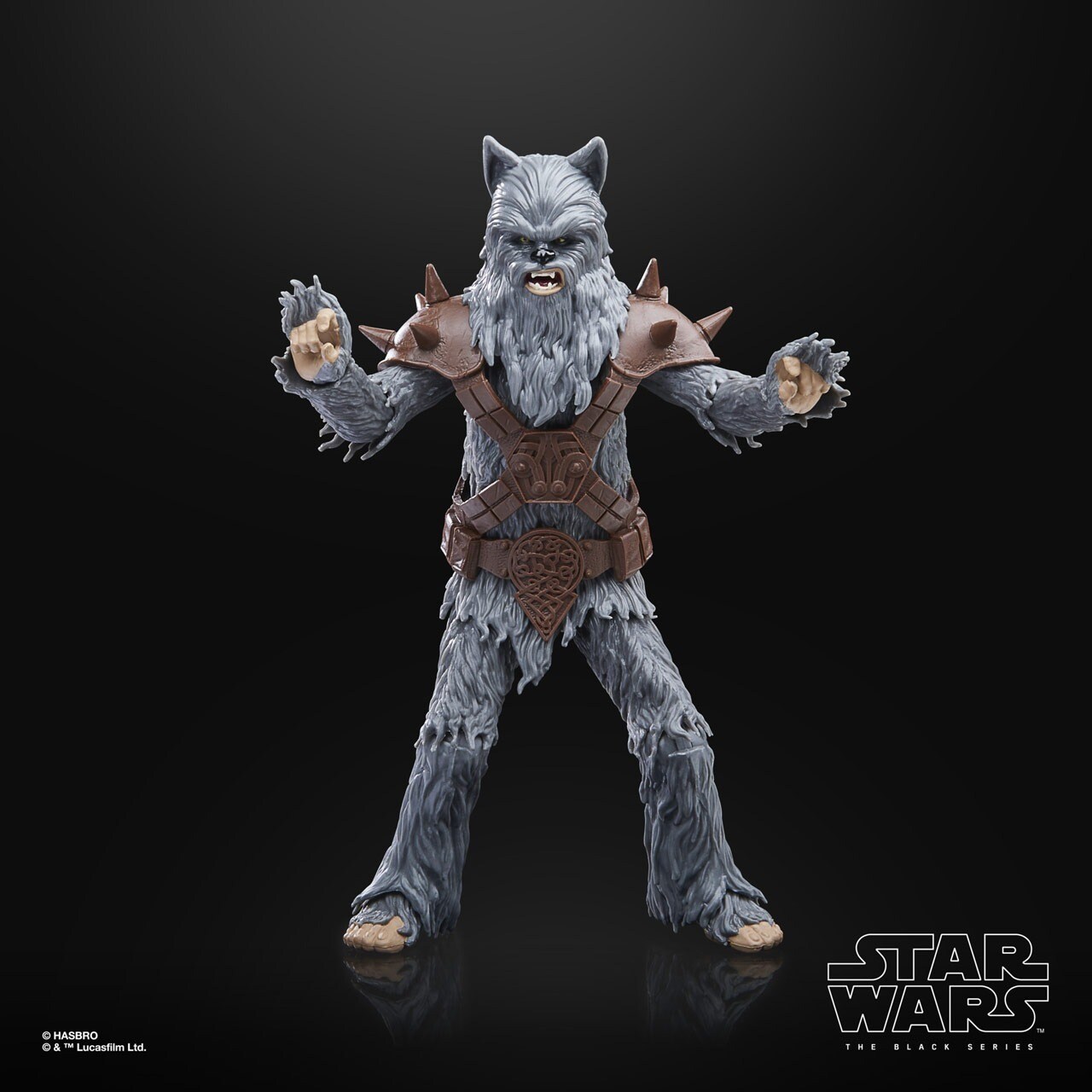 "We ended up making him gray to make sure that he stood apart from the other Wookiees. We've had brown Wookiees, we've had black Wookiees. We wanted to make sure this one looked distinct from all the other ones. There aren't too many gray Wookiees in the galaxy, so it was a good way for us to go in there." 
When it came to the wolf-like ears, Franer wanted to go big. Thankfully, Hasbro and Lucasfilm agreed.
"As soon as I showed that, the team was like, 'Yeah, that's the one we're doing.' That was a very pleasant surprise. I was really happy that we got that across because it elevated that figure."
The accessories, too, capture both the spirit of Halloween and the saga with a wry sense of humor. Among several extras is the Wookiee's Halloween bucket, which is actually a camtono -- a portable storage device first seen, very briefly, in Star Wars: The Empire Strikes Back, and now something of an in-joke among Star Wars fandom. And lest we forget the trooper's little friend: a vampire porg. (Two words we never thought would go together, but are now so glad they do.)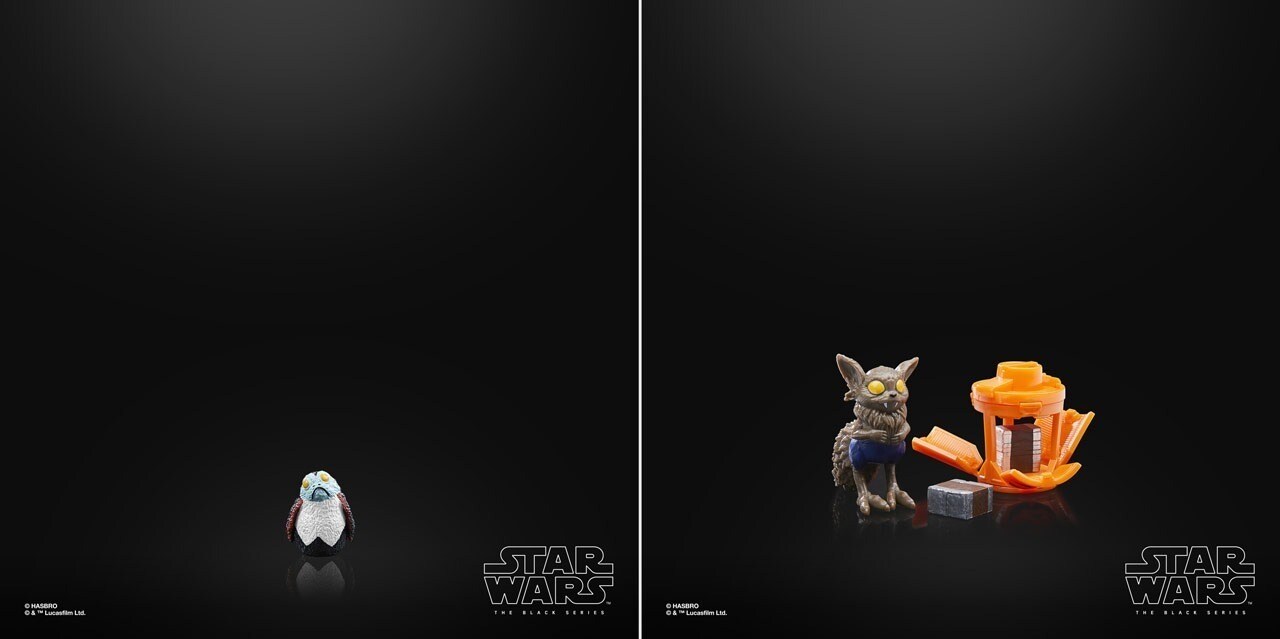 "The porg was definitely my favorite," Franer says. "We had a little Santa porg that we had looked at, and I was like, 'Oh yeah, I could maybe make like, a shirt out of this.' Then I realized that a lot of those details could translate really well to a vampire. Having the really aggressive widows peak, the suit, the tie, even his wings. We deco'd the inside of his wings to be red, to imply the interior of the cape that Dracula has. And then we wanted to make sure that he looked a little bit more monstrous and not just like a human, so we deco'd his face to be that kind of off blue, and added fangs in there for him as well. It was a really fun thing."
Yet this isn't the toy designer's first experience celebrating Star Wars and Halloween together. Just months after the release of Star Wars: The Phantom Menace, the then eight-year-old Franer dressed as Darth Maul for Halloween in October 1999.
"I was big into it," he says. "I think that was my first big, like, face paint, going-all-out costume that wasn't just a mask."
With the release of these figures, he's added to the connection between the saga and Halloween, while expanding what Hasbro can do with The Black Series.
"It is a ton of fun to be able to put my own little design spin on something that doesn't necessarily follow exactly what might have been done in the past. It kind of forges a new path. It also helps us to pave way for the future. Like, if we want to do more figures like this, this helped us to do more characters like that. And luckily, the reception's been very positive to it," Franer says. "I've had a lot of people reach out to me saying how excited they were about it."
Clone Trooper (Halloween Edition) and Wookiee (Halloween Edition) arrive this fall and are available for pre-order now.