Make like a Jawa and strip it for parts or simply place it on its specially-molded stand.
Chris Reiff's craft is all about the details.
As an associate principal product designer for Hasbro, Reiff is following in the footsteps of the legendary toy designer Mark Boudreaux, who probably made the Millennium Falcon you coveted or crash landed as a kid, to bring the latest Hasbro vehicle to life. The Vintage Collection Razor Crest, inspired by the title character's starship from the Disney+ series The Mandalorian, was introduced earlier this year as the next HasLab exclusive, a crowdfunding program that previously brought Jabba's Sail Barge floating onto our toy shelves.
In just over a day, it was fully backed into production. Then came the added incentives, including a special scaled version of The Child and a row of carbonite-encased quarries as glimpsed in the series premiere episode of The Mandalorian. With just a few more days to go before the end of the campaign, StarWars.com sat down with Reiff to talk about his favorite details on the ship, his hopes for capturing the Mudhorn egg, and more.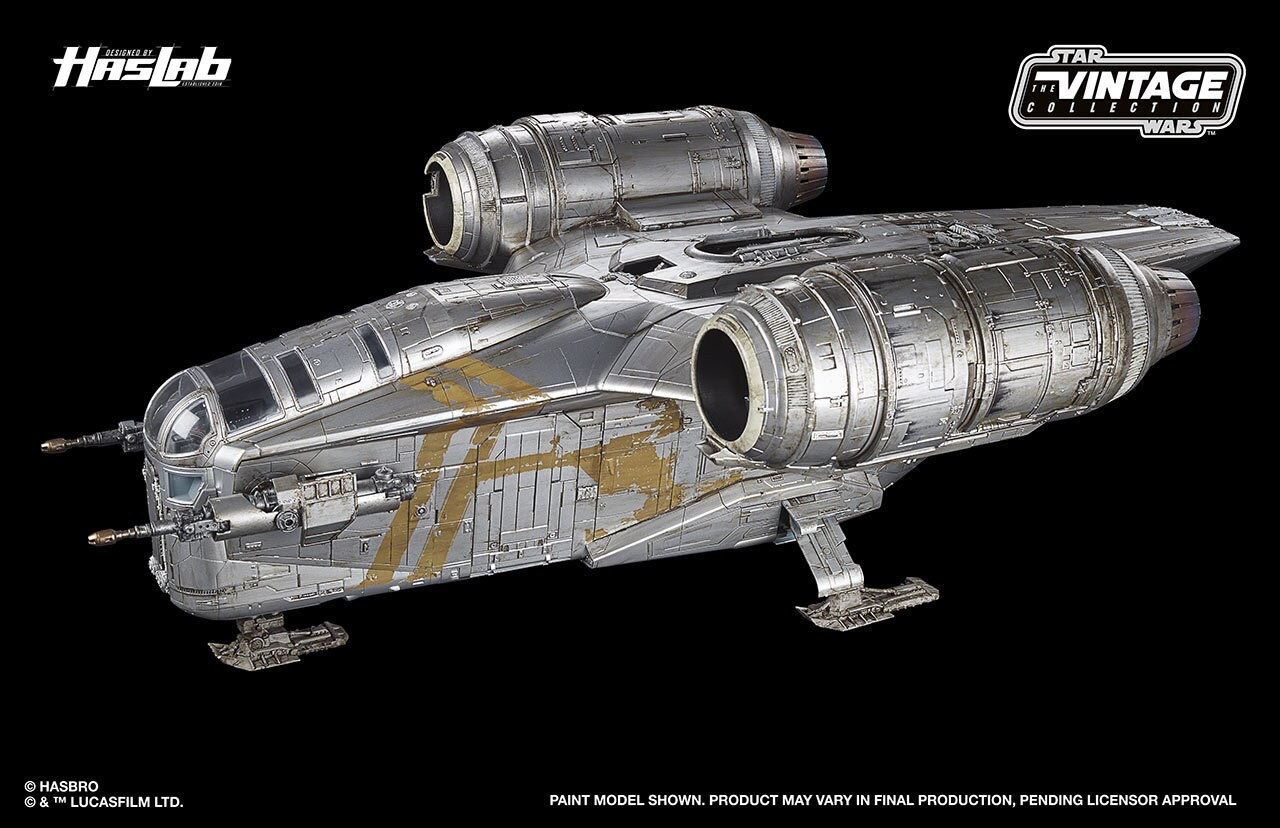 StarWars.com: Fans turned up to #BacktheBarge in 2018 with your first HasLab project, Jabba's Sail Barge. How did you land on the Razor Crest as your second foray in Star Wars through the crowdfunding campaign this year?
Chris Reiff: Like the rest of the world, we all fell in love with the world of The Mandalorian upon seeing that first episode. We knew we had to create the Razor Crest and doing it as a HasLab project let us work toward the large and detailed Vintage Collection piece we all wanted. Mark Boudreaux and the team certainly set the bar pretty high for us with Jabba's Sail Barge; that was an intimidating project to follow. I looked to that vehicle and its level of detail for a lot of guidance and inspiration. I think we've done that legacy justice and delivered beyond expectations with our Razor Crest.
StarWars.com: The success of the Barge, which exceeded the goal by 75%, influenced a lot of the other Hasbro toys and figures we saw that year. Can you talk about any of the Vintage Collection-scale figures and other playsets and vehicles that you'd like to see as add-ons to the Razor Crest?
Chris Reiff: While we can't talk about what is currently in development, rest assured that we are all fans here and would love to fill out our own ships with the crew and creatures from the show. Now that we have the Razor Crest funded, we have a great centerpiece to build more offerings around.
StarWars.com: There's tremendous playability and display-ability with these pieces. They're so detailed yet you never sacrifice the potential for a kid to rip off the panels and create their own stories with their figures in the cockpit and the hold. What's essential to you to balance those two needs -- of the kid who wants to use this as a toy and the collector who wants to put it in a case?
Chris Reiff: That balance is hugely important. This is a premium item and our Vintage Collection fans love the accuracy that we strive for but play is always a key motivator. I think that through the whole history of all the Star Wars toys from the first X-Wing to the latest Millennium Falcon, designers like Mark have always done a great job of expanding the universe through play features, giving us enough detail and ways to explore our own stories beyond just recreating what we see on screen. With a big detailed ship like this it's fun to lie down on the floor next to the ship, imagine yourself as the Mandalorian, and create a new adventure where you have to rescue the tennis ball from the giant four-legged slobber monster that roams your back yard. Even as an "adult" I want to play with it.
StarWars.com:  Did I hear that you can strip it down like the Jawas scrapping it in Chapter 2?
Chris Reiff: You can! There are a LOT of removable panels on the ship for both access to the interior, and to simulate the torn apart version of the ship. You can strip it all down like you're a Sandcrawler full of Jawas or just to do some normal engine maintenance. We really wanted this to continue the long tradition of Star Wars products letting fans explore the world well beyond what they see on screen so every surface -- even the backsides of the removable panels and the hidden insides of the ship -- have detail.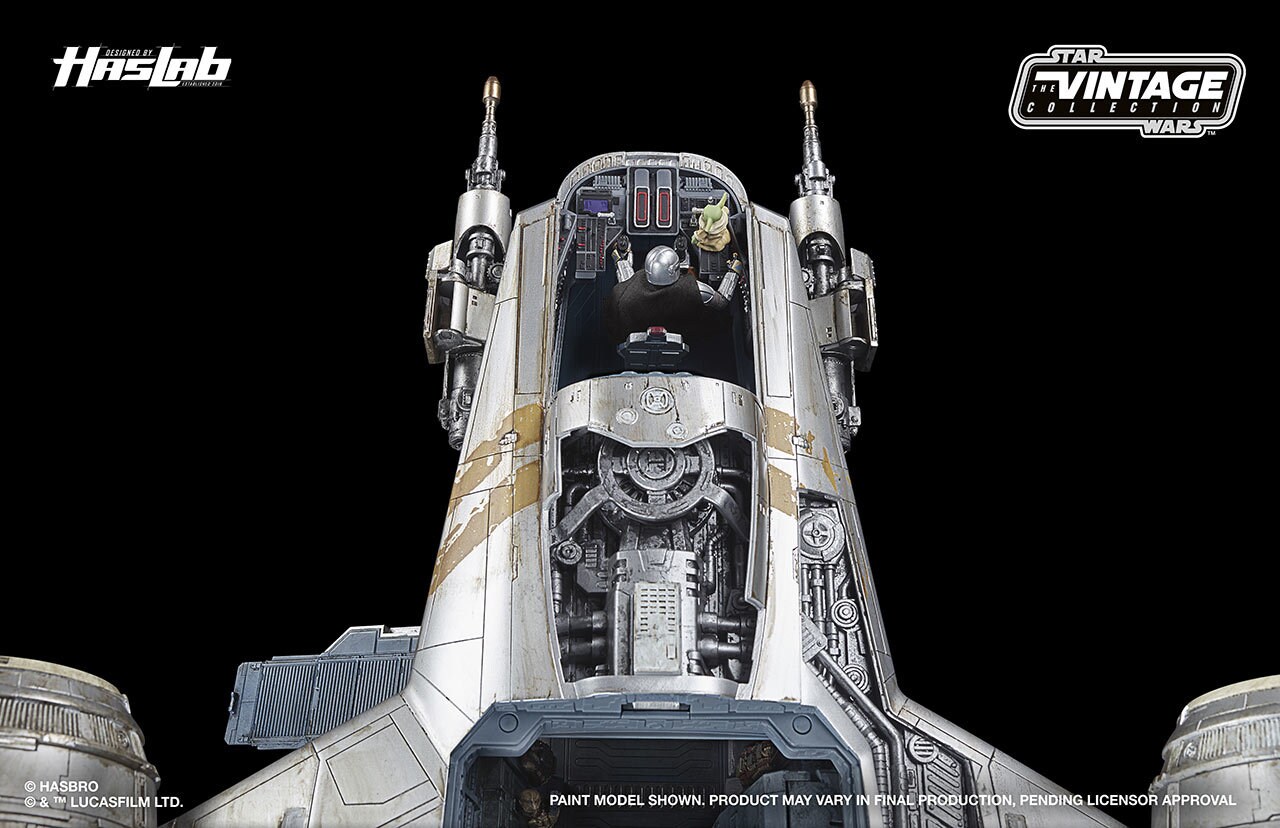 StarWars.com: And let's talk about some of those details! In real life, a model of the ship exists for filming as well as a cockpit and there's of course lots of CG work done to expand on the ship for the series. What were some of the biggest challenges translating all that into this creation? 
Chris Reiff: The details on the real models from production -- both the digital and the physical models -- are intense. The folks at Lucasfilm and ILM that brought those visions to life are masters of their craft. Each and every time I work on a project where I have to study their efforts up close, I'm amazed.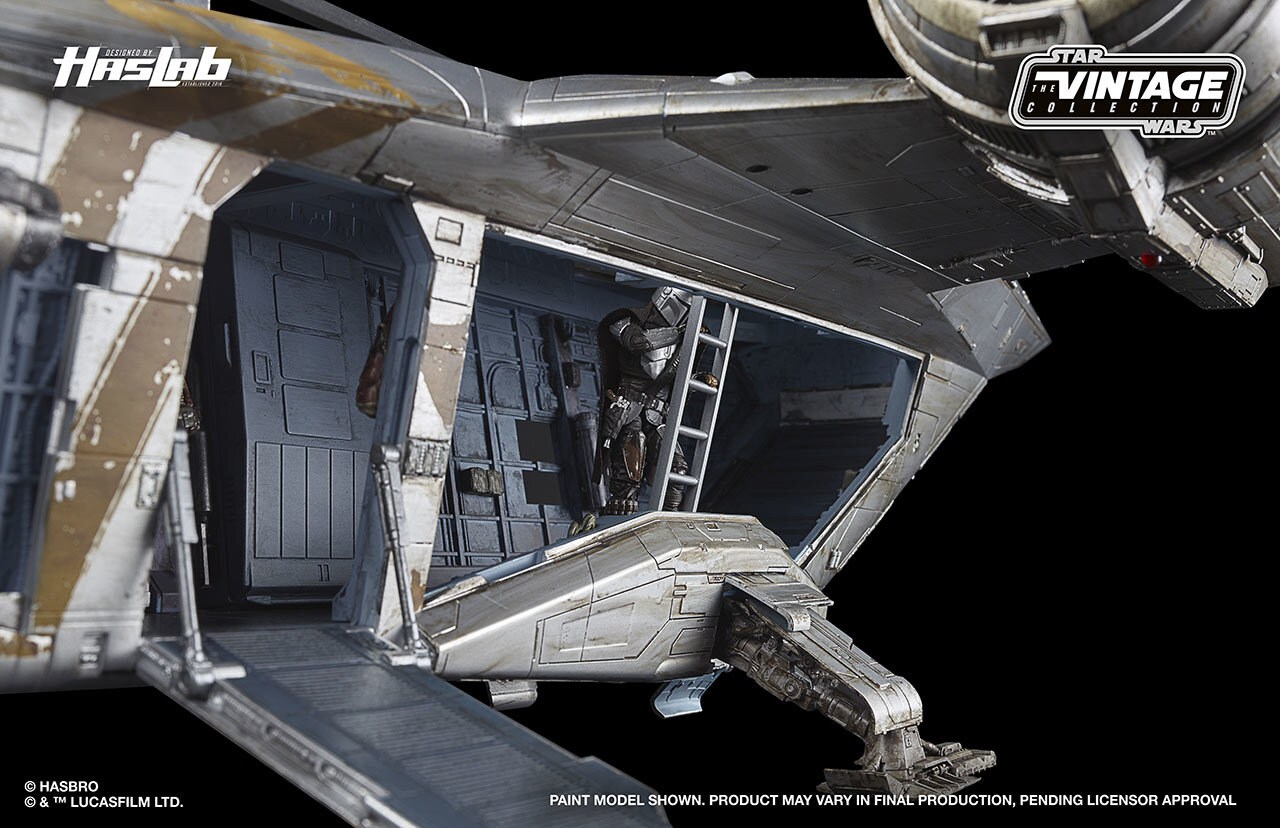 One of the first and biggest challenges for us, though, wasn't about the details. It was finding the right size and proportions for our product. It had to work well with the Vintage Collection figures, be as faithful to the "real" ship's proportions and details as possible, and still be in scope for a HasLab offering. It's a delicate balance, but I think we found the sweet spot where we were able to add all the detail we wanted and still make it something you can pick up and fly around the backyard creating all new adventures.
As for integrating the details of the "real" thing, the challenge there, at least for me, is more about knowing when to stop and go to sleep each day. I'm making this the toy I want to have in my house so it needs to be perfect. It really was a pleasure to spend as much time as we did on our version matching all of those original assets as close as we possibly could.
StarWars.com: I love the armory. And the refresher made me laugh. Can you walk us through some of your favorites?
Chris Reiff: Those two are my personal favorites as well! I love the attention to detail that the original prop makers, set dressers, and model makers put into those areas of the ship, so being able to scour the reference, identify details, and translate the visual stories to those areas of our HasLab Razor Crest was a lot of fun.
The armory alone took a lot of research to really decipher exactly how many and which specific blasters are in there. Some are only just barely seen in a couple frames of the show. It's that extra-thorough, geeky, deep-dive detail, and figuring out how the different props were built, that I love. I think that level of detail happens to be something that our fans really appreciate as well, so I look forward to continuing that legacy of fidelity on future projects.
And the refresher… [Laughs] Well, now you'll be able to count how many adapters, funnels, and specialty attachments there are for all the species that might travel with you on the Razor Crest.
StarWars.com: You cleared the 6,000 backer goal pretty quickly -- I think it was just over 24 hours after announcing it. How did that feel?
Chris Reiff: It felt great! That quick funding was a huge relief for me because it meant that the first unlock of the escape pod was almost a certainty. Until that point, I was still worried we might have to go ahead with the version where that whole back detail area was just molded in surface detail. I think I refreshed my browser a couple thousand times that first day watching the numbers climb and I know the rest of the team here was enjoying it just as much. We are all passionate about the project and expected it to do well but were all a little surprised to see just how quickly the goals have been reached. We still text each other whenever the backer number crosses a new threshold!
StarWars.com: At 10,000 backers, you added an adorable Child figure with a special pram, bone broth cup, and shiny bauble. How do you render such an intricately detailed and small character -- he's only 16.5 inches tall in real life -- in this scale and still keep all these details?!
Chris Reiff: We have some amazingly talented people on our team creating these sort of things every day but this little guy IS exceptionally minute. Sculpting characters and accessories like these digitally is what really lets us make sure we can capture even the tiniest of details.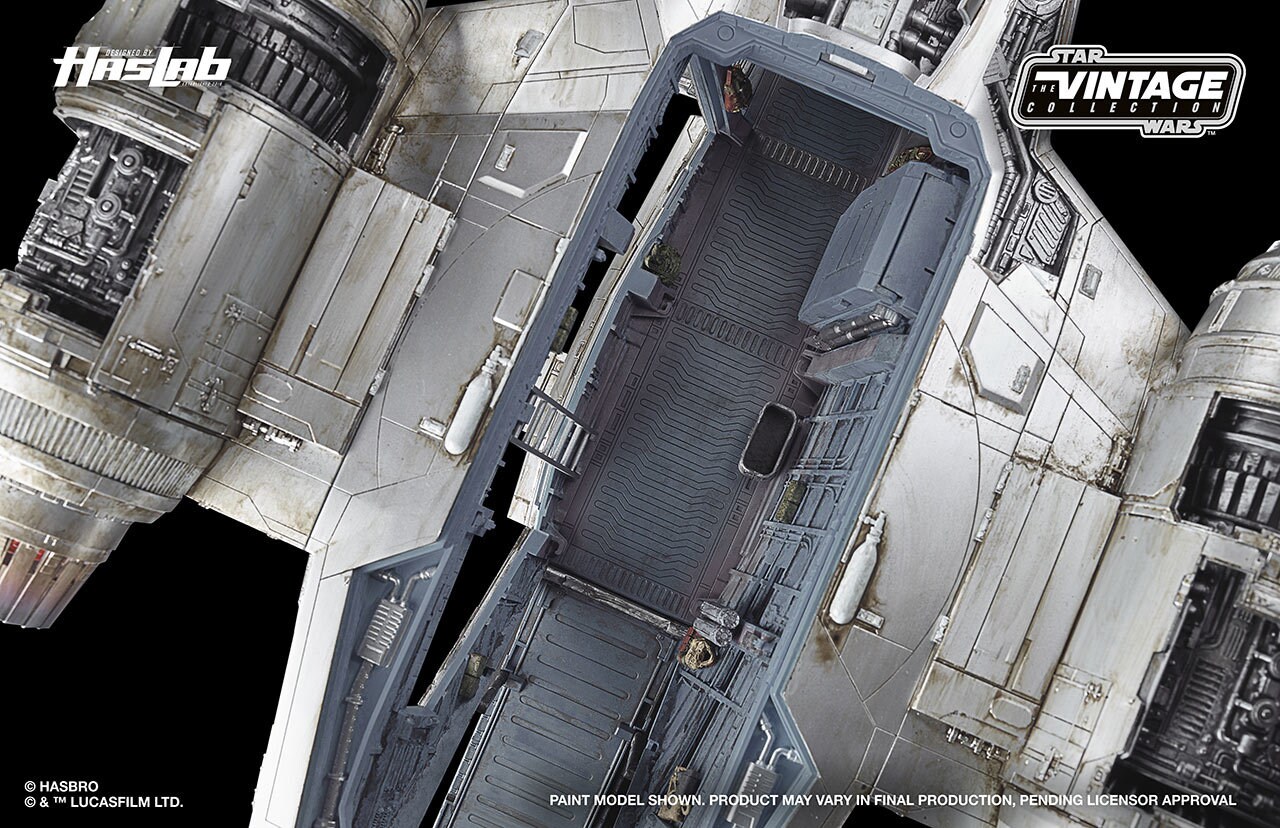 StarWars.com: At 13,000 backers you added some amazing carbonite quarries to the mix. A few eagle-eyed fans noted that there were hooks already present for hanging these bounties. Why did you decide to hold off until you had some more backers?
Chris Reiff: We knew from our earliest concepts of the ship that we wanted to eventually find a way to do a carbonite block in our product line that would be compatible with the ship so we designed the moveable hooks with that hypothetical future product in mind. Our initial focus though was to make the core ship as big and detailed as we could so including extra things like the blocks as part of the very initial offering would have meant limiting some of those core ship features and details.
As the campaign took off on those first days, though, we saw that the number of backers we were likely going to have would, in fact, support a much larger offering of all four of the blocks seen in Season 1: Chapter 1 as a fully included tier.
StarWars.com: What can you tell us about the next two stretch goals?
Chris Reiff: There's the stand. With such a premium product we thought it would be nice to have a special way to display the ship and really showcase it in a way that just sitting flat on a shelf can't do. The ship is large and uniquely shaped so a custom stand to display it securely, at a nice, in-flight attitude would be hard for anyone to get. Now funded, this tier will take care of that and let you display it like the showpiece we know it is.
And after that is the exclusive carded Off-World Jawa Elder! With all the removable panels on the ship and such great moments in the show with the Jawas and the Mudhorn egg, this made perfect sense as a way to round out our tiers. Fingers crossed we get all the backers we need for this one.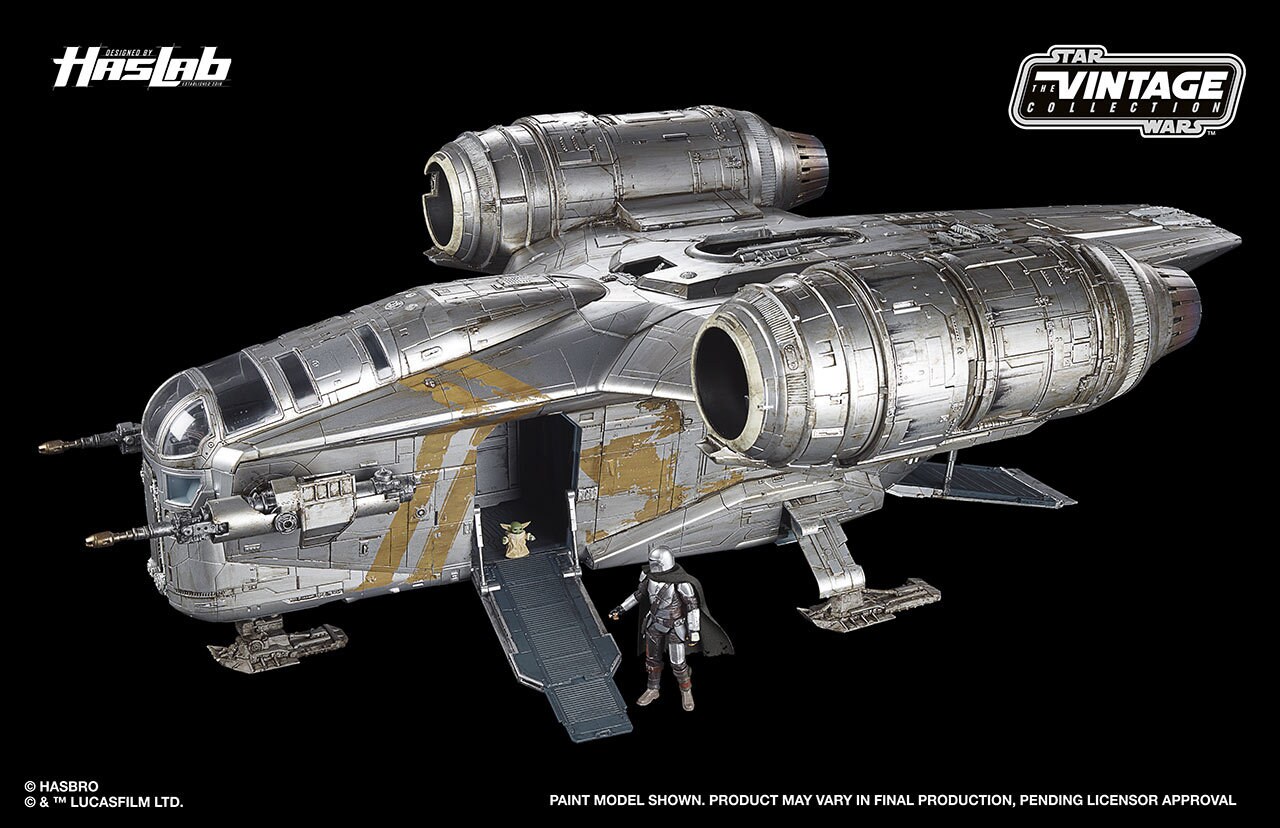 StarWars.com: Do you think HasLab is the future for adding these highly-detailed and larger vehicles to toy shelves?
Chris Reiff: HasLab is a way we can develop some exciting things that might not be realistic to produce and sell through traditional distribution channels, but we know are still important to our customers. It's our playground where we can bring some of those dream projects to reality. Whether it's in the form of vehicles or other parts of the Star Wars universe, you can definitely expect more elaborately detailed and special projects! I'm very excited for the future.
Pick up your own HasLab Vintage Collection Razor Crest before the campaign ends.