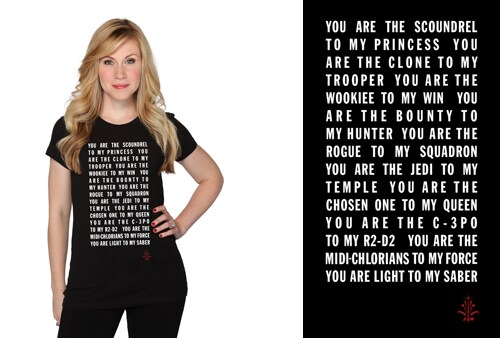 We released this new Star Wars by Her Universe quote tee just in time for Valentine's Day. No, this is not a shameless plug for our new shirt...it's my hope for all of us this Valentine's week. I hope that each one of you has a Valentine in your life, someone you love. It could be your husband, wife, boyfriend, girlfriend, best friend, mom, dad, sister, brother, aunt, uncle, cousin, neighbor, co-worker...I think you get the point. Valentine's Day is not just a romantic holiday, but a holiday to show someone in a completely platonic way, how much you care and how much they mean to you.
I have met so many amazing Star Wars duos over the past several years and I was inspired by them to design this shirt. Whether it be the husband and wife who had a Star Wars wedding, the brother and sister who go to all of the Star Wars events together, or the two best friends who spend hours together creating their next costume and reading each other's Star Wars fan fiction, you have all touched my heart.
So this Valentine's Day I hope that you have someone in your life who is the C-3PO to your R2-D2, or the Wookiee to your Win. Let them know how much they mean to you and May The Force Be With You both!
Ashley :o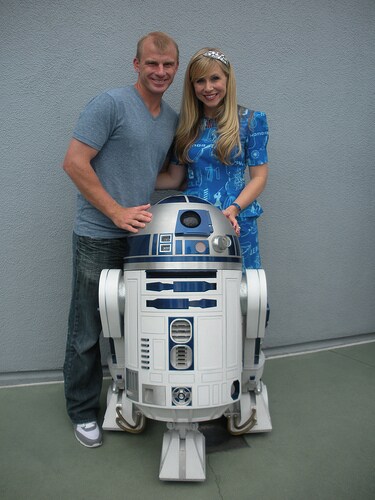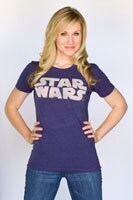 Ashley Eckstein is the voice of Ahsoka Tano on Star Wars: The Clone Wars and also the founder of Her Universe, the first merchandise line made exclusively for female Star Wars fans! You can follow Ashley on Facebook and Twitter.