Get the galactically romantic recipe.
Two little words that are heartfelt, to the point, and easily understood: "I know." How do you show someone you care? By freezing them in edible carbonite — is there any other way?
These crunchy treats are made with luxurious milk chocolate, filling it with creamy peanut butter. As if that wasn't enough, take these candies to the next level by topping them off with buttery toffee bits and salty chopped pecans, all molded to look like everyone's favorite scoundrel frozen in time. Place them into a festive heart-shaped box and you've got yourself what's sure to be a long-remembered show of affection.
Tell your loved ones, "I know," with this box of well protected chocolates. pic.twitter.com/kAskg1YFi1

— Star Wars | #TheBadBatch now streaming on Disney+ (@starwars) February 14, 2023
Carbonite Crunch
Supplies:
Han Solo in Carbonite Mold

Brown paper liners

Heart-shaped box
Ingredients for chocolate:
8 ounces milk chocolate

1 tablespoon coconut oil

2 tablespoons creamy peanut butter

2 tablespoons toffee bits

2 tablespoons chopped pecans
Step 1: In a double boiler over medium low, melt half the chocolate and the coconut oil. Stir to combine. Once melted, remove from heat and stir in the rest of the chocolate.
Step 2: Spoon one tablespoon of melted chocolate into each of the molds, filling half way. Tap the mold to even out the chocolate.
Step 3: Pipe the peanut butter on top of the chocolate, into the center of each mold.
Step 4: Cover with remaining chocolate. Tap mold to even out the chocolate and release air bubbles.
Step 5: Sprinkle toffee bits and pecans on top.
Step 6: Let set in the refrigerator for 30 minutes, or until solid.
Step 7: Remove chocolate from molds and place into the liners.
Step 8: Place into the heart box, to serve.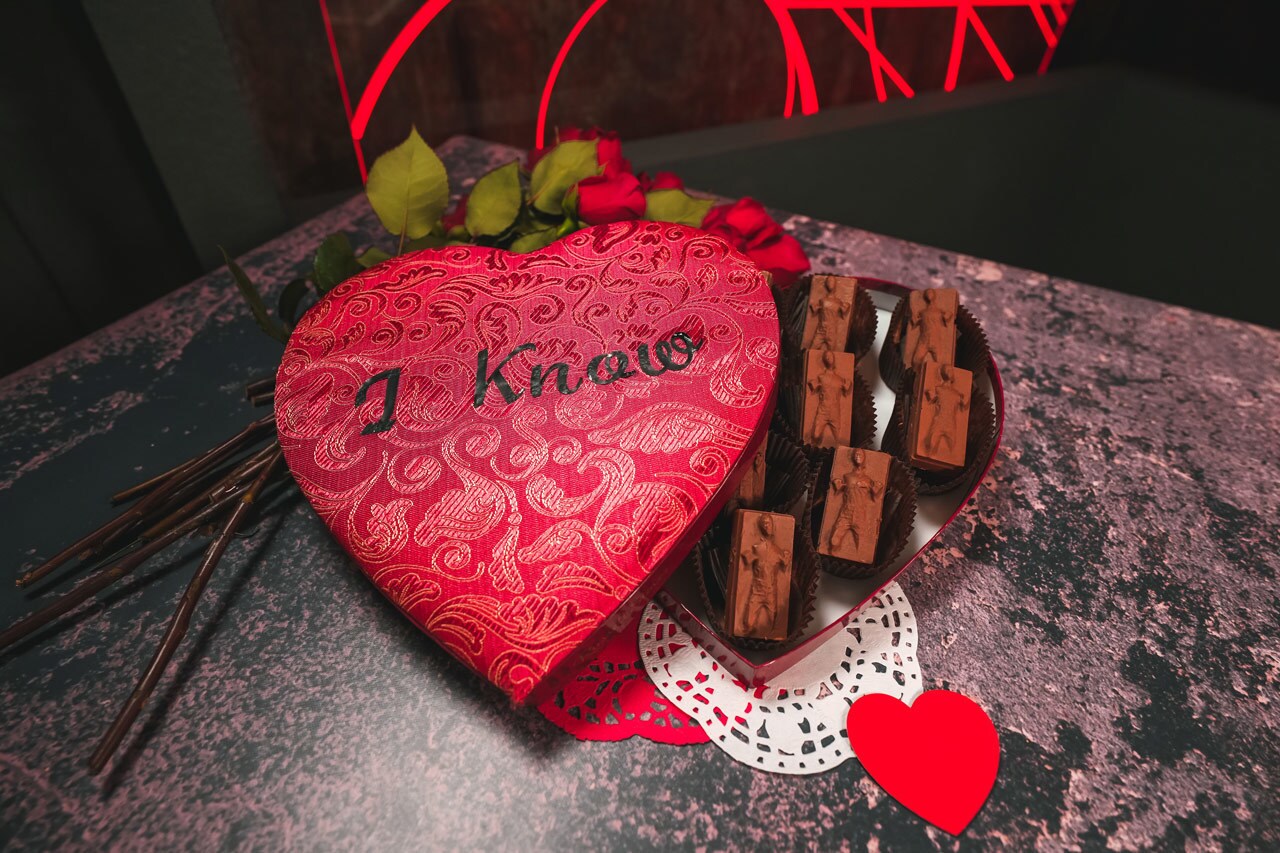 Give this bounty of chocolate to the one you love the most!