Everyone's invited, even Inquisitors!
Star Wars fans get ready, Star Wars Rebels is back for Season Two! Kanan, Hera, Ezra, Sabine, Zeb, and Chopper all come back for more adventures, and even Ahsoka is along for the ride. The best way to celebrate the return of the Ghost crew and watch them battle new enemies is with a party!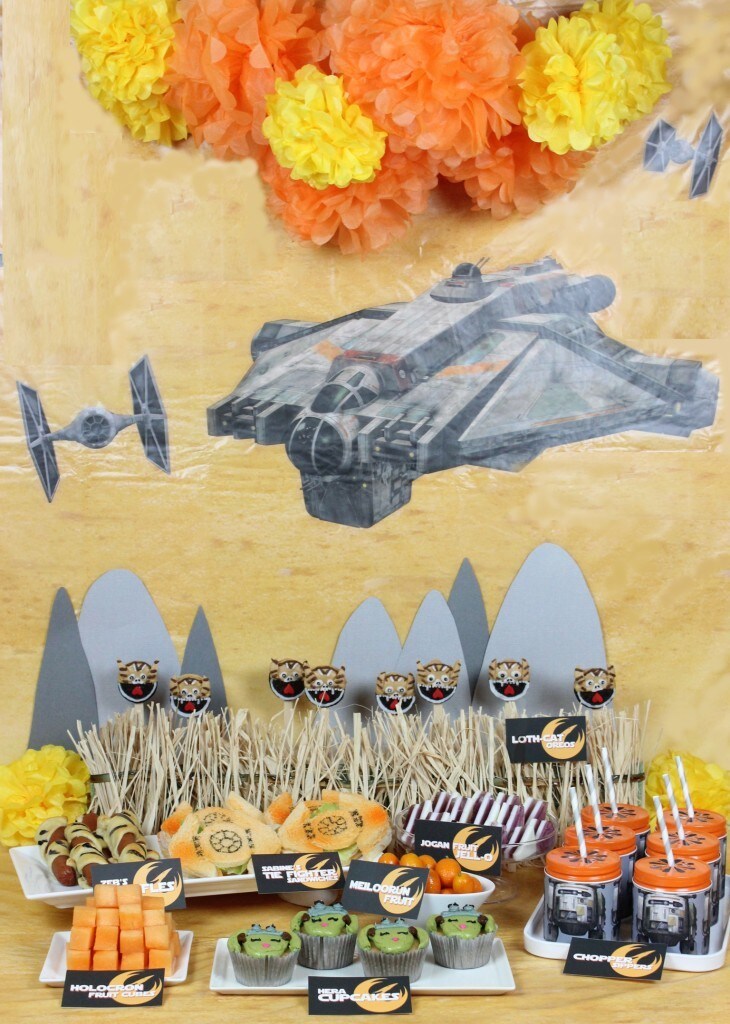 A desert sand backdrop is a perfect stand-in for the prairies of Lothal. Overhead, giant wall decals of the Ghost and TIE fighters fly high above, ready for battle. Gray scrapbook paper is cut to mimic hills and mountains, while tied raffia makes a perfect substitute for the grassy fields of Lothal. Look closely and you may just see a Loth-cat or two.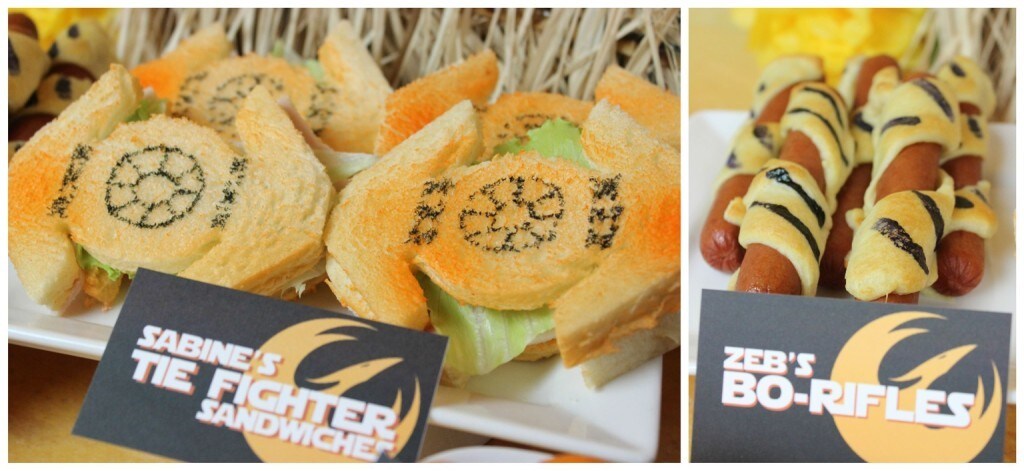 Fighting against the Imperials can make you hungry. Zeb's bo-rifles are made of hot dogs wrapped in crescent rolls and brushed with edible purple ink (Zeb's signature color). Sabine's TIE fighter sandwiches are sprayed with edible orange paint, just like her custom work.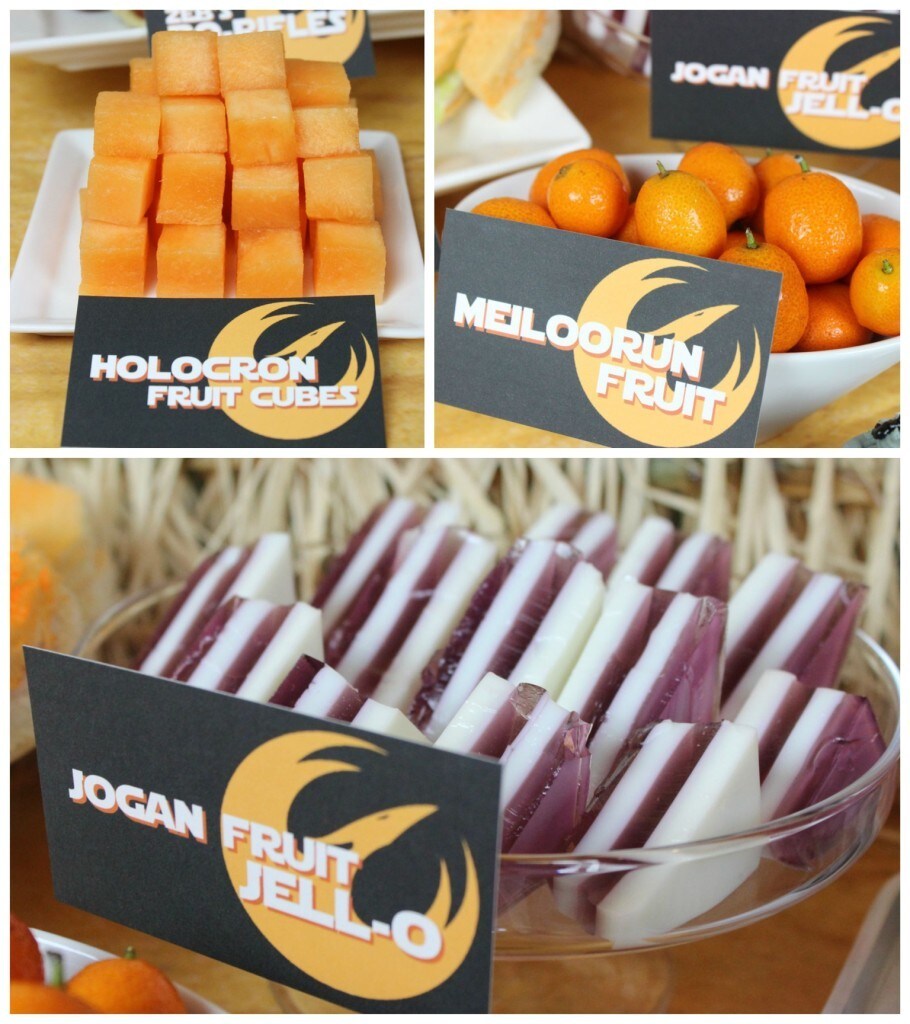 If you watch Star Wars Rebels, you know that fruit is a key component to several episodes, so it's a party must. Cantaloupe is cut into the shape of holocrons, and kumquats look just like little crates of Meiloorun fruit. Purple and white-striped Jell-O look like Jogan fruit and are just as tasty.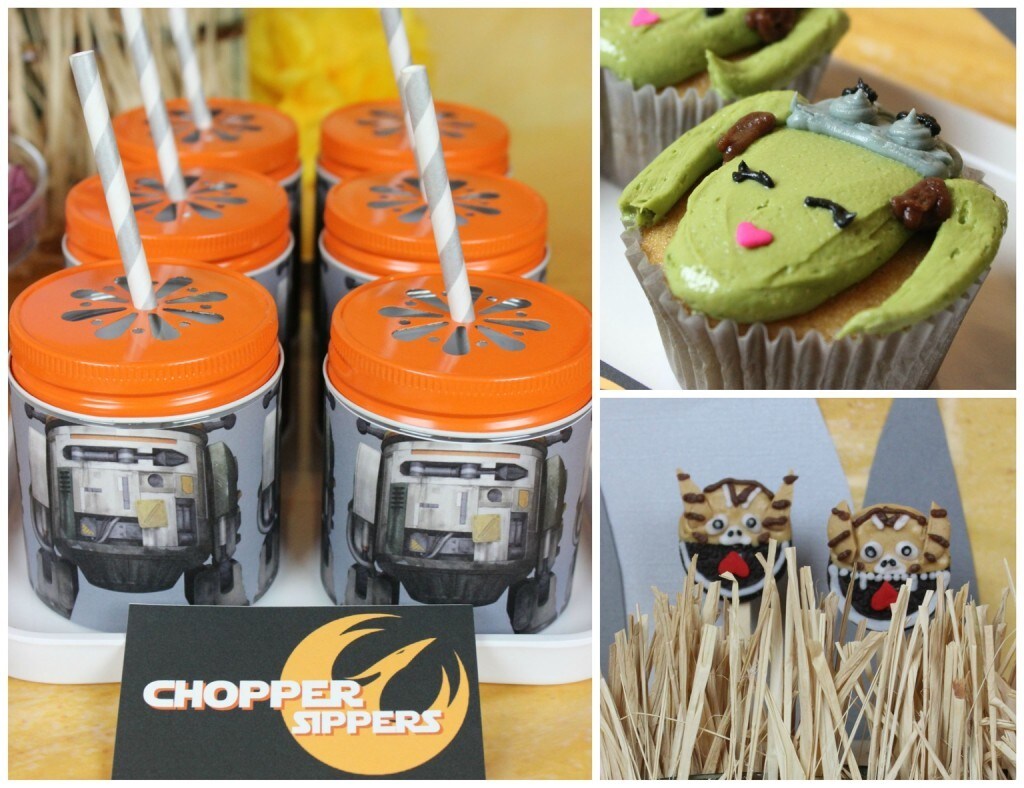 No party is complete without dessert. Native Loth-cats pop out from the grassy plains, but these felines are made of Oreos. Temperamental treats like this are too adorable to resist.
Only the captain of the Ghost deserves a cupcake dedicated to her strength and fortitude. These Hera cupcakes are topped with a matcha buttercream that perfectly captures her special Twi'lek color.
Everyone's favorite grumpy little astromech also makes a splendid drink container. Mini Mason jars wrapped with an image of Chopper's body, topped with orange lids and silver straws look just like the feisty droid and make excellent party favors.
Throw your own Star Wars Rebels party, enjoy the premiere and may the Force be with you!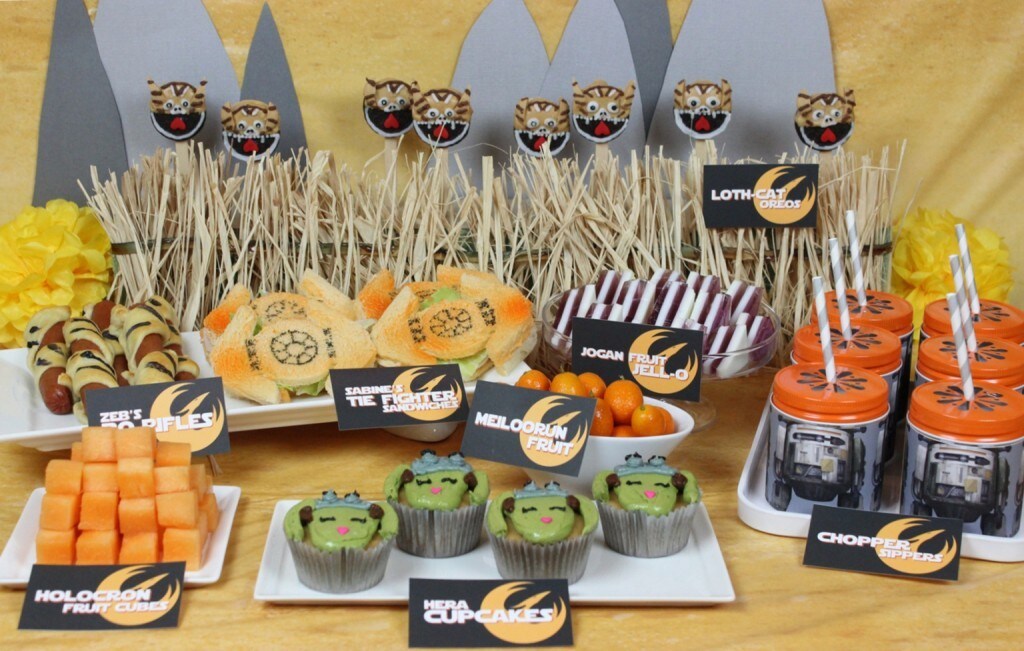 Supplies:
Amazon
Desert Sand backdrop for decor
(http://www.amazon.com/gp/product/B004355X5K)
Star Wars Rebels wall decals for decor
http://www.amazon.com/gp/product/B00MBPCYJM
Americolor purple gel paste for Zeb's bo-rifles
http://www.amazon.com/Americolor-Paste-Color-75-Ounce-Purple/dp/B000MTA0U4/
Wilton Orange Color Mist for Sabine's sandwiches
http://www.amazon.com/gp/product/B0000CFH23
The Party Fairy
Mini Mason Jars with orange lids for Chopper drink containers
https://www.etsy.com/listing/182987633/plastic-mason-jars-8-plastic-mason-jars
Silver paper straws for Chopper drink containers
https://www.etsy.com/listing/155534958/paper-straws-25-silver-striped-paper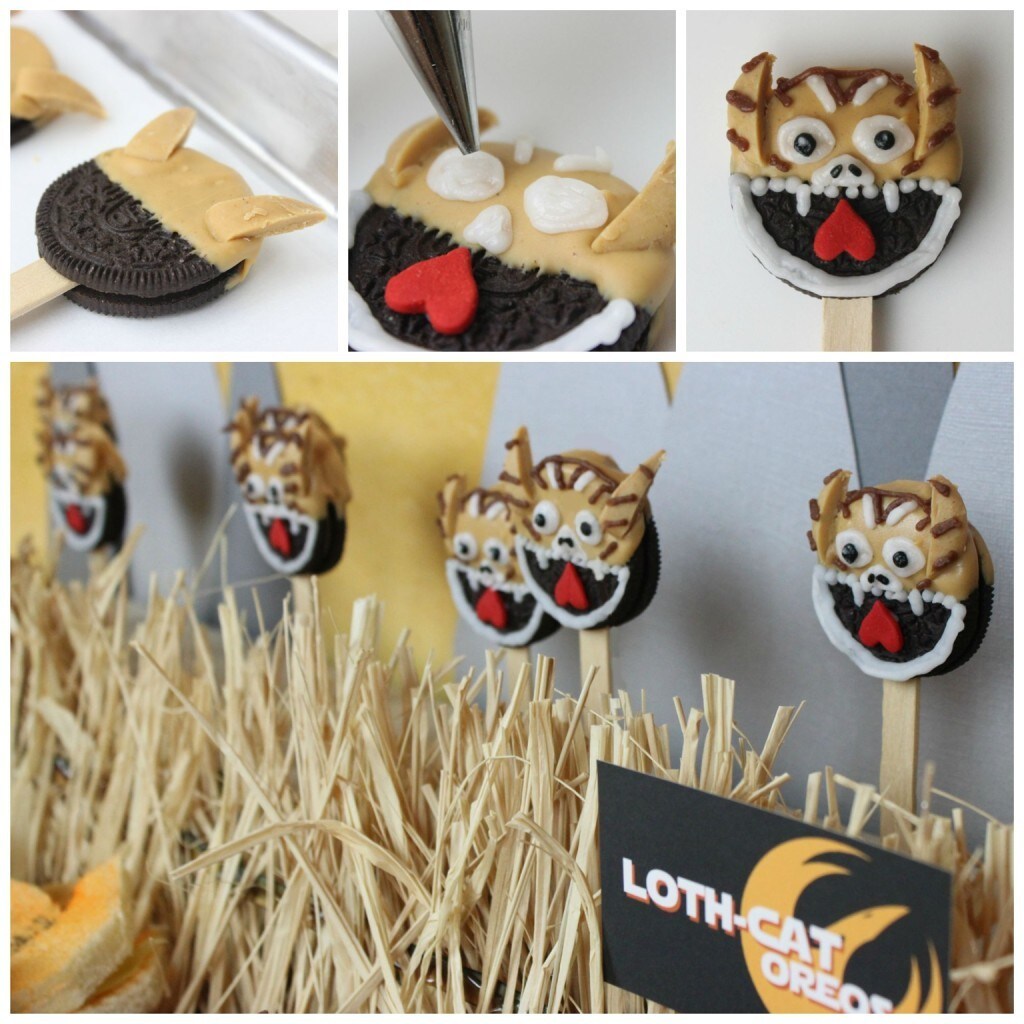 Loth-cat Oreos
Ingredients:
8 Oreos
6-8 ounces peanut butter candy melts
8 jumbo red heart sprinkles
white icing
black icing
brown icing
8 popsicle sticks
Directions:
1. Cut off two slivers of the edges of 8 peanut butter candy melts. Set aside and melt the remainders along with the rest of melts, according to package directions.
2. Place the Oreos on popsicle sticks and dip halfway into the melted candy melts. Add the cut slivers onto both sides to form the ears. Place on parchment paper, and chill in the refrigerator until solid.
3. Use white icing and a #2 tip to form the mouth and eye details. Use a dab of icing to keep an upside down jumbo heart sprinkle in place for the tongue.
4. Use a #2 tip with black icing for the cat's pupils and nostrils.
5. Finally, use brown icing and a #2 tip to add the rest of the face details.
6. Once the icing is dry, the Loth-cats are ready to serve.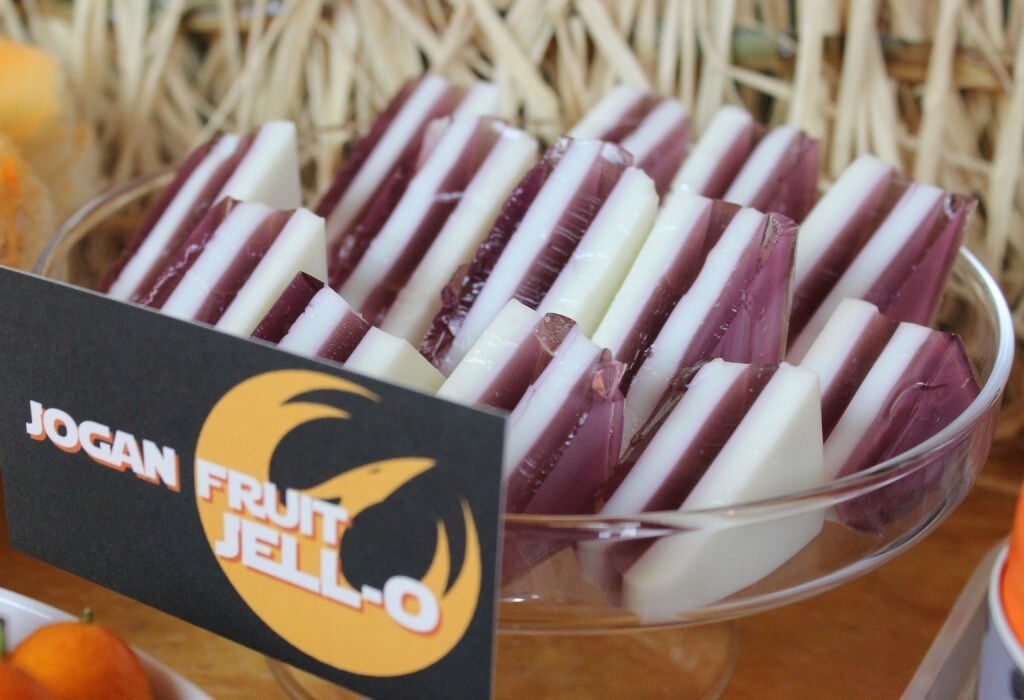 Ezra's Jogan Fruit Jell-O
Ingredients:
1 cup sweetened condensed milk
4 envelopes KNOX unflavored gelatin
1 (6 oz) box grape Jell-O
boiling water, per instructions
Directions:
1. In a medium bowl, stir the condensed milk with one cup boiling water. Set aside.
2. In a separate bowl, whisk together two envelopes of Knox gelatin and one cup of boiling water. Add to the condensed milk mixture and set aside.
3. In yet another bowl, stir together the grape Jell-O, one envelope of Knox gelatin and 1-1/2 cups boiling water. Let cool slightly, then pour HALF the mixture into a 9×13 glass dish. Place in refrigerator to set for about 30 minutes.
4. Once solid, pour HALF the condensed milk mixture on top of the grape layer. Refrigerate until set, approximately 20 minutes.
5. When the white layer is set, pour the rest of the grape mixture on top, careful not to break through to the layers below. Refrigerate again for 20 minutes.
6. Finally, pour the last of the milk mixture onto the set grape layer. Refrigerate until set, overnight is best.
7. Cut into squares to serve.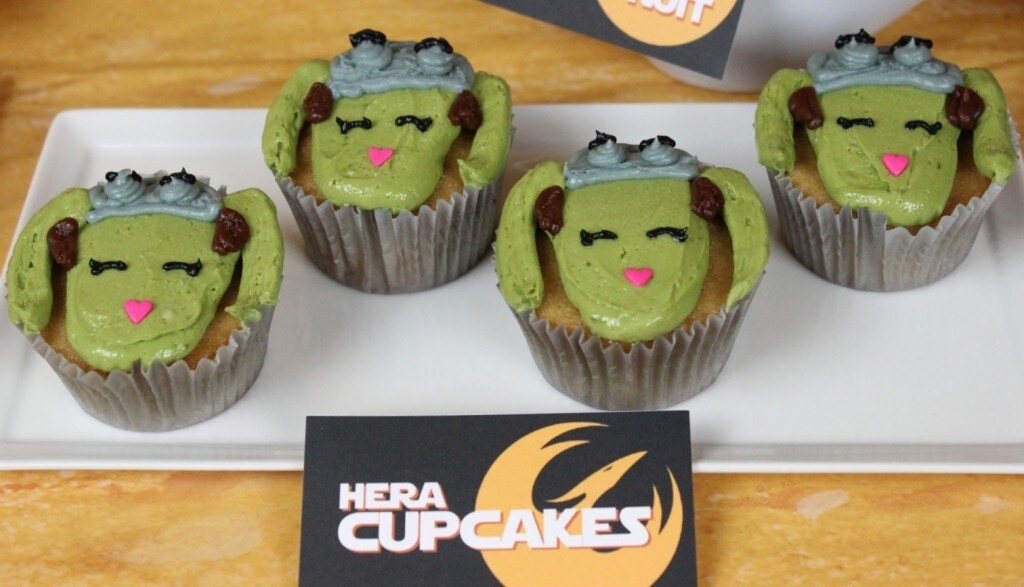 Star Wars Rebels Hera Cupcakes
You'll need:
cupcakes
small amount of fondant
black gel dye
pink heart sprinkles
brown icing
black icing
Matcha buttercream ingredients:
1/2 cup (1 stick) unsalted butter, softened
1-1/2 cups powdered sugar
1-1/2 tablespoons matcha powder
pinch of salt
1 teaspoon vanilla
3 tablespoons milk, as needed
Directions:
1. To make the buttercream, cream the butter in the bowl of an electric mixer while slowly adding the sugar, a little at a time. Add matcha, salt, vanilla, then the milk as needed.
2. Beat until light and fluffy.
3. Place the frosting in piping bag and pipe an upside down teardrop shape onto the baked cupcakes. Use an offset spatula to spread flat.
4. Color the fondant with a small drop of black food-gel dye, kneading until gray in color. Pull off a small piece and place it across the top of the head for a headband. Roll up two small balls and flatten them, placing them on the headband to form Hera's goggles.
5. With a #4 tip, pipe the brown icing on both sides of the head just below the headband. Pipe black frosting with a #2 tip on the top edges of the goggles.
6. Take the matcha buttercream again and add the two lekku from the sides of the head, down the side of the cupcake.
7. Add the finishing details of the eyes with black icing using a #2 tip and a heart sprinkle for the mouth.
Jenn Fujikawa is a lifestyle and food writer. Follow her on Twitter at @justjenn and check her Instagram @justjennrecipes and blog www.justjennrecipes.com for even more Star Wars food photos.