Forces rise on both sides, as do the stakes.
Every week, StarWars.com is tracking our favorite moments from the Disney+ series The Mandalorian with "Bounty Hunting Highlights." Get your jetpacks and helmets on and join us for the ride!
Spoiler warning: This article contains story details and plot points from The Mandalorian "Chapter 23: The Spies."
It's a new day — for both the Mandalorians and Moff Gideon.
As The Mandalorian Season 3 builds towards its end, two leaders ascend on opposing sides: Bo-Katan Kryze and Moff Gideon. Now in possession of the Darksaber, Kryze is ready to unite her people and retake her homeworld. But this being the galaxy far, far away, it ain't that easy. The Rick Famuyiwa-directed "Chapter 23: The Spies" sees many threads from not just the season, but the entire series, come together in a tense, exciting episode. Here are five highlights.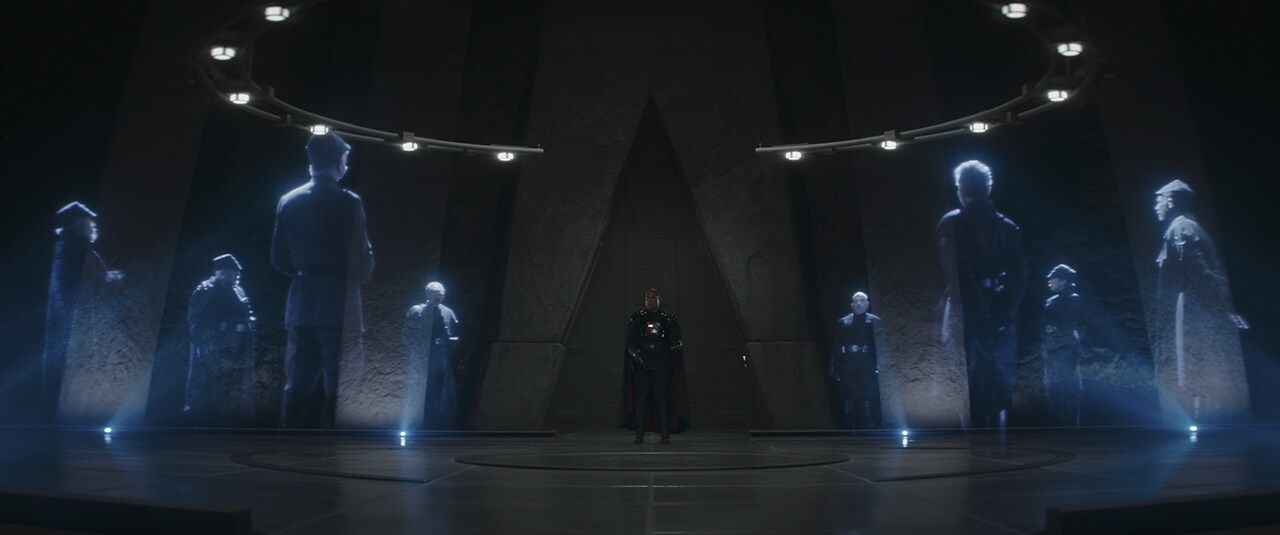 1. The ex-Imperial cabal.

Gideon's meeting with fellow leadership among the Imperial remnants is a fascinating window into how the Empire continued to operate after its fall. Gideon, as always, is a step ahead of the competition; his lack of faith in Thrawn's return, however, seems noteworthy and, perhaps, foolhardy.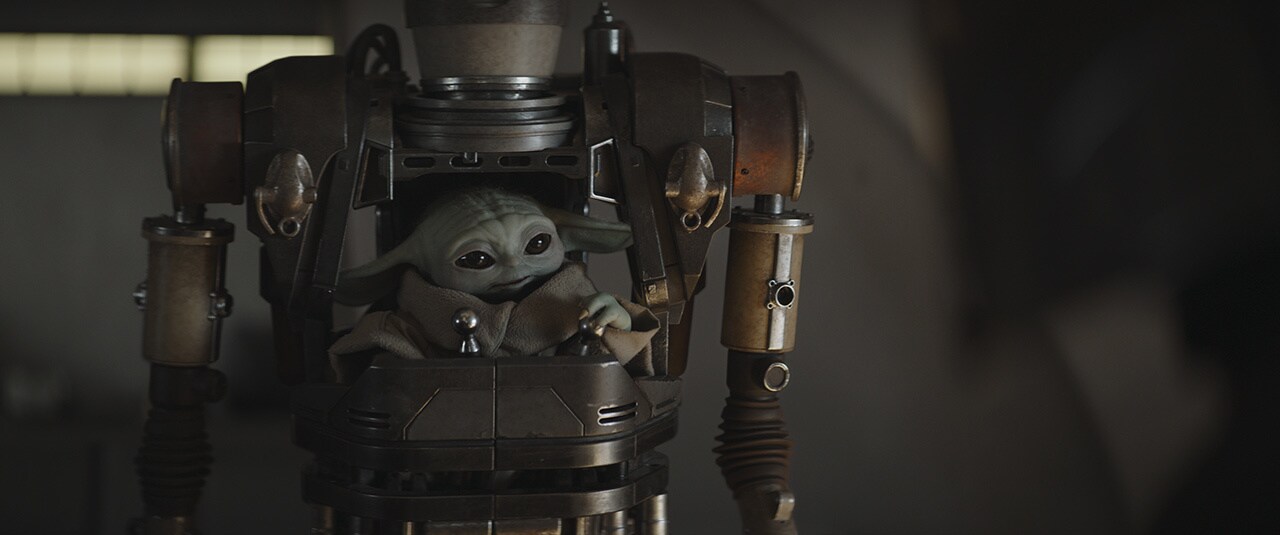 2. Grogu's new ride.

In an instantly memorable — and really hilarious — scene, Greef Karga introduces IG-12, a manually-operated droid body designed for Grogu, complete with preprogrammed "yes" and "no" responses. Like any kid would, Grogu LOVES it, and so do we.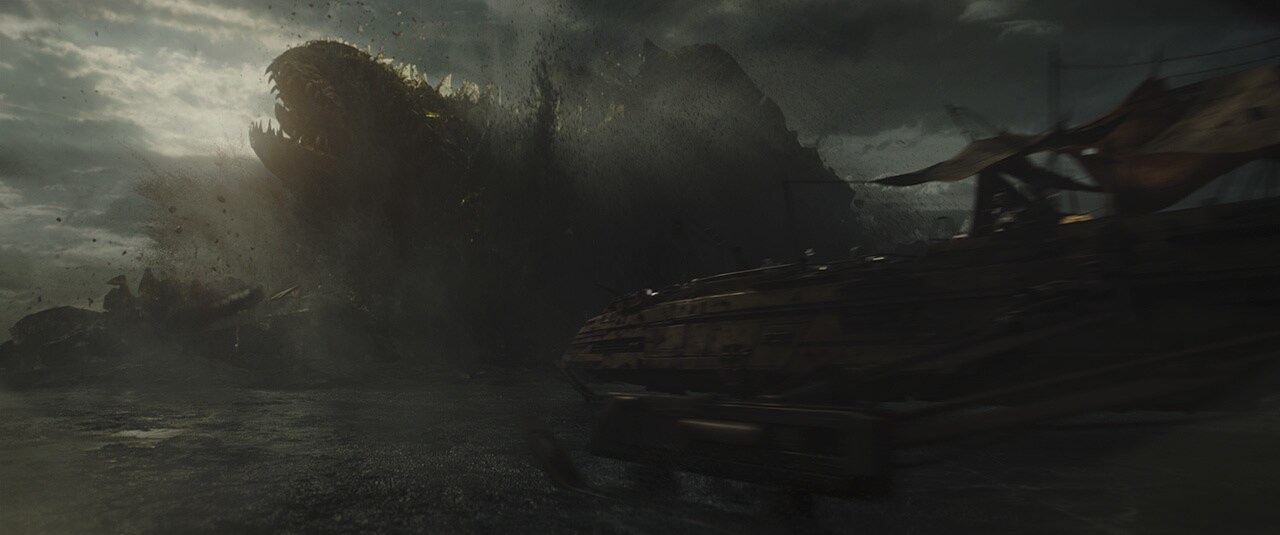 3. "Abandon ship!"

It wouldn't be The Mandalorian without a huge creature wreaking havoc, and this episode doesn't disappoint, as a trinitaur rises to destroy our heroes' langskib. This thing is a downright kaiju, and the Mandalorians don't even bother trying to fight it. (Let's see the trinitaur again sometime, please?)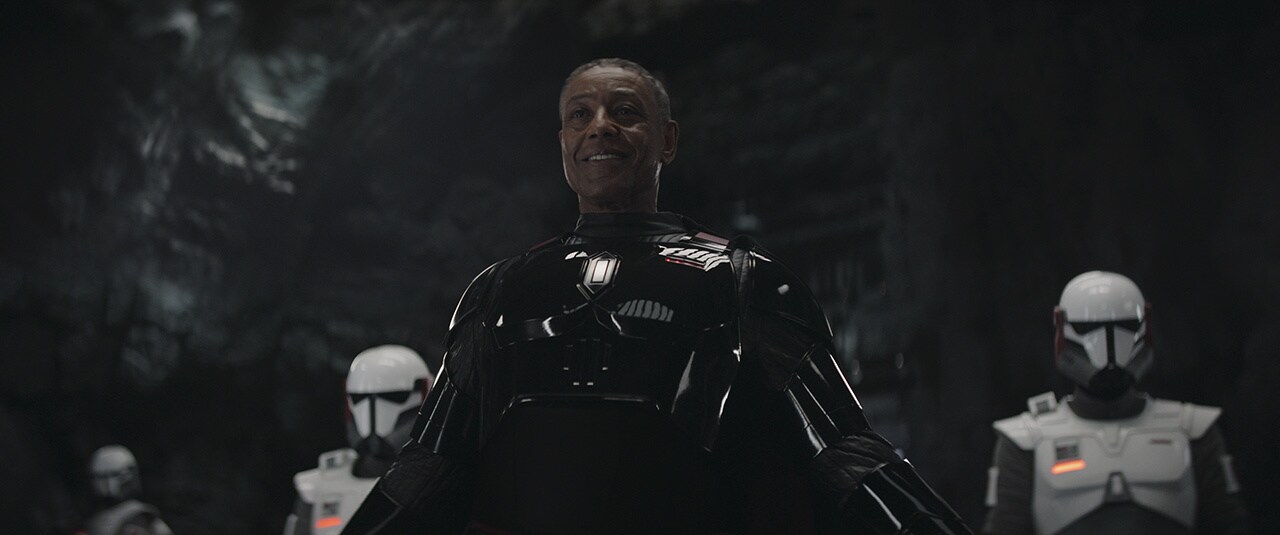 4. Gideon's revenge.

Teased earlier in the episode, the Mandalorians encounter Imperial commandos in the underground of Mandalore. With a design seemingly paying homage to Ralph McQuarrie and Joe Johnston's original super trooper design (which would become Boba Fett), they're a formidable force with beskar armor, jetpacks, and better aim than your average stormtrooper. When they capture Mando, you believe it.
The sequence is filled with great fight choreography, but there's a sneaking sense of dread throughout, and it finally becomes realized with the return of Moff Gideon. Sporting Dark Trooper 2.0 armor and a horned Mandalorian-esque helmet — not unlike those worn by Maul loyalists in Star Wars: The Clone Wars — the Moff makes the depths of his horrifying plans clear. Taken together, it's a fantastic setup for a final showdown next week.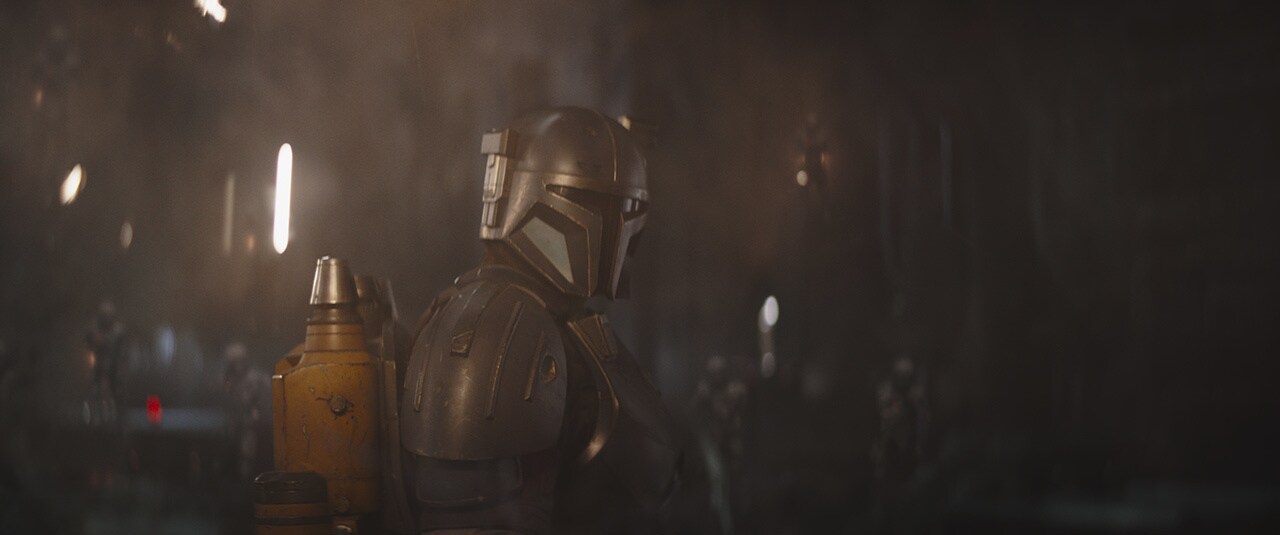 5. Vizsla's last stand.

Having already suffered great losses, Paz Vizzla seals the hangar door to save Bo-Katan and the others. While he stands valiantly against a swarm of troopers, Gideon's Praetorian guards (their first appearance outside Star Wars: The Last Jedi) prove to be too much. While his death is brutal and tragic, it's a warrior's end and, thus, a fitting one. With his sacrifice, the Mandalorians live to fight another day. This is the Way.