StarWars.com goes inside the new book with editor Ian Tucker, looks at early concepts of lovable droid BD-1, and much more.
Star Wars Jedi: Fallen Order is finally here for consoles and PC, bringing us the story of Cal Kestis -- a Padawan who must survive during the age of the Empire. It's a truly epic, emotional, and planet-spanning journey, filled with new friends, foes, ships, and intricate details that hardcore fans are sure to love. (Did you spot that pile of decimated battle droids during the opening sequence on Bracca?)
But there's an equally epic journey that went on behind the scenes in bringing the game to life, and that's chronicled in The Art of Star Wars Jedi: Fallen Order, available today from Dark Horse Books. To mark the gorgeous hardcover's release, StarWars.com caught up with Dark Horse editor Ian Tucker to discuss the role of concept art in videogames, the evolution of BD-1 as depicted in The Art of Star Wars Jedi: Fallen Order, and more.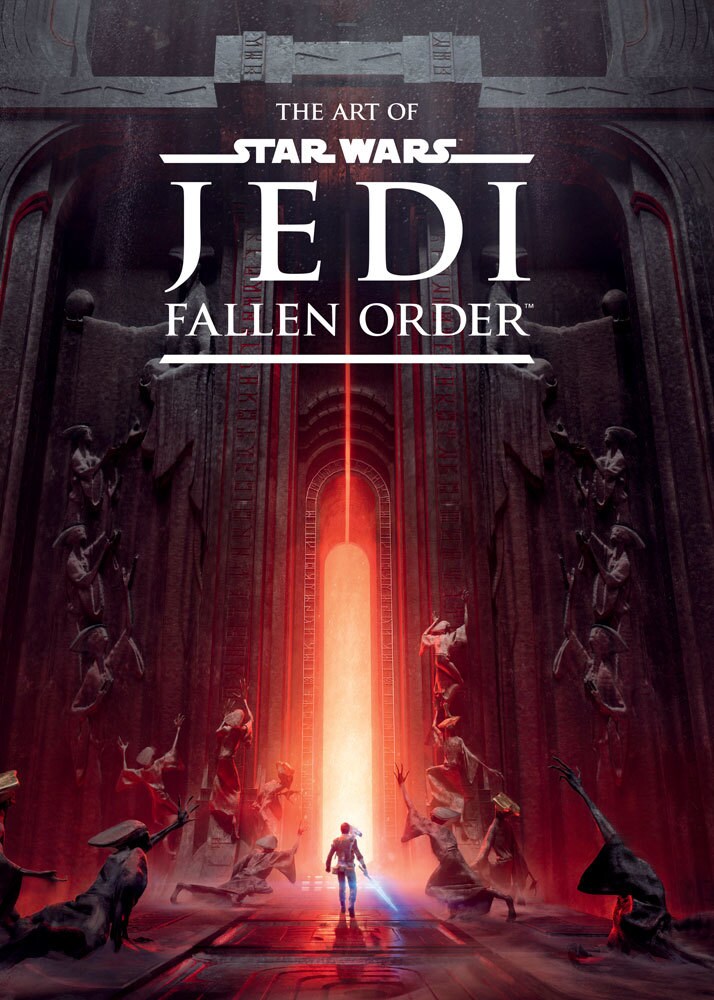 StarWars.com: I think a lot of people don't understand the role that concept art plays in game development. How would you describe its significance, specifically when it comes to Star Wars Jedi: Fallen Order?
Ian Tucker: In visual media like film, television, or videogames, concept art bridges the gap between the written word on the page and the moving action on the screen. It provides the first opportunity for a writer to see their story come to life, especially when one is creating in genres like science fiction or fantasy. I grew up in awe of artists like Ralph McQuarrie, whose earliest depictions of Darth Vader or an X-wing fighter were so familiar -- yet simultaneously so mysteriously different from those iconic images.
It's thrilling to see that tradition persist in the work behind Star Wars Jedi: Fallen Order. The teams at Respawn and Lucasfilm have done a stupendous job of meaningfully exploring and expanding the universe of Star Wars, especially considering the dark time in the galaxy's history during which this story takes place. The art team was tasked with filling in the visual and thematic spaces between the prequels and the original trilogy, and I think they've done so beautifully.
StarWars.com: With such a rich collection of imagery, can you talk about your role as editor in putting it all together in one collection?
Ian Tucker: On this project, my first task was to coordinate with the teams at Respawn and Lucasfilm to build an outline for the book and to gather art assets. Once we have the art in-hand, I work with one of our talented designers (in this case, Sarah Terry) to build a style for the book before the designer starts laying out the art. Lots of different things can affect the style of a book, including the density of art on a page, the fonts, page numbers, or even the weight of a line. We like to make sure that the book's style speaks to the material as a whole, and in this case it was inspired by ancient Jedi tomes.
Once we've agreed upon a style, we lay out the art according to the outline, and then share our work with Lucasfilm to get their feedback as we proceed. As we continue, I keep an eye on the design to make sure that it's cohesive and consistent so that readers enjoy a positive experience once they have the book in-hand.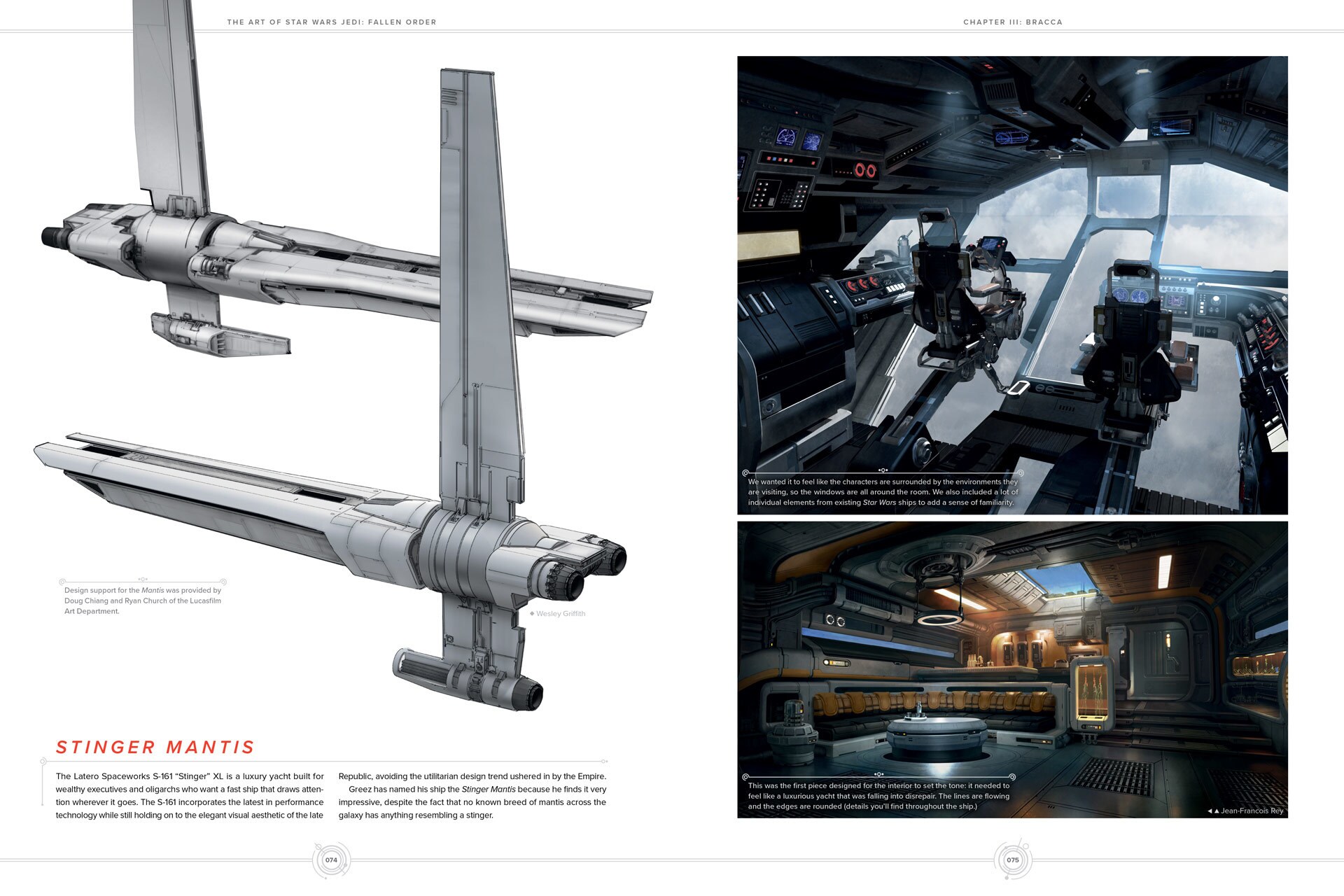 StarWars.com: What surprised you most about the work featured in the book?
Ian Tucker: The artistry and creativity on its own is impressive, but I'm amazed at these artists' ability to adapt their talent with the nuance required to make sure that each of the thousands of components within this game all look at home in the larger established Star Wars galaxy. For example, Cere and Greez's ship, the Stinger Mantis, is a strikingly sophisticated design, uniquely created with precise right angles. I can't think of anything else in Star Wars quite like it, but it also features a cool asymmetrical wing that rotates around the ship's axis, reminiscent of the B-wing fighter. It's a remarkable new design with an ingeniously incorporated familiar touch.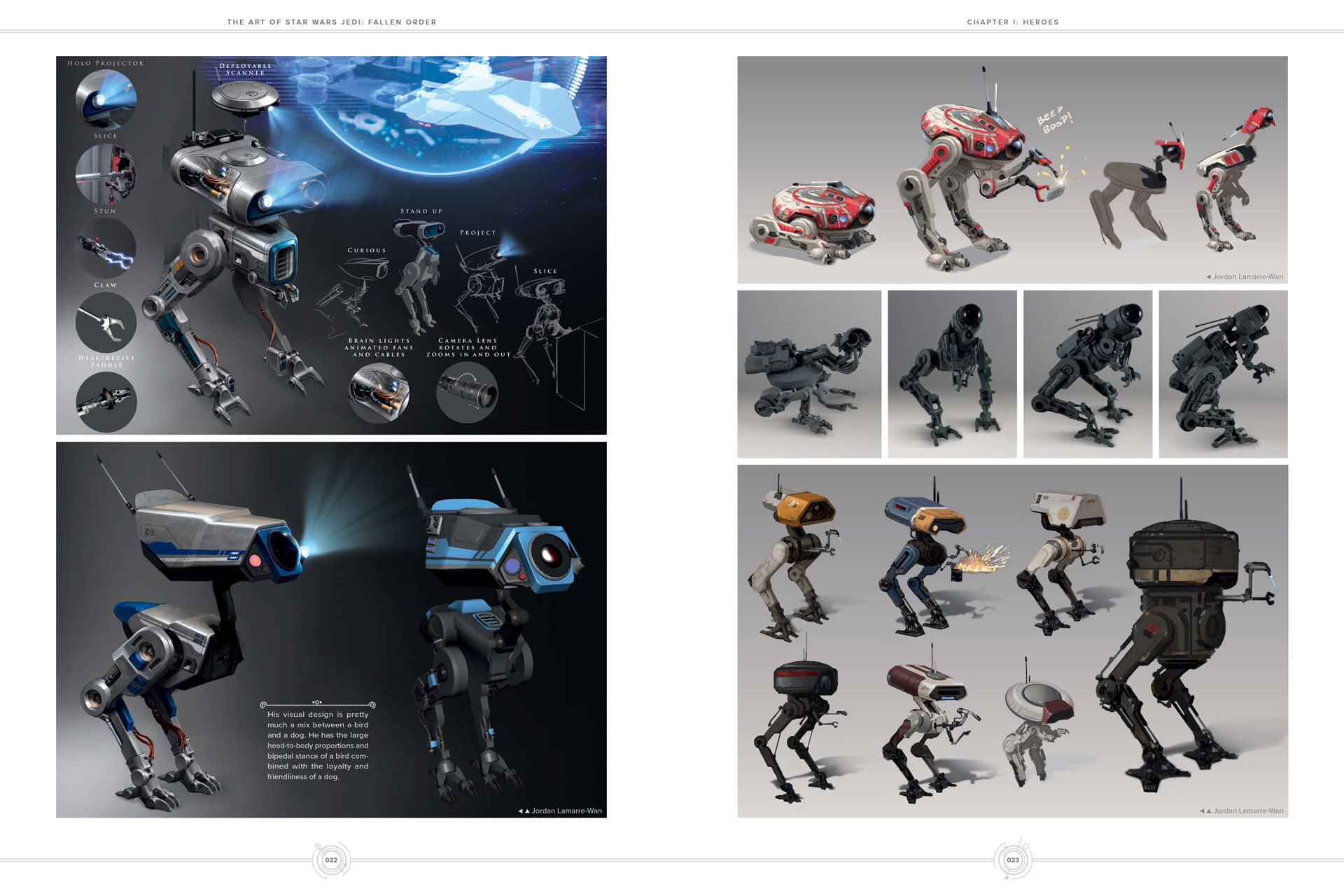 StarWars.com: What are some of your favorite pieces included in the book?
Ian Tucker: I think I'm most fond of the concepts for BD-1. The companion droid is one of my favorite types of character character -- from R2-D2 to BB-8 --and I love the idea of a little buddy droid who can perch on your shoulder like a pirate's parrot. Some early concepts have fantastically R2-esque features like a big curious central eye. Others are almost menacing, like a mean little dinosaur. It's great fun to consider the multitude of ideas that went into a character's creation, and I think those spreads are a fantastic example of that work.
StarWars.com: What do you hope readers get out of The Art of Star Wars Jedi: Fallen Order?
Ian Tucker: If you're a gamer, I hope you enjoy the insights offered by the team that poured their souls into the creation of this game. If you're a Star Wars fan, I hope you enjoy this book as much as I enjoyed poring over Ralph McQuarrie's work when I was a kid. Either way, I hope you have as much fun reading it as we had making it!
The Art of Star Wars Jedi: Fallen Order is available now in standard and limited editions.
Star Wars Jedi: Fallen Order is available now on Xbox One, PlayStation 4, and PC.
Dan Brooks is Lucasfilm's senior content strategist of online, the editor of StarWars.com, and a writer. He loves Star Wars, ELO, and the New York Rangers, Jets, and Yankees. Follow him on Twitter @dan_brooks where he rants about all these things.
Site tags: #StarWarsBlog, #StarWarsGames