Writer Christopher Cantwell on his upcoming series starring the legendary Jedi.
This spring, Marvel has the high ground.
Star Wars: Obi-Wan, a new five-issue miniseries from the House of Ideas, will launch in May, StarWars.com can exclusively reveal. Written by Christopher Cantwell with art by Ario Anindito, the series finds the titular bearded hero in the final days of his time on Tatooine, chronicling earlier adventures in his own journals (which were previously referenced in Marvel's Star Wars series). The tales span Obi-Wan's entire life as a guardian of peace and justice, including his days as a Jedi Initiate, Padawan missions, experiencing the Clone Wars as a Jedi Knight, and facing new threats as a Jedi Master. StarWars.com has a first look at covers for issue #1, and caught up with Cantwell to talk about one inspiration for his take on Kenobi as a child, the prequel character he most enjoyed writing in the series, and why we love Obi-Wan.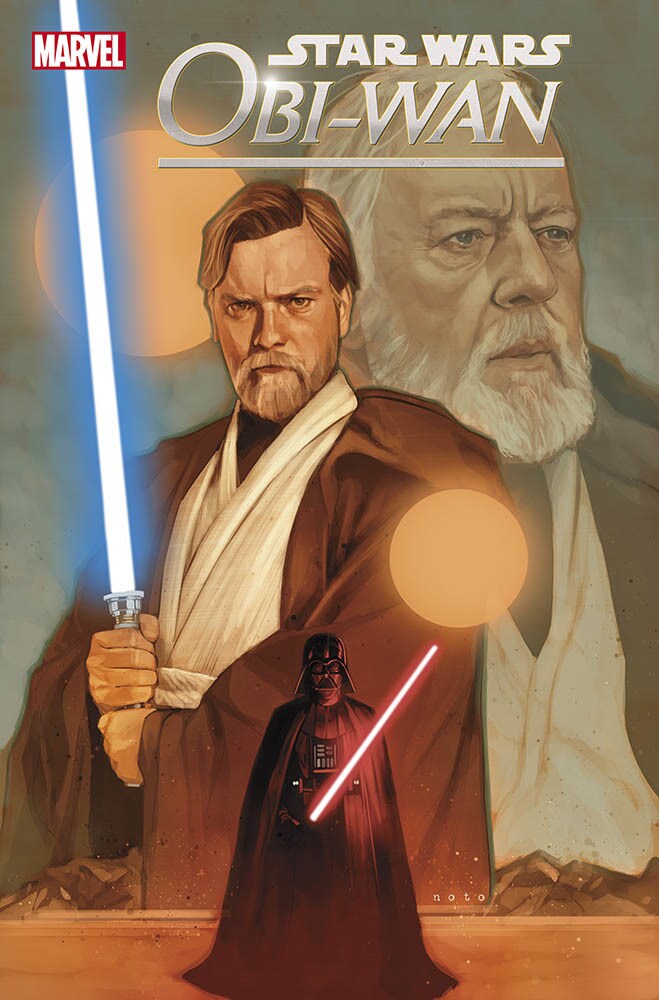 StarWars.com: Issue #1 kicks things off with a tale of youngling Obi-Wan. How did you approach defining him at such a young age, which has rarely been explored?
Christopher Cantwell: Well, just writing Star Wars in general felt extremely daunting. Here is this beloved universe that I've been obsessed with since I can remember, and now I have to find a story within its vast vaulted structures and tell it just right. My earliest memory is running into the dollar theater on a summer afternoon at three years old and actually seeing the very end of Return of the Jedi first (with the three ghosts at the Ewok party) because I was so excited to watch the movie. I had a VHS tape of A New Hope that my parents recorded from when CBS aired it for the first time on TV in 1984. I wore it out. I have the commercials for Nature Valley Chewy Bars and Kit Kat bars memorized just as much as all the dialogue. But I had to put ALL that down when crafting this story.
And when it came to Obi-Wan at this age…I looked to my own eight-year-old son. I love seeing the world through his eyes because it reminds me of what it was like when I was his age. I very much tried to tap into that. There's this idea in the first issue of being small in a massive universe. Every kid feels that way. I also wanted to make sure I got all the details right…and there are LOT of details to get right when it comes to Star Wars.
StarWars.com: What's especially exciting about your series is that each issue will tell a story about Obi-Wan at a different stage in his life. What do you hope readers come to understand about him when looking at the series as a whole?
Christopher Cantwell: What I love about Obi-Wan is that he is so much a character of patience and fortitude. He holds out hope and keeps that flame going even in the darkest times. He lost his Master, his best friend…he's experienced a lot of grief. But he pushes forward. He waits on Tatooine for decades. He is the Buddhist concept of kshanti -- patience -- personified. He is able to hold onto the glimmers of light amidst the cloak of darkness. Every issue thematically deals with his ability to do that as a person.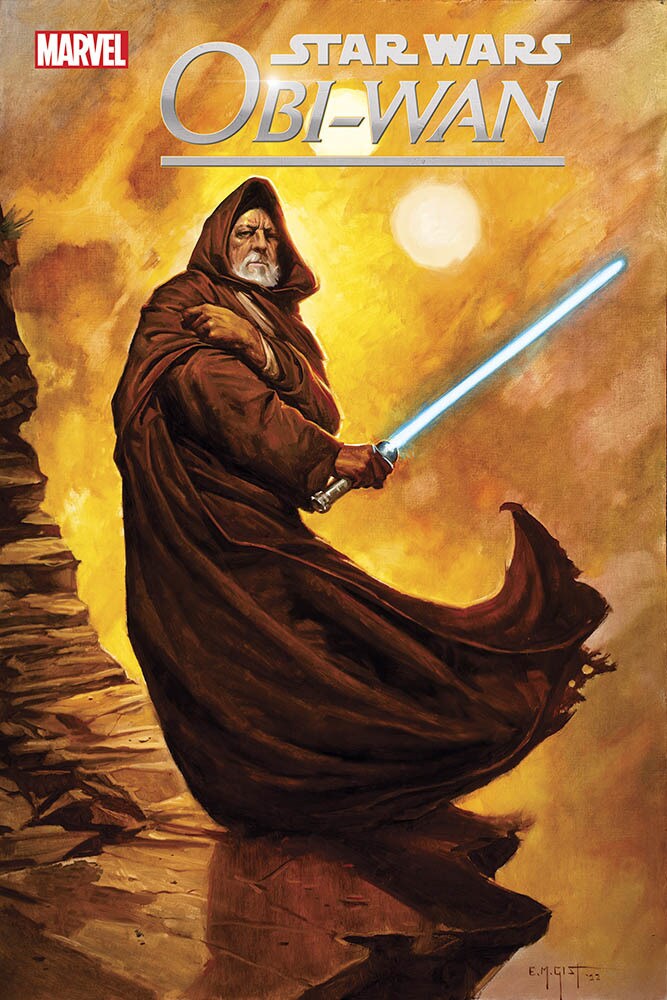 StarWars.com: What did you learn about Obi-Wan in the process of writing him at these varying points in his life?
Christopher Cantwell: Again, I tried to emphasize that unwavering way about him. But I was also able to dig further and explore some of his deeper trepidations. The frame story of the entire series takes place just weeks before A New Hope begins. So here's Obi-Wan, waiting and sensing that things are about to drastically change. There is going to be some culmination of his destiny. And -- just like what happens for us all when we face some of our greatest challenges -- he is really wrestling with it internally. It's this wrestling that is in fact causing him to reflect on his past. He's searching for strength and wisdom he's gained over his lifetime, wanting it to reinforce his readiness to face his fate.
StarWars.com: It's probably safe to assume we'll see some familiar prequel faces in the series. Is there anyone you really enjoyed getting the chance to write?
Christopher Cantwell: Writing Yoda was surreal. Getting that speech pattern right isn't as easy as it sounds. And I've always loved Qui-Gon. He's my favorite part of the prequels and such a fascinating character. Anakin proved trickier, because he's as multifaceted as a diamond. But it's been a joy touching upon them all, and also playing with some beloved alien species and even creating a couple new characters that I think integrate well into the larger universe. I mean, I'm answering this question while my original Darth Vader head case full of my old Kenner figures sits behind me. Who doesn't dream of bringing those to life?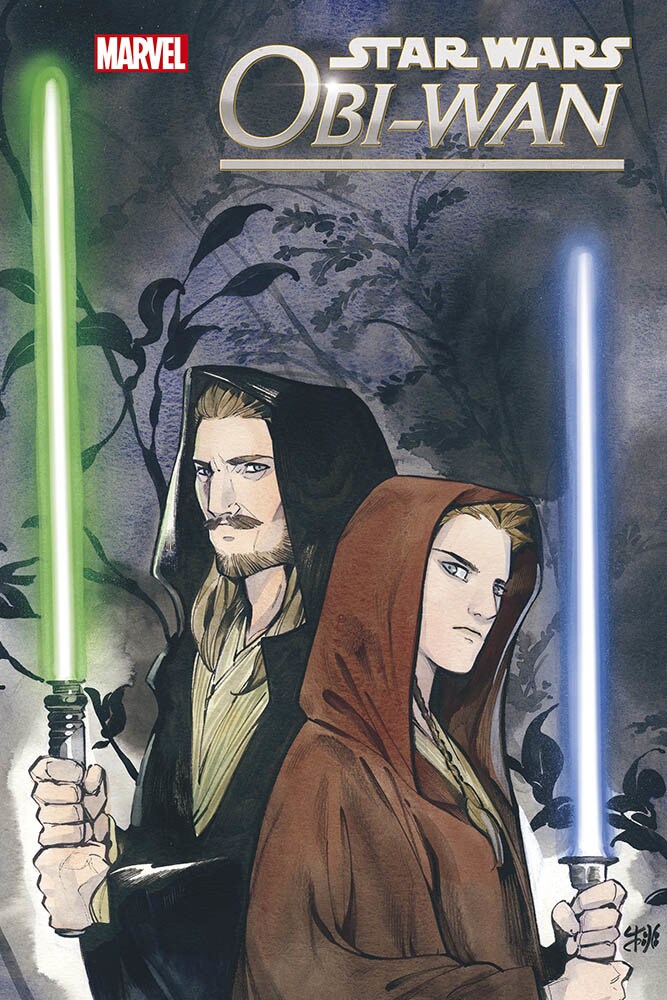 StarWars.com: It's hard to find a Star Wars fan that doesn't love Obi-Wan, whether it's the original trilogy, prequel trilogy, or Clone Wars version of the character. Why do you think he appeals to so many over 40 years since his debut?
Christopher Cantwell: Obi-Wan is the classic sage. He is the first teacher to enter the Star Wars story. He is frustrating in his guidance at times, but his wisdom is hard-earned through emotional, personal experience. He's also just a veteran in the truest sense of the word. He lived through probably some of the most difficult times in the Republic and the Jedi Order, and almost narrowly died a few times in the process. He's seen some horrible things firsthand. But like I said, there is a virtue about him that allows him to continue to be a light in the darkness. He carries the flame of hope within him. Obi-Wan never gave up in all his years of living. He didn't even give up afterwards. Now that's dedication to the light side.
---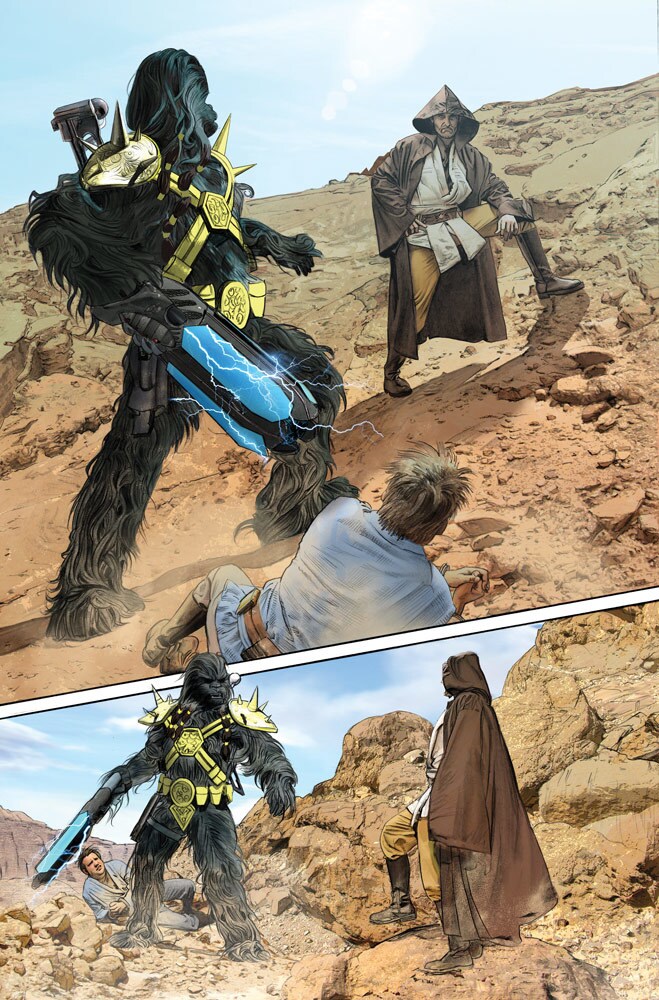 In addition to Star Wars: Obi-Wan, Marvel also plans to unleash Star Wars Tales: Krrsantan#1, a collection of the deadly Wookiee bounty hunter's most memorable comics exploits. The special one-shot collects Star Wars (2015) #14-15 and #20, as well as Star Wars: Doctor Aphra Annual#1, which includes Krrsantan's rumble with Obi-Wan Kenobi set between Episodes III and IV, his epic clash with fellow Wookiee warrior Chewbacca, and finally, a look into the blaster-for-hire's Trandoshan gladiator-pit origins and subsequent quest for revenge. For those looking to learn more about this fearsome fighter after his appearance in The Book of Boba Fett, you've found your bounty.
See these comics and more on This Week! In Star Wars!