The Acolyte's Wookiee Jedi, new Star Wars movies announced, and much more.
Star Wars Celebration Europe 2023 kicked off yesterday with Lucasfilm's Studio Showcase, hosted by Ali Plumb with Lucasfilm president Kathleen Kennedy, offering a look at the future of Star Wars (and an upcoming adventure featuring our favorite adventuring archaeologist). It was most impressive, with sneak peeks and insights into Andor Season 2, The Acolyte, Skeleton Crew, and much more, from the casts and creators themselves. Here are 11 of the biggest moments.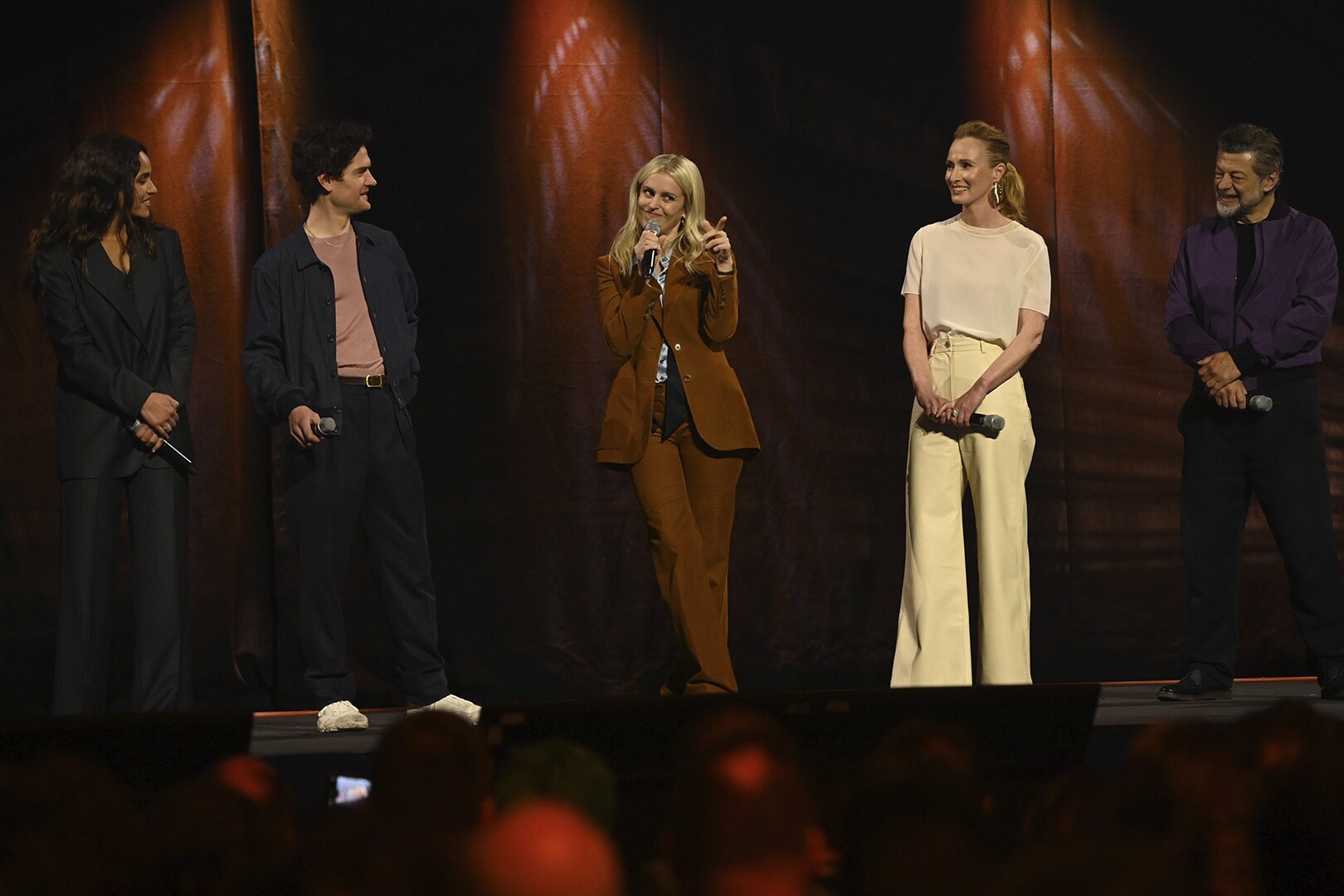 1. An exciting look at Andor Season 2.

Andor showrunner Tony Gilroy, along with star Diego Luna and more cast members, discussed the reaction to Season 1 and talked about shooting Season 2. "We're going as quickly as we can to come back with the second half of this and finish it off proudly, and make you proud of us," Gilroy said. 
Luna spoke about the importance of London to him and the cast, as they live in the city while shooting Andor. "This city means a lot to me," he said. "I feel like part of this community." But most of all he was grateful for the support that fans shown the series. "We're really happy to be here because it means we're still doing Andor. There was always the feeling of, 'What's going to happen if they don't like it?' And we're here because you liked it."
A short teaser was shown, in-room only, with glimpses of all the principal characters and some intense action. "If we do not stand together, we will be crushed," Mon Mothma says. It closed with a dapper-looking Cassian Andor, offering a wry smile, and was met with a raucous reception.
2. Meet Kelnacca, Wookiee Jedi Master from The Acolyte.
Leslye Headland, showrunner of the upcoming The Acolyte, took the stage with a tunic-wearing Wookiee at her side. As it turns out, that Wookiee is named Kelnacca, a Jedi Master, and will be played by Joonas Suotamo (Chewbacca, the Scourge in Willow). "I'm so beyond excited," Suotamo said," because ever since I was a kid, I wanted to be a Jedi."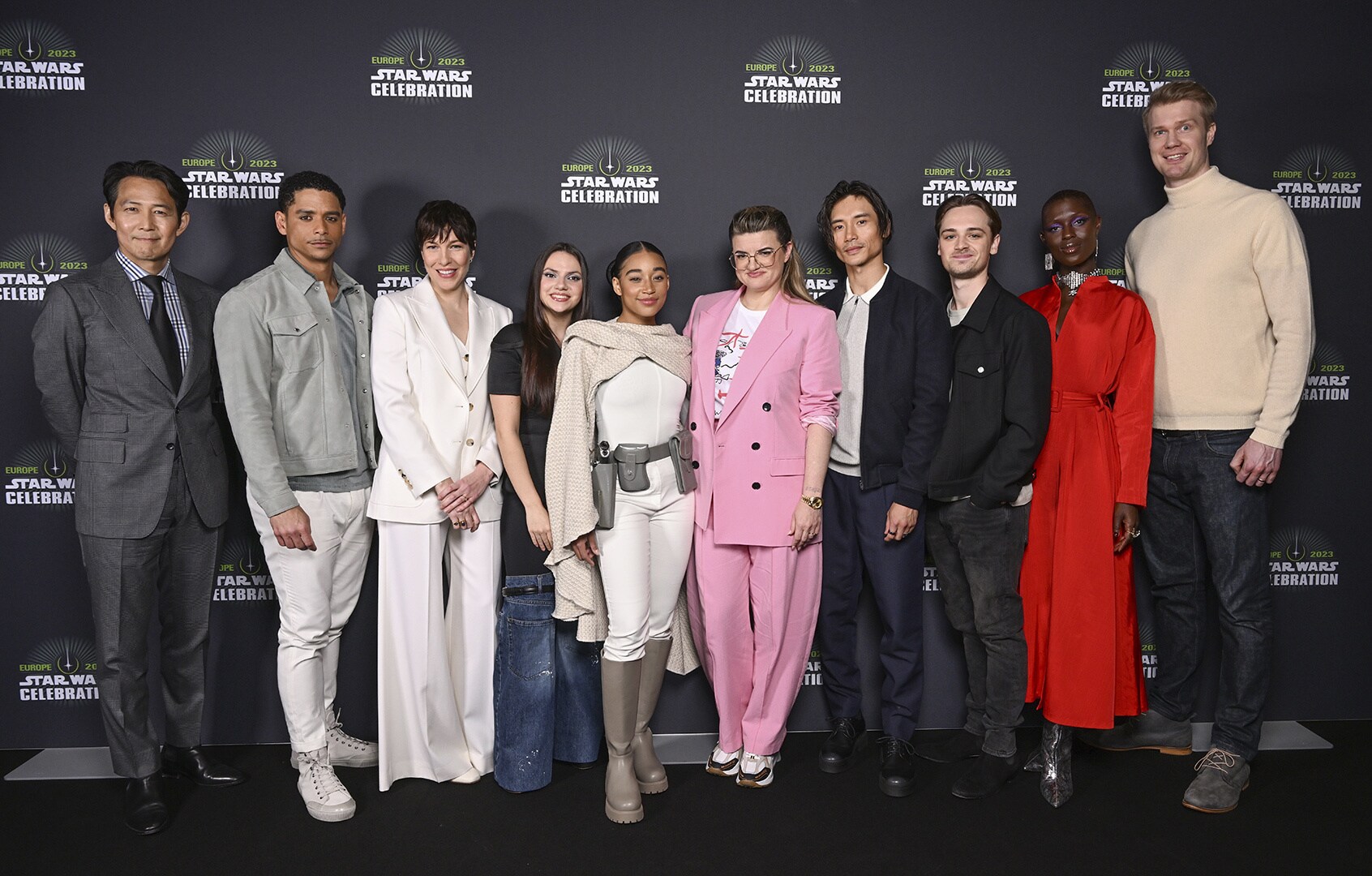 3. The origins of The Acolyte.

Leslye Headland wanted to tell a story "from the perspective of the villains," and the High Republic — the prime of the Jedi and a time of peace — was the ideal setting. "This is when the bad guys are outnumbered," she said. "They are the underdogs, and so it seemed like the perfect part of the timeline to explore in live-action." Headland named her inspirations as samurai and martial arts films, with a focus on relationships, from master and apprentice to siblings. "We went back to a lot of films that inspired George [Lucas]."

4. A thrilling sneak peek of The Acolyte, coming 2024.
Fans in attendance were treated to the first-ever footage of the upcoming Disney+ series, which featured lots of Jedi (something Headland promised) and action. It began with younglings in a meditative exercise, as Lee Jung-jae's Jedi relays words of wisdom. "Close your eyes. Your eyes can deceive you. We must not trust them," he says. "The Force is powerful. It is power we must respect." Mysterious imagery and fast-moving combat filled the clip, including a battle between Carrie-Ann Moss' Jedi character and a blade-wielding assailant, and it ended with several Jedi igniting their lightsabers before an unseen foe. Another huge ovation from the crowd.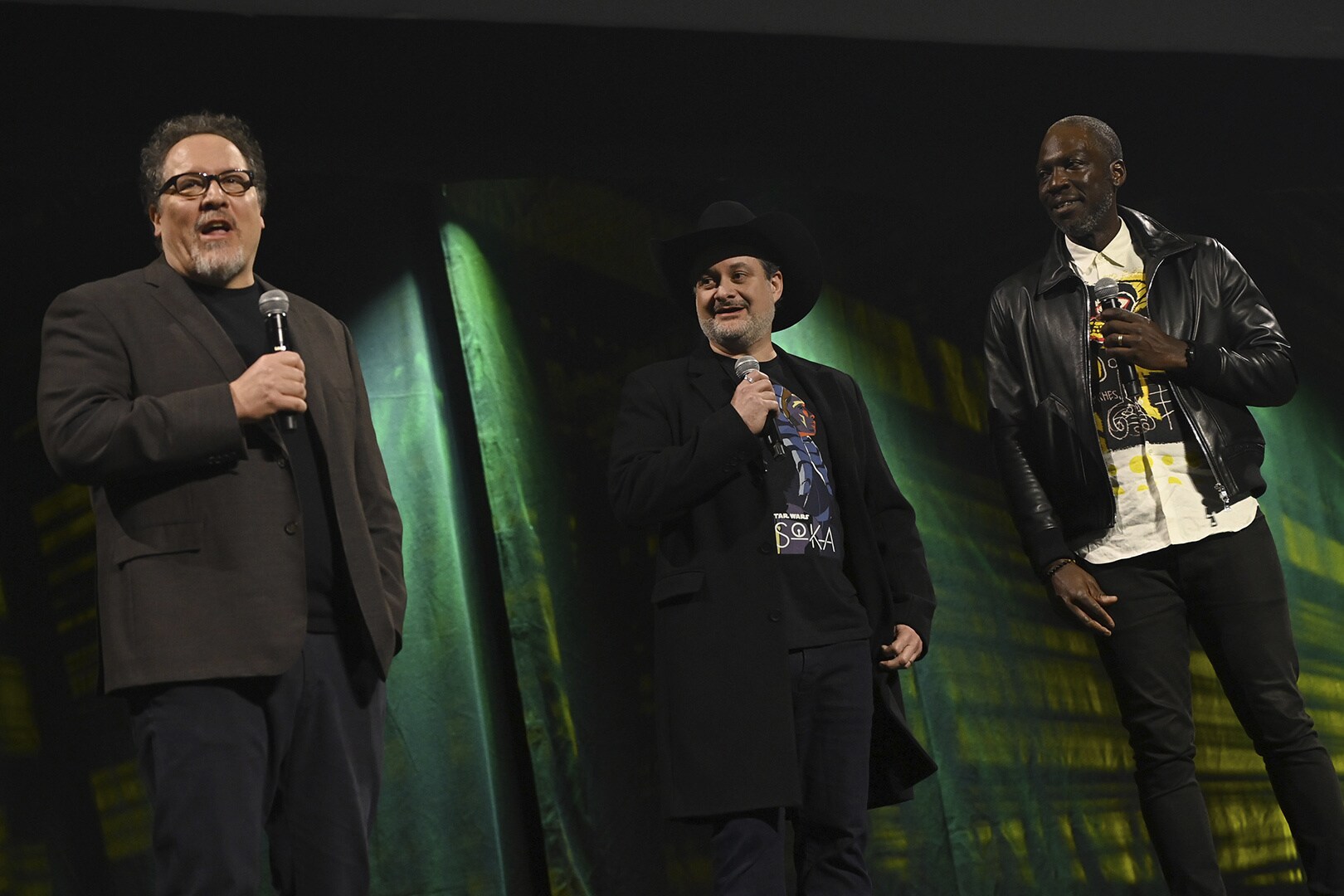 5. Jon Favreau, Dave Filoni, and Rick Famuyiwa on the different voices building Star Wars today.

The executive producers of The Mandalorian discussed the impact of working together and with other creators across series. "There are so many exciting things from different points of view," Filoni said. "And that's making Star Wars stronger."
Famuyiwa, who directed the last two episodes of The Mandalorian Season 3, talked about the themes of Season 3. "Examining this idea around culture and what it means to be Mandalorian, and what the title means, and who are we talking about?" he teased. "A lot of interesting seeds have been planted that we'll see some resolution on."
6. Insight into Ahmed Best's return as Kelleran Beq.
Jon Favreau recounted discussions with Dave Filoni and Rick Famuyiwa on who could and should be the one to save Grogu from Order 66. Best, who had played Jar Jar Binks in the prequels, created his own Jedi character — Kelleran Beq — for the Star Wars Kids game show Star Wars: Jedi Temple Challenge. It established the character as a teacher of younglings, which put him in good position. But there was something else unique to Best. "It had to be somebody who cares about Star Wars as much as you guys do," Filoni said. "I don't think there's anybody better than Ahmed." In turn, Favreau noted how fans' beyond-enthusiastic reception to Kelleran Beq in The Mandalorian has meant so much to all involved.
"That was as much fun as the episode itself was," Favreau said.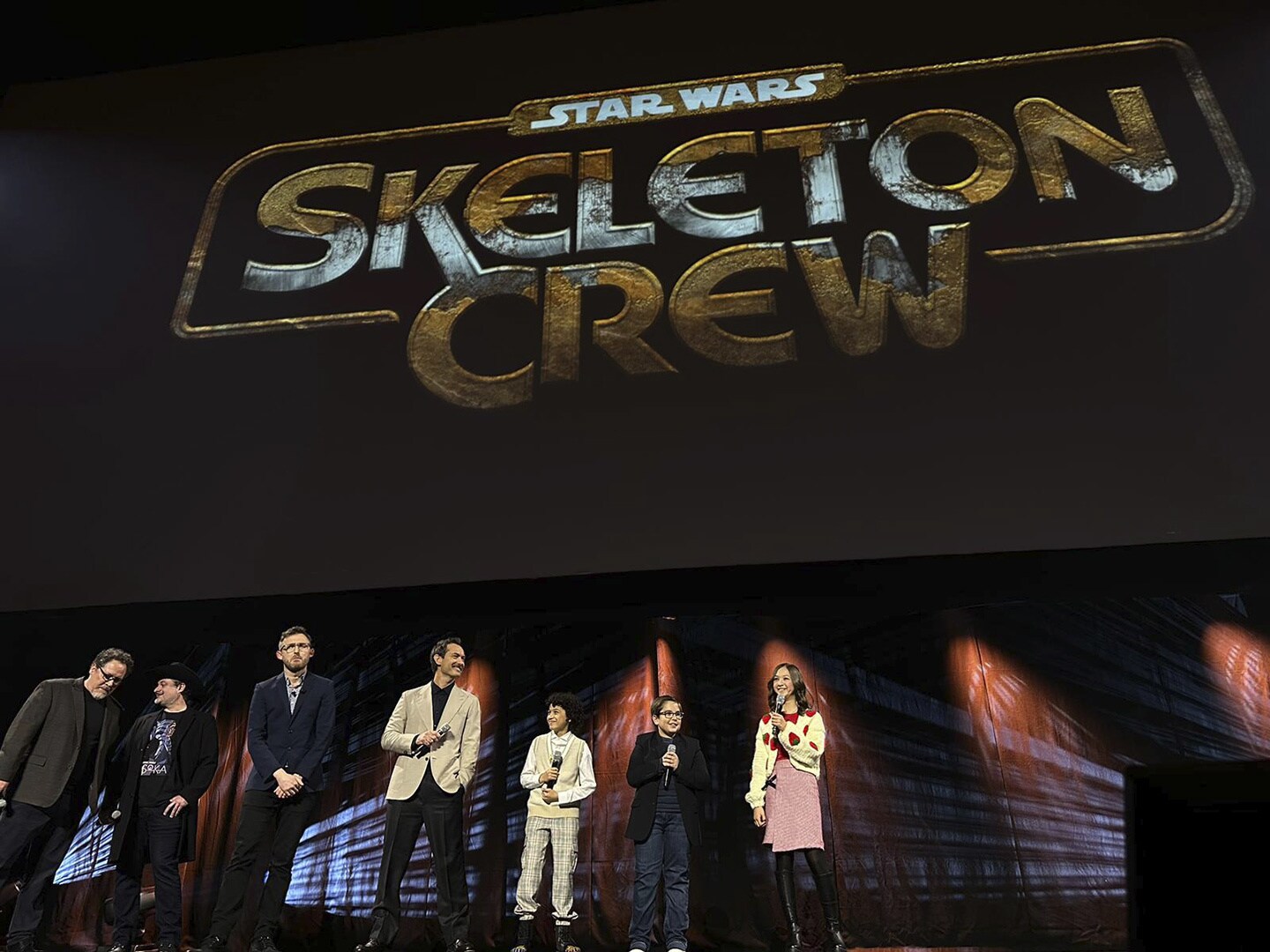 7. Pulling back the curtain on Skeleton Crew.

Kathleen Kennedy said that the approach to the series is similar to the tone of '80s Amblin movies — Skeleton Crew may star kids, but it's not just for kids. Cast members Ravi Cabot-Conyers, Kyriana Kratter, and Robert Timothy Smith were joined by Jude Law on-stage, discussing their love of Star Wars and the series. "I was like six years old when this galaxy gripped me," Law said. "I've been in preparation ever since." Episode directors will be series creator John Watts, David Lowery, Jake Schreier, and The Daniels.
An in-room teaser focused on a group of children going off into space for an unknown reason — "Don't you ever want to do anything exciting?" one asks — while adults are desperate for them to return home safely. Near the end, they encounter Jude Law's character, who draws something to his hand with the Force. "You're…a Jedi?"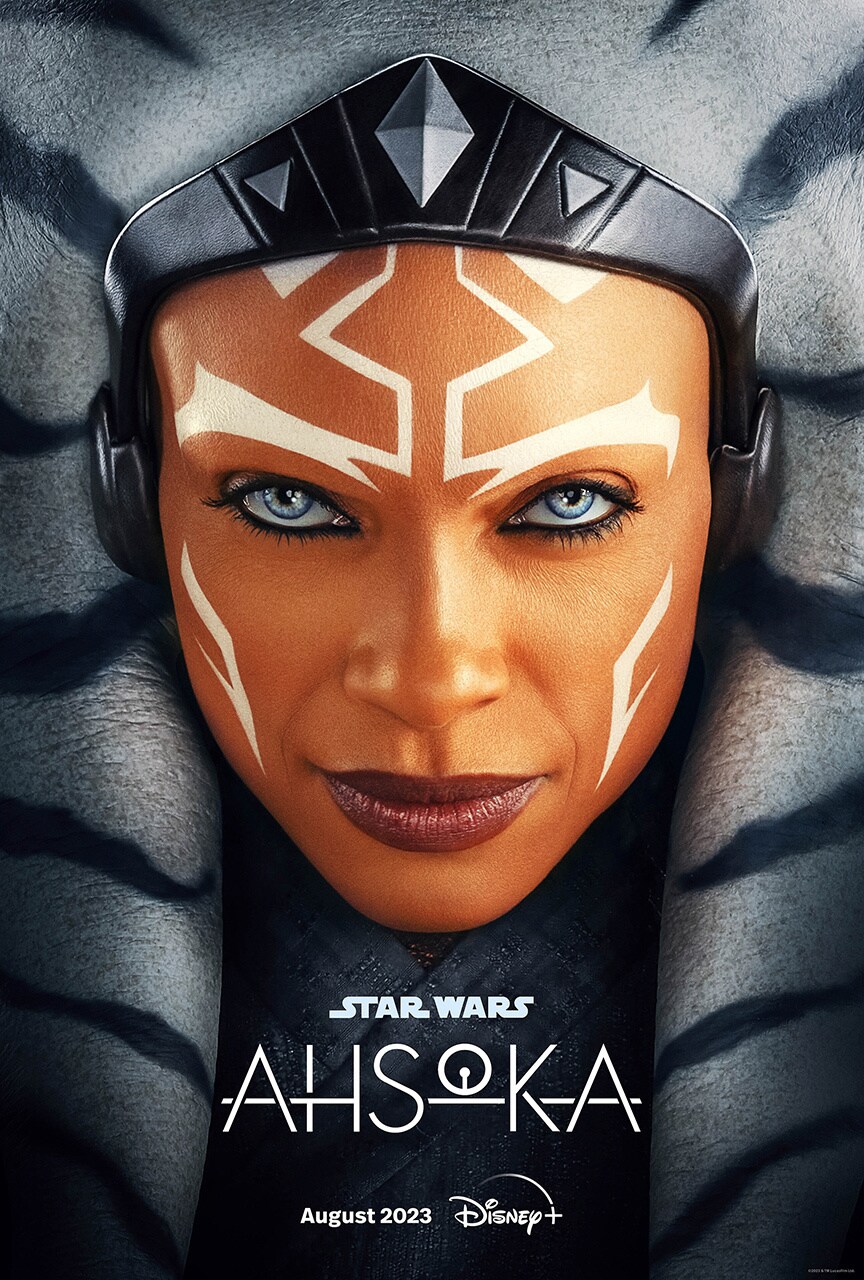 8. Ashoka teaser trailer, poster, and premiere month — August 2023 — revealed.

Finally! The teaser trailer for Ahsoka debuted, featuring Rosario's Dawson's title character, along with Sabine Wren (Natasha Liu Bordizzo), Hera Syndulla (Mary Elizabeth Winstead), and our favorite grumpy droid, Chopper, among others, and a behind-the-back look at Grand Admiral Thrawn. "I think we were looking for someone…" Dawson said in the panel with Bordizzo, referencing where the characters left off in Star Wars Rebels. 
"We're poised for adventure," Bordizzo added. "I made a promise to someone, and I feel like I want to fulfill that obligation."
Winstead was greeted with cheers upon her appearance, officially confirmed as playing Ghost pilot Hera. "I'm very lucky to be playing her," Winstead said. She called the makeup and costume "transformative," while Filoni noted how powerful a moment it was to see characters from his animated stories come to live-action. 
"Thank you to all the fans for believing in them," he said.
"Every single day on this has been an absolute delight," Dawson said. "I've had so many pinch-me moments, even up until the last day of shooting, where the lightsabers turn on and I'm just looking at Star Wars, and we're in the world."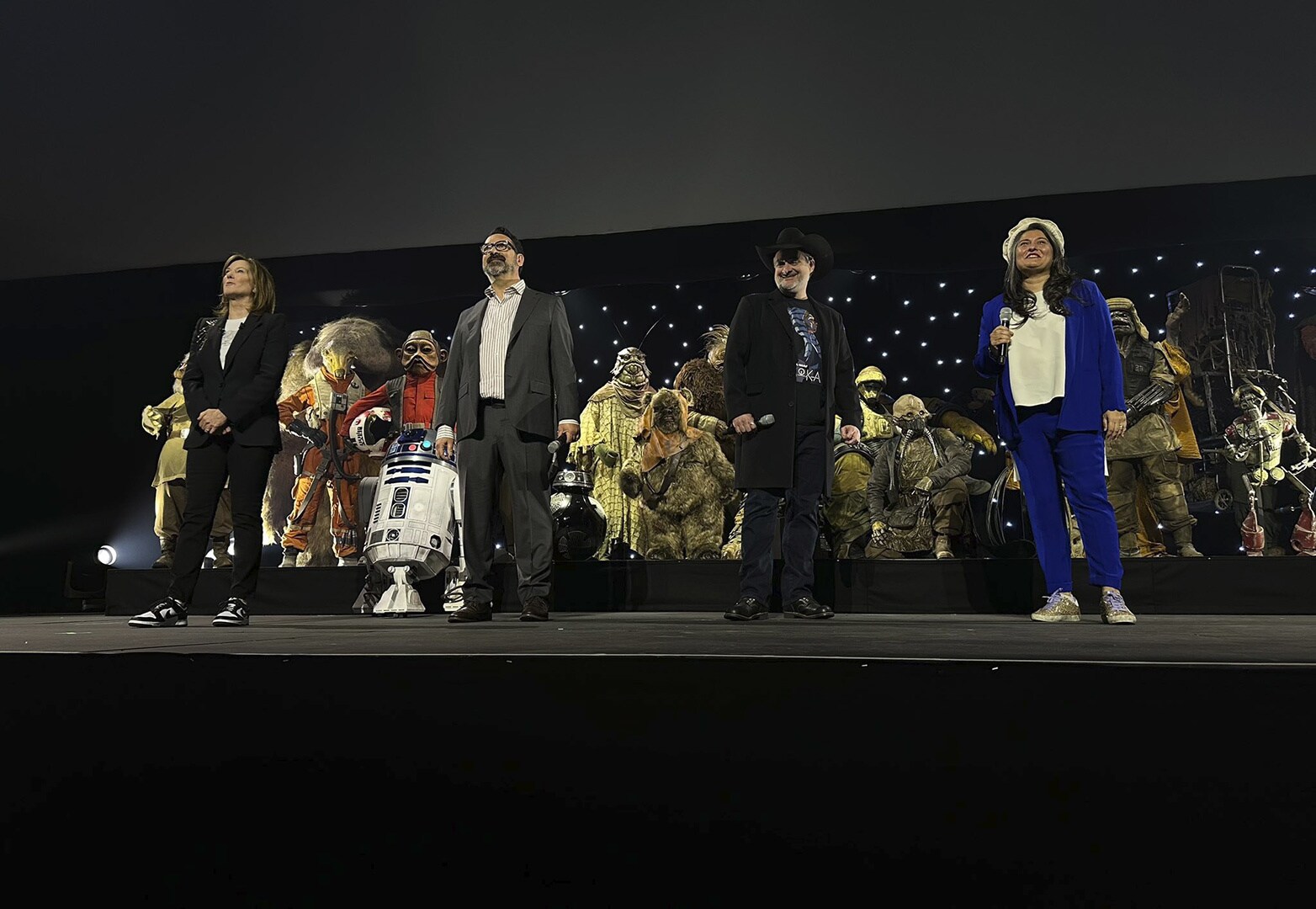 9. Three new Star Wars movies are on the way.

In a huge surprise, Kathleen Kennedy announced three new Star Wars films from James Mangold (Logan, Indiana Jones and the Dial of Destiny), Dave Filoni (The Mandalorian, Ahsoka), and Academy Award- and Emmy Award-winning director Sharmeen Obaid-Chinoy (Ms. Marvel, Saving Face). According to Kennedy, they will "span the past, the present, and the future."
Mangold's film will be set at the dawn of the Jedi, telling the tale of the "first Jedi to wield the Force." Filoni's movie will pull together threads from recent Disney+ series, while Obaid-Chinoy's will be set 15 years after Star Wars: The Rise of Skywalker, centered around "rebuilding the Jedi Order and the powers the rise to tear it down."
Of his film, Mangold said he "thought about a biblical epic, like a Ten Commandments and the dawning of the Force. Where did the Force come from? When did we discover it? When did we know how to use it? And a story just started developing." According to Mangold, it will be set 25,000 years prior to the original Star Wars.
"I get to make a movie!" Filoni exclaimed. "We're drawing on a lot of things…and bringing them all together."
Obaid-Chinoy discussed her interest in the hero's journey, and wanting to explore that theme. "I think that's the heart of Star Wars," she said, "and that's why I'm attracted to the promise of a new Jedi Order." And who will rebuild the Jedi Order?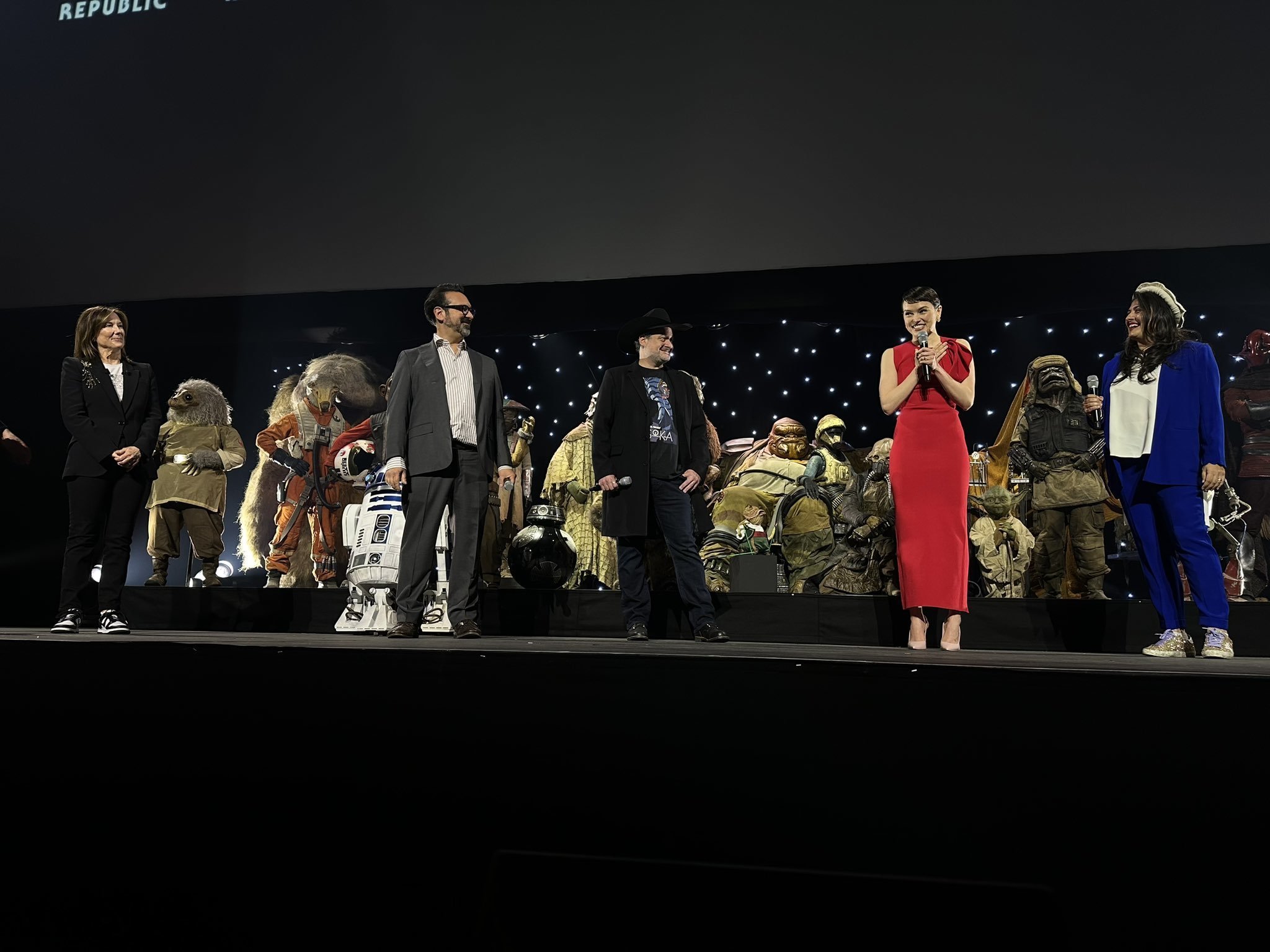 10. Daisy Ridley returns!

Obaid-Chinoy introduced her film's Jedi Master. Daisy Ridley emerged to a standing ovation, signaling that Rey was back. "My heart is pounding," she said. "I'm very thrilled to be continuing this journey."
11. The final Indiana Jones and the Dial of Destiny trailer is here.
Following a warm video greeting from Harrison Ford, Mads Mikkelsen and Phoebe Waller-Bridge joined Kathleen Kennedy and James Mangold on stage. Waller-Bridge revealed a little about her character Helena, Jones' goddaughter. "They haven't seen each other for quite a long time," she said. "In some ways, she's the worst thing that could happen to him at this time in his life, but also, I think, kind of the best thing."
Raiders of the Lost Ark is one of Mikkelsen's first filmgoing memories, and he savored playing the villainous Jürgen Voller. "Just being part of an Indiana Jones film is a dream come true," he said.
The final trailer for the film was revealed — featuring more story details, including insight into the titular dial — along with a stunning new painted poster. Finally, the audience was treated to a thrilling chase sequence from the movie, grounded and intense. 
We'll all join Indy on his final ride when Indiana Jones and the Dial of Destiny arrives in theaters on June 30.