The superstar artist reveals page breakdowns, sketches, and early explorations for his highly-anticipated kickoff issue of Marvel's crossover event.
Steve McNiven is finally taking his first steps into a larger world. The comic-book artist, deemed one of the modern greats for his acclaimed work on Marvel's Civil War, Guardians of the Galaxy, and Return of Wolverine, among many others, will now add Star Wars to his long list of credits: McNiven is pencilling Star Wars: War of the Bounty Hunters Alpha #1, the kickoff to Marvel's epic crossover that will tell us what happened to Boba Fett after he secured a frozen-in-carbonite Han Solo. "I would have done it for free," he tells StarWars.com of his Star Wars debut, which reunites McNiven with his frequent collaborator, writer Charles Soule. With War of the Bounty Hunters Alpha #1 arriving May 5, and StarWars.com celebrating War of the Bounty Hunters Week, we caught up with McNiven to talk a little Star Wars and go inside his process for the issue, with never-before-seen sketches and commentary from the artist himself.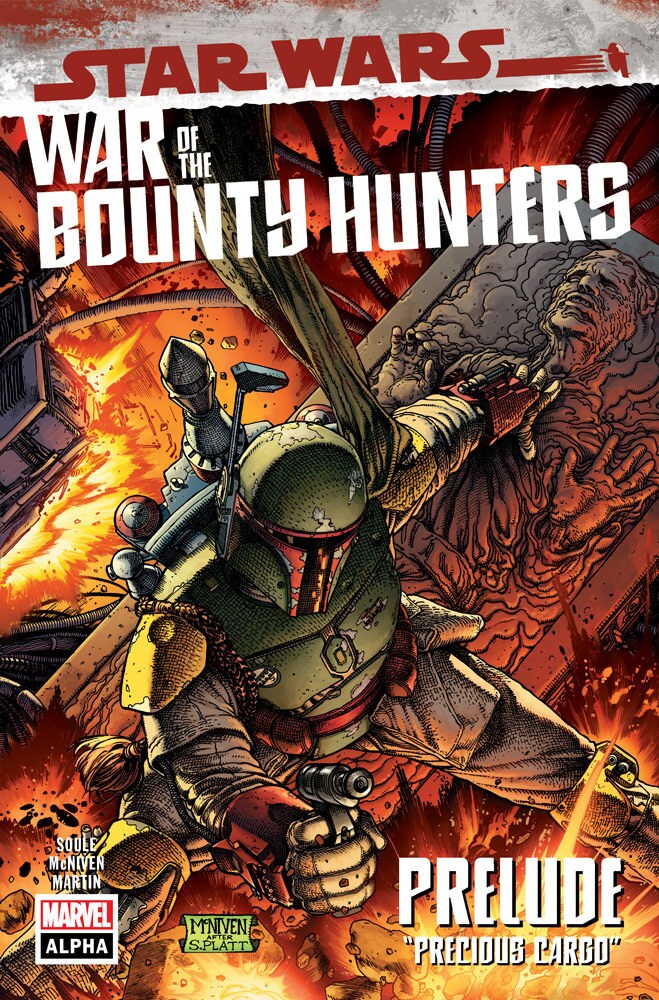 StarWars.com: Do you remember when you first encountered Star Wars?

Steve McNiven: I do! I am old enough to have watched the first movie in the theaters when I was 10 years old and it blew my mind! I went to the theater over and over that summer, rewatching the movie and I bought all of the toys and trading cards, comics and whatnot I could get my hands on. Still do, more or less! You could call me a lifelong fan of Star Wars.
StarWars.com: This is your first Star Wars work. It's about time, I think! 
Steve McNiven: I agree! It is about time! I did a trading card for Topps about a decade or so ago -- Luke on a landspeeder, I believe -- but I've had the hankering to draw Star Wars since, well, I was 10. So, this is my first time working in sequential comics storytelling within the Star Wars universe and I couldn't be happier or more excited about it. I have a great collaborator with Charles Soule, who came up with and wrote the script for this prelude book, as well as the continuing miniseries. He's a fantastic writer and has been deeply involved with the Star Wars universe for years now. He came up with an amazing story that was full of all of the things that made Star Wars so great to me, a real dream job for sure. Don't tell Marvel Comics this, but I would have done it for free.

StarWars.com: Would you be up for a return trip to the galaxy far, far away?

Steve McNiven: I sure hope so. It's just such a blast to be drawing all of the things that were so iconic to me growing up with Star Wars. And there's always more things that I'd love to get a crack at drawing, not to mention all of the amazing stories that are still left to tell. Right now, I'm doing the covers for the full miniseries that is coming out of this prelude book, so I'm still actively drawing Star Wars stuff and I couldn't be happier. I just got to draw a great Jabba the Hutt just the other day. No spoilers though…
The following images come from Steve McNiven's private archive, demonstrating his process for drawing Star Wars: War of the Bounty Hunters Alpha #1. He also provided commentary for each illustration.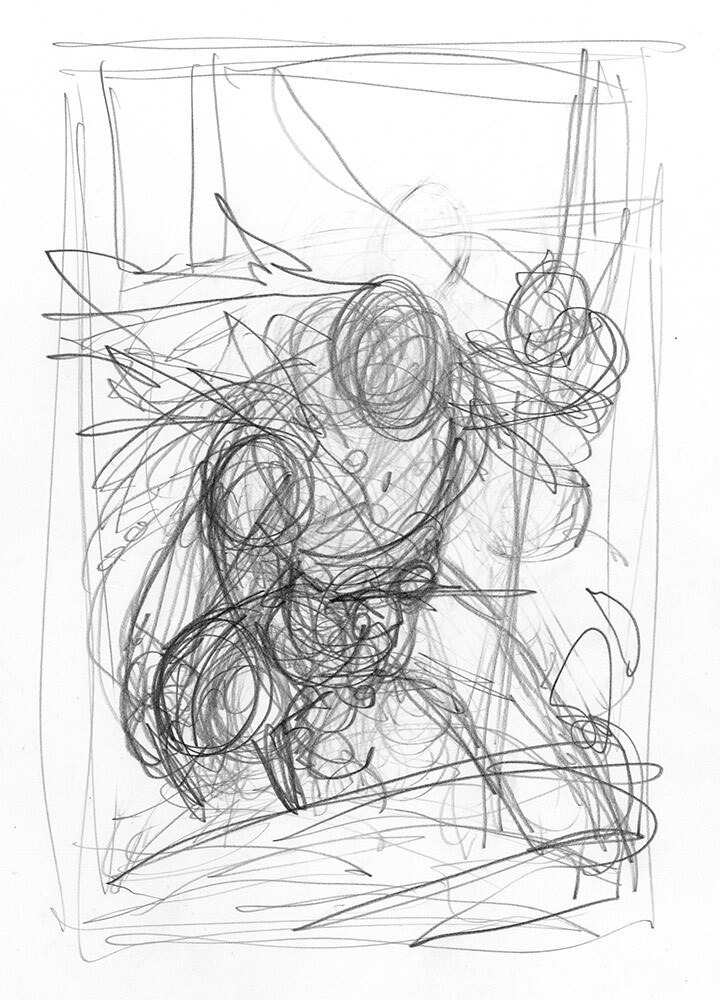 "Here's an early rough for the cover of the Alpha book, done before the script was locked down and Charles Soule, the book's writer, had just filled me in on the story outline. My rough layouts look like a mess to others, but it really is just a shorthand scribble that starts the ball rolling for me and is not really made for showing to anyone."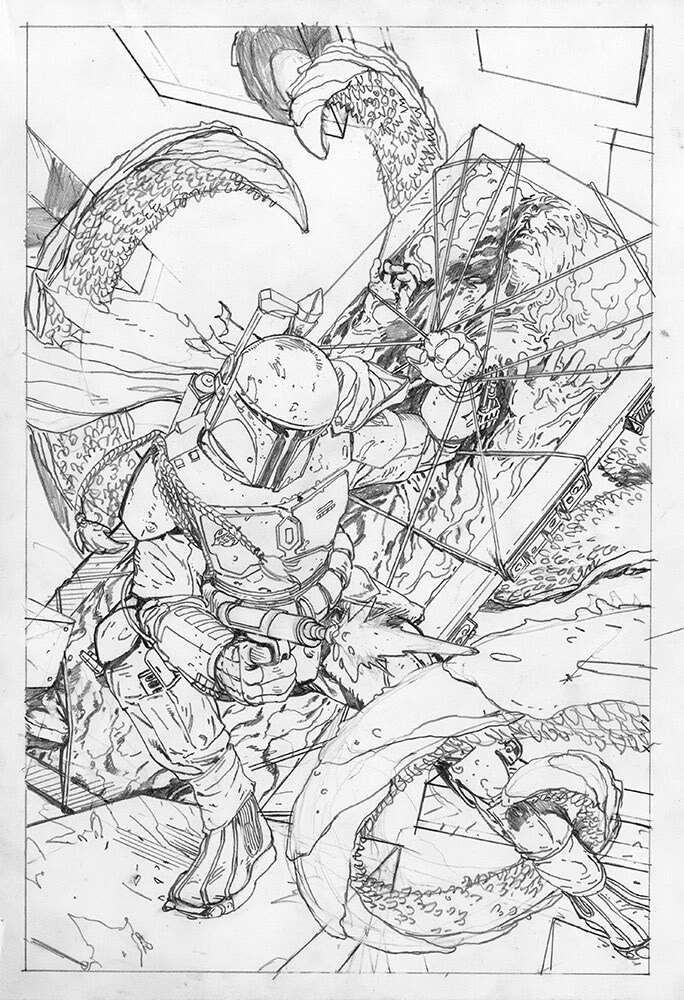 "Now I've taken the initial rough and have added more detail and refined the pose, adding elements that will connect with the story. Ultimately, we went in a different direction with some of these elements, so this concept was in need of alteration."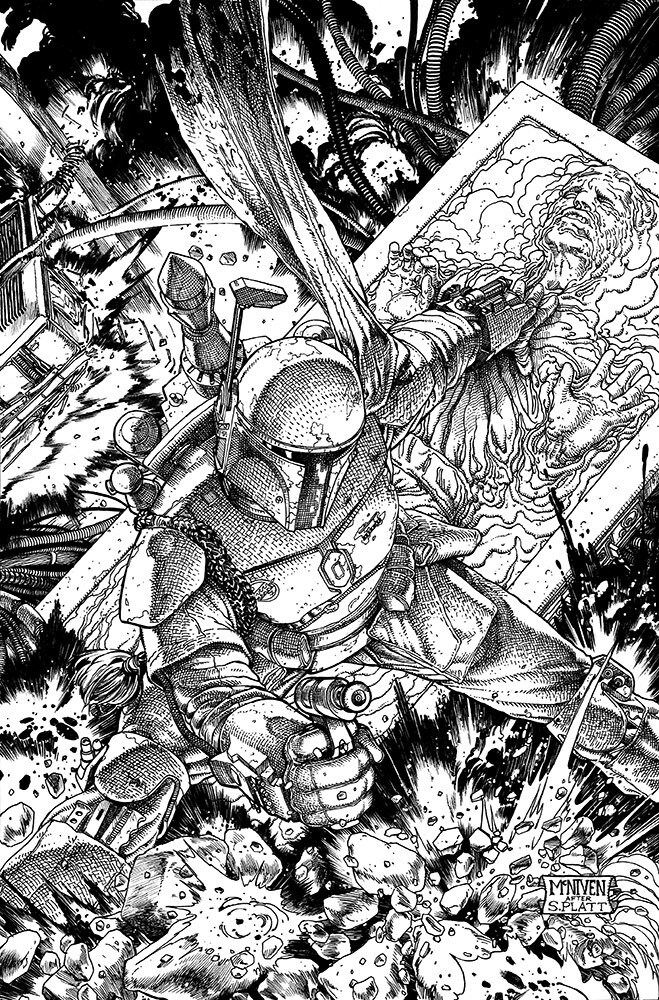 "Which takes us to this piece. This piece, which is the final inks for the Alpha cover, kept some of the elements and pieces of the unused cover rough. The 'after SPlatt' in the signature box refers to my using some dramatic rendering and posing from an iconic Stephen Platt Moon Knight #55 cover, and was me trying to get some '90s energy into the cover image. I'm also using a rendering style here based on one used by Jean Giraud (a.k.a. Moebius), a French master of comic art. I used this rendering style throughout the entire interior artwork of the book."

"This is an example of my rough pencils -- in this case a drawing of a Besalisk doctor character appearing in the story. One of the things I love about the Star Wars universe is its wide diversity of alien races, which allows for an endless supply of wonderful characters to draw!"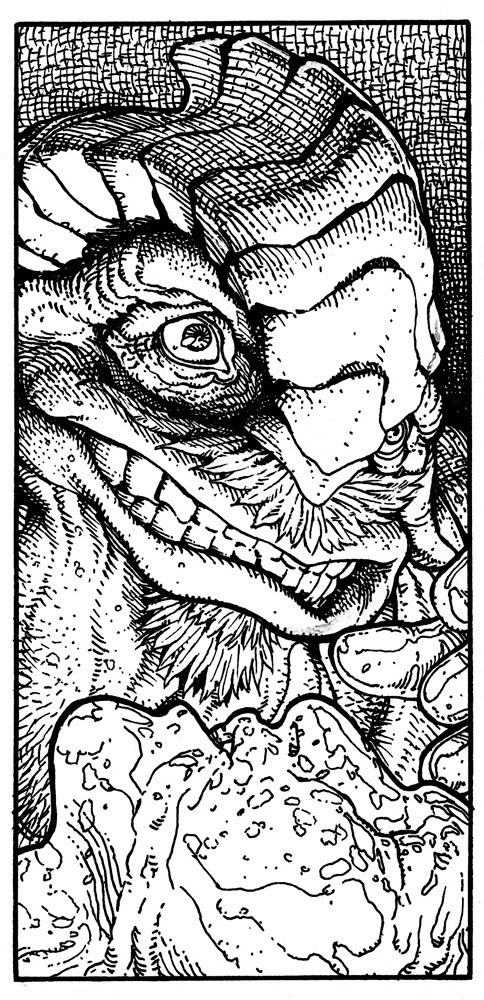 "And here is the final inked panel using the rough pencil drawing. All of this comic, from the cover to the interiors, was done by hand on art board using traditional materials and techniques. I do use digital methods a lot in my artwork, but only for initial layout and design. I prefer the feel of pen on paper for the final work."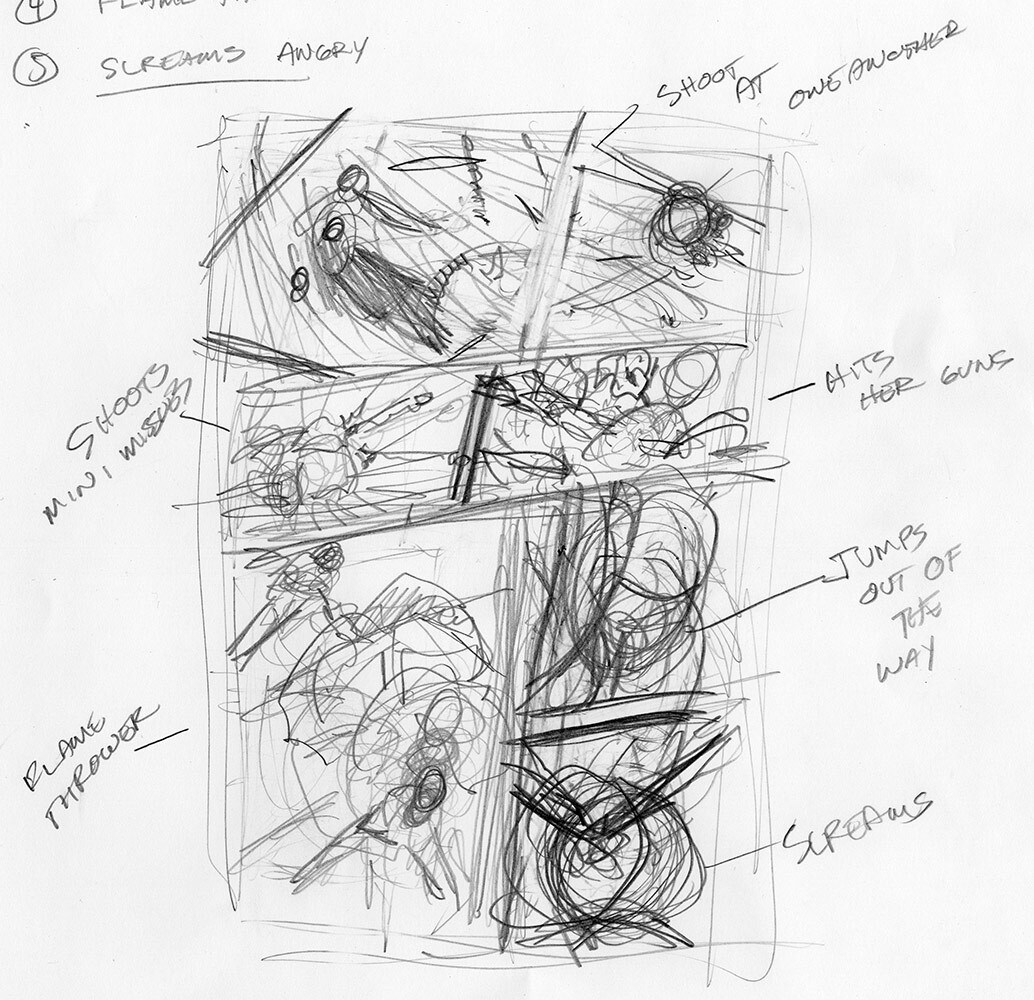 "Another messy pencil layout, this time for a whole page. Charles Soule and I have been collaborating on comics for a while now, so for fight scenes he keeps the direction to a minimum, giving me some main beats to hit upon and leaves the connective flow up to me. So, you can see my notes here as to what I think is going to happen in each panel as Fett battles his foe."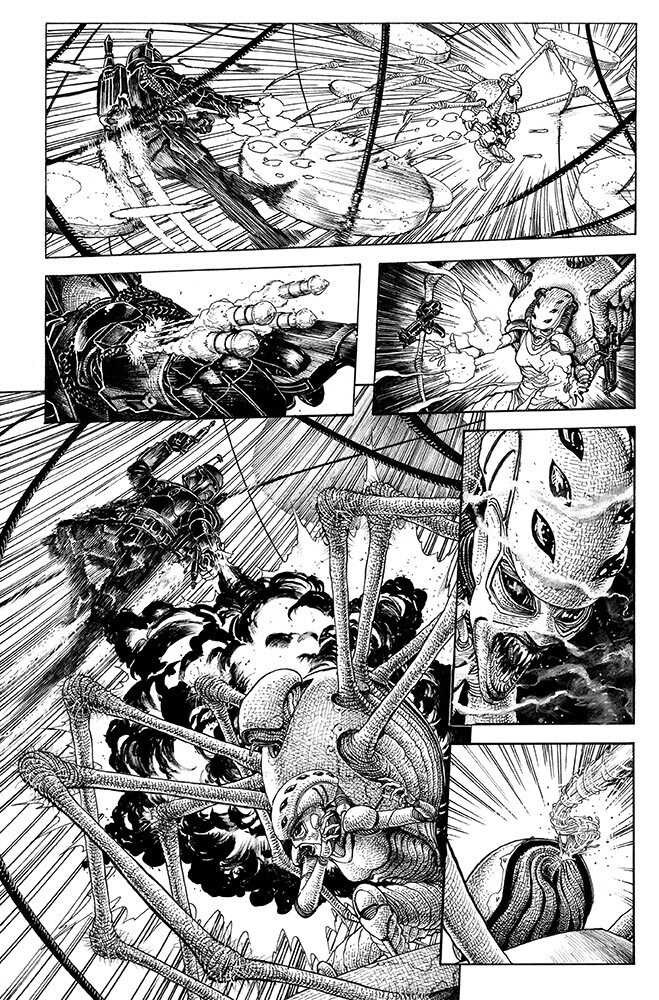 "This is the finished page from the layout page [above]. I had a lot of fun designing some new foes for Fett to battle. I hope readers like them too! Adding to the Star Wars universe was definitely a bucket list thing for me."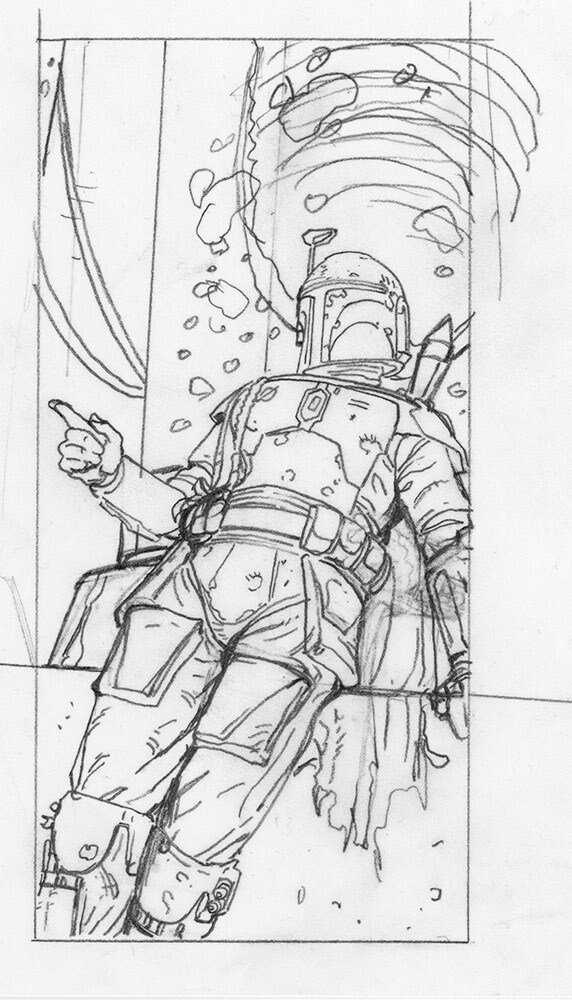 "Here's another look at the rough pencils for a panel in the book. I don't normally ink my own work. In fact, this is the first time in my 20 years as a professional comic artist where I inked and entire comic book issue of my own pencils. Normally, if I was pencilling for another person to ink, I would be much more detail-specific with my drawing. But in this case, where I was doing the inks, I could keep the penciling looser and do all of the intricate detail work in the inking stage."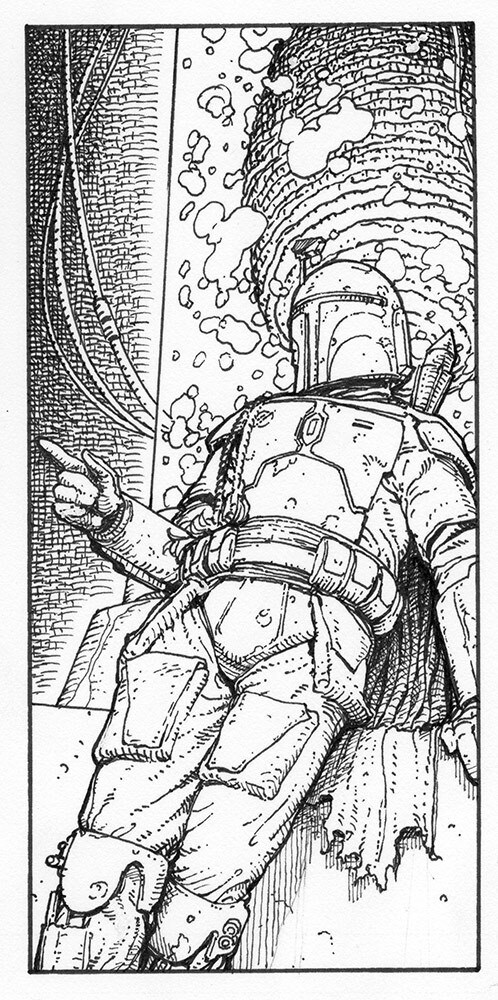 "Here's the final inks for the Fett image. I've got to admit, I could draw Boba Fett for years -- he's just so much fun to draw."

Star Wars: War of the Bounty Hunters Alpha #1 arrives May 5 and is available for pre-order now on Comixology at your local comic shop.