In creating a Star Wars planet, Lucasfilm and Walt Disney Imagineering unlocked new ways to tell an immersive story tied to existing and upcoming lore.
To make the galaxy far, far away seem not only real but tangible, Star Wars: Galaxy's Edge had a story to tell.
Visitors to the themed-land, now open at Disneyland® Resort and opening August 29 at Walt Disney World® Resort, needed to be able to feel the abrasive surfaces of Black Spire Outpost covered in grit and grime, smell and taste the strange new meats cooking at the marketplace stalls, and hear the sounds of creatures, droids, and a local radio station, in addition to seeing the world of Star Wars and the planet of Batuu for themselves for the first time.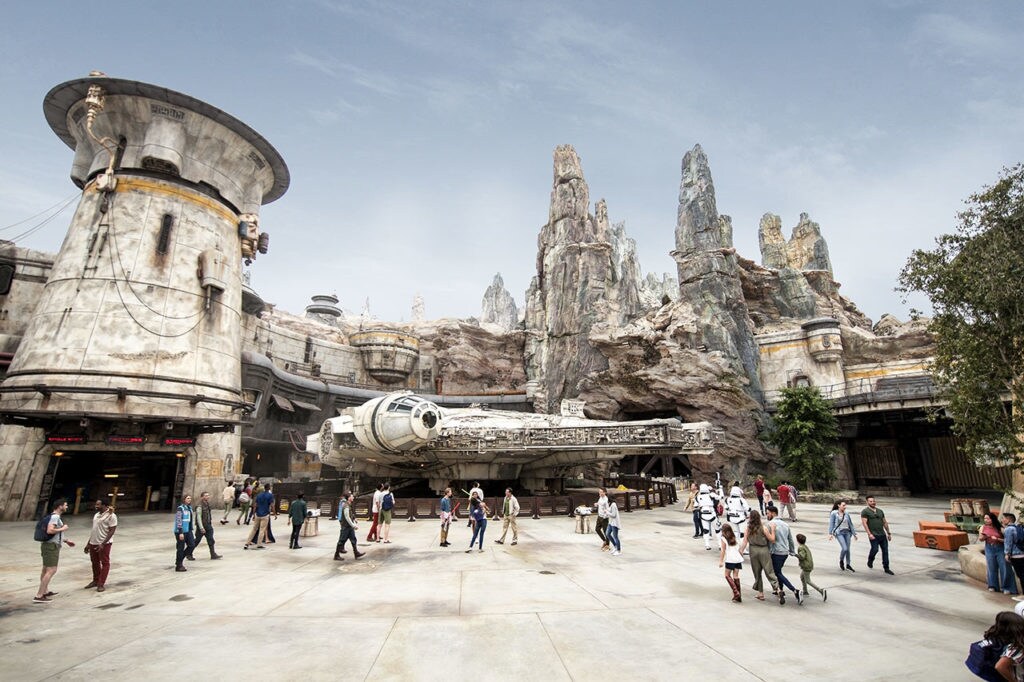 The team at Lucasfilm and Walt Disney Imagineering had the distinct pleasure of taking part in Star Wars storytelling in a whole new medium and the challenge of ensuring that it melded with existing lore while inviting visitors to inhabit their own Star Wars stories. "We wanted to walk into this land with the same kind of feeling that we had when we watched our first Star Wars film or TV series or read the books," says Margaret Kerrison, the managing story editor for Walt Disney Imagineering. "We wanted to capture that feeling and powerful emotion again."
Journey to Batuu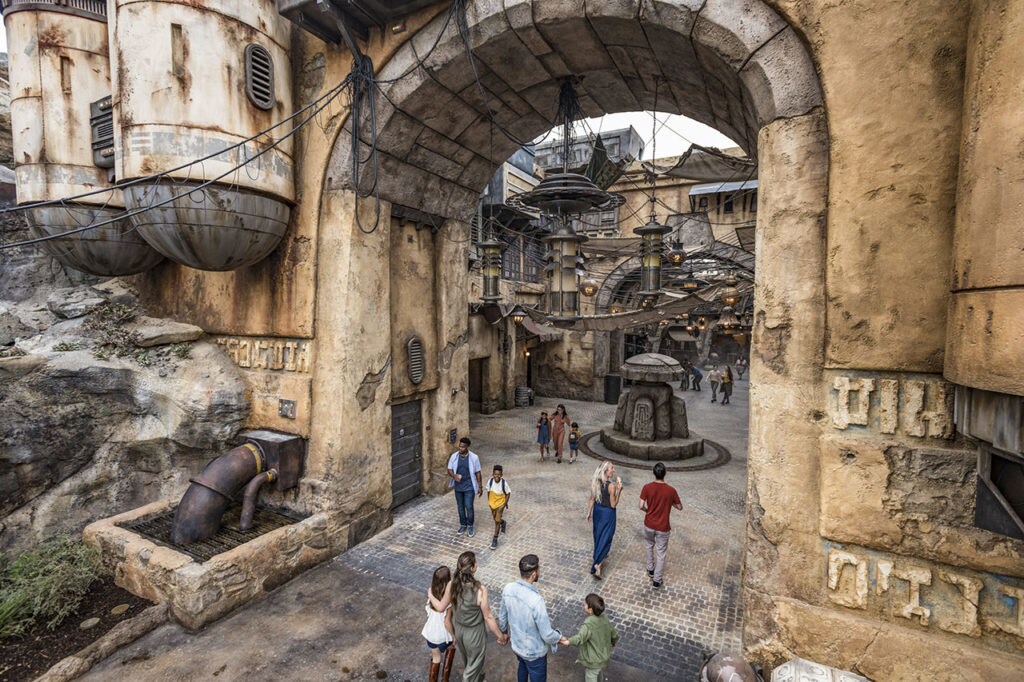 The first thing designers set out to do was create a new outpost on a never-before-seen planet. "We all know Luke's story and we know that we're not in it, so we wanted to create a set of stories that allow you to become a character in it, not just a passive spectator," says Scott Trowbridge, portfolio creative executive from Walt Disney Imagineering. 
That meant turning to the real world for an array of inspirations. "George Lucas did it best when he basically took Samurai films and World War II pictures and Westerns and boiled it all together to make Star Wars," says Pablo Hidalgo, senior creative executive, franchise story and content, for Lucasfilm. "And in much the same way, when we're looking at a place like Star Wars: Galaxy's Edge, it's not a single place of inspiration. The folks who designed it traveled the world and looked at places like marketplaces in Marrakesh, and other far-flung lands. But a lot of it is a little bit more homegrown. We talked about Westerns a lot, the idea of a frontier town somewhere in the Old West where interesting characters convene and different things can happen."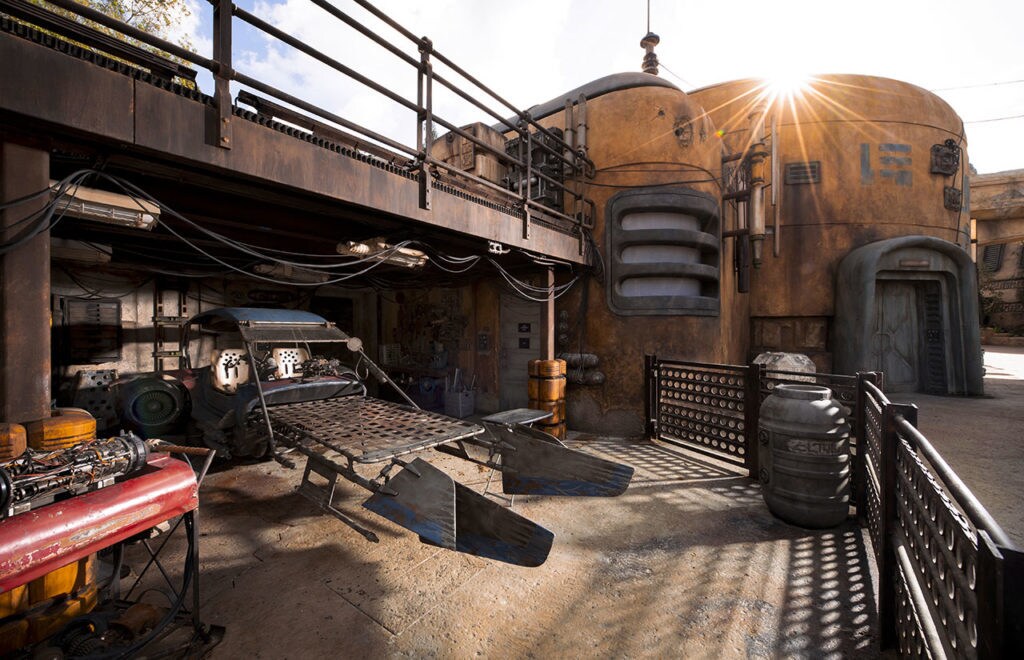 Matt Martin, a creative executive for the Lucasfilm Story Group, compares it to the forgotten towns dotting Route 66. "The planet Batuu was once a place where, in the early days of hyperspace travel, ships would go to stock up, resupply, and gas up before they ventured out into Wild Space," he says. "As time has gone by, hyperspace travel has advanced, better hyperspace lanes have been established, and now Batuu's kind of fallen a little bit from its glory days. Now it's the place where people go when they want to get lost, when they want to be off the radar."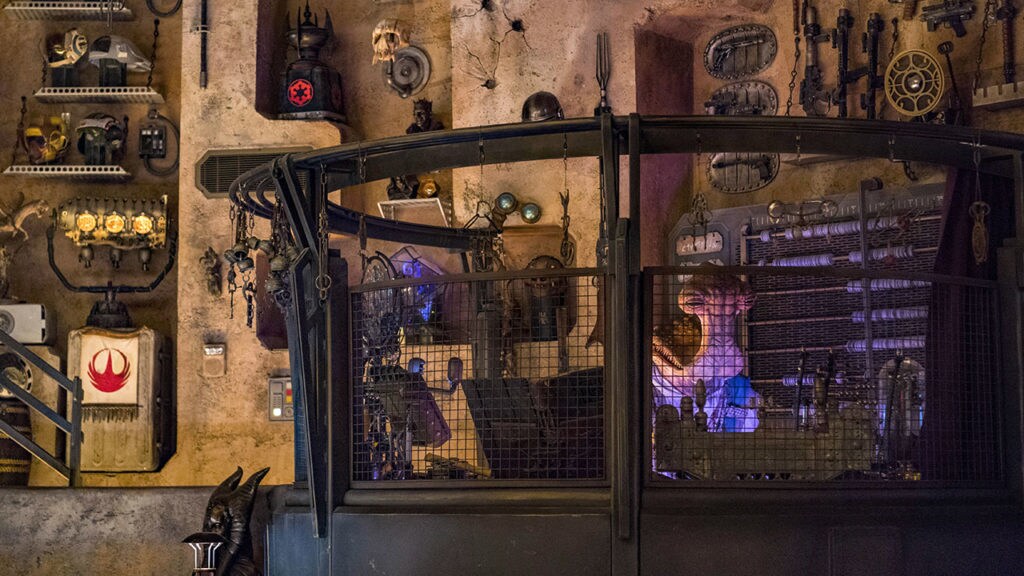 Storytellers had to figure out where in time Black Spire Outpost, as visitors would experience it, existed before they could get to work on the minutiae of bringing the land to life. The timeline as we see it falls somewhere between Star Wars: The Last Jedi and the upcoming Star Wars: The Rise of Skywalker, but references and stories about Black Spire have already been peppered throughout Star Wars storytelling, including a series of books and comics. In Solo: A Star Wars Story, Qi'ra mentions Dok-Ondar, the Ithorian proprietor of a Batuu-based antiquities shop. In the book, Thrawn: Alliances, a story set in the time of the Clone Wars provides a glimpse at Black Spire Outpost's more prosperous days.
Enter Black Spire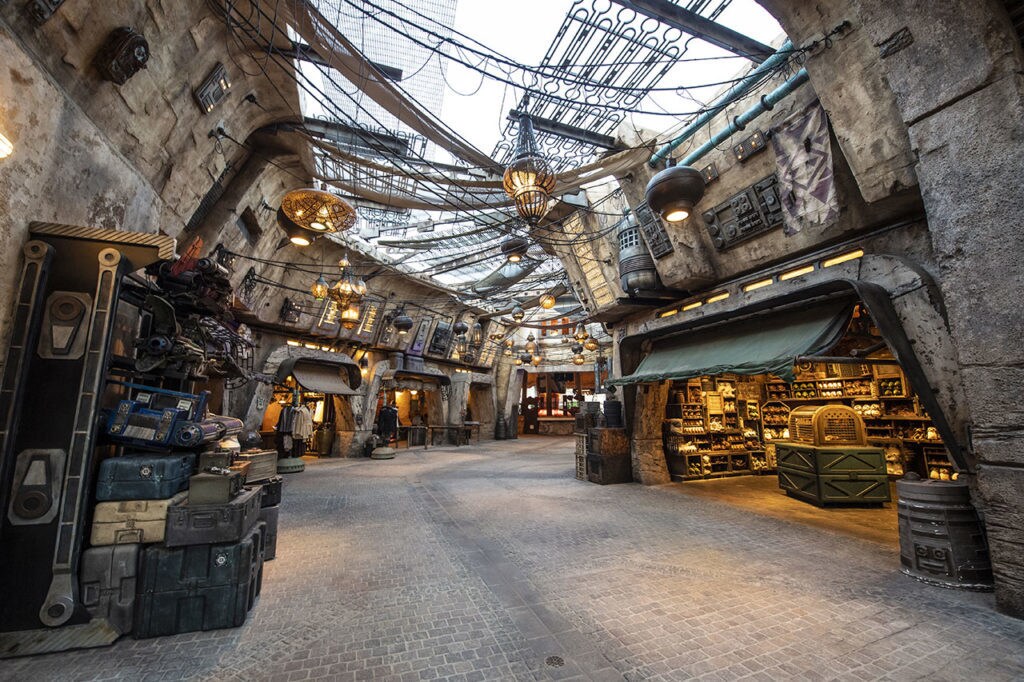 By stepping foot onto Black Spire Outpost, visitors are transported to another world -- another planet, really -- and immersed in the immaculate details to make it all feel strikingly realistic. "A surprising amount of story goes into really every element of the park," says Martin. "Every shop has its own backstory. It's shocking how much detail is in there from the signs on the cantina walls that tie into other Star Wars storytelling to all of the different bits and pieces that are scattered around Dok-Ondar's shop that have existed within Star Wars lore…all the way to the audio tracks that you'll hear throughout the land."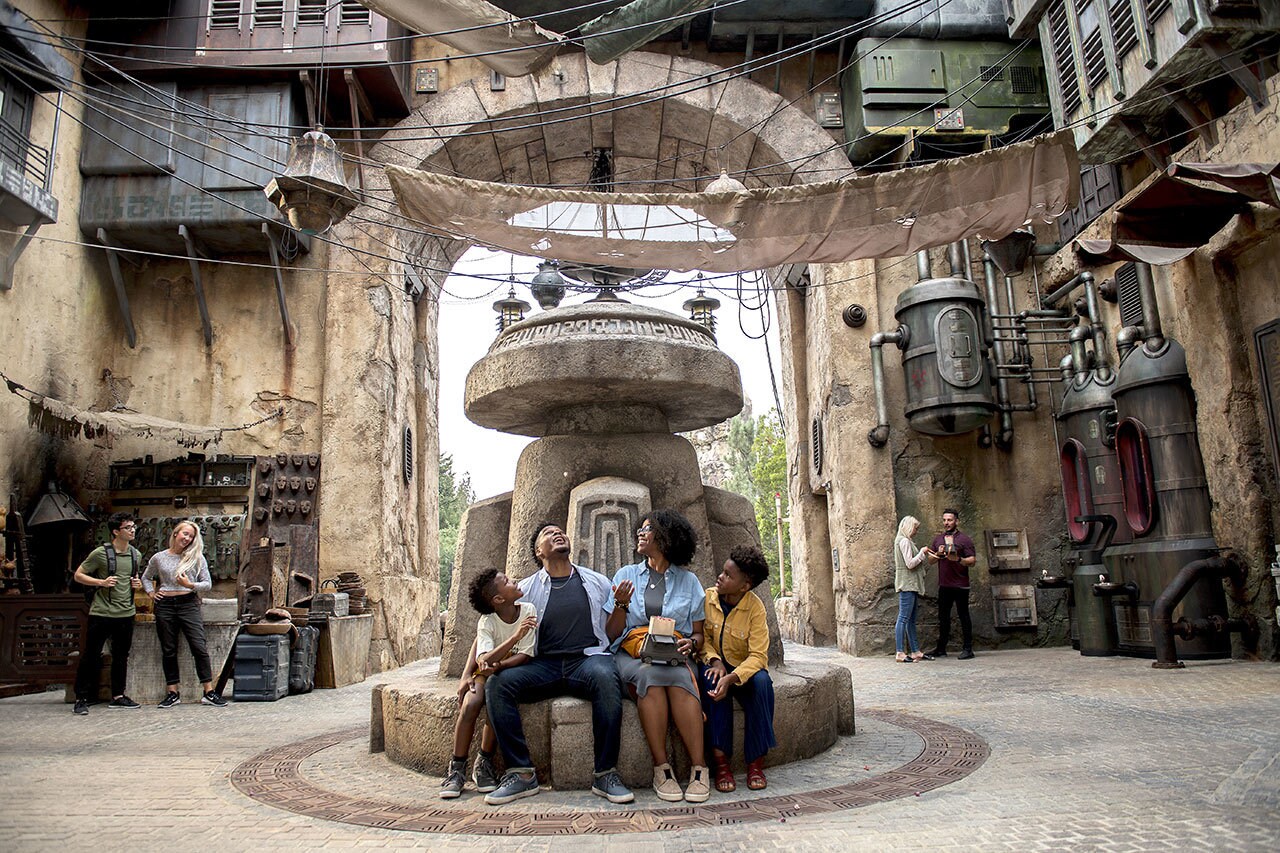 It's Hidalgo's voice you'll hear as the DJ during some segments of the galactic broadcast, although Martin also snagged a role. "I'm Dok-Ondar's muscle," he says with a laugh. 
Even with an element so small -- the audio can be heard inside the refresher (i.e. restroom) and a handful of other places -- creators sought to imbue a depth of storytelling with alien languages represented and delightfully absurd local flavor from a Wookiee hair product commercial to a droid call-in program. 
"Just imagine if you go to Paris or you go to Madrid, there's a culture there when you step off the plane," says Kerrison. "We're trying to build that culture."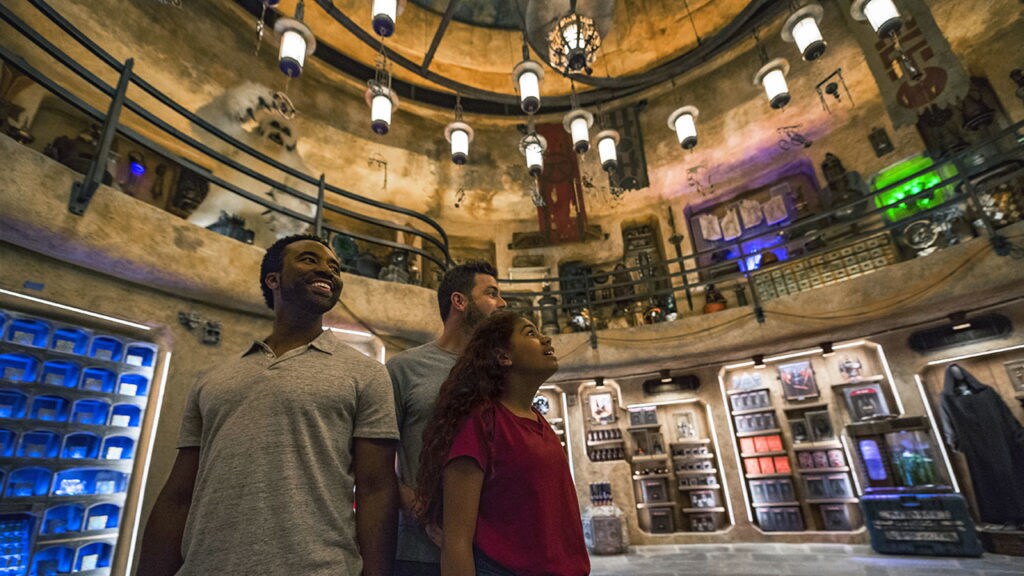 In the park's soundscape, designers included everything from wild creatures lumbering through the greenery to residents bickering in the apartments above the marketplace stalls, similar to the soundscape crafted for Main Street, U.S.A. elsewhere in the parks. But the radio broadcast was special. 
It started with commercials. "We definitely have to have a Wookiee shampoo commercial, right?" Kerrison says, recalling an early conversation. "Sleek and chic Kashyyyk," she adds with a laugh. "That's something that would really be believable."
David Collins and Matt Wood from Skywalker Sound agreed to lend their voices to audio and the scripts began to grow. "Not only do we have commercials, we have this podcast we call the Hutt hour," says Kerrison. "There's this protocol droid having droids call in for their various needs. We have a podracing sequence, and a holochess tournament going on somewhere on Batuu," she adds, narrated by the hushed tones of a whispering commentator. "All of these things to build this rich tapestry of the culture of our land."
"Star Wars, when you get right down to it, it was two hours of imagery that stuck with you for years and years and years," says Hidalgo. "This is a whole new level. It's so detailed and it's so well designed that you are basically creating frames of a Star Wars movie with your eyes," he adds. "I hope that you feel like you have this personalized Star Wars movie whenever you shut your eyes and you think back to your visit."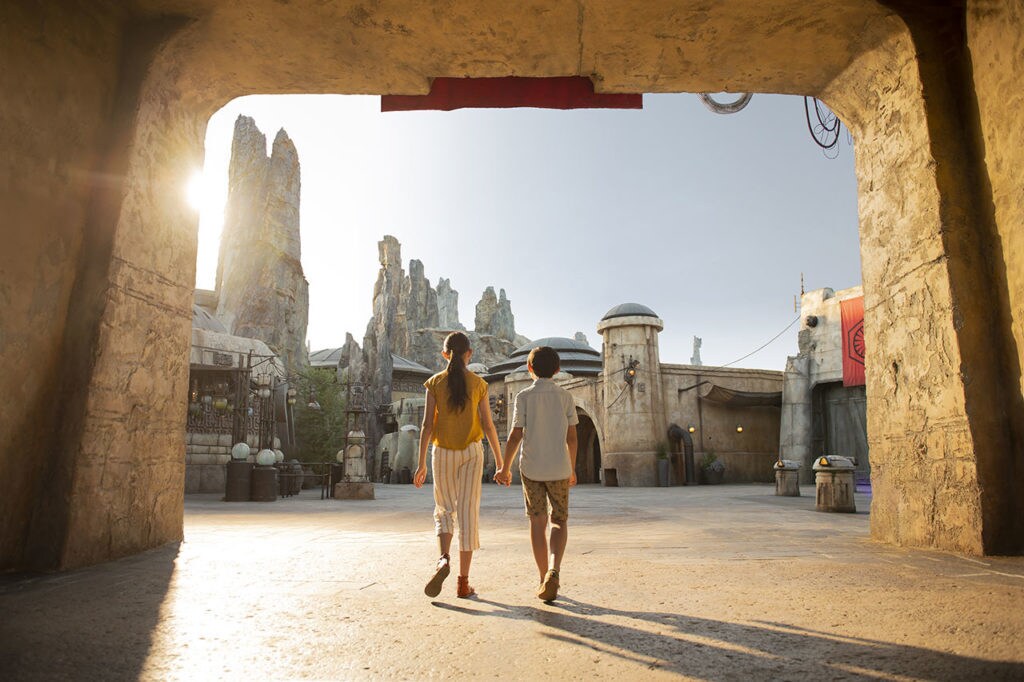 When you step onto Batuu, you become part of Star Wars, inside a place where the underworld intersects with the growing threat of the First Order and the rise of the Resistance. And suddenly the galaxy isn't so far, far away anymore.
Whether you've already visited or are planning your own adventure in the future, you can learn more about the story of Star Wars: Galaxy's Edge this week on The Star Wars Show below!

All images ©Disney © & TM Lucasfilm Ltd.
Get details to plan your visit to Star Wars: Galaxy's Edge and more with StarWars.com's full coverage here.
Star Wars: Galaxy's Edge at Disneyland® Resort is now open. Star Wars: Galaxy's Edge will open at Disney's Hollywood Studios in Florida on August 29.
Associate Editor Kristin Baver is a writer and all-around sci-fi nerd who always has just one more question in an inexhaustible list of curiosities. Sometimes she blurts out "It's a trap!" even when it's not. Do you know a fan who's most impressive? Hop on Twitter and tell @KristinBaver all about them.
Site tags: #StarWarsBlog