From meeting Ray Park to being inspired to join the 501st Legion, Star Wars Celebration is full of unforgettable moments for fans.
If you've been to any Star Wars Celebration, you know one thing for certain: you're going to make some memories. Whether it's seeing a 1:1 scale AT-AT, or getting a photo with someone like Mark Hamill, or making and wearing the perfect Padmé Amidala ensemble, you have so many opportunities to fill scrapbooks and albums -- even if they only exist in your mind -- with extraordinary moments. With Celebration Chicago rapidly approaching, we talked with three fans about Celebration experiences they hold close to their hearts.
Meeting Ray Park
Reuben Moretz's Celebration saga began with 2005's Celebration III in Indianapolis. He's been to four other Celebrations since then and calls the fan gathering a magical holiday experience. It makes him feel like a kid again, and the contagious energy at Celebration only fuels his love for Star Wars. An already wonderful event is made better by the fact that Moretz attends with his friends Anthony Stark and Brandon Miller.
At Celebration Anaheim in 2015, they had an encounter with a Sith Lord and it stands out as Moretz's most precious experience from the event. People were hanging around the hotel pool and spa after a day at the convention, and two children were running around talking to nearby families about Star Wars. Moretz says, "We asked the kids who their favorite Star Wars characters were, and the girl said Zam Wesell. When we were leaving, we waved goodbye to the kids, and they walked right up to sit next to their mom and dad—Ray and Lisa Park."
Moretz and his buddies didn't want to disturb them but thought it would be pretty funny to tell Ray Park that his daughter's favorite character was not the one he played. "We approached Mr. Park and told him the story about his kids hanging out and his daughter's favorite character not being Darth Maul," Moretz says. "He introduced us to his family, and we chatted for over 30 minutes about Star Wars and martial arts. "
He says Park and his family welcomed them as if they were all friends. This chance meeting is the sort of thing that can happen at any Celebration. "The experience was so organic -- it isn't something that can be replicated. You can't stand in line for it, or get a special ticket for it. It's a moment in time that just happens, and we were there, for that moment. That's Celebration," Moretz explains.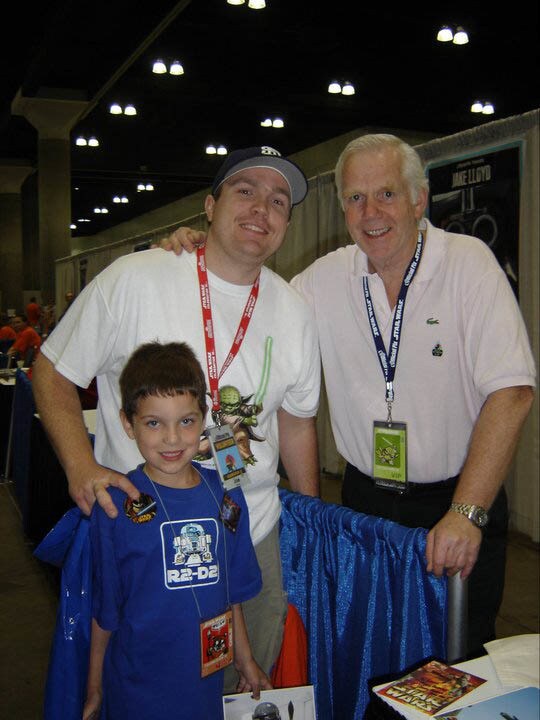 Family Bonding
Going to Celebrations can become a habit. Just ask Joe Queen, who has been to seven of them so far, starting with Celebration II in Indianapolis. Simply put, he loves being around his Star Wars friends and fellow fans at a convention completely focused on the galaxy far, far away. Queen's even taken his zeal for Celebration to the next level and worked at the gathering, both at the Official Pix autograph booth and as a stage hand for the Behind-the-Scenes Stage. He's had the opportunity to meet celebrities and make new friends, but when he looks back, his favorite moments have been spending time with his son, Lucas.
"When he was six years old, I was able to take him to Celebration IV in Los Angeles for two days," Queen says. "Lucas had drawn pictures of many of his favorite characters and he was able to meet and present his drawings to some of the celebrities, including the Fetts, Jeremy Bulloch and Temuera Morrison. More recently, Lucas and I have also been able to spend time together at the last two U.S. Celebrations [Anaheim and Orlando]. As costume and prop builders, Lucas and I have enjoyed checking out many of the costumes, droids, and props on display, which provide inspiration for our future builds."
Lucas, named after George Lucas, was born a year after the release of The Phantom Menace. He was just the right age to watch Star Wars: The Clone Wars on television. "Lucas has shared my love for Star Wars since he was little. Getting to experience Star Wars Celebration with my son is simply the best," Queen says.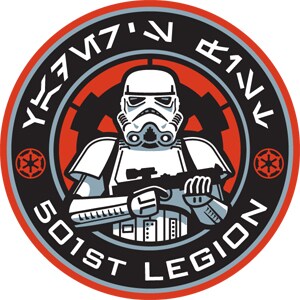 501st Legion Inspiration
When Todd Hoffman went to Celebration II in 2002, he realized just how much of a global impact Star Wars has. It was his first time at such an event, and he was floored. "There were fans from all over the world," he recalls. "It was thrilling sharing that excitement with others and enjoying seeing everyone's passion for Star Wars."
He went to Celebration III a few years later and will be headed to Chicago in April, but his most treasured experience is from 2002. He was waiting to get into the convention center, and something he'd never witnessed before commanded his attention. He saw dozens of stormtroopers standing in rows for a photograph, specifically the 501st Legion's traditional Celebration group photo. "It blew my mind that these people had amazing costumes just like the ones in the movies that we all love. I told myself that day I needed to do that. I continued to see these stormtroopers throughout my time at Celebration and loved how they were all so friendly with taking pictures with my son and others. It was truly a celebration of these wonderful movies and experiences."
Fast forward 14 years later to 2016. That's when Hoffman fulfilled the dream he set that day at Celebration III and joined the 501st Legion's Midwest Garrison as a stormtrooper. He'll be trooping with his Star Wars family at Celebration Chicago and can't wait to spread the same joy and kindness that he appreciated at his first Celebration.
Amy Ratcliffe is obsessed with Star Wars, Disneyland food, and coffee. She's the author of Star Wars: Women of the Galaxy and a co-host of the podcast "Lattes with Leia." Follow her on Twitter at @amy_geek.
Site tags: #StarWarsCelebrationChicago2019