Amy Beth Christenson, the art director for Star Wars Resistance, gives StarWars.com tips and tricks for bringing the animated characters into reality.
Cosplay Command Center is a special three-part series connecting cosplayers attending Star Wars Celebration Chicago to resources and expert insights to complete their costumes from Star Wars animation.
When Kazuda Xiono joined the Resistance as a pilot and a spy last year, we discovered a whole new cast of colorful characters inhabiting the Colossus platform on the edge of the Outer Rim.
This April, fans will have their first chance to cosplay Kaz, the Aces, and other characters from the hit new animated show at a Star Wars Celebration. So we asked Art Director Amy Beth Christenson to share her insights and tips on bringing these costumes to life.
Christenson and the design team looked to real-world inspirations – from police riot gear and firefighter garb to space suits and uniforms worn by NASCAR, Formula 1, and Motocross racers – to create unique new uniforms and accessories.
"There's two ways to approach any of these characters," Christenson says. "If you're trying to do something that looks like it jumped out of the show," especially vibrant colors will help you emulate the stylized anime-inspired feel. "If people are going to go more for what is the real-world version, I'd probably dull down the colors, honestly," she adds.
Kaz in New Republic Navy gear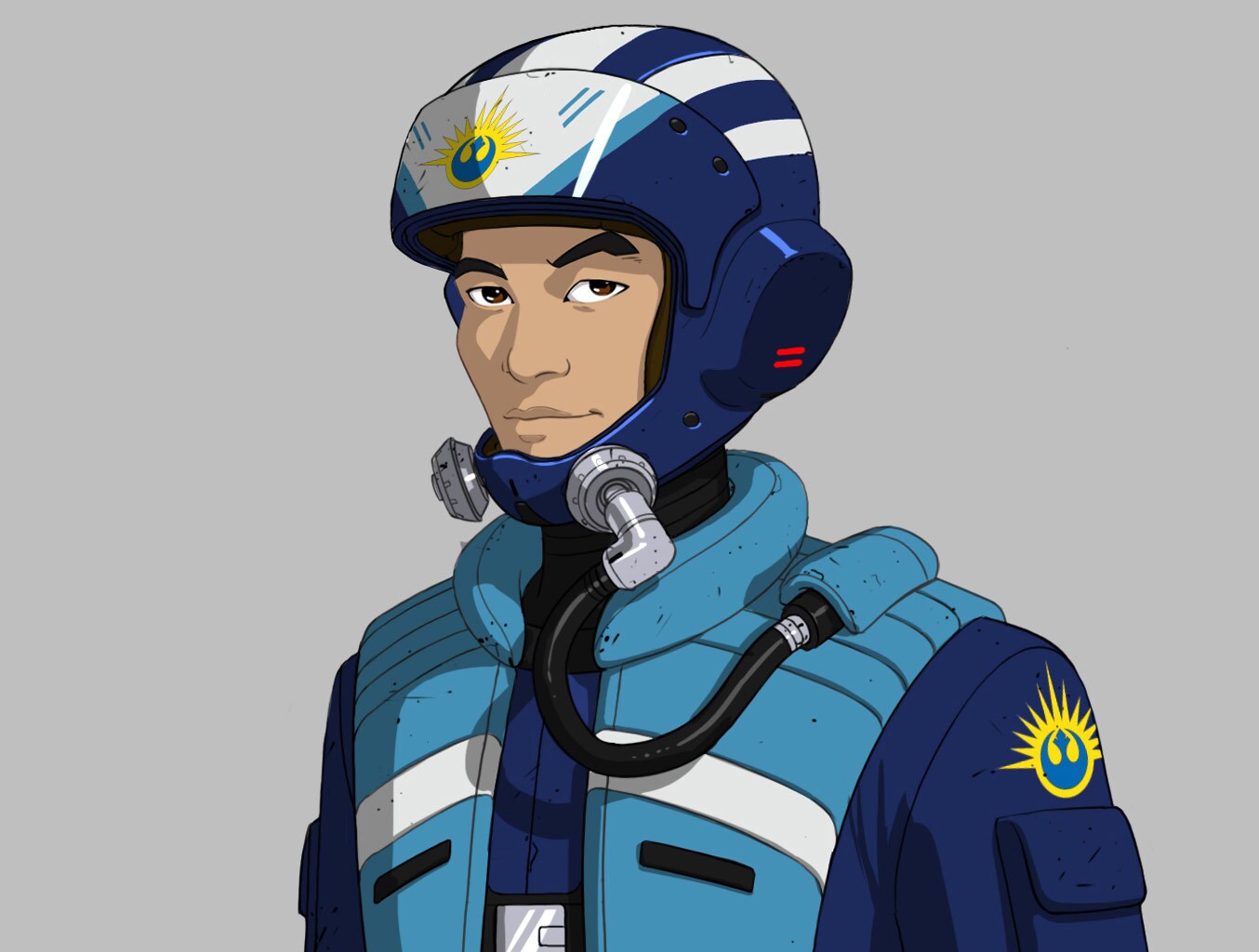 When we first see Kaz, he's a hot-shot pilot with the New Republic Navy being pursued in his X-wing by Major Vonreg's crimson TIE interceptor.
"The inspiration for his suit was modern Coast Guard pilot and rescue gear," Christenson says. Like the standard orange X-wing jumpsuit, Kaz's navy blue flight suit should be fashioned from similarly rugged fabric. "The fabric is fairly heavy and weather/fireproof, more like a firefighter uniform."
A small hose and nozzle attach the light blue vest to his standard-issue helmet, she adds. "There is a harness underneath the vest, this would be similar to a parachute or climbing harness. The vest would be heavily padded, with the collar especially so, like the extra orange padded X-wing pilot coats from Empire Strikes Back."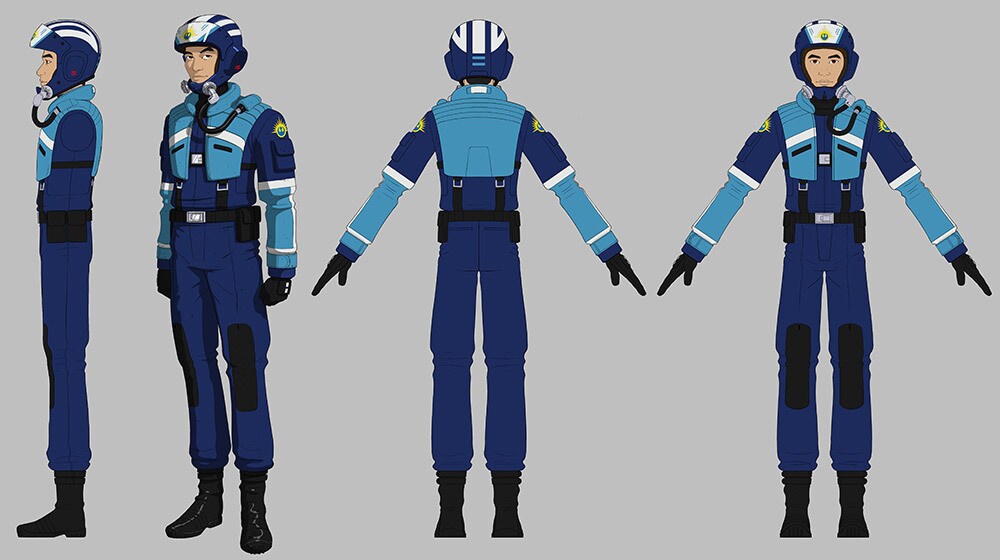 Major Vonreg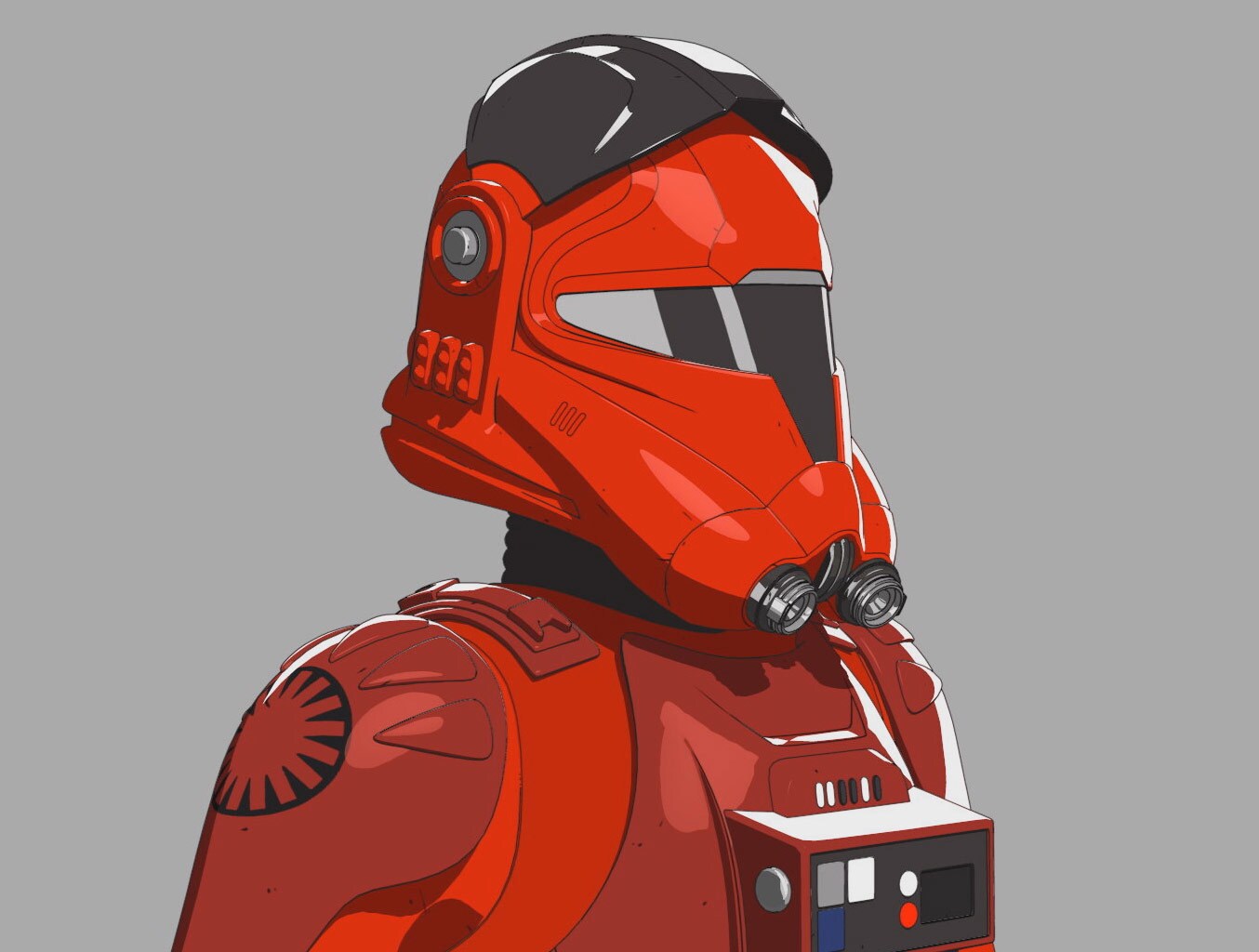 Speaking of Major Vonreg, his unique uniform will be an eye-catching piece roaming the Celebration exhibition floor.
"His jumpsuit would be made of the same material as a standard TIE pilot, so it would be your standard coverall," Christenson says. "I'd go for something as bright as a Royal Guard."
Forearm and shoulder armor are an exact match for First Order stormtrooper gear, Christenson notes, but the shin pads are customized. "And his belt is from a First Order trooper, but he's got a special buckle." The chest plate, with a specially integrated flight box in the chest armor, is all-new, as well as the helmet, designed as a mix of a First Order TIE pilot's bucket and the standard Royal Guard gear. "So it's a completely unique helmet with some elements from both."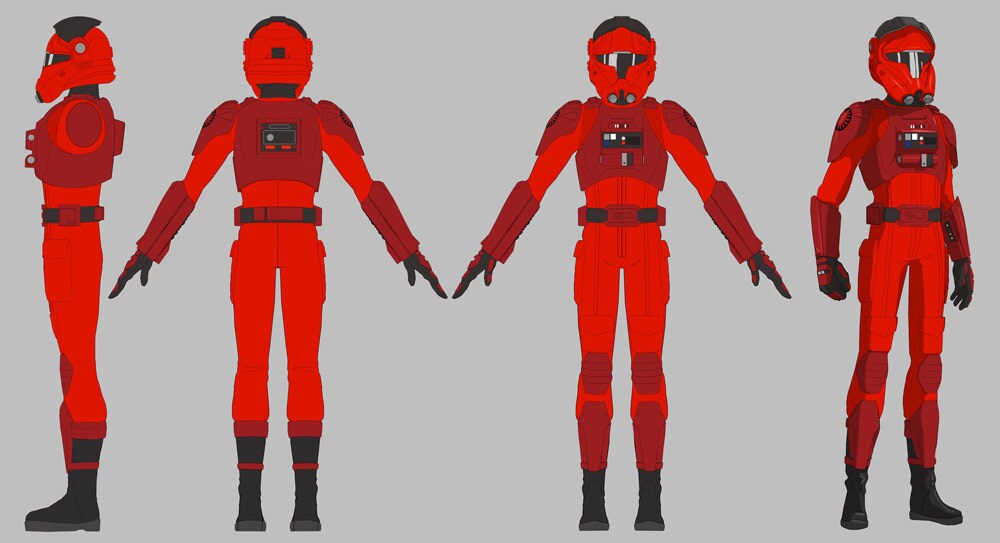 Tam Ryvora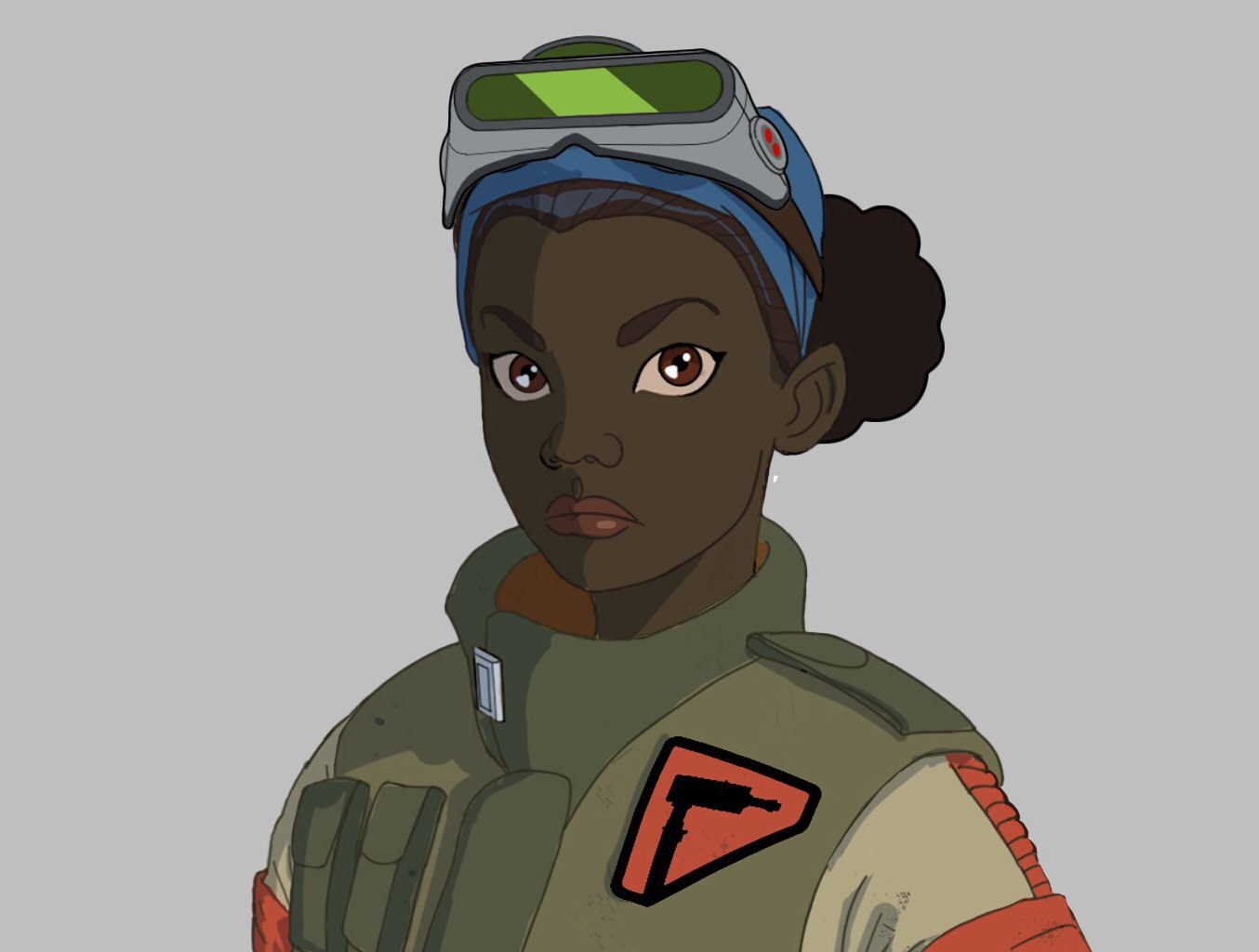 Tam is not to be trifled with, and animators dressed her in no-nonsense gear befitting the hard-working mechanic. To get the look, Christenson advises modifying a thick T-shirt with quilted panels and finding pants made from a light, soft khaki duck cloth or denim, similar to a real-world mechanic coverall. "Her vest is pretty heavily padded in general, but the back support and collar especially so," Christenson says. "I imagine that her patch would be embroidered on. Her belt and the attachments are very similar to a climbing harness."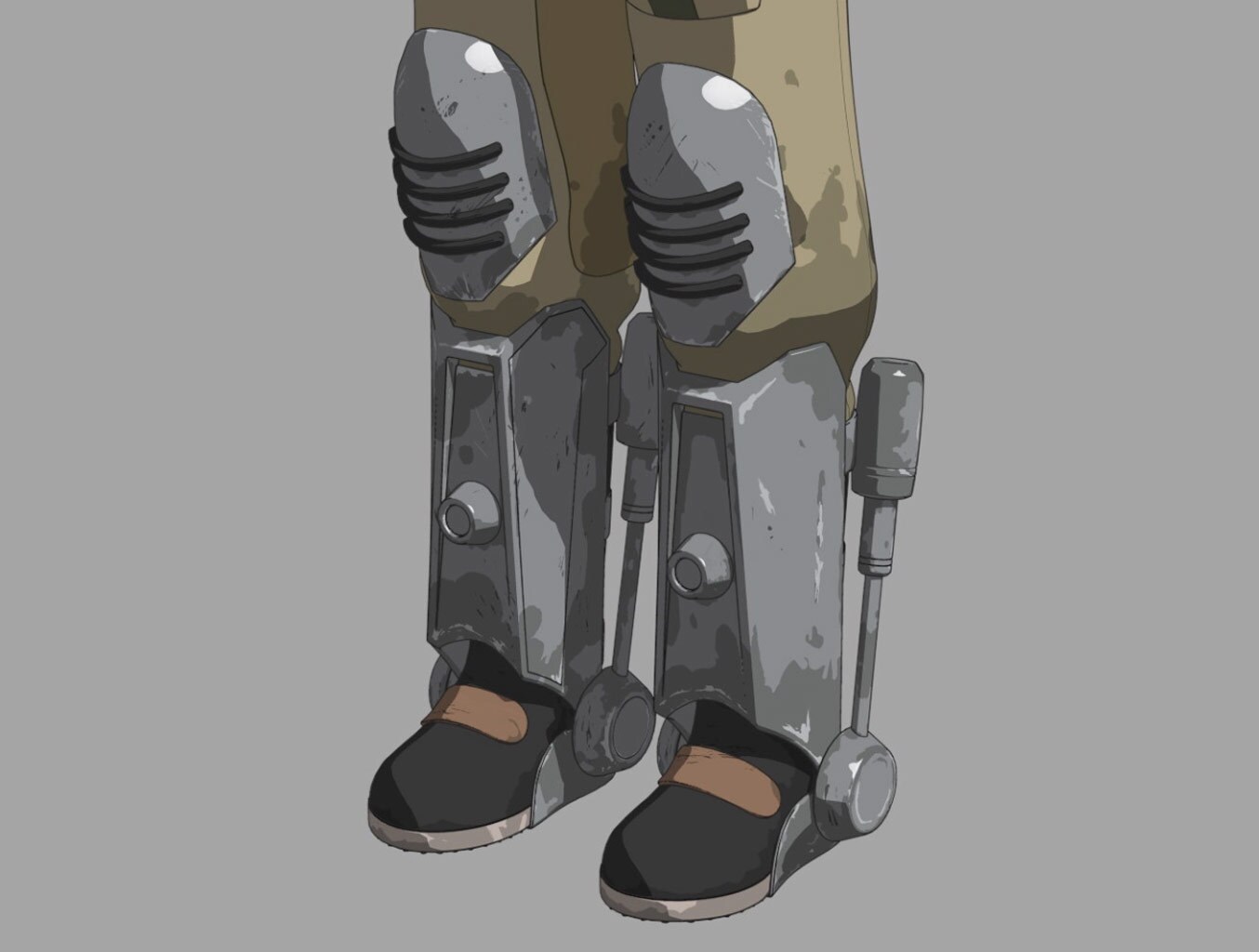 Like the Range Troopers seen in Solo: A Star Wars Story, Tam's boots include high-tech leg supports, "all metal, with some hydraulic supports in the back. The bottom of the supports would wrap around to the bottom of the shoe. Her kneepads would have to be attached to the pants, which would call for some problem-solving of materials."
Always ready to get to work, Tam's accessories include a pair of goggles, "fairly simple, but getting the rounded shapes would be key," Christenson says, and gloves. "Her work gloves could be heavy duck cloth or possibly even leather, like welding gloves, but note that there is a ribbed cuff on the inside of the glove," she adds.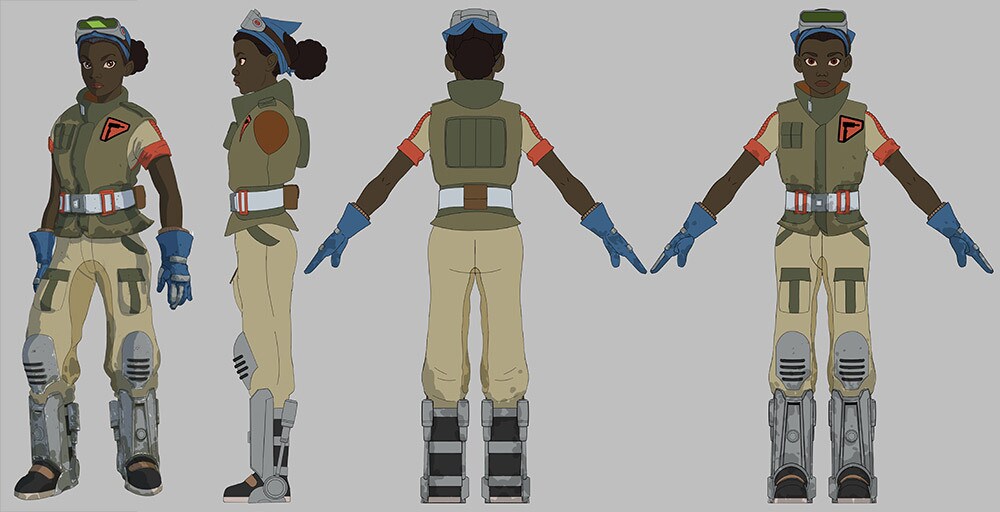 Torra Doza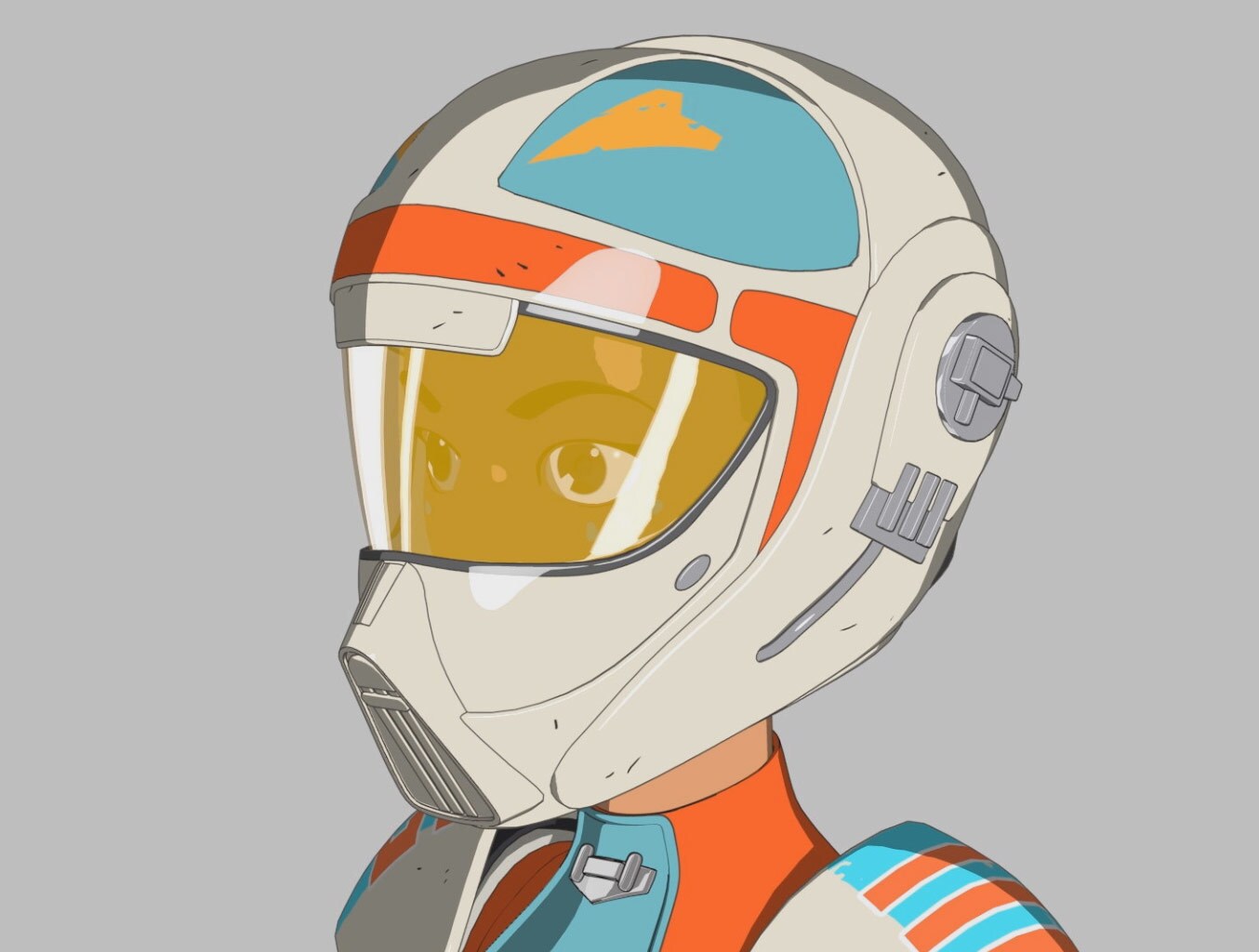 In designing Torra Doza, Christenson and the team imagined a well heeled young racer with customized gear. "We wanted all of her stuff, even her droid and her ship, to look like she had a lot of money and she could custom design it," Christenson says. "For her flight suit, it would be a thick spandex, a really thick knitted weave that has a lot of stretch to it."
The animation team looked to astronaut suits for initial inspiration, "but then it kind of eked its way back into racing." Piping traces the blue and orange accents and denotes some padding for performance and protection. "If you look really close at the drawings, you'll see where we meant it to be padded. It should break the silhouette if you zoom way in. Pixel to pixel, you should be able to see a little bit."
NASCAR uniforms, with panels and stripes, were incorporated as well as elements borrowed from equestrian pants. "Some of it's these random callouts for people who race various things." For instance, to recreate Torra's boots, look to Motocross racing. "I based those boots off Motocross boots. You could do it in layers, almost like snowboarding boots…The front pad is plastic armor and that back would be padding or thick material."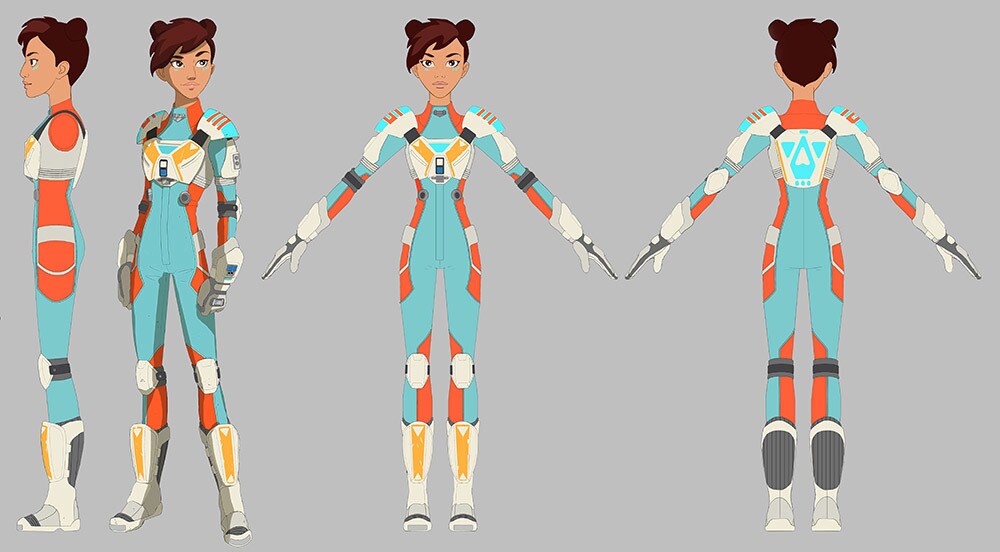 Freya Fenris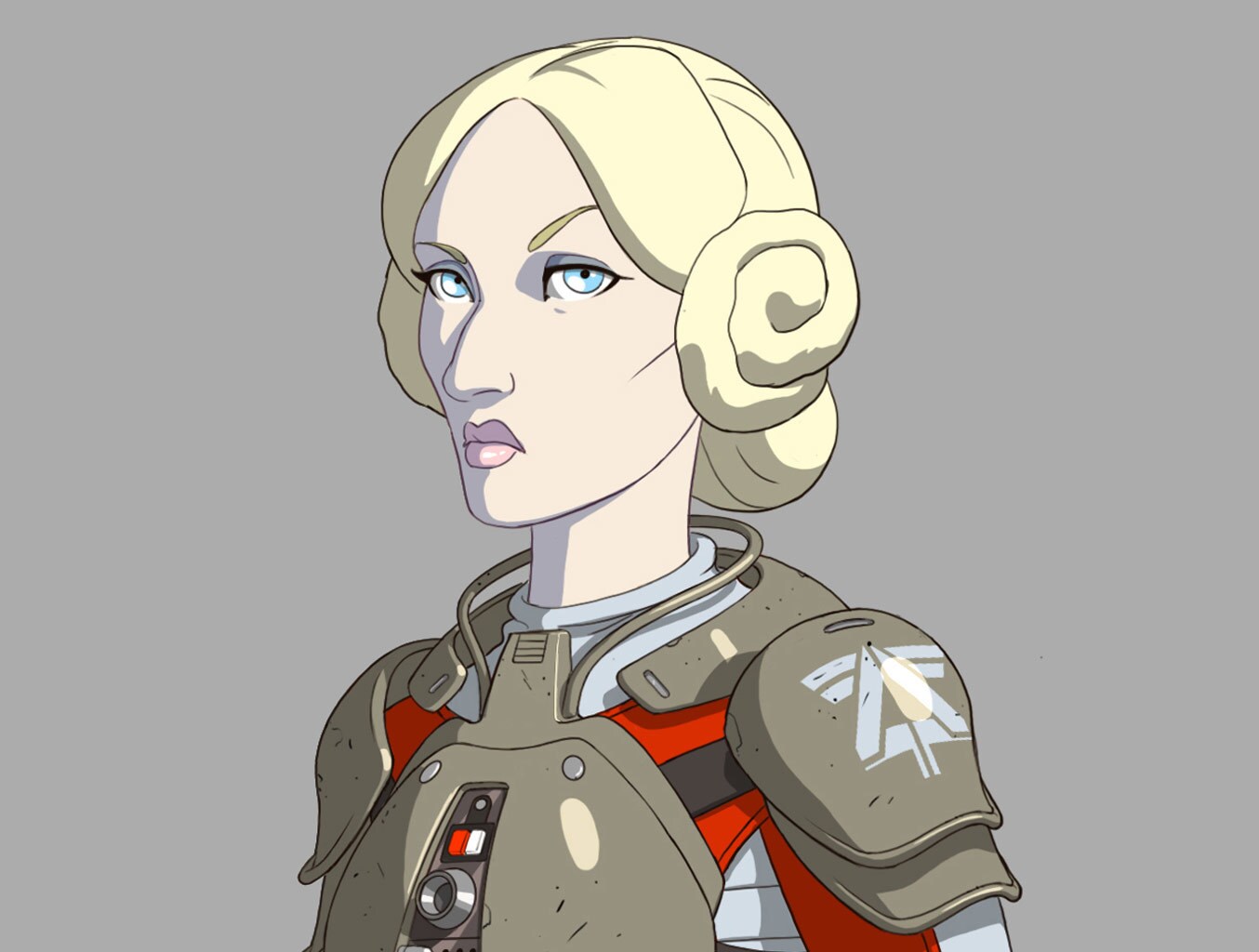 Much like Torra, building Freya's ensemble calls for stretchy material similar to the kind favored by snowboarders. Think ski pants with plenty of warmth and stretch. "The quilting would be pretty pronounced on the hips, forearms, and knees," adds Christenson, with red piping snaking around panels.
For the armor pieces, Christenson advises finding something that mimics metal with a high polish and lots of shine. "It's attached on to her flight suit via a harness, with black parachute straps."
And pay special attention to the trickiest part of this outfit, "the way her pants are designed into her boots.  One way to cheat this would be to have the armor heel plate go over the bottom of the pants and attach to the boot."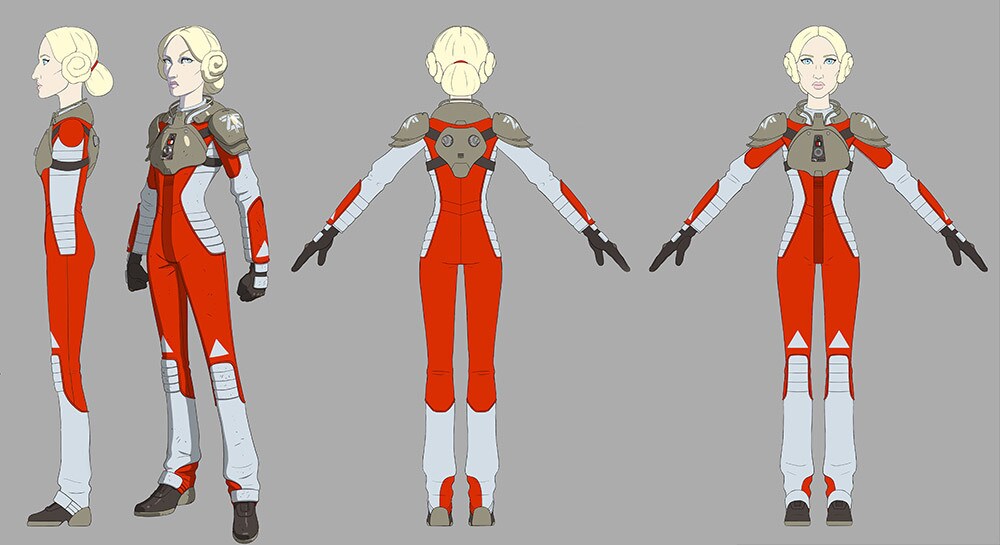 Griff Halloran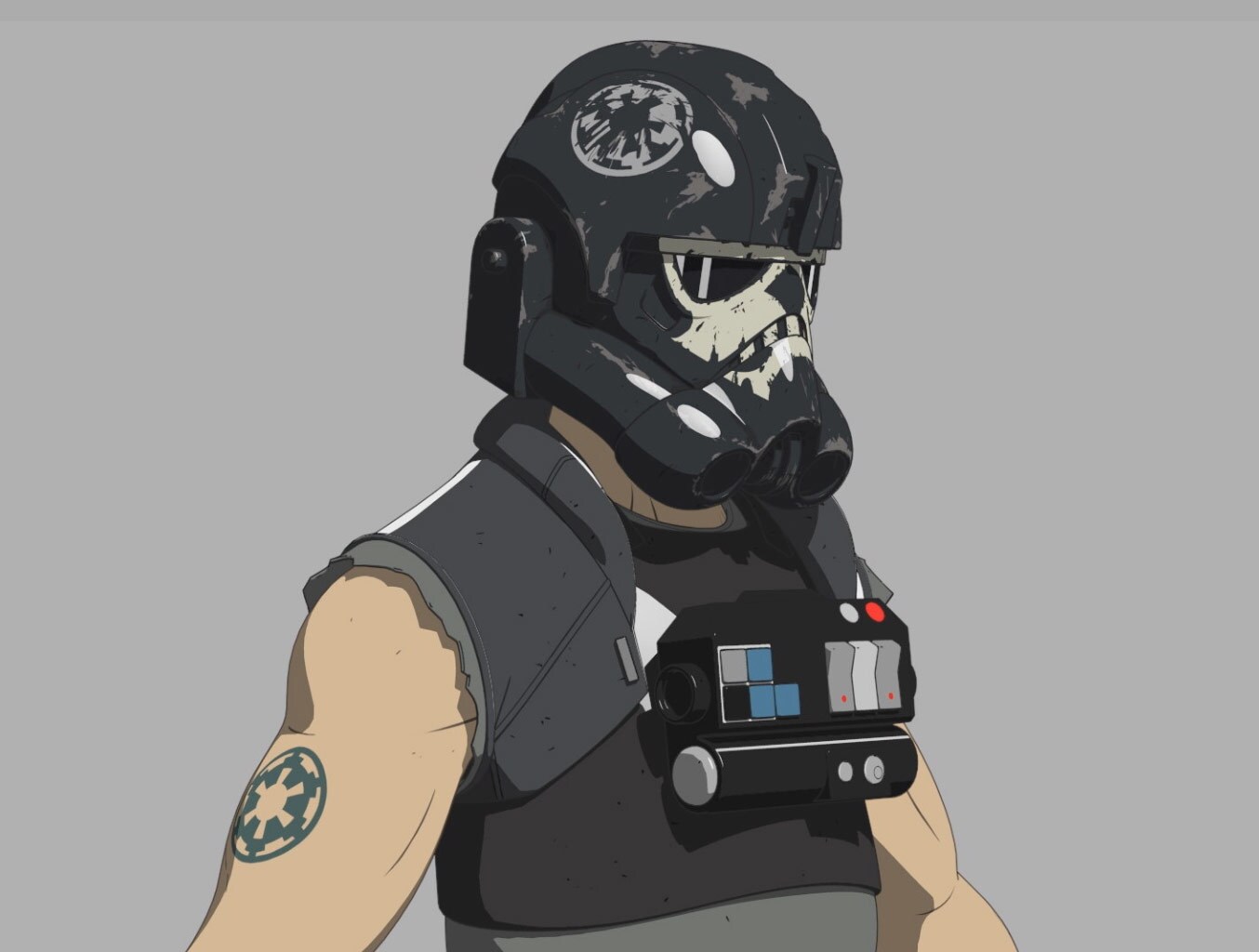 For cosplayers who have previously made their own original trilogy TIE fighter garb, the bones of a Griff Halloran ensemble are already tucked away in their costume closets. "Griff is pretty 1:1," Christenson says, down to the TIE chest box and the custom-painted helmet. "The pants would be like the lower half of that jumpsuit," she says. "He's pretty straight forward. He's still wearing his suit from Return of the Jedi, so a lot of those materials would be the same. Most of this is just fitting him weird because his body's not in the same shape it was 30 years ago."
Take note of the tattoos decorating his left arm and his customized shrug jacket, the last remnants of a puffy coat from his Imperial days. "You don't really see it in the movies or anything like that, but Luke had that extra orange coat that he wore over his X-wing jumpsuit in Empire Strikes Back. The idea is Griff had an Imperial one that was black and just doesn't fit very well anymore."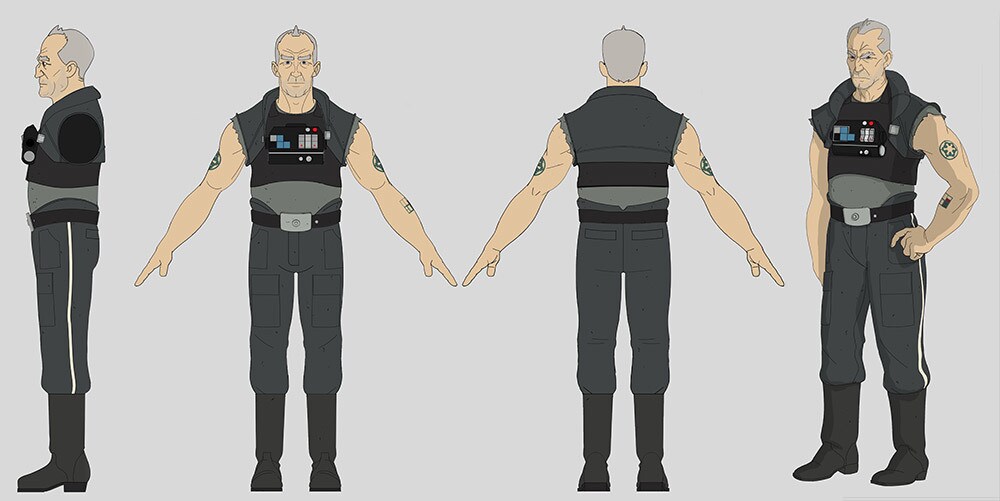 Hype Fazon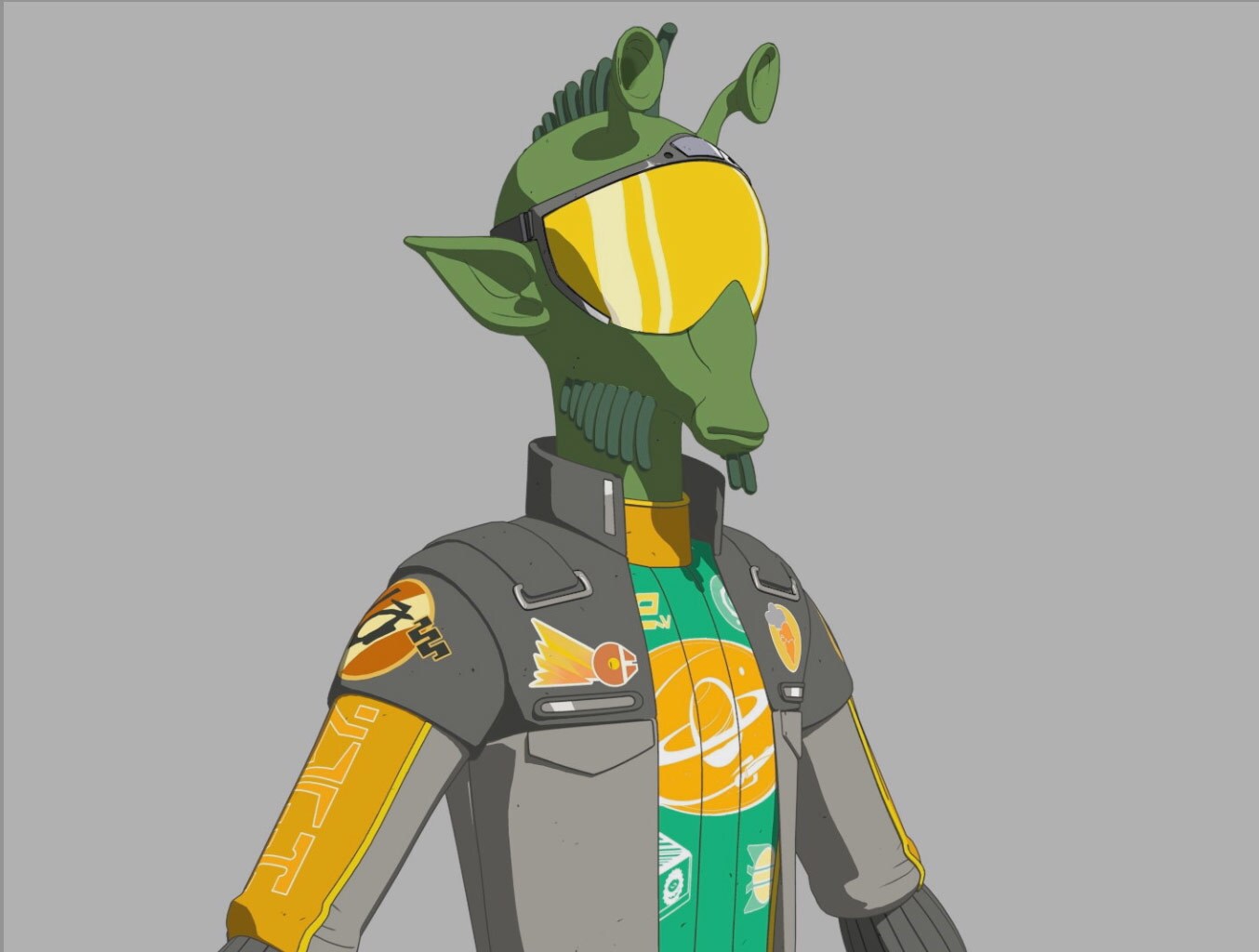 "Hype was very much based off of Formula 1 and NASCAR," Christenson says, with a suit designed for daring stunts. Think "flame retardant and a little bit shiny."
Given his racing prowess, patches from an array of sponsors cover his ensemble, with a silk-screened pattern down the outer legs and heavy quilting on the bottom of the pants. "Anytime you see this diamond-shaped quilting, you could always default back to the Hoth troopers in Empire Strikes Back. We're looking at that when we're drawing it. That's the sort of relief that we're going for," she says. "If you're using a heavy enough material, the second you start stitching it, it's going to kind of self quilt."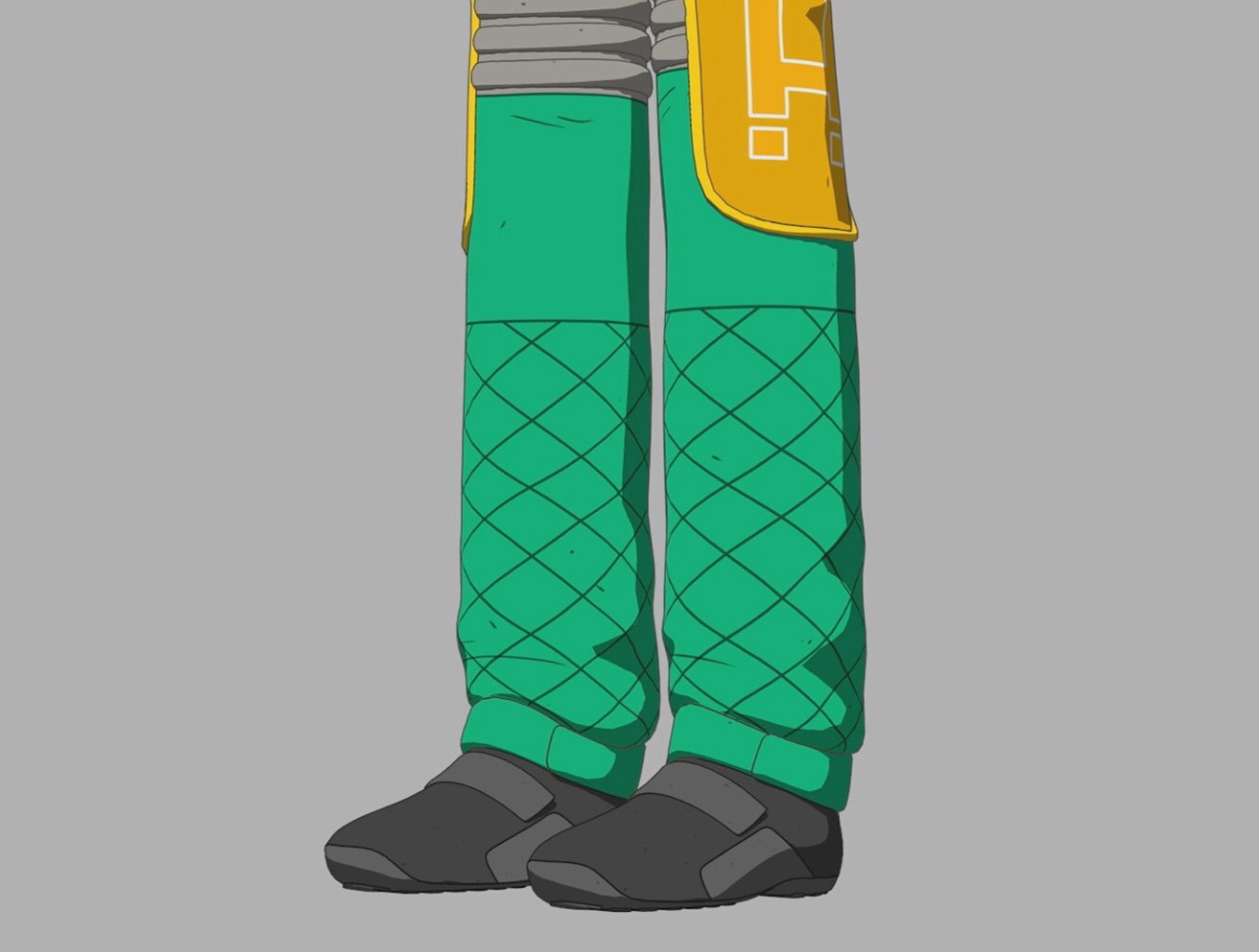 For the belt, Christenson imagined a Velcro piece of reflective material, similar to the closure on a real-life racecar driver's jumpsuit, with Hype's name in Aurebesh. And she can't wait to see the inventive ways cosplayers go about capturing his Rodian face. "I want to see that mask, you guys!"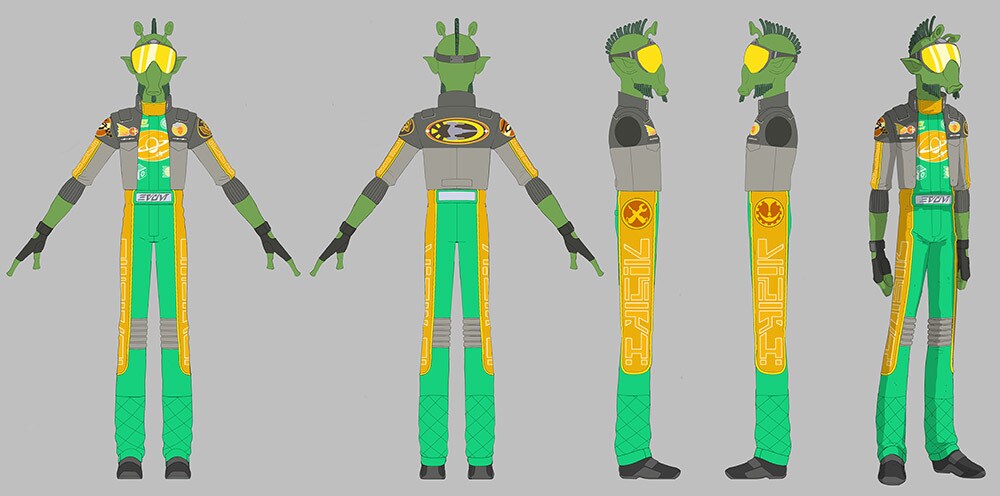 Agent Tierny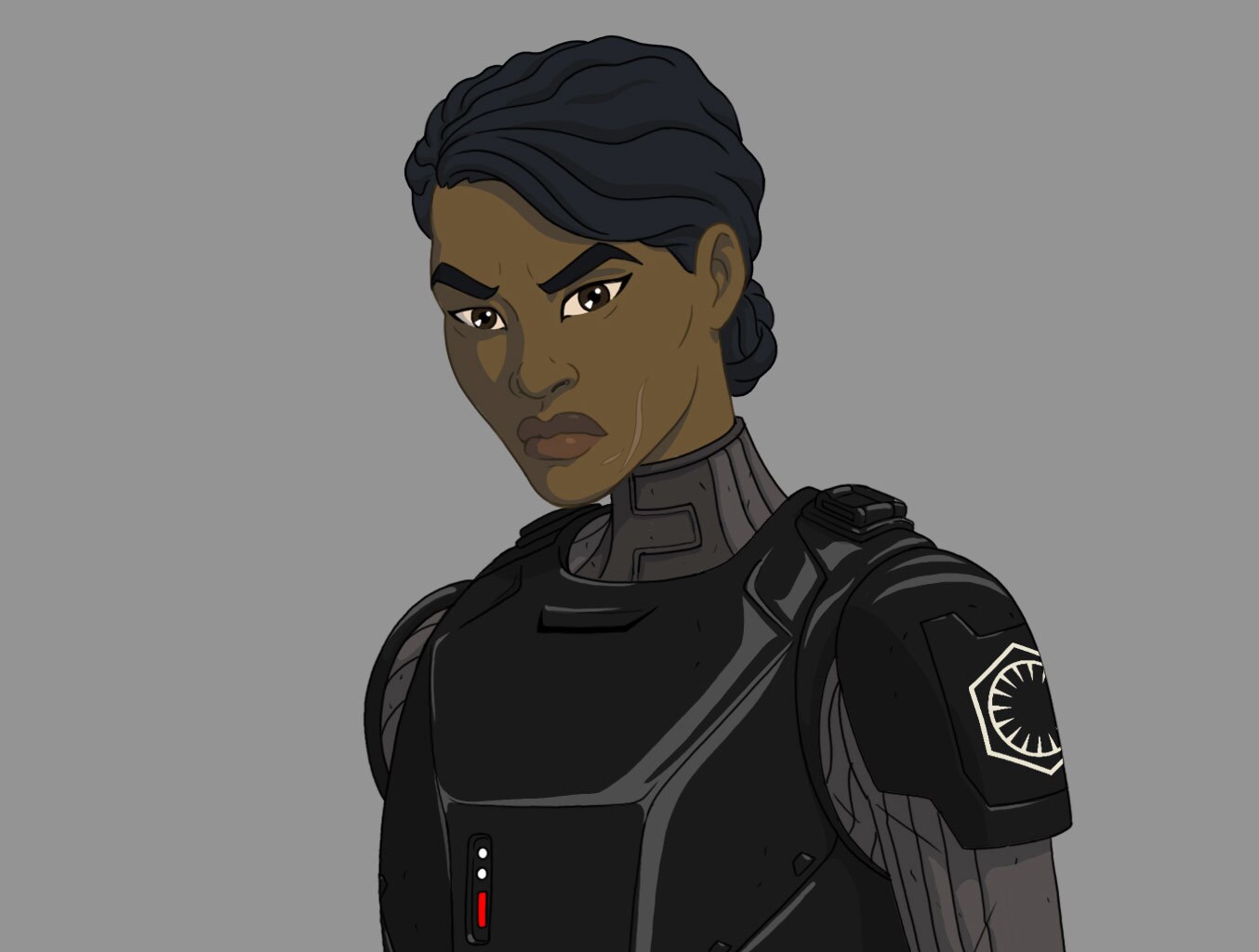 By the time we get to Chicago, fans will have been more formally introduced to Tierny, a First Order security agent first glimpsed in the mid-season trailer. But in the grand tradition of Star Wars cosplayers, if you want to build your own Tierny cosplay early, Christenson has some pointers.
The ensemble is tricky because it's comprised of unique elements. "She's a security agent like Kallus, and they get to design their own gear. They don't really have the standard uniform, so her entire under suit is very police/SWAT team inspired," she says. But her shoulder armor could be repainted from a standard First Order trooper's kit, Christenson notes, and the code cylinders on her belt are standard First Order-issued.
Real-world police riot gear, military sweaters, and Navy SEAL garments helped inspire the look. "In SEAL team training garments, you'll see a lot of the same knee padding and especially the ribbing on the shirt," she says.