The creator of the iconic Yoda sculpture, which marks Lucasfilm offices around the world, reflects on his inspiration and work.
Lawrence Noble's bronze Yoda welcomes visitors to Lucasfilm headquarters at the Presidio. (Photo By R. Sheridan)
The thing about life-changing experiences is that you never know when they're going to happen. For sculptor Lawrence Noble, it came in a darkened theater watching an advance screening of The Empire Strikes Back, seated next to his longtime friend and fellow artist John Alvin. And it happened because of a major and risky gamble by George Lucas.
Yoda was going to be the heart and soul of Empire. But could a puppet carry that large a burden? With the creation of creature master Stuart Freeborn and the incredible puppetry and voice of Frank Oz, Yoda not only worked but was magical!
Speed forward nearly 34 years, and the iconic Yoda statue that graces a fountain at Lucasfilm's headquarters at San Francisco's Presidio, as well as three other monumental bronzes created by Noble, has brought him, George Lucas and the late landscape architect on the project, Lawrence Halprin, the prestigious Henry Hering Memorial Medal for Art and Architecture for 2014, awarded by the National Sculptural Society, founded in New York in 1893. The award is given for outstanding collaboration between owner, architect, and sculptor in the distinguished use of sculpture in an architectural project.
For a talented artist as well as a diehard Star Wars fan, the award couldn't be more gratifying for Noble, who is currently San Francisco Academy of Art University's Sculpture Chair. Noble's father was a fan of science fiction and fantasy, and the first time Lawrence saw Star Wars it blew him away. "It hit me on so many levels -- certainly including the visual one."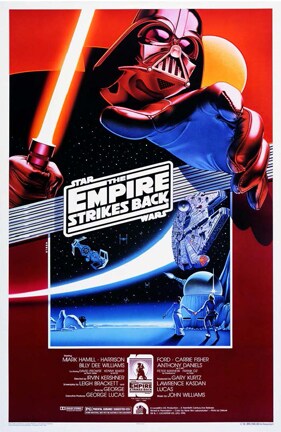 He had met Lucasfilm's then-marketing chief Sidney Ganis when he did the logo and theatrical poster for Nicholas Meyer's 1979 movie, Time After Time, when Ganis was at Warner Bros. "I lobbied my agent to contact Sidney to give me a shot at a poster for Empire, and he did. He gave me only two directions: myth and legend." Noble's design wasn't selected, which disappointed him greatly, but it was to resurface years later. And it got Noble and Alvin seats at an early screening.
"Seeing Yoda on the screen for the first time was intoxicating," Noble recalls. "I don't fully understand it, but it was like he was sending a personal message to me to take my work up another level. At that moment I realized I had to sculpt Yoda -- I had never sculpted before -- and that totally and completely changed my life."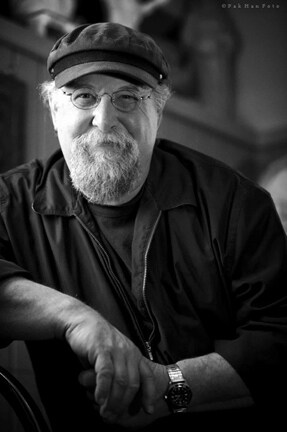 Noble went out, bought clay and tools, and started sculpting an eight-inch tall Yoda. He showed the clay maquette to Ganis and suggested it might form the basis of some sort of Lucasfilm promotional gift. "It's too good to give away," Ganis told him.
The maquette stayed in clay for a few years before Noble decided to make three bronzes -- one for his father, one for himself, and one for an avid Star Wars art collector. In 1986, that same collector, William Plumb, put on a "Space Fantasy-Space Reality Art Expo" at the Maturango Museum in Ridgecrest, California, to benefit the handicapped. Plumb got together three of the iconic artists associated with Star Wars: Ralph McQuarrie, Drew Struzan, and Noble. That's where I got to meet and listen to all three for the first time, and Noble still remembers his dinner that evening with the other two master craftsmen.
The following year, Noble was invited to Illinois to be a keynote speaker at an event at Fort Sheridan, named after Civil War Cavalry General Philip Sheridan. "They said they were looking for someone to sculpt a life-size monument of the General atop his horse and I said 'I can do that.'" Noble's wife Libby, he smiles, kicked him under the table. "I really wouldn't have suggested it without the experience on Yoda." The Sheridan bronze was installed June 14, 1990.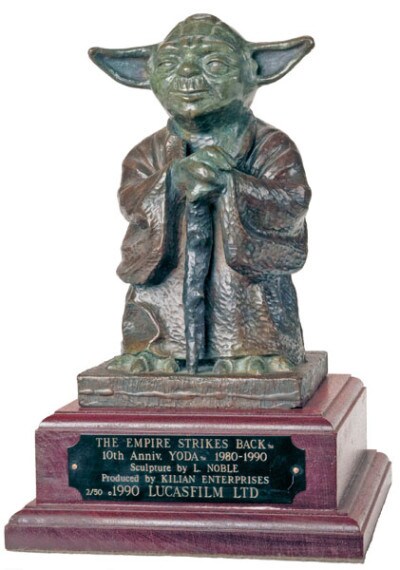 As the 10th anniversary of Empire approached, Lucasfilm licensee Kilian Enterprises contacted Noble and asked to print a slightly updated version of his original Empire poster; the company had also heard about his Yoda sculpture. So it and the Official Star Wars Fan Club produced a limited edition of 50 of the small Yoda bronzes on wooden bases. At $550 each, they were one of the most expensive Star Wars collectibles ever offered, and the first sculpture. Because of the price, they moved slowly but eventually sold out -- and rarely show up on the secondary market. One recent private sale was for $5,000.
"Michelangelo went to the mountains to seek inspiration; all I had to do was go to a movie theater," Noble jokes. "But it was some inspiration from on high and through a confluence of circumstances that let me work with a twentieth century American Master -- George Lucas -- and that has lasted all these years."
It was another Star Wars fan and art collector, Han Park of Oakland, California, who started the process that put Noble on the map. "He asked me to do an illustration of Yoda for him; I said that I wasn't doing 2D art but I would be interested in sculpting a full-size Yoda." To cover the costs of the project -- and so that Noble could give one of the bronzes to Lucas as a gift to thank him for the inspiration -- Park had to round up another four potential purchasers. He did that in a day; I was one of them.
Noble had the chance to present Lucas with the statue at Skywalker Ranch, and the filmmaker loved it. Soon it was at the entrance to Lucasfilm's then-headquarters at Big Rock Ranch, part of Skywalker Ranch. When Lucasfilm HQ moved to the Presidio, another Yoda bronze topped a beautiful fountain at the entrance to the main building. Lucas donated one last year to Imagination Park in his hometown of San Anselmo, California, along with a full-size Noble bronze of Indiana Jones. Just last week [on Jan. 16] another Yoda bronze was unveiled at the opening of Lucasfilm's new Sandcrawler building in Singapore. (Some 25 bronzes were licensed for sale at $15,000 each -- a new high for a licensed piece -- and all sold out.)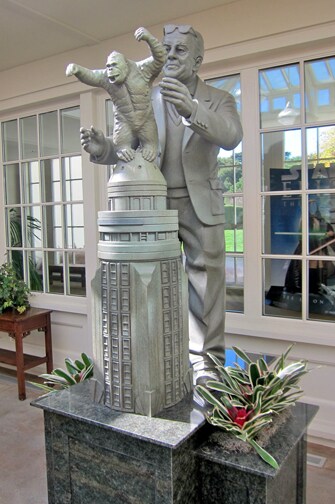 Yoda led to Noble getting the commission to sculpt three more large bronzes for the Presidio: Eadweard Muybridge, who pioneered photographic studies of motion that led to movie projection; Philo Farnsworth, a pioneer in the invention of television; and Willis O'Brien, a special effects and stop-motion animation genius, most remembered for King Kong. Noble was a special guest at 30th anniversary Star Wars Celebration conventions in the United States, the United Kingdom, and Japan where he sculpted live full-sized busts of Obi-Wan Kenobi, Grand Moff Tarkin, and Luke Skywalker.
"I believe all that's happened is part of why I'm on this planet," Noble muses. "George Lucas tapped into something very primal, and that has given me the energy to do what I do."
Steve Sansweet, head of Fan Relations at Lucasfilm for 15 years and now Fan Relations Adviser, is chief executive of Rancho Obi-Wan, a non-profit museum that houses the world's largest private collection of Star Wars memorabilia. To find out about joining or taking a guided tour, visit www.ranchoobiwan.org. Follow on Twitter @RanchoObiWan and https://www.facebook.com/RanchoObiWan.