In the new issue of the magazine, fans like you can weigh in on the greatest moments in the Skywalker saga!
What's the greatest moment in the Skywalker saga so far? The most impressive battle? The fiercest foe or most magnificent hero?
For generations, the stories, characters, and themes from a galaxy far, far away have inspired spirited and endless debates. After all, we're all correct, at least from a certain point of view.
This month, Star Wars Insider magazine and StarWars.com want you to cast your vote and let your voice be heard in the Star Wars Insider Skywalker Saga Galactic Survey. Choose your favorite moments from Anakin Skywalker, Luke Skywalker, Padmé Amidala, Leia Organa, Kylo Ren, and Rey, plus choose your favorite duo, most vile villain, epic duel, and more!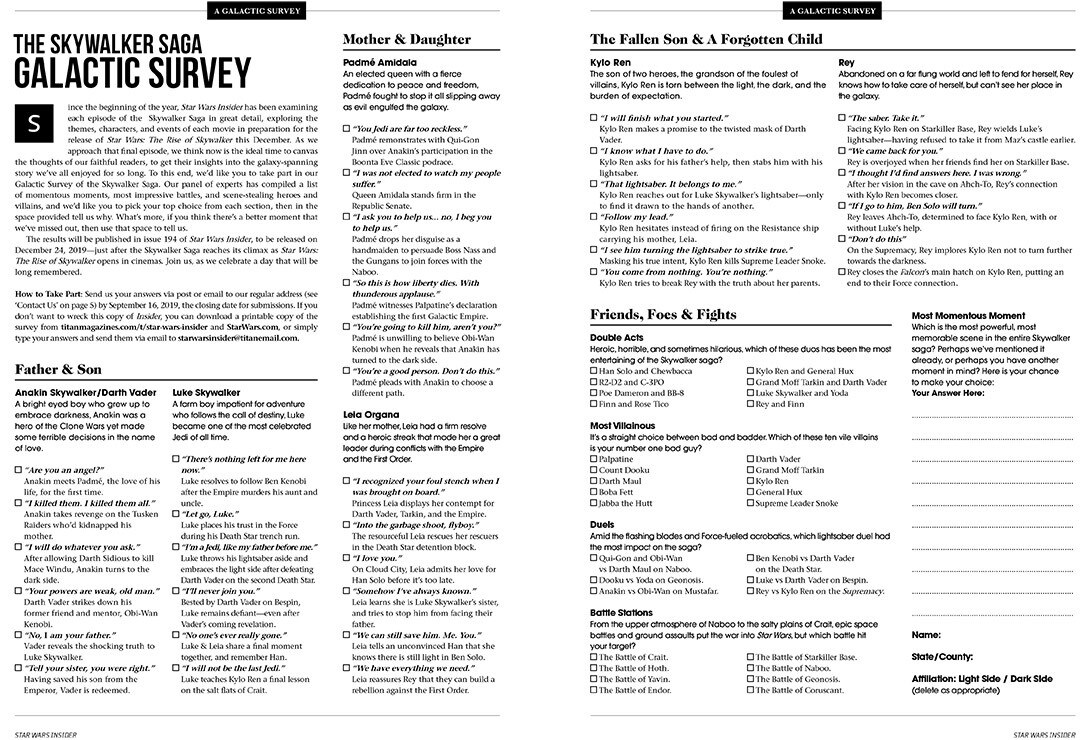 You can download a printer-friendly version of the survey here or by clicking the image above. The official form includes details on how to submit.
And pick up a copy of Star Wars Insider issue #191, out now in the United States and next month in the United Kingdom, for this and more, including: a touching tribute to Chewbacca and the late Peter Mayhew by none other than Joonas Suotamo; part one in an exclusive two-part interview with the man behind so many Star Wars characters including Wicket the Ewok, Warwick Davis; and a never-before-printed interview with the late Kenny Baker, who originated the role of R2-D2!