StarWars.com spoke with devotees of the animated series immediately following last week's historic announcement.
It's the end of the Star Wars: The Clone Wars 10th anniversary panel at San Diego Comic-Con. Dave Filoni, supervising director of the beloved but never-completed series, says he has "a gift" for fans. Well, okay. The lights go down and a video starts to roll. The Lucasfilm logo fades in. What are we about to watch? Highlights from the show's run? A sizzle reel? Finally, it begins. The silhouettes of clone troopers walk away as the camera pans backward from two rows of helmets, many identifiable as those of our favorite soldiers of the Republic. Clone chatter grows more and more intense as incoming fire suddenly obliterates the helmets in galloping flames.
What is this?
Then, words.
'A war left unfinished.... until now'
The crowd starts to realize. Scattered cheers begin to rise from the thousands filling the massive room. Then, we see it -- the first new Clone Wars animation since the release of "The Lost Missions" in 2014. Anakin Skywalker, Obi-Wan Kenobi, and Hunter of Bad Batch stand in a Republic hangar, watching as a massive fleet departs. The Star Wars: The Clone Wars logo appears. More cheers.
But it's not over. Anakin heads to a command center with Obi-Wan, wondering why Rex dragged him back here. There in a hologram stands a familiar figure: Anakin's former Padawan, Ahsoka Tano. When we last we saw her in The Clone Wars, Ahsoka was leaving Anakin and the Jedi Order. "Hello Master," she says. "It's been awhile." #CloneWarsSaved hits the screen. The lights come up.

Mayhem. In the audience there's jumping, cheering, crying, hugging. You don't need fireworks here. You feel them.
Star Wars: The Clone Wars is back, coming to Disney's direct-to-consumer streaming service. After the panel, fans were filled with emotion.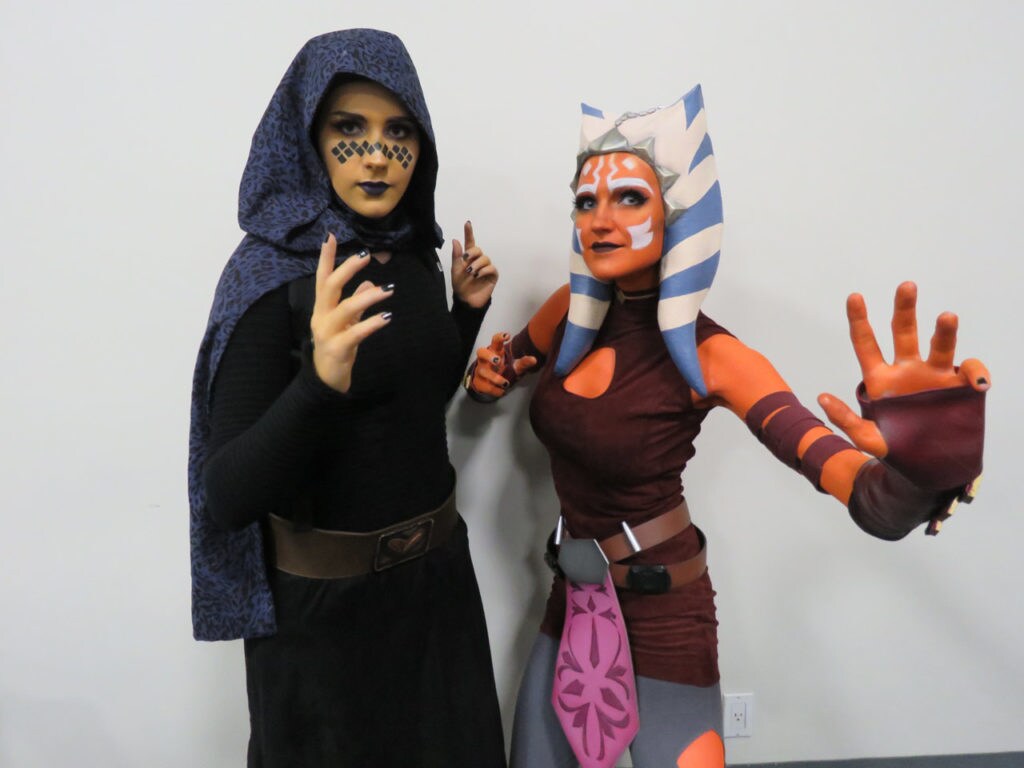 M. Blackburn, attending in an amazing Ahsoka Tano cosplay, was completely taken by surprise. "I don't have words," Blackburn said. "I'm in shock, I'm in shock. We were literally just holding each other and screaming." The return of the show is particularly meaningful for her for a big reason. "The fact that they listened! They listened to the fans. They heard us when we hashtagged #BringBackTheCloneWars, hashtag #CloneWars. Hashtag #CloneWarsSaved!"
Joining Blackburn at the panel was her friend Rebekah Baker, naturally cosplaying as an also-incredible Barriss Offee. "I'm freaking the heck out," she said. "That was insane. I never thought that they would actually pull something like that. Because typically I would think like, 'Oh, they're going to show us some old content that they never released or something,' but the fact that it's actually coming back and we're going to be getting new content is just blowing my mind." For Rebekah, the return of the show has a personal significance. "It means a whole lot, because I grew up watching The Clone Wars with my dad. It was always a really special spot for us," she said. "The fact that we're going to get this new content, and with that comes a sense of closure for the storyline and characters, it makes me so happy."
"My mind is completely blown," said Hannah Francis, a fan who discovered The Clone Wars after it ended, but now considers it a favorite. "I was expecting maybe a tidbit about [the upcoming animated series] Resistance. I never in a million years thought we'd get Clone Wars back again."
"The biggest thing for me was to see a clone commando front and center like that," said Jason Goldman-Hall of Hunter, previously only seen in a story reel for a unfinished episode. "They are my absolute favorite characters and have been for years. So to see one so prominent, to see one taking on that role, makes me real excited because they didn't get a lot of screen time. To see that as part of this new continuation is amazing." Jason also thought that this would never happen. "I thought Rebels meant it was over, I thought Resistance meant it was definitely over. I guess there were enough of us out there. I think it's worth returning to, I think there's definitely stories still to tell there. There's so much in that timeframe we still don't know about."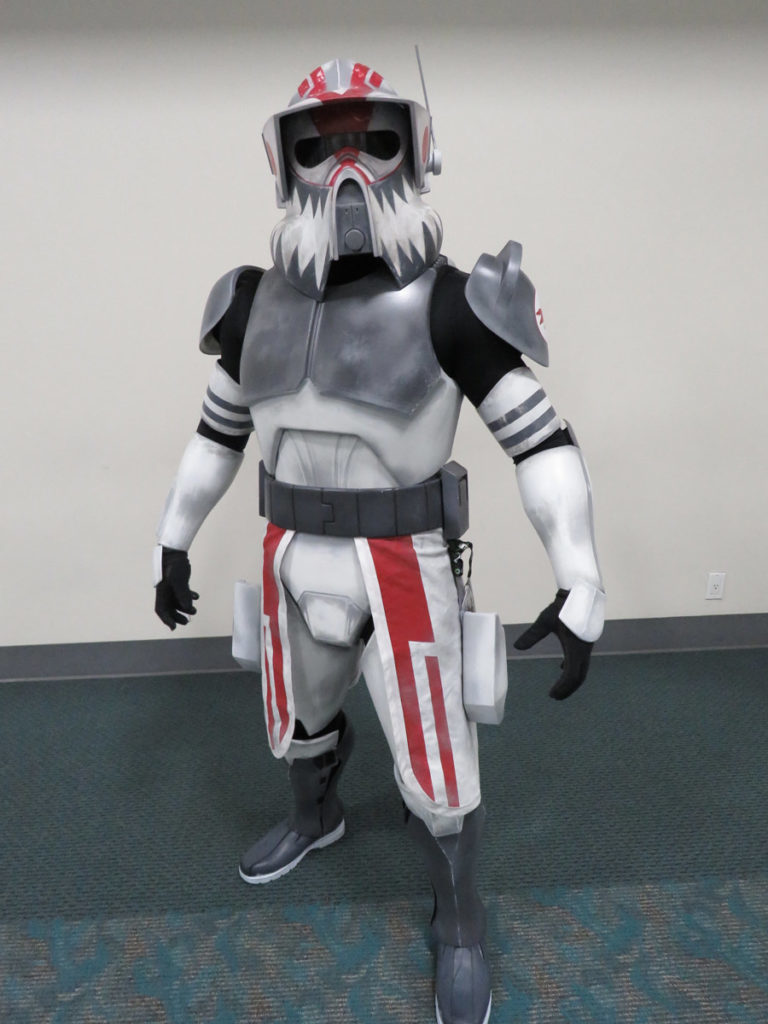 Carlos Sanchez, a member of the 501st Legion fan group (appropriately suited up in his homemade Sgt. Hound clone trooper armor) was visibly excited once he removed his head gear. "I'm still freaking out," he said. "My mind is blown. I mean, how many years have we waited for that to happen, and it's finally happening? It's surreal, like a dream come true." Sanchez is thrilled that we'll be getting answers to long-standing questions. "We didn't get an end to The Clone Wars. Something every single Clone Wars fan has wanted is some kind of closure."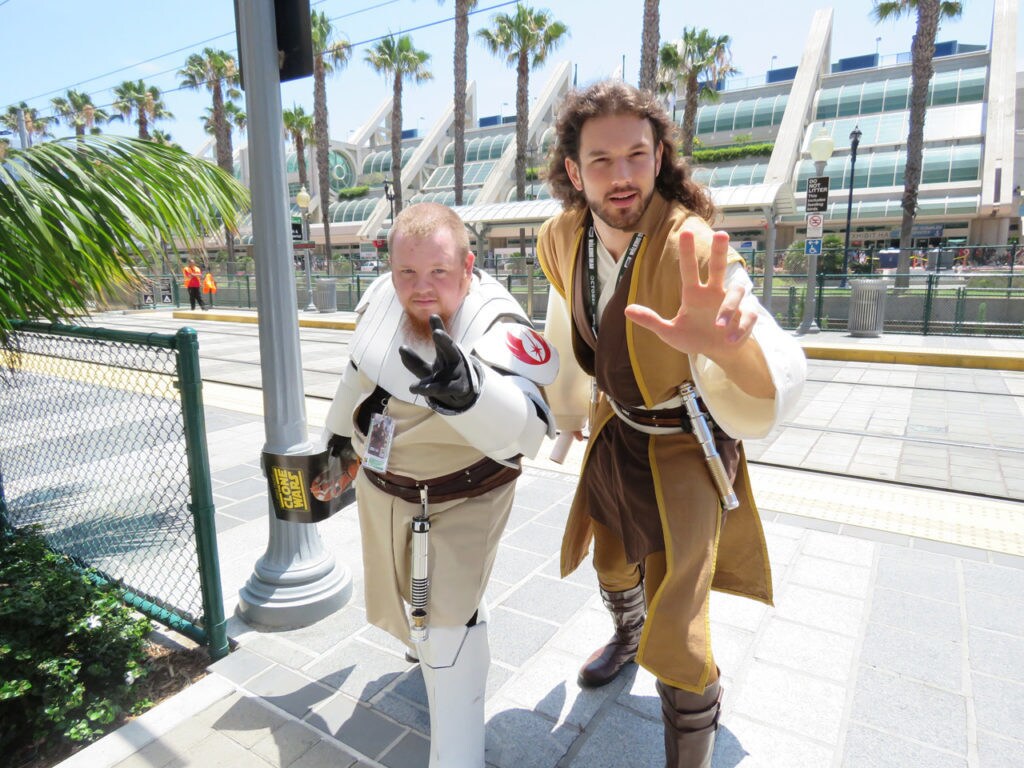 "It's amazing," Chris Pagliuca said outside the convention hall, decked out in Obi-Wan Kenobi's Clone Wars fatigues. While he only found The Clone Wars recently, it made a big impact on the longtime fan. "I love it. I like it better than all the movies, better than Rebels. It's my favorite series." His friend and fellow Jedi, Michael Vernon, just finished watching the series' original run and was also shocked by the surprise announcement.
"I'm still kind of dazed," Michael said. "It's fantastic."
To quote Anakin Skywalker, "This is where the fun begins." Until the show returns, we can talk, debate, and dream about what's in store and how The Clone Wars will end. Then we'll get to see it. Who could've imagined that?
For more on Star Wars: The Clone Wars at SDCC, including additional fan reactions, check out this week's episode of The Star Wars Show.

Dan Brooks is Lucasfilm's senior content strategist of online, the editor of StarWars.com, and a writer. He loves 
Star Wars
, ELO, and the New York Rangers, Jets, and Yankees. Follow him on Twitter @dan_brooks where he rants about all these things.