Warm up your snowspeeder.
In Fully Operational Fandom, StarWars.com goes right to the heart of the Star Wars saga — the fans — for insight into their thoughts and experiences surrounding a galaxy far, far away.
It's not only the Empire that builds AT-AT walkers.
They may have the necessary factories and supplies to construct the intimidating vehicles with ease, but with determination and ingenuity, Star Wars fans can craft their own versions. Kyle Gilbert did so for an event at his church. He needed a large prop, and he wanted to go big, like 17-feet-big. "As people walked into the building, I wanted to do something that was completely unpredictable and surprising," he tells StarWars.com. "AT-ATs have this huge and menacing feel to them -- totally iconic. And maybe also I'm still a lot like a little kid sometimes. I never got that AT-AT playset when I was younger, and this was my way of making up for it. Ha!"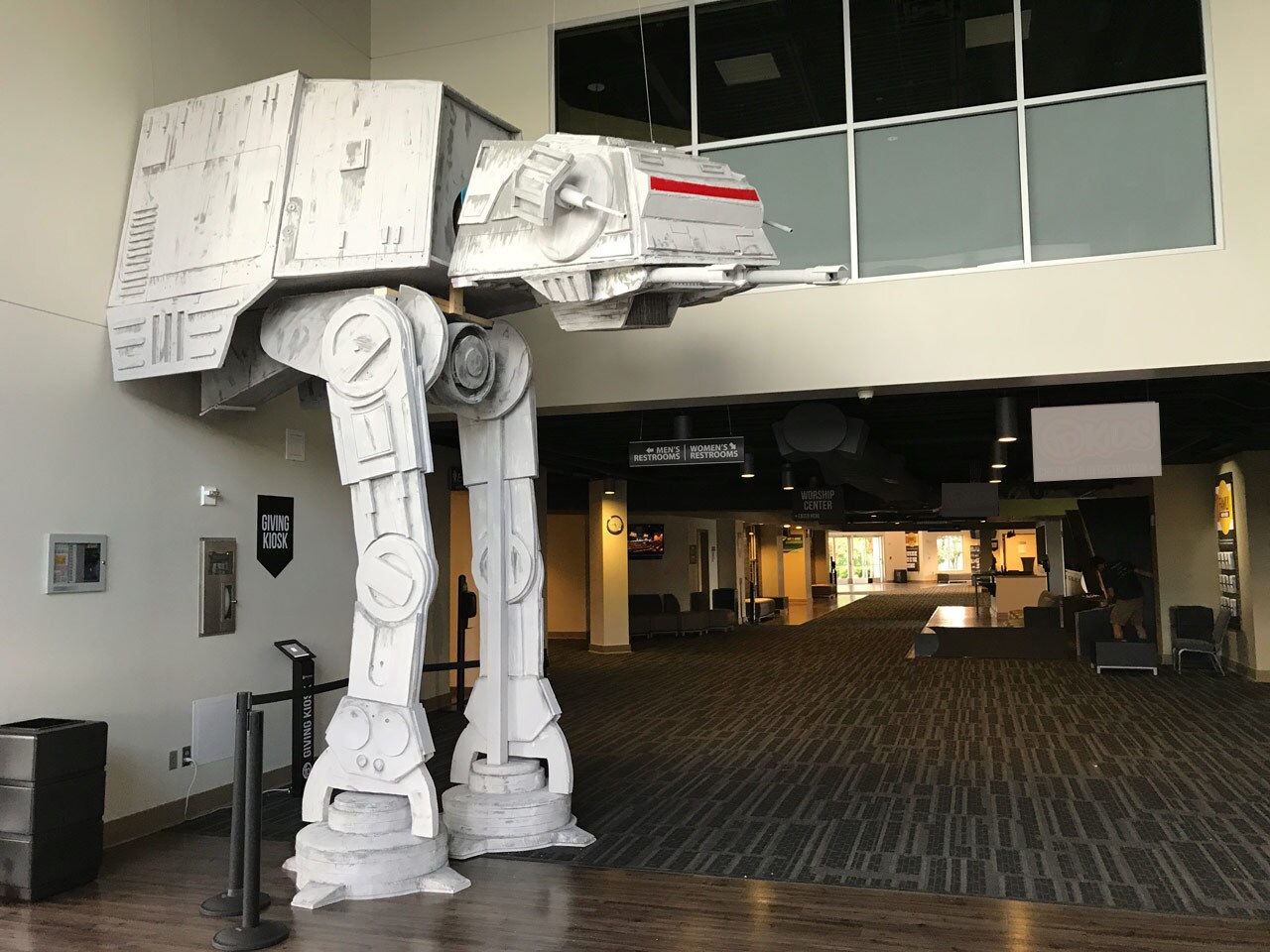 He's not the only longtime fan who has longed for that playset. Gilbert's ties to Star Wars go back to his youth. His is a familiar story but no less special. He recalls, "I was born in 1977, so my childhood was in the heyday of the original trilogy. My memory might be wrong, but I think I remember seeing The Empire Strikes Back in a theater. What I certainly remember is my prized collection of Star Wars action figures and receiving a Han Solo blaster for Christmas. I loved that thing."
Maybe Han's nothing-can-stop-me attitude inspired Gilbert with his AT-AT walker project. Previous to this, Gilbert had never built anything on a similar scale. He set out to make a 17-foot-tall prop with only the faintest idea of where to start. "I really had no idea how long it would take or even if we could actually pull it off like I had in my mind," he shares. "I had this thought that we could make it with a foam exterior and wooden frame, but I wasn't sure it would actually work. When I mocked it up in Photoshop, I knew I had to try, despite the real potential of failing."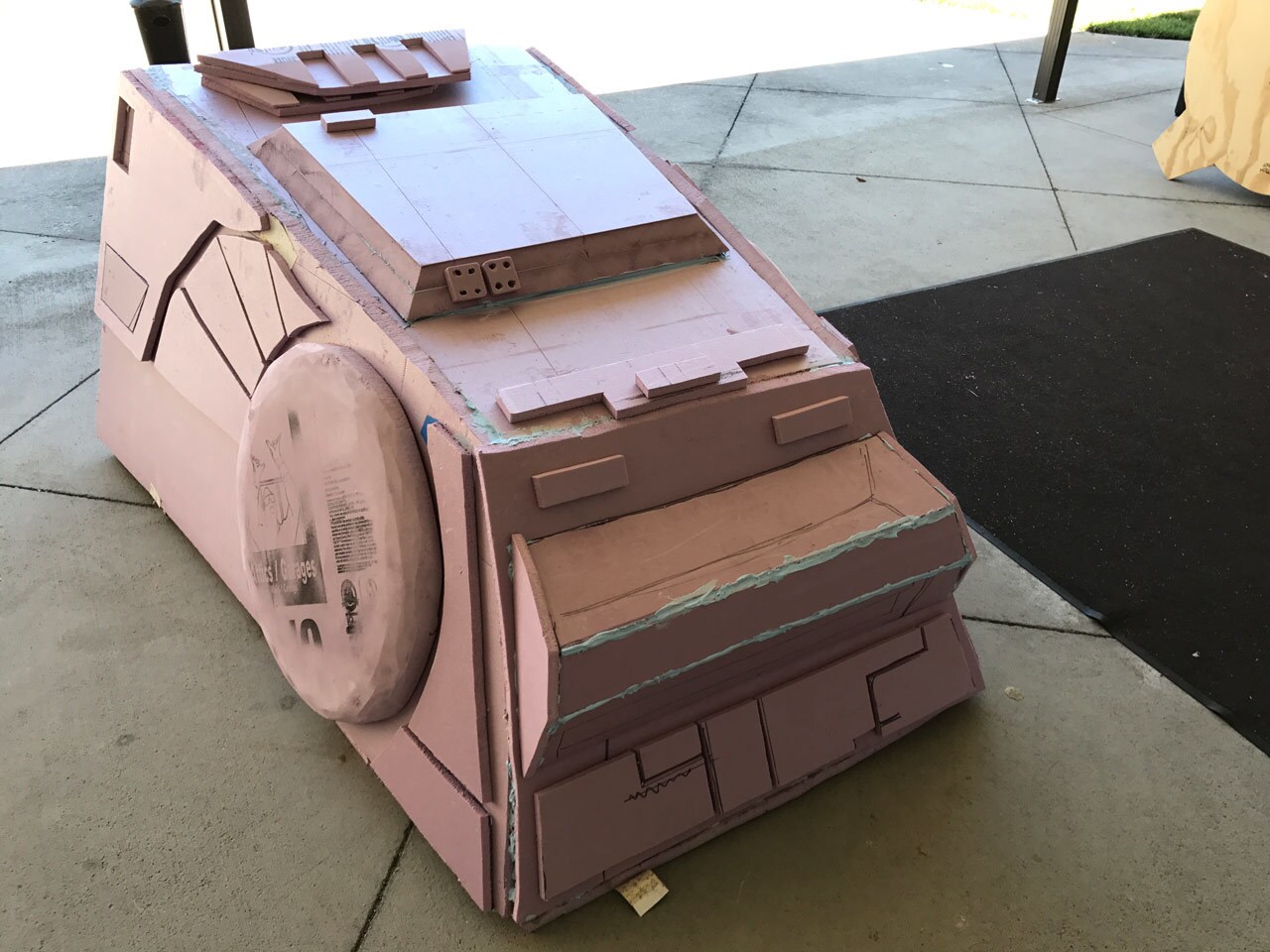 Like the Rebellion scrapping together equipment and people, Gilbert worked with what he had and assembled a team of volunteers. They moved fast due to a tight schedule and made the AT-AT in four weeks. Gilbert explains how they accomplished the feat: "We worked quite a few evenings, but we had an incredible team of volunteers working on the project. Overall, I'd say about 25 people helped at one point or another. Other than three to four of us, many had never used power tools before, so it wasn't like we were dealing with a team of prop makers or anything. We'd show someone how to use the tool, watch them do it, and then I'd be their biggest fan when they did it right. The volunteers are what made this project special."
Lacking Imperial materials, they made do with foam insulation boards, foamboard adhesive, and plywood (you can read details on Instructables). The project cost around $1,000. And like the Rebellion figuring things out as they went, they faced challenges.
"There were quite a few elements that gave us trouble as we went: finding the right kind of adhesive that would stick the foam together and not melt it and getting all the pieces aligned together (especially the head). But the biggest challenge was the exhaustion of not having a permanent spot to work on the build. We had to work outside and store it away inside each day, so there was a ton of wasted time just moving the pieces and our tools," Gilbert says. They also had to work around limitations. For example, he didn't want to place anchors in the wall, so they had to design the AT-AT to be bottom heavy.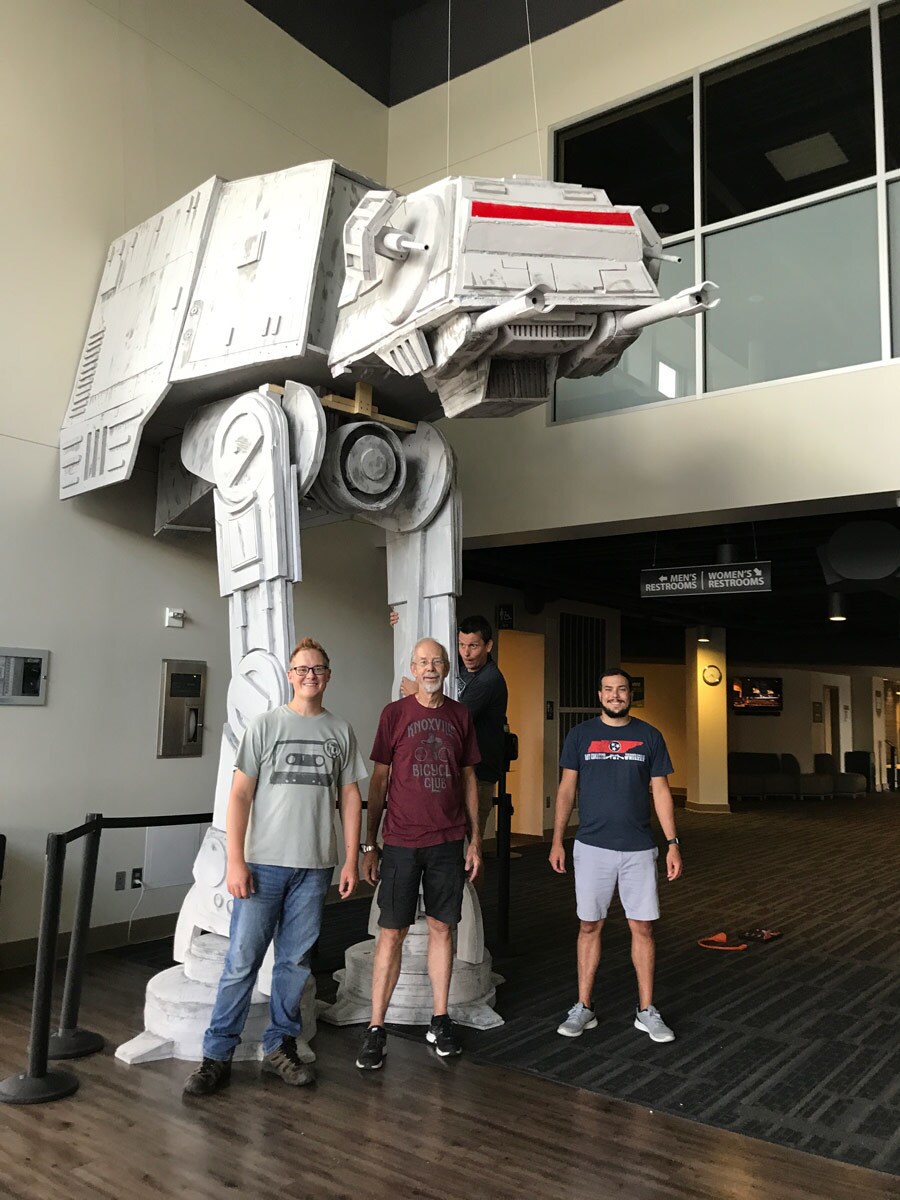 Gilbert's mission was a success. People were wowed by the AT-AT walker; while the walker has since been taken down, Gilbert jokes the AT-AT would be in his living room if he had 20-foot ceilings.
The AT-AT build was the beginning of a new hobby for Gilbert. He says since then he's finished a Millennium Falcon cockpit for his four kids with buttons and sounds. We will watch his career with great interest.
Amy Ratcliffe is a writer obsessed with Star Wars, Disney, and coffee. She co-hosts the podcast Lattes with Leia. Follow her on Twitter at @amy_geek.