Fans from all 50 states and beyond gather to say goodbye to the Skywalker saga in style during the World Premiere in Los Angeles.
Daisy Ridley commanded attention as she walked down the blue carpet at the World Premiere of Star Wars: The Rise of Skywalker Monday night, greeting fans who lined the way to the theater before the film's debut amid their excited and joyful chatter. Then suddenly from the din: "Hi, Miss Ridley!" The polite and exuberant young brothers Bobby and Thor Townsend beamed up at the actor who plays Rey, one dressed as Luke Skywalker in X-wing gear and the youngest trying his best not to crack a smile and ruin his façade as a fearsome General Hux.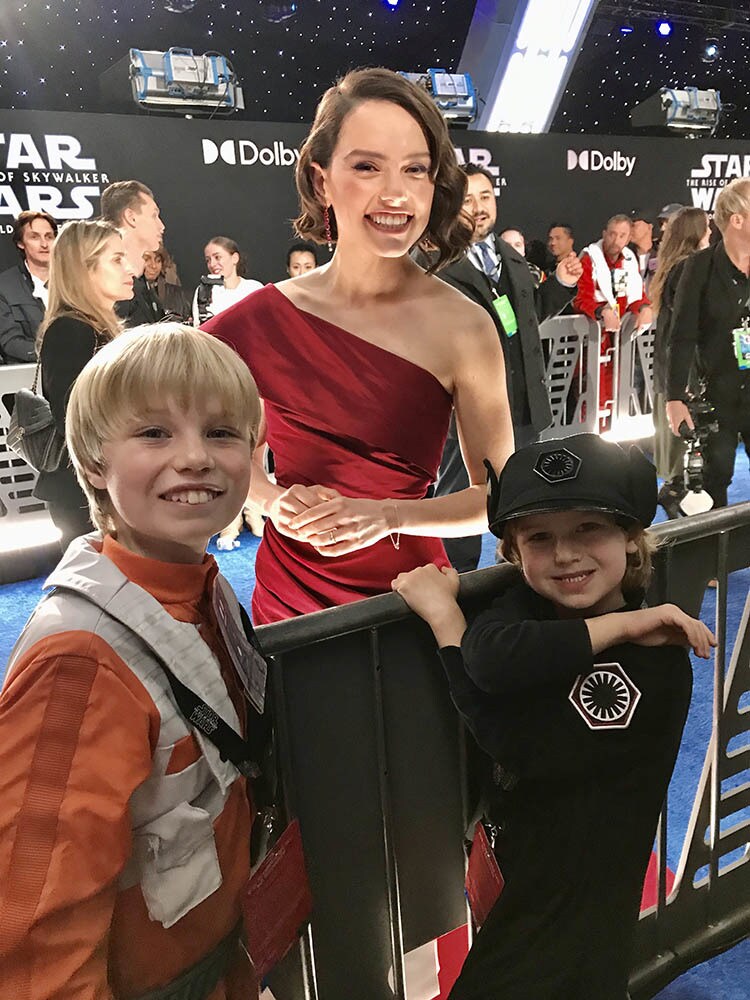 But Ridley -- and even little Hux -- couldn't help but grin as she paused to give the brothers an autograph and pose for a photo, quietly exchanging words with the excited fans.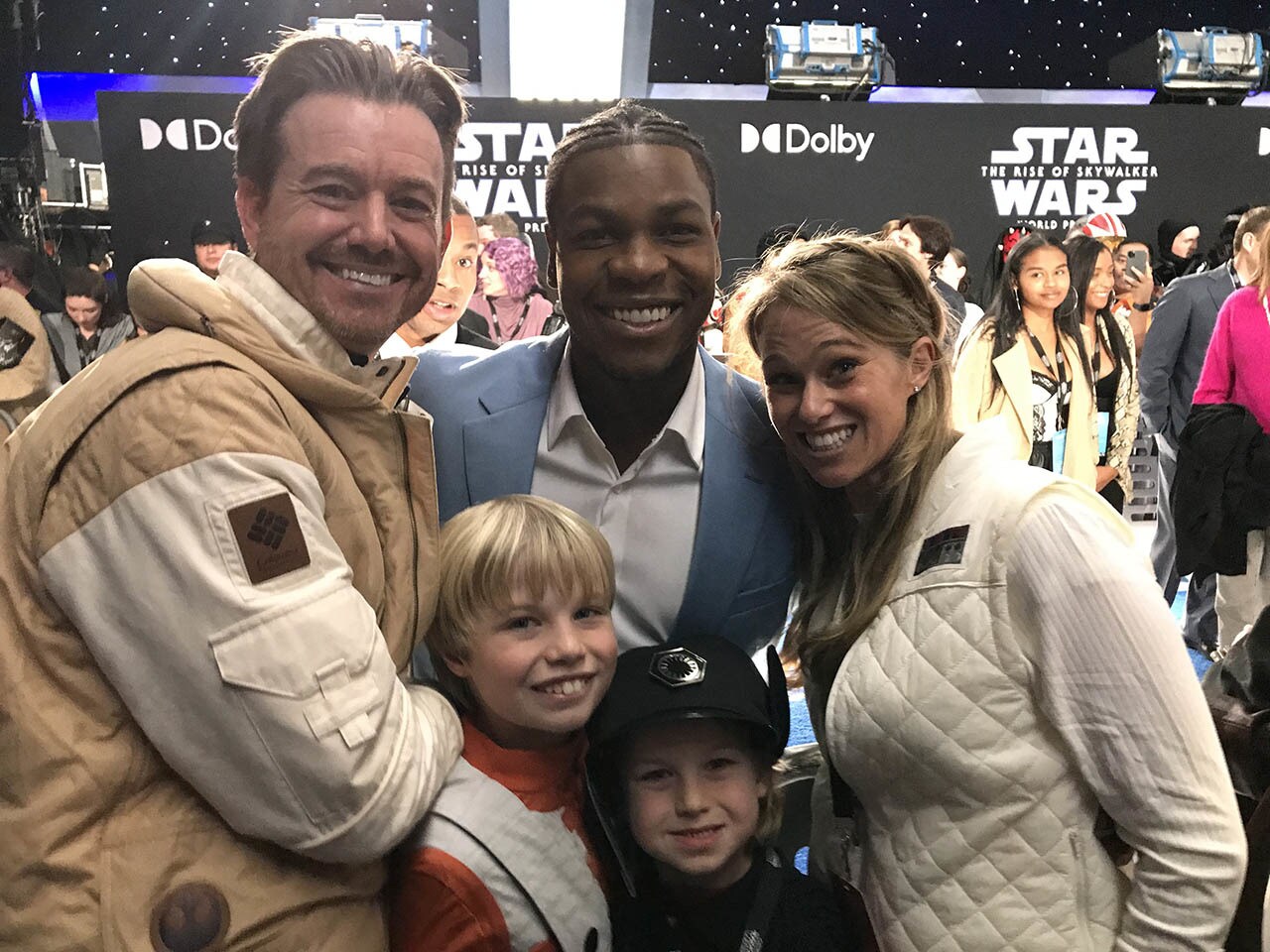 Star Wars plays an important role in their lives, parents Stephanie and Josh Townsend, dressed as Leia and a Hoth rebel, said. The California-based family owns a veritable library of Star Wars encyclopedias that Bobby combs for information on his favorite characters. (Besides Luke Skywalker, he confided, his favorite character is Gasgano.) Last year, they traveled to Finse, Norway, to see the snowy filming location for Echo Base for themselves. "And we brought our toys and we played in the snow with Star Wars toys on Hoth," Stephanie said. But Monday night's premiere was another amazing experience that brought the family together with countless other fans united by their love of the Skywalker saga.
Lucasfilm invited fans and cosplayers from all 50 states to meet the stars and talented creators, with fan costumes ranging from the Age of Republic, through the Age of Rebellion, and the more recent Age of Resistance. "I remember sitting on my dad's lap watching Empire Strikes Back in the theaters," Josh said just hours before sharing the final Skywalker saga theatrical debut with his own sons.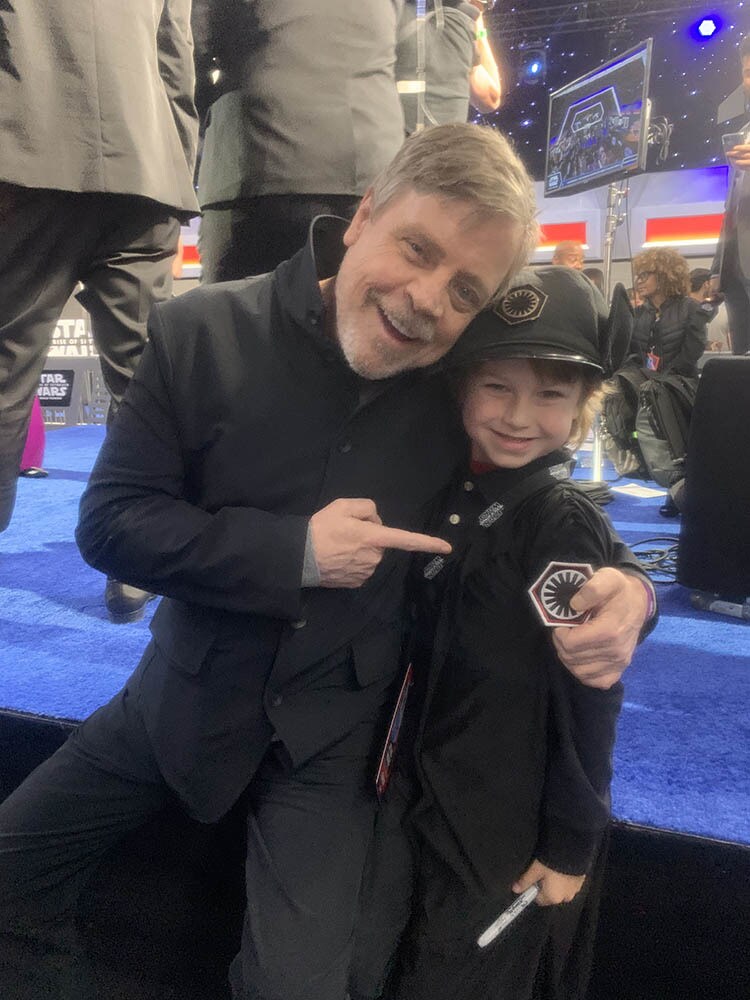 "It's going to be amazing!" added Thor. All told, the family greeted the likes of Ridley, director J.J. Abrams, John Boyega, Oscar Isaac, Mark Hamill, and many more.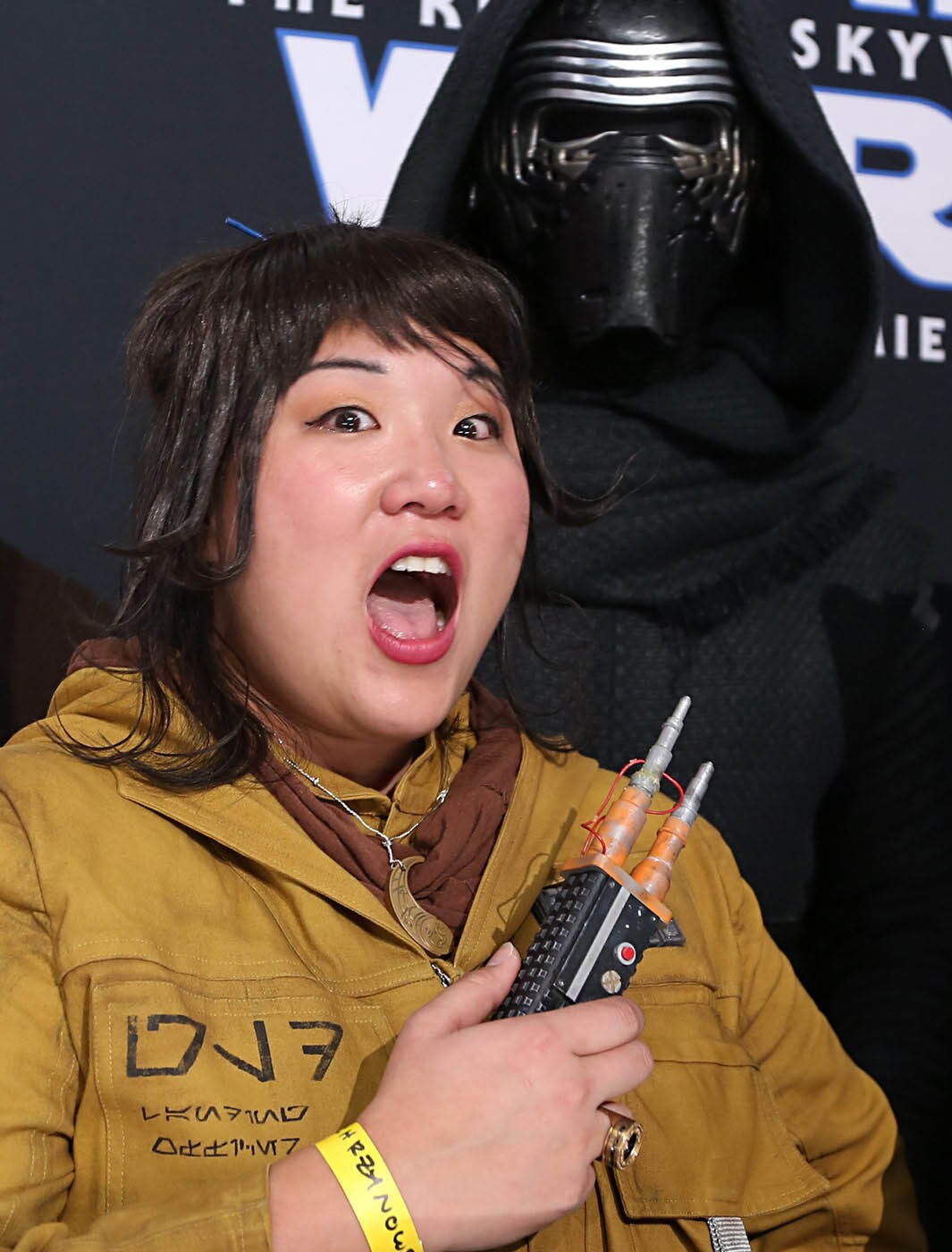 Amy Chrzanowski of New York, dressed as Rose Tico, was excited to see Kelly Marie Tran and the rest of the cast, tearing up as the event got underway. "Being an Asian woman, just having someone on the screen who looked like me was amazing," she said. "Rose Tico, to me, was the perfect embodiment of what people are going through in the galaxy…And the fact that she was so positive and she had such a drive was so amazing. We all face hardships in life and it's hard to keep that positivity."
Before the event, Chrzanowski, Jireh Silva of Maryland and Madeline Anderson of Minnesota -- all three dressed in homage to Rose Tico -- met up to sign a thank you card for the actor who portrayed her. "We wanted to let Kelly know that we, and so many other fans, appreciated her and the character of Rose." When Tran arrived on the carpet, Chrzanowski had her chance. "When Kelly reached me, I told her that we had been waiting all night to see her and pass along our card," she said. "I let her know that I appreciated her and that Rose, to me, was the embodiment of hope and positivity during trying times -- which is so important."
But it was another strong Star Wars woman known for her hopefulness who made Chrzanowski a fan. Growing up adopted, it was powerful for the South Korea native to see Princess Leia on screen. "I became a fan of Star Wars, because Leia was the first character I'd ever been exposed to who's adopted," she said, a connection she was able to share with Carrie Fisher during a meet-and-greet before the actor's death. On Monday, Chrzanowski just wished she could tell her 10-year-old self what the future would hold for the young fan. "Just knowing that I was one of those girls who it wasn't cool to be a Star Wars fan and now I'm at the red carpet," she said through tears. "It's incredible."
For Corey Karmazin, dressing as Kylo Ren is a much-needed escape for the South Dakota-based dentist. After answering a few questions with his voice modulator growling, he removed his helmet to explain why he loved dressing as the sequel trilogy's bad guy. "From a certain point of view," he corrected. "It's a huge departure from how I am. It's an escape….I get to hide behind a mask, which is cool because in my life I'm in people's faces with my face." The complex character has also fascinated Karmazin. "His upbringing and his pollution from Snoke, it just shows how …we can be swayed or influenced by light or dark."
On Monday, Karmazin employed his Kylo Ren growl a second time as John Boyega walked the carpet. "He ended up right in front of me taking pictures and signing autographs so in my best Kylo voice I said, 'John, can I get a picture?'" he said. Boyega's head snapped up in surprise, but he gladly obliged, advising, "'Kylo, change your ways man, change your ways!' I'll always remember that."
Tom Rehn of Illinois has been dressing as Luke Skywalker since 1977, he said, showing off the vintage photo of himself as a blond-haired boy in Luke's Tatooine farm ensemble. "Back in '77, I looked like Luke Skywalker," Rehn said. "I still look like him. And 42 years later, I'm still dressing as Luke," he said, shouldering a massive green fish, a bottle of green milk ready to swig, dressed as a more age-appropriate Luke Skywalker for today -- the world-weary Jedi in Star Wars: The Last Jedi.
Star Wars holds a special place in Rehn's memory. "It was the first film that my father took me to by himself," he said, his voice cracking. "You're going to get me verklempt… What Star Wars meant to me is that there is a dream, you can follow it. And that one person can make a difference. One person can make a difference and actually change the world."
Stronger than she knows 
Many of the cosplayers had met up earlier in the afternoon inside the Roosevelt Hotel, forming a procession of stormtroopers and characters from every saga film to march to the carpet.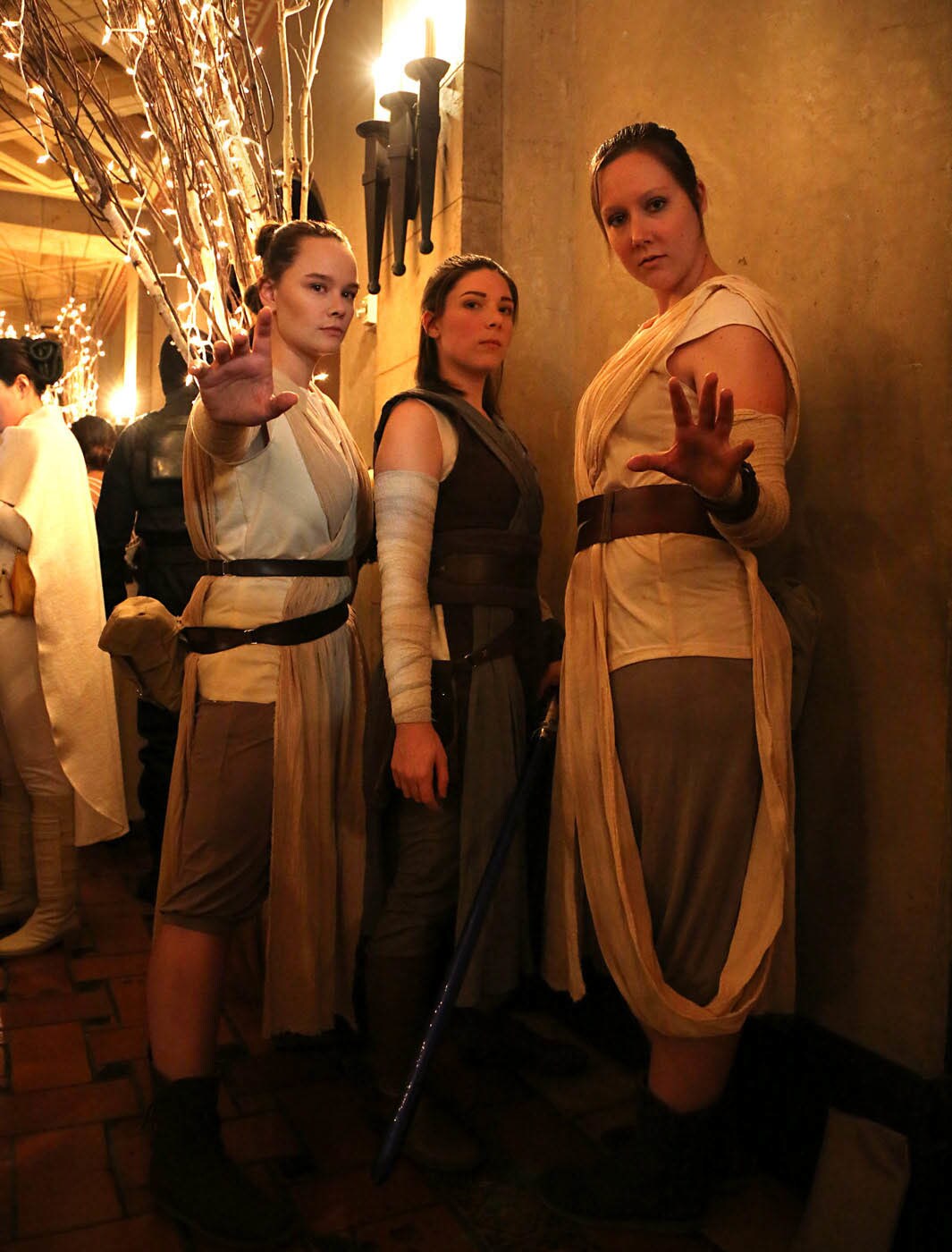 Lindsey Trout of Nebraska, Corinne Vincent of West Virginia, and Savanna Burton of Missouri were all dressed as a version of Rey. The young scavenger-turned-Jedi has been an inspiration to many women. "I saw somebody who was kind of like me, on the younger end," Burton recalled of her first viewing of Star Wars: The Force Awakens. "This was just somebody that we could see ourselves as, somebody coming in and owning the moment. It was cool to see somebody my age who represented such a strong person and a strong personality coming in and taking over."
"There's something about her that just clicked with me," Trout agreed. "Whether you're an outcast or somebody who feels misunderstood, you can look up to her."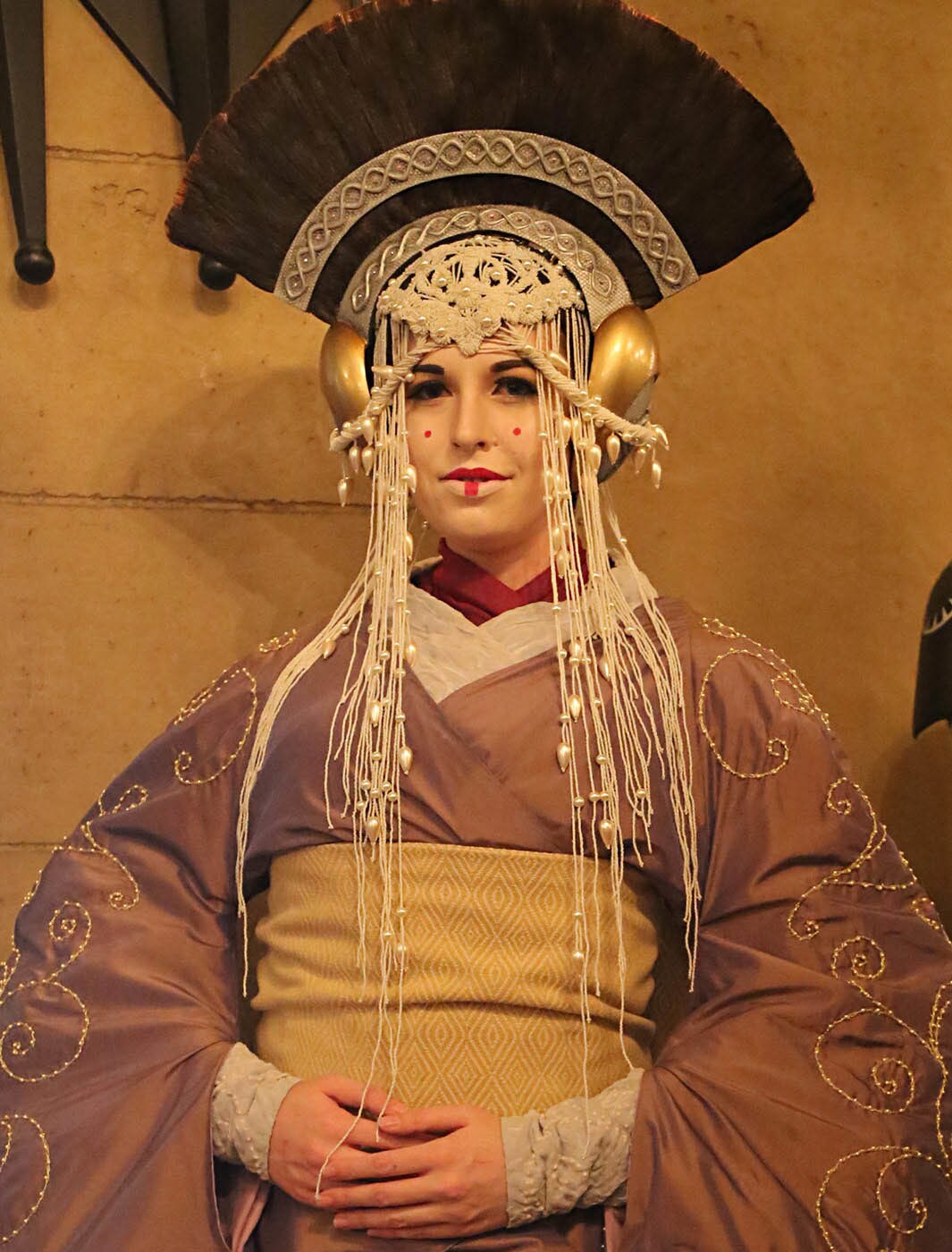 Kelly Coffman of Pennsylvania evoked a regal homage to the prequels, dressed as Queen Padmé Amidala in her pre-Senate robes. Coffman was wearing the costume at Star Wars Celebration Chicago when she saw the first trailer for Star Wars: The Rise of Skywalker. Just hours to go before the film debuted, she was hoping her makeup would once again last through the tears. The landmark event was also her first troop with the Rebel Legion, she said, donning a weighty 3D printed headdress and a silk taffeta and silk chiffon gown that she made entirely by hand, a 600-hour labor of love that ultimately included over 40,000 individual beads. "I'm super happy they picked my queen to be here," she said. "Just to get to see everybody and experience it is incredible."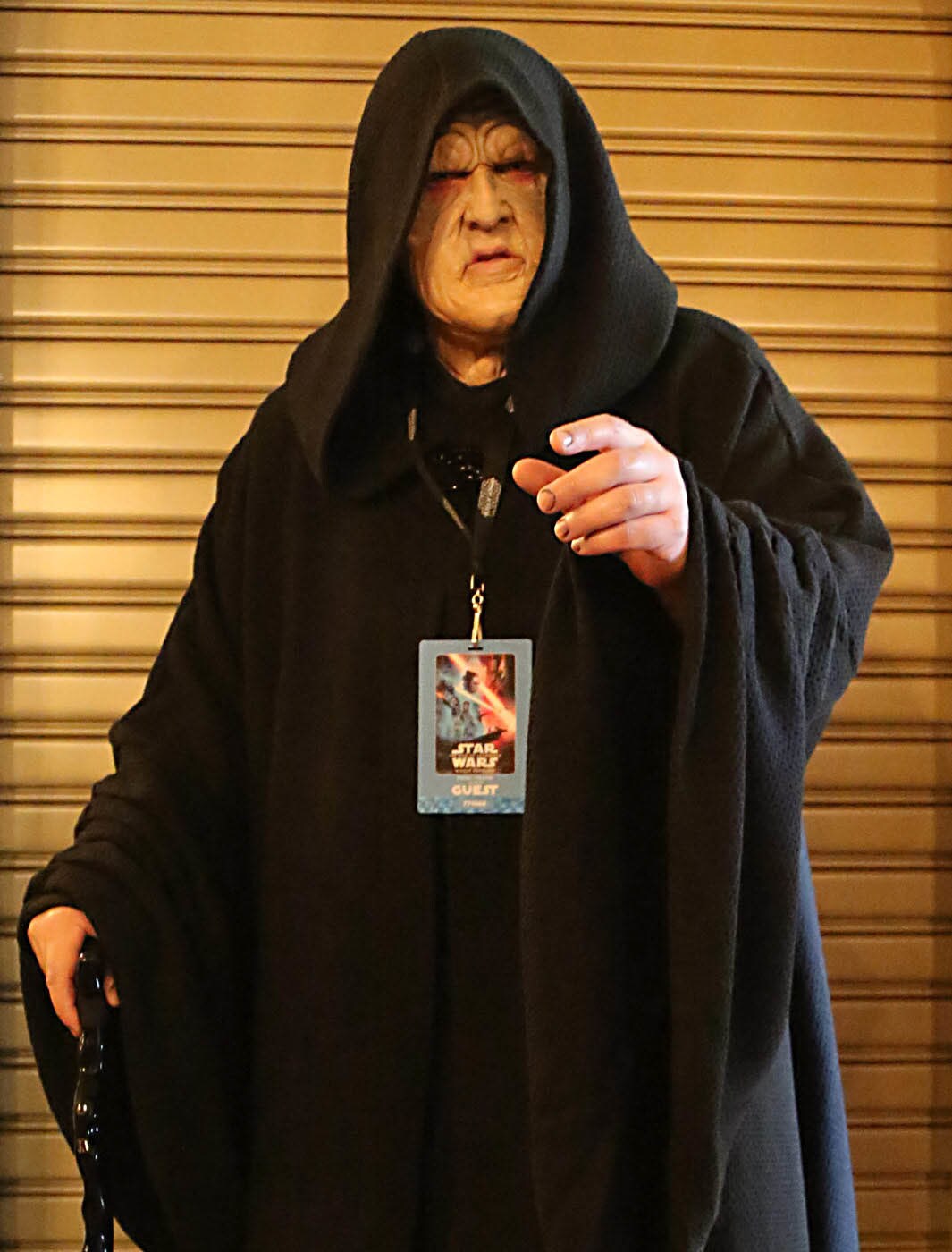 Nearby, Emperor Palpatine seemed to scowl from the shadows. Beneath the prosthetics and hidden behind the black hood, Steve Fuchs of Minnesota said he had picked the costume because it's his favorite, despite taking about two hours to get into the look. At Star Wars Celebration, he was so shocked to hear the Emperor's evil cackle at the end of the Rise of Skywalker trailer, "I dropped my bag," he said. "Star Wars, it's been part of my life since I was about two."
Making history since '77
Outside Grauman's Chinese Theatre, tents had been pitched alongside the cement handprints of celebrities and fans were swapping stories and snacks while they waited in line. The group, LiningUp.net, makes a regular pilgrimage to the site for each new Star Wars film, organizer Ric Peralta said, raising thousands of dollars for the Starlight Children's Foundation in the process over the last 20 years.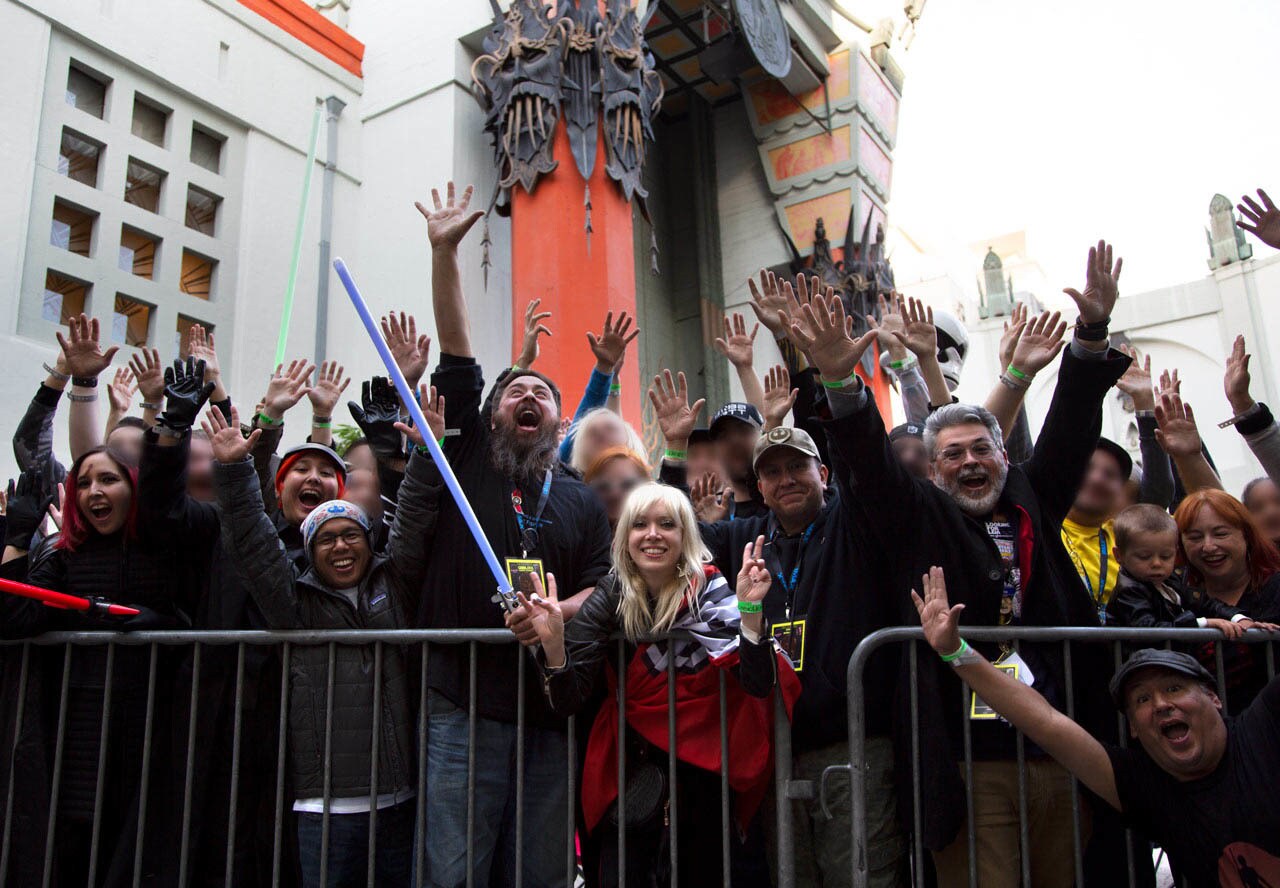 "We honestly were inspired by '77 and the crowds at this theater," he said shortly after a small group gathered in a recreation of one of the black-and-white photos from the opening of Star Wars: A New Hope at the same spot. "This is the church of Star Wars for us," he said. "This is home. This is mecca. This is where it needs to be done."
Helen Winterbottom and her family, including her young son Alex dressed as Han Solo, flew from New Zealand to join the crowd. It was her third trip to Grauman's for a Star Wars premiere, she said, the first being in 1999 when she was trying to beat the delayed release of Star Wars: The Phantom Menace in the United Kingdom. "A lot of people came out to America to see it," she said. "Because we didn't want to wait. We had waited 16 years, we weren't going to wait any longer."
And, as for many other fans, Star Wars has become a family affair. Peralta's 11-year-old daughter camped out during the nine-day line-up celebrating the nine saga films. In fact, standing in line for Star Wars is Peralta's oldest memory. "Literally my first memory is standing in line to see Star Wars with my dad in a little town square in Sonoma," he said.
Winterbottom has seen each new Star Wars film on opening night somewhere in the world, but Los Angeles holds special significance. "There is nothing like seeing it on opening night with this group of people," she said.
"We're all in the same place. We all know each other. And it creates an energy…it's an experience that you can't repeat anywhere," Peralta agreed.
Star Wars: The Rise of Skywalker is now in theaters!
Associate Editor Kristin Baver is a writer and all-around sci-fi nerd who always has just one more question in an inexhaustible list of curiosities. Sometimes she blurts out "It's a trap!" even when it's not. Do you know a fan who's most impressive? Hop on Twitter and tell @KristinBaver all about them.
Site tags: #StarWarsBlog, #TheRiseofSkywalker